Sunday, July 31, 2005
*~*~*~*~*~*~*~*~*~*~*~*~*~*~
Alley Bar
So we went to alley bar.. straight after dinner at about 8pm! wahhaha. Think we were practically the earliest there ! who goes to bars and drink at 8pm ar?
Us!
The only other 2 ladies with me..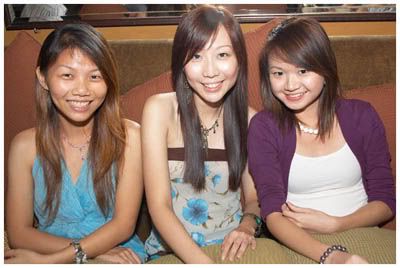 Nice picture of my lychee martini courtesy of xdd n his big lens.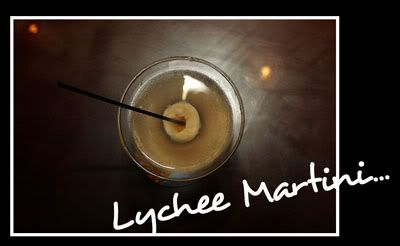 gone crazy (xiao ding tong.. hahaha)..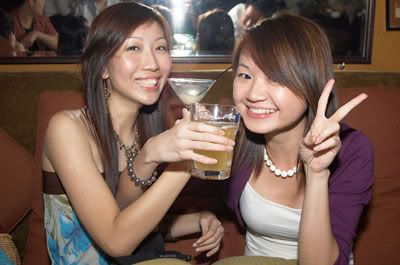 Than came the phototaking part till Alan's eyes couldnt take it cos cam flashes were all over.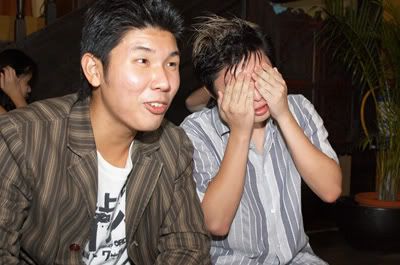 Nothing betta to do, we decided to take out all our mobile phones for a NOKIA-vs-SAMSUNG thing..in the shape of a flower..
(really nutting better to do..)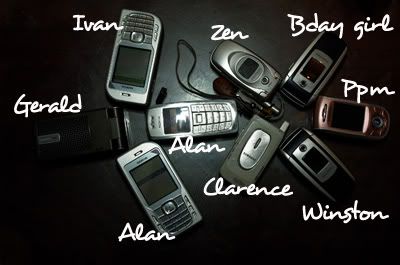 Than came the HOEGAARDEN TSUNAMI.. ppm toppled her beer onto the table. we dont blame you really. =D haha it was an accident!
The HOEGAARDEN TSUNAMI aftermath.. gerald and alan checking their nokias. Our samsungs seemed to be fine! hee hee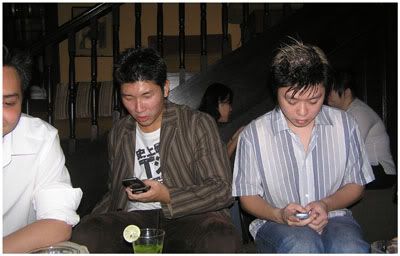 The guys! Josh, clarence, me n ivan.
Clarence's face was as red as his shirt.. -_-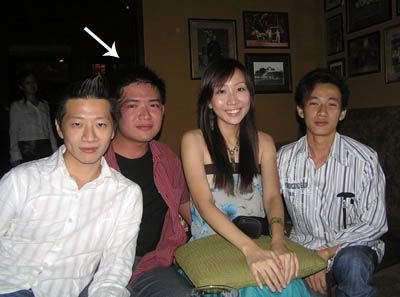 I am so gonna get killed by somebody for posting this peekture up!
Get well soon Gerald
! I didnt spread my virus to you! It was alley bar! Dont worry, i will help you contact her if you gonna appear in the newspaper in that particular section tmr! whaahha.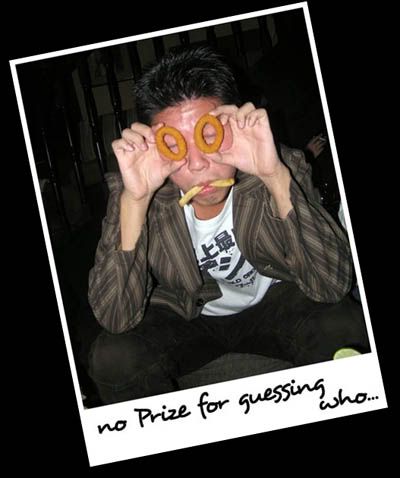 I realised gerald likes to take pictures of people who are "chimping". So...what is chimping?
Chimping is to check the preview and go "Ooohh.. this is good" , "Ahhh...not nice, take again!" during picture taking.
THIS IS
CHIMPING....
to the max!!!
(but we didnt go googoo gaga over them k..)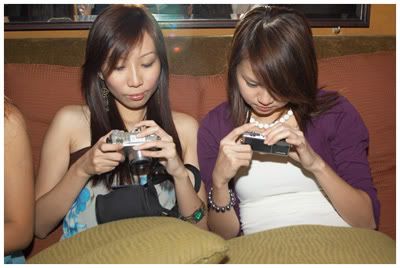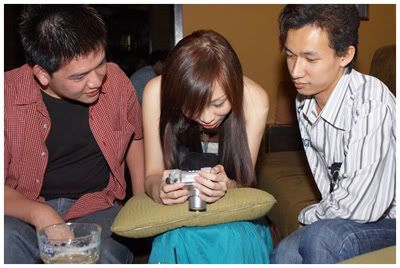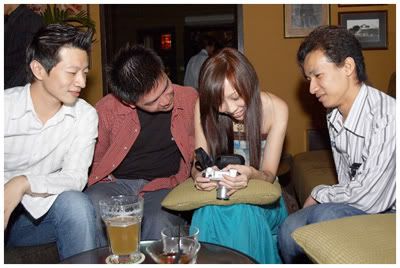 No more chimping photos! PLEASE!!... hahah
I decided to set some new resolutions. I realized after eating porridge and sleeping earlier for 2 consecutive days, My skin got so much better. Even xdd commented that when he met me yesterday in the afternoon. So I shall devote my future weekends to more porridge and sleep from next week onwards.. =D
Last but not least.. Cheers to all! my eyes so small! =D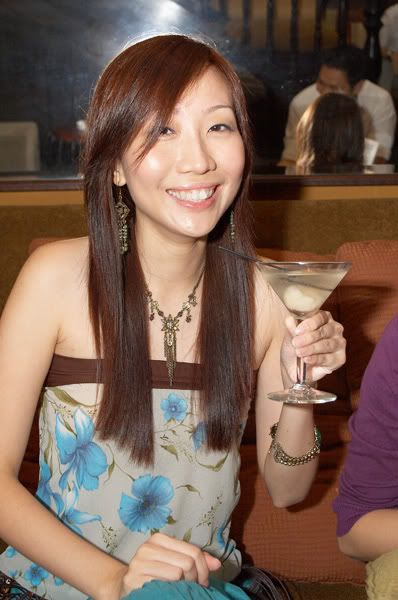 ~~~~~~~~~~~~~~~
Received some special gifts too..
Thanks to
bt
!.. who created a Photoshop portfolio of my past pictures.. =D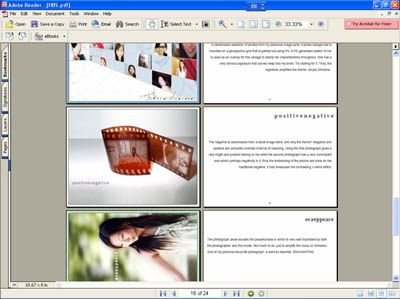 & oso to
Timmy
for your keychain hee =)
Kiyo 到此一游 @ 8:23 PM

Saturday, July 30, 2005
*~*~*~*~*~*~*~*~*~*~*~*~*~*~
My day!
Actually 30th July didnt start too good.
Firstly, I was asleep at about 10.30pm yesterday night and I didnt make it to 12 am to receive the messages my nice friends sent.
(Thanks all! I couldnt msg you all so thanks people, u noe who u are)
But guess what, my bf was NOT on the list! Surprise surprise! haha.. see how he is going to get it from me if he totally forgets about it. I only managed to see the messages when I turned on my hp at 6 am in the morning. You might think why the hell i woke up at 6 plus right? wash the toilet ar? NOooo... i was awaken by a nightmare in cold sweat some more...
I dreamt that i was frantically running around asking people for help cos...
My bf was beaten up by 6 ah bengs in a place that resembled hongkong dark alleys... kaoz...watch too much hongkong shows la. You think you are 黎姿or you acting in 古惑仔 ar..
-_-
(so it isnt a nightmare after all, I think the cold sweat was due to the running part..)
8.00am
~~~~~~~~~~~~~~~~~~~~~~~
My birthday breakfast..
My "NICE" dad "SUDDENLY" remembered that today shall be the day for ROTI PRATA. and my mum came into the room and asked me whether i want any roti prata.
"Avoid oily, spicy food.." are still ringing in my ears okie..I was like....
"Hey, It's been so long since you all suggested eating roti prata for breakfast, why must wait until I sick than you all want to eat.. "
Than my mum said. : " eat a bit wont die one nah.. later drink the super medicine can ler"
I'm usually very disciplined...but then again...hahah
11.00 am
~~~~~~~~~~~~~~~
Met up with some friends over dinner at Lemongrass. Sorry I couldnt invite all. =)
But here are some pics anyway.. =)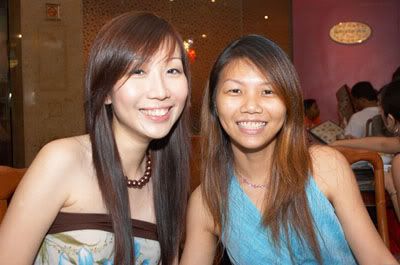 me and zen!
(i look fat)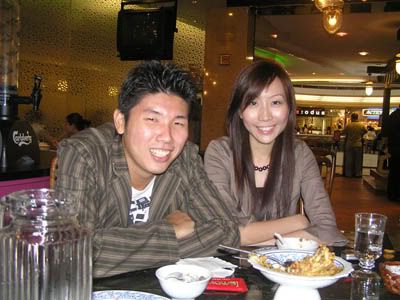 Gerald!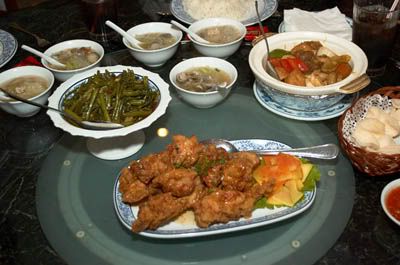 They say machiam 拜祖先...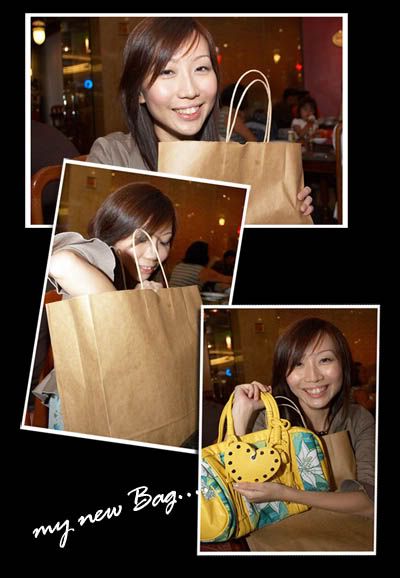 First pressie from Sfc people!! Thanks =)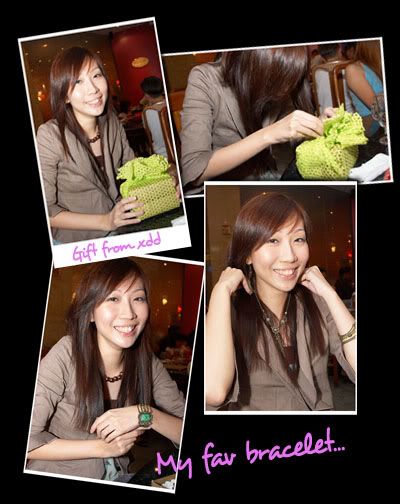 2nd pressie from xdd! thanks! really love them. =D
Alley Bar photos later.. have to take a break.. hahah
Kiyo 到此一游 @ 11:49 PM

Friday, July 29, 2005
*~*~*~*~*~*~*~*~*~*~*~*~*~*~
East meets West
Went to see the chinese physician again. He always cures my digestive problems cos i know western medicine dont really work for me..
I dont know what is wrong with me too...it started with a flu, fever, vomitted than now bloated..
I realized this month i really very suay.. why all the suay things happen to me? From TMD
(tembu dont noe wat disorder la)
to this..wah...
but luckily i'm slightly better now n all i hope is that my dinner just now will get digested.My chinese doc has been telling me the same old things whenever i visit him
"You have a weak digestive system, Avoid oily, fried and spicy food ".. But how can I survive on non-oily, non-fried n non-spicy food right...you might as well kill me first.
Today he added something new.. "Dont sleep too late every night.."
You sure sleeping earlier will help? anyway, his medicine works for me although his advice was like quite standard everytime.
Tmr's lemongrass appt is still on
(cant expect my frens to eat porridge with me right?)
haha.
Actually made a reservation at Teahouse tmr afternoon to bring my parents for some ala carte dim sum. I have decided to change it to next sunday so that I can eat MORE...
Teahouse offers quite good dim sum
(alot of podders were raving about it)
and is under the Tung Lok Group.
Another most raved about dim sum place was Red Star at Chin Swee. Their dim sum is good too! Just that the atmosphere there is like those old kind of chinese restaurants and their waiters n waitresses are fit to be our grandmas n granddads. But price wise, very reasonable and I like their food! especially their egg tarts.. yum yum..
i'm really drooling now..
i'm intending to organize a mass outing again! in August! to Teahouse.. cos they have a better ambience =)
Going to wear this tomorrow.. =D my newly bought racer..
or should I save it for monday for my first exotic dance class.. hohoho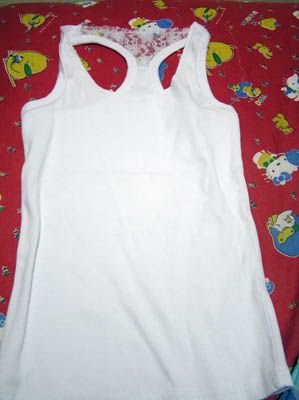 (actually besides the lace trimmings at the back, it looks JUST like my dad's singlet -_-, waste my $$)
wah liew.. i hope i still have strength to
shake my bon-bon
.. on monday man...
Got to go and sleep ler... *yawn* so tired..
祝我明天生日快乐
Kiyo 到此一游 @ 9:45 PM

Wednesday, July 27, 2005
*~*~*~*~*~*~*~*~*~*~*~*~*~*~
It's not Christmas but I feel like Rudolph
I really dont understand why the management of my building have to blast their central aircon at such low temperatures. Brrrr... I was still fine this morning, but then started to feel super cold in the afternoon, then as expected, the sneezing part came.
If i'm not feeling feverish, usually at this time i would still be surfing FP, CS, gossiping with my friends on msn, or reading some ebooks that Nataline kindly sent me this afternoon or just listen to the jazz songs that xdd gave. Instead, I'm already ready for bed
(which means teeth brushed, hair dried, moisturizer applied..)
and planning to switch off the comp after finishing this entry.
(so unlike me to sleep so early...)
Feel like taking MC tmr but then...
Both my bosses will not be around tmr and i'm scared some colleagues will think that i trying to "gheng"...
-_-
Tmr than see how...
Kiyo 到此一游 @ 9:00 PM

Tuesday, July 26, 2005
*~*~*~*~*~*~*~*~*~*~*~*~*~*~
Just helped my dad register as a relief teacher in the MOE system.
He received a letter from MOE asking him to apply as a relief teacher and he decided to go for it
(since he has nothing betta to do at home)
Sometimes, it can be so funny to watch him use computer, cos he totally forgotten how to use it and kept pointing to the keyboard and asking me what is this button, or exclaimed in a very gan cheongly manner "wait wait wait...than what is this button"
(n he points to the same button again which I explained just mins ago)

Throughout the whole registration, there was one part that really turned me off. We were supposed to enter his last employment period
(which was really donkey years ago)
and they dont allow me to type in the date! They forced me to use that pop-up calender!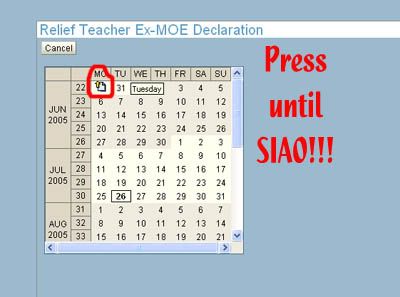 He was first recruited as a teacher in
1962
..Wah liew... which was like 40 ODD YEARS back and I need to press that STEWPID arrow so many times in order to get me to 1962's calender. Why cant they just let me input the date manually!?! sheesh..
There was another section that required us to key in his O level results... so I knew something more about my dad.. something like...he had to sit twice for his O levels cos he didnt pass his English on his first try. I was like "hur hur.. u didnt do very well either."
(in my mind of course)
but i thought his other subjects were pretty good enough cos it should be quite difficult to study given their conditions then.
Than the hao lian part came..
(now i noe where my sister's hao lian characteristics come from)..
he showed me his primary school report book very proudly and asked me to look at the last column which showed his class position..
"你有没有看到。。。"
he said
"WAH...."
cos he topped the class for the first 3 semesters.. hahah
And so i am supposed to teach him how to use microsoft word, excel some day
"when I'm free"
he said. I can foresee how long it will take me to teach him and I CONFIRM, GUARANTEE plus CHOP he will ask me
"wat's dat button for huh.."...
-_-
That's why I say.. I am not cut out to be a teacher.. Sometimes, when my bf or tuition kids
(i used to teach tuition when I was in uni)
asked me some questions and after several explanations, if they still couldnt understand what i am talking about....
my voice will increase in volume
(as if the louder I go, the better their brains will hear me).
I love kids ... and I think primary ONEs are so000 cute.. , i guess if one kid cries and comes up to me and "tdeh"a bit, i think i will melt and 'sayang' the kid which i think teachers arnt supposed to do that. haha But then... if
40 kids
cry at the same time.. I think i will pull all my hair out man..
So.. that's why I cant be a teacher.
See.. cute wat right? (although not Pri one la..)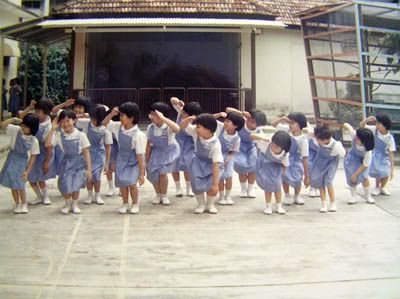 Who's dat hiao po huh... everybody face the side, only she face in front.. -_-''
cant remember her name!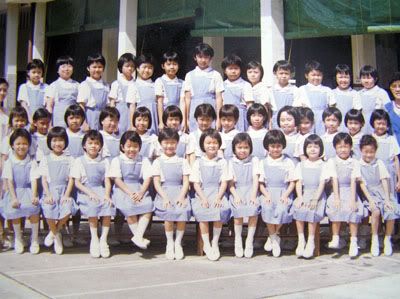 Kiyo 到此一游 @ 10:43 PM

Sunday, July 24, 2005
*~*~*~*~*~*~*~*~*~*~*~*~*~*~
"Shes a maniac, maniac on the floor
And shes dancing like shes never danced before"
--Yesterday--
Went shopping with Gerald AGAIN at far east plaza. He's really a nice shopping buddy. I think he's the only guy that
REALLY
looks at the clothings and accessories in shops while we walk. And if he spots a nice one, he will alert me and there... I will spend money again!..I seriously have to cut down on shopping.. after my birthday hee hee
Bought a ceramic straightener from Tangs too. Wanted to get a straightener very long ago but didn't know which to get. Revlon is having a promotion and this cost only 35 bucks. It's not as if the original price is 90 bucks or what.. I think the original price is only 40 hee hee. Tried it out yesterday and I feel it is better than the vidal sashoon one I used to have. Plus, xdd taught me a method to curl hair using straighteners!?! Sounds impossible? Yeah.. a little.. but I managed to have some curls up with my curling tongs too plus this straightener.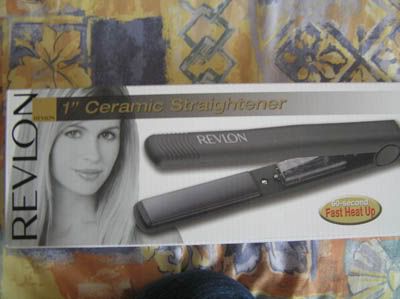 The RESULT! curls that cannot be seen! eh.. next sat i will curl my hair and tie this style before I join my nice friends for lunch.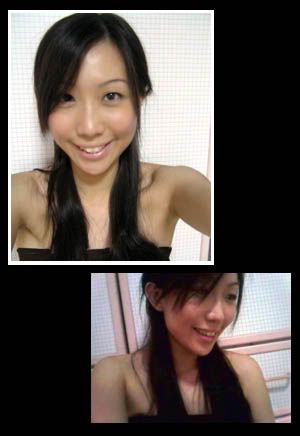 Xdd have been telling me that I am spending too much. Actually, come to think of it, it's still okie cos I would have spent more if my Taiwan trip was not cancelled. So.. I'm still saving money
(in a way)

--Today--
Finally saw Kelvin in gym today haha! But he went for spinning instead. Guess I will join him and try spinning next time..
This was what I ate for lunch,
after gym
!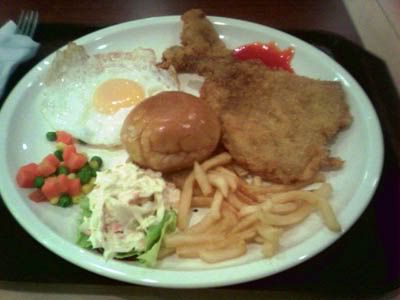 Darn oily... heck!...don't care.
After that, went for a haircut at essensuals at Starhub center. Got this free hair cut voucher from PTR so I think might as well do some colour and highlight too. I called yesterday for any appointment, guess wat, my name was not in their appointment book! Guessed they were too busy yesterday...
I spent the next 2.5 hours sitting there flipping through all their August issues of their magazines. Practically, I read all of them! Cos there was very few people in the salon today.
The stylist chose a 2 tone highlights, light brown and copper. Initially, I thought maybe copper may look abit too constrasting, I left it to her & the overall effect is still quite soft and I looked more awake.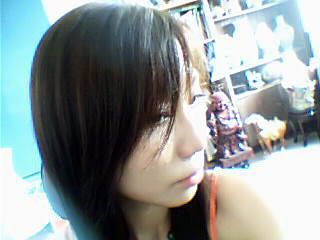 Cannot see right...

How about this...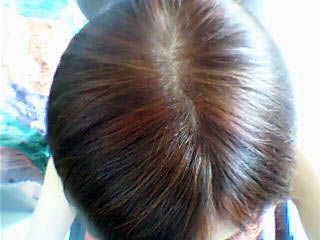 Listening to
All I want is Love
by Lisa Ekdahl & HENRI SALVADOR and sipping coconut juice now.. Life is so wonderful... I'm easily contented. =)
(Go n buy her CD!)
Kiyo 到此一游 @ 10:40 PM

Friday, July 22, 2005
*~*~*~*~*~*~*~*~*~*~*~*~*~*~
Lalala. it's the weekend again
I wore my new specs to work today.
One good thing about wearing glasses to work was that my eyes no longer felt tired and I need not yawn to bring tears to them.
One bad thing was.. suddenly the only adjective my colleagues could think of to describe me was CUTE (which may mean
"hey! I like your specs but U LOOK UGLY!"
)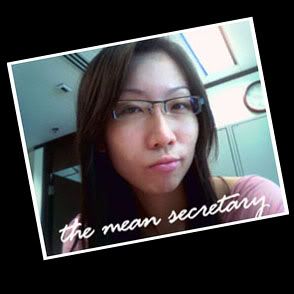 Another bad thing was.. the frames were a little thick on the sides so it didnt allow me to observe things "out of the corner of my eyes".
Okie what am I supposed to observe?
Like
"people creeping behind my back",
or like
"approaching bosses"
yada yada yada.. Stop denying it, i know you DO that too. I got the fright of my life yesterday when auntie R crept behind my back and whispered something in my ear while I was busy looking for ssome stuff. PENGZ I got the jump of my life and nearly screamed. NEARLY.
So wadssup for the weekends!
Dis morning I pm-ed a podder as she's asking for shopping kakis..cos soon my personal stylist cum shopping buddy will have to concentrate on his studies, relationships n shoots n i doubt he will have much time for me! hee hee. Nataline replied and said that she will include me in the list of shopping kakis. =D. Will be getting a total revamp in my hairstyle this sunday as I got a birthday voucher from PTR that entitles me to a hair cut at essensuals. (okie.. I never heard of that salon too.. dis time i'm gg to take a risk & a BIGGggg one).
I really like this hairstyle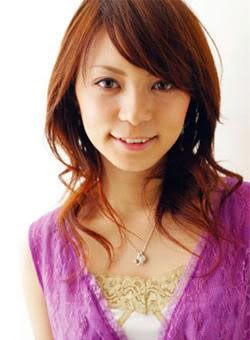 but I'm seriously scared to do curls cos it may just turn out horrendous. i'm definitely going to cut it shorter cos it's weighing my hair down making it look rather flat and cutting them away MAY just make me look younger. I seriously noticed I look damn old in some pictures I took on xdd's bday. I know dat some kind friends didnt want to tell me that, but there are some other "KIND" friend who thought that it will be good... to let me know that I look like somebody who has just given birth.. -_-
Okie.. continue my ramblings for weekend shopping.
I have a long shopping list so long that I wish I'm Harry Potter so that I can turn all my coins in my wallet into $100 notes. *Swish swish* waved my magic wand.
(I actually typed 50.. than i realised I dont have enough, so decided to change to 100 hee hee)
I just bought this MURAD Vit C whitening set. DIS set is MUST buy.. WHY?
cos...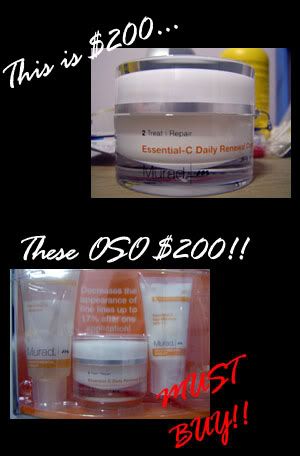 That bottle alone cost 200 bucks but recently there was this promotion and the whole set cost $200! The set comes with eye cream n cleanser which i've tried before.. Their vit C range is really good. I didnt continue cos it was really ex. So.. this is another birthday gift for myself!
I am lemming for jeans from Inhabit.
Watched the program 想地美, where they introduced designer jeans from cult brands like paper denim n cloth (the name sounds cheap, but the brand is not), Religion and some other really nice ones. I dont mind spending alot on a pair of jeans with a good cutting n fit cos they can last you for a very very long time. My all time favourite bought 1.5 years ago still remain snugly fitted to my butt after repeated washes. I need a boot cut one and I bet it will set me back by about 400-500 bucks.
I want to buy..
1) clarins makeup base and light perfecting touch pen. I tried the texture just now and it was really good with light reflective pigments in it.
2) lancome liquid eyeliner.
3) that bag me n ppm saw that day in FEP
4) Cle de peau concealer..
how how how?? so many things...
Kiyo 到此一游 @ 11:42 AM

Wednesday, July 20, 2005
*~*~*~*~*~*~*~*~*~*~*~*~*~*~
My supplements
Wasnt feeling very well today, so I was trying to find my flu medicine when I came across my long forgotten supplements! I need to start on my supplements again. I think I have a 40% or 50% discount with GNC since it is my birthday month. I have stopped for a few months cos i was so lazy or kept forgetting about them.
Recently, i have been really forgetful. I tend to forget things easily. I even remember the WRONG things or what clothes I have bought and where they are. I think a blog is a good way of reminding me how much I have spent or when did I buy wat.
I may even forget what happened last week. Xin said that i'm going senile. They even tried to trick me into believing that I OWE them money which I really exclaimed seriously. "有 MEH!" & started rolling my eyes to recall...than i realized that they were trying to smoke me.
-_-
She said I should take GINKGO..
I will get GINKGO this weekend.
NOW.. where did I put that GNC pamphlet?
hm.... *roll eyes*
Primrose oil = for the very PMS-ing lady. I havnt been taking this for quite some time.. It's not really helping. I still cry and feel oh-so-miserable-&-I-want-to-bish-ur-face during that period of the month.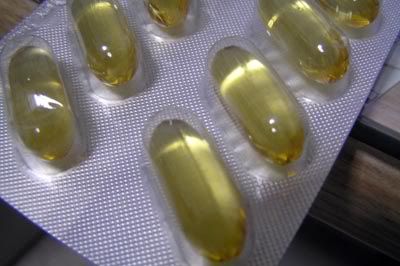 Antioxidants aka the "长生不老药" alternative. It claims to slow down tissue cells damage and prevents the damages of free radicals from pollution, UV, smoke etc n etc. forms collagen in skin too. Almost 1 buck per tablet! i bought 300 tablets last year and still have about 200 of these brown things in my drawer! I think i have to take ginkgo first to improve my memory than I will REMEMBER to take this every morning whahaha.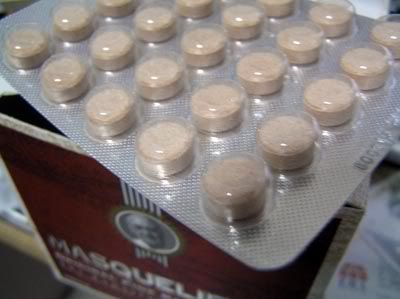 Royal Jelly!! I havnt been taking this for years. It's REALLY very good for the skin and gives a nice flush and radiance to the skin. But then, it makes me fat which I am really not sure whether it is due to this anot. But some people did report a weight gain after taking this.
Ppm have decided that WE SHALL GO FOR THE EXOTIC CARDIO! so anybody else wants to have some exotic fun?
Kiyo 到此一游 @ 10:34 PM

Tuesday, July 19, 2005
*~*~*~*~*~*~*~*~*~*~*~*~*~*~
Kenny sia's blog woke me up this morning..
there they were, 4 boobs staring back at me.. omg.
You actually need a lot of bravery and a little foolishness to be able to pull that thing off in public.
Applause for
her
bravery and
his
*ahem* hairy chest.
(but i think he removed that post! darn, but Josh managed to catch that too! haha)
I'm thinking of taking up some courses so my weekends will not be wasted away. Was thinking about bread baking courses but that one I guess can wait till I get my own house, with my own oven. My mum will never let me use her oven.. She dont use it anyway. i think she's scared that i will blow up her kitchen
(which i may be capable of)
, i seldom get to cook in the kitchen except maggie. The most i have done so far was some very tomato spaggetti and tempura udon. I swear that
there were
tempuras k. but the end result was that they just look like normal deep fried prawns in thick layers of batter.
(but they still taste good, or i, myself, me & my dear have said)
so i went to PA (people's association) webbie to take a look. I saw this very interesting course.. exotic cardio. So What's exactly exotic cardio?
From the website of the body talks, it is..
This class combines seductive dance moves with flexibility training and toning exercises to achieve a total-body moving session that emphasizes attitude, sensuality, and teasing fun. You don't need to have dance experience to come enjoy this unique way to move your body and get great fitness work out at the same time!
I will go for the trial and if i find it interesting and fun, i will sign up with them. Any gals want to join me? hee hee =)
I got my spectacles! Black frames.. I look very secretary.. I lurve it!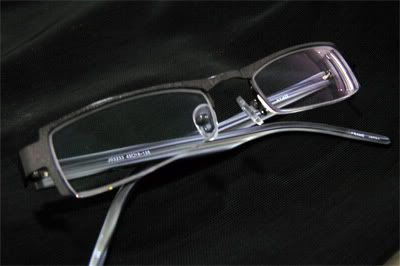 At least 2 people commented that the picture of my msn avatar looks very much like my sister.
KK
: Who's that chio bu in your avatar? Your sister?
Me
: -_-
Me
: Me leh... that means i not chio la? haha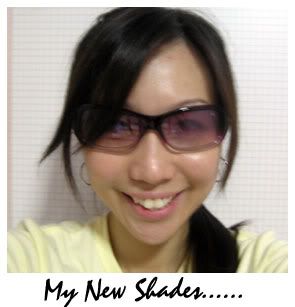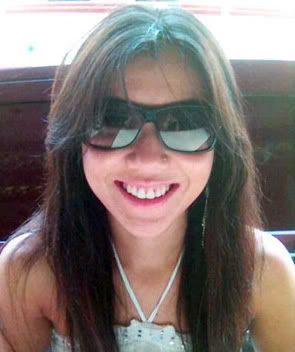 Except that her frames cost 350 bucks and mine cost 10 bucks hahahha
Kiyo 到此一游 @ 11:20 PM

Sunday, July 17, 2005
*~*~*~*~*~*~*~*~*~*~*~*~*~*~
How many pairs of feet do I have.
I realized that I bought 4 pairs of shoes this month.
One pair on
July 05th
Two pairs on
July 15th
& one pair
yesterday
. Ppm had no program yesterday so I asked her out for a short shopping spree. Brought her to a shoe shop at fep where i bought the shoe on my previous posts and we bought the same pair of shoes but different colour. She bought big shades too, and I bought one pair at 10 bucks too. It was actually the last pair, and a little damaged but i really like the colour so I decided to bargain..
(PURE AUNTIE behaviour man...)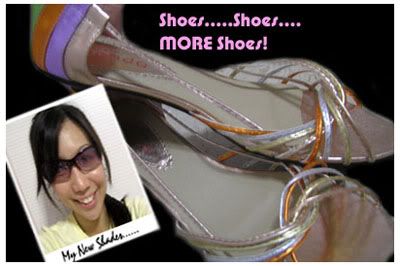 ~~~~~~~~~~~~~~~~~~~~~~~~~~
Happy birthday to You.. Happy birthday to YOu...
Woke up rather early yesterday morning..although I slept at about 2 the night before, I woke up at 8 again! argggh.. Anyway, went over to collect awfully choc cake at noontime. Bought one for xdd for his bday and one for myself! I actually promised him to get a coffee club oreo cheeze cake but it required reservations 3 working days in advance... So, no choice I just have to order this cake.
Mine is banana n dark choc... heavenly..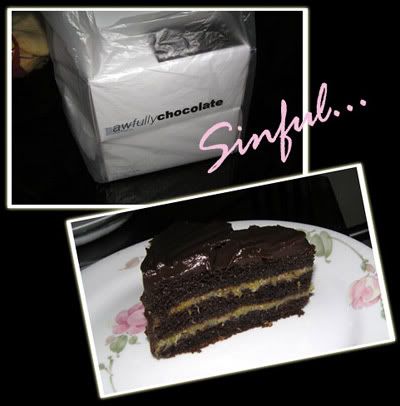 Went to xdd Gerald's 21st birthday party yesterday at his condo. I thought I was late but I was the earliest! I was suppose to help him with some salad thing but in the end it was already done when I reached there. His place is REAL far..
Saw some of his friends from clubsnap and his best friends whom I've heard so much, finally got to see them in real person after all the gossips..hahah
Happy birthday Gerald. My birthday is coming soon too.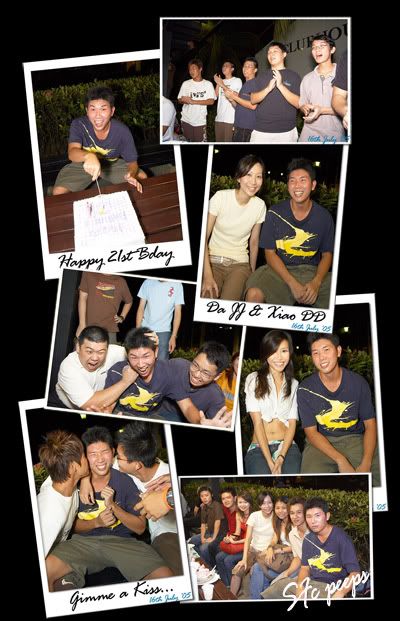 -Larger Version (click here)-
Kiyo 到此一游 @ 8:13 PM

Friday, July 15, 2005
*~*~*~*~*~*~*~*~*~*~*~*~*~*~
Today it's AWAKE mode
Strange. Suddenly I feel so HYPER again.
Is it because the weekend is here?
I think I know why.. When I feel moody, i usually get very lazy and I dont put on makeup.. and i will look even more moody. But today i took the effort to put on mascara
(in order to use that metal comb, & it's really good)
& some makeup and woah.. different mood altogether!. Once you like what u see in the mirror, mood is practically lifted up! I like what I see in the mirror today. =D But i'm still suffering from those post-outbreak scars.. arggh.
Okie.. Tomolow, tomolow, I luv ya.. tomolow, it's always a day AWAYyyyyyyy~
Tomolow is Tomorrow.sg blogger conference. I read about this a few days ago & josh emailed me and asked me whether I want to go take a look or not. I bet he wants to take pictures of xiaxue or some other chio bloggers.. Wondering whether kenny sia would be there.. Oooo..funny guys are attractive.
Dont think I will go.. I think I will go shopping.
Tomolo is also xdd's 21st bday party! Expect to see loads of chio gals there man.. he got many model friends. I'm armed with my camera.
I bought shoes again! 2 pairs.. here's one of them.. very familiar? :P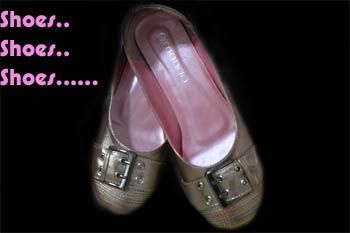 Kiyo 到此一游 @ 11:35 PM

Thursday, July 14, 2005
*~*~*~*~*~*~*~*~*~*~*~*~*~*~
I didnt blog yesterday...
cos i was reading all the forums on the NKF saga in
-FP-(29 pages)
,
-CS- (81 pages!?!)
and shoutz forum too. Some entries were very farnie. especially those from flowerpod forum. People posted pictures of "golden peanuts" and photoshop-ed poster of a tied up Durai. The people were really furious about his tap.
And well done, I donated $15 bucks last weekend towards his tap, bonuses, plus 1st class airfare & not to forget, a few cents to the patients too. I heard alot of rumours about NKF but whenever I watched the show, I just get so moved that eventually, I will donate. Even my CEO dont fly 1st class okie.. Private companies are trying to cut cost, i think non-profit organizations should too.
~~~~~~~~~~~~~~~~~~~~~
Somebody blackmailed me yesterday on the phone. He threatened to post my mask pic on clubsnap. I knew it! I knew he would print screen if I show him my webcam while I was masking. But I only showed him for 3s! yeah yeah.. you dont even need 1 second to press that print screen button.
I thought maybe to prevent his blackmailing, I will post that hideous, scary, disgusting picture of me with my mask
(and a very good one, mind you, It's Aesop primrose cleansing clay mask from Australia).
But.. too bad, i couldnt find the file now cos I deleted it last night and emptied my recycle bin.. wahahha...
~~~~~~~~~~~~~~~~~~~~~
So what's happening in my life lately...
My taiwan trip is CANCELLED. I'm not really sad about it cos i have other things to worry about.
Darren has just gone back to australia again to finish whatever he has to finish. He's very upset and that makes me really disappointed and sad too. I hope he gets better. It was quite last minute so I felt a little lost.. I think I seriously need
ALOT
of retail therapy. Lately, I have even lost the strength to do anything and that includes shopping.
I'm throwing away that big eye Korean contact lens. It really looks fake plus it's from unknown sources, I really dont want to risk going blind, which some podders complained of discomfort while wearing them. I didnt experienced it la.. but to be on the safe side, I decided to throw them away. I shouldnt have bought them in the first place. Thinking of getting Freshkon or Acuvue big eye lens from
nanyang optical
. Those are approved so they should be safer I guess.
Bought this today. Metal mascara comb!
It really combs lashes better.. I saw on 女人我最大 show & they mentioned that metal combs are easier to comb and separate the lashes better. But pls dont use it when someone is standing behind you hor.. wait poke until blind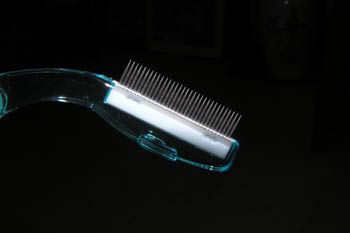 Hairdo after watching 女人我最大 again! (actually nothing special just an additional stewpid butterfly on my head) I'm thinking of trying different hairstyles once I have the time. It's rather messy i know, i just came out from the shower with this hairdo. HIAO! at home oso need to tie until so pretty haha...the butterfly is still on my head now.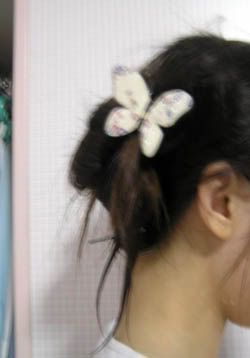 Did i tell everyone i broke a mirror some time back? I broke a mirror AGAIN ! NO.. I'm NOT trying to commit suicide.JIA LAT! 14 years of bad luck! or the 2nd broken mirror will just minus off the effect? hmmm... you think i will believe in all these? anyway.. i didnt throw this mirror at anybody k.. it was just too near the edge of the table.. sigh... sweeping it now..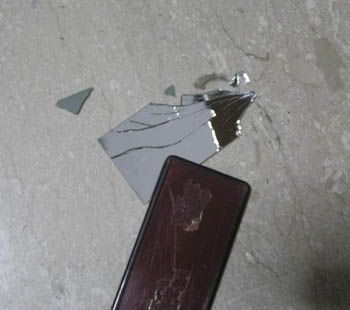 Kiyo 到此一游 @ 10:49 PM

Tuesday, July 12, 2005
*~*~*~*~*~*~*~*~*~*~*~*~*~*~

SOME PEOPLE (like josh) asked me why I looked so much nicer in those pictures taken on Saturday from my camera than those from ppm's camera and asked me whether I photoshoped those pics or not...

*BISH* -_- <-- Josh's face
Basically there are 3 reasons.
1) Cos using my camera, i usually take multiple shots to get that good shot & I will only post that GOOD SHOT, simple right?
2) My flash is very strong, clear things always look nicer
3) I'm not photogenic in the first place! Definition of photogenic in Cambridge Dictionary : Having a face that looks attractive in photographs.

Yes! I'm not! (i look better in real person)
I am a honest girl. If I use photoshop, i will say wan nor.. like this one below, it IS PS-ed...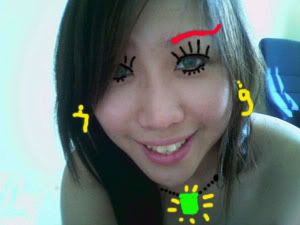 thank kyu hor.. I look like an ah gua

Courtesy of xdd who gave me a sammi cheng eyebrow, turqouise (my fav colour) eyes, long eyelashes (darn, so that is how xiaxue does it hur..), he included my 79 LAME earrings too!

I didnt even touch up on the photos we took on Saturday cos my war paint was thick enough to cover everything. So... the conclusion is, I dont look good in all angles. I'm not a supermodel you know. Bleahhhh ;p
~~~~~~~~~~~~~~~~~~
Photo of the day that put a smile on my face and made my DIY face mask crack. I think my bro knows that i'm rather moody so he decided to send me his "cannot-see-face-rickshaw-puller-with-umbrella" shot. I'm so touched to the extent that I acceded to his request in switching on my webcam with my mask ON my face.

He had a good laugh too.

I think i'm the only one who seen this peekture other than himself, and I'm so nice to share this with all my friends here. (with his consent of course.. hor.. Gerald)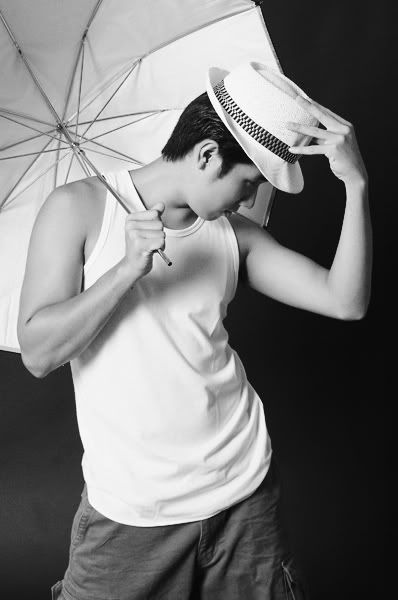 Dont you think he is cute/shuai/cool/watever?
Kiyo 到此一游 @ 11:30 PM

Monday, July 11, 2005
*~*~*~*~*~*~*~*~*~*~*~*~*~*~
Blur...Stone...Stun..
I'm so blur that I mistaken the closing date for wonderkid's spree. I thought it will close today. NO. It closed LAST MONDAY. Shucks! I didnt take note of the date of the email. Okie.. which means I saved some monies again.
Think I'm taking 1/2 day leave tomorrow again. Dont know whether it will be approved or not. Not in any mood to blog today although I am still my usual self, have loads of things to say, shopping buys to share... but i'm really worried...Some things crop up and I really dont know what I can do to help him too. I'm very drained..I need sleep.
Kiyo 到此一游 @ 10:49 PM

Sunday, July 10, 2005
*~*~*~*~*~*~*~*~*~*~*~*~*~*~
"Not gonna get us
They're not gonna get us
Not gonna get us, not gonna get us"
I hate squats. Those who goes to combat knows this track.
Met up with the SFC folks yesterday for our dinner & drinking session. And so we thought we want to go to Alley Bar. But I think alley bar has this dress code and our nice Gerald aka xdd will be turning up in berms, sandals and singlet cos he was doing some shoot in his studio, so we have to look for some place without a dress code.
So brietling suggested to go to Via Mar at esplanade.
Josh drove so.. he had the priviledge of having 3 girls in his car yesterday night. We started taking pictures cos we were stuck in the traffic jam. It's a saturday night after all and I think there's rehearsal for the parade? anyway, the nicoll highway was blocked & we have to make a detour..
监狱风云 Part I
starring ppm n zen still looking so happily.
I got the comfort of sitting in front. Paiseh! old bones cant squeeze behind. haha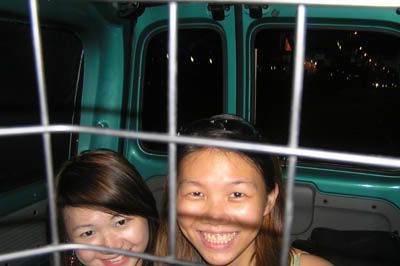 监狱风云 Part II
cannot tahan ler.. my hands are really tired after holding up the cam for so long.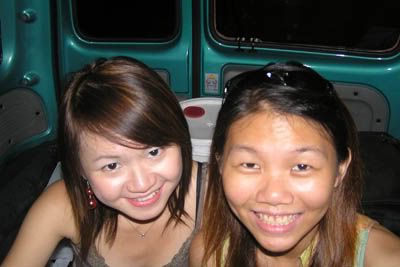 At Via Mar.. Cheers! We are wearing the same colour.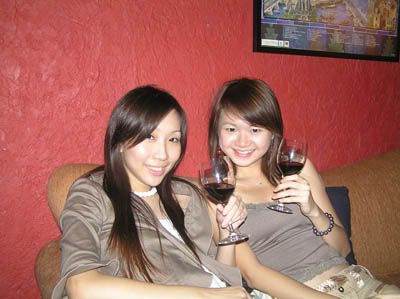 Ivan, zen, winston n josh.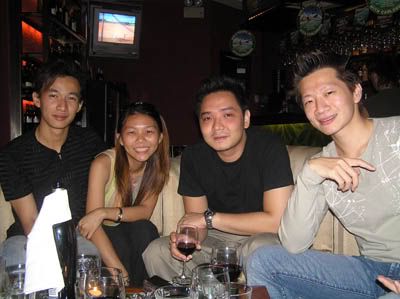 After zen, ivan, brietling n gf left.. we were left with only 4 people, we started talking CRAP. Ppm started her version of LAME jokes and asked us if
Bush
,
Goh Chok Tong
&
Saddam Hussein
all played mahjong, who would win the most.
Hm.....
...
...
...
We couldnt provide an answer so finally... IT WAS
HUSSEIN... cos 胡仙 mah...
-_-'''
I LUFF LIKE MAD. Only I can appreciate this kind of jokes.
Tried this too.. Margarita Mango.. Tasted like cough medicine lo haha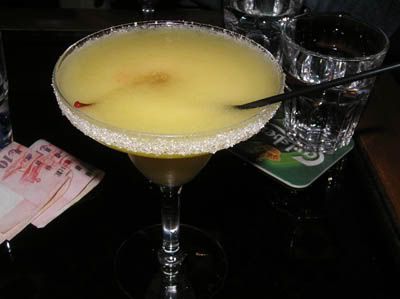 Josh on the right.. who is the same as me.. likes taking pictures with his right profile.Or was it left? hmm...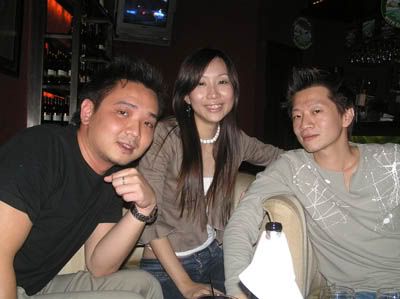 Big Face!!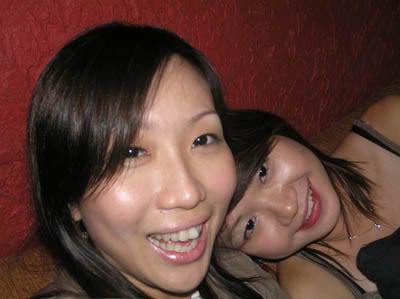 3rd round we will definitely go Alley Bar. When will that be hee hee..
~~~~~~~~~~~~~~~~~~~~
Went to Goodwood Park Hotel for dim sum buffet today with darren and his friends. It's a couples' gathering today. There were 6 pairs of couples there. Mass dating man.. Their durian pudding is still in my stomach now. Oishii! I'm still so full that I didnt even take dinner.
Kiyo 到此一游 @ 11:32 PM