Friday, April 29, 2005
*~*~*~*~*~*~*~*~*~*~*~*~*~*~
Sorry Folks...
I wont be entertaining you during this long public holiday as I have retreated to the jungles of Bukit Timah Hill.
There was nobody there and this picture was taken using a
Nikon tripod
found disposed there...
Please call me Yogi Master Shanalada (
not sha-la-la-la okie
) when you see me next time.
If my mood is good, I may SHOW you some leg behind neck poses too.
(YOUR leg behind YOUR neck)
Master have decided today is a good day...
to face the world...
WITHOUT MAKEUP!
I realized that my scars are recovering well and today I went to work with only sunblock and minimal concealer. *happy*
And that is what I am going to do for this long public holiday..
I will be wandering on the streets of Orchard (what at night!?!) in the afternoon la for some lunch maybe after my gym tomorrow.
But gym is definite MUST on Saturday and Sunday!
I want to do combat, cycling, and that stewpid machine that ur right & left hands go concurrently with your legs front and back. I think doing exercises will REALLY clear your mind and rid of all rubbish physically and mentally.
My mind isnt quite clear lately.. I have been thinking of my real identity, what i want, and what i want to be.
*skip this, it's too serious*
Okie.. Me! (I hope i havnt scare you..Dont send me hate mail)
This is how I look like in front of the computer...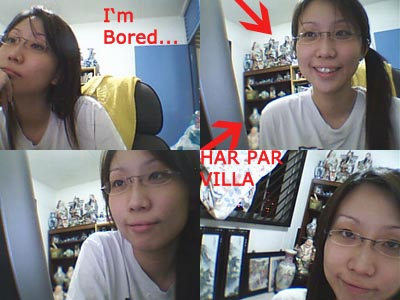 Did I mention that i am currently staying in Har Par Villa
?
This part is dedicated to OEB aka Orange Expensive biscuit's blog.. he said he started his blog after reading mine *touched*
In his bloggie...
I am in the section together with Xiaxue and Kenny sia~ hahahah
F*a**isTh**of SFC has been pm-ing me asking me out. He asked me whether i will be free for lunch on coming Monday..
i wasnt
.
I have something on...
Like...sleeping.. at home.
*opps*
No.. maybe i will be going for a makeover at Naughty by Nature. (this is another separate story that I will save till tomorrow) . Anyway, I dont have the habit of meeting with unknown guys on the internet ALONE.
Than he continued to ask me whether I'm free this friday..
Hi f*a**is, If you are reading this, I will go out with you....
Provided you let me bring my errrr... nikon tripod aka xdd along..
Kiyo 到此一游 @ 10:31 PM

Thursday, April 28, 2005
*~*~*~*~*~*~*~*~*~*~*~*~*~*~
Went to cut hair today...
Dad drove me to Delphi Orchard today where i had an appointment with Hair Art Cinderella for a hair cut.
Wore my new capris and even my dad said that it was nice.. hee hee, and asked me how much was it. (or was he trying to find out how much I'm spending? hahah) Anyway.. I told him around $30.. I couldnt remember the exact price...
On the way there, there was this van who tried to "cut" into our lane.. than he started his car theories..
"When turning out like this, you must look out for cars.... some cars like the van in front will not give way to you....."
"then you must........you must..."
It went on for 10 mins..
I nodded my head and kept repeating Yes, I know..
I have a license, but I DONT DRIVE. I havnt been driving for quite some time.. Some say it's "
Kopi license
", in Japanese, they call people like me a "
paper driver
".
I'm not familiar with the roads and get very stressed out if I dont know the route. The last time i was behind a wheel was in Australia when I visited my bf. He doesnt have a liscence at that time and I do. So.. I drove.
I ended up screaming at him at the
top of my voice
once i was behind the wheels.
"Turn where! Turn where!? You sure anot!?!?! hao xiang bu shi leh!?!"
Really fedup as he's quite laid back, bad with maps and he doesnt know the route EITHER.
I'm a better navigator...
Then Dad continued to ask me about the cost of my haircut.. (I'm beginning to suspect he
IS
checking how much i'm spending.. out of concern n
kaypoh
of course hahhah)
Okie.. I lied.
I told him it's about $30 dollars. It's not lor.. If he knows that it is $45 dollars for just a 2 inch trim.. i think he will scream.. plus i went for a hair treatment as well...
shhh...
What did I buy today... hmm..
I bought a TOPSHOP green halter yesterday during lunchtime
(which was an impulse, and I dont think i will be wearing that often as my bf will scream at me, cos too low)
and i bumped into Julian too.
Bought this magazine called Popteen. was flipping through it in the salon just now.. and thought that it is quite good. It provided some useful tips on eye makeup and face massage that makes ur face thin! (i seriously need this man)
How to massage your face... Dont know how true.
I chanced upon
Kenny Sia's blog
. He's one funny guy. Actually I should have read him long ago as Poisonlady did mentioned him
(i think)
in her blog. But i was so busy with dont noe what that I didnt go and visit his blog.
This t-shirt is from his blog but I PSed it. The original one was "bigger".
I dont have and I dont lie.
I will SERIOUSLY consider to buy it if it is like this..
Kiyo 到此一游 @ 6:12 PM

Wednesday, April 27, 2005
*~*~*~*~*~*~*~*~*~*~*~*~*~*~
This is the last time I'm saying this
(Dont take me too seriously hor.. hee hee)
Somebody overseas added me in msn when he saw my pictures while he's searching something on the net . He said I looked awesome (which dont noe how true that is) and kept on asking me what's my age. he/she (which i think should be a 'he') said he needed somebody to talked to only... so he asked,
"you are 19 right?" (He's a poor guesser)
i told him i am 25.
...
(i waited)
...
(i waited)
...
(i waited)
I logged off.
end of chat.
Yes. I am 25 years old
and I'm gg to be 26 very soon.
Everybody seems to be suaning me that every now and then..
Besides being
old
, i am
flat chested
, have
flamingo legs
,
fat face
and
bugs bunny teeth
.
Please tell me something new man.... hahah
Yesterday oso.. that gerald.. i sent him our pictures we took at baker's inn in pepppermin's cam.
than suddenly his mother came in.. and saw that picture
(it's 1 of the pictures in the scrolling album on the right)
and asked him..
Gerald's Mum : "who's that? ur gf ar?"
Gerald : "no lar! so
old!
...."



i told him next time... say
NO LAR, FULL STOP
can aredi.
Comments and explanations on why
I AM NOT
his gf are redundant and absolutely
NOT
necessary and will only amount to personal attack.
And what is more hilarious is that.. his mum replied
'ya hor.. abit old...'
-__-''
Well done... *
claps
*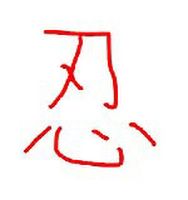 My friend's tea ceremony was moved from malaysia to Singapore! yippe! and i'm cordially being invited to be her jie mei!hiak hiak hiak.
I'm thinking 1001 ways to tekan the groom man...
Wont ask him to do push ups.. i need some naughty ideas..
hiak hiak hiak.
Kiyo 到此一游 @ 8:32 PM

Tuesday, April 26, 2005
*~*~*~*~*~*~*~*~*~*~*~*~*~*~
Loot of the week
Hey, I dont have loot of the week for such a longgg time.
It's not that i did not buy anything. But just too many photos to post so forgot all about sharing my loot
Okie here goes.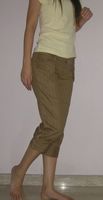 I went to FEP on sat to my all time favourite level 1 and got this capri. and this sash!
I'm still waiting for my sash from my AE spree to arrive.. meantime, i will use this..
Can use it as...
A waist sash..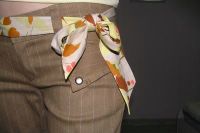 Something for the hair when you are going for a retro party.
(hair's a bit messy though)
or tie on your bag...
or.. according to gerald, u can tie on your hand or wrist if you want too.. for a funky style.
Just saw on the news about the
Singapore Triathlon
. My bf took part in a triathlon once with his friend and swam, cycle and then ran for dont know how many km.. He used to be so athletic. hahah. okie okie.. he is still athletic now..
argghh! i thought i am going ktv this wednesday night.. made a mistake man.. it's next wednesday!
i want ktv!
Kiyo 到此一游 @ 8:03 PM

Sunday, April 24, 2005
*~*~*~*~*~*~*~*~*~*~*~*~*~*~
Yesterday
I mentioned that there was
NO SUNSET
whatsoever yesterday right?
But then...
Gerald
can do anything using Photoshop!
(okie.. i know it's not real, but please give him some credit can..)
Original Photo
Tada~
See, even the mountain on the right disappeared. this was actually what i wanted, "a cannot see face but it's me" photo.. but since yesterday's sunset wasnt strong enough, he seeked the help of photoshop.
*claps* *claps* *claps*
Think I am taking leave on Thursday.. Still have about 14 days left for the rest of this year and Wednesday night i'm going karaoke with xin and pigzilla! Going to choose and finalize what song I am going to sing during her wedding..
Some choices below.
1) Liang Ge Ren By Kelly Chen
2) Zhi Shao hai you ni By Sandy Lam
3) Zhi Fei Ji By Sandy Lam
4) Some Sun yan zi's song...
Some other snapshots yesterday at baker's inn..
Standard smile..
Kiyo 到此一游 @ 2:45 PM

Saturday, April 23, 2005
*~*~*~*~*~*~*~*~*~*~*~*~*~*~
Got Double Suaning today
Good. Got additional suaning today.. One is the usual one, gerald, who keeps on reminding me that i'm no longer young. Another one was Yeow ming...arggghh. I think maybe he never see me for a very long time so today go ONE BIG ROUND shoot me say I old lo...
Good... VERY good.Well done.I just got this "please suan me" face.
Today's sunset wasnt very good.. :( The sun was hiding behind the clouds.I thought i could get what I wanted..but seems like today is not my day afterall.
After dinner, we actually went to Plaza Sing and took some neoprints with peppermin and xdd! Actually, i find that the process of taking neoprint is quite stress. Although everything is in jap.. the timing and all really make you stress out...hahah
Previews...
Boxing myself...
I look stupid...
Cute!
We are 3 crazy people!
Kiyo 到此一游 @ 11:11 PM

Friday, April 22, 2005
*~*~*~*~*~*~*~*~*~*~*~*~*~*~
I'm so happy today!
Firstly, because it's Friday...
Secondly, i discussed about the Taiwan trip with my bf last night and asked him to ask his taiwan friend, Johnny..
I wasnt expecting anything at all, maybe just some recommendations of where to go, eat and see but...
It seems like Johnny has a uncle who has empty houses all over taiwan.. haha
got one in taipei and one bangalow near the beach. and johnny told my bf that if we are planning to go over to taipei in july,
he will ask his gf to come too so that we can travel together.
I love u, dear! I love your friends!
I think i can just sit back, relax and let johnny show us plus his gf around.. (but nothing is really concrete now anyway..)
I think i have to plan some "free & easy" time, for my SHOPPING (or maybe grabbing session) of course.. they might not like shopping too much.
i asked my bf to tell johnny that there are another 2 pple going and he doesnt mind.. but i wonder whether he got tell him that they are guys,
(little boys to be exact) maybe he thinks that they are girls.. so dont mind wahhaha...
so the plan will be Gerald, Alex (his friend), my bf, me, johnny and his gf from singapore.
excited excited!
But i wonder how the trip will turn out as we are not really close to each other..and dont noe each other very well
like i dont really know johnny that well (met him once when he came to singapore, tall shuai ge), i dont know his gf..
my bf dont noe gerald and alex etc etc. BUT even if there is no FREE accomodation, i think everything will go on fine.
The free part is just an additional perk.
Want my cow pic or pig pic in SUPER enlarge format to see nose ring and all...
Pm XDD aka Gerald aka Witness (Clubsnap), Witness(Flowerpod, he asked me yesterday how to change his status to male podder, cos he hates being a BABY podder.. frankly speaking, i really dont noe how. Any podders can help?), 1465178(Samsung Fun Club).. what else ar...
and hor... he needs a gf la
Those who bear a resemblance to Lin Xiang Ping or Ah Kiew (from twins) can register through me..
Kiyo 到此一游 @ 10:09 PM

Thursday, April 21, 2005
*~*~*~*~*~*~*~*~*~*~*~*~*~*~
Taiwan...
Currently planning to go for a trip in Taiwan in July. I need a break man..and some
serious
shopping. But it doesnt seem to be a good idea to visit taiwan during june july season. Guide book recommend oct through nov will be better as it will be cooler. but i noticed that period has alot of typhoon cases...
I will read through my Niu Er book again to see what kind of ingredients i can get in their "hua gong hang" to DIY Maybe masks or the vitc powder. I heard there's this zuo xuan C powder that the taiwan girls use to make their vit c essence and the whitening effect is good. You can even just mix a little of the C powder into your moisturizer for a whitening effect! isnt that great!
Met up with Sin (my friend who is getting married) just now to see her studio and outdoor pictures. Some were very natural and nicely taken, some were very funny. We had a fun time laughing at some of them like there is one of them they were taking pictures at the lake. Initially i thought it was quite nice than i saw the reflection in the water.....
It reflected a construction tower steel frames or what... -_-''
Photoshoot on Sat again...I only want 1 pose and 1 picture only. Told gerald what i wanted liao. i want those that cannot see face kind haha.. with the sunset in background plus my silhouette.. he say he thought of a sexy pose for me liao.. i wonder what it is..
Sequel to the pig picture
Maybe cow prints will be 'in' the next season hor...

original pic taken by Laysin
Kiyo 到此一游 @ 9:31 PM

Wednesday, April 20, 2005
*~*~*~*~*~*~*~*~*~*~*~*~*~*~
Received something yesterday..
This thing was below my desk when i went back to work... and the box is in my favourite green colour!
Not from an admirer though.. long long long time to the power of infinity no admirer send me gift liao.
The last one (who was blind besides my current bf) was during my university yrs.. haha
I think i oso long long long long time ANYBODY sent me anything..
*hint hint*
Than the next person I thought maybe my boss.. cos this week is secretary's week. but no leh.. it's not him.. Than it turned out to be from a hotel manager.. that we liaised with quite frequently..he included a chinese restaurant voucher too! Think i will make use of that voucher to treat my mum! but confirm have to fork out another 100 more bucks..
my bf has been reading my blog every night.. WHICH IS REALLY RARE.. cos he dont use to like reading my blog.. i wonder what's wrong with him. Maybe i ignore him too much and spend too much time on the net liao.. he panick hahah and he want to check whether i am
REALLY
writing my blog anot.. :P
I MISS YOU DEAR!
(you reading anot??) hahah
Yes!
you!
you!
you!
(think my phone is going to ring anytime when he sees that his pics (ugly ones especially) are in my blog, hey hey, one way to get him to call me..)

Gerald suggested another way..
"Post MY (gerald) pic in your blog than he confirm call you every hour."
hahaha (very bad...)
Please remember to help me buy more Indo Mee la, Aesop primrose mask la, Jurlique hand cream la, David Jones body sunblock when u come back hor! and my mum wants some abalone, bird nest.. and pearl hor.. hahha (no la..hee)
There's a sequel to the PIG picture that Gerald drew (scroll to bottom 2 refresh memory)..
This time, it's a cow...
mooo mooo~
Kiyo 到此一游 @ 7:13 PM

Monday, April 18, 2005
*~*~*~*~*~*~*~*~*~*~*~*~*~*~
Enough of sentimental postings...
Today i went to JB, as mentioned.. everything was fine.. and when i was on the taxi going towards woodlands, i spotted a few places with these....
and it reminded me of a picture Gerald sent me a few days ago... haha.. i think got some people go and rearrange the cows wahhahha... or maybe it's PSed...
(Disclaimer : Anybody who finds the following picture an offence shall click that cross on the top right hand corner NOW. Kiyomi will NOT be responsible for any INCIDENTAL, INDIRECT, SPECIAL, PUNITIVE, OR CONSEQUENTIAL DAMAGES to your MIND or BODY)
Anyway, i reached JB very early this morning.. cos the taxi driver was driving so fast! He only took 30 mins to go from Bugis to Hyatt hotel JB.. and i waited there for almost 45 mins for somebody to come and pick me up.
Next time i will know better not to go so early man.. sheesh.. waste my time, should have slept more.
On the way back, the md was very kind to drop me off at woodlands so that i can take a taxi. Then comes the interesting part.. i boarded a taxi, than after about 10 mins, the taxi driver started to chat with me..
"wah, you work so far ar.."
"no la, just now i went to jb"
"orrh.. your own business ar?"
" no la, where got so li hai (capable)?"
*
shocking look
* ..... blah blah blah
"what kind of company? american or ??"
"oh, i work in japanese company"
"OH! you work in japanese company? nihongo ga hanasemasu ka? (can u speak jap lang?)"
"sukoshi hanasemasu (i can speak a little)"

Than you know what... he started to speak to me in FLUENT Japanese! and told me where and how he learnt his japanese, as his aijin (lover) is japanese... he stayed in Japan for 1 year to learn the language.
I was so tired liao leh.. so ying chou (entertain) him abit.. and just echo
"so desu ka" , "nihongo ga jyouzu desu ne (ur japanese is good, which is the truth)"
and all kinds of small talk. He kept on asking me questions in japanese too, even for the directions to get to my house and have no wish to switch to mandarin at all. I felt very COMPELLED to reply him in japanese but hey, both of us are chinese lo, why are we talking in a foreign lang huh?
I feel like telling him.. " Uncle, i knocked off aredi leh... dont stress me la.. dont like dat leh.. " hahah
Than you know what, he talked and talked and got me so engrossed in the whole japanese talk thing that i forgot to take the receipt from him!
-_-'''
He forgot all about the receipt too although i told him at the begining of the journey i needed one.. Sigh.. me hor.. talk, talk, talk, talk.. talk until forget liao..
Can I click that "
Extend Weekend
" ?...
Kiyo 到此一游 @ 6:45 PM

Sunday, April 17, 2005
*~*~*~*~*~*~*~*~*~*~*~*~*~*~
Recalling the past...
Today wasnt really a sunny day and I nearly overslept. Luckily I didnt... Today's Meech's class was just as great. A lot of old combat tracks.. I really like the song 'If I were you' by Candee Jay, we did the one of the combat using this track. I like the lyrics... it just makes me think of very sad things.. although it is quite a techno song. But i really dont know what I am sad about too and who I am thinking of when I listened to this.. But i was crying in front of my computer when i listened it again through radio.blog just now..There's this emptiness inside.. What's wrong with me ar?? maybe the time of month again wahhahah
But i cant find the mp3.. I'm still listening it through radio blog.
If I were you
I would never let me go
If I were you
I would always love me so
If I were you

I can't play your part in life
but I would surely walk my way
I cannot think the way you think
But I would never go away

You can trust me when I say
That I will always be for real
You can always count on me
No matter how alone you feel

If I were you
I would never let me go
If I were you
I would always love me so
If I were you

I would never..
I would always..

I can't tell you what to do
I can only hope for more
More decisions to be good
Like the way they were before
Watched "
Liang Dai Dian Li Gong Si
" on SCV just now.. the topic today was "Xiao yuan gu huo zai" (which means School bullys).. Looking at their discussion, it brought back alot of memories when I was in Secondary School.
I wasnt a school bully, i wasnt a goodie 2 shoe either. I was a prefect when I was in Secondary School. And i was one of those people who go around the school spotting those who hid in corners to smoke in school and standing up for those who are being bullied. I was rather fierce too. I think alot of people hated me... I remembered there was this net friend i got to know from msn... he still remembered me and ask me whether i was that "fierce prefect".. wah..I remembered very vividly that i was threatened by some girls and nearly kena beaten up cos I stood up for a guy as they were ridiculing him, poking fun at him calling him names like "ah gua". I
WASN'T
interested in him lah, i think i'm just kaypoh or really 'kiam pa' (asking for beating) hahha..
And after that, those group of girls always shout me names like "tekko" (bamboo) , I AM THIN LO.. I KNOW, DONT NEED TO REMIND ME THAT~ hahha, whenever they passed by my class. They even got my house telephone number and called me at night threatening me, and i mean THREATEN. I really was quite scared at one point of time as they were really disturbing my life.
Than one person stood up for me. Alcina. She wasnt a goodie 2 shoe either. Once, they were shouting at me when they passed by my class, because of me, she shouted at them through the classroom very loudly.. and she helped me settle everything, I dont know what she did.. I presume she warned them not to disturb me again. And everything stopped. It's really a pity that i have lost touched with her now... I never see her again after secondary school as after that i moved to a better class and slowly she got her own group of friends while i had mine. But after that incident, i just gave up. I learnt not to be so harsh too.. or kaypoh.. hahah
And hor.. i met the girl who threathened me and shouted vulgarities at me one fine day in NUS toilet.. she remembered me.. we smiled at each other and exchanged some small talk... And we both knew that we have grown up...
Kiyo 到此一游 @ 8:01 PM

Saturday, April 16, 2005
*~*~*~*~*~*~*~*~*~*~*~*~*~*~
Today IS a good shopping day
Last week went home empty handed, today didnt!! went out with my shopping buddy, Gerald again this week. He
REALLY
can walk lo.. never seen a guy that can shop so much. I think we shop from Wisma to Taka, to Paragon and than to Heeren, watched a fashion show than walked to somerset to take the train. Went to Raffles City... than city link.. and then suntec. hahah (and he didnt complain that he was tired, i think i looked more tired than him..)
Got a few stuff today.. a very nice green spag from Levis. Didnt know that Levis had such nice tops. Was watching a fashion show at Heeren than spot this top from levis. Wah.. cannot resist.. really nice, so i tried and it looks quite okie on me so i bought it! but frankly speaking.. it is quite ex... sigh... Saw my sister at Levis too. So surprised! she was trying out the new square flare jeans with a friend. hmmm.. the world is indeed small, but actually hor.. she should be always around that area.. always shop, gym than shop and than gym..
Guess what I got in the mail yesterday...
TaDa!!~!!
This mask is recommended by
Da S
in her Beauty Book. Okie.. I got the RED WINE MASK that is also mentioned in her book.. and this mask too! The red wine mask is really not bad but a bit ex leh.. I'm going to try this maybe a few days later and see whether it is really so good as claimed. From their websites, it seems that it is Out of Stock now!
hmm.. it works out to be about 20 singapore bucks per mask. Still cheaper than the SKII masks i used to have.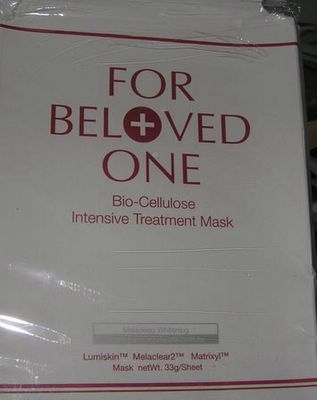 What it claims to do.....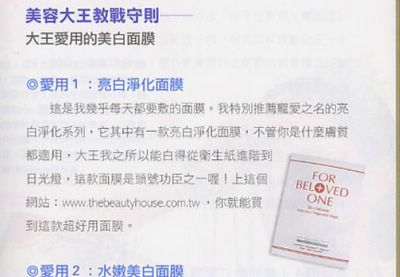 Kiyo 到此一游 @ 9:37 PM

Friday, April 15, 2005
*~*~*~*~*~*~*~*~*~*~*~*~*~*~
Tried something new yesterday
I always like to try something new.. cos this is the only time that i will have ALOT of time to myself cos my bf is overseas.. once he comes back, i think i wont be so free oso..
Watched 'nu ren wo zui da' on SCV on Monday I think. I really love that show. It gives us a lot of information on fashion, beauty ranging from what kind of minis to wear this season, how to take care of your feet etc to how to DIY style your hair. That episode was about styling hair. that taiwan hairstylist made it sound so simple to style your hair at home using a curling tongs. I actually have a love-hate relationship with those curling tongs. I tried once but the result was
disastrous
! always get scalded by the tongs too.. Plus the ends look ultra dry and it just look so wrong. I guessed i was doing it the wrong way.
After observing that guy do it again, (he completed it within 10 mins), i think i got the idea.. hee hee so.. i tried it! Used the tongs that my friend lent to me long long time ago, i think she dont want it back cos she dont really know how to use too! hee.
Results.....
From left : Straight hair, A little curl at the ends (actually look more curled when i look into the mirror), and bun up my hair and letting down part of it at the side
Conclusion : Practice makes perfect.. but i dont think i suit curls at all..unless i tie half up.. hee
Went for facial today at Devotion. had quite a fun time there... I had to changed into a towel actually so that they can help me massage my shoulders and neck.. but then.. the beautician pulled at my towel when she massage saying "how come so tight, like dat no circulation"..
i replied "cos i scared (towel) drop" hahhaha
than we both laugh out loud. Cannot help lah.. i just get very insecure although it was all female environment, plus nothing in front to prevent the towel from dropping lo.. so have to velcro tighter hahah and she commented how come i am so tense, should relax.. buthen i was tense becos she massage until quite near to my chest area..(hey it SHOULD be a shoulder massage hor) hmmm...
Kiyo 到此一游 @ 9:39 PM

Thursday, April 14, 2005
*~*~*~*~*~*~*~*~*~*~*~*~*~*~
Shenton Way and Raffles Place
Anybody read the URBAN issue of the Straits Times?
Today's issue is rather interesting.. mostly about men's facial or cosmetic stuff and clothes..
there's even this website that sells men's cosmetics.
http://www.simplymenz.com
Apparently, their concealers are their best sellers. I think men should put some concealers too lo.. It's not really very appealing to see pandas strutting around.. *opps*
There's this interesting topic on the fashion in Shenton Way and Raffles Place too.
Quoting a reader: "Raffles Place girls are more"chiou" (hokkien word for pretty), Shenton Way girls are "lao chiou"(old pretty) "
I was laughing my head off when i read this.. Luckily i dont work in Shenton Way man..
Anyway.. I totally agree that Raffles Place is the place of buzz on weekdays.
You get to
see
, and
be seen
..
Plus the shopping is very good there. Got HABA, GG5 and my favourite South Haven..But i feel it will be very pressured if all your colleagues are dressed to the nines and branded from head to toe... some may be 'forced' to become part of that. i think i need to get another suit or a dress.. badly.. have to shop really seriously for it this saturday.
So 'auntie' comments from my shopping buddy will be ignored. hahaha
so this sat will be wisma's south haven, ozoc, indivi, U2, G2000, haba, tiffany at taka (cos my shopping buddy dont noe where is tiffany), taka's dolls, kinokuniya, M1 at paragon, heeren... any sfc members that happen to be at orchard in the afternoon, want to meet up for kopi just msg me hor..
JB saga Part II.
this morning, received an email saying that somebody will tonpang me over. I dont know whether this was arranged out of goodwill by the mgrs or because the ceo asked them to do it cos i emailed them and bcc him.
Hey, but i didnt complain lo..IT'S JUST NOT me to complain. not as if i WANT to take their car after they said such things..I just state matter of factly that i will take a taxi into JB and this is my contact number, just in case.. the next day, everything settled liao..
but then
.. my mgr told me saying this is really confusing which i dont see anything confusing at all!?? they have agreed to let me ride in their car wat...he didnt say it outrightly but hinted to me to take a taxi cos there are guests travelling in the same car and told me 'taking taxi is easy right'? I just put on my brightest smile and told him that 'if it's really troublesome, i can stick with my cab, you know'
but in my mind.. 'taxi taxi la.. so gian meh.. pui."
Kiyo 到此一游 @ 9:22 PM

Wednesday, April 13, 2005
*~*~*~*~*~*~*~*~*~*~*~*~*~*~
I'm very wu liao today...
Did a collage.. hahah messy one though..
Found some of my old pictures so cut and paste inside...
what can i say... old liao lo..
My long-forgotten train cards collection.. these few are from Japan.. i missed japan, i missed shopping..I missed Matsumoto keiyoshi...
Kiyo 到此一游 @ 8:32 PM

Tuesday, April 12, 2005
*~*~*~*~*~*~*~*~*~*~*~*~*~*~
Ultra super pissed
Next week have to go Jb alone.. it's like.. wah liao.. previous department oso like dat, this company oso like dat. previous department ask me to go batam alone ...but batam is a little different cos i went over many times with colleagues before i started going there alone. and moreover at the jetty, somebody will pick me up, if not i can call up 1 taxi driver that I know of..
Now, i'm expected to take a taxi to jb and get to the location..and this is the first time i'm going to that subsidiary lo.. even a female friend who often go with her boss commented say it's not advisable.. and asked me to tell them it's quite unsafe..
They are really very inconsiderate..some other foreign mgr are gg to the same place but they give an excuse.. "they have no extra space for me cos they have 5 person liao, no extra car is going in too"... wah liao.. didnt even offer to take taxi with me lo.. how gentleman they are. i wont let people put me down when they dont even care. U now offer me to sit in your car, wa ma si bo ai liao..
I'm not saying JB is a VERY dangerous place. But it is not as safe as in Singapore right? Somemore I dont know any Malay.. it's not say that i'm REALLY scared or what but.. how come nobody treats me like a lady huh??
Always left to fend for myself.
Kiyo 到此一游 @ 9:27 PM

Monday, April 11, 2005
*~*~*~*~*~*~*~*~*~*~*~*~*~*~
I broke a mirror on Sunday
And i really did check on the internet about the 7 years bad luck thing. I think i am superstitious after all. hahah But many people on msn told me not to worry. I'm fine! it's just a old woman's tale.. i'm a modern woman okie!
But... if you consider 'shopping online but the clothes i like dont have my size' a very suay thing..
Than I AM SUAY...
Thinking of organzing another outing for SFC cos i got so much time on hand. Where shall we go? I fancy the idea of sentosa beach although i dont like the sun. I know zen likes the sun and maybe a few others too.
I told winston that i will sacrifice and sit in the shade and help look after bags while u all play beach volley. At least it is something different from our usual ktv sessions!
Found out that peppermin's bf and my bf's horoscope is the SAME! that's why when we share our stories, how come so similar wan.. plus her horoscope is the same as MINE! LEO!!
Roar! fellow leo~ who's leo too??
I ordered this through wonderkid's spree. Can team with my jeans or minis.. i hope i got the chance to use it man..
Kiyo 到此一游 @ 10:11 PM

Sunday, April 10, 2005
*~*~*~*~*~*~*~*~*~*~*~*~*~*~
THANKS to....
So who did this to my photo?? hahah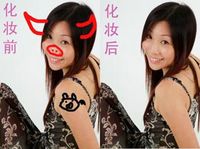 GERALD lo...
This studio picture was taken by another friend, Ivan or Laysin i think.. Asked him to help me edit my picture as the picture was a little dark and he did this... arggghhh.. and
dare
me to post it up my blog.. haha Look at how he sees me through his eyes.

so this post is to satisfy him to see his creation on my blog.. bleh. He did this a few nights ago and i was still wondering whether i should post it nor.. he's being bugging me at it. Think he just derives pleasure from poking fun at me. hng!
(you asked me to post only lo.. u didnt say what size wor.. purposely made it smaller hoping maybe nobody will notice... which is quite unlikely hor.. )
Went out shopping with him yesterday but didnt get anything, cos everything i took off the shelf he just comment
"Very auntie leh" ..

just stared at him than continue to walk liao.. but really appreciate that he asked me out as he knows i got no date *sob sob* and still willing to spend his youth shopping with me..Week after next, there will be another shoot again with my same old friends, Yeow ming, laysin, ivan and gerald.. i think pep will scream "ahah so many people?!?!" and i dont think i will take much pics too...
shhhh.....
Kiyo 到此一游 @ 1:20 PM

Saturday, April 09, 2005
*~*~*~*~*~*~*~*~*~*~*~*~*~*~
Something was wrong yesterday
with my connection... Just so strange that EVERYONE can access to blogger page and only I cant. sigh.. and many thanks to
WINSTON
too... made him waste a bit of time yesterday trying to solve my problem.. although the problem wasnt solved but i'm really grateful. Think guys that knows computers and programming are very attractive.. I always have a soft spot for them since secondary school. cos that's the time when I really have no idea how to solve problems, and when guys solve problems for you.. feel so "protected" mah hahah. My bf's programming is good too..he belongs more to the software programming..hee hee And see.. so pai mia.. saturday woke up so early too..
I wanted to post this picture done by Jeffcool of SFC yesterday, but couldnt. hee hee
so cute.. made used of most of the girl's nicknames in the comic!
Today is a glommy day.. no sun. Good for me, i dont like the weather too hot anyway.. but hee hee.. people going tanning today can stay at home lo! hahah
Kiyo 到此一游 @ 7:39 AM

Friday, April 08, 2005
*~*~*~*~*~*~*~*~*~*~*~*~*~*~
My first time...
Recently got a lot of first time hor... Today is my first time to interview a candidate as a HR person. I think i'm quite bao ga liao. Help my boss do secretarial work now have to help him interview too.
I like learning new things and interacting with people so.. HR is also one of the fields I like although maybe Public Relations will be better
Learnt alot through today's interview. It's not easy to decide and spot a person's ability within 45 mins of conversation. There are so many other things that you need to observe, other than the questions you need to ask. and mind you, actually HR managers aredi knew what you are going to answer le. they know all the standard answers liao ahha and i recalled during my interview, i oso give quite standard answers.. that's really a NONO.
and the moral of the whole story is.. if you dont noe your job, at least LOOK confident and SOUND confident and try to build rapport with the people within that short time. that's really so important. And most importantly, you have to have this firm look in your eyes saying that "i can do it, trust me man.."
Tmr's weekend! what shall I do tmr? hmm.. maybe just laze at home, surf internet... but i badly need to get another jacket or maybe suit.
Not power suits la.. i prefer the sweet sweet type. Saw in indivi, there's this tweed jacket that is so sweet and jap looking. Cost about 100 plus close to 200.. but dont have my size and got a stupid pocket that spoils the whole look.
recently, i very siao that look cos i realize i cant really go to Far East Plaza or bugis everytime i need something new. No longer can I fight with 18,19 years old for that kawaii mismatched style lo.. used to shop at P.O.A, like that kind of hongkong plus jap style but really not for me anymore.
i need to go for the jappy OL look (
Office Lady hor.. not OLD lady hor
)
I found a pbase site full of lin zhi ling's pictures. My favourite model.. I just like her style and her jeans!
http://www.pbase.com/albertjou/chiling&page=11
I'm still trying to find that dangling belt on her jeans... very nice.
Talking about kawaii.. this is my new bracelet! bought it at isetan.. can wear it when I feel like having a "cute" factor that day.
oh ya..My friend, the bride complained to me that why is she the one who is proactive in everything, like the wedding, the house and where to eat etc.. i feel the same way too. Sometimes i seem to be taking care of EVERYTHING too. Like when me and bf went to hk and perth..(which supposed to be his homeground!), i was the one who took care of the tickets, hotel plus detailed plan (and I MEAN DETAILED) itineray of where to go, what to see. Just give me a feeling, GUYS CANNOT DO WORK lo..
But me oso want to be loved and have the feeling of being taken care of mah.. i may look very independent and strong, but girls like guys to take care of them nah and help decide things sometimes.. my friend was really fedup and upset about this but there is nothing to be done as you just have to accept all the shortcomings of a person if you really love him.
Kiyo 到此一游 @ 9:36 PM

Wednesday, April 06, 2005
*~*~*~*~*~*~*~*~*~*~*~*~*~*~
Tried my 100% silk pillow yesterday night!
No lar.. it didnt bring me good dreams although i wish i dreamt of either the cute pilot kimura on the channel U show !! or wang ren fu haha.
But at least i didnt wake up to see my hair all entangled and messy! hee
Went to Margaret brides today and here's my gorgeous friend and her hubby!
This gown is designed by margaret herself and I like that the organza part. It makes the gown very unique.. hee I didnt get to try anything on today cos a bit paiseh.. last minute her hubby decided to turn up. I decided not to make a fool of myself... wait people say i desperate to get married.. haha in actual fact.. who doesnt want to be dressed up like a princess? hee hee
I'm feeling better.. THANKS to all the concern i got from some friends. I'm still trying to recover my big appetite. Mind you, I can EAT alot lo.. but now still havnt recover to my full strength yet.
Saw that stupid
PERVERT
for the 2nd time! he was around my block of flats playing with his thing. Wah liao.. now only about 7 plus only he so desperate... The first time i saw him was like 11 plus and i went home alone. I really freaked out cos it was rather quiet and i was walking through the carpark and he was staring at me and doing that 'u know what' la.. I didnt tell my parents about it the first time, was afraid that they will worry for me everytime i go home late.
hng hng.. this time i not scared liao. today raining and i got umbrella! he dare to come near me, i swear to myself i make sure I
aim
and then make him cannot celebrate Father's Day again ar...
Kiyo 到此一游 @ 8:46 PM

Tuesday, April 05, 2005
*~*~*~*~*~*~*~*~*~*~*~*~*~*~
My body is sick.. my mind is still alive
Not feeling well. Started from yesterday or maybe it has been on and off from last week since I ate that cai tao guey during lunch. I really shouldnt have ate that and that stupid thing made me bloated for the past week.
Cant tolerate it anymore so went to see my regular chinese physician. I dont even have to let him feel my pulse. I know what's wrong with me. Have been going to him since I was in primary school. This has ALWAYS been a constant problem. sigh..
Than I took notice of the times i visited him last year.. It was once every 3-4 months since i started this new job. I didnt use to visit him that often when i was at Epson. I guess maybe it is partly due to stress? but dont feel the stress leh.. or did i stress myself subconciously.. hmmm..
Anyway... THIS IS NOT LONG KANG ZUI lo.. this is my chinese medicine.. very bitter.. sob.. (but i still derive pleasure from taking pictures while drinking it hee hee)
Got a SMS from a friend asking whether i'm feeling better this morning. It feels so good when you know you are not alone especially at times when you need just words of comfort. Bf hasnt called me yet today.. although he knew that i was sick.. :(
He
IS
very busy *
trying to convince myself
* haha
no la.. stomach pain only mah.. oso not going to die. I'm really alright if he doesnt call. Sometimes i joke with him..
"if i die aredi i think you oso wont know.... until the corpse got smell and then you realize that's me" whahah
Kiyo 到此一游 @ 6:07 PM

Sunday, April 03, 2005
*~*~*~*~*~*~*~*~*~*~*~*~*~*~
Really STOOpid~
went to the gym just now with my swollen eye.. trying to prevent eye contact with the people there cos my eye was so swollen, they must have wondered what happened!?!
I did 2 really stoopid things today. After my combat class, i went to bathe to get ready to go to novena and get some Niks products. So after everything is done, wore my clothes and all, applied my sunblock too.. i wanted to wear my sandals.
hmm.. then, i took them out from my shoebag and throw them on the floor.
And guess what?
That stupid sandal hit right at my toe! ARrrrgggghhh! it was ITAI.. really. i quickly hop to the side benches to sit down and looked around to see whether anybody caught my stupid act. Anyway.. all girls la.. i dont think they care oso.. hahha luckily nobody saw..
This will remind me NOT to be so rough next time... sigh..
2nd thing.. after i came out of the gym.. i noticed today is 3rd of April. So.. what does 3rd April mean? it means that I am supposed to meet a flowerpod gal to collect my spree stuff and I forgot where and what time to meet! I was so busy translating the questionaire yesterday that I forgot to doublecheck. I dont have her mobile number too.. i was like mumbling to myself
"die aredi, die aredi.. meet what time? i cant go home and check now, need to go and get some niks stuff, siao liao..and by the time i find an internet terminal, i may be late.. i dont want bad reputation in flowerpod okie"
Than I started to sms my friends.. Starting with Panda.. Panda not at home.. sad. One down.. Gerald oso not at home.. he out for shoot. was tempting to call peppermin but scared she pak tor.. plus she doesnt surf Fp so difficult to tell her where to get the info.
Than I called my...... bf. Last choice..
he is sleeping, as expected.. I woke him up. opps. he must be very tired cos i guess he must have studied until 5 plus in the morning.. I bo bian aredi.. for my reputation, he must help me to switch on his computer with his half opened eyes and sian 1/2 voice... i was so scared that he will get angry and shout at me. (although it didnt happen before la.. but there is always a first time.. Some sleepy men are angry men.)
he is also very clueless about surfing forums.. couldnt find the Spree thread and i can hear his voice getting very restless.. "mei you leh.. zhen de mei you!".. i was a little anxious but i managed to supress my voice and ask him nicely to look carefully.. cos i asking for help mah and I know i'm wrong to wake him up for this kind of stupid thing that i should have done yesterday night.
About 15 mins of fiddling around.. he finally found the info i wanted.. heng ar.. cos i pmed Qris the other day promising her i will go today.. it wont be good if i dont turn up.
Kiyo 到此一游 @ 7:59 PM

*~*~*~*~*~*~*~*~*~*~*~*~*~*~
Was fun yesterday..
Woke up so early to blog cos yesterday didnt have time to do that! rushing some translation work when i went back home after the gathering.. what can I say.. it is just good extra money that i cant refused hee hee.But today got a swollen eye liao. I just dont know why i so pai mia.. no matter what time i sleep in the previous night, i usually wake up at 7 plus.. my eye very swollen today! wahhaha Looks like a badly done double eye-lid job. It's
THAT
bad..
Was rather fun yesterday at the KTV session. It was the first time that 14 people left a note and promised to come and 14 people turned up! wahhaha.. Intially when i reached at 2pm, i was the first one there and i thought some of them might put aeroplane.. buthen.. they really came as promised, just a little later..Anyway, it was loads of fun.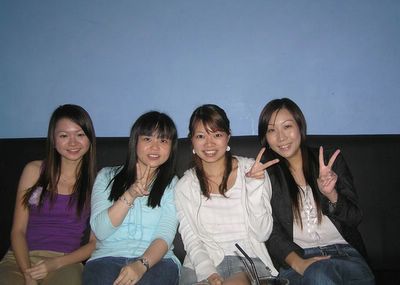 after dinner..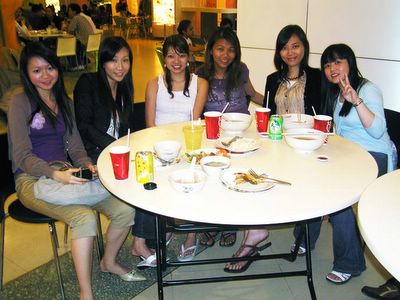 Kiyo 到此一游 @ 8:25 AM