Monday, March 31, 2008
*~*~*~*~*
ようこそ 日本へ
Welcome to JAPAN!!!
so long never blog, almost forgotten the password of Blogger.
It's been 4days and it was great fun! But what was different from my previous trips to Japan is that i dont really fancy shopping anymore leh.. =( Till date i only bought a loose powder and nothing else. In the past, i can spend 2k in 3days!
The weather is really really cold here and everywhere is SAKURA...so romantic!! which makes me want to sing....
sakura sakura
noyama mo sato mo
miwatasu kagiri
kasumi ka kumo ka
asahi ni niou
Our first sight of sakura. They are practically everywhere. Beautiful sight.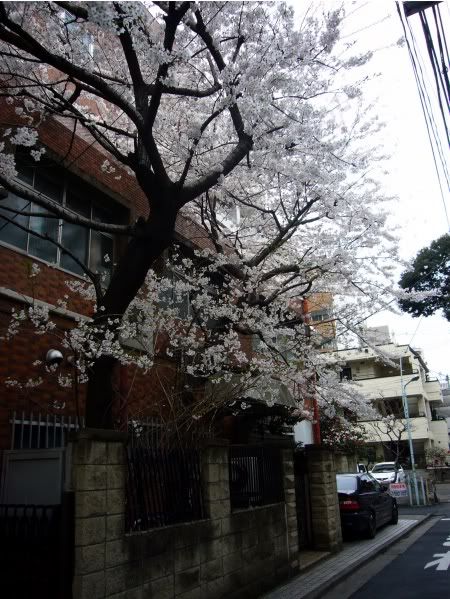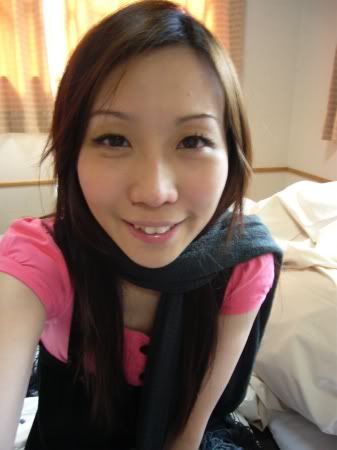 7 more days to go before we return back. =)
Labels: Japan Honeymoon
Kiyo 到此一游 @ 10:45 PM

Wednesday, March 26, 2008
*~*~*~*~*
I am super DEADBEAT.
With all the work that i have to clear, itineraries to double confirm and Darren's visa saga... i may not have energy left when i reach the land of the rising sun. hahah
have been wearing this weary smile on my face these few days...i'm just super tired so dont be mistaken, plus yesterday me and darren suffered from slight food poisoning..
haizz..
he even vomitted..
we were really suay but luckily we are much better today. =D
Don't eat at Xiao Long Bao restaurant at Centerpoint!
really craving and looking forward to tomorrow as tomorrow will be my last working day before our vacation!
and Jes n hubby will be the first couple to fly there to be with the sakuras tomorrow!
and WE will fly the day after tomorrow
and Dias/Weili will fly on Saturday
and Shara and hubby will fly on Saturday too!
ALL TO JAPAN!!!
They are going to earn our tourists dollars!
I hope i dont buy too much but i really want to get a luggage with 4 wheels... you know the kind that slides upright and not slide using the 2 back wheels? I heard it's cheap in Japan.
本当に楽しみにしていますね。
Kiyo 到此一游 @ 10:30 PM

Tuesday, March 25, 2008
*~*~*~*~*
I woke up this morning realizing that Darren needs a visa to go to Japan! cos he's a malaysian!
gosh..on the other hand i was glad too as i just dont know what came over me this morning to go check the visa requirements of Japan.
Six sense?
Hope it will be in time. =(
Kiyo 到此一游 @ 9:05 AM

Saturday, March 22, 2008
*~*~*~*~*
lurve long weekends!!
we slept through the afternoons on Friday and today as well and went out for the Miss Sixty/Energie Sale at Suntec.
And we ended up buying a pair each with additional discounts for HSBC card holders hee hee.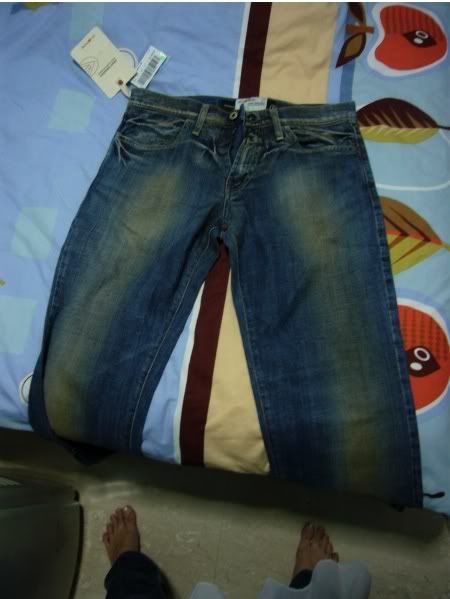 that's mine!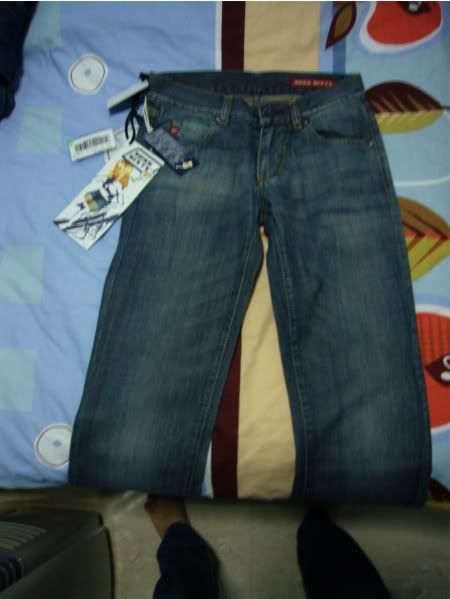 Ending it off with a hot and steamy pork intestines porridge at maxwell food center. yummiz.
Another rest day tomorrow.
Things to do ;
1) Pack our luggage!
2) Confirm our itinerary with Okaasan
3)Sort out my spree items
Looking forward to the sakuras!
Kiyo 到此一游 @ 8:59 PM

Wednesday, March 19, 2008
*~*~*~*~*
when you r trying very hard to save, people just keep inviting to sales... haizz
是远的啰~
but i may just take a look after my work. i hope i have the time. Work is up to my neck for the past week!
but strangely enough, there's always time for the 4 letter word that women love...
SALES
chup ko
leh!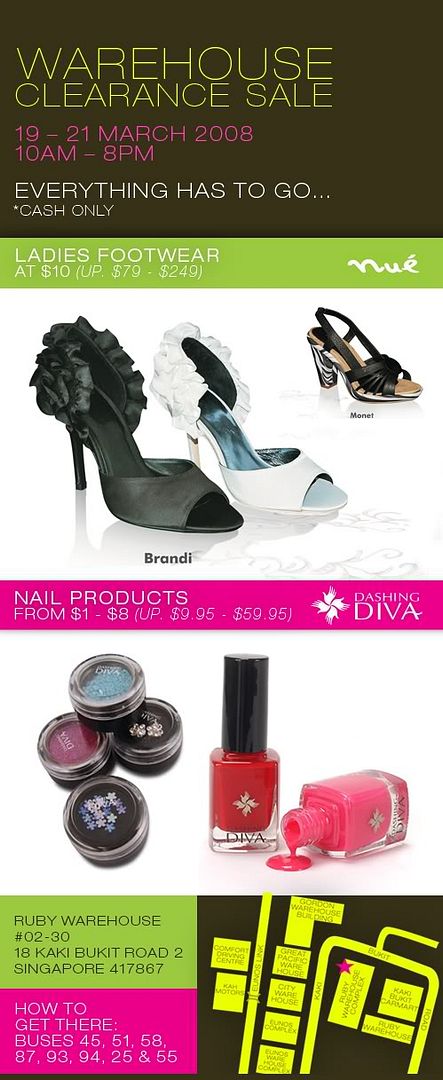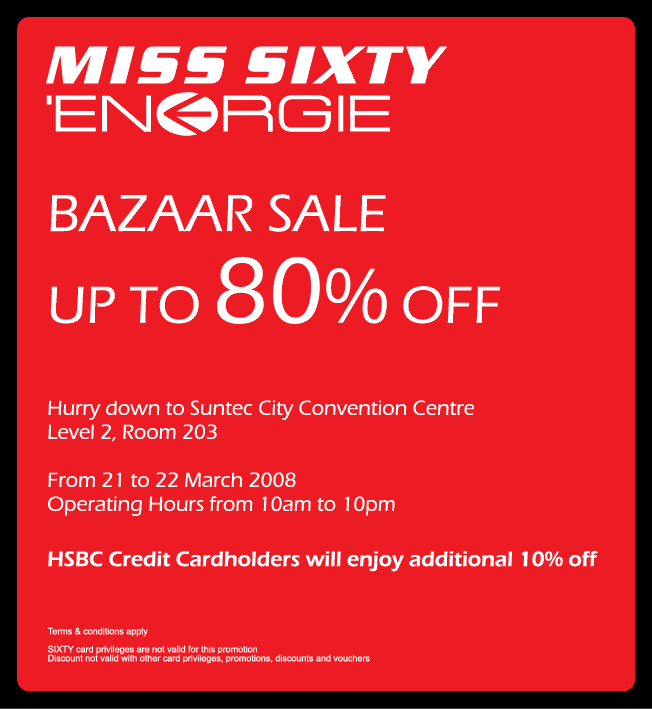 i love their jeans.. the last pair i bot lasted me for 4 years.. with good stretch n fit
Kiyo 到此一游 @ 10:04 PM

Monday, March 17, 2008
*~*~*~*~*
i have tried everything... from anti mosquito patches to stick on clothes to electric thingy that will repel mosquitoes. But they are still biting us!!
arggghhh..
my patience is thinning..
tomolo i'm getting that anti mosquito shower foam!
haizz
Kiyo 到此一游 @ 9:10 PM

Saturday, March 15, 2008
*~*~*~*~*

mozzies alert!!!
think it must be the rainy weather these past few days... Suddenly, my house is full of mozzies!!! all feeding on my blood =(
today literary is a
PA4 BANG4
(hit mosquitoes) day for hubby n me. He managed to hit 3 flying ones.. i only managed to kill one dizzy one who was maybe too full after his meal of MY BLOOD...
hmmph, those
bloodsuckers.
and see... it's the famous or infamous mosquito with white dots on its legs....
rest in peace... sorry to interrupt your meal just now =p
i'm blogging from my MAC! woohoo!! typing is a little slow as i'm very very gentle with her. Went to sim lim and bought a mouse in white. Think will get a keyboard protector as well to keep this beauty clean and white.
love the integrated webcam.. can take 4 consecutive shots de..all nicely framed up
but i think the shutter is too fast for me to change actions.. or maybe age is catching up =___=
enjoy the weekend folks! it's jes wedding tmr!
congrats!!
Kiyo 到此一游 @ 8:28 PM

Friday, March 14, 2008
*~*~*~*~*
yesterday watched a very amazing video..
wonder how the baby did that! i couldnt even swim like dat!!
Kiyo 到此一游 @ 9:55 PM

Wednesday, March 12, 2008
*~*~*~*~*
Last weekend....
Went to the IT show, stuck there and only bought a tripod..
=____=
But it's cheap! only 15 dollars and super ultra light.
See how it transforms from this....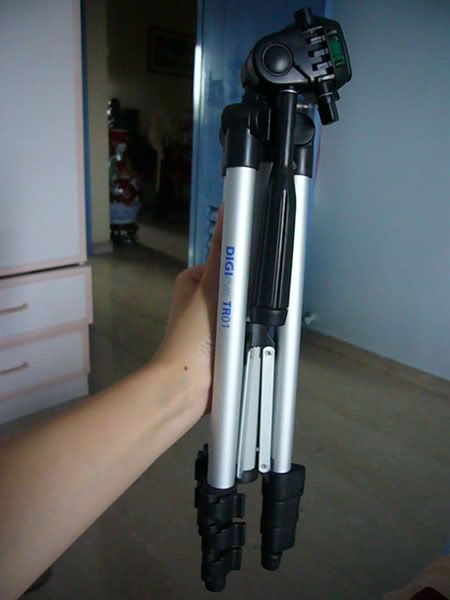 TO THIS!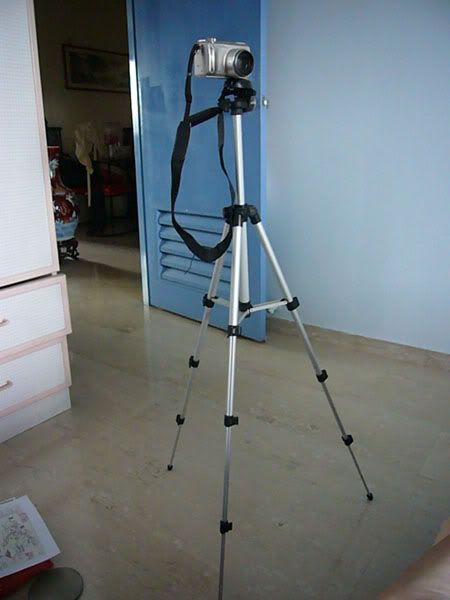 machiam like very PRO hor haha (camera so small, tripod so big hahah)
spent the whole Sunday morning curling my hair and was pleased with the result.
Darren said it's nice too.. as it's just wavy and not too curly. Still contemplating whether to perm my hair in Japan... hmmm..
Counting down to it!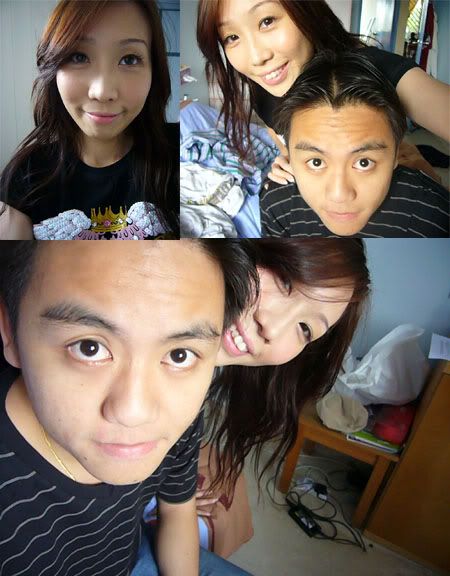 Kiyo 到此一游 @ 8:53 PM

Sunday, March 09, 2008
*~*~*~*~*
I went on the Singapore Flyer for FWEEeeee!
My bosses and admin colleague were invited by Singtel for an elevating experience at the Flyer with buffet dinner. I was lucky enough that my colleague could not make it..it turns out that she had been onto the Flyer previously and was invited by SIA and she gave the ticket to me! They really treat corporate clients very well nor..
kudos to them~
no need to pay 29.50 bucks, confirm must go hee hee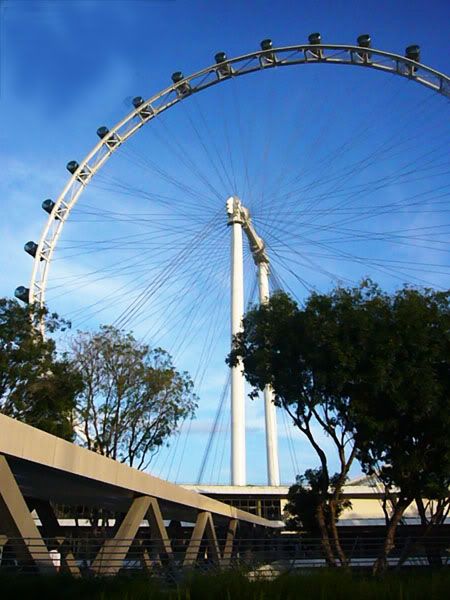 got a lovely shot of the flyer!
(after some editng hur hur)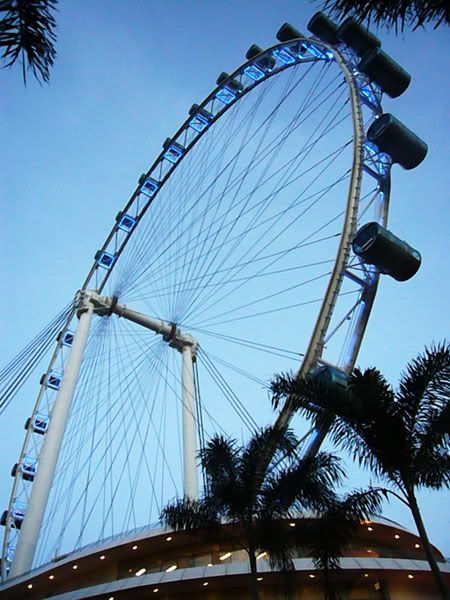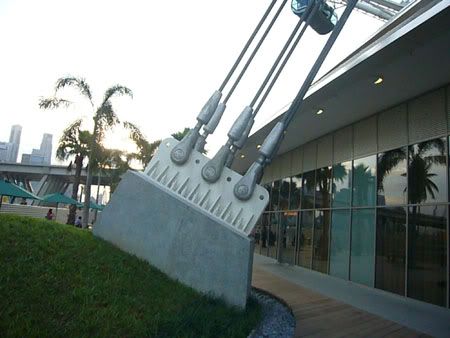 the humongous wires that hold the wheel firmly to the ground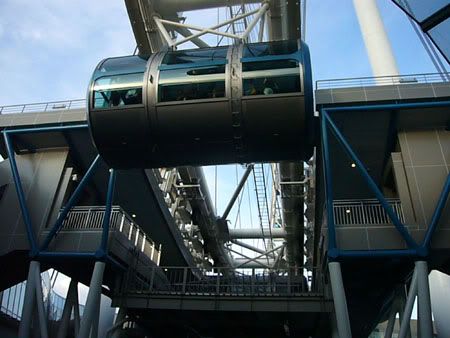 They even had a rainforest built up sponsored by Yakult.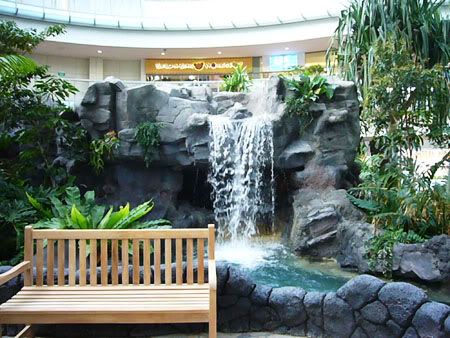 Singapore's own version of volcanoes =___= machiam like excursion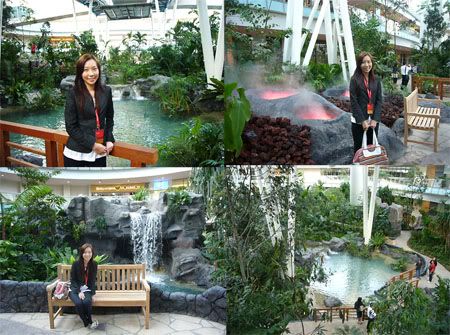 There's quite a number of shops beneath the flyer like Kenko Fish Spa! Someday i'm going to get my feet wet and let those fish nibble my dead skin away... and alot of restaurants. Seems like a nice place to chill out.
The flyer was HUGE!
and it moves pretty slow, you won't know it's moving unless you look at the wheel tracks and your legs
jit tao
get ULTRA wobbly (okay okay my legs only).
The only thing i dont like about this flyer is that when you board and alight, the capsule doesnt stop! and you have to jump onto the curved platform which can be pretty scary. The platform is curved and pretty steep.
The entrance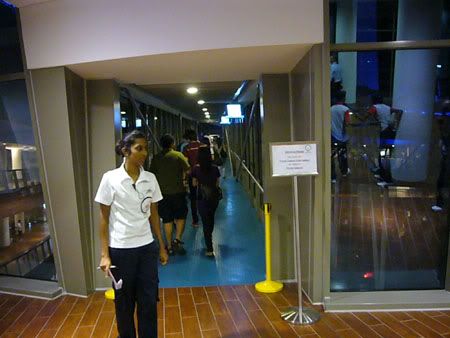 Everybody was so excited, even my md ran ahead of us hee hee. So our flyer flight was scheduled at 8pm. The night view was great as you could see Fullerton Area to the left and Kallang Oasis area to the right.
I feel the best timing to board is still around 7pm. The ride will last 30 mins and it will be good to see the sunset as night view pictures are a little tad too difficult to take.
But i thought it was still very fun! as 1/3 of the people in the capsule are people we know, (colleagues from different subsidiaries) so we had alot of fun taking pictures, video etc. i guess it wont be dat much fun for a couple with alot of strangers around.
took a video of the night view. We are at the top of Singapore sipping wine and having canapes..