Thursday, November 30, 2006
*~*~*~*~*~*~*~*~*~*~*~*~*~*~
My mouse just died on ME
after a serious flood from my water bottle, due to my negligence
haizz..
the crime scene, after some salvation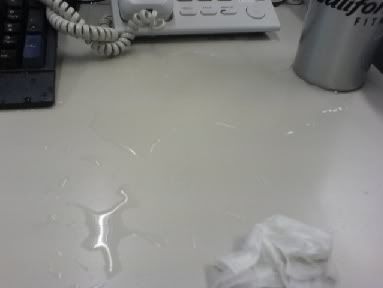 nice jeff still offered to give "bai jin" and his sincere condolences to my loyal mouse which have served me for 2 years.
BT offered to observe a 0.5 second silence to mourn for you.
my mousy, as dead as can be....
yeah.. dead liao must over turn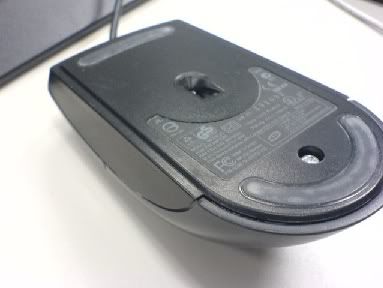 IBM mouse
, you did not die in vain.
Keyboard, please hang on while i clean you up.
Kiyo 到此一游 @ 12:26 PM

Tuesday, November 28, 2006
*~*~*~*~*~*~*~*~*~*~*~*~*~*~
Drowned in a sea of chao nua
I'm so darn bored of my exam preparations that i laughed at anything.
kiyomi :: says:
hahahha did u watch death note?
丰 - bookslayer says:
yup
i read the manga also
丰 - bookslayer says:
the movie and the manga v diff
丰 - bookslayer says:
but still damn nice
kiyomi :: says:
must watch part II neh
kiyomi :: says:
it's coming out soon keke
丰 - bookslayer says:
hehehe
丰 - bookslayer says:
i also know
丰 - bookslayer says:
they shot everything at once wat
kiyomi :: says:
yeah nor
kiyomi :: says:
u know why must watch anot? haha
丰 - bookslayer says:
y
丰 - bookslayer says:
coz got misa misa haha
丰 - bookslayer says:
dun tell me u acting in it ok
kiyomi :: says:
hahahha
丰 - bookslayer says:
i will pui chao nua on u
丰 - bookslayer says:
until u drown
丰 - bookslayer says:
hahah
kiyomi :: says:
realli!
kiyomi :: says:

there's a character
kiyomi :: says:
call kiyomi inside
kiyomi :: says:
dont you noe!?
丰 - bookslayer says:
really
丰 - bookslayer says:
pui pui pui
丰 - bookslayer says:
ok
kiyomi :: says:
yeah... hahah
丰 - bookslayer says:
u drowning yet
kiyomi :: says:
*ignoring you* she's a newscaster
kiyomi :: says:
havnt drown lallaalaa
丰 - bookslayer says:
pui pui pui
丰 - bookslayer says:
pui pui pui
丰 - bookslayer says:
pui pui pui
丰 - bookslayer says:
pui pui pui
丰 - bookslayer says:
pui pui pui
丰 - bookslayer says:
pui pui pui x100000000000
丰 - bookslayer says:
ok sea of puis .....
----------------
Some 欠扁问答题。。
luff so hard! darren don't find it funny..dont know why =__=
问 :人在什么时候会想汽水?



答 :孤单的时候。。。。

因为。。。 当你孤单,你会想汽水


=___= (i miss karaoke)
next one..
问 :蛋糕跌倒了,是谁鼓励他站起来?



答 :it's our DEAR 猪

coz...朱古力蛋糕
the most ultimate one...
问 : 请把西瓜, 班长和晚上的英文读出。



and it turned out to be....




答 :我的美人摸你的奶!! (watermelon, monitor, night)
Ultimate boliao.

Labels: Silly Stuff
Kiyo 到此一游 @ 7:38 AM

Saturday, November 25, 2006
*~*~*~*~*~*~*~*~*~*~*~*~*~*~
No time to play =(
It's time to start studying for my exams which is 2 weeks away.
Can't wait for the xmas sales.. or is it on already? havnt been to orchard for like weeks.
Just a silly picture i drew weeks back. =p
i lurve my polka dot dress! ha!!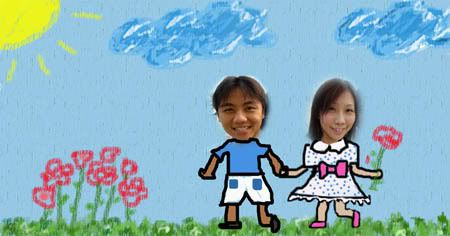 =___=
Labels: Silly Stuff
Kiyo 到此一游 @ 10:23 AM

Wednesday, November 22, 2006
*~*~*~*~*~*~*~*~*~*~*~*~*~*~
Am I lucky or unlucky?
I got a queue number from the ballot of the Premiere@Tampines
YOoHooo!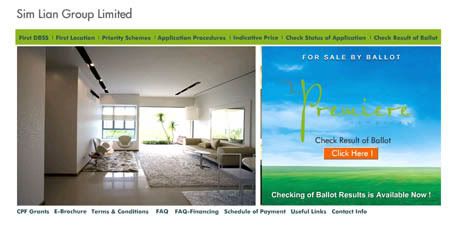 Out of 5,708 or so applicants, which means 9.3 applicants pulling each other's hair and fighting for each flat..
erhem
, we were lucky enough to be selected.
Okay not so kua zhang.. but about there.
BUT...... but but but...our queue number is 1000 over and there's only 616 units up for grabs.
Usually, they will select couples up to 2 x the number of flat supply.
=_____=
SO.... which means.....
After some calculations, our ballot queue number is the
last 100
.
hahahha
By that time, all the nice units will be taken up (provided there is any left after serious hair-tugging by the 11XX people in front of us). =(
Seriously, i'm happie that i'm in the queue (cos there are 4000 odd others who were left out) but i'm not harbouring any high hopes of getting a flat there.
The chances of choosing a good unit is as slim as flamingo legs.
i realli realli wish to get it... just see their....
TOILET...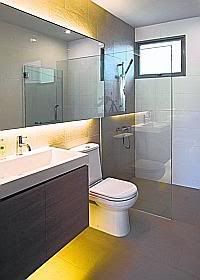 Not the main reason but their layout is rather nice and they have a balcony. Maybe i will get a same layout for my toilet, next time even if i'm staying elsewhere =P
Anyway, that queue number we had, we will just use it to buy 4D. lalala.
Labels: Home Sweet Home
Kiyo 到此一游 @ 4:09 PM

Monday, November 20, 2006
*~*~*~*~*~*~*~*~*~*~*~*~*~*~
I have an early Xmas wish....
that is to...
get an oven!! muahhaha
gerald says it's a very auntie wish. hng~ no cookies for yah
The cupcake class was very fun and it was nice meeting the galz from Cozycot and Jes where there's a thread on this baking class. (long time no see :))
and what was better was.. Mrs Fong's house...
I lurveee her house cos it's at marine parade and has an unobstructed view of the sea! Very peaceful, very serene and very calm.
We did 3 types of cupcakes and 2 frosting. I seriously prefer the cream cheeze frosting cos the other one is too sweet for HUMAN CONSUMPTION.
Saw the teacher loading spoons and spoons of icing sugar into the mixer.
yucks...
Started off doing the red velvet cupcake which is chocolate base. Mrs Fong is rather fast but we still enjoyed ourselves in the confusion haha.
many hands at work.. i'm working oso horkay. took this pic cos we wanted to see the colour heehee.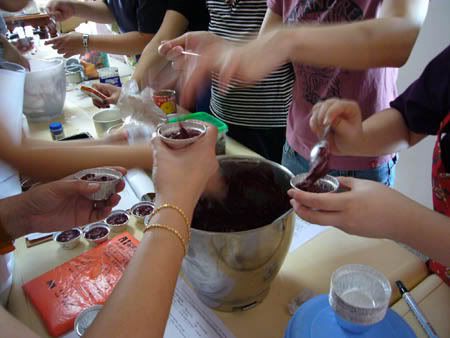 colour looks gory but it taste good! most importantly, it's not really difficult to make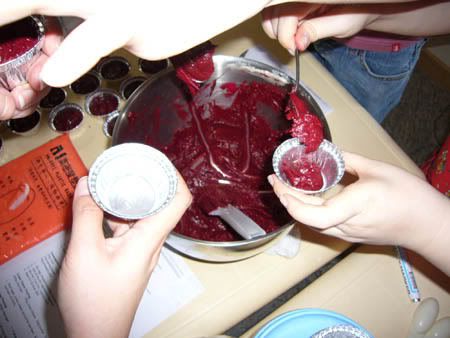 The end product!!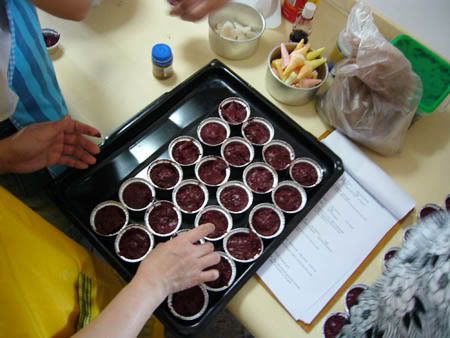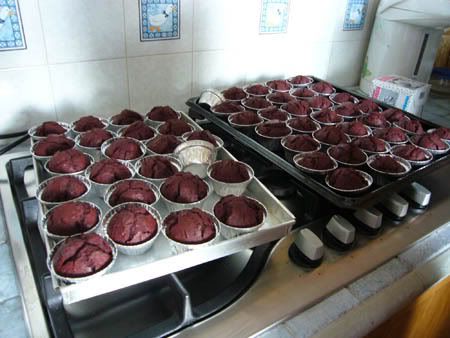 Another kind of cupcake we prepared.. think this is the fruity one. She used liquor to soak the fruits for 1 month! smell heavenly.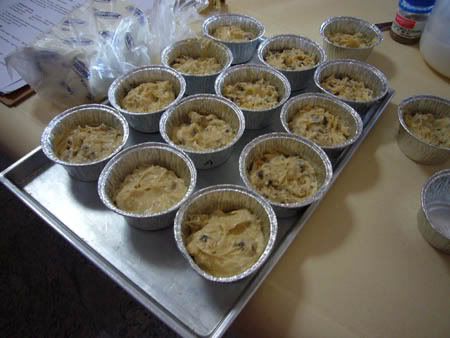 And we even learnt how to make snowman using mashmallows.. i drew one with a tongue sticking out, and the other with eyelashes.. hee hee but i guess the "mascara" on the eyelashes i drew smudged and became a total mess. haizz.. i threw it away. =(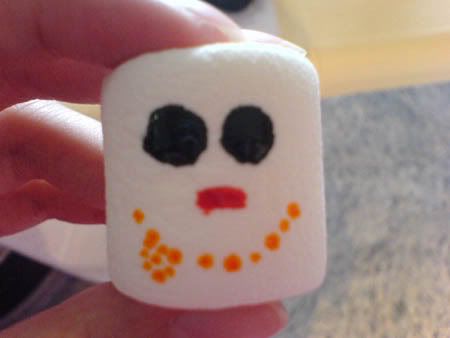 kinda fugly snowman's head with oversized eyes.
After frosting, it looks like this.. tada!
our teacher's work.. just in time for the season hee hee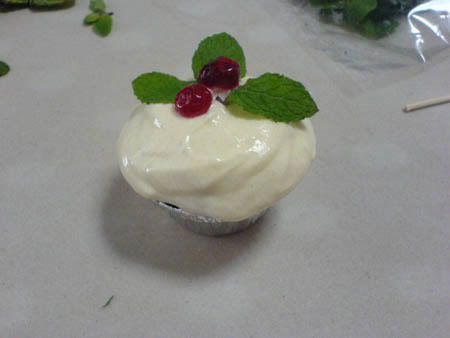 we frosted 2 each. and those are mine. One of them was kinda messy work =p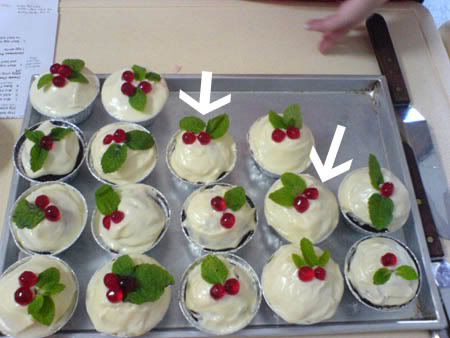 Pwetty pwetty santa claus! Didnt learn this cos i knew it will be very sweet~ this was the one that the teacher kept adding icing sugar into the mixture to make the icing creamier.. gosh.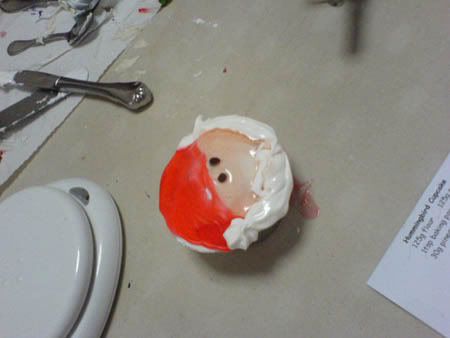 Didnt managed to finish the class cos was rushing off to a wedding show at Traders. It's quite nice, kinda like their temasek ballroom and during the event, one guy even proposed to his girlfriend on stage, flowers and ring in hand.
It's quite touching
(i nearly cried lah.. as usual, any little thing will make me cry)
but he didnt really know what to say(maybe very nervous), and the host kept making fun of him too. Quite a sight.. hee hee
And alot of freaking tall models! even i hate to stand near them. They are like 1.8m tall.. Are they wearing stilts inside those gowns!?! Darren stood very far from them too hahah. Always feel that the models look very good with bones jutting out here and there.. really the 骨感. hee heez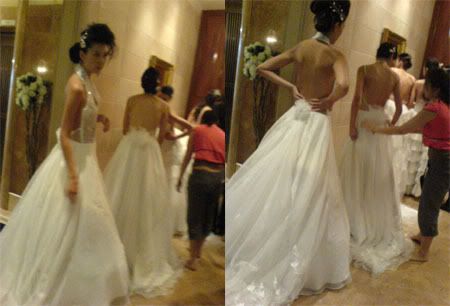 ANYWAY, didnt regret going for the wedding show cos i won something!
YOOHOO!!!
haha imagine my surprise when my name was announced among at least 80 odd couples and only 12 prizes were up for grabs.
Didn't get the grand prize of some $2,888 bridal package from some bridal studio but i was still beaming from ear to ear. And the prize was like only
2 bottles of red wine!?
hahah
BUT
.... the taste of winning a LUCKY DRAW is good no matter how small the present is.. hahah
That was 28 bucks well-spent.
we got a 5 course lunchie and won 2 botts of red wine.
Seriously considering Traders hotel now, maybe it's our "lucky" hotel. buhahhahah
our gian beng face =D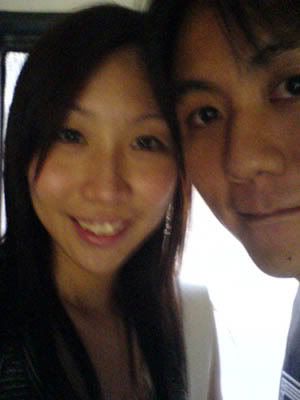 Labels: Food and Events
Kiyo 到此一游 @ 9:54 PM

*~*~*~*~*~*~*~*~*~*~*~*~*~*~
Project Presentation tonight!
so fast!!
Really slacking for this semester, 2 weeks away for my first paper and i havnt started.
Another project havnt finish yet summore =___=
hAving the jIttErs now...
Mr nice Lecturer, please dont ask me any questions. =P
Kiyo 到此一游 @ 9:17 AM

Friday, November 17, 2006
*~*~*~*~*~*~*~*~*~*~*~*~*~*~
My mood is HIGH!
Finally, yesh.. FINALLY, i bought something.
Asked someone to help Custom Purchase some beauty stuff from Japan.
My regular sunblock..which i finished 3 bottles. Lurve the texture.
and it arrived. =)
yoohoo! just in time....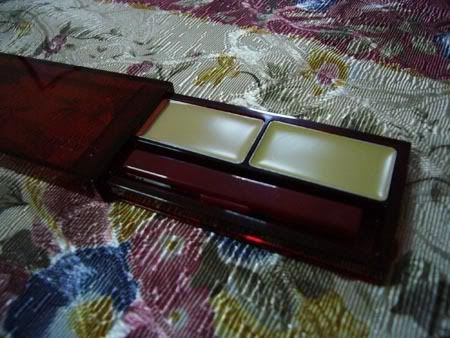 to cover a fiery big pimple.
This concealer is the highly raved "人手一盒" in Japan. Have been thinking to get this for a while, but didnt cos there were still some left overs of other stuff that does the same job.
Was thinking about whether to get Ipsa (cos it's easily available and heard the raves too at some taiwan variety show) or this.. but decided to give this a try!
The kind person, haru, even included the samples that the counter gal gave her when she helped buy my concealer. So sweet of her. *grins*
And now, i have extra stuff to try tomorrow.
So excited to use this. Hope it wont fail me.
~~~~~~~~~~~~~
Darren laughed his head off this.. cos he's an engineer, and i'm doing HR now.
A group of engineers and a group of HR people take a train to a conference.
Each HR person holds a ticket.
But the entire group of engineers has bought only one ticket for a single passenger. The HR people are just shaking their heads and are secretly pleased that the arrogant engineers will finally get what they deserve.
Suddenly one of the engineers calls out: "The conductor is coming!".
At once, all the engineers jump up and squeeze into one of the toilets.
The conductor checks the tickets of the HR people.
When he notices that the toilet is occupied he knocks on the door and says: "Ticket, please!"
One of the engineers slides the single ticket under the doors and the conductor continues merrily on his round.
For the return trip the HR people decide to use the same trick. They buy only one ticket for the entire group but they are baffled as they realize that
the engineers didn't buy any tickets at all
.
---by this time, i was thinking what the engineers are going to do.. =___= .. haizz---
After a while one of the engineers announces again: "The conductor is coming!" Immediately all the HR people race to a toilet and lock themselves in.
All the engineers leisurely walk to the other toilet.
Before the last engineer enters the toilet, he knocks on the toilet occupied by the HR people and says: "Ticket, please!"
And the moral of the story?
HR people like to use the methods of the engineers, but they don't really understand them.
Insulting....
=P
Labels: Beauty Buys
Kiyo 到此一游 @ 11:11 PM

Thursday, November 16, 2006
*~*~*~*~*~*~*~*~*~*~*~*~*~*~
Just upgraded to beta blogger
You can categorize your blogposts into categories.. i think it's so useful! Am often absentminded especially when friends asked about traveling stuff, like the opening hours of pratunaam in Bkk etc.. Categorization makes it easier for me to refer back. =D
And I think it's nice to reread them once in a while to refresh my memory.
But categorization will mean giving up my
meh meh
and adopt a new layout =(
Guess i still havnt grown tired of this cute thing here so it's here to stay for a while. heez
Will review and categorize 530 posts of mine (*shocked*)and upgrade after exams!
Just caught the movie THE COVENANT.
Nicee...
A movie with a lot of action, and naked butts.
At least saw 5 male ones and 1 from the female species.
whahahhahah
=____=
Labels: Random Rants
Kiyo 到此一游 @ 5:42 PM

Tuesday, November 14, 2006
*~*~*~*~*~*~*~*~*~*~*~*~*~*~
His birthday celebration!
Couldn't celebrate his actual day yesterday with him cos i got classes,but we celebrated on Saturday =)
It was really a nice time together except the weather was pretty wet, didnt managed to catch any sunset. =(
we went to changi for the 2nd time in like one month?
this time it was nearer to civilisation.. or nearer to where the ah guas are. ha!
now no ah gua aledi lah...
we went to Changi Village Hotel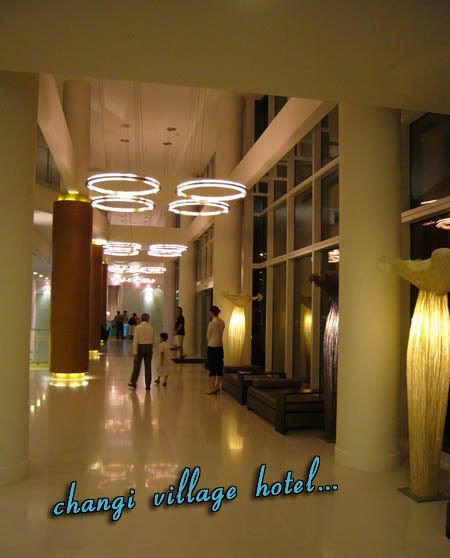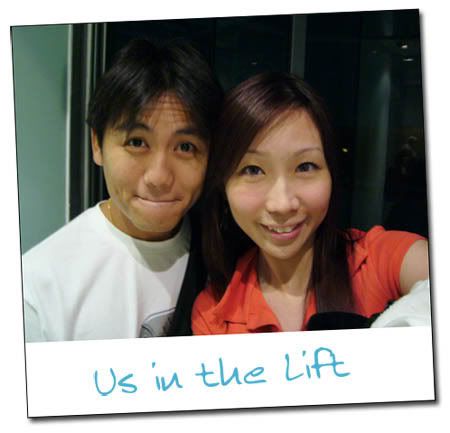 to this restaurant i found on the internet..
La Cantina At Changi Village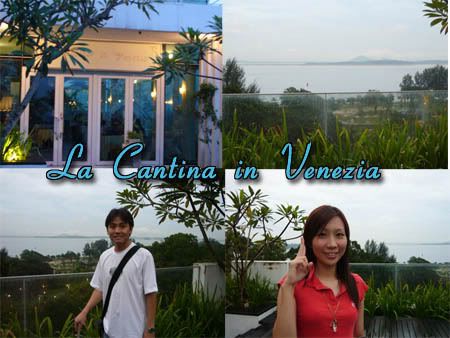 Nestled on the top floor of Changi village hotel, the restaurant is famous for its spectacular sea-view and outdoor dining.
It was raining so we sat indoors..
But indoors oso bery beautiful! their deco is perfectly european or victorian?
anyway, they are nice and i lurve their pillars... yeah should have hugged those pillars and took a photo hor.. wahhaha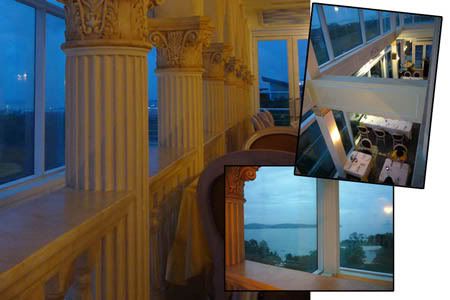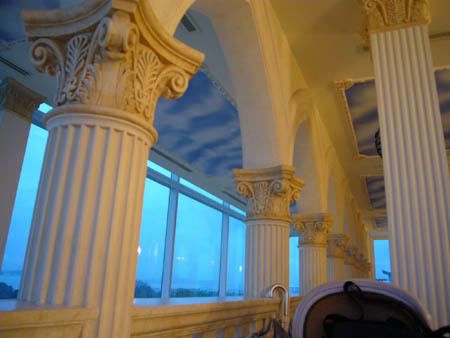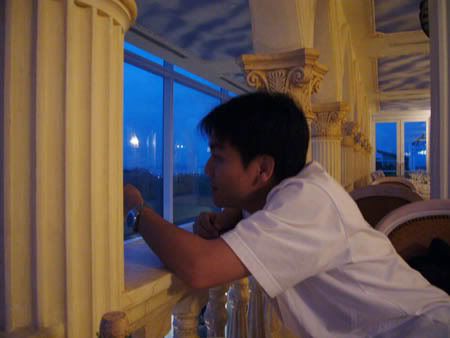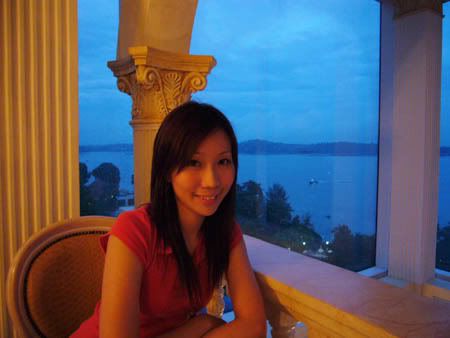 Him acting WU2 JIAN1 DAO4. I think he is BEI4 JIA2 DAO4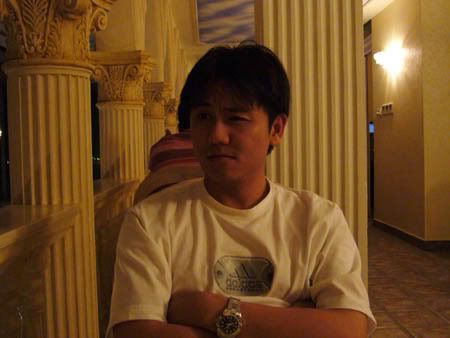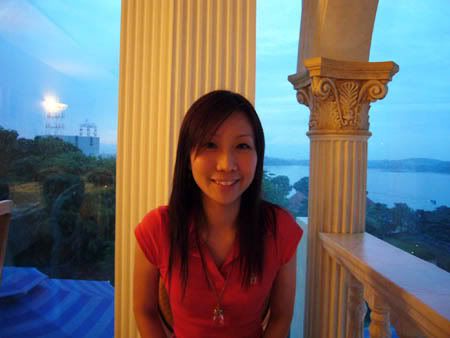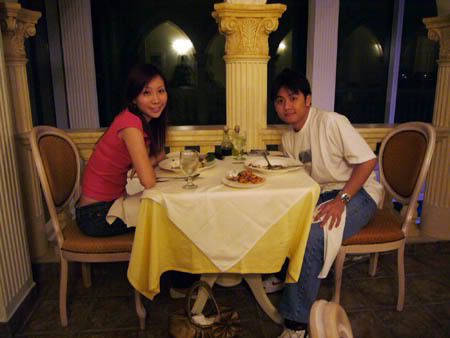 All in all the dinner was really nice.. =D Totally enjoyed myself.
It's not the super high class kind of restaurant.. there were kids there too when we were around (really fortunate kids) but food wise, I dont really fancy their cream of mushroom.. kinda disgusting.
Ambience : ***** 5 stars! Go on a sunny evening, lovely.. =D
Food : *** Don't try the mushroom soup, yucky
Service : **** Thumbsup!
Cut the cake at home.. didnt really design the cake myself but i selected the colours and requested them to put my name in it too!
bought an extra little one carrot cake just to try. (carrot cake is not cai tao guey hor..keke)
His
can't-wait-to-gorge
expression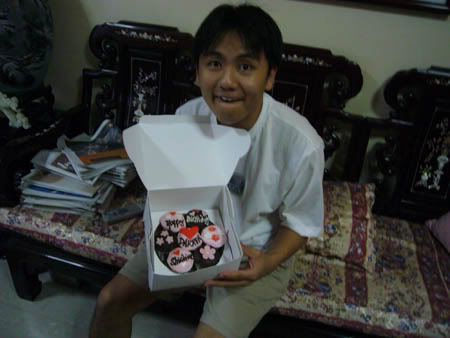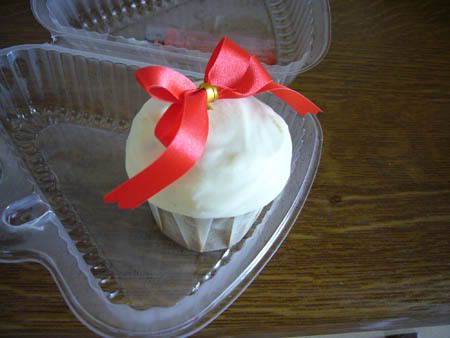 Very yummy I feel! the white cream on top is not so sweet and especially goot. Even better than the chocolate ones I ordered.
Cakes are bought from Roomfordessert.
The link is
~here~!
happi eating folks.. another 3 more days to weekend.
This coming weekend will be fun-filled as well.
Cupcake making!! hohoho!
Labels: Celebrations
Kiyo 到此一游 @ 11:59 PM

Sunday, November 12, 2006
*~*~*~*~*~*~*~*~*~*~*~*~*~*~

Was asked by Zen to do this.. keke
Something more about me, here goes.. =D

Favourite colours: white, green
Favourite food: Salmon Sashimi (changes time to time)
Favourite movies: action-packed movies (WU JIAN DAO!)
Favourite sport: previously was body combat, now hmm..
Favourite days of the week: No favourite day. Saturday got classes.. =(
Favourite ice-cream: sesame ice-cream!!
Favourite TV shows: no have
Current mood: sian.. tmr MONDAY ler
Current taste: havnt brush teeth.. keeke .. so taste weird
Current clothes: outdated
Current desktop: HP~
Current thoughts: I dont want to go to work tomorrow *wail*
First best friend: myself
First crush: P**-en
First movie: So long ago! old mind getting rusty.. cannot recall!
First lie: hmmm.. helped my best friend cheated in exam..ooopss (primary school)
Music: Jazz!!!!
Last cigarette: Never smoked before, helping bf to quit.
Last drink: Plain water..
Last car ride: Dad's car ride to the office
Last crush: dun have lehz.. grew out of crushes
Last phone call: to Roomsfordesert to confirm the birthday cake for Darren!!
Last CD played: no cds.. only mp3s
Have you ever dated one of your best friends: no lehzz..
Have you ever broken the law: nopz, and i dont wish to after watching Death Note
Have you ever been arrested: nopz
Have you ever skinny dipped: nopz (must think long long than dare to wear bikini aledi, skinny dipped?!?! NEXT LIFE! next question please..)
Have you ever kissed someone you don't know: NOPZZ! definitely not
Have you ever loved and lost somebody: not really..
Single, taken or crushing? Taken
Are you happy with your life now? Yes. It can be better but i'm satisfied =)
When you meet the right person, do you fall in love with him/her fast? Yes. =D
Have you ever had your heart broken? Yes. very badly
Would you take someone back if he/she cheats on you? Depending on physical cheating or emotional cheating.
Have you ever talked about marriage with another before? Yes. Now! hee hee
Do you want children? OF Course! they are so so cute!
How many? 2?
Would you ever consider adoption? I will.
If someone likes you right now, what do you think is the best way to let you know his/her feelings? best ar... hmm..better dont say.. hahahahha
What is the furtherest thing you and your ex did? hmm.. cruise to nowhere? hahha
Do you believe in love at first sight? Not really. I was pissed off by Darren when we first met
You believe you can change someone? nopz... leopard can't change its spots so there's no point.
Have you ever wished that you could have someone but you messed it up? Nopz..
Are you missing someone now? hm.. my mum? she went to JB overnight. Miss her nagging.. wahahaha

Now, you have to ask 5 of your friends to do this survey in their blogs. Write down their names in the list below:

Hmmm.. i dont have many friends who blog so shall hereby just list 3.

1) Xinderella (think she will take some time to do haha)
2) Sis (doubt she will do)
3) Josephine

Ending with a cake for Darren. It's his birthday tomorrow~
Told you i'm crazy over cupcakes hee hee

OISHII~~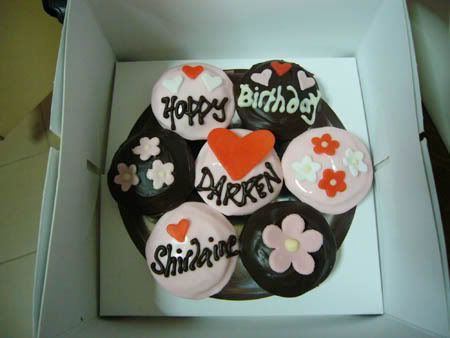 Labels: Random Rants
Kiyo 到此一游 @ 9:26 AM

Saturday, November 11, 2006
*~*~*~*~*~*~*~*~*~*~*~*~*~*~
The long awaited cupcake baking class is here at last. Missed the last one and I heard it was quite interesting.
Hopefully, we can get a place in class.
Jes is joining as well! with a friend to learn together, i think the process will be even more fun =)
Just in time for the festive season!
------------------
Date: Saturday, 18 November
Time: 9.30am - 12.30pm
Unique Christmas Cupcakes
You will learn how to make :
Hummingbird Cupcakes

Red Velvet Cupcakes

Christmas Fruit Cupcake
Frosting that you will make:
Christmas White Frosting
Tropicana Frosting
Decorations that you will make and design:
Santa Claus
3D Frosty the Snowman
Christmas Hollies
Workshop Cost - $55 (if you register after Tuesday 14 November)

Early Bird Deal -$45 (if you register by Tuesday 14 November)

Buddy Discount - $42 (if you come with another 4 friends, each pay this special rate. Must register by Tuesday 14 November)
Note:
Liquor is used in the recipe.
Prices include ingredients and all decoration materials. No additional cost will be incurred.
Workshop will only be repeated if there is an overwhelming response.
Register Early to Enjoy The Early Bird Discount
**************************
Venue of Workshop: 78 Marine Drive (Near NTUC Marine Parade)
***************************
For more information on our workshops, contact us at:
Tel: 9858 4883
Or email: fongskiz@singnet.com.sg; or creativebaking88@hotmail.com
Labels: Food and Events
Kiyo 到此一游 @ 7:25 AM

Thursday, November 09, 2006
*~*~*~*~*~*~*~*~*~*~*~*~*~*~
Each week flies past like nobody's business..
especially when you have projects due in 2 weeks time and exams in less than a month away.
Can't wait for this semester to end cos next module will be an easy one!
No exams!!
havnt been shopping for like.. weeks?
Even darren noticed that I kinda "stopped spending"? ha!
No mood to buy =(
No mood to spree too...
after exams bah...
Labels: Random Rants
Kiyo 到此一游 @ 10:07 PM

Monday, November 06, 2006
*~*~*~*~*~*~*~*~*~*~*~*~*~*~
Busy weekend
without enough rest.
Was doing my project for compensation and benefits.
The lecturer claimed that it is really an easy project, but looking at the question, if we know how to do that, we wont be sitting in class,
we will be sitting in HIS POSITION as a VP of one of the media stations in singapor .. *sobz*.
Luckily for me, darren was OT-ing during the weekends so had some time to complete 40% of it.
Another 60% to go!!
We went to changi yacht club to check the place out on sunday.
it's actually open to public so anybody could just go there and have a nice romantic dinner by the sea.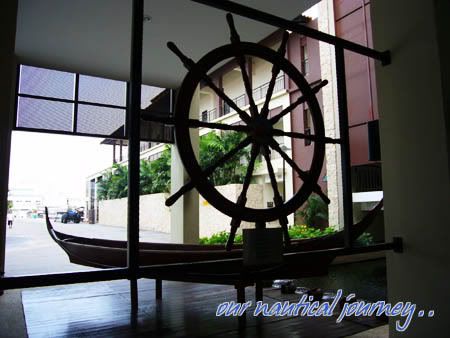 i lurve the place.. it's beautiful.. Darren lurves it too.
it's like a place outside singapore..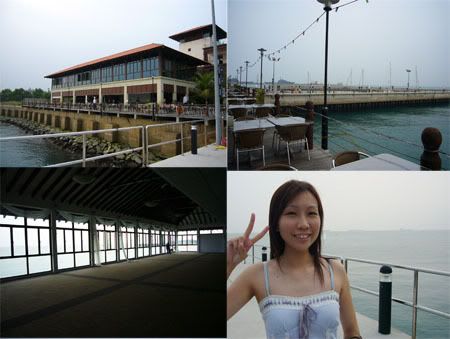 yah.. like what I said, it looks like it's not in Singapore, so it's gawd-damn far from civilisation.
There's a shuttle bus running from Tanah Merah MRT station, it's not realli dat far when we took the shuttle bus back.
But it's seems like forever when we went there in a cab.
Pwetty pweety yachts...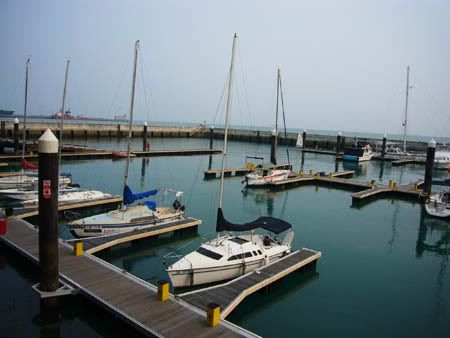 not-so
pwetty pweety us....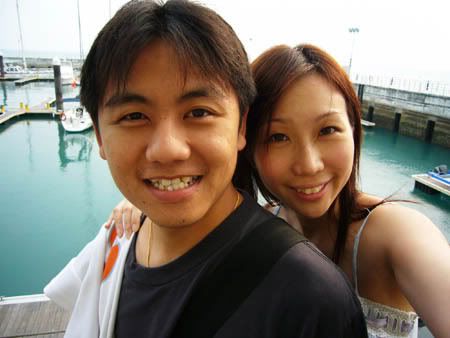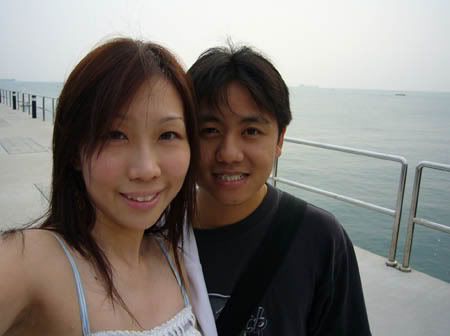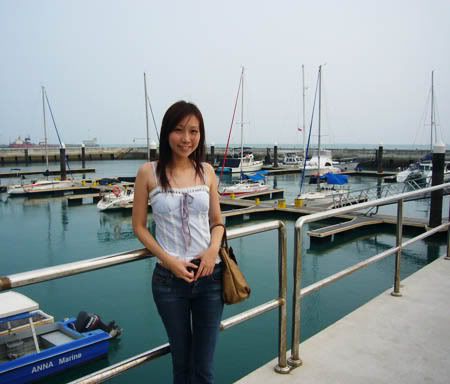 =D
~~~~~~~~~~~~~~~~~~~~
a fren just came back from Hokkaido and got me these!
A lavender perfume in gel form and a packet of Meiji collagen drink that he kindly helped me buy .. at like 1/2 the price!?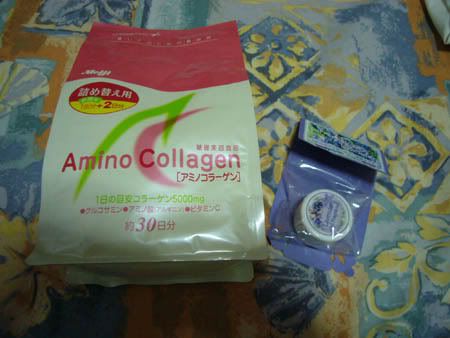 finished 2 boxes of fancl and i must say that tense up is really good in balancing your skin's moisture and giving them a radiant look.
will try this amino thingy and review later.
anybody wants anything from fancl?
email me~ =)
I have 20% discount as it was from the Isetan private sales promotion.
Only one-time use though.. time to stock up on fancl tense up.. heez
we can go get them together.
Labels: Food and Events
Kiyo 到此一游 @ 10:50 PM

Friday, November 03, 2006
*~*~*~*~*~*~*~*~*~*~*~*~*~*~
Crazy about Cupcakes!

Being surfing on SOME drool-inducer,sinful stuff recently and see what pictures I found..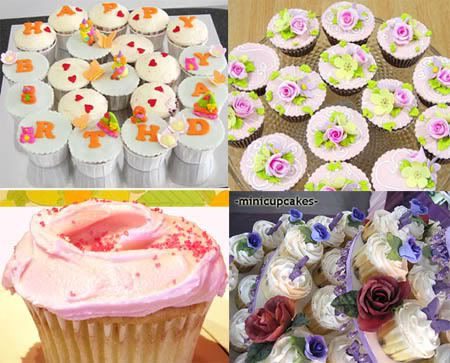 They are so sweet, you can even combine them to make into messages or cakes.

*hint hint*

yah rite, my birthday is like 269 days away..

I want to learn to bake them!
think it's a nice present for friends and as a first month gift.
xin's baby is coming soon, hopefully can learn it in time.
Actually there was this lesson i missed in september =( wat a pity...

so in the meantime... just drool at the pics..

Click ~ here ~ if you are drooling for more.. I think Cheryl's cupcakes are so pwetty!!

----------------------------
Projects are eating up my time...

2 projects due in late november for my HR course and not to forget, i promised an ex colleague of mine that i will make a collage for him to print out in album style for his wedding.

This is my first time doing something like that and have no experience at all in this.
It wont be fanciful or fantastic, but it definitely will be full of my sincerity and best wishes to them.




Already have some concepts in mind, and with some tips from gerald and bt, guess work will flow smoothly.
Busy to the neck!!
But I'm enjoying everything =D
Enjoy ya weekends with more cakes!
Labels: Food and Events
Kiyo 到此一游 @ 8:27 PM