Thursday, March 31, 2005
*~*~*~*~*~*~*~*~*~*~*~*~*~*~
I think i'm losing hair..
This morning my mum asked me to cut my hair shorter as she said I am dropping a lot of hair!
She claims that she swept alot of my hair on the floor everyday..
I thought it is quite normal as my hair is long.. BUT.. I dont have much hair to start with of course. I dont want to cut my tresses! It took me about 4 years to reach this length! I dont think cutting 1 inch shorter will prevent them from dropping..
Then.. my father spoke up..
"Dont cut la.. she look nicer with long hair"
wah.. first time i hear him give some constructive comments about me.
haha cos he is always critizing my pimples la, my scars la....
My good friend is getting married in June and next wednesday she asked me to go to a final fitting with her at Margaret Brides. Going to bring my camera (and hopefully, i will remember to insert the battery and memory card) to take some pictures with her! I wonder whether I can try out some bridesmaid gowns anot.. hiak hiak hiak hiak
hoho! I'm so excited! (as if it's me getting married hor) but.. you just share the joy and fun of preparing or gettin involved in a wedding. I think jobs like wedding planner will be very interesting. Giving people opinions and ideas, introduce them the kind of treatments to do for their back, help them check out what kind of wedding favours to get, what flowers, arrange for their banquet etc..dont know why, i just like organizing events. I'm not married yet but seems like I got alot of info on hand already through the internet, friends and through my sista too hee.
My dream job 4 years ago was to work my way up to be a JS public relations manager in Fullerton Hotel. If i really got there, maybe i COULD become a wedding planner.
*PUFF* Wake up!
I didnt take much effort to look for a job in those related industry as I have no prior experience plus no degree in hotel managment. And without all these.. the salary will be so so low. Moreover, I am just too lazy to take a part time degree...
Promised
Gerald
that his photo album link on my page.. so peeps.. look at your right and can see liao. :)
Kiyo 到此一游 @ 9:28 PM

Wednesday, March 30, 2005
*~*~*~*~*~*~*~*~*~*~*~*~*~*~
Looking forward to so many things
KTV with SFC people this saturday..Seems like a big group of people going..i hope there will be about 10 who will turn up! it will be fun. Looking forward to my good friend's wedding too! So many events! Really excited.. was requested to perform singing during her wedding. Still thinking of what song should I sing. hmmm...


Any suggestions??
Panda complained that the black and white picture here in the alley looks like ghost.. was comtemplating of changing to a BIG HEAD SHOT gerald helped me took that day.. but it will be really a BIG HEAD SHOT.. and maybe even look more like a ghost... hahah
Bought the HER WORLD april issue... There's this article about FAB AT FOURTY.. yeah.. 40 really sounds so old but it is really amazing how some can dont look like fourty when they are at that age. So, i wont be bothered by any more "auntie" or "old" theories again, especially when I mixed with so many younger people. If you can look like Rosamund Kwan when you are 40, you are somebody.
Another one taken by Gerald. SUPER CLOSE UP.. The teeth.. obviously is not so white and shiny la..I'm still waiting to go for that teeth whitening by the dentist. My bf's sister is a dentist at north area and i bet she will give me at cost price! whahaha
Kiyo 到此一游 @ 6:34 PM

Monday, March 28, 2005
*~*~*~*~*~*~*~*~*~*~*~*~*~*~
The life of a one day Tai tai...
Woh.. I took annual leave today to experience some tai tai lifestyle hahha.
NOT
a real tai tai la.. but just want to indulge nyself today.
Went to aromatic day house at Orchard Hotel as i bought the ear candling voucher at the exhibition. It was very relaxed and it includes a back massage. They were NOT pushy at all..
I was surprised
I prepared myself to face a battalion of spa therapist bombarding me to sign up their package.. but they didnt push me into it. Their Asst manager (a guy) did explain about their packages to me and their spa membership but they were not pushy when I say I will consider about it. Good. I like.
Than i met my mum for lunch and did some shopping...and guess what I found.. I found the 100% silk pillow case. It is so so soft! I couldnt resist the temptation and gave in as I was looking for it for quite some time. I heard that your hair will not be messy.. i got spanked by almost everyone on msn screaming at me saying that how come the pillowcase cost
$60
!??!?!?
Seeing triple.. not double...(by Gerald)
the pictures are out. This is my favourite. The others are just not me.
Reason being ...it is far enough so that my face does not look unbalanced, I love this pair of jeans! this is my favourite jeans okie.. still fitting, even after many washings! And the framing is good too.
Kiyo 到此一游 @ 10:13 PM

*~*~*~*~*~*~*~*~*~*~*~*~*~*~
I lurve this guy...
I actually wanted to blog only tonight but I cant resist posting this link my friend sent to me
http://www.albinoblacksheep.com/flash/numa.php
Maybe I should record one for myself hor.. damn lian song. But this guy is true. Like him.
Kiyo 到此一游 @ 3:41 PM

Sunday, March 27, 2005
*~*~*~*~*~*~*~*~*~*~*~*~*~*~
This one is my kana sai.. left 45 degree profile.. and beside me is the ever pretty peimin!
Kiyo 到此一游 @ 1:41 PM

*~*~*~*~*~*~*~*~*~*~*~*~*~*~
This one with flash.. much clearer lo.. this shows my right profile..
Kiyo 到此一游 @ 1:37 PM

Havnt post for so many days...
Went to photoshoot with pep on sat.. and it was a really really hot day that day. Although I didnt take much, i was sweating like mad liao.. but i tried something new which made me happy. I used to wear minis during the other shoots but this was the first time i wore jeans.. and we tried some different poses although i turn out looking real FAT (esp my face) in some.. haha anyway, dont care la.
I all along thought maybe my left profile was nicer.. but
i was
mistaken
!
ahha actually my right profile looks slightly better than my left. (although i knew gerald will suan me say.. both sides look equally bad.. ya i know la.. bleh)
I think have to remember.. cos my left face jaw is unbalance so look very fat at a certain angle.. sigh. no equal face.. how leh? haha and this is the first time I take pictures no need to PS my face.. as in scars and all.. wahahha.. my skin is recovering very well and lesser outbreak.
And i think it's time for retirement. I think tagging along and organizing or styling is much more fun than actual posing. I dont look good at all angles.
(hey, i'm not a celebrity okie.. just a normal"hongkong" auntie that xiao chong said wahahhaha)
they are a nice bunch.. not bunch nah.. nice 2 guys.. both younger than me. argghhh.. I think I should start mixing with older people so that they will say
"eh.. you very young leh..."
I always hear this when i'm at work.. i'm the youngest there..
Mixing with SFC people or other guys i met on the internet they always say
"DJJ la... auntie la..." hey~
Kiyo 到此一游 @ 1:33 PM

Wednesday, March 23, 2005
*~*~*~*~*~*~*~*~*~*~*~*~*~*~
Easter coming soon.
Cute right.. this big easter egg. Got a surprise actually.
This was actually from Elite Flora. I ordered a bouquet of flowers for our Japan president previously and they remembered me by sending me this easter egg! Their flowers were really nice and exotic and comes from all parts of the world, like south africa, canada etc. I remebered I even called him up to ask him which flowers are from where..(just in case our big boss asked) and had a hard time memorizing them as there were so many types I never seen before. Sam was really helpful. Maybe.. I will use them on my big day hee hee
Open sesame....(nei you qian kun~ I ate until left 2..)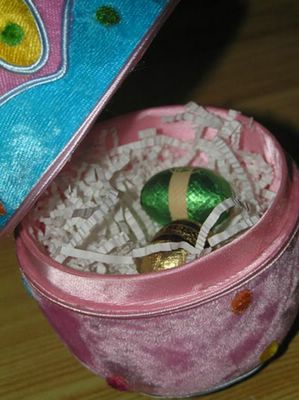 Think I will reuse this egg. It just looks too good to be kept aside. Will go get some dove mini dark chocolates to put inside and on my desk. kawaii~ hee
Took a painkiller for my cramps today. It was synflex, a pill given to by a colleague. Actually I think it should be quite strong as I recovered from the pain after 15 minutes. And of course, with the pain gone, my mood became better, at least i dont put on a sulky face in front of the computer. But I dont think I will want to take that regularly unless the pain is really unbearable.
Bought the much raved about KP loose powder at long last. I only got their refill pack and not their container. Going to put those powder in my new portable cute container!
And guess what!?! my Kiehl's avocado eye cream came today from Strawberry net! so happy. A new eyecream to try again. This will be used on top of the vit K cream I have from Doctor Ong. I think their Vit K cream is rather good for dark eye circles..but it stings a little so eyes have to be closed...
Kiyo 到此一游 @ 6:15 PM

Tuesday, March 22, 2005
*~*~*~*~*~*~*~*~*~*~*~*~*~*~
Going for a photoshoot this sat..
And i still have not decided what to wear. Feel so tired lately and didnt really buy any new clothes.
Recently i noticed that i am having a outbreak on my back! It is not that pimply but still it isnt smooth with some bumps here and there.. disgusting!
I think with all the good creams and Steiva A that Doctor Ong has dished out for me, my face has no more breakouts since then.. so they have no where to go but migrate behind.. sob sob
For the past 2 days, I have been applying those things I apply on my face to my back... which includes a very mild BP and Glycolic Acid. But there is one big pimple that hurts so so much... sian. Dont know whether I can wear my tube dress from ICE.. if pimply back doesnt recover. that one is out!
My favourite biscuits from the Wooden Spoon at Shaw Towers near the food court.
They are a must try. The rectangular ones are the almond cookies and the irregular shaped ones are oat and dont know what.. anyway they taste very good and not so sweet and gives you a home made feeling.
It can be passed off as a "home-made" cookie for boyfriends too.. hiak hiak hiak. Dont think they will suspect a thing. wahhaha
Kiyo 到此一游 @ 9:04 PM

Sunday, March 20, 2005
*~*~*~*~*~*~*~*~*~*~*~*~*~*~
Loot of the week! (Freebies & Goodies)
It's the Loot of the Week again! i mean.. should be Loots of the Week haha. This week is the most number of freebies and samples I got. Maybe it is my lucky week hee hee.
Saturday I passed by Bugis and saw the Biotherm giving out foundation samples. You just need to fill in a form. It's their liquid foundation sample, Sense. So i got one! yeah!
Free from Biotherm~
I went to Sasa to walk around to look for a powder for Mummy.. didnt find a suitable one but found what Queenie recommended that time i went for the FP gathering.
The " Chong Ji Shou" (which just literally means you will get slim after using that to bathe). It was actually on offer 2 bottles for about 45 bucks. Was really really tempted but i controled myself! I still have the detox body oil and then some scrubs too.. and only 1 body.. better dont waste $$ hor...
Than.. i bought the following.
1. A battery operated eye lash curler
I watched "nu ren wo zui da" and Niu Er..(a taiwan beauty guru, i got his book as well) talked about small tools to make one beautiful and that includes this eye lash curler. So i saw this at SASA and cost only 12.90.
Grab ar!
There are those normal kind of eye lash curler that are battery operated too.
For eye lash!
2. A loose powder case
I am still looking for a good loose powder so that I can bring it around. I like touching up with loose powder cos i think the effect will be more natural. It comes with a small pouch and looks so cute! Cost 5.90 nia... hee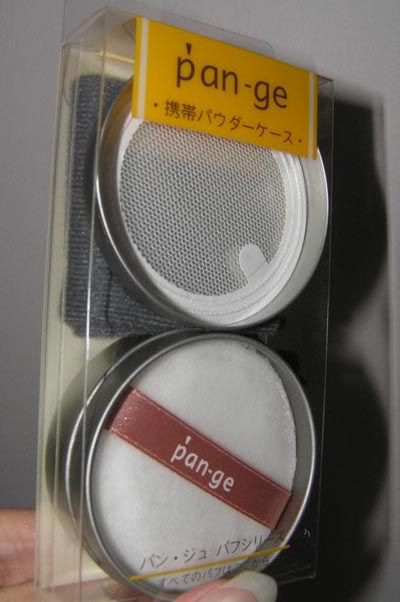 Than... today I went to the
Health and Beauty Exhibition at Suntec.
My mum wants me to help her get that Olive oil and I wanted to check out the other stuff so i went. Havnt steped in than all those spa beauty therapist ask you want to try this for
Free
. I gian beng
lo
.. so I went.
She says that i finish up this form i will get a green tea scrub in a packet. hee hee.. of course fill in lah..
Than, as expected, she started "promoting" her spa.. which is Aromatic donno what la.. the one Chen li ping advertised for. Meanwhile writing that survey form, I got a mini shoulder massage from another gal. wah.. not bad really.. their massage.
BUT... I dont like people telling me how to use my money.
I dont like the other gal who is so so pushy.
"why dont you take up the package, it is more worth it lo"
"why you dont want to sign up the package"
Anyway, I didnt sign up. Say i need to consider, give them a smile and walked away wahhahah...
But I'm going for their Ear Candling to just try out. Definitely wont sign up a package.
my green tea scrub!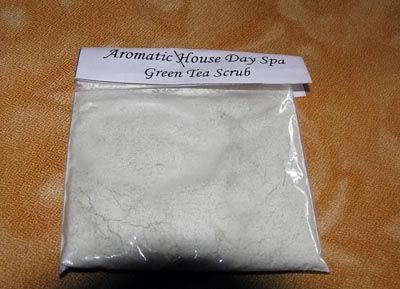 Total freebies I got this weekend1. the Biotherm foundation2. the green tea scrub3. 1 anti bacteria pad4. 1 green tea drink 5. some olive oil skin care samples for my mum (cos i bought their pdts at the exhibition)6. 1 hair treatment sachet (dont noe what brand)Most of them from the Beauty Exhibition! ahhahha.. GB queen is Me!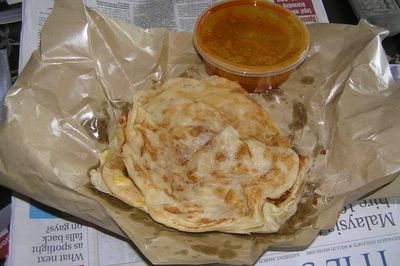 My sinful lunch take-away from Suntec.. hee hee.. still so so full now no dinner lo~
Kiyo 到此一游 @ 4:32 PM

Saturday, March 19, 2005
*~*~*~*~*~*~*~*~*~*~*~*~*~*~
Today is real tiring...
Got meeting today (yes! a saturday) for the whole day and I just got back. Presentation and discussions went on fine but you can see all the tired faces or dozing faces at the back. It was rather fruitful but i think everybody didnt pay much attention until the discussion part. Suddenly everybody woke up and engage in kinda informative discussions..
I realize something from today's meeting (actually inspired by one of the presenter), I realized i actually have 2 modes of speaking.
1 mode is the Singlish mode
- "aiya.." "how come?" "no leh.." "maybe lo..."
Another mode is the what i call it
"The gey ang mo mode"(fake ang mo mode) hahahha.
I usually use singlish to talk to some of my friends as it just brings people closer la.. hor? (hee hee) but during presentations how can talk like dat?? haha
actually.. one presenter from Singapore actually used singlish to present.. damn funny (i very bad hor.. but then, not just me trying to control not to laugh but some other people too)
Can you imagine... during a serious presentation, some one can say...
"I tin SIN-GA-PO can..."
"you know la.. the ga-bo-men oso lidat"
-_-"
That aside.. i got some interesting soveniers from the participants (as we are the organizing country). It's really nice of them.. (*touched)
That is a pouch from India..will find some ways to use it :). Got a table ornament of roses.. will put in my office! and the one i like best was the box with coasters inside.. It's from the Vietnam participants and i think the box i can use to keep my earrings and stuff! yippe!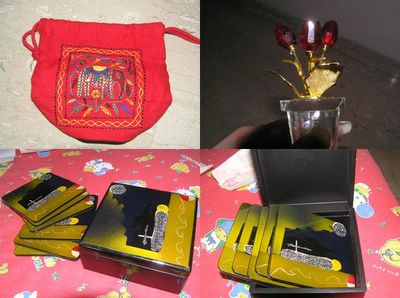 Kiyo 到此一游 @ 7:07 PM

*~*~*~*~*~*~*~*~*~*~*~*~*~*~
I have been trying to post pictures..
But the Hello system that Blogger is using is sucks big time! i can post a picture, but i wont be able to edit that post, which means i cant add descriptions or move that picture elsewhere.. hmmm
Anyway, maybe i will use photobucket to post next time.
The picture below is actually taken at the Japanese Studies Alumni gathering we had last saturday. Those are my fellow classmates.. The guy and the gal on my left.. we went to Japan together for a month for internship training. really missed those times. See if i can find a picture that we took there together too! it's been almost 4 years i think. natsukashii na~
Kiyo 到此一游 @ 6:27 PM

Friday, March 18, 2005
*~*~*~*~*~*~*~*~*~*~*~*~*~*~
Friday...
was quite bored at work.. so took a few pictures hee hee.. most of the staff wasnt around cos they went for meetings in the hotels.
the blouse i wore was bought at robinsons. Frankly speaking, this was the first time i bought a blouse there as most of the clothes look rather "auntie" and mature. But this has a real "fu gu" taste in it with those puff sleeves. goes well with jeans too. :)
So are their clothes catering to younger people or have i became one of the "aunties" who shoped at robinsons... hmmm...
Kiyo 到此一游 @ 7:57 PM

Thursday, March 17, 2005
*~*~*~*~*~*~*~*~*~*~*~*~*~*~
I simply HATE people who make things difficult
"oh i really dont want to make things difficult for her"
Pui!
kanasai. You aredi made a big fuss okie over things as little as car park coupons.
although the people involved is not me.. i really pity that guy man.. and i wrote an email to apologise that our company is causing him so much trouble. (as if it's me who caused him trouble).
Cant stand her.
Really in a bad mood today. Lost my mechanical pencil for the 2nd time in this stupid company. And that is my personal pencil. I dont used to lose such stationery in my previous company.. unlocked drawers some more.
Am very sure i didnt misplaced it. It is such a fat pencil how to misplace?
Clearly remembered that I used it yesterday late in the afternoon too. And i forgot to lock my drawers yesterday!
To whoever took my mechanical pencil - may you write with rotten fingers and nails Wahahahha..
Kiyo 到此一游 @ 10:55 AM

Tuesday, March 15, 2005
*~*~*~*~*~*~*~*~*~*~*~*~*~*~
Sigh...
Singapore airlines website is always down. I think many ks singaporeans like me are trying to get inside to snap up those 98 bucks air tickets. I actually wanted to get 1 pair to go to Perth so that I can go with mum and then go and see him as well. But i think high chance i cant get the cheap tickets sob sob..
A friend of mine asked me to help him advertise.. so..If anybody out there wants to do any outdoor photography or wedding, please go to this site.. hee
http://blessedi.multiply.com
And some of my portrait pictures are taken by him too.
http://hatemenot.multiply.com
Kiyo 到此一游 @ 9:27 PM

Monday, March 14, 2005
*~*~*~*~*~*~*~*~*~*~*~*~*~*~
My Loot of the Week
Pocket burn hole liao..Went for a underarm bleach with my friend at Devotion Beauty. She did a back facial (which is called bacial for short) and I did my arms and underarms.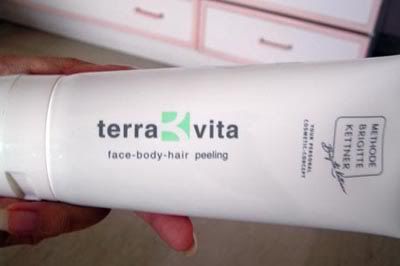 This is the mineral salt exfoliant i bought. Cost me 80 bucks! Really cannot imagine that it can be used on face and body.. even hair! but i havnt tried the hair part.
This is exactly what she used for me and after the treatment, I feel that my skin is more even toned (i'm not exaggerating you know, my friend also commented it's more even) and my armpit really appears lighter! Of course have to use inconjunction with another detox bath oil which cost another 80 bucks... I got it before but seldom use it.
The whole treatment actually cost about 60 bucks.. quite worth it actually.. hee hee Karen wanted to sell me a
AHA body milk that cost 96!
I just told her it's way out of my budget.. anyway, NIKs have a AHA body milk too and I think I will get that :)
Earrings bought at NUS forum when i was there for the Jap Studies alumi gathering. Pearls are actually going to be "in" i guess as there will be a "fu gu feng" coming up.. and i really love the crystals! very feminine! And hor.. they have a website too, as indicated in the picture. :)
Kiyo 到此一游 @ 6:13 PM

Sunday, March 13, 2005
*~*~*~*~*~*~*~*~*~*~*~*~*~*~
Sweet okashi during the NUS Jap studies alumni sado club performance.
This is yummy!!
Sado club in action~~~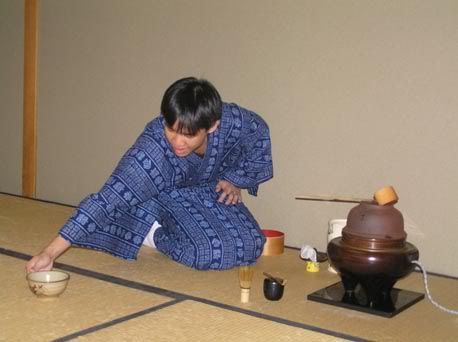 My junior... but i wasnt in sado club. think it really requires patience and the ceremony must be quiet...
Shhhhh..
I nearly throw the bowl onto the tatami. I cant stand quietness. But the performance was good although i dont really understand the explanations. The tea was taken with the okashi above and is really nice and thick.
That bowl she is holding.. I heard it cost 100 bucks. Should have taken it back after drinking hor~ hahahah.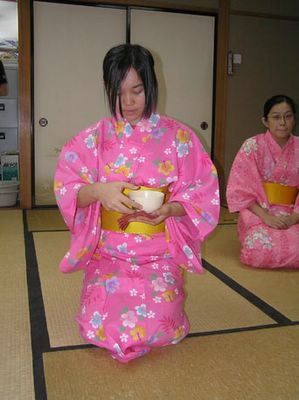 I also have a yutaka.. bought it in Japan when I went over for business trip. Think I only wore once and it cost me 300 plus. Every august or July, they will have a summer festival at a Japanese primary school. That is the chance to wear man.. alot of people will turn up in their yutaka to appreciate Japan culture..
Later than post pictures of my
Loot of the Week
!!
Kiyo 到此一游 @ 5:40 PM

Saturday, March 12, 2005
*~*~*~*~*~*~*~*~*~*~*~*~*~*~
What are friends?
Didnt really sleep very well last night. Heard from my friend that a secondary schoolmate has passed away.. although i dont know him very well, i was really shocked as i talked to him before, seen him in school and he was quite close to another friend of mine...he was really mischeivous and hyper active in school.. but now he is gone.
This made me realize that life is really unpredictable. Friends are important to be around when you are down and out . When you are sad and down, those friends who stayed by your side are those true friends.
This incident made me feel how come there are people out there who can sound like they dont care especially he was quite a close friend to them and had happy times. This incident really made me regret (and know that i'm really wrong), why i missed attending a good friend's father's funeral. I didnt take the initiative to be around for her.. I dont know what to say and console as I never experience such cases before and waited for her to contact us..that was really wrong, i admit. And that was why there was a period our relationship wasnt really good. Luckily for me, slowly, I found a friend in her again.
I will never take things for granted again... and I wont make friends with those people who dont care too.
Okie... later will go for the NUS alumni, will see some old faces again. maybe the teachers as well. Havnt been to NUS since i graduated 4 years ago. Sian ar.. have to travel so far.
Kiyo 到此一游 @ 8:23 AM

Wednesday, March 09, 2005
*~*~*~*~*~*~*~*~*~*~*~*~*~*~
Getting really fed-up!
Really fed up by all those phone systems. I have some enquiries in filing my tax and I need to ask their officers.
First i called 1800-356 8300.. it was like
"For English, please press 1"
after that...
"For individual tax, please press 1""blah blah blah, please press 2"
After listening to ALL the options, there isnt one that is "TO SPEAK TO THE OFFICER" damn frustrated. 5 mins aredi still ask me to press this one, press that one. i nearly threw the whole phone on the floor.
Next i called 6356 8233, their general line.
"Thank you for calling IRAS, For enquries on tax matters, press 1"
Than i heard a diverting sound, and some music and so i thought maybe this will be the end of my ordeal, and i will be able to speak to the operater.
NO!!!
"Please hold""For Tax clearance, press 1"
"For individual income tax, press 2" "Please hold"
Than they divert me to the 1800 again.
There still isnt an option to SPEAK TO THE OFFICER. ARGGGHH..*
pulling my hair
*
Than i tried the possible ones.. press the "need assistance in filing up forms" . I'm not filling up forms, i just need to ask something.. than I entered my IC no. say this function is not valid!?! they put me on hold again and after 5 mins, finally get to hear a human voice.
Maybe I dumb la, but why cant they make it simple like "If you need to speak to the officer, press 0" like M1, Singtel and alot of other Customer Service hotline. I'm rather impatient, i admit hee hee..
Anyway, the movie I DO I DO oso got this scene.. although it looks funny on screen, maybe next time POLICE really have a hotline like this
My skin is improving.. I can feel and see that the medication that Doctor Ong gave is working. Although I only use 2 days.. hee cos i have been using other stuff for about 2 months le. I have no more breakouts and big pimples although i think i'm due for my "big aunt" soon.
This is really a thing to rejoice! after so many years, i finally can have total clear skin again!
3 cheers for Doctor Ong! hip hip hooray!
Plus the new mineral makeup i'm trying, it doesnt clog pores and is suitable for acne-prone skin. Good. just too bad, the shade looks a bit on the fair side.. but if it isnt apply thickly, it is still alright. Maybe I should just try some darker colours. Still waiting for one of the cotters to reply whether she will let me ride on her order...
Kiyo 到此一游 @ 8:36 AM

Monday, March 07, 2005
*~*~*~*~*~*~*~*~*~*~*~*~*~*~
Flowerpod gathering on Sat
Pictures are finally up at Poi's blog! I looked like a pale siao char bo.. that aside, i think that they
ARE
a fun bunch! All very young, younger than me, we still can share our own life stories and beauty buys.. hee hee
Poison Lady
- she is one cute gurl~
http://verypoisonouslady.blogspot.com
(think her blog going to hit 1000 hits per day soon.. so friends, read her blog. :).. beri nice with loads of pictures)
I first seen her in Clubsnap than when I joined Fp, than i realized she is one regular there. After meeting her than I know she is a really frank and true. Not those fake type. Although termed as an Ah Lian by many, at least she doesnt hide her character and pretend..
After scrutinizing this picture.. i think my arms look a bit flabby.. arrghh.. hate it. Maybe going to buy the Fancl tone arms thingy which Queen recommended..
hee cheers!
Kiyo 到此一游 @ 7:51 AM

Saturday, March 05, 2005
*~*~*~*~*~*~*~*~*~*~*~*~*~*~
Saw Dr Ong Today...
Woke up at 7 plus today.. (must be my biological clock). Left house at about 7.45 am to take a taxi to Tampines to visit Doctor Ong. I wanted to be the first one there!
Reached at about 8.05 and yes! i was the first! so glad.. :) but they dont opened until 8.30 so it was quite a wait. But I thought I was early, 5 mins later, 2 people came, another 5 mins, a few came. There were about 10 people queing outside when it was about 8.30 am! So popular! Think they will probably have to wait about 2 hours..
I was feeling so hungry but I dont dare to go to the market to grab some food in case Doc Ong comes.. she came at about 9.20 am. which works out that i waited about 1 hour and 20 mins. Had a quick consultation with her, about 10 mins only and walked out 56 bucks poorer.
She didnt give me much stuff as I bought some stuff at Niks shop already. I got the steiva A and I hope it works.. giving me even less pimples. Asked for a few trial size products as well..
Think I will go down to her next month :) So sleepy now.. maybe take a nap first before i head down to Suntec for the podder's gathering.. I wonder how many will go..
Kiyo 到此一游 @ 11:37 AM

Tuesday, March 01, 2005
*~*~*~*~*~*~*~*~*~*~*~*~*~*~
Took apple cider vinegar this morning
Read in Flowerpod that taking apple cider vinegar helps in detoxing the body and also helps in clearing the digestive system.
Actually I knew this long ago, I'm just too lazy to do it.. hee :)
So.. I took a small teaspoon of the vinegar mixed with honey water. The taste wasnt that bad, just a little sour.
And
VOILA~
Went to toilet to do "you know what kind of business la" after about 15 mins.
I also take this when I have an inflamed throat(swallow or use to rinse your mouth and throat) . Work wonders.. I usually recover the next day!
Had a nightmare last night too. Dreamt of ghosts and all. It looks like sadako with super long rebonded hair.. wah..
And true enough, I woke up with my left eye swollen!??! huh... "wo de zuo yan kan dao..."
Choi choi choi!
This Saturday, I am finally make my way down to
Maple Clinic
for the first time. I have been using NIKS products for about 2 months and I feel my skin is improving. Scars and pimples are healing much faster than usual. But lesser pimples doesnt mean that there are NONE.
I WANT THEM ALL GONE!
The clinic is rather popular and I aim to be the first few to reach. So... I am planing to leave the house at 7.55 am by taxi in order to reach there before 8.20am.
I can be THIS kiasu. haha
My face about 2 weeks ago, and my face now. It is Not perfect but the scars are much better lo..
* Removed*
(Cant stand looking at the pimply face every now and then whenever I log in here.. Eeeks)
My weekends are Packed in March! So happy!
5th
Maple Clinic & FP gathering (I might be one of the older podders there, hope I dont get ignored...hee)
6th
Gym
12th
NUS Japanese Studies Alumni gathering (with xin)
13th
Accompany xin to do spa at Devotion (She is doing BIG DAY pamper, i'm doing ALL TIME pamper hee :) )
19th
Meeting whole day :(
26th
Most probably take pictures with Gerald (new photg I knew lately)
Kiyo 到此一游 @ 9:27 PM