Monday, April 30, 2007
*~*~*~*~*~*~*~*~*~*~*~*~*~*~

Saturday was meet the parents session

I thought it seriously became meet the babies session. HAHHA~ his nieces are adorable and my mum had a fun time with them too. Guess they must be waiting to bao sun wait until neck long liao. ha! The food was pretty good and we had a nice time discussing the details like how many boxes of cakes we need. =D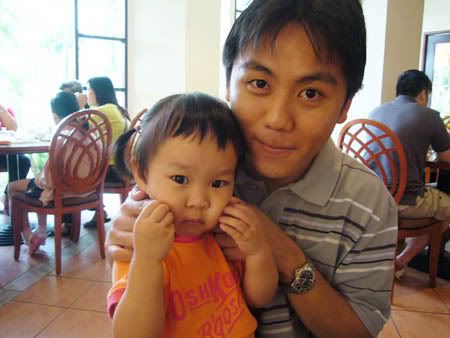 i think she doesnt like the idea of having her cheeks pinched.. keke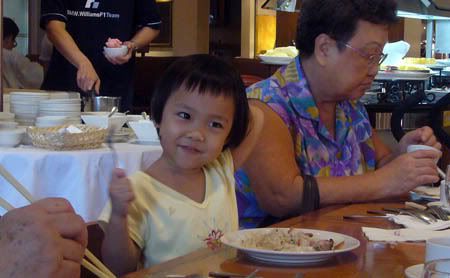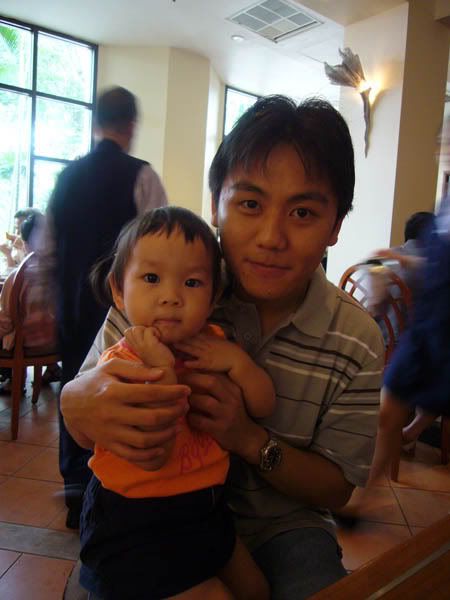 he love them to bits.. =) just like how my jiu jiu love me when i was young.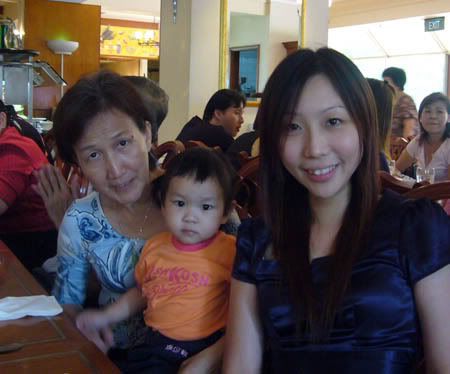 okay, i look fat... dont know why..(eat some more.. eat lah)

~~~~~~~~~~~~~~

Yesterday was a particularly fruitful day.
Decided my ROM march in song! and updated my wedding website with Gerald's photo and a preview of the song i chose.

Thanks for somebody who dropped me an email to suggest a march in song. =) Decided to choose Daybreak as the lyrics are really meaningful and Darren loves this song very much too.



u can find the lyrics in oursundaylove.com! this song is full of love!

Will be working on the bridesmaid page very soon.
happy labour day tmr!

must 种花 huh...

yeah labour day.. alot of pple love to 种树种花 de
Labels: Wedding
Kiyo 到此一游 @ 6:45 PM

Sunday, April 29, 2007
*~*~*~*~*~*~*~*~*~*~*~*~*~*~
I finished my essay!
PHEW!
not going to care what grade I get.
It's not easy to get this 4300 words horkay
I officially graduate from this course!!! No more exams, no more projects, no more assignments! I can concentrate on my wedding preparations, taiwan planning and so much more stuff.
dat is IF i pass this module na
Kiyo 到此一游 @ 10:09 PM

Saturday, April 28, 2007
*~*~*~*~*~*~*~*~*~*~*~*~*~*~
A rainy day today
Gerald drew us a lovely cartoon character of us for use in our ROM wedding invites. I couldnt do it myself as my art always scores a 'F' back in school. Really appreciate it haha! It's really cute! Like the brown hair.. keke me trying to add some details to the dress hahah. Thanks a million! I owe you a
HUGE
meal yah.. =D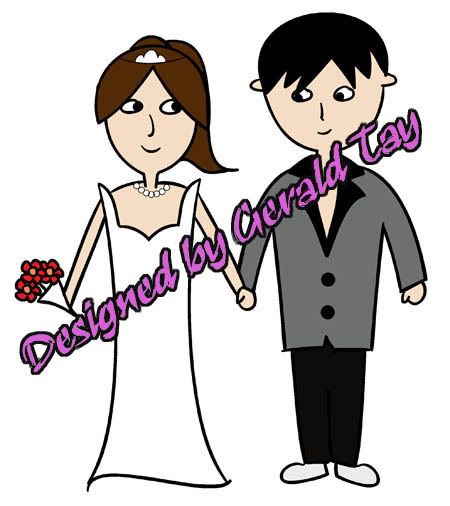 Yesterday we had a good buffet dinner at Traders , compliments from our wedding coordinator! ha! she's really a nice lady. As Darren is her corporate customer, she treated us twice liao~ we are getting fatter and fatter with all these indulging =p She mentioned that the ballroom we chose will undergo renovation during the ghost month of this year. So happy to hear that! we will have new carpets, ceilings and maybe lights for our AD!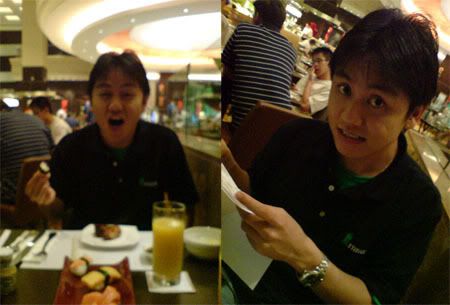 darren kena choked by wasabi hee hee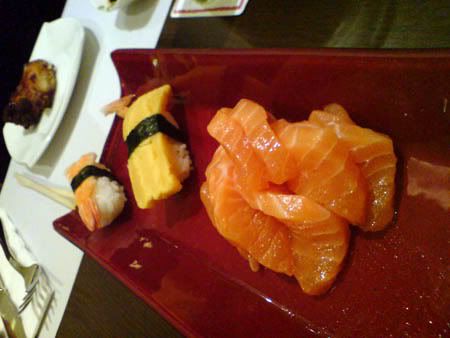 My ring chest arrived! Ordered them along with my colleague and Zoie's orders, we saved quite a bit on shipping. They really look exactly like what they are in the pictures. Really so glad that i found a nice ring bearer chest without burning a hole in the pocket.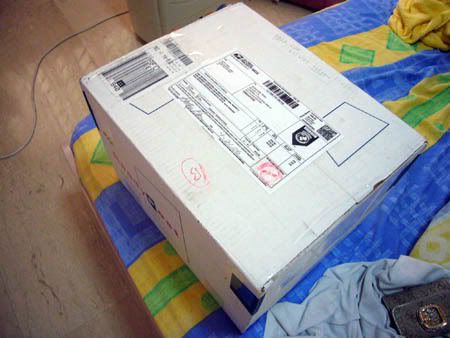 That's mine. *grins*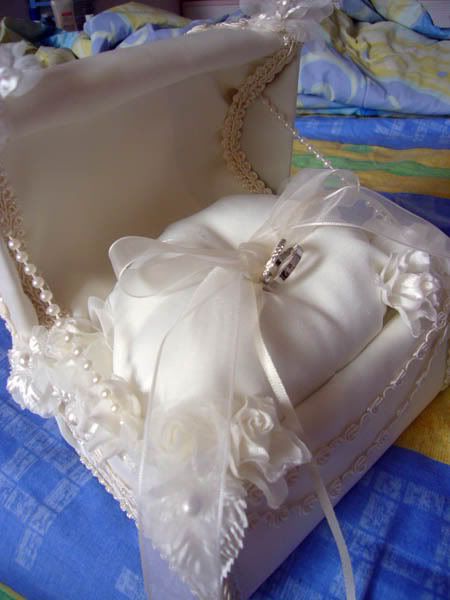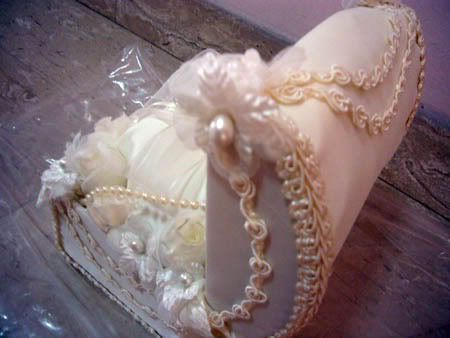 Marcus's ring chest
Zoie's ring chest =)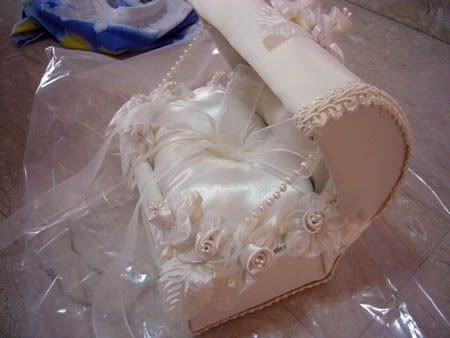 all look really prettie
My dad bought a CD full of love songs, wedding songs in fact. I know "From this Moment" by Shania Twain abit common and 老套, but the song is really full of love and commitment. =D
i think it's time to choose my ROM march in song.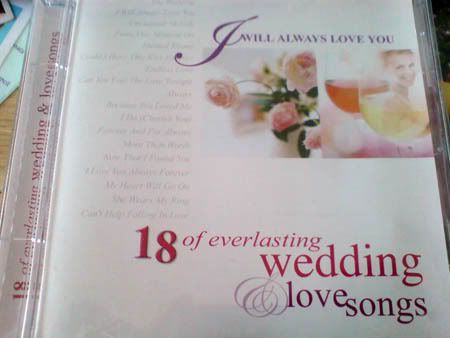 Labels: Wedding
Kiyo 到此一游 @ 10:04 AM

Thursday, April 26, 2007
*~*~*~*~*~*~*~*~*~*~*~*~*~*~
I'm proud to say that I just crossed the 3000 word mark for my essay!!!
total words to date is 3200, i deserve a rest, i deserve to blog!
YIPPPEEEE!!!
but i still have another 2000 more to go
-=____=-
and I only started 1 hour ago and wrote only 600 more words. Only 3 more days till deadline and I am just going to write what I can and submit even if i cant hit that 5000 word he specified in the question. I don't want to be a parrot and keep repeating myself!
~~~~~~~~~~~~~~~
Interesting stuff in Jakarta

Saw alot of things there.. as our hotel is one of the 5 star hotels in indonesia, the night we checked in was coincidentally the night of "ACADEMY AWARDS" for one of their television station. Many pretty and hot models and rich tai tais!!! Very very pretty and fair! They were all in bling bling costumes, anyway i oso dont know who they are but they are really BEAUTIFUL. The rich in Indonesia really dresses very exaggerating, with all the crystals and stuff.. Usually alot of angmo and rich people in Singapore prefer to wear bermudas.. over there, they just OPENLY flaunt their money and assets on their body.
Photos...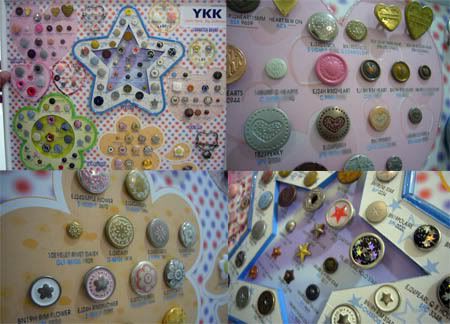 Nice buttons manufactured by our company. So sweet, how I wish i can bring them all home.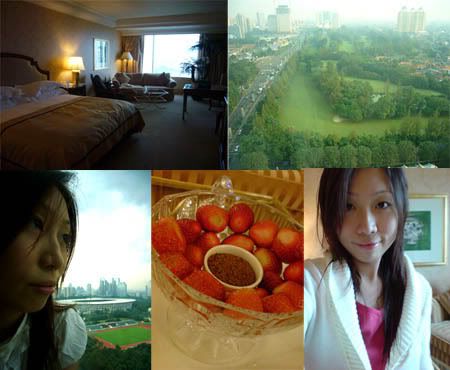 photos of my room, it oversees a mini golf course and a stadium too, in the middle of the city~
Funny stuff in Jakarta
They have this Blue Bird Group (which my colleague told me NOT to say in Hokkien)
=___=. They operate transportation, just like our Comfort taxis. And to my surprise, they actually have different names for different kinds of taxis.
SILVER BIRD is the name for slightly larger taxis
GOLDEN BIRD, yeah.. for EVEN larger taxis
they have bus services too!
guess what the name is? When I saw the bus, i seriously burst out laughing..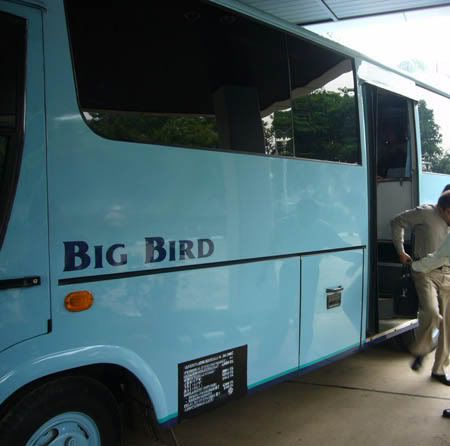 it's called the
BIG BIRD
.
=______=
Really a BIRD Corporation.
sorry if you dont share the same sense of humour as me. i find it farnie haha =p
maybe they have buses that are called BIGGER BIRD or BIGGEST BIRD hor...hee hee hee
~~~~~~~~~~~~
weekends were spent playing with the kids.
loads of fun =)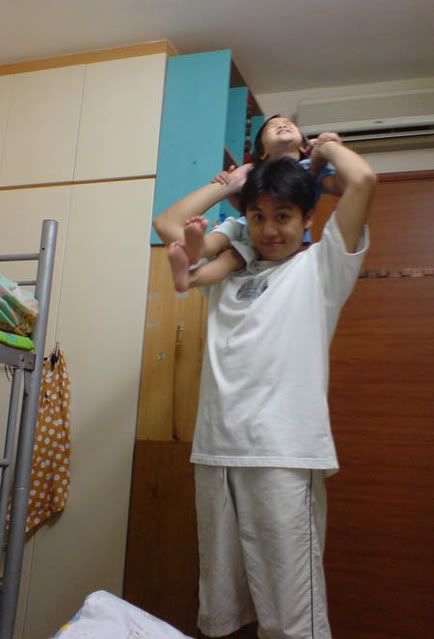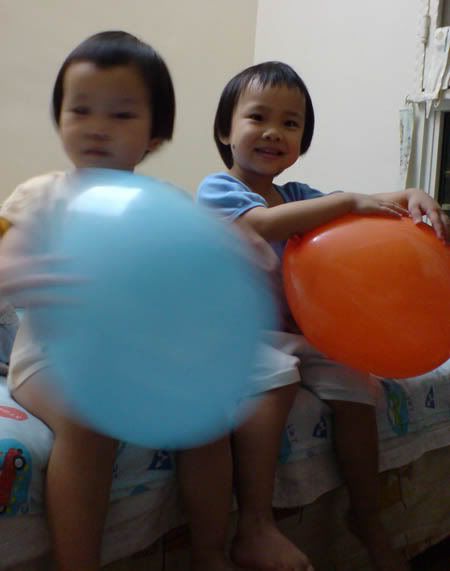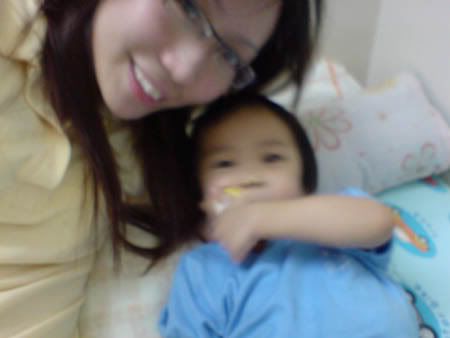 Kiyo 到此一游 @ 10:00 PM

Monday, April 23, 2007
*~*~*~*~*~*~*~*~*~*~*~*~*~*~

my new found favourite drink
choya + green tea
hahaha
a colleague recommended me.. nice mixture on a hot sunny day =p
the pair of heels i bought in jakarta.. =p
guess how much?
only 29 bucks hee hee with alot of diamontes and only 2 inch high~ hmmm i guess will bring this pair for photoshoot too
more photos.. hmmm maybe tomolo.
Labels: Travel Tales
Kiyo 到此一游 @ 7:00 AM

Saturday, April 21, 2007
*~*~*~*~*~*~*~*~*~*~*~*~*~*~
oh, i have finally reached singapore this morning..
very sleep deprived.
was so so happy to come back this morning that i took particular effort to doll myself up so i can hug darren when I see him at the airport. miss him so much for the 5 days. And we managed to get on an earlier flight! lucky us... so i reached singapore at about 12.30pm.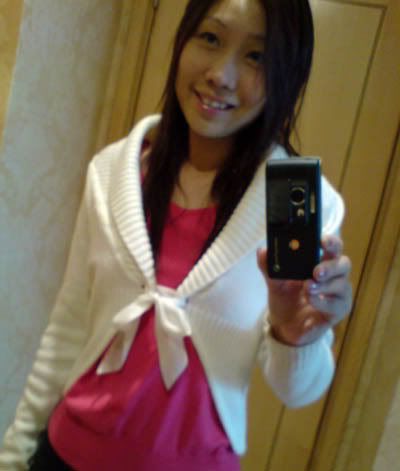 lurve my white cardi bought in seiyu.
the hotel room was really luxurious but a pity i couldnt enjoy or appreciate it. Didn't change rooms in the end cos nothing much happened the following nights, still couldnt sleep very well but i took some sleeping pills prescribed by the doctor so managed to sleep about 5-6 hours.
Still felt uncomfortable about the room but I just kept brainwashing myself that it's just my mind playing tricks, don't want to think too much about it, and covered the blanket over my head. ha! =___= Really cannot make it.
While i'm awake, most of the night was spent watching CNN on the virginia tech killing case.
Oh ya help fang to get only 1 bottle of mandi lulur. sorry gal, my suitcase was quite packed with things i bought for darren and my notes. keke =)
bought a pair of shoes too =p
thanks all for the concern! i'm glad i'm back!
Kiyo 到此一游 @ 10:45 PM

Wednesday, April 18, 2007
*~*~*~*~*~*~*~*~*~*~*~*~*~*~

Didnt sleep well for last night that explains the early blogging...

just felt strange and the lights just turn off and on again..when i wake up again, those i want on are off, those i want on are off

=___=

hope i'm imagining things which i am super capable of.
(or maybe they are just faulty hor)

but i thought i felt someone or something hugged me or was on top of me?
Maybe i'm dreaminggg..


if it happens again, i am gg to change room!

long day ahead...
Kiyo 到此一游 @ 5:25 AM

Monday, April 16, 2007
*~*~*~*~*~*~*~*~*~*~*~*~*~*~
Weekend
was kinda sick.. It must be the
yan su ji
I ate on Friday. =(
it scalded my throat and sure enough, it turned inflamed. Slight fever running now but I still operate in perfect condition!
I have to... going Jakata for 5 days from tomorrow onwards to attend a meeting.. The meeting last for like 3 days, hopefully it will be interesting and useful. Even had the doctor to prescribe me sleeping pills so as to sleep better in a foreign country, a foreign bed, all by myself =(
Saturday morning ppm and me attended a lingerie workshop and it was pretty fun. It's actually a workshop to launch their deep V series and at the same time teach us how to wear bras correctly to have the UP UP factor.
Darren was still suaning me on friday...
"huh!? pay 10 dollars to learn to wear bra? wear so many years liao still need people teach you?"

"why cannot?!"

"like machiam Renoma (seller for men's underwear) organize guy's workshop to teach people how to wear underwear lorrrr"
=_____=
it's NOT the same nor.. the workshop was pretty fun, there's nice lacy lingeries to see and touch, food to eat, and a goodie bag filled with vouchers and beauty samples!! ha! the whole bag is worth more than 10 bucks horkay...
but the lingerie we bought was over 80 bucks sheesh.. so little cloth, so so expensive. I got the deep V pink with black lace before this workshop so it gave me another excuse to get another set. SO... i got a light pink in cream colour very SWEET!! we posed with our lingerie.. not
IN OUR LINGERIE
=p
~~~~~~~~~~~~~~~~~~~~~~
IKEA time.
Our first time to IKEA tampines. We passed by Premiere @ tampines and saw our future love nest. TADAH!! It is now 2 storeys high
=____=
when will it reach 15th.....
heez
There's simply ALOT of things to buy in IKEA for solemnization table decor. OKAY.. any kind of decor, there's alot to choose from. Finally decided on how I want to decorate that table! From silk flower petals to scented candles.. there's so many decorations there to use!
Going to decorate that plate-like thing with lace and ribbons and set it in the center of the table like a centerpiece, complete with petals, pearls and MAYBE feathers and all.
Please give me inspiration haha if you guys have any.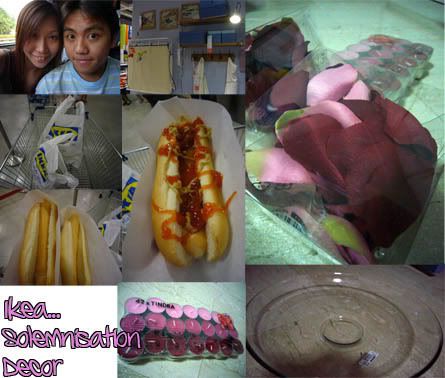 We ate the hot dogs there! cheap and good.. and then we went to the cafe to continue our 2nd round of meatballs and chicken wings, not to forget fries too. yummiz.. oh Boy, we can eat!
Oh yah, we are going to repaint my room very soon, in the blue that is shown on the 2nd picture. We both lurrve blue colour.. =D
Going to Jakarta tomorrow.
He just gave me his 护身符 that he has been carrying for 10 over years and asked me to carry it whereever i go..
So touched... until i want to cry liaoz.
guess it is these little things that made me love him more & more for these years.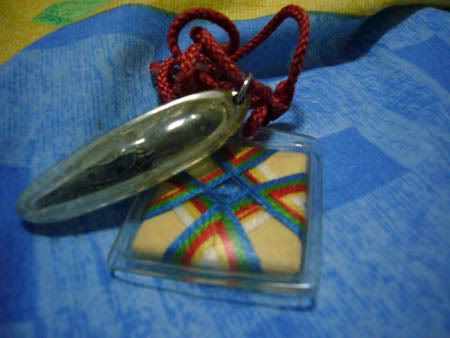 Take care people,
me have to take care too!
Labels: Wedding
Kiyo 到此一游 @ 8:52 PM

Thursday, April 12, 2007
*~*~*~*~*~*~*~*~*~*~*~*~*~*~
Went for some pampering yesterday
bought a nail package from a bridal show by Nail Xpert and yesterday started my first session. 2nd session will be next month before my photoshoot and the last session will be before my ROM day.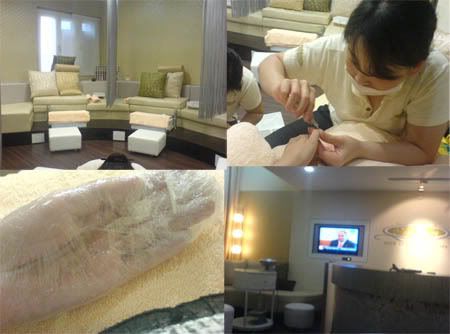 It was absolutely pampering, nearly fell asleep when they massaged my hands and legs. Lurve their environment, very relaxing as the whole salon had a nice scent of essential oils and not nail polish. Did a hand paraffin too! cos it was included inside the package.
My heels! yeah the one on the
RIGHT
, not the one on the left. haizzz.. it's not really fantastic but can wear larrrhh. Lyana showed me her friend's heel (left) and I really love it, but it's too high heel for me, about 3 inch? nah... me looking for shorter ones. anyway, the one i bought cost only 3 bucks! cause i used vouchers that i won in a lucky draw.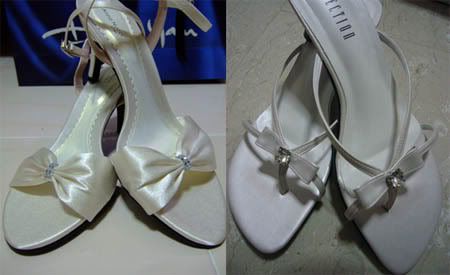 Huiling recommended something she saw on someone's blog. A ring pillow in a treasure chest. Me managed to find it in ebay! Don't you think they are prettie? if i cant find it in singapore, will order from US.. who wants to save some shipping? hee hee.
Drooling over them...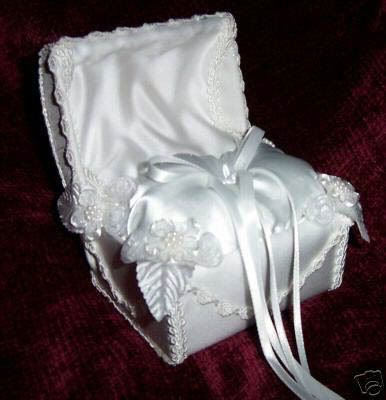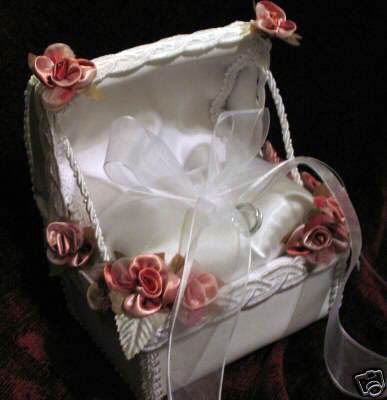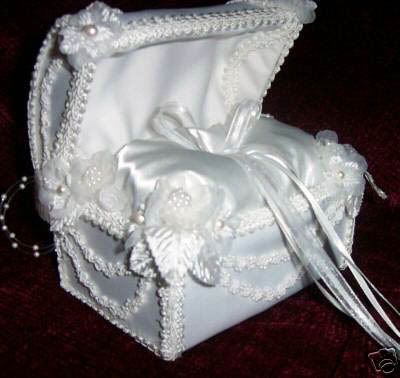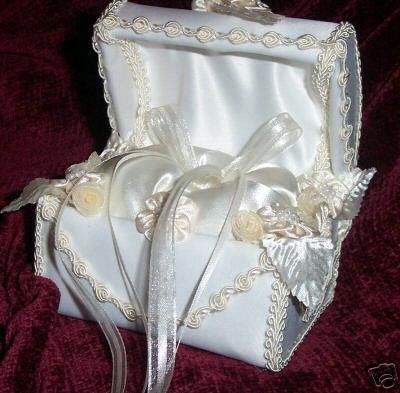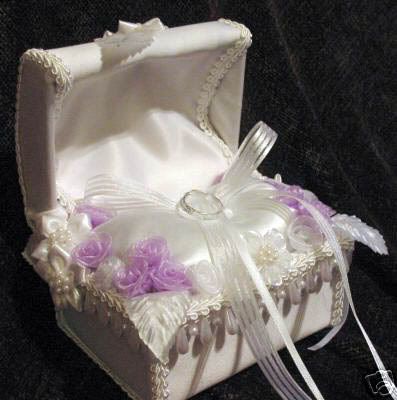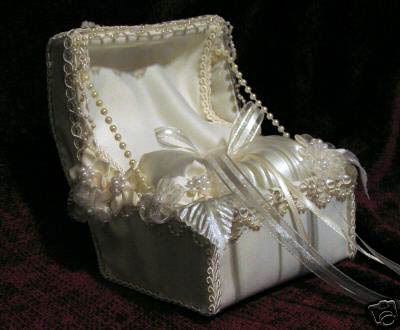 so niceeee hor... =p
Bought some cute stuff just now at pasar malam.
plastic bag~ eh... foldable bag to lug to taiwan to put all my clothes stuff hur hur hur.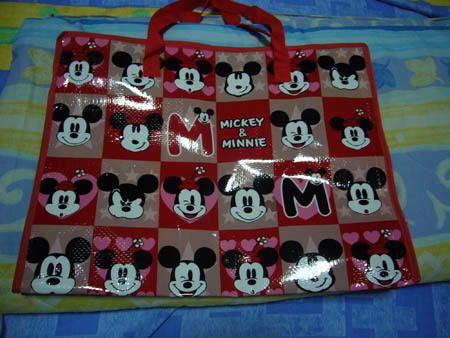 bought these stickers too. cheap cheap at 2 for 50 cents! maybe give darren's nieces hee hee. can "reward" them when they get the word correct keke.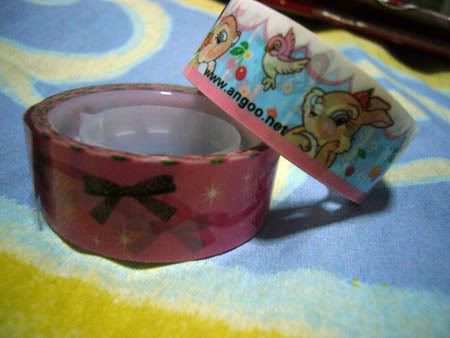 ending off with a picture of us.. darren acting cool keke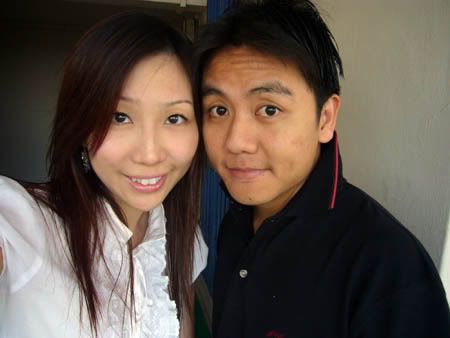 Kiyo 到此一游 @ 8:44 PM

Tuesday, April 10, 2007
*~*~*~*~*~*~*~*~*~*~*~*~*~*~
Find out if your job is killing you..
Something interesting I found online keke
By Staff Writers
Bald, wrinkled skin, white brows – your job might be causing all of these. Now there's a website to find out how much damage has been done.
~ Age-o-matic ~
by careerbuilder.com, has a function that allows people to do just that. Just upload your photo and answer a few question, and the site will digitally alter your photo to show how much the job has 'killed' you by adding wrinkles, baldness and causing your eyesight to fail.
After the test, you can also record a message either by phone or text and send it to your friends. Or better still, send it to your boss to show him how overworked you are.
I look like a freak.
oh yes.. my job is killing me keke
Labels: Silly Stuff
Kiyo 到此一游 @ 8:30 PM

Sunday, April 08, 2007
*~*~*~*~*~*~*~*~*~*~*~*~*~*~
ohhhh.. i bought ALOT of things over the weekend
1. Bought my Shoes for Photoshoot & ROM
An average pair but I think the heels are just nice for me, about 2 inch. Ha! big difficulty finding kitten heel shoes. And I seriously do not want to customized as the damage may cost $150 or more! Anyway the dress will cover them hee hee.
2. Bought Miss White Princess Soap
Raved by quite a few podders about the whitening effects. I want to be yeah... Miss white princess larrrr. Coupled with my ginvera uv milk in the morning and my fancl white advance pills. I think i look even fairer than like 10 days ago? =p I'm getting really vain these days.
3. Settled my Videographer
Will be engaging Ninetrogen for my ROM. Love his works, simple and creative angles
4. What do you think of this pair of shoes to go with a white suit for Darren?
hmmmmm... abit beng???
5. Confirmed my gown at Justgowns. The princessy one.. my favourite!
6. Booked our tickets to Taiwan in MAY! Finally it's settled! we will spend 6 days 5 nights in Taipei with 1 day of photoshoot. =) Decided to go by SQ as we couldnt get any jetstar promotion. I was really sore about it but my colleague told me it's good to give ourselves a real holiday and fly there comfortably =) He's going to do the planning this time.. he promised. bleahz
Labels: Wedding
Kiyo 到此一游 @ 9:35 AM

Thursday, April 05, 2007
*~*~*~*~*~*~*~*~*~*~*~*~*~*~
YAY!Long weekends are here again! =)
Met up with the Justice of Peace, Mrs Chia on Tuesday with 9 other couples and I must say the meeting was GREAT!
She is a very nice and approachable person and all the 9 couples had a mini rehearsal on tuesday as well. hee hee.
She shared alot of advices to us about marriage, about expectations and encouraged us to attend pre-marriage courses. She even told us some of her interesting encounters with couples she solemnized. One couple's experience made me laugh so hard that I almost teared. Can you imagine that they went to LAMINATE their official documents even before their ceremony.
=____=
how to sign lidat...
We were supposed to do a little homework and create our personalized ring vow.
I guess it will be very romantic and memorable.
Enjoy the long weekends!
Labels: Wedding
Kiyo 到此一游 @ 9:02 PM

Monday, April 02, 2007
*~*~*~*~*~*~*~*~*~*~*~*~*~*~
I'm very happy today.
cause today marks the end of my 1 year course at SHRI.
And if nothing goes wrong, after the submission of that 5000 words essay :( to the lecturer by end of this month, I will officially graduate!
There's no Gold medal and I didn't really pass with flying colours.. but still colours lahhhh of some sort. haha For your information, only the top student get a gold medal.. almost IMPOSSIBLE for me to get.
This year of study had not been easy but made alot of new friends who share the same kind of work and see the same kind of things.
Will I pick up my books to study for related courses again?
Maybe. It's tough studying part time but very enriching.
~~~~~~~~~~~~~~~
Over the weekend, Darren's mum (my future MIL) brought me to buy the si dian jin. The tradition of giving si dian jin in the old days when matchmaking and arranged marriages were a way of life in China, the bride and bridegroom were not allowed to meet until the wedding night.
Since a lot was build on trust, the bridegroom would show his intentions were sincere by sending a gift of gold jewellery to his bride-to-be, 14 days before the wedding. This gift consisted of a necklace, a bangle, a pair of earings, and a ring, the four touches of gold or Si Dian Jin.
She's really nice, wanted me to choose something I like, so we went to Poh Heng to choose something to match the Kua2 i will be wearing. Some people feel that wearing kua2 looks old, but I think it's not everyday you can wear a chinese traditional costume and the experience should be quite special.
One of the earrings I chose. Very cute, i like the way the Xi3 is made with the heart shape.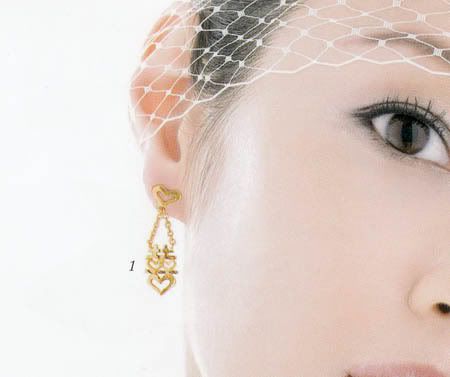 ~~~~~~~~~~~~~
Uploaded Darren's childhood pictures on our wedding website. I realized I don't have much childhood pictures...cos my mum took too many for my sister, when it's my turn, I don't have ler.
boohoo hoo
.. Or maybe simply, I AM JUST NOT CUTE ENUFF, hur hur hurr. He has LOADS, HEAPS of bb pictures though. He was really really cute then. keke
I lurve this pic the most
so cute horr.... the leaf... hahah
Kiyo 到此一游 @ 10:37 PM