Saturday, January 31, 2009
*~*~*~*~*
we had lo hei today!
the colours were really pretty and very delicious! made by my dearest mother in law. She's really good at making goodies and made the sauce herself. I couldnt eat anything raw so a fruity lo hei was made. There's all sorts of fruits inside, including pomelo and pear. There's abalone and honeystars too! for the kids.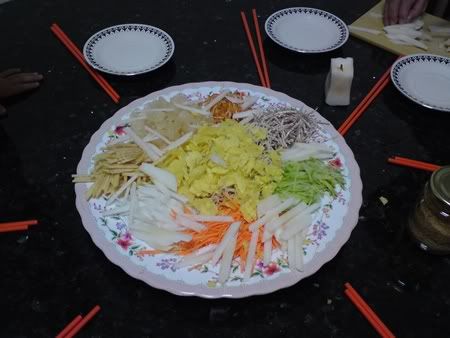 Into my 5th month now! How time flies. Another 4 more months to go! Next Wednesday I will be going for my detailed scan and hopefully we will be able to confirm our baby's gender.
I miss seeing our baby on the ultrasound. Really cant wait!!
My colleagues have been guessing baby's gender weeks ago. Some of them said girl but most of them guessed boy. Really not sure what's the logic or rationale behind. Maybe it's just their plain instinct.
If you ask me, we love both cow-girl or cow-boy! and wawa has been really active in my tummy lately, celebrating cny in her/his own way.
"Dong Dong Long Dong Qiang" inside.
hur hur hur
Kiyo 到此一游 @ 9:42 PM

Sunday, January 25, 2009
*~*~*~*~*
Happy 牛 year in advance!!
Joy and Happiness to everybody! =)
From
Us....
and our xiao 牛, wawa!
Gong Xi Gong Xi and enjoy the long long hols! =D
Kiyo 到此一游 @ 4:03 PM

Thursday, January 22, 2009
*~*~*~*~*
Chinese New Year is round the corner and I guess most of you have stocked up on the goodies and the lovely clothes.
But here i would like to recommend this pineapple tarts that are absolutely yummiz!!
all of you should try it.
It's 1/2 bottle empty now, me and mum ate quite alot hee hee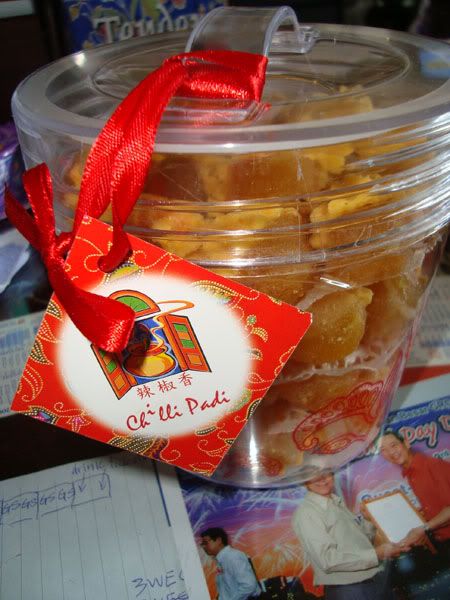 can get it at bugis junction level 1 where all the other goodies are. heez
Chili Padi is actually a nonya peranakan restaurant which won alot of awards =)
Kiyo 到此一游 @ 12:19 PM

Tuesday, January 20, 2009
*~*~*~*~*
We bought a playpen! in BLUE
doesnt indicate the gender of the baby though. hee hee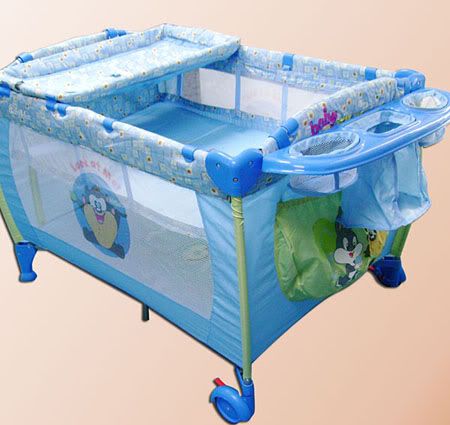 Initially we wanted to buy Yellow as we are still not sure about the baby's gender. But the yellow one did not come with the free attachments while the pink and blue ones have! arggghhh and i love the play pen partly because of the convenient attachments whereby I can put extra diapers there or cream or powder for the baby.
so after discussions, we both agreed that girls can sleep in blue play pen but boys cannot sleep in pink playpen!
=___=
anyway it's our own theory just to get that free attachment and enjoy the discount at the same time. hahahhaha
Kiyo 到此一游 @ 8:15 PM

Wednesday, January 14, 2009
*~*~*~*~*
We finally got our house keys!!!
yay! =)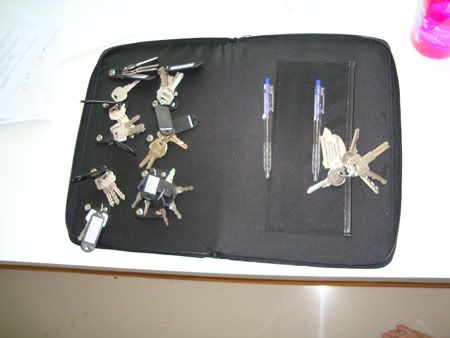 it was quite a long wait but well worth it, now i'm looking forward to the renovation. Like most new HDB flats, our new flat came with a few minor defects. Eg, parquet not done properly or there's gaps between the balcony door and the living room. But we will report those defects to the management and hopefully they will do it within 1 week after cny!
What I love about our love nest
1) we are located on the 3rd highest floor and it's very breezy!!
2) i lurve the super big balcony where i will be able to grow plants and chill out with dar dar
3) great location at tampines! with IKEA and COURTS just 5 mins drive away and 3 shopping centers within 10 mins walking distance
4) i lurve the multistorey car park! there's lift in each block to bring us straight to our level, just like a condo. For lazy people like me hee hee
5) most importantly, it's me and dar and wawa's future HOME!
What I dont really like about our house
1) the bedrooms are pathetically small. My current bedroom = to their 2 bedrooms
2) the kichen oso very small.. but i doubt i will cook often so it's okay haha
Our living room and the balcony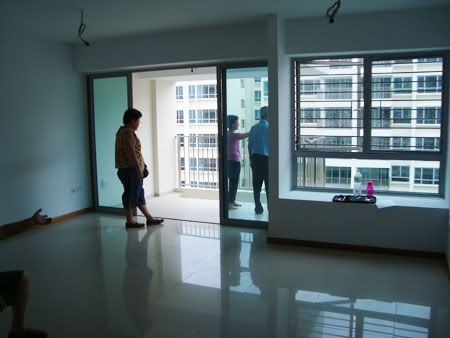 Darren checking carefully for defects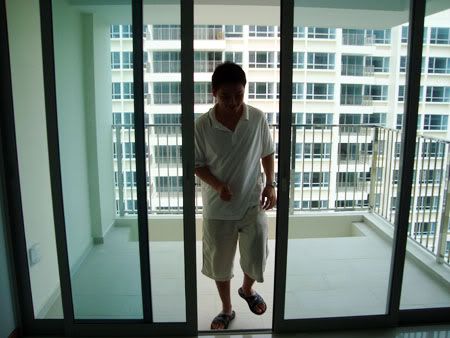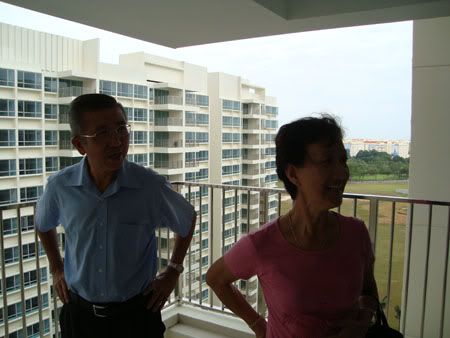 the view from our house, not much view but still it's a great place to relax
the rooms. 2 bedrooms and 1 MBR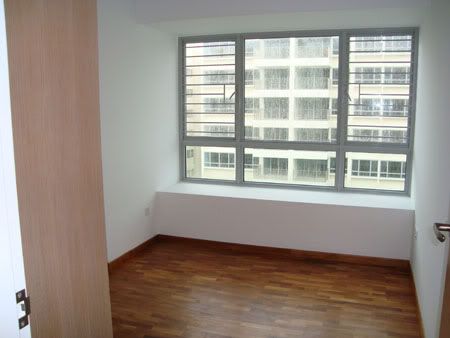 the toilet with lights installed already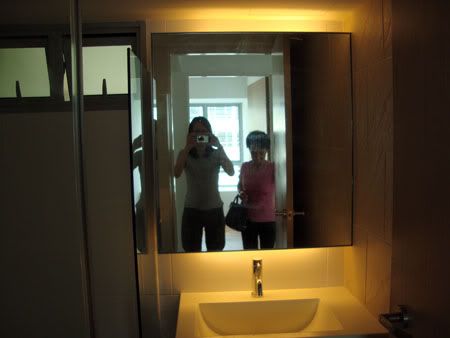 the freaking small kitchen entrance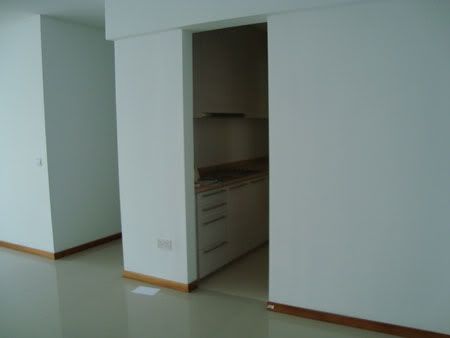 Looking forward to this saturday as our ID will be coming with us to view the place and finalize the designs! hee
We will be looking at modern and simple design plus some DIY wall decals and maybe wall paper to decorate the place
Labels: Home Sweet Home
Kiyo 到此一游 @ 7:34 PM

Monday, January 12, 2009
*~*~*~*~*
Went to JB on Sunday. Ate very nice dim sum! and super cheap!
only about 8sgd per pax
It's about 15 mins drive from the causeway and very near to darren's house.
we went shopping at the new danga city mall too.
The one that was mentioned in the papers where the public can actually take a train into malaysia and there's a station at the shopping mall.
Anyway the mall is a dissapointment. I think Jaya Jusco and Aeon shopping centre, (nearer to the 2nd link) is a much much better mall. The boutiques at danga city mall are not very interesting. =)
Kiyo 到此一游 @ 9:43 PM

Friday, January 09, 2009
*~*~*~*~*
So how have I been...
I'm now into my 17th week of pregnancy
I have gained 1.5 kg! and Dr Chan was happy that I have started gaining weight. She told me that I will have to gain 2 kg every month for the next few months til birth.
My back pain started as my tum tum is getting bigger and it's getting hard to me to lie on my back to sleep. Cant wait for june to arrive!
Still cant feel the kicking yet. Not sure whether it's wawa or not, but sometimes there's this fluttering feeling in the tummy, Maybe it's wawa!
At last we are going to get our keys soon!!! Maybe some of you have seen it on the news about The Premiere. We will be popping by next weekend to take a look at our love nest!
Hopefully renovations can begin soon after CNY.
Kiyo 到此一游 @ 7:30 AM

Friday, January 02, 2009
*~*~*~*~*
I sacrificed my hair! and cut them short for the new year.
Cant stand those messy curls anymore and i guess the weather will get hotter.
Shortest i have ever cut since a long long time.
and i bought a new phone too!
It's not the pretty pretty pink kind although i would really love to have those but a red one~ since they are on promotion now.=D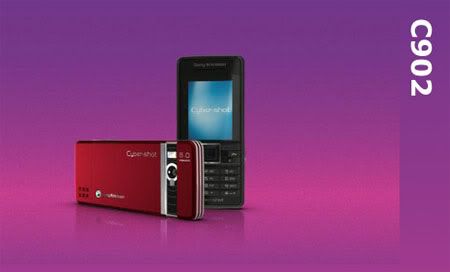 YAY! no work today!
Kiyo 到此一游 @ 9:00 AM