Wednesday, June 29, 2005
*~*~*~*~*~*~*~*~*~*~*~*~*~*~
Their true love story...
Finally, the pictures are out!
That day I guess I was the loudest. We had 3 rounds. The first was the hula hoop that we asked the brothers to do standing on the chair. This was actually a last minute thing I thought of yesterday cos I knew the bride has one. But we decided to tire the brothers first. There was a whole big gang of 6.. We only have a meek 4. But what are 6 men.. they are no fight haha.. to me. Conclusion. They CANT hula, it's quite a funny sight to see *ahem* not quite young men trying to hula..All of them were actually married except 1, the bestman. One of the guys were still trying to hardsell that guy to the 4 jiemeis.. too bad, 2 are married, and the other 2 are attached.
Next came the decoration part for the photoframe that me n xin chose at art friend, the end product was quite nice in fact but I didn't take any pictures.. bo eng ar.. Than the negotiation part came…
I guess the brothers were either quite inexperienced or they did not discuss properly about the negotiation part or maybe they got shocked by us that they forgot what they were supposed to do. They were having their mini discussion outside the gate very near me.
"so how, then 是要给他们,还是不要给?"
One of the brothers, Cant remember his name stood there asking the others while waving the 4 angpows in his hand.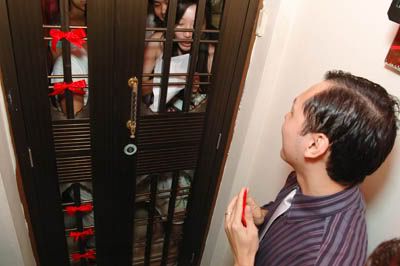 I then put my hand through the gate, snatched it and
got it!
I fast hand fast leg wan okie... Hahah. I realized one cant be too soft during this time.. otherwise it's going to get us NOWHERE. Anyway, it's RUPIAH inside. He didn't even bother to give us Ringgit. Hng the groom! We threw it back.
The 2nd time, they learnt their lesson and stood further away…..
FROM ME
.. whahaha. But the brothers really a little blur, even the groom was a little blur himself cos we don't know what did we say, we managed to get them to give us the 2nd set of angpows.
Then SUDDENLY.. dont noe why they started screaming at the top of their voice..
老鼠爱大米
... -_-
Heng they didnt dance to the techno remix version..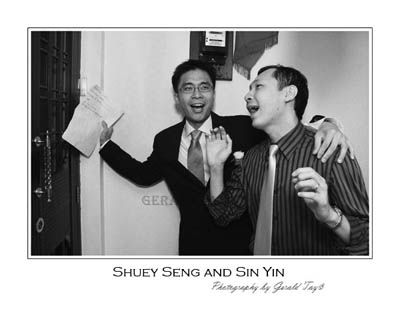 There was this auntie very cute. Kept on asking Gerald to take pictures of her granddaughter??
"坐好好,叫 UNKER 拍照...叫UNKER 帮你拍美美"
-_-'''
(Gerald's face)
Gerald? Unker? buhahahah.. He's only 20 lo..that's why he show me that face.... call kor kor he will take for you la. But never mind la.. the MUA likes you wor.. happy ritez.. =D
And OT abit.. this is the first wedding I went to that have both cute photographer and videographer. The videographer my friend engaged was quite cute too hahaha. Seriously he has this slight resemblance to the bf of Yuen Yong Yi.. what's his name.. hm.. Didnt get a clear picture of him cos his face always behind the video cam
(ar but then, he's paid leh)
Look darn shuai hor.. like dat.. wahahhaahha.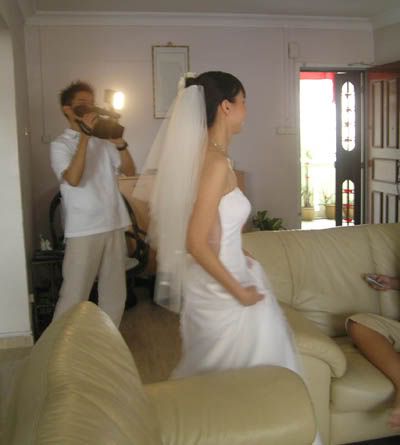 Jie mei pictures...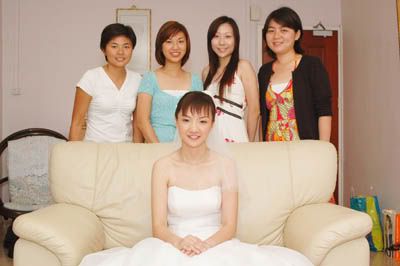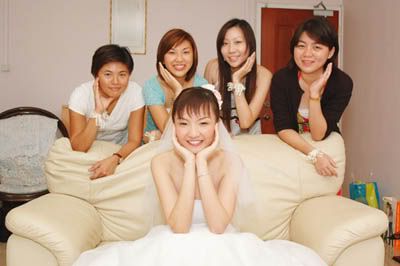 Was really fun.. night pictures tomorrow... lalala
Kiyo 到此一游 @ 11:16 PM

Monday, June 27, 2005
*~*~*~*~*~*~*~*~*~*~*~*~*~*~
This morning I received a darn funny msg that woke me up when I was still in a very zombie state.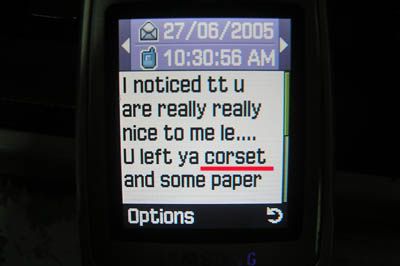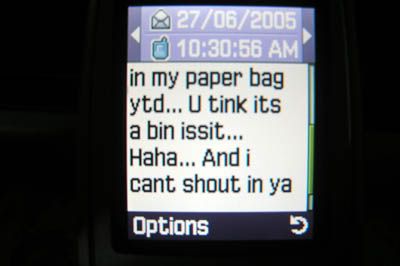 Corset!?!?

Definition of corset : a tight piece of underwear worn on the middle part of a woman's body to make her waist appear smaller, especially in the past
This is a corset.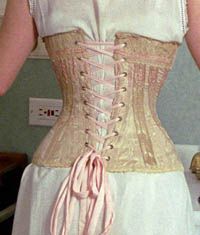 After reading his message, I was thinking to myself..Basically, I wasn't wearing any corset yesterday, I wont wear such torturous stuff and even if I was,
why the hell
would I leave it in his paper bag!?!? I was thinking and thinking.. what did I leave in his bag, than I realized.. Gerald meant
CORSAGE
. Buhahhaha. Okie.. he don't know the flowers for the bridesmaids are called corsages.. this is the 2nd time he told me they are corsets
This is my "KOR SETT" that I left in his bag nor.. Farnie.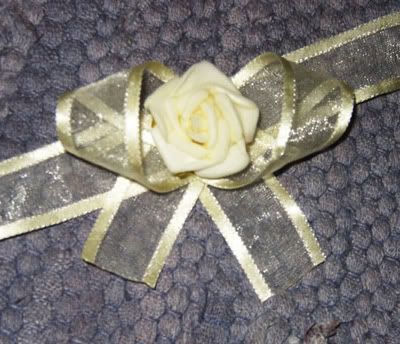 Kiyo 到此一游 @ 10:58 PM

Sunday, June 26, 2005
*~*~*~*~*~*~*~*~*~*~*~*~*~*~
Just came back from Tekan session..
It was kinda fun but no photos as yet cos I didnt get to take any.. Photos with gerald, will post them when they are ready..
Saturday, okasan came from Japan and me and xin went to bring them around. We first went to Maxwell Market to eat the famous Zhen Zhen porridge.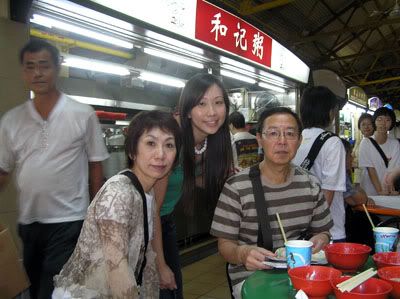 Okie.. we took the wrong photo.. we
DIDNT
eat at this stall..
Actually, it's just normal porridge I think.. nothing really fantastic but the queue was really darn long.. We next walk around chinatown and even went into the Chinatown Heritage Center to see how our ancesters lived..
Lunch! We went to Wah Lok Restaurant in Carlton Hotel who has really the nicest CHAR SIEW bao I have ever eaten.
*frankly speaking, i have never liked char siew bao, but their dim sum is really affordable and not bad!*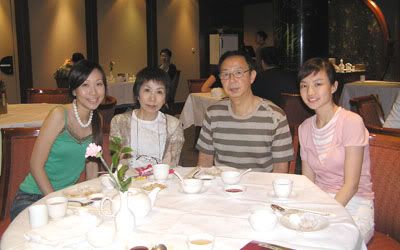 Both of them were rather tired as they checked into the hotel 3am in the morning and didnt get much sleep.I didnt too okie.. I woke at 5am on saturday to fetch that guy can...quarrel again just now.. I just knew it, always like dat.
WASTE my time, WASTE my effort, WASTE EVERYTHING!
Anyway.. back to happier stuff..we went for FOOT REFLEXOLOGY after that. I have this phobia for foot reflexology as I watched too many episodes of Shao Nian Te Gong Dui where they treated their guests to foot reflexology sessions and they were screaming like MAD. But Kenko dont use knuckles to press, they use their thumb. :)
See..my ugly feet under torture.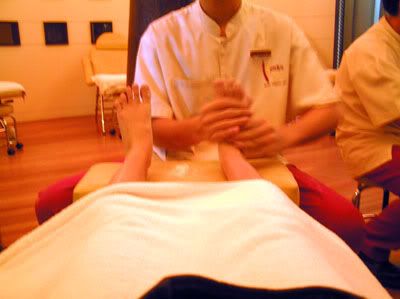 Before the treatment started, I reminded the person time and time again to be a little gentler on me so the pain was still bearable.. hee hee.. And after the treament, my feet really felt lighter! I'm going back for more!
Night activities was the NIGHT SAFARI
AGAIN
. haha.. I have been to the night safari for 3 times that I even knew what will come next during the show. Why didnt they change the contents of the show!?!?
I need to go take a nap now... Tonite performing! Hope there wont be any hiccups!
Kiyo 到此一游 @ 2:50 PM

Saturday, June 25, 2005
*~*~*~*~*~*~*~*~*~*~*~*~*~*~
It's 5 am now...
Going to fetch darren in a short while..I look like Panda.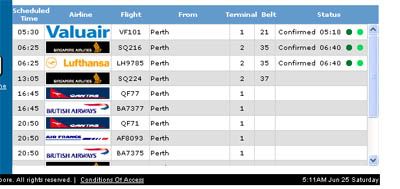 Kiyo 到此一游 @ 5:09 AM

Thursday, June 23, 2005
*~*~*~*~*~*~*~*~*~*~*~*~*~*~
I cant drink la.. I need training
Went to the Samsung 2nd birthday bash at Zouk.. (yeah my virgin trip to Zouk). It was still okie.. It's just that we were chased out by the Zouk people after the event cos we thought we could stay there throughout like the 1st bday bash at double O.Apparently NOT.
After waiting for some time, Taufik appeared! He's really cute and very smooth. I couldnt catch him with his eyes open while he's singing..
Eyes closed...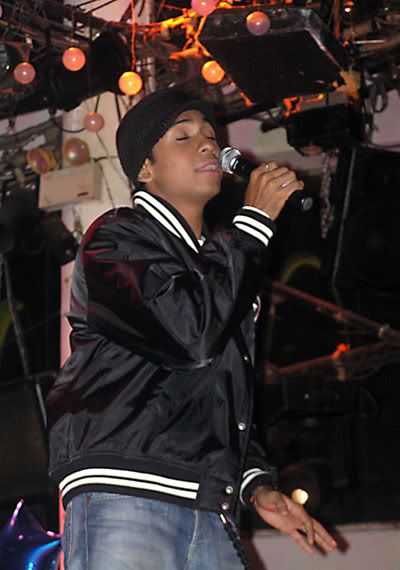 Eyes closed again.. Arggh and machiam Zhang Hui Mei singing style.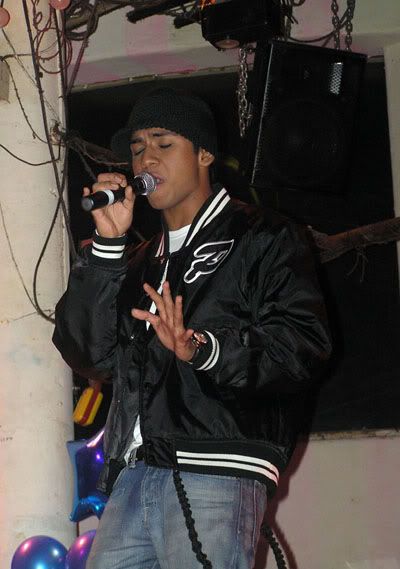 Finally! Cute one!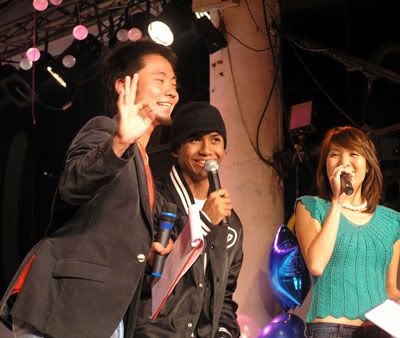 OKIE... I guessed the music must be too loud cos i heard ppm telling me that gerald asked me to take pictures of Daniel Ong.
Hmm.. I was shocked into silence for a second wondering why he want to take pictures of Daniel!?!
Gay meh??
Nevertheless, I took for my bludder. He wants Daniel. I GIVE HIM DANIEL. Was still so proud of myself that I got this picture with such a "nice" pose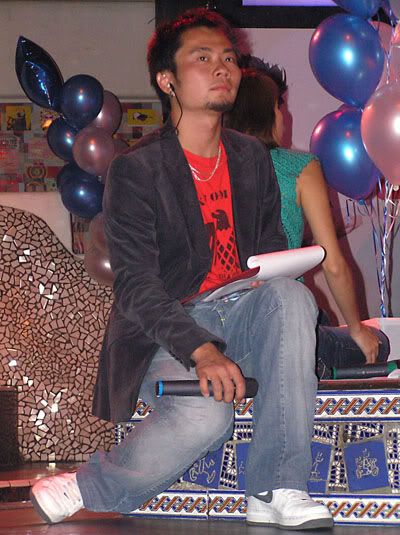 Than it turned out that.. he wanted
Carrie Chong's
pictures.. not
Daniel Ong
.. Their names sounded so different.. What's WRONG with ME!?!? Wahahha. I think my ears are playing tricks man.. I couldnt get drunk on COKE right? I'm sorry bro..
Shi Kang Jun.. He's darn cute too.But why did I capture such a constipated look of him? sian..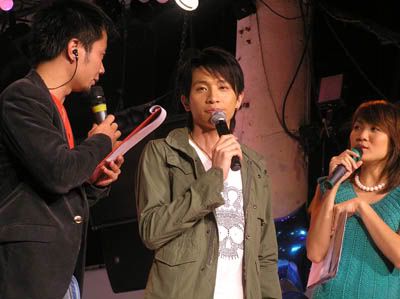 Another one with Cute Carrie looking so sweetly at Mr Shi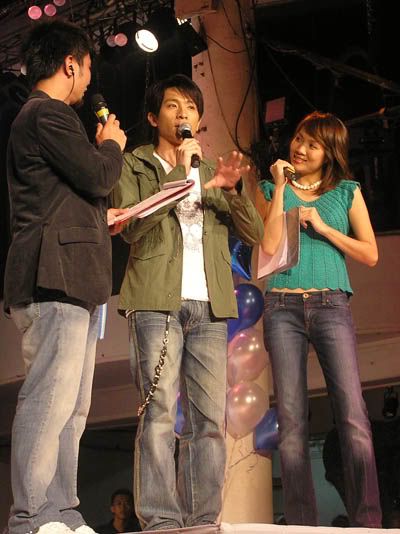 Me and Ppm. This was taken when we were ONLY DRINKING COKE okie.. Why do we looked half drunk!?! But for a wide eye version, Look at it for 3s...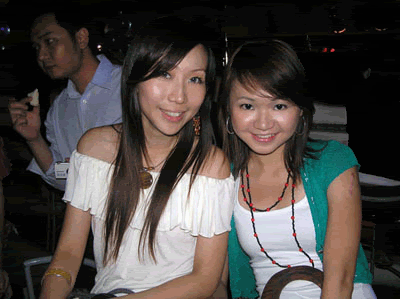 How I wish our eyes were DIS BIG.
yes.. we are watching YOU.
Our group picture before leaving Zouk..
From Behind Left : Fulong, Gerald
(who thinks that he is chen guan xi)
, Winston, Ivan, Zen, Me!!, Ppm, Astor and Steph)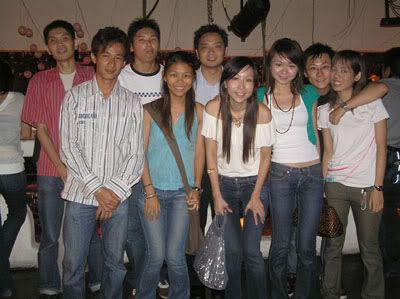 Eh.. Winston.. dont want to take picture dont like dat leh... Passport picture ar? haha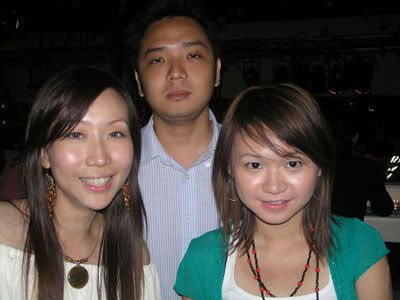 SFC couple! Astor & Steph who got to know each other through this site and have been dating for quite some time... so sweet.. =D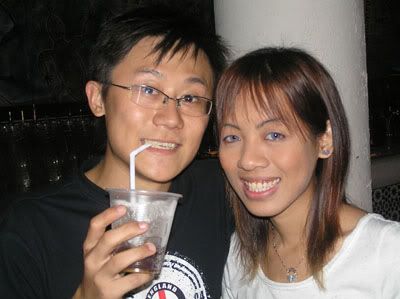 Kiyo 到此一游 @ 10:16 PM

Wednesday, June 22, 2005
*~*~*~*~*~*~*~*~*~*~*~*~*~*~
It's a -__- week ahead
I cannot imagine how I am going to work next Monday. This weekend is really ultra super busy weekend for me.
Darren will be coming back on Saturday and he will reach at about 5.30 am. I will be the only person to help him with his luggages cos I dont think his family members are going to fetch him from the airport. They are busy with the babies and his sis needs rest..
which means I will have to wake up at 5 am!... or even earlier
-__-
And then after having breakfast with him.. will meet okaasan from Japan at 10 am and we have a FULL DAY of activities touring Singapore and it includes a session of FOOT REFLEXOLOGY at Kenko as well...
-__-
Actually, OT abit.. 25th June is our 4th year anniversary together.. It sounds long.. yeah the distance was long, but the hearts were... hm.. a little busy.. haha
I felt quite bad that I couldnt spend some time with him this weekend.. guess he wont mind either. He got tons of friends plus a new baby to entertain.
He's good with babies.. DUN PUEY PUEY..
Coming back to the foot reflexology thingy, well done. I have never gone for foot reflexology before but with the lack of sleep, I think I will be screaming away.
I will take video of our ordeal if I can manage to hold up my cam..
Wisdom tooth updates...
I have finally summon up my courage (cos i couldnt take the pain anymore) and reached for the phone to dial for the dentist.
Appointment is next Thursday cos he's fully booked till then! Recommended by my colleague who got the 2000 bucks LV denim series, I dont think he is cheap but apparently he is good and claims that he will take only 20 mintues to extract wisdom tooth even for the most complicated procedure.
Hopefully, I will be on MC from Thursday to the following Tuesday.
Just back from zouk! and so early! haha.. pictures and stories tml =D
Kiyo 到此一游 @ 11:58 PM

Monday, June 20, 2005
*~*~*~*~*~*~*~*~*~*~*~*~*~*~
Treated Mum to eyebrow session...
Went shopping with Mum during the weekends. Noticed that my eyebrows are very messy that I decided to go for some trimming.
I don't have any regular eyebrow trimming session with anybody so decided to try somebody new. There were a lot of recommendations in FP. Wanted to make an appt with Sophia at Shu but I just cant get through!?! Decided to settle with Esther from Easy Perfect.
I must say that she IS one of the fastest person who can trim eyebrows..
(okie.. maybe there isn't much to start with)
but I really like my shape now. Makes me look more awake. And what surprises me was that you can choose to do eye makeup only!? (as stated in her name card) cos some of her clients actually only wanted eye makeup and not the full face makeover. I suck at eye makeup, will try her sometime.
What's wrong with that girl's eye ar..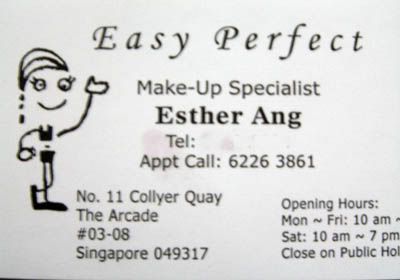 Okie.. so jeff asked how big are my shades..
TADA!!
My first pair of ultra big shades aka
Power Ranger
aka
Beetleman
!
my version of constipated look
My 2nd pair of ultra big shades aka "to be announced".
Some stuff I saw while shopping
Nice shoes...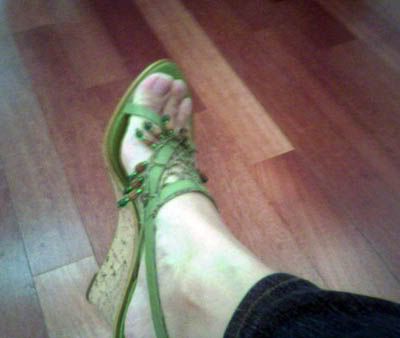 I kinda like this pair but the heels are a little too high for me.. It's about 3 inch. I usually wear flats. If I have a bf that is at least 1.78m tall, I will SERIOUSLY buy this..
Not that I'm criticizing my bf about his lack of height, I love him.
Short is cute too wat...
(I'm talking about his height)
~~~~~~~~~~~~~~~~~~~~~~~~~~~~~~
They came knocking again.
I realized Shin Min newspaper super ba gua.. they came knocking at our door yesterday morning to ask us whether we have heard any knocking & "cutting" noises in the midnight or people quarrelling.
Frankly speaking, I can't even remember what I'm doing on Wednesday night. Most probably sleeping..
And the newspaper wrote that many people from all over Singapore came down to check out his place.
So eng!?!?
Anyway, I hate that man. He gave everybody in my block the creeps.
I decided to go home alone after Zouk on wednesday night.. I realized Mankind are sometimes more terrifying than Supernatural itself.
And why do I claim that mankind are scarier.. just look at my conversation with winston today...further proves that I can be quite scary.
Winston says:
So free?
::kiyomi:: TMD! says:
i dont care man.. i darn HOT now.. not chatting anyway.. u msn me one nor haha
Winston says:
HOT? someone provoked you ar...hahha
Winston says:
who so bu zi liang li?hahhaa
::kiyomi:: TMD! says:
now i noe why.. some people can kill people and chop up their parts.. wah liao.. arggghh!
Winston says:
Wooh... who says lightning doesnt strike twice at the same place....hahahha
Winston says:
tell me when, I'll keep a look out in the papers...
::kiyomi:: TMD! says:
hahaha.. NOW.. i got knife I KILL NOW.
::kiyomi:: TMD! says:
u better call the mata..
Winston says:
Later... let you finish the job first...
::kiyomi:: TMD! says:
hahahah... no knife leh..
::kiyomi:: TMD! says:
darn angry man... STEWPID person. KNS
Winston says:
I pass one to you la... ...hahha
::kiyomi:: TMD! says:
yeah.. throw one down.. haha
::kiyomi:: TMD! says:
Sharp...one...hor...
Winston says:
Hahaha.... okok... so abt the knife.........................
::kiyomi:: TMD! says:
abt the knife.. u can go sharpen it now.. haha
Winston says:
What time you want to make the move... I pass to you before that..
Winston says:
I'll bring along a digicam to take the video...
Winston says:
Should worth quite a bit If I sell to the media... hahahaha
::kiyomi:: TMD! says:
orrh.. than please let me put on some makeup first.. haha
Note: The person is still alive as of the time of the blog post. I'm not as

crazy

as the person living upstairs hor.
Kiyo 到此一游 @ 10:05 PM

Sunday, June 19, 2005
*~*~*~*~*~*~*~*~*~*~*~*~*~*~
My Day
There were quite a number of journalists downstairs staking out trying to catch the murder suspect's family.. They just asked whoever they saw.. And coincidentally, we were waiting for the lift to arrive when a journalist asked me something.
"你是不是Unit #xx-xx"
(which is that suspect's flat)

????
I looked at her with my "what-do-you-think" face and flatly said NO.. I'm not.
They were quite friendly, but I kinda pity them.. Today is a Saturday and the whole group of them have to take turns to 看水.
Anyway, I shan't think about this anymore. I still cant believe it anyway.. he's such a quiet and gentle guy but I guess I HAVE to believe it. Looks are deceiving. I must remind myself constantly now. My heart reaches out for his wife and his children..
Okie.. Happier stuff.
I went shopping. What's more happier than
THAT
?
I thought I will stop. Apparently, the draw of Far East Plaza is too great for me to refuse. I went to INC again where I bought my first pair of ultra big shades. Saw a green lace camisole.. hm.. Well done!
GRAB!
Saw another pale pink lace butterfly top..
GRAB!
Than i saw another nice pair of shades again.. ARGgggggh!
Although I really like that pair of shades, I didnt get it cos
I HAD ONE
, REMEMBER? The one that I showed to PANDA, GERALD, TIMOTHY, WINSTON... and some other friends through my webcam.. & got responses like POWER RANGER
(!?!)
, BEETLEMAN etc & etc.
-_-'''
Anyway.. I walked out, feeling sad but proud of myself that I didnt give in to temptations.
Went to Tangs to find my mum and told her I saw a pair of nice shades that cost 30 bucks.. than she said..
"Your sis buy 1 pair 350 bucks wan.. you can get 10 pairs liao lo! you still wait?"
I went back to get it.. hahahahha.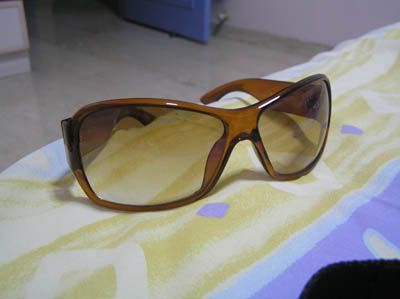 So what's the difference between this *new* shades and my first pair? hmm...
Bigger? Different Colour? haha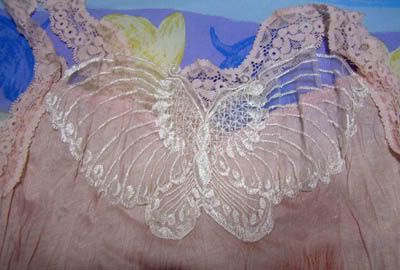 Kiyo 到此一游 @ 12:04 PM

Saturday, June 18, 2005
*~*~*~*~*~*~*~*~*~*~*~*~*~*~
Yeah.. It's him
OEB, you want to know which block I live ar... read the straits times..
I couldnt really sleep yesterday night and this morning I woke up at 7 plus to read the newspaper to confirm what my neighbours have said yesterday night about the gruesome cut-up female body parts found in Kallang River.
My "good" neighbours called my mum yesterday night to inform her that the CID was searching for clues, took several suspected plastic bags found in his house which were the same as the one found containing the body and they found the head in the house.
(Seriously, I dont know whether the "head" part is true, you know la, neighbours tend to exaggerate, but thank kyu hor.. i need to pass by his house before I can get home neh.. like dat you think I dare to go home alone late??!?)
I was really shocked! frankly speaking.. the lift we took that faithful morning did had some dark red stains on the wall and floor.. I thought it was just some chocolate stains!
(I still trying to psycho myself maybe it is not blood but the CID took pictures of the stains liao..)
& my dad told me the wall is dirty dont lean on it..come to think of it, i am really darn scared.. cos he lives just one floor above and one unit away from my house!
His family are all VERY NICE people and he and his wife ARE VERY loving.. although they were middle age, they always held hands whereever they go.. very couple.. Go marketing together in their bicycle and his wife will sit in front "tian mi mi" style. I remembered that I told my bf I wanted to be like them when we are old.. still holding hands.. still so loving..
Why!?!
n thanks to him..
IF
he really
IS
the murderer, how am i going to go home during late night now!?!?
(my bf ask me not to go zouk this wednesday.. he say too late)
:( Have to pass by the common staircase as the lift is at his level..even my mum have goose pimples..I have vivid imagination okie..
he previously work in some cutting metal shop or so i have heard...
& so coincidental, I found a flower podder zeux who lives in the same block and a few storeys directly below me who saw the police as well...
So...



"Who wants to send me home after zouk on Wednesday night?"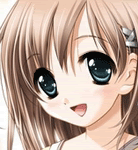 Hm... but I wont let my imagination run wild..he's only a
SUSPECT
. He will be charged today and I guess more news will come out. I'm crossing my fingers, maybe it's not him??
Kiyo 到此一游 @ 8:45 AM

Friday, June 17, 2005
*~*~*~*~*~*~*~*~*~*~*~*~*~*~
I got it! I got it!!
OMG.. I sound like somebody who just strike ToTo.
Nah.. I got the tickets to the samsung bash! Check your emails! I believe you received it too. Fulong received too and see ya! =D
See... hee hee..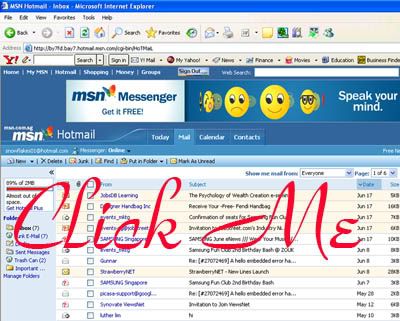 I was still wondering what happened to them, no replies, nothing.. and I have been receiving mails from Job street which has a similar email address as theirs.. events-blah blah blah.. Got a few false alarms..
Please print it out for me, Gerald..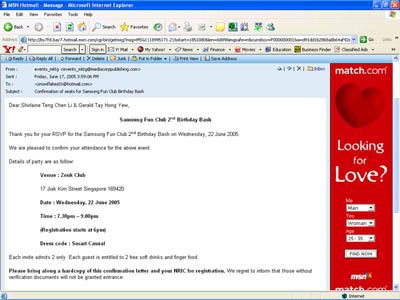 Actually, our group has already agreed that we will turn up even if there are no tickets.. just go to zouk after the event. Dont think we have to pay as according to the few regular cheongsters, Wednesday is ladies night. It's just the suspense and the waiting part that keeps me all excited..
Another mail I received..
I am guilty of registering a profile with them
(with my bf's knowledge of course)
. This website is a sort of dating webbie where 2 strangers go for a movie together or maybe a meal after that.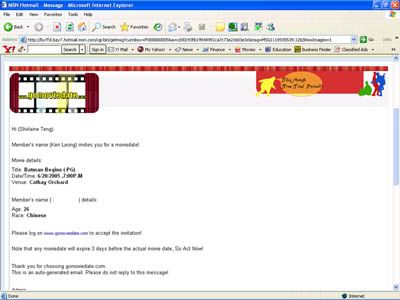 I actually received some mails from guys for a movie date. but i didnt go to any of them even though my bf is not around.You really dont know who you are gonna meet.. so I didnt dare try out at all. So guys, go try! Maybe you will get an awesome date :)
~~~~~~~~~~~~~~~~~~~~~~
Lalala... can almost hear the birds singing..
Got this sun dress yesterday. I lurve this. This is an ULTIMATE 'SCORE POINT' DRESS for me. Got this sweet and retro feeling.
Just add a scarf on my head and I will look like 陈宝
猪
珠walking out of a 60s television show..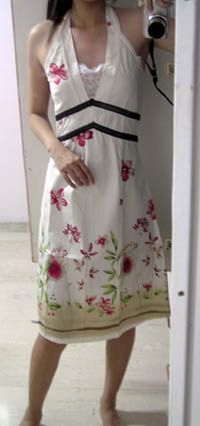 I have been telling myself to save up & save up and spend in Taiwan.. At this rate I'm going.. I will go totally broke when I come back from there.
Anyway, some nice sites I found on FP. Think I will contact the person when it's nearer my travel date and see if she can deliver it to the hotel or not.
- Nice bags-
..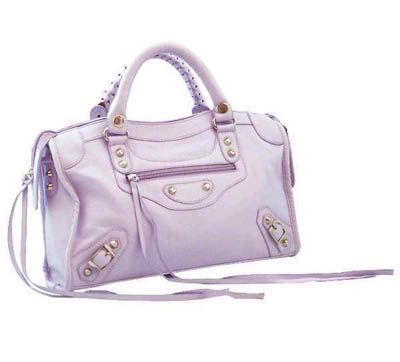 What am I going to do tomorrow.. I guess it's shopping again at FEP.. i need a weave belt and shell necklace..n Gerald was so damn right.. For a skirt, I need to get sandals, bags, necklace, belts to go with it..That's the last thing I need! then i will stop!

Sunday is the last combat lesson with Meech.. zen you going anot?? hee hee
Kiyo 到此一游 @ 9:40 PM

*~*~*~*~*~*~*~*~*~*~*~*~*~*~
It's been 1 year since i started working here
Recently i had a chat with an ex colleague who just came back from Australia.. He isnt very used to his new working place as it was rather quiet and everybody is just so preoccupied with their own stuff. They even took lunch in their own cubicle with very little interaction.
I told him that E (my previous company) is the friendlist place to work.. no politics.. and according to Lee, I am the
QUEEN
there cos i'm the only gal amongst the 20 odd guys in the department. Of course I felt lonely.. as there was nobody to talk to about makeup, fashion or sales.. all they talked about during lunch time was which girl in which department is pretty, whose skirt is very short, reservist, cars, hifi, photography and fishes.. -_-...
Okie just let me recall.
Working in Tuas vs in Town.
Working in Tuas
1) I saved alot of money, wore jeans everyday (think i only wore skirt once or twice in the whole of my 3 years there), sandals oso okie, no makeup, casual clothes are cheap
2) I can be myself.. talking
cock
to them makes my life a little better although my job scope was ... ...
3) Transport was free!
Downside..
1) Pardon me but IT IS a 鸟不生蛋 place..I woke up at 5.50 am every morning to catch the bus at 6.30am.
(that's why no makeup and hair messy.. where got time!?!)
Working in Town
1) Transport oso free!
(my dad drives me cos it's only 15 mins away from home)

2) I get to sleep 1 hour more
3) Besides a better jobscope.. cant think of anything else le..
Downside...
1) I spend more money on dont know what kind of stuff in order to look PLO-fessional.
2) I bitched more.
Conclusion :
Of course I would say I prefer my current job as it gave me better exposure and more learning opportunities *ahem, ahem* .. .. but i really miss being a Queen.. I bet my ex colleague who just came back from Aus does too.
Updates on my wisdom tooth..
yeah.. it still hurts.. and WINSTON still has the cheek to tell me yesterday..
Winston::::::::: says:
Wah... that will be painful lor....
Winston::::::::: says:
the dentist may need to SAW it into pieces before taking out....
::kiyomi:: says:
yeah . i know.. thank kyu for reminding me that HOR..
Thanks for the encouragement to all my other friends that gave me all sorts of suggestions that they will DO TO me to extract my tooth out. haha I have nice friends man...
I bought clothes yesterday AGAIN! pictures tonite!
Kiyo 到此一游 @ 7:33 AM

Wednesday, June 15, 2005
*~*~*~*~*~*~*~*~*~*~*~*~*~*~
It hurts...
If it doesn't.. I wouldn't have bothered.. but it is hurting like hell now.. think it's trying to force its way out..
I hate wisdom tooth!
Called Darren's sister yesterday as she is a dentist and I decided to let her extract my wisdom tooth.. Okie.. she works in AMK, YCK and Yishun. Print out a page of my blog and u will get discount!!
* u think GSS ar.. got discount some more*
My mind is still filled with VERY FIERCE dentists and nurses when I was in primary school.
*shudder*
Actually I'm very scared of needles too that is why I did not go for braces for my bugs bunny teeth. Anyway, it's my signature to look like a mouse..
NOW, i couldnt care less.. cos my face is a little swollen on the left side and looks very UGLY even when I dont open my mouth... I've heard somewhere about models in the states actually extract some of their teeth to make their face slimmer... hmm.. Seriously, I dont think it will work.. even if it does.. nah.. that's too extreme
Okie.. back to his sister..I was saying that I called her yesterday right.. she was on the way to hospital.
To deliver!
* I have good timing man, she sounds like she's in pain...but still can talk on the phone -_-*
This is her 2nd time and I really look forward to next Saturday so that I can take loads of pictures of her new born and also her 1 ½ year old Kaili!
Miss pinching her cheeks.. hee hee
It's rather blur cos she's grabbing my phone..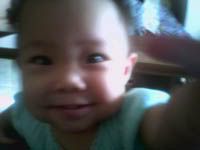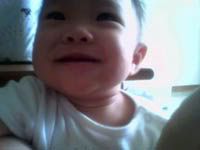 As my Chinese name is Qingli, sometimes.. his aunt and
EVEN
my bf calls out the wrong name...
Calls the baby Qingli and calls me Kaili !?!
-_-
Anyway, I will have to bear the pain till after xin's wedding next Sunday.. and I have to get another dentist cos Darren's sis will be on maternity leave. 11 more days till I say goodbye to that wisdom tooth! & I shall take one day leave to go for x-ray on the morning right after the zouk bash heh heh.. got excuse le wor..
Bought a mascara base today. I believed it is the one that Kevin used in the previous episodes of 女人我最大. He was saying that mascara bases with alot of fibers actually weighs the lashes down.. So it is best to choose those with micro fibers. Hmm.. It better be good man.. it's even more expensive than my Fasio mascara itself! Cost 40 bucks! It better
curl
UP UP my lashes too..
Opps "up, UP" again..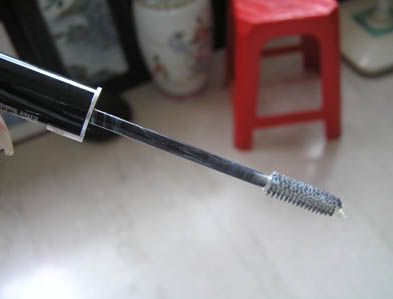 Kiyo 到此一游 @ 9:57 PM

Monday, June 13, 2005
*~*~*~*~*~*~*~*~*~*~*~*~*~*~
What is happening?
Having loads of problems.. I thought everything will be fine and I even called to change the date for the accomodation for my trip. Now Darren says that he's kinda scared that he might fail and may need to take sub paper.
-_-
Sigh..
Okie I shall not worry about this though.. My leave has been approved, flight tickets are plentiful, & I told xin.. worse come to worse. I shall go myself. Hahahah. It's not as if I have not traveled alone before. Shopping alone can be very disastrous, there's nobody to stop you...
But of course, I hope Darren (you) won't fail and come with me!
*to carry my shopping bags.. =P*
Picture time again... Went visiting my manager's new born baby of 3 months last weekend! Kawaii desu ne! He is so cute and bui! And I believe he loves yellow too cos he's always smiling at me. haha or am I imagining it..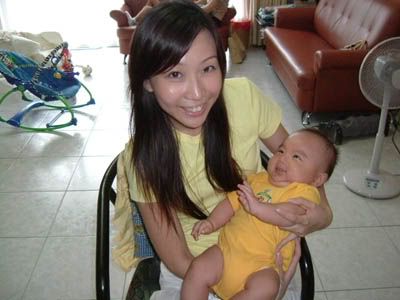 Okie.. I don't usually sit like that.. This is totally not me.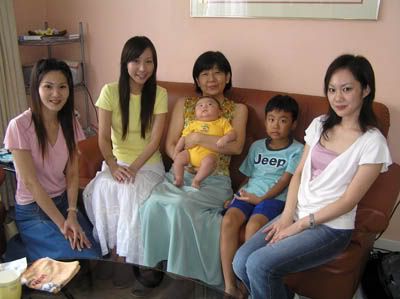 Cakes from Awfully chocolate. This is the rum & raisin version.
It taste awful....ly nice!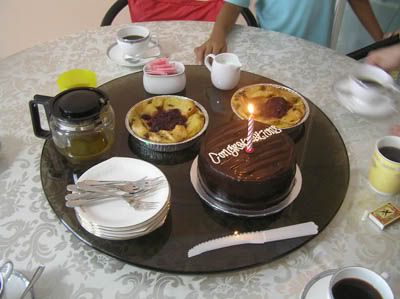 Ktv pics II
eh..actually winston sent me his pictures yesterday le.. *opps* forgot to forward a copy to ppm. Sorry! haha :)
xdd n me.. he kept stepping onto my skirt that day!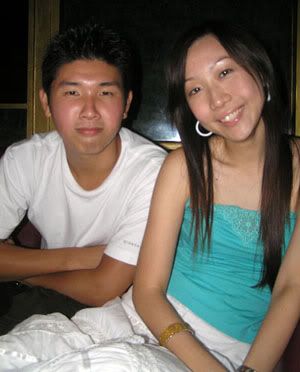 Yeah.. it's me.. I nearly blasted the speakers off..
Click for larger version & look at their expressions.. -_-'''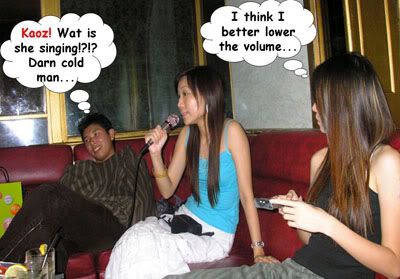 Kiyo 到此一游 @ 10:57 PM

Sunday, June 12, 2005
*~*~*~*~*~*~*~*~*~*~*~*~*~*~
I hear marbles too
Read an article in straits times today about HDB people hearing sounds of marbles dropping in late nights. I ALWAYS hear them, sometimes furniture dragging sounds too. But it didnt occur to me that they are SUPERNATURAL or what, i just dismissed it as there really ARE children playing marbles upstairs...
To me, as long as I
dont see
any children playing marbles in front of me at night as they ARE NOT supposed to be there, i'm fine with any kind of noises.. hahah
~~~~~~~~~~~~~~~~~~~~
Snippets
Love
Trying to learn the song 倒带 as i really liked that song! Was still telling winston that i will sing it to my bf in my next ktv session than he reminded me that it is actually a breakup song. hmm.. and IT IS! i didnt noticed! but will still sing.. haha
Shopping and Sista
Think my sis is getting as vain as me.. she was asking me on how to post ad in SFC, how to become star and how to change her age. -_-
(cos i told her not to display her actual age as there are always some gan bo liao people out there)
But then come to think of it, she is not somebody who can be pushed around...She can wage a war with her tongue, and you definitely lose.
I was typing my blog halfway through when she asked me to choose a nice pic for her to post..than i saw her offshoulder top. I liked it so much that i say i will meet her in fep
现在!马上!立刻!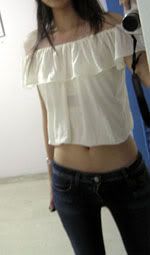 She showed me her new shades from Gucci that cost her
$350
bucks and she bought
2
different designs..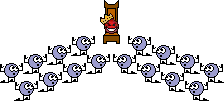 Okie.. i dont look really good in it.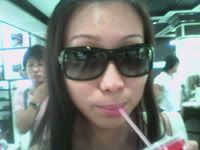 Her version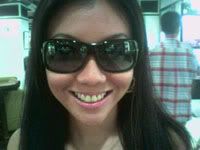 & so she was telling me about the
challenge of spending little but still look like million dollars...
-_-'''
KTV part I
I had fun yesterday! hope you guys had fun too! It was really a last minute thing so only contacted some of my closer frens..
Gerald.. using my new mango top as his facial blotters hor.. dont know what he is trying to do.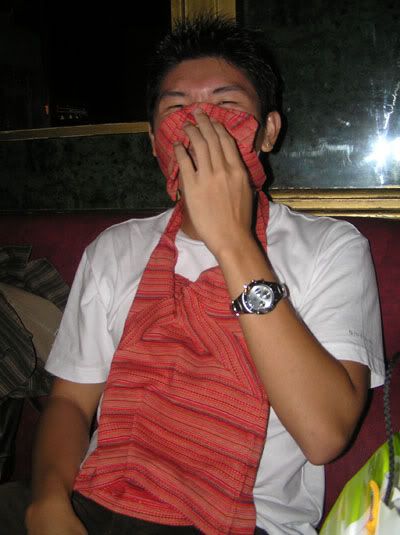 I LIKE this pic. Everybody looks nice
(although ppm covered almost half of my face. Good! she covered 1/2 of my flaws too. hee)
except winston who looked a little pale and like somebody from THE OTHER SIDE.. *opps*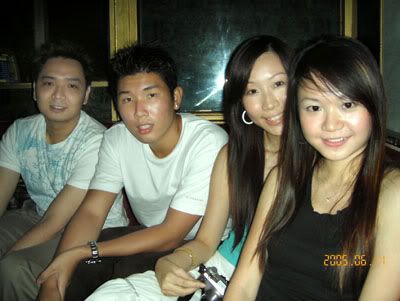 Something to add on... I HATE BLOGGER. or I HATE MYSELF for trusting blogger. what recover post button.. no use!!
Kiyo 到此一游 @ 11:54 PM

Saturday, June 11, 2005
*~*~*~*~*~*~*~*~*~*~*~*~*~*~

Yesterday went to Alan's 21st birthday party at costa sands chalet..We reached there at about 8.30 pm..and we waited at the reception for a very very long time.. (over an hour I guess and we have to resort in climbing in the windows cos the keys are with his friends when he arrived -_-) Things cropped up last minute for him and I know he's really paiseh for making us wait for so long.. It's really okie ALAN... no worries at all!

Let me present the birthday boy!!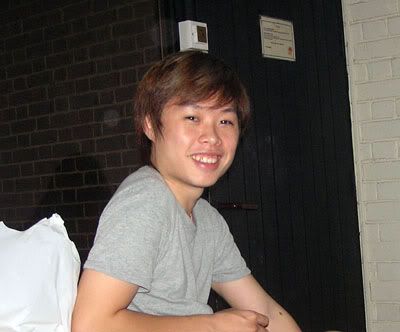 Below are some pictures that we took when we waited outside the chalet.. entertaining ourselves..

All I can say for this photo is my smile is darn PLASTIC.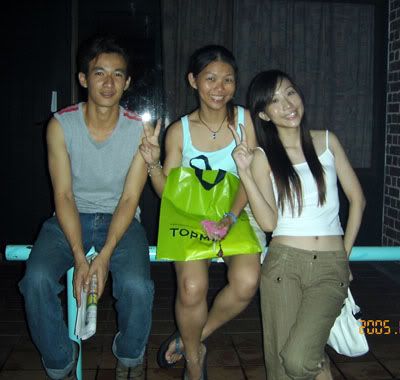 Martell! from Winston..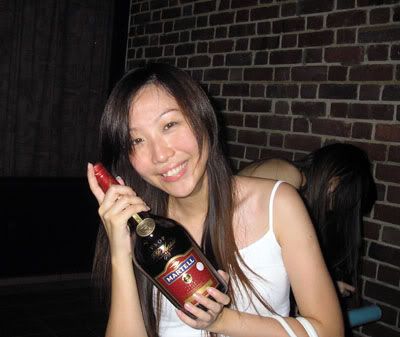 More picture taking while waiting... see.. behind is still dark.. haha
Zen, Me and Pep.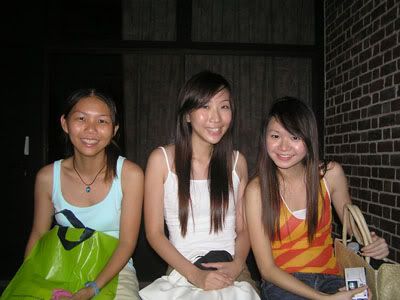 Zen and Yan ge ge..
(hm... i dont think i can call him that.. sounds -_- , i am only 2 years younger than him)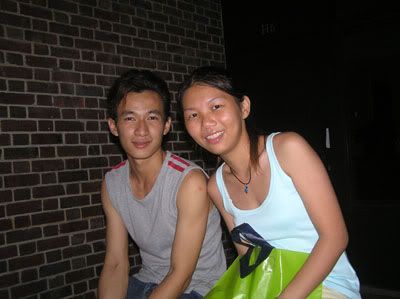 Me and winston after climbing through the windows and snatching a comfy spot.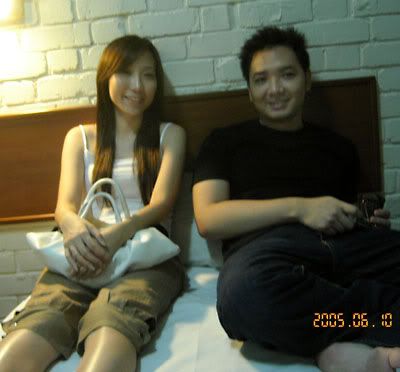 ~~~~~~~~~~~~~~~~~~~
He's having his first paper today.. Today is the first day that we did not talk on the phone AT ALL. Called him many times just now but nobody answered.. guess he must be sleeping..abit worried...
Kiyo 到此一游 @ 11:28 PM