Sunday, December 31, 2006
*~*~*~*~*~*~*~*~*~*~*~*~*~*~
Last day of the year
I went to the gym.
Decided to be hardworking for the
LAST
time in THIS year whahahah.
and wat's my new year resolution, i will do MORE body combat. It's a stress reliever and it really tones my arms...i must i must!!
The start of the long hols.. so hmmm.. what did i do on the 2nd last day of the year which was yesterday. Didnt do much, had a dvd marathon with darren at my house and we went to get some donuts. YESH!!! DO-NUuuuTS!!!
Just crazy over donuts.. Read on Urban issue that there's this new donut factory at raffles city so we decided to check it out.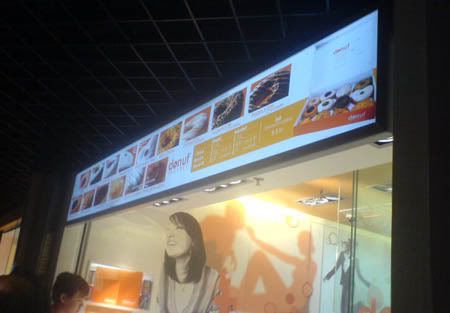 They have over 10 flavours to choose from and I waited for 20 mins for them horkay
=____=
and we bought a box of 12.
=____=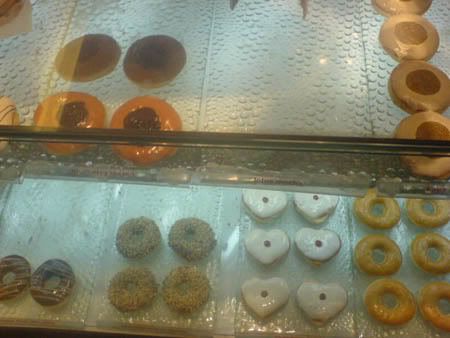 cannot imagine we waited there for so long, but the cravings for sweet stuff were too great to resist (thanks to dar dar for being patient=p). Since we waited for so long, there's no justification to buy just ONE right? or TWO? haha anyway we bought alot more so his family could enjoy them. They lurve it too, especially the dark choco one..
Yummizz..Strawberry white chocolate is good.. Dark chocolate filling is good too..
Pure Sin-ful food to indulge for the final time....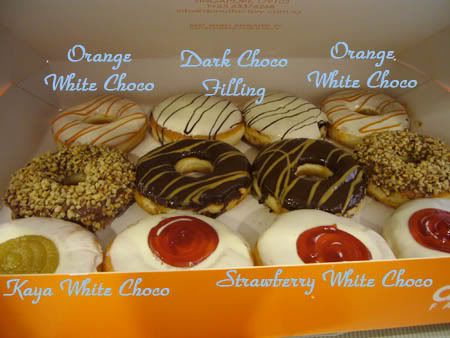 in 2006. bleahz =p
Year 2006 as it flashes pass my eyes....
| View Show | Create Your Own
Alot of major happenings for me this year..
Quit Dancing
,
Darren came back
,
Took up a HR course
,
Learn to bake
(with not much of a success),
Bought a flat
,
attended alot of sweet weddings of friends
...it has been well for me(very thankful.. =)), hope all my frens will have a good year ahead as well. =D
a joyous and smooth sailing new year to all!!
ok, i'm posting this cos i like wat's she holding yeah.. more sweet happenings in the brand new year for everyone.
cheers!!! =D
Labels: Celebrations, Food and Events
Kiyo 到此一游 @ 1:05 PM

Thursday, December 28, 2006
*~*~*~*~*~*~*~*~*~*~*~*~*~*~
Internet Withdrawal Syndrome
That's what I am suffering right now *sniff* *sniff*
Couldn't access a lot of sites and some of the sites take AGES to load. The internet is almost non-existent.
The loading of this posting page took me 15 mins. haizz
Maybe now is the time to take some time away from the computer.. stop that surfing and do more shopping keke
Despite that, I feel very lucky to be in Singapore.
Although heavy rain, wet feet, wet bags and complaining folks are aplenty this week, compared to people in Taiwan, we are a fortunate lot.
We went visiting Little Freya at Gleneagles Hospital.
She's a G Baby! Haha. Saw the promotional poster at the maternity ward. It shows a cute little ang mo boy wearing a
"I am a G baby"
shirt.
They gave out little tees to the little ones complimentary!!
yeah.. gleneagles. That's what the G stands for. What a way to market their hospital (maybe I am just sua ku) haha. Xin is the first of my friends to give birth =D
Didn't take pictures with the baby cos she wasn't feeling very well when we were there, she vomited too, hope she's alright now. She's really cute!!!
I think WE are cute too.=P
When her cot was brought out to the corridor, we crowded around her to take a closer look. Maybe our voices were a little loud, or the aircon was a little cold. Being inexperienced 'young people' (haz!), the moment she started cringing her face and preparing to use all her energy to cry, all of us went one step backwards all at the same time mumbling, "oh no no no".
Only her mummy comforted her and keep telling her "It's alright, mummy loves you"
Really sweet to hear that.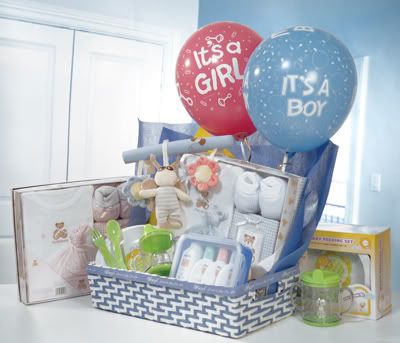 we ordered this for her and baby freya!
i chose it.. keke with the "it's a girl!" balloon.
It's so cute that i would love to have one myself hahahha
~~~~~~~~~~~~~~
I fell down this morning in my house.. cos the study room floor was slippery for
gawd knows what reason
T_T
Orchehs
on knees are a long forgotten sight since the exotic kitten era
SIAN
Kiyo 到此一游 @ 7:32 PM

Monday, December 25, 2006
*~*~*~*~*~*~*~*~*~*~*~*~*~*~
We went shopping for presents, bought him another polo T shirt and made him a photo card using our picture we took at the Christmas Tree in Takashimaya. Lurve the background the xmas tree lights brought. Makes a PUrrfect backdrop! It's prettie! Printed it out and it's in his wallet now. =p
Larger version...
Pressies from Me to Myself
My Spree-ing mood is back! joined a spree from Ladies First forum and ordered myself this. Bought another white top at Far East too. Very white xmas this year =D Still need another pair of shoes...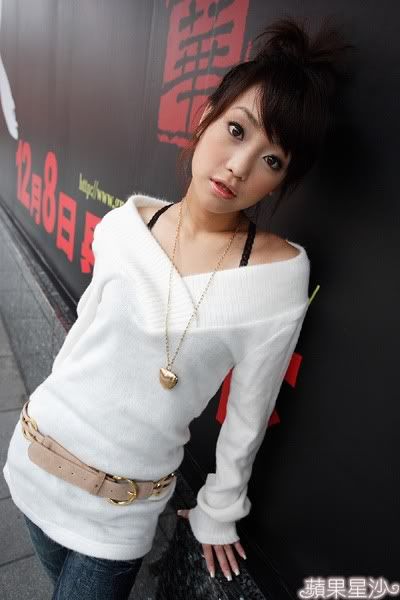 Pressies from Darren to Myself
A black bag for work, love it dearly.. =)
Nothing much was on Xmas eve as we feel everywhere will be crowded and expensive as well. Liren organized a Potluck session at his house and we
cooked
erhem
bought
Bee Hoon! Okay, I admit, we are just too lazy to cook. It was a really rainy day and nice weather to sleep. haha Cannot fool them that it was cooked by Darren cos it's real darn obvious that it's bought from the kopitiam with the name of the stall on the plastic bag =___=
There were a lot of food, cos some of his friends didnt turn up, they played a game called
in-between
and tried to forfeit the person who lost to eat those left overs. I didn't play cos I was on the verge of vomitting out MORE sotong balls.
and we have like one tub of untouched beehoon somewhere.. on the floor..
Bet they must ate enough sotong balls till next year. There were a heap of them!
Thanx for organizing =)
Xmas Day
Spa with mummy on xmas morningz!
Went to the grassroot club to relax and enjoy a session of steam bath, jaccuzi and good food. Darren came to join after that for some shopping as well.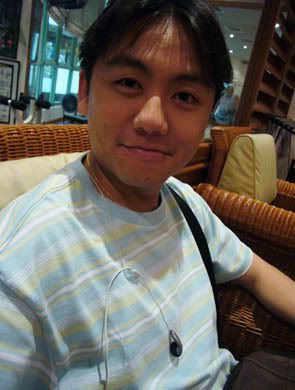 he's wearing a new Tee todae.. wat a surprise hahah
Which day can be a better day to laze? hee hee
~~~~~~~~~~~~~~~~~~~~~
Just received an sms that Xin has given birth! on the morning of Xmas day.
Congratzz!!
welcome to our world, Freya.
You will be showered by alot of love from your mummy, daddy and your mummy's friend (ME!!) as well!
I am excited to meet Freya, her baby.
Visiting her tomorrow at the hospital!!
Kiyo 到此一游 @ 10:40 AM

Saturday, December 23, 2006
*~*~*~*~*~*~*~*~*~*~*~*~*~*~
Went to the Creative Warehouse Sale~


Took 1/2 day leave especially to go there! But there wasnt really great bargains for new models unless you are buying a pair or you are a student.

Anyway, I tried my luck at the $10 and $50 Sure-win mystery dip and I got a Creative Mp3 player! Okay.. it's refurbished but then it has 20Gb of memory and no external scratches whatsoever, although the technology may be donkey years ago.

It works fine too! So, it's really worth the GOH CHUP KOR I must say.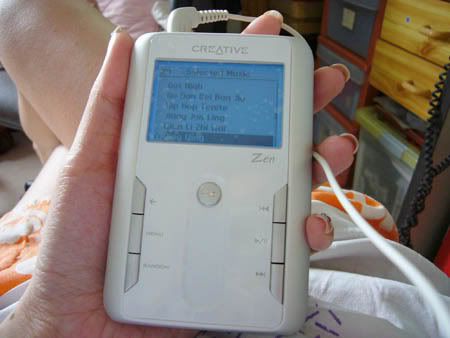 It's kinda big but feel really sturdy.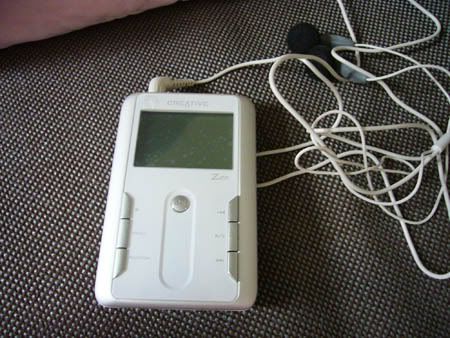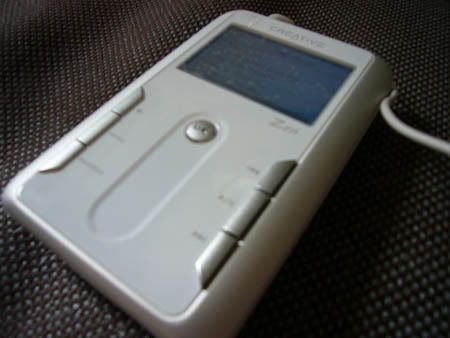 That strip thingy in the center is a touchpad.

For the 10 bucks lucky dip, I got headphones for that.. kinda cool. =p
They will be opened till XMas day!

On the way back, my itchy legs told me to follow a crowd of 5 to 6 people to take the shortcut route to the MRT station.

It was the biggest mistake in my whole life.

There wasn't any proper pavement, just mud walks.. so it gets muddier as it goes and my shoes and feet were so dirty!! Luckily for me I didnt fell, one of the girls walking with me fell and her jeans were stained with mud..

There was this guy who kept looking back towards our direction to make sure that everybody is fine and still skipping over long kangs and waddling through the mud.

yuckyzz. =(
really bad experience.

Haizz..This will teach me not to be lazy and take shortcuts.

The whole group went to Sakura to have buffet dinner. Fulong left us last minute cos he's not feeling well...hope he's feeling better now.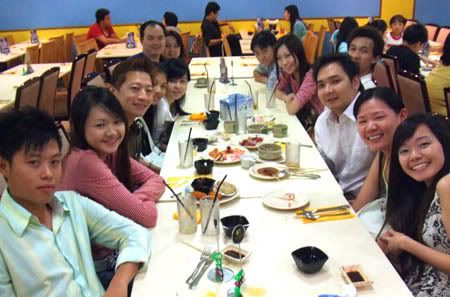 It was good and fun catching up with all of your lives. =D Been some time since I last saw some of them, like jes and darric and met his wife for the first time =)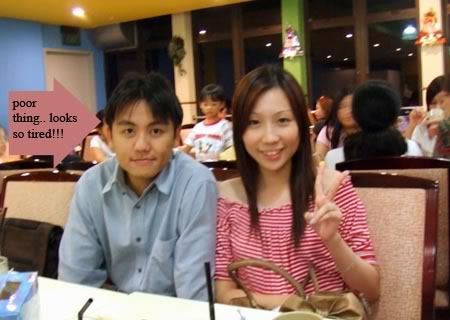 Me, ppm and josh (with his new hairdo, swee la) with our year inscribed on table tags.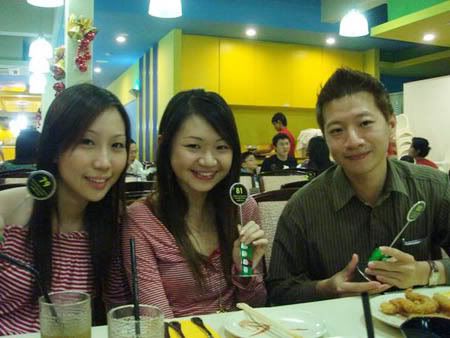 For more photos of Zen's belated birthday surprise, visit lala's or ppm's blog. =)

We watched DeathNote 2 after the dinner! With Zen, Ivan and Jeffrey for movies and gerald even came along to drive us there. A pity he cant watch with us cos he wants to watch with his gf. Really sweet of him, yah.. haha.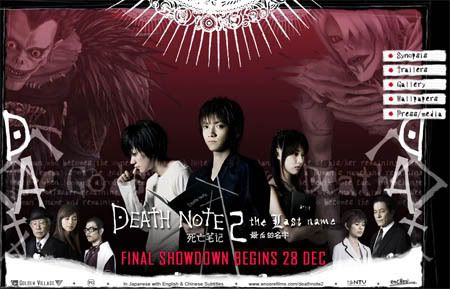 And you all know what, the screen went blank during the show!!

Not exactly 1/2 way though, there were still about 20 mins left when the screen just went blank and the lights came on. We were speculating what has happened...

Maybe the technician upstairs oso kena killed by DeathNote haha =___=

......

And it turned out that their PROJECTOR BROKE DOWN....

This is the first time I watch movie, there's this intermittent toilet break of 10 mins so that they can change the projector.

ライト (Light)really looks abit fatter than what he appears in the poster. Guess either the lightings or photoshop made his face look slightly more towards what was in the manga. I won't reveal any details here anymore =). Anyway it's such a nice movie that I don't mind watching it again!!!

Today shall be the day that I get MY christmas pressie. =D
From Myself and from Darren.
Have some budget to spend for the year end!!


Merry

Christmas

!!

in

advance

!!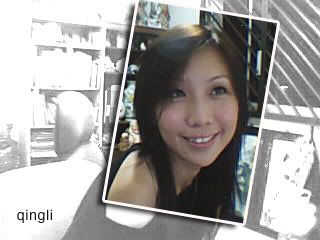 Lurve this photo.. =) yeah.. qingli, my chinese name
Kiyo 到此一游 @ 5:37 PM

Thursday, December 21, 2006
*~*~*~*~*~*~*~*~*~*~*~*~*~*~
Mozzies Love My Face
Alot of mosquitoes around my house recently and they always love sucking blood from my face.
ARGggggh!
It must be the rainy weather which made them easier to breed.
It's good to have a drizzle sometime in this hot, humid country of ours but Not everyday! haizz. hope the rain will stop soon and won't dampen the xmas spirits many are having.
What I am up to these days..

This... will keep me away from Orchard for at least... hmm... 3 months hopefully.
Kudos to Dias who gave me this software program. hoho!
and who is Dias you may ask, oh he's my future neighbour haha. just got to know him and his wife through the Premiere E group. =)
This is a really POWDERFUL tool for interior design!
I am SO INTO interior design now hahah.. for whatever reasons. You can just build a bungalow and decide the kind of doors, windows, wallpaper..etc.
damn boliao you may thing, since my house will only be here in another 2 years!?!
Oh yah, I dont' live in a bungalow but it's good to design and nice to look at rightzz..hee hee.
My future house layout heez, should be going down to HDB soon to settle the loan and other miscellaneous.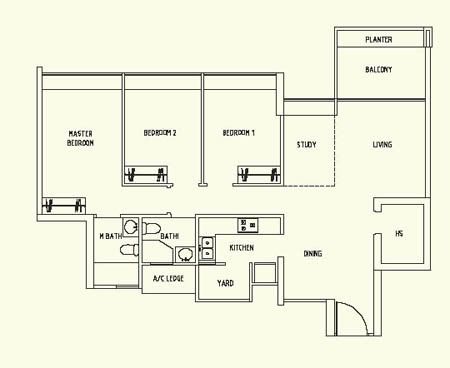 Going to turn this layout into...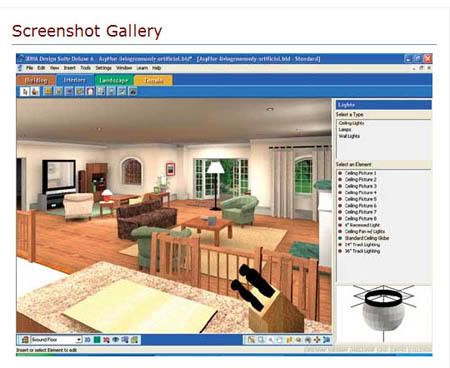 no la, this is not the style I like, i prefer contemporary and chic, clean and simple.
This software can even let us visualize how it will look like when the lights are on, and when the lights are off.
*gasp*
Right now, my version just looks TOTALLY BARE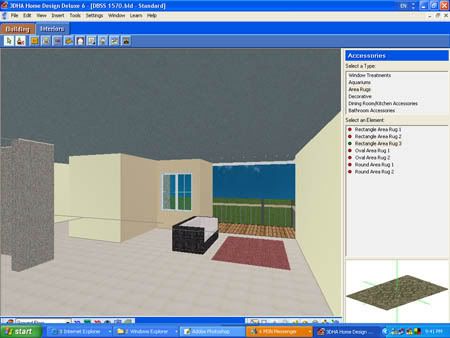 I'm seriously addicted.
Creative warehouse sale starts tomorrow and hopefully can get Darren some nice stuff for Xmas!
Tis the season to be jolly, falalala lalalala.
Labels: Home Sweet Home
Kiyo 到此一游 @ 10:04 PM

Monday, December 18, 2006
*~*~*~*~*~*~*~*~*~*~*~*~*~*~
Just watched charlotte's web..
felt like a child again.
loved the story when i was a kid, love the movie now too. haz!
just can't grow up huh..
my malaysian cousins are here to stay for a few days.. they love singing! just like their singaporean JEY JEY (yeah me!).
it looks like they are having a mini 洗刷刷 concert in my living room.
they are really good at it.. hahah
Oh yah.. forgot to blog about our course coordinator who don't know for what reason typed wrong results in our result slips. If the result was for the better, i seriously don't mind but it was for the WORSE.. =___=
last semester, I confirm, guarantee plus chop my industrial relations module didnt get F nor.. it's really traumatising okay.. to see a F there.
It happened to alot of my friends too.
It
MUST
and have to be a mistake.
Labels: Random Rants
Kiyo 到此一游 @ 10:27 PM

Sunday, December 17, 2006
*~*~*~*~*~*~*~*~*~*~*~*~*~*~
Exams over!!
glad that it was over although i gave up on a 10-mark question cos i completely have no idea how or what to write. Guess my mind just went blank or i didnt study enough.
Forget it, i'm still quite optimistic about the results heez =)
Rushed off from the exam hall to attend Linda's church wedding at bethesda cathedral.
The wedding was really nice and sweet. =D
Knew her from my secondary school days and her boyfriend as well. We were the best of friends haha. Of course, now still is but everybody's getting busy with their own lives, and work so it's been some time since I last met her.They have been together for 10 years!! really touched to see all her pictures from secondary to now.
Congratzz LINDA!!!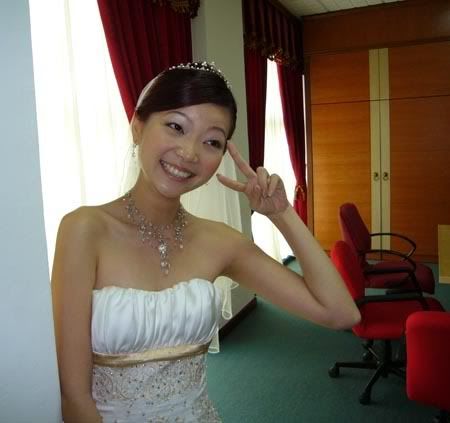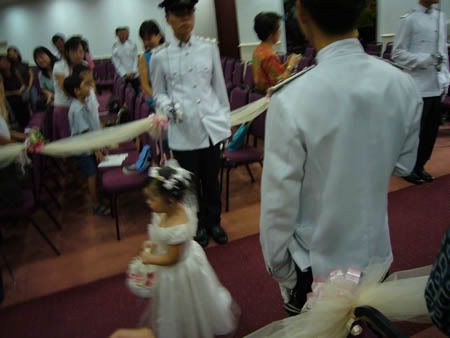 cute flowergirl
it was a pity that most of our secondary school class mates didnt turn up for her church wedding.. haizz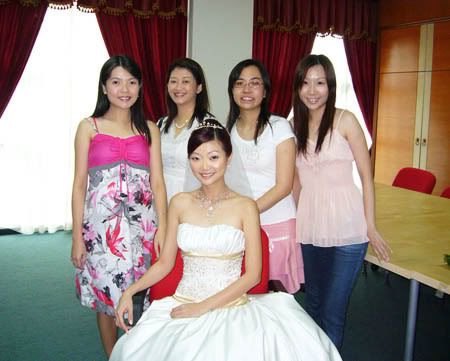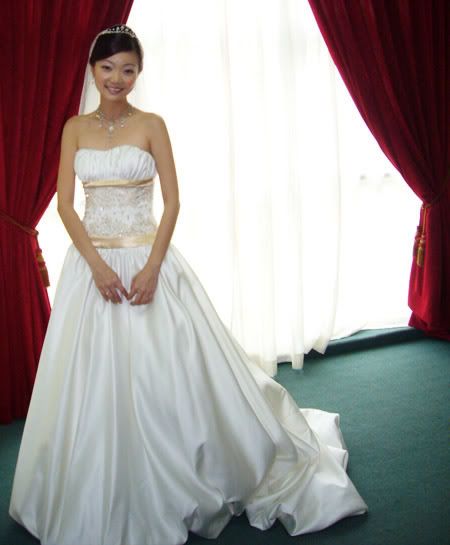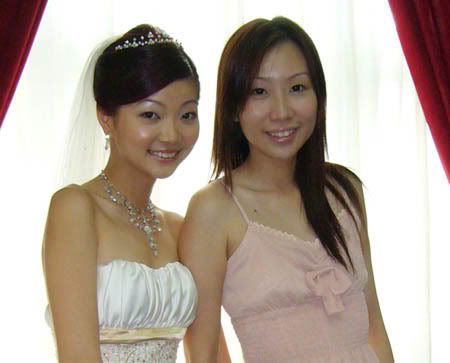 went for a buffet dinner with darren yesterday night! it's been some time since we indulge in ourselves.
realli realli happie~ totally gorged myself with all the sashimis yesterday keke..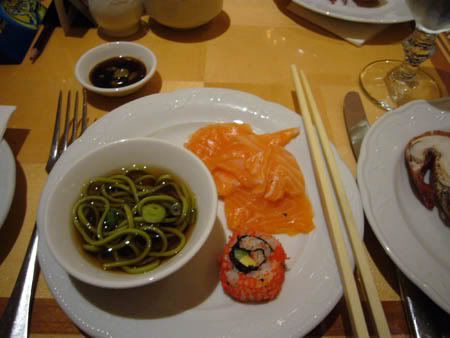 hmmmm.. what shall I do later since i have all the time in the world now.
Yeah, i shall draw up my floorplan!
Labels: Celebrations
Kiyo 到此一游 @ 9:33 PM

Thursday, December 14, 2006
*~*~*~*~*~*~*~*~*~*~*~*~*~*~
1 more day to my last paper
Can't wait anymore... after this saturday, it will be 3 weeks of break before I start my new module.
Hurray!!
Kiyo 到此一游 @ 11:53 AM

Monday, December 11, 2006
*~*~*~*~*~*~*~*~*~*~*~*~*~*~
On leave today!
to continue my exam preparations...
had a long day today, went to 2 wedding events and was really glad that i went.
Had a good catch up with ex-colleagues at Yeow Ming's wedding lunch at Merchant Court. Brandon's wedding dinner at Hilton was really sweet and nice too, the planning, host, gown and the food was good =D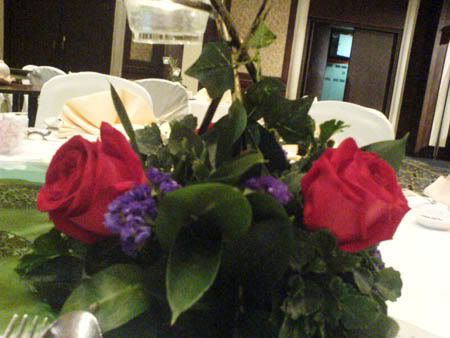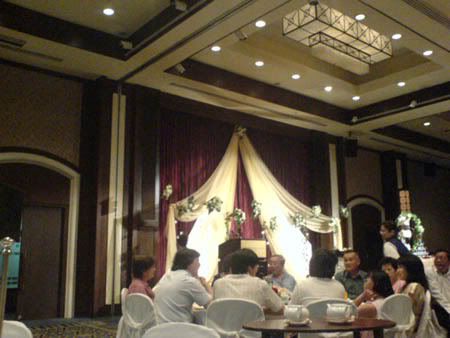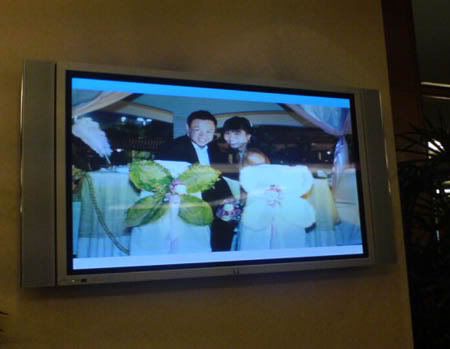 Bet i ate too much yesterday and now not feeling a little well.. getting a bit sick..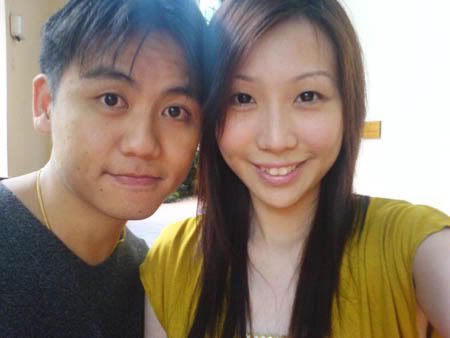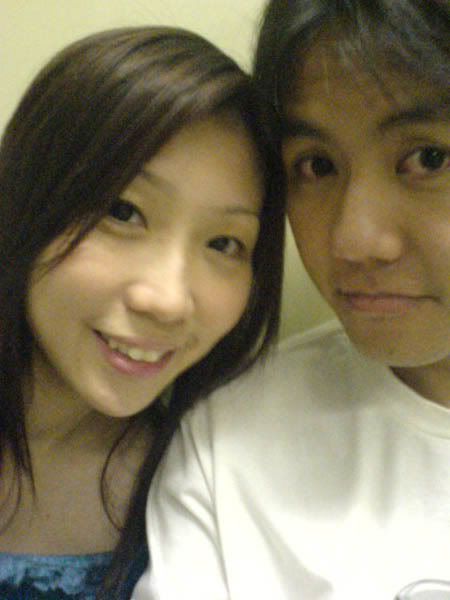 Starting to read alot of interior related magazines and online forums where people post their pictures of thier home. Although the premiere will come fully furnished with tiles, bathroom and everything done, i guess minor renovations will still be necessary, like more wardrobes (YEAH YEAH!! for me for me!) and balcony? , and not to forget a feature wall to cover the bomb sheltar.
Really enthusiastic and excited about our nest.
It's like watching our baby grow hee hee
Downloaded a free link to do a 3-D sketching for our interior.
There's so much things to learn!
Fun!!
~3-D Sketch~
Labels: Celebrations, Home Sweet Home
Kiyo 到此一游 @ 9:25 AM

Saturday, December 09, 2006
*~*~*~*~*~*~*~*~*~*~*~*~*~*~
One paper DOWN!!
Must pamper my..... fingers a bit. oh well.. fingernails in fact.
There's always a
excuse
reason to pamper yourself.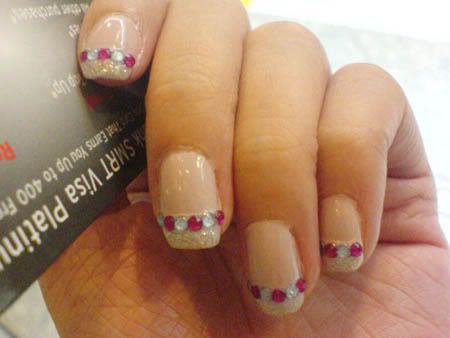 Rhinestones on my nails!
think it looks more like jelly beans on the pics..
=___=
Did this after my paper while waiting for my financial advisor at bugis.
he's good! i'm going to entrust him to make a full plan and heed his advice on investments keke
Have 2 weddings to attend tomorrow. heezz.. really like 赶场.
One wedding lunch and one wedding dinner.
Foresee stuffing myself to death tomorrow.
A fatter tomorrow.
yay... sounds like a good title.
~~~~~~~~~~~
Logged into singapore brides and realized people have started a yahoo group on the premiere to "Find your neighbours". So interesting.. kekekzz
They wanted to set up a E-neighbour group so that people can get to know their neighbours and make more friends even before they move in.
Added some of them into my msn and looking forward to discussion of the developments!
~ Join the Premiere(find your neighbours) ~
Kiyo 到此一游 @ 6:22 PM

Wednesday, December 06, 2006
*~*~*~*~*~*~*~*~*~*~*~*~*~*~
Bought the most expensive "thing" in my entire life today!
Our

love

nest!!!!!!!
Woke up in the morning at 7am!
*gosh*
on leave still so stress, woke up at my normal timing cos it's the
'select our love nest'
day. =D Was monitoring online on how the units are snapped up and aiming at the ones I want..
mum and dad went with me and his family came down as well, even baby xixi. heez..
It's our first unofficial "parents-meet-parents session". At one point, all of us was so engrossed in choosing the units that nobody paid attention to xixi until one of them realized that she was missing!!
luckily she was just around us (a little out of our sight) but climbing onto one of the tables there.
We "upgraded" our relationship too.
Now it's no longer Darren, my boyfriend, but Darren, my fiance. haha
Cos we bought the unit under the fiance/fiancee scheme. The officer made sure we know the penalties if "something" happened along the way. oopzz
Very overwhelmed today, as it was a really tense situation at tampines looking at those units.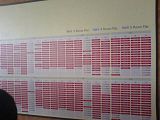 the red ones were SOLD

the painful wait...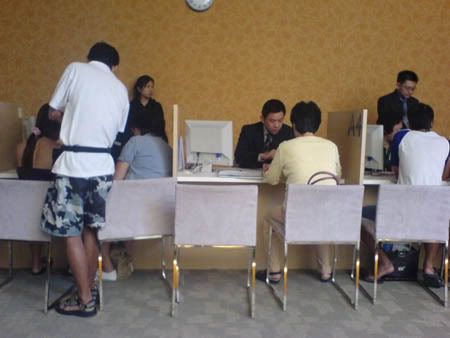 Told ya it was tense. we were the last 100!! he's sulking cos it's not our turn yet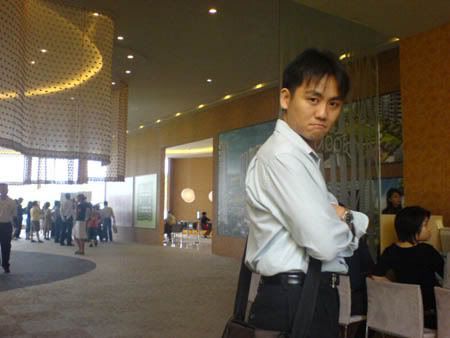 we were really really REALLI lucky to get the queue number. Very thankful..realli.
almost cried when i booked that choice unit. abit kua zhang but true.

Have been reading online about how expensive it was, and hearing some guys saying that it's not worth to pay for the price. But a place we can call home don't come easily, that's why we did not hesitate to buy it. We managed to get a 15th floor unit, my 1st choice layout.. still within our means. I love it just as much but guess it's no more shopping, cut down expensive dinners and tours kinda thing from now on. It seems rather fated.. we were given a piece of paper to list down the units we want and soon after that, all our 2nd choice to 6th choice were taken up except our first. I must go to the temple tomorrow. =D

our first photo after the booking at the counter *beams*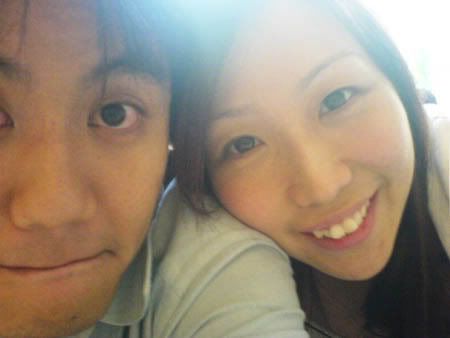 Living room layout will look something like that in the future, with a balcony. =D
colleague was still telling me the benefits of having a balcony, cos can do
YOGA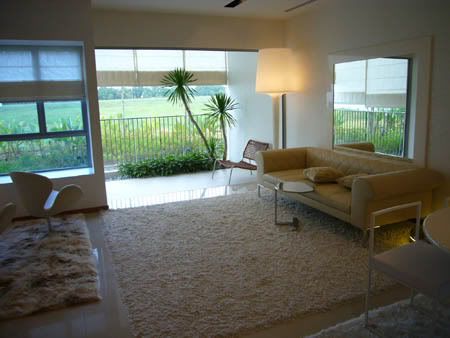 =____=
hahaz.. for everybody to see? just try it and u will be in the news the next day hahah
Anyway, It feels good to be working towards a common goal.
It has been a really happening day for us.
I am SO SO SO HAPPIE !!
can don't study? ;p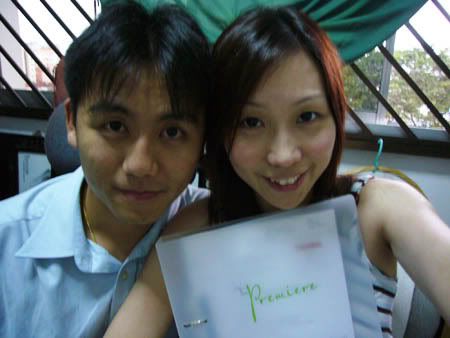 Labels: Home Sweet Home
Kiyo 到此一游 @ 11:58 PM

Monday, December 04, 2006
*~*~*~*~*~*~*~*~*~*~*~*~*~*~
Time has to be set aside.... for
Dessert!!
tried making some chocolate coated banana with roasted peanuts on sunday *grins*
Ate one at esplanade and it cost my $1.50 for a tiny piece and I thought, i should just make it myself!! n save some monies.. heez
It's very easy peasy.
*if I can say it's easy, IT IS!*
Ingredients :
Banana, chopped peanuts, dark chocolate (bought at Sun lik), butter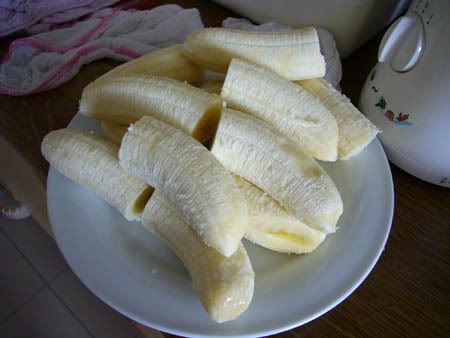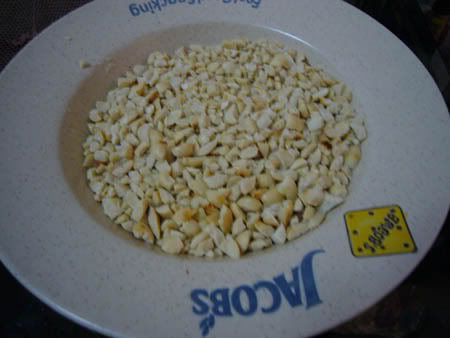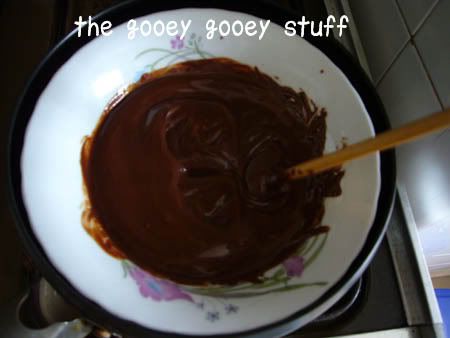 1. Prepare a pot of water
2. Melt the chocolate in a bowl inside that pot of water, stir constantly
3. Stick the cut bananas into the skewers
4. Dip bananas into chocolate
5. Roll over chopped peanuts
6. Freeze it for 2 hours and serve!
voila~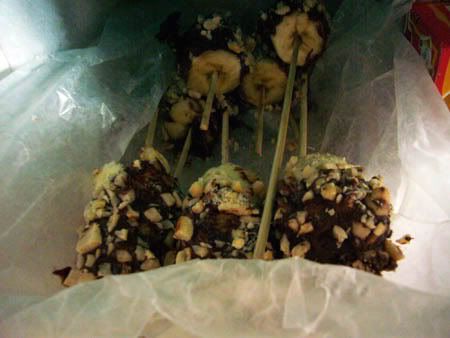 Something went a little wrong along the way when i was melting the dark chocolate. The unker at sunlik didnt tell me that you are not supposed to put the dark chocolate in the fridge =___=. Not sure whether that is part of the reason why i ended up having
tau-sa
look-alike melted chocolate hee hee.
just a little ugly.
still edible =p
I believe i will get betta at this ha~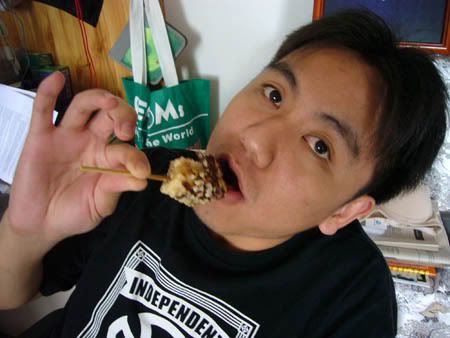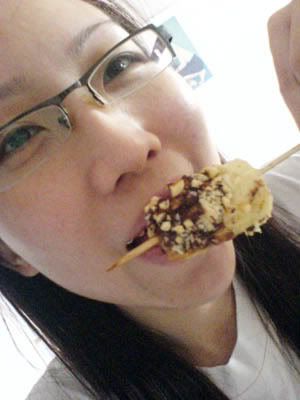 Labels: Food and Events
Kiyo 到此一游 @ 11:23 PM