Saturday, September 29, 2007
*~*~*~*~*
Great weekend ahead!
and it's josephine and liren's big day as well.
Congratz!
later we will be at holiday inn, giving our well wishes to the couple.
i havnt started preparing for my customary next jan.
Cards not collected.
Program not planned.
March in song not selected.
Gown not selected.
Wine....
Car...
Car Deco
Banquet hall deco...
and alot of other nitty gritty details. I better start soon!!
and i made a wedding reminders at the side toolbar, what else did I miss out?
hmmmm..
okay enuff of weddings..
let's end it off with the lovely sisters.
arn't they adorable? hee hee
Labels: Wedding
Kiyo 到此一游 @ 7:20 AM

Wednesday, September 26, 2007
*~*~*~*~*
For those who want to clear their wardrobes....
my sister's and my stuff will be there.. if not cleared, you still can donate them to the charity after that =D
Kiyo 到此一游 @ 9:14 PM

Sunday, September 23, 2007
*~*~*~*~*
My mood is
GOOD!!
Tried a few new restaurants over the weekend.
The one that is worth trying and highly recommended by me is Wakashachiya!
Very long name.. limited menu but their curry udon is SUPERB! We orginally wanted to eat at Waraku but the queue was crazy. Wakashachiya did not have any queue at that time. We were quite sceptical but the picture of the curry udon looks really tempting. There were no regrets after trying. The udon is so so Q that darren love it alot. But i must say that their menu is very limited, they only have variations of curry udon, nothing much else. If you are a person who enjoys curry and udon, it's a must go place! Each bowl of curry udon ranges from $12-$18, very affordable.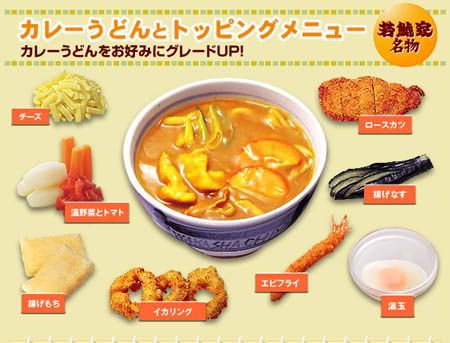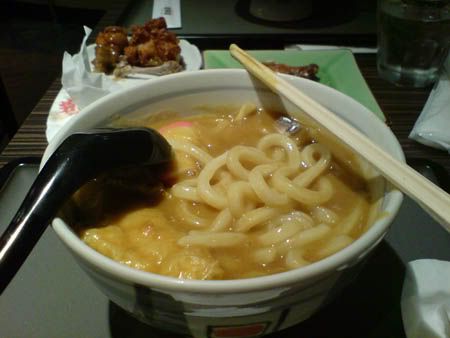 It was after our dinner then i realized that they are quite famous in Japan and there was a very long queue outside the restaurant already. Yummiz.
will try again with mummy keke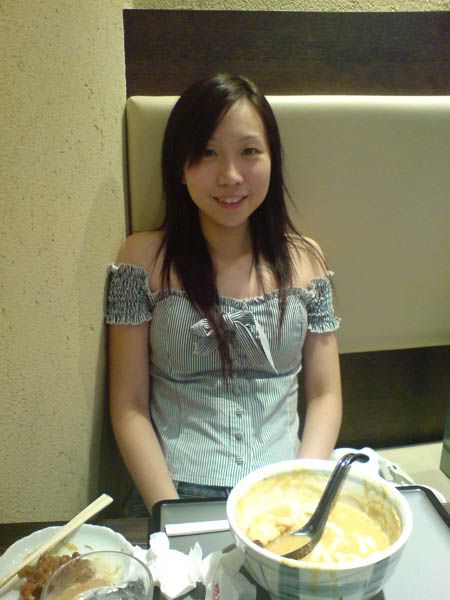 After dinner, we went out to the Riverside and it was pretty crowded with a lot of kids running about carrying their lanterns. we decided to take some pictures.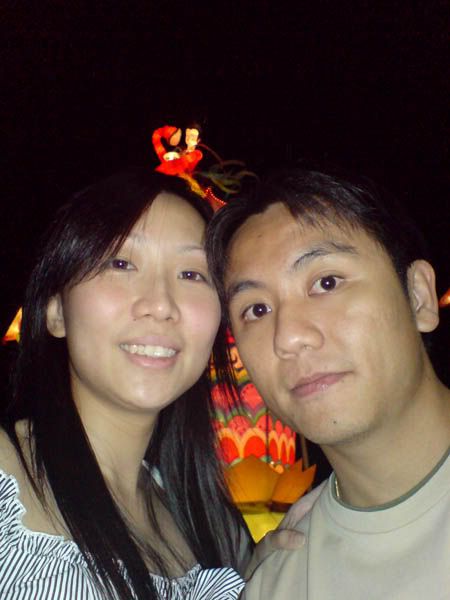 Very bad attempt of trying to capture that figurine.. was it chang-e??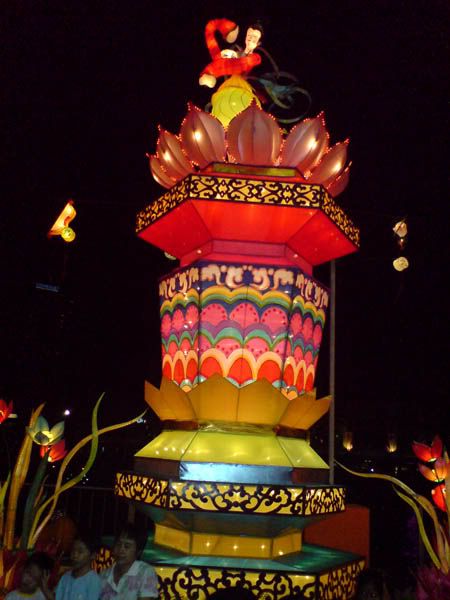 actually i oso dont noe.. =__=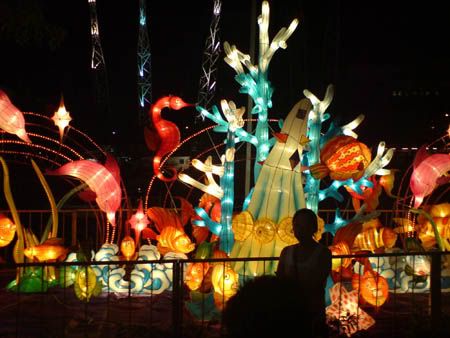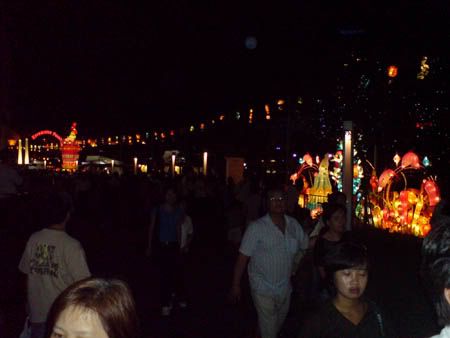 we decided to play a game.. to look for the lanterns that have our surname on it.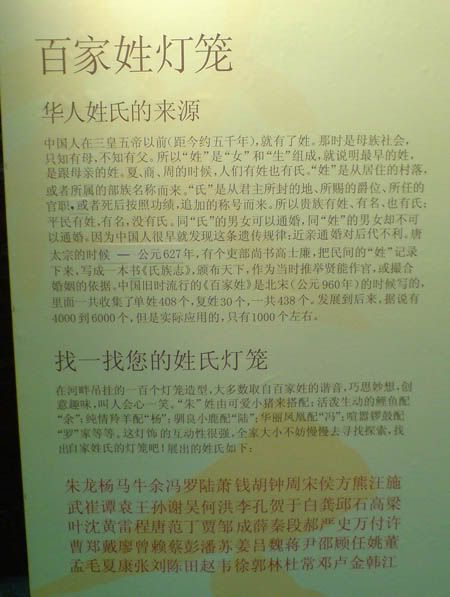 I found mine! Darren's surname (颜) wasn't there cause he said his is very 'UNIQUE' wor...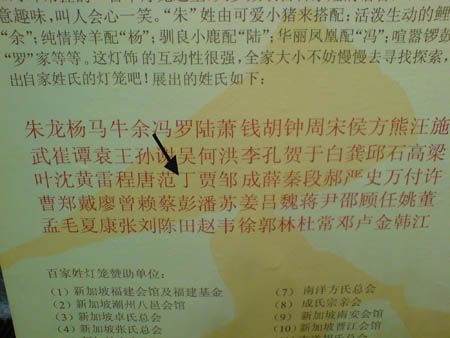 can you find yours?
So 2
boliao
adults were practically running along the riverside and see who will be the first to find the lantern. In the end, he won. =p I was too SLOWWWW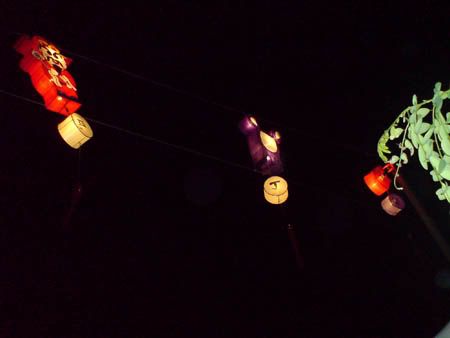 Kiyo 到此一游 @ 8:40 AM

Thursday, September 20, 2007
*~*~*~*~*
got the free sample invitation cards from Traders Hotel. Oh yah, i will be holding the sunday luncheon inviting colleagues and relatives (only about 16 tables).
These are the cards...
I must say they are not very nice and not really up to my expectations. BUT THEY ARE FWEE!! so i will still take them hahahh
1.
2.
3.
4.
5.
6.
Should be choosing no.5 and no.2.
Beggars can't be choosers. =p
It's strange but i dont feel excited in preparing this special "big day". Starting to feel abit
leh cheh
. Brides I know will go all out to find the special bouquet, special invites or even entertainment/slide shows during the banquet but I think i will just take whatever
FWEE
things that will come along.
NO slide shows, maybe just my ROM video. =D
i'm looking forward to my future house though. Alot of money will be spent as darren and I have high expectations of our house interior and the furnishings. Most of the furniture we saw is going to cost us alot. Anyway this will only happen in 2009!
Kiyo 到此一游 @ 7:27 AM

Monday, September 17, 2007
*~*~*~*~*
oh this is the 1st time that i'm so happy since i've started work.
I have a LEPPIT now!!
Her name is lelong...
yeah.. i'm feeling damn lame now..
Officially she is called Lelong de Leppit. =p
Kiyo 到此一游 @ 10:20 PM

Saturday, September 15, 2007
*~*~*~*~*
Darren is sick.. :_(
very sick in fact.. having high fever of up to 40 degrees for the past 2 days and his throat was full of ulcers.. poor thing. I hope he will get better today. Doctor even told him that he suspected dengue fever.
but his fever has subsided slightly so i think it shouldnt be bahhhh...
bought mooncakes last week! in fact they are called moon tarts.
bite-sized, they contained walnuts and white lotus paste. Very yummiz =D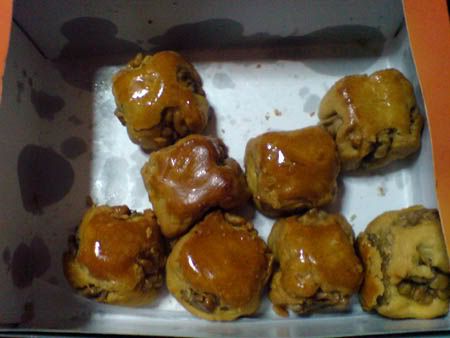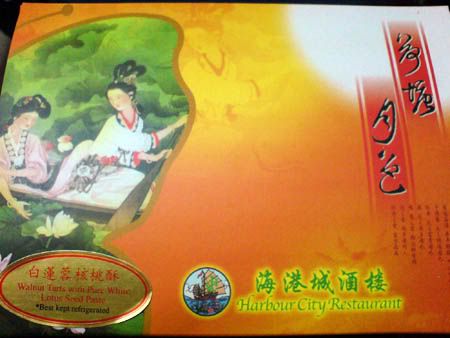 Kiyo 到此一游 @ 7:28 AM

Thursday, September 13, 2007
*~*~*~*~*
I felt the tremors.. and i feel i'm so lucky to be living in Singapore.
Thursday liao.. i have to push on.. weekend coming soon.
Kiyo 到此一游 @ 7:15 AM

Sunday, September 09, 2007
*~*~*~*~*
Me and my hair treatment
Went for a treatment at Jean Yip very early in the morning. Chose a oily scalp treatment and a O3 treatment for my hair ends. It was pretty relaxing especially the massaging of the scalp with tonics to control the pil secretion. A cooling hair mask was applied to the scalp after the massaging and the hair ends was applied with hair serum and a treatment mask before the O3 machine was used.
It's not the usual steaming but the O3 machine supplies oxygen constantly to the hair. I don't know what's the effect of having oxygen in hair but my hair turned out to be very smooth and light after all that pampering.

Damage : $188The pampering experience : Priceless
But what I dislike was that the Jean Yip consultant came to talk to me about packages.. telling me I can save a lot of money (about $600) if I sign on their package of 10 treatments which will cost $1288.
I tut her and said : " 不要 sign 更省钱 norrrr!" =p Cannot stand people who are pushy.
It can be a huge turnoff especially you are enjoying the massages etc. I don't need you to help me plan my finances horkay. hahah
Okay that's me with my long lost shine in my hair. Think after 2 washes, it will be gone as well. *sobs*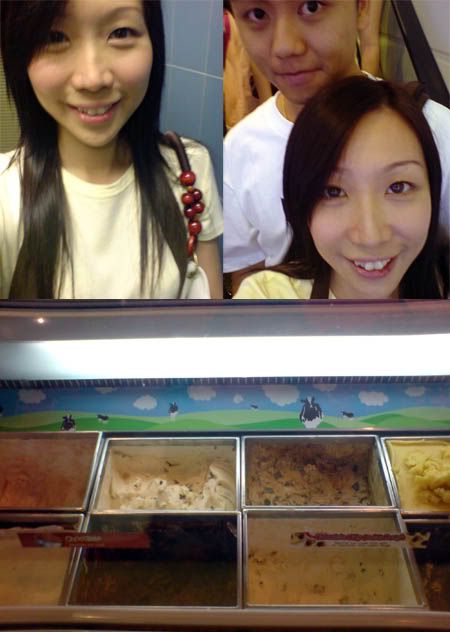 We bought Ben and Jerry's icecream for his sister!
the new york fudge is the best!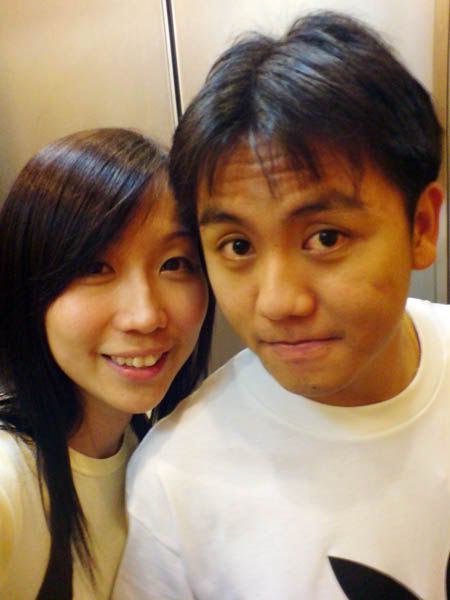 will be a lazy day today.. it's great to laze in bed together, munching peanuts and watching dvds ha!
PS: comparing the photos i took yesterday and those a few months ago, i realized i am thinner now! and frankly speaking, i prefer my face shape now, hope it stays that way. =p
Kiyo 到此一游 @ 1:04 PM

Saturday, September 08, 2007
*~*~*~*~*
I love saturdays!
Now i appreciate saturdays alot and today is a great day although a rainy one too. But it's okay, there's alot of great things happening later. I'm going for a hair treatment at Jean Yip.. I simply lurve head and scalp massages, collecting spree stuff, buying ben and jerry's ice cream for Darren's sis as it's her bday today.
and we have decided... we shall go Japan...
Next year! haha
was asking dar to choose between Japan and Greece.
I think he still prefers Japan.
okay looking forward to the great weekend ahead!
ending with a video of kelly. she wants to sing but shy to face the video hee hee. cute!
Kiyo 到此一游 @ 9:01 AM

Wednesday, September 05, 2007
*~*~*~*~*
My blog is so dead...
and i'm a bit sick too.. haizz
Really looking forward to the weekend for a good meal with dar dar.
Weekdays now are just occupied by work and nothing much else. After work, I am left with just a wee bit energy to go back home, watch a few dramas and sleep. It really helps save some money anyway, saves money from weekday shopping. But i was also thinking what I really want in my life. anyway i oso wasn't like slogging sooooo hard lah.. it's just that i'm too pampered. =p
Although new year is still a few months away, i want to set my new year resolution. I must learn to be tougher!
Kiyo 到此一游 @ 7:32 AM

Saturday, September 01, 2007
*~*~*~*~*
Finally the ladies first spree stuff is here.
Gosh.. i have been waiting for almost a month!
Looks like i have to look for other spree sources for taiwan goods..
got a pair of new flats! and my nails to be painted in bluddy red hee hee.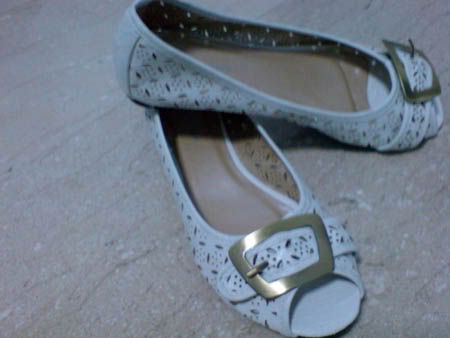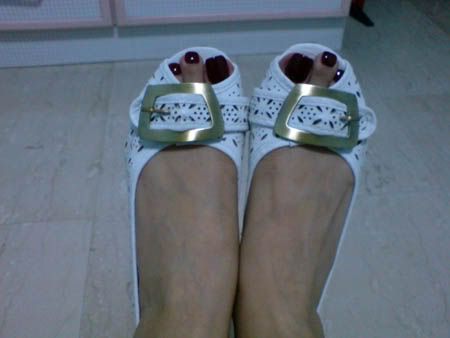 maybe going to the temple with darren's mum later. she's helping us to pray for better well-being. =D
Kiyo 到此一游 @ 9:37 AM