Saturday, January 29, 2005
*~*~*~*~*~*~*~*~*~*~*~*~*~*~
The Loot that saved my skin...
My skin is better! The scars are fading fine too. :) hee These was what I bought to try after hearing raves about them. Niks product, used in Maple clinic too is very good. The other one is the eve taylor essential oil. Very good for sensitive skins. I normally massage in a little before a mask. And the
red wine mask
from Taiwan. This mask was a little expensive, used by Da S and recommended in her beauty book. Results are okie. Softening of skin and
a little
whitening. It is just a little too expensive to use on frequent basis.. hee
I got my bonus! I have expected that I will be getting that grade.. It is still not too bad but it is pro-rate as I have only worked 1/2 year hee.
Recently, I received a flier from M1 saying they are offering me a good deal cos I am a loyal customer.
Of course loyal la, I have 2 line with them and 100 bucks is contributed to their income every month!
I dont think I will change my E700A yet but i think will get my bf that slide phone, panasonic one. His current hp is in a bad condition..
Kiyo 到此一游 @ 8:33 AM

Wednesday, January 26, 2005
*~*~*~*~*~*~*~*~*~*~*~*~*~*~
I am sick again.
Physically and Mentally. Got a flu and sore throat yesterday but still feel so tired at work today. Mentally sick of the english jap translation that my manager asked me to do. Anybody who knows me well enough knows that i simply hate this kind of translation. It is still acceptable if it is in point form, to make it worse, it looks like a whole full page of essay god knows what he is talking about.
Enough of complaining.. I am looking forward to the weekends.Not because I dont need to work, cos I will be getting my first bonus with this company on friday! I think my performance is quite average, so I should be able to get a kinda 'average' bonus.
(which means very little, so dont come and bug me for treats or wat.. bleh)
. Another reason is that
I can stop living on my reserved funds from friday onwards!
At last! I have been living on my reserves for quite some time due to overspending in the sprees and skin care products argghh..No sprees for some time now!
Received my studio pictures from I n L already last saturday. Realized that my smile is getting more and more fake. Besides that, I dont seem to be very 'enthu' about photo taking anymore. Maybe getting tired of it. Not all the pictures are nice. It's not their fault, i just dont look right, or pretty.. :(
I am still thinking whether to get a new suit by this weekend. A
VVVIP
will be coming from overseas and I am assigned to present flowers to him.. dur.. everybody is required to lined up at the entrance too. Think the scene will be completed with pompoms hor..
Kiyo 到此一游 @ 5:47 PM

Saturday, January 22, 2005
*~*~*~*~*~*~*~*~*~*~*~*~*~*~
Found an interesting webbie..
I have been playing barbie since young and recently I revived that practice on the internet! Found a jap website that is real cute for designing avatars.
You can choose to design everything! From the skin colour of your model, to the clothes and shoes she or he wears. I can even choose where to have a mole for my model,or even her faceshap and mood. Hee hee I have been trying out different outfits for my model a few days back..very fun. The downside is some "clothes, accessories" are not free. Usually the nicer items are not :( . I just chose those free items (me cheepo mah) haha..
My models of the day! Can I have her hair?? hmm..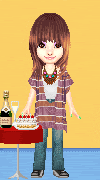 Kiyo 到此一游 @ 9:42 AM

Wednesday, January 19, 2005
*~*~*~*~*~*~*~*~*~*~*~*~*~*~
My face is smooth for the first time
Went for the PTR facial recommended by some cotters in Cozycot on Monday. It's really good and relaxing! The PTR center is on the 4th floor of international building beside isetan scotts. It was kinda strange as they are in an office building and not in the shopping gallery. The people there are nice and clad in white uniforms. I was attended by Normah, a malay lady. She was recommended in the forum as well. She was very thorough, patient when she worked on my skin, squeezing those stubborn blackheads and clogged pores.
She first cleanse off my makeup, applied a layer of enzyme peel and gave me a neck, shoulder and head massage while waiting for it to work.. wah.. very very relaxing. Her massage is just simply great! than came the extractions. She is very very detailed but yet didnt squeeze too hard. My chin was rather congested before the facial.. she took a very long time in decongesting it and now they are smooth without clog pores! for the first time! Even Adeline (my beautician since i was 19) didnt give me such results. Than came another massage. Facial and neck massage with the hydrating cucumber gel from PTR. I feel very sleepy already although im very hungry too as I didnt take my dinner before going for facial. She then applied sulphur masque to get rid of my pimples and clog pores and applied the cucumber masque on my neck for hydrating purpose. My face turned out to be smooth smoother, of course some acne scars still remain.. the scars appear to have lighten a little.
90 bucks for facial is not ex. I used to spend 95 each month going to adeline and about 100 dollars for karen at devotion. Anyway, I got this offer at half price! I signed up on the spot and paid 270 bucks for 3 facials and get a 120 dollars worth of product voucher.. woh.. I'm really tempted to get their eyecream.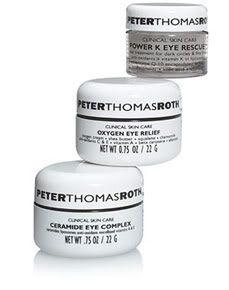 Kiyo 到此一游 @ 7:51 AM

Monday, January 17, 2005
*~*~*~*~*~*~*~*~*~*~*~*~*~*~
I nearly ate a worm today (

or maybe I really did!?!

)
This is digusting. This is the last time that I am going to eat uncooked, cucumber slices for as long as I live.
I was at lunch in Bugis food court today, decided to get the chicken rice.. Was happily eating it and was halfway through it until I saw something white moving on the 2nd piece of cucumber slice! (I ate the 1st piece aredi.. :( )
It was a tiny worm trying to avoid being eaten up!! by me!! Can see it trying to wriggle to safety. My stomach churned immediately and I feel like vomiting. Was there any worm on the first piece of cucumber I just ate?? Did I eat it?? Will the worm lay eggs in my stomach? Hundreds of questions just came my mind and I threw my fork and spoon down.
My colleague who ate with me asked me what's wrong as she noticed that my reaction was kinda big and I didnt finish my rice (which was quite unusual). I didnt tell her cos I dont want to upset her meal. I feel so disgusted and nauseous!! In the end, i buy some honeydew milk drink to flush it down.
I know it is all inside my mind but I cant erase off that image of that worm wriggling on that 2nd piece of cucumber... Feel like vomiting again! I need water...
Kiyo 到此一游 @ 1:14 PM

Saturday, January 15, 2005
*~*~*~*~*~*~*~*~*~*~*~*~*~*~
Ooo.. Next Monday is something I can look forward to
I actually kinda look forward to next monday on the 17th. As I will be going for facial at a new salon! heard many raves about the PTR facial over at cozycots so made myself an appointment. If you mention your refferal, the first trial facial is 50% off at 45 dollars only!What a good bargain. I still have 1 more facial with Karen. Think I wont sign up another package. No point paying so much and i feel that only her massages are good, extractions wise are done fast and not thorough.
Oh ya, met one of the podders yesterday to pass her the powder.. Per is really a sweet lady. She gave me a card to go for either an eyebrow trimming or makeover session with Stila.. hee very happy! cos my AVERINE foundation is running out and i wanted to try another brand. Heard that the STILA illuminating foundation is good.. Guess i will go for the makeup session! :)
Saw some of the studio pics some friends took for me last month. I think I like outdoor photoshoots better. Studio is kinda boring and looks plain. And I look plain fat and untoned in the pictures! (
Quit complaining! you just go to body combat once a week, how to be toned!?!?
) I can imagine my sister telling me this if I complained to her hahah. She's one gym fanatic.
eee.. I need to do more arm exercise and push ups..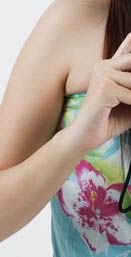 Me and Linda after some touchups using photoshop.. arms are thin again!
(cheater!)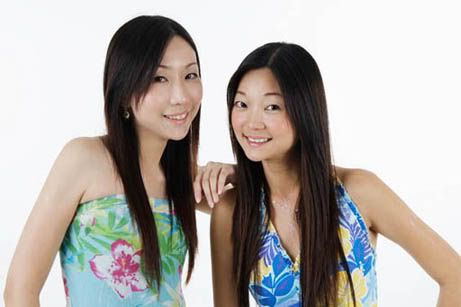 Kiyo 到此一游 @ 7:18 AM

Thursday, January 13, 2005
*~*~*~*~*~*~*~*~*~*~*~*~*~*~
Got something really cheap yesterday
I went to Golden Mile Complex for the first time in my life.. I bet there are many people who have never been to GMC (termed as the little thailand). I met some online podders from
http://www.flowerpod.org
(site where I get all my beauty information from) to get some powder that was quite popular with the thais. It is sold in bangkok's watson and some podders tried it when they went over there. Surprise to find it in Singapore as well. We bought a total of 22 bottles from that shop cos so many people are interested in trying them!
It cost only $1.50! Anyway, this is really a cheap and good product! I just use it over my foundation to set it and face looks matt and soft. I will just have to observe further to see whether my face has any bad reactions to it. I hope not. My bf is really sceptical about this powder. He thinks that good things dont come cheap. yeah, I agree, but I dont use it on bare face so I think shouldnt be a problem.. I will just wait and see.
Kiyo 到此一游 @ 10:07 AM

Thursday, January 06, 2005
*~*~*~*~*~*~*~*~*~*~*~*~*~*~
Rather Disappointed
We have planned to go to Phuket during the Hari Raya Holidays from November when he was still in Perth. And I even emailed my boss to inform him that I will be taking leave on the 19th and 20th. Although Phuket trip is canceled, we actually wanted to go to Sentosa or just somewhere that we can spend time nice and quiet. Than came the big bombshell yesterday. He has to go back to KL to move house to JB.
!!?
He has already inform them way before hand that I will be taking leave and we are planning something on that particular dates. And I learnt that they purposely booked the lorry and then tell him that they will go on that long weekend. How would you feel if you are in my shoes?
I asked his family when they are going to move house, they say they don't know. Next day, told my bf that the lorry is being booked on the dates we are supposed to have a trip and tell him to "explain to qingli, moving house is more impt, she will understand". I understand moving house is important but why the clashing of dates. Just because it is more convenient for you?? we have planned for quite some time and informed aredi didnt we?
I dont blame him cos i know he has no choice and he listens to his mum alot. Moreover, the lorry is booked. But I just dont like when things are not within my control.
NOW, no need to take leave aredi lo. will be erasing that 2 days of AL that I have aredi marked on my calender. I am always the one that is being sacrificed.
The least important person
. What a start to 2005...
Kiyo 到此一游 @ 8:48 AM

Sunday, January 02, 2005
My loot for the past week!
Got this tube dress from ICE.. dont know when will be the occasion to wear this, maybe new year then hee or some party. i really like it cos it looks sweet and not very tight.
Got this bag from VNC.. looking for a white bag for some time and came across this bag that cost only 36 bucks.. luckily i bought this, otherwise i would have bought that 108 bucks southhaven bag.. hmm.. and my organizer!! i love that organizer. very cute and stylish hee
Bought this from cineleisure on a different day.. it's rather short.. hmm..
Kiyo 到此一游 @ 10:09 AM