Friday, July 22, 2005
*~*~*~*~*~*~*~*~*~*~*~*~*~*~
Lalala. it's the weekend again
I wore my new specs to work today.
One good thing about wearing glasses to work was that my eyes no longer felt tired and I need not yawn to bring tears to them.
One bad thing was.. suddenly the only adjective my colleagues could think of to describe me was CUTE (which may mean
"hey! I like your specs but U LOOK UGLY!"
)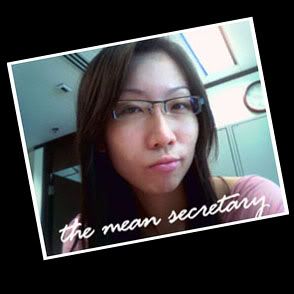 Another bad thing was.. the frames were a little thick on the sides so it didnt allow me to observe things "out of the corner of my eyes".
Okie what am I supposed to observe?
Like
"people creeping behind my back",
or like
"approaching bosses"
yada yada yada.. Stop denying it, i know you DO that too. I got the fright of my life yesterday when auntie R crept behind my back and whispered something in my ear while I was busy looking for ssome stuff. PENGZ I got the jump of my life and nearly screamed. NEARLY.
So wadssup for the weekends!
Dis morning I pm-ed a podder as she's asking for shopping kakis..cos soon my personal stylist cum shopping buddy will have to concentrate on his studies, relationships n shoots n i doubt he will have much time for me! hee hee. Nataline replied and said that she will include me in the list of shopping kakis. =D. Will be getting a total revamp in my hairstyle this sunday as I got a birthday voucher from PTR that entitles me to a hair cut at essensuals. (okie.. I never heard of that salon too.. dis time i'm gg to take a risk & a BIGGggg one).
I really like this hairstyle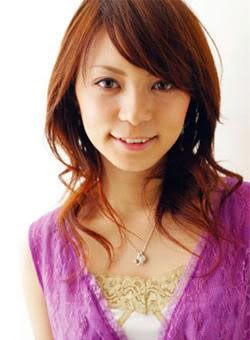 but I'm seriously scared to do curls cos it may just turn out horrendous. i'm definitely going to cut it shorter cos it's weighing my hair down making it look rather flat and cutting them away MAY just make me look younger. I seriously noticed I look damn old in some pictures I took on xdd's bday. I know dat some kind friends didnt want to tell me that, but there are some other "KIND" friend who thought that it will be good... to let me know that I look like somebody who has just given birth.. -_-
Okie.. continue my ramblings for weekend shopping.
I have a long shopping list so long that I wish I'm Harry Potter so that I can turn all my coins in my wallet into $100 notes. *Swish swish* waved my magic wand.
(I actually typed 50.. than i realised I dont have enough, so decided to change to 100 hee hee)
I just bought this MURAD Vit C whitening set. DIS set is MUST buy.. WHY?
cos...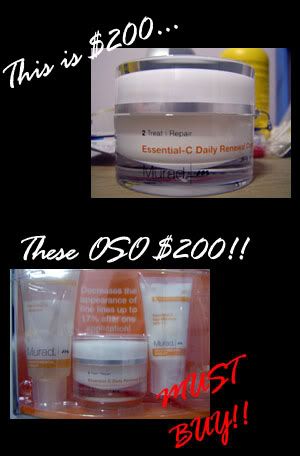 That bottle alone cost 200 bucks but recently there was this promotion and the whole set cost $200! The set comes with eye cream n cleanser which i've tried before.. Their vit C range is really good. I didnt continue cos it was really ex. So.. this is another birthday gift for myself!
I am lemming for jeans from Inhabit.
Watched the program 想地美, where they introduced designer jeans from cult brands like paper denim n cloth (the name sounds cheap, but the brand is not), Religion and some other really nice ones. I dont mind spending alot on a pair of jeans with a good cutting n fit cos they can last you for a very very long time. My all time favourite bought 1.5 years ago still remain snugly fitted to my butt after repeated washes. I need a boot cut one and I bet it will set me back by about 400-500 bucks.
I want to buy..
1) clarins makeup base and light perfecting touch pen. I tried the texture just now and it was really good with light reflective pigments in it.
2) lancome liquid eyeliner.
3) that bag me n ppm saw that day in FEP
4) Cle de peau concealer..
how how how?? so many things...
Kiyo 到此一游 @ 11:42 AM