Tuesday, October 30, 2007
*~*~*~*~*
Feel abit sad.. again..
~ Ang Mo bullying Old Man ~
Haizz.. it's very sad..
why must people like that be around?
$10 oso want cheat ah kong. =(
Kiyo 到此一游 @ 11:31 PM

*~*~*~*~*
I changed my blog song!
love this jazzy tune.. but i still prefer the latin version by Lisa Ono and am still searching for it. Darren like this very much too, and it may become our march in song. i need the faster version though
My vampire is ranked no. 7 among 20 odd friends! Not because I'm good at playing, it's because some of them didnt play at all lar..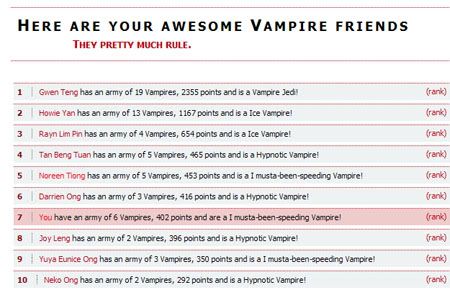 Just look at my sister's vampire.. it's LUMBER 1.
Labels: Random Rants
Kiyo 到此一游 @ 10:00 PM

Monday, October 29, 2007
*~*~*~*~*
Tagged by min =)
Let's do the survey!
Layer One: On the Outside
Name: shirlaine teng chen li, aka 丁清丽
BirthDate: 30 July 1979
Current Status: Happily Married
Eye Colour: Dark brown
Hair Colour: Brown
Righty or Lefty: right-handed
Layer Two: On the Inside
Your Heritage: Chinese
Your Fear: ALOT. HEIGHTS, COCKROACHES, FROGS, LIZARDS
practically everything that is small and flies.
Your Weakness: If this was asked during an interview, i would
say hmmm..my straightforward character is my weakness
Your Perfect: nobody is perfect
Layer Three: Yesterday, Today, Tomorrow
Your First Thought This Morning: is it monday AGAIN?
Your Last Thought Before Bedtime: is Darren safely in bed?
Your Most Missed Memories: Travelling with Darren
Layer Four: Your Pick
Pepsi or Coke: Neither, can i have Root Beer? it's my new
favourite
McDonald or Burger King: Mc!!
Single or Group Dates: anything, as long as i have dates
Adidas or Nike: I prefer PUMA leh...
Tea or Nestea: i dont have the habit of drinking tea.
Chocolate or Vanilla: Chocolate, especially dark ones
Cappuccino or Coffee: don't drink coffee too

Layer Five: Do You...
Smoke: nope
Curse: seldom.
Take showers: of course! you dont??
Have a crush: no
Think you are in love: yes! very much!
Layer Six: In the Past Month
Drank alcohol: yeap. last saturday at MOS
Gone to the mall: bugis junction EVERY day.. =__=
Been on stage: yeah, when i was young, i was made to catwalk as
a fairy.
*shudders*
Eaten sushi: yes, and sashimi, and horse meat (yeaksss!), and
raw chicken teriyaki
Dyed your hair: nope..next month perhaps
Layer Seven: Have you Ever...
Played a stripping game: nope. Nothing to see, so nobody wants to play with me
Layer Eight: Age : my birthday is written on top, do your math
You are hoping to be married at the age of: 25 but i got married
when i was 28
Layer Nine: In a Girl/Guy
Best Eye Color: it's the soul in the eyes that is beautiful..
Best Hair Color: as long as not botak can liao
Short Hair or Long Hair: answer as above

Layer Ten: What Were You Doing
1 min Ago: reading a flowepod thread
Hour Ago: eating dinner
4.5 Hours Ago: at work?
Month Ago: how i know? yesterday i oso cannot remember
Year Ago: answer as above
Layer Eleven: Finish the Sentence
I love: my life!
There won't be layer Twelve! hahahha =p
Kiyo 到此一游 @ 8:01 PM

Saturday, October 27, 2007
*~*~*~*~*
Cravings no more!!
Quite an eventful weekend till now. hee
Went MOS with Darren yesterday. Although not many of his friends went, it was still fun people watching cos there's just too many interesting people around. hee hee.
had a good workout dancing yesterday as there were no calls from mum anymore ha~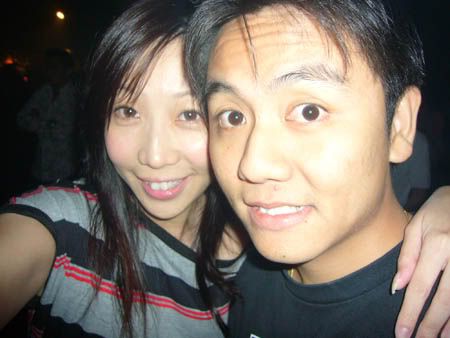 Woke up at around 9 plus this morning to meet the gals from SG brides. We bulk ordered some ampoules together and it's time for collection. So we met up for breakfast at Cafe Cartel and the breakfast was pretty good! It's a pity that the french toast was sold out... =_( but the ham and cheeze omelette was great too.
After a hearty breakfast, met up with Darren again for my dim sum!!
*cannot imagine I gobbled so much food*

Never tried Royal China at Raffles so I brought Darren there. I must say that this dim sum is even better than Red Star at Chin Swee Road. But of course, Red star is so so much cheaper. Didnt' know Royal China existed till last week while searching for some restaurants for my boss, I came across a blog that had yummilicious pictures of dim sum that it literary stirred up my cravings for them.
This restaurant was first established in London and I think it came to Singapore around 2003. But I only got to know it now.. gosh.. anyway it's a place that i will be back for their scallop dumplings, shark fin dumplings and prawn and scallop cheung fun!
Before we ate, we took some pictures at raffles hotel as we never went up to the 3rd floor before hee. The place was really pretty.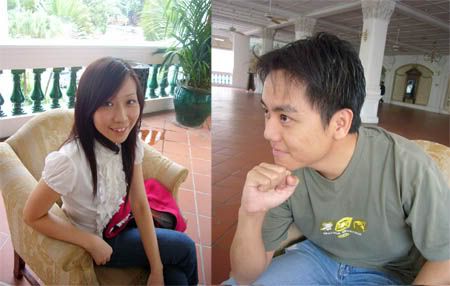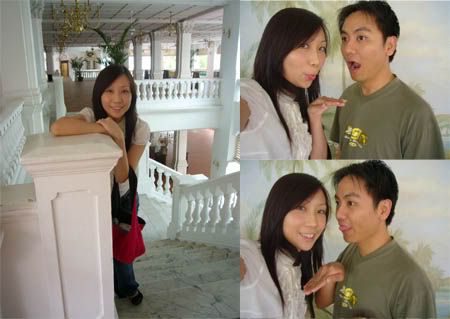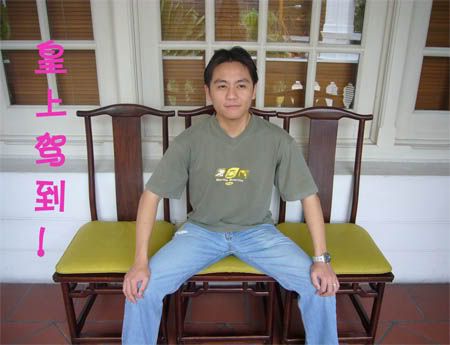 Finally outside the restaurant!
you feel so "royal" just by looking at their signboard.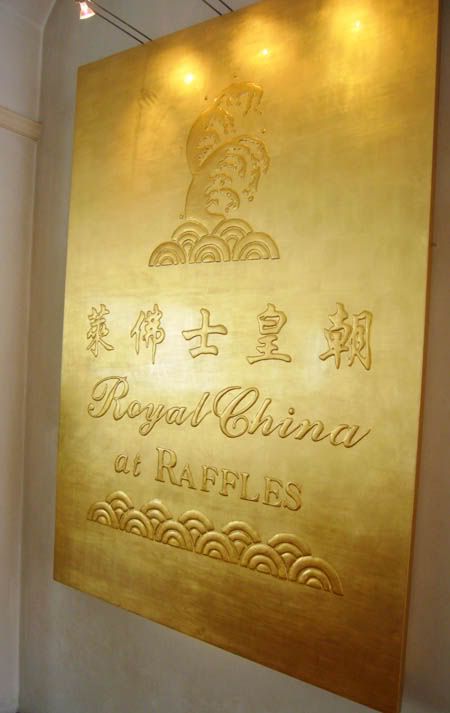 It's indeed Royal!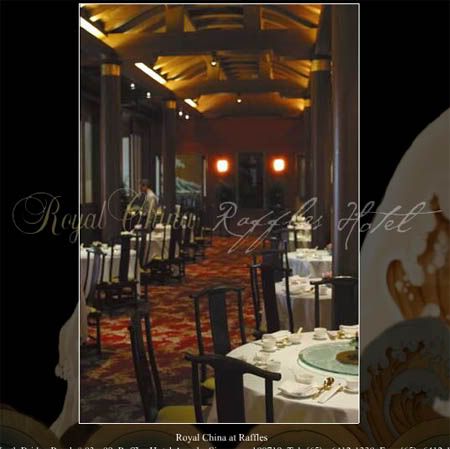 photo from website
Dim sum included~
even used the food mode of my cam to capture the dim sum..
just look at the oil...
one sentence..是很油的啰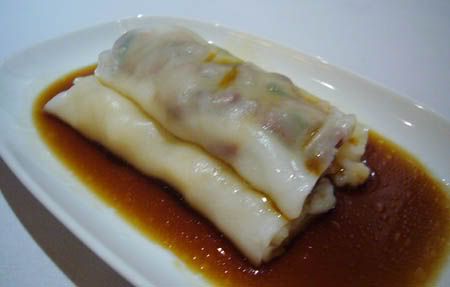 our 1st dish was the chang fen.. yummiz.. you get the best all in a single plate. Prawn, scallop and char siew chang fens. droolzz..The skin is really smooth and tender~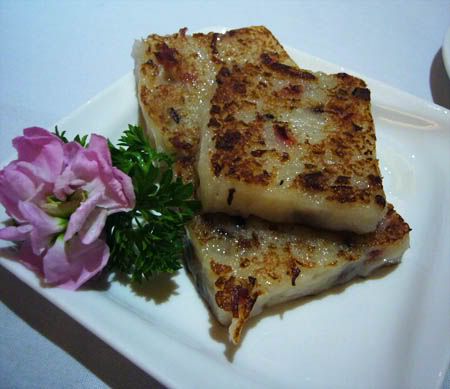 Carrot Cake - very smooth and soft as well. Melts in your mouth!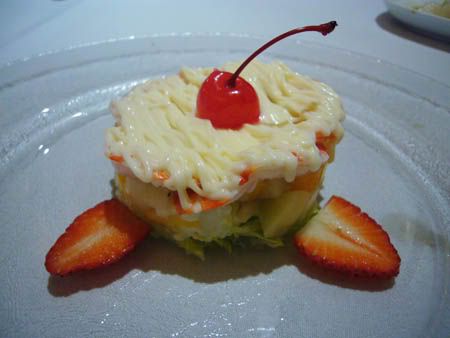 Prawn and fruit Salad - Another delicious starter, the fruits were really fresh, even the strawberries were sweet!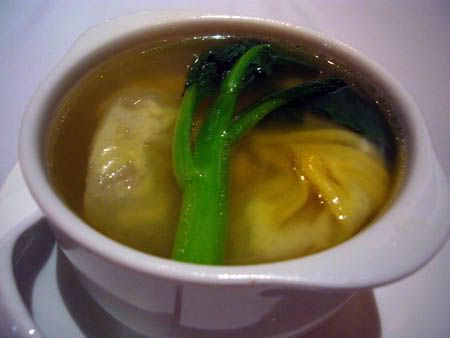 Star of the day
- sharkfin dumpling in chicken and ginseng soup. With alot of goodies like mushroom, scallop, crab meat and not forgetting sharkfin too. The soup was tasty and not so salty.. and most importantly, $8.80 nia! =p
The rest...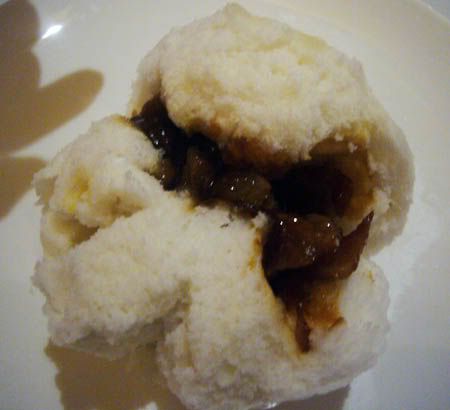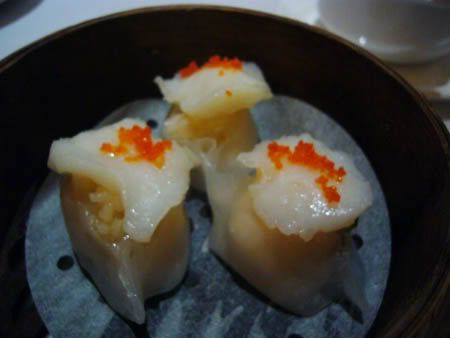 another of my favourite. Scallop dumplings with fish roe!! you really cannot see such exquiste dim sum anywhere.. or.. maybe i suagu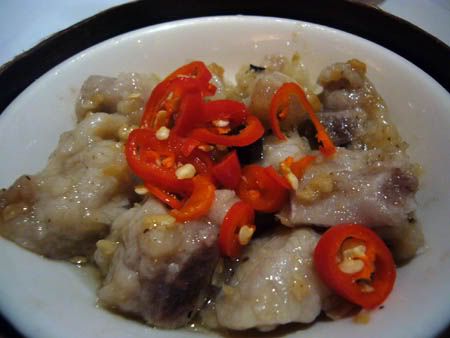 Damage : $50
Hungry just by looking at these photos again.. another 3 weeks will be mummy's birthday, will bring her there to have a good meal, maybe with my sister as well so that we are order MORE food =)
And after lunch we went to Parkway to get my lingerie to wear on my wedding day. Heard from Cheryl about a shop in Parkway where she bought her corset to wear with her gown. Her designer (Bridal Veil) highly recommended that shop to all her clients. Indeed it was a fruitful trip! Didn't manage to get a corset as the
lao ban niang
said i dont need one, so she recommended some pushup for my gown.
hee hee.
She's really a good sales person and knows her stuff pretty well..she will analyse your body shape and recommend thier lingerie to you.
Ended up spending $170 there =__=
But their lingerie is really nice, some are actually imported from Japan..
Go to her if you are a BRIDE-TO-BE! =D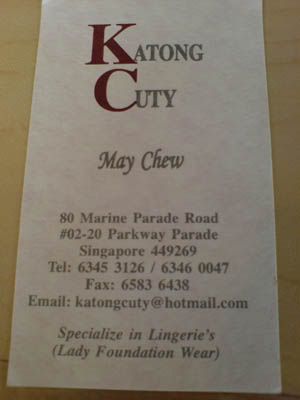 Kiyo 到此一游 @ 6:42 PM

Wednesday, October 24, 2007
*~*~*~*~*
So sad today...
Was waiting for the day to end so that we can go and have a good dim sum dinner at Royal China at Raffles then I called and realised that they dont serve dim sum for dinner!!
really GOONDOO me.
Most restaurants serve dimsum for lunch wan mah... haizz
My cravings for dim sum continues...
Kiyo 到此一游 @ 10:07 PM

Saturday, October 20, 2007
*~*~*~*~*
It's been raining these few days.
Cool weather is finally here.
and we had decided on the layout of our invitation card as well. It will be well... traditional kind hee hee.. with our logo that I bought in taiwan!
Short update!
Our house 1/2 a year ago...
Our house last month (photo taken courtesy by Dias, my future friendly neighbour)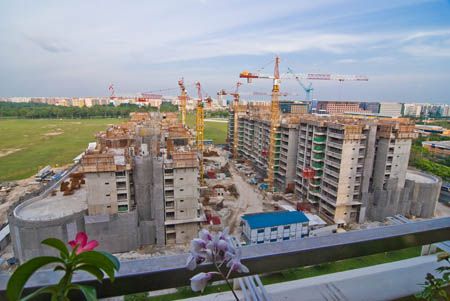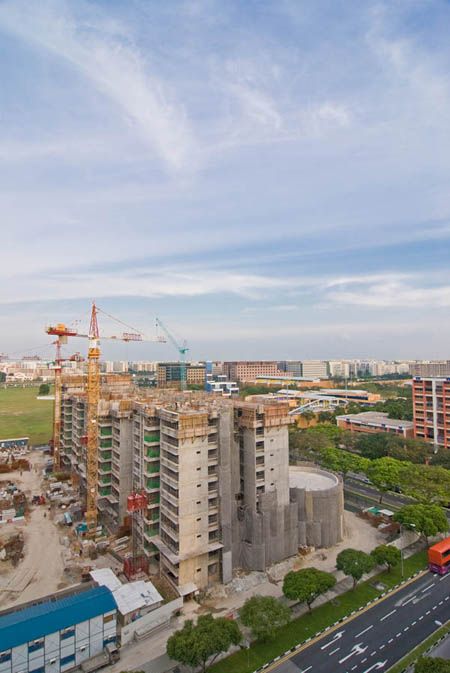 How time flies!
Kiyo 到此一游 @ 7:57 AM

Tuesday, October 16, 2007
*~*~*~*~*
Went to Julia and tried gowns!
It was a fulfilling trip. Only spent 3 hours there and I decided the "evening gown" (yeah, my wedding is a Sunday luncheon, so the evening gown will be considered as the 2nd outfit).
Was in a dilemma as their evening gowns are pretty nice which was strange as I heard alot of comments saying that their Evening gowns are not nice.
Gowns I tried...didn't take much photos cause it wasnt really allowed
I lurve this light yellow cheongsam! It has pretty nice embroidery and a train.. very divine couture inspired. Darren liked it very much too!!
The gown on the left is very nice and sexy too.
The side of it is all TRANSPARENT till below my hips with tiny beads stringing across.
Dar was quite shocked. hahah so it's a NONO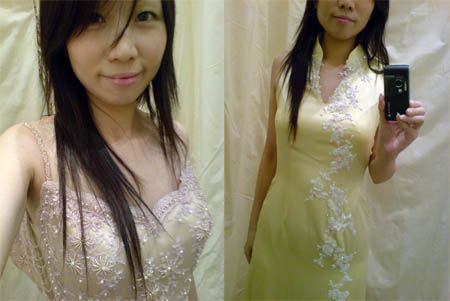 Although I would really love to get that cheongsam but in the end, I decided on another one as Darren said that one was better and very unique. Didn't take a picture while wearing but there's a picture of it in the magazine.
TADA!!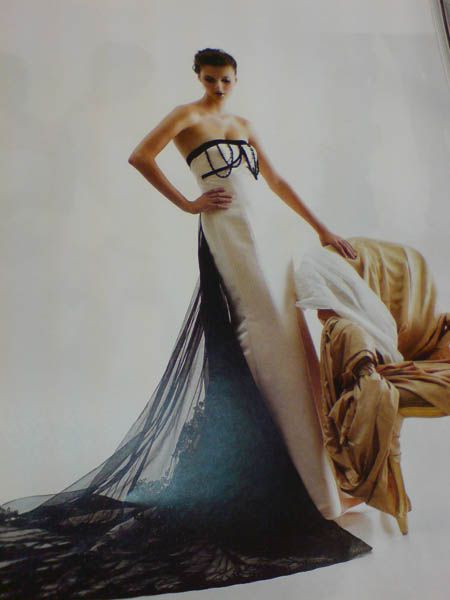 Its train is black and i think it's really very classy and elegant cause seldom people wear a hint of black during weddings. But the gown itself isn't white, its a shade of pale pink. hee hee
Darren decide his suit too!.. He will have a 2nd outfit change too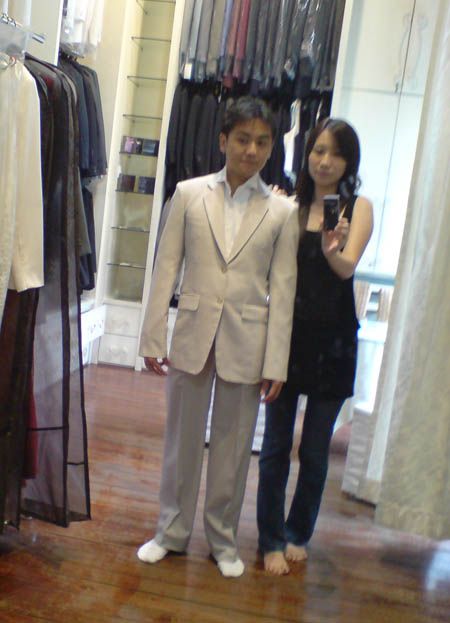 Kiyo 到此一游 @ 6:26 PM

Sunday, October 14, 2007
*~*~*~*~*
My eyelash perm!
I lurve it.
This is my 1st time doing eyelash perm and I think I will be going back for more once it straightens out. Went to a small salon one of the podders recommended in Bugis Village and who says good things don't come cheap? it's pretty affordable and I'm satisfied with the outcome. My lashes did not turn frizzy, it's still soft after the perm.. maybe partly because I applied some eyecream on it before going for the perm.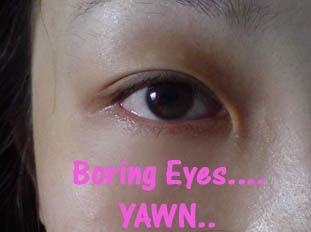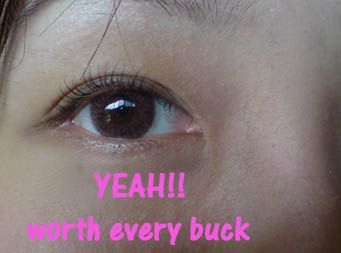 and it's permanent! okay not really permanent but it's going to last me about 2 months I think.
38 bucks nia!
Kiyo 到此一游 @ 10:23 AM

Friday, October 12, 2007
*~*~*~*~*
Flydae!!! happie!!
off-in-lieu on Monday so there's no work. Dar took a day's leave too and we will be going to Julia to try our AD gowns. hee hee
This month, i have been a good girl. I realised that i have not bought much stuff as we were too caught up with the HK dramas during the weekend. I was surprised that my credit card bills were almost.. KOSONG. Even called to customer service and double confirm that I do not have any outstanding balance. yeah!
hee hee So, to reward myself..I'm going to spend spend spend!
Tomorrow will be eyelash perming session
Monday I will visit Wen and Weng, an aesthetic clinic. Still thinking what treatment I should do.
hmmm...definitely something heavy on the pocket but good for the skin hiak hiak hiak
ENJOY your weekends!
Kiyo 到此一游 @ 10:19 PM

Monday, October 08, 2007
*~*~*~*~*
Photos~
okay.. short post.
Tired day at St James over the weekend.. My first time there and it was in the morning for the flea market!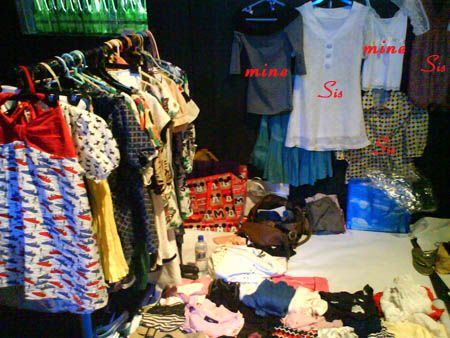 our stall. Sis have alot of nice clothes!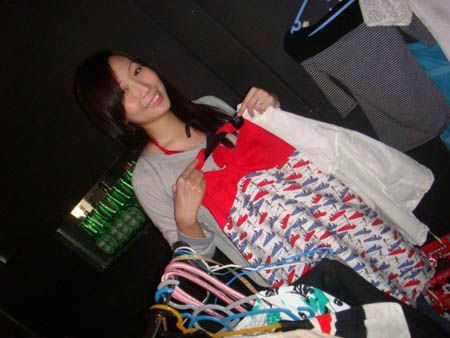 particularly liked this..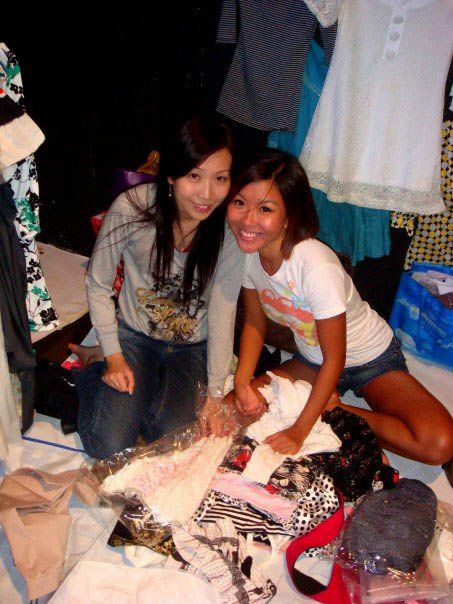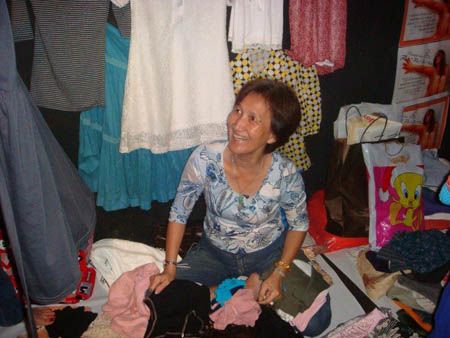 mum went down to kaypoh too hee hee
last but not least me and my dear HUBBY!!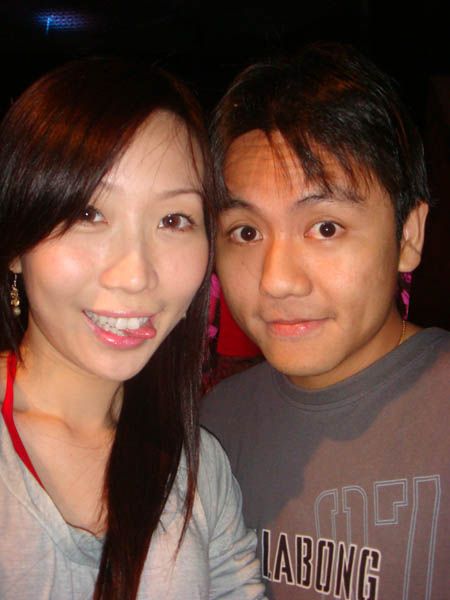 Didnt' managed to sell anything (Ha!) but donated alot of clothes to the salvation army. Sis sold alot of clothes cos her clothes were newer, trendier and alot more than mine! It's okay at least i donated a bagful of clothes to salvation army and accumulate some good karma.
(according to josephine's theory, we will grow old slower if we accumulate more good karma hee hee)
think maybe i didnt donate enough, i'm like falling sick again leh...hmmm
Kiyo 到此一游 @ 7:35 PM

Friday, October 05, 2007
*~*~*~*~*
Urban Warfare!!At stall 14, just behind the open bar...
hope that i sell more things than i buy!! =p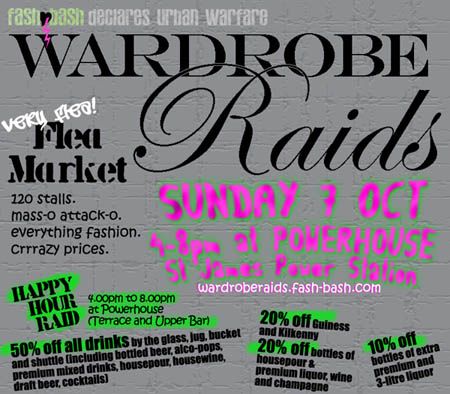 Okay... flea market aside, my ah dar was enthusiastically telling me he had plans for our march-in.
THAT's REALLY SURPRISING.
So he told me
(in a super enthu tone)
that he has decided to use his favourite song as our march in... he even told me which beat we can open the door to march in, and after walking to the stage we can end with a rockstar pose. I was so happy! Finally i do not need to crack my head anymore and make decisions!
Then he sang to me the song he wanted..
it was...
THIS
don't know whether to laugh or cry.. so off-beat de... and sooooo
BENG
. hahahha
he said he used to be a waiter and he always hear this song when he was at the banquet serving dishes.
He even suggested
*in a super ENTHU tone again*
that we can do SOMETHING SPECIAL!
Like serving the 1st dish as waiter and waitress!!
......
=____=
ah dar, ah dar.. I really dont know what to say....
That's the cute thing about him anyway hahaha
So don't be surprised if you see us serving your dish.
yeah.. it was his idea. hahah
Kiyo 到此一游 @ 8:15 PM

Wednesday, October 03, 2007
*~*~*~*~*
The layout of Temasek Ballroom.
It's under renovation now and I heard there will be chandeliers in the ballroom. Hope it will be pretty pretty.
We will be having a long march in! Anyway, it won't be that long too cause we have only 16 tables, not 50. hee hee
Kiyo 到此一游 @ 8:49 PM

Tuesday, October 02, 2007
*~*~*~*~*
drinking this...
it seems like...
it's not working hahahah
don't know about the collagen content, but the taste is hmmm...AVERAGE.
Tenseup is definitely better. But of course a bottle of tenseup is at least 50 times more expensive than this.
Kiyo 到此一游 @ 10:04 PM