Tuesday, January 31, 2006
*~*~*~*~*~*~*~*~*~*~*~*~*~*~
So How did you spend your CNY?

Oh great! I dont have to work tomorrow! I can go for my hair treatment, facial, shopping, gym.. ANYTHING!!

So what did I do on the first day.. hm... Relatives came over to HQ (yesh.. my house is their headquaters) to have lunch and some chat. Few cousins came. I only saw one and I'm older than her. I'm the Oldest among those UNMARRIED ones.
TSK*
It's getting quite stressful and a bit paiseh to get ang pows from them. Had my feasts of pineapple tarts too.. ooh.. My favourites. I finished one tin even before Chinese New Year starts.
Seriously NO JOKE. 时新 has the best pineapple tarts EVER. And you cant get it in Singapore. BAH! hahah. My aunt on my mum's side gives us a nice hamper every year. =D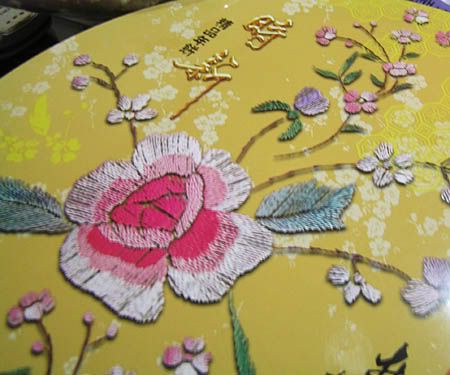 Dis oso Buey Pai Jia..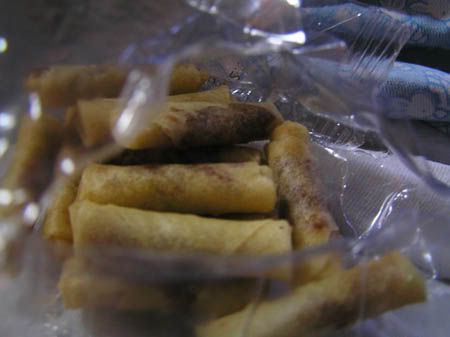 Went over to Johor after lunch with Darren to his house. Yeah.. His mum stays in JB and the customs were HELL. There's no QUEUE!!! Everybody were in GROUPS! Gosh.. I was trapped between a man whose haversack was in my stomach and an Auntie who kept rubbing her box of Kams against my leg.

It stayed that way for 1 hour, Mind you.

I wore my pink watch (4 bucks from BKK) with my pink tee and pink PUMA! hahah. It's Pink Panther Day.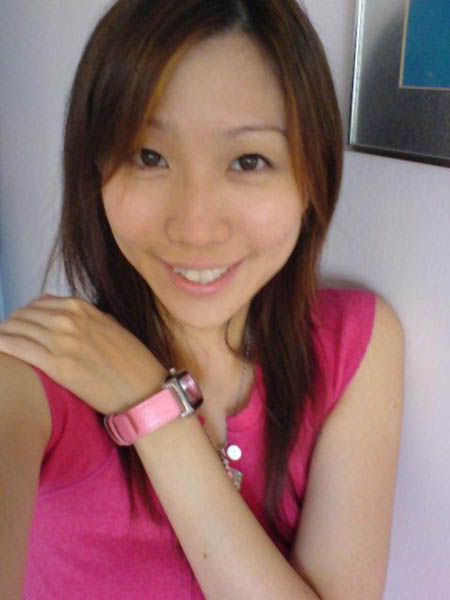 Came back to Singapore after 2 hrs cos it seems like it's going to rain. Watched movies and lazed around in his Yishun home after that.. What a fine day it was, really enjoyed the time with him. He always makes me laugh.

~~~~~~~~~~~~~~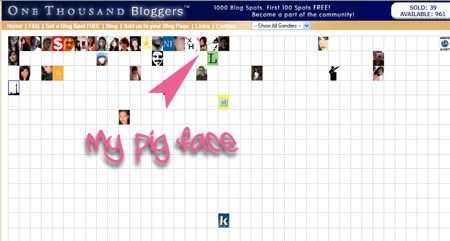 You are not looking at the Layout map of some
TEMPLE/Obituary
Page or wat.
This is a site for One thousand Bloggers.
Saw ppm online and she told me she read in blackhighheels about this interesting site. So we decided to register, FREEEee one worzzz
(for 1st 100 pple)
, And can choose your FAVOURITE SPOT neh! Our
Mai Tu Liao
character subconsciously crept up on us and yeah! we are on it now.
Chose a piggy picture of myself cos it is something that represents me.. at least for now. PIGGING out during the Chinese New year.
I sit in Room 18. In case you cant spot me.. Why 18 you may ask.. 11 was my first choice cos ppm asked me to be her neighbour, but somebody's hands were faster than mine so I got my 2nd choice! No. 18.
十八的姑娘一朵花啊。。一...朵...花 ~
-_- !!
Sometimes, you just have to humour yourself to make your days better.
I have neighbours like
i-am-antisocial-fuck-off.blogspot.com
in
Room 19
&
unknown-to-you.blogspot.com
in
Room 17.Hello there!!
Konichiwa!!
Ani a se o~!!
Read my neighbours~ =)
Went to Balcony yesterday night.. had fun! Pawtoes later!
Kiyo 到此一游 @ 9:45 PM

Sunday, January 29, 2006
*~*~*~*~*~*~*~*~*~*~*~*~*~*~
小小灯笼,高高挂
Cute hor....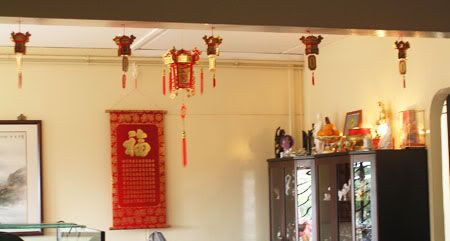 My house looks like a restaurant now. Great. Dis is what I call New Year.
~~~~~~~~~~~~~~~
Last Minute Shopping!!
Finally Darren met me yesterday for some serious shopping~ He need to get a pair of basketball shoes cos his was really torn and tattered. He paid only 4 bucks for them as he has vouchers!
I bought a pair of sneakers too! It's not the newest design but I really love the colour.. Very cheery, just in time for the festive season.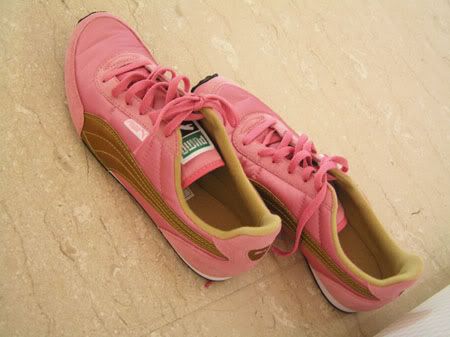 Bought a phone! Met Darren at 11.30 am and we waited for 1.5 hours before it was our turn to get my phone. -_- I have been surviving on Darren's spare hp since my Samsung E700A died on me 3 weeks ago. Waited at M1 for about 1.5 hours before it's our turn.. I think they felt that everybody was a little bored waiting so they decided to invite their special guest, Mr 财神爷 and some 仙姑s to distribute chocos. At least it kept me entertained...
for a while
..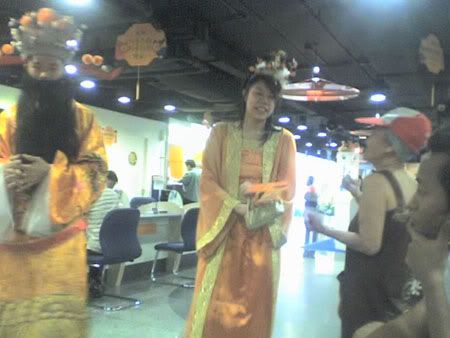 Pics from Darren's Motorola L6

I thought usually 财神爷 dresses in Red? Cannot hor..
Red = Singtel
(opponent's colour)
So.. even 仙姑s must come in Orange.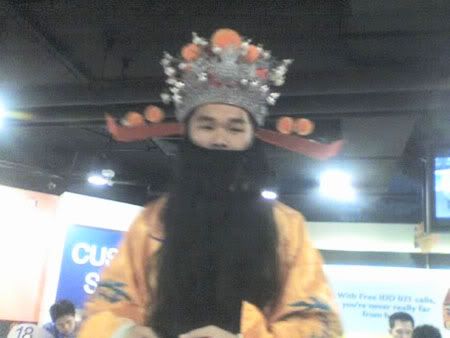 I got Sony Ericsson k750i~ It's not da pretty pretty kind but it's jam-packed with functions. 2 mega pixel camera!! hohoho...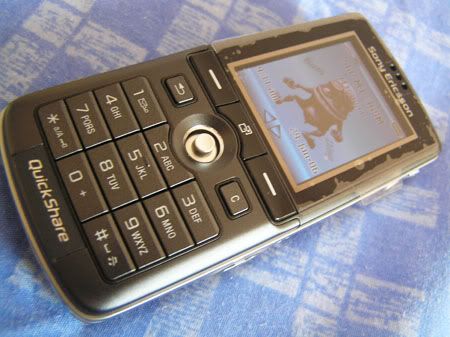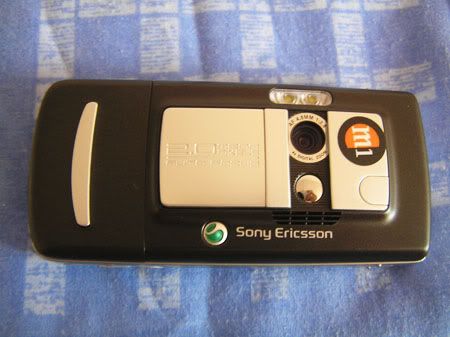 With photolight and an additional Flash attachment too! wahahha.
Dis is taken using my hp cam.. Better than my Samsung! When there's enough lighting, it acts as a really decent camera.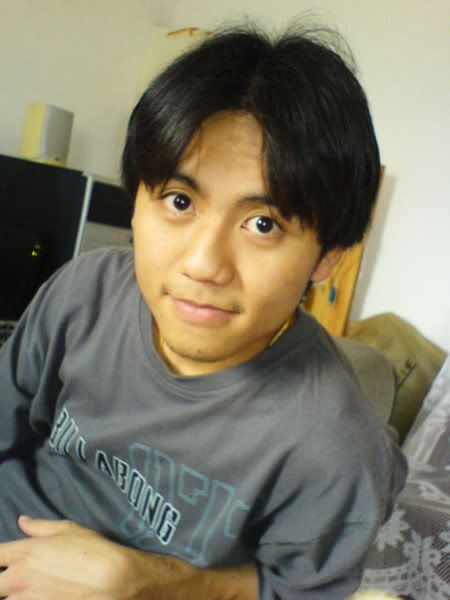 Dis is what happens when the photolight isnt used...slightly grainy but good enuff for me! See the retro curtains? That's my retro looking curtains for the New Year chosen by my mum -_-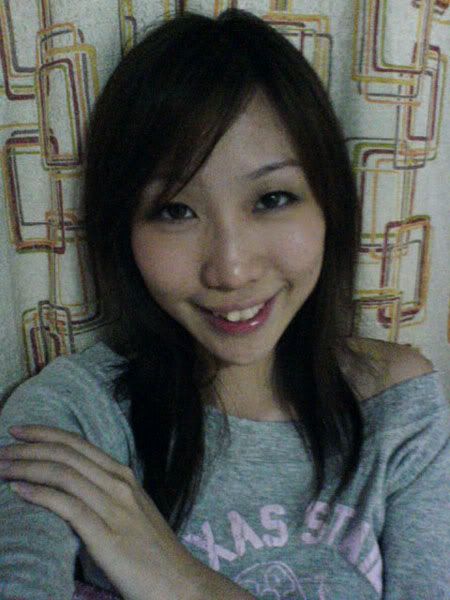 I need Beep (pussycat dolls) mp3! anybody has it?
Kiyo 到此一游 @ 11:34 PM

Friday, January 27, 2006
*~*~*~*~*~*~*~*~*~*~*~*~*~*~
Yesterday was a nightmare.
5 of us were standing on a small square platform dancing.
I seriously dont call that dancing.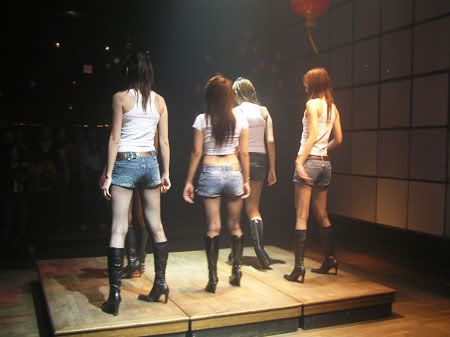 It's better known as
Lang Gah.
you know...You
Lang Gah
me, I
Lang Gah
you?
People were still cheering at the start of the dance.. but mid way.. i only can feel stares, stares and more stares.
Winston still had the cheek to say .."no wat.. no difference to other performances you guys had :p" arggggh...皮很痒 right.
(yesh.. wat he meant was that past performances were equally AS Bad, so he didnt see any difference to it -_-)
DoubleO management insist on NOT removing that platform as it was too much of a trouble.
Wat to do?
We had a fun time posing though.. before the performance that is. Think our ultimate aim is to take peektures. We had a new member in the group, Sophia. She will be officially in the team after CNY. Hooray!! We seriously need more people~
Winston and Jeff. I think this must be the 2nd or 3rd time watching us perform
(the same thing)
so we appreciated that.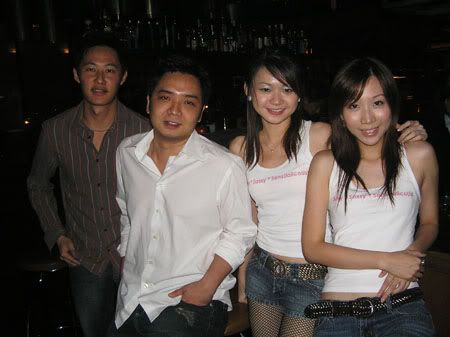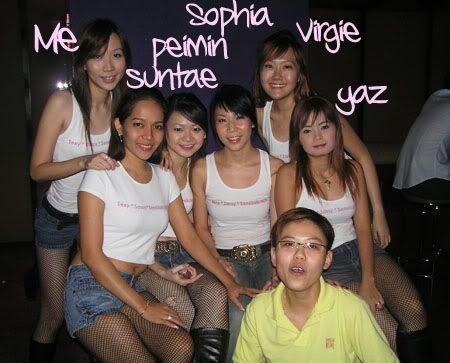 Suntae (I hope the spelling is correct) is from Bangkok!! On vacation in Singapore for 2 weeks. She was asked to make a guest appearance for SJ. She is fast at learning Pole Dancing, real good. Next time we shall get her to show us the good shopping places in bkk hohoho.
More Pictures...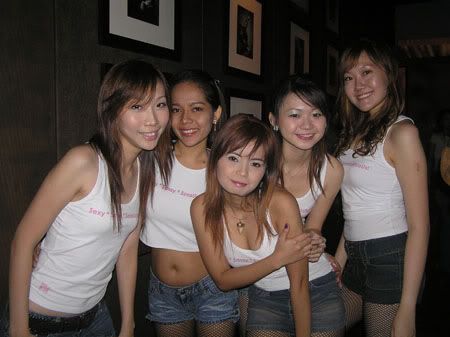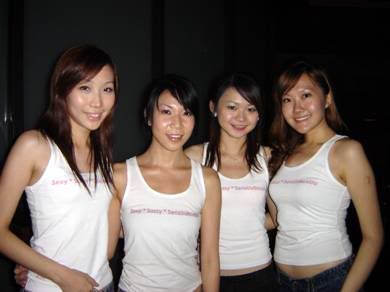 This is the nicest photo we've taken together!! really!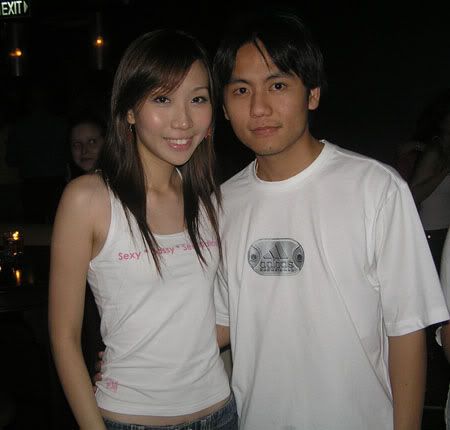 ....
....
....
If not for the ghastly human head with white eyeballs popping over my shoulder...Look again.
*X files music in the background* de de de de de deeeee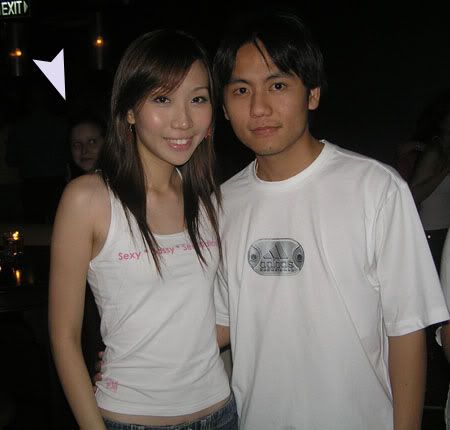 Eeeks!
It totally freaked me out when I first noticed that yesterday night.
But this is
NOT
a Singapore Paranormal Activities kinda photo hor... that IS a human. It's just the lighting, or the lack of it that made her eyeballs turn white.....
I HOPE
.
Oh.. and my eye makeup for the night is...

Spring Heart lashes were shorter, more natural but it did enhance my own!
I really cant wait till tomorrow.. cos I'm going to get a new phone! My first Sony Ericsson with 2.0 megapixel camera~
Kiyo 到此一游 @ 10:30 PM

Wednesday, January 25, 2006
*~*~*~*~*~*~*~*~*~*~*~*~*~*~
I'm planning another trip with mummy. Want to spend more time with her.
I'm still thinking of whether to visit Taiwan
(which my mum has been there and I havnt)
or Japan
(which I have been there and my mum hasnt)

I seriously prefer Japan. Can imagine myself going crazy in their pharmacy sweeping off racks and racks of interesting looking blotters, cosmetics and stuff.
Oooo..
But taiwan carries alot of Japan stuff too and cheaper!... hmm.....
Anyway, it's only January now.. hope I can take some time off in April for their sakuras~ & onsens keke.
Taiwan have sakuras too, or so I've heard.
--------------------
My Eyes

are shining,

The Crown

is sparkling, I lurve my

Bling Blings

!!
Got dis fetish for crowns lately.. i have this fetish quite some time back but was just too lazy to go actively search for them.
Finally I found one at the bugis shopping cart!! Just simply adore it..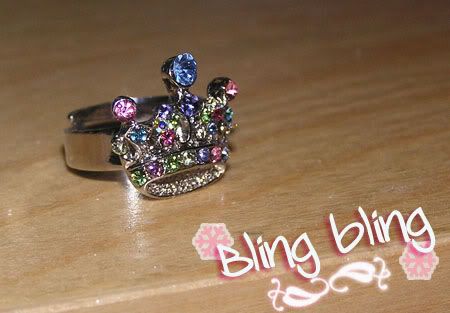 It's sitting on my fingers now. Picture doesnt do justice to the real thing.



I got a necklace to team the ring! Ordered from Juzkorea, a colleague of Hamster. Cost only 10 bucks and I received my package today!!
Goes well with plain tees for the American Sweetie Pie look~
Will give her a good rating later on her auction site.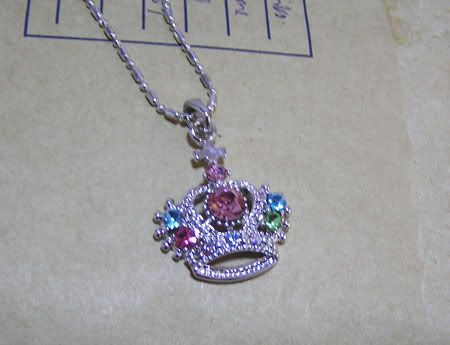 They match perfectly... =) But most prob I will team them up separately. I dun wanna be too overwhelm with crowns.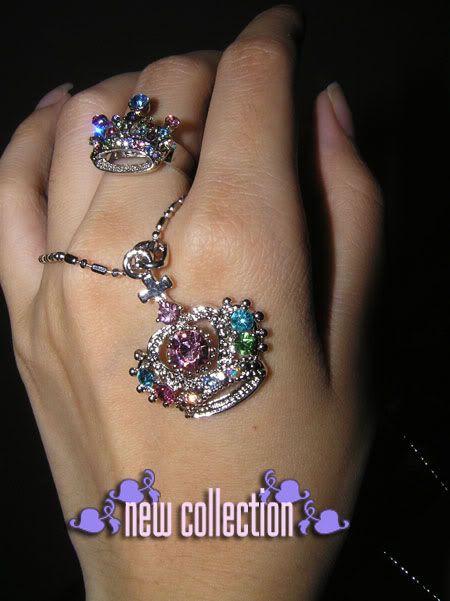 New falsies that i'm going to try later~ Got them at Basic Beauty and they look really natural.
the eyelashes were very soft to the touch unlike some from Sasa. If this is good, I may just switch from Beauty Perfect brand to this. I'm one step closer to mastering the art of putting falsies.. It's the craze now! even the glue is out of stock. Anyway, will bring my glue later to the studio and we shall have a mini falsies info exchange session. Virginia & Ppm will join in the league as well.. hee hee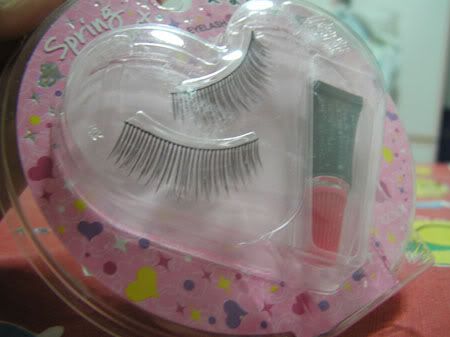 I'm so darn tired today... Sleep is never enough.
And it's Double O later for the Sensualicious Night. But it should be fun!
Kiyo 到此一游 @ 7:23 PM

Monday, January 23, 2006
*~*~*~*~*~*~*~*~*~*~*~*~*~*~
櫻櫻美代子
Dis morning while my mum was watching a segment introducing japanese companies on zao an ni hao,
she said in a serious tone..
"Your japanese name hor.. should be 櫻櫻美代子"


(pronouced as ying ying mei dai zi)



i was like heh?! with my eyes overturned trying to comprehend why she is interested in Japanese names all of a sudden.
"Eng Eng boh dai ji...."
-_-'''
When did my mum learn how to suan people...
hur hur hur...
Yesterday was in a terrible mood, wanted to go on a shopping spree.
Wanted to get a phone.. really tired of using Darren's spare one. The response is SLOW, takes at least 5 mins to start up and the keypad is HORRIBLE. But it still has a $100 trade-in value?? M1 is sooo kind.
Dint manage to get a new phone anyway.. (but have aimed what I wanted) will definitely get it before chinese new year! cos i spent almost 2 hours at the small OZOC boutique at Wisma. They were having a great sale. 10 to 60% on selected items and an additional 30% (ADDITIONAL hor) off your total bill if you bought 3 or more.
Of course I bought 3.
30% leh... It's not everyday you get that.
I reckon yesterday was a GOOD Day.
~~~~~~~~~~~~~~~~
2 weeks ago....
Virgie n I went to support the Youths at the Anti-smoking Campaign for their performance.
I'm really in a Falsies Craze lately and decided that dis shall be the day to try them for the 1st time! Have been practising at home for several times too!

Technical Note
: Side A I stuck on the whole piece, Side B I cut into 3 portions. But I find it quite unnatural.. Although kelvin lao shi said that it should be easier and more natural to do the latter.. The glue that came with it didnt stay and I took them off after 4 hours. I got a better glue from Spring Heart from Sasa!
The event!!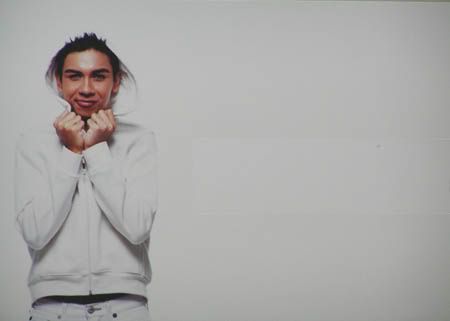 2nd time i saw him in person. First time was some Samsung event..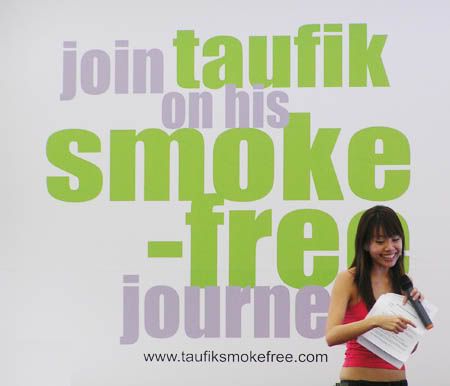 lurve dis photo..although she wasnt looking at my way she looks really prettie in real person!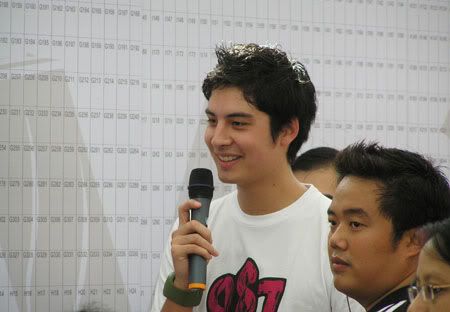 Cant remember what's his name, he's quite cute too..
Me at our booth! it was rather hot that day and alot of people were there to support their idol~ Taufik..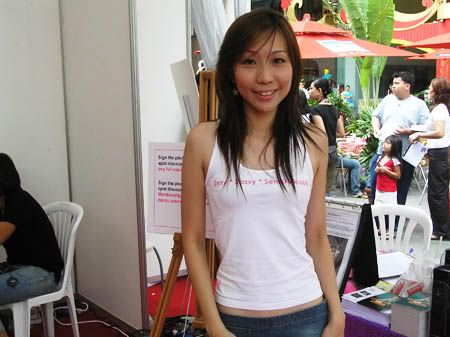 Virgie was the earliest.. reached at about 12 noon and the others came only at about 2? I came even later.. about 3 plus?? keke.. 辛苦了!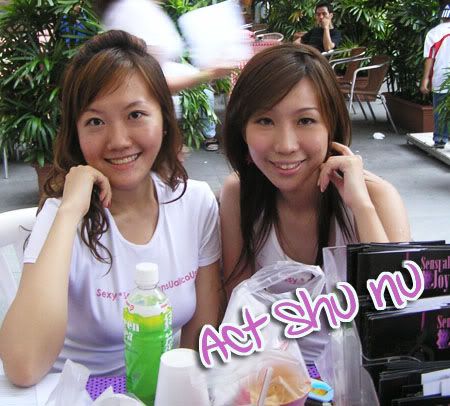 We realised there were nothing much we could do so decided to take a walk inside PS to enjoy the aircon and do a little of early PRE CNY shopping. We both found a watch that we lurved! and only 9 bucks! so of course
mai tu liao
!!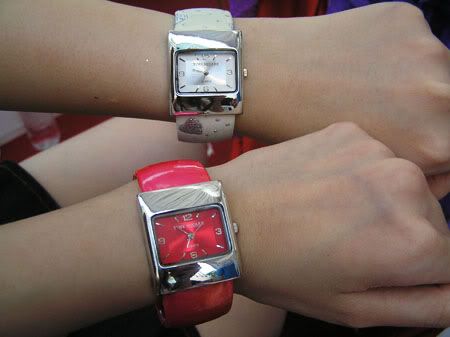 But when we went back to the booth, Gen told us she saw similar ones going for $6 bucks at Chinatown.. *tsk* haha
Anyway.. the watch stop when I reached home -_-... haizz... it's working fine now cos I went down to get the battery changed.
The youths arrive... at about 7...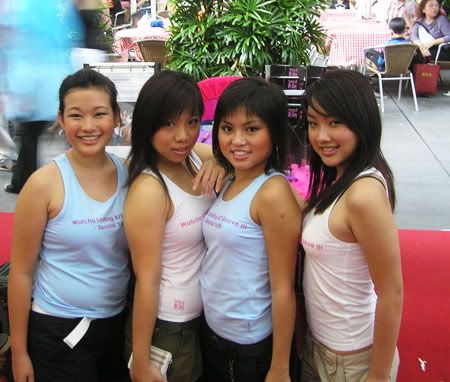 they are really full of energy and very lively. really bubbly gals =)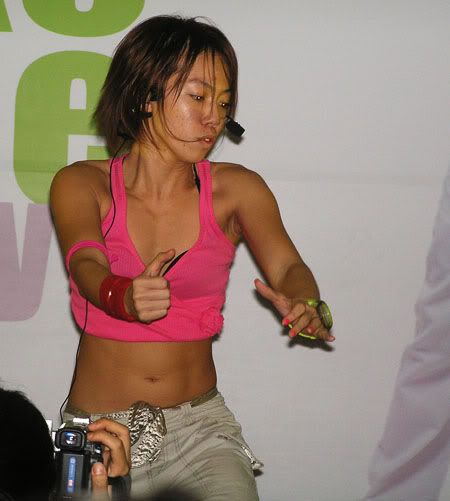 Amore fitness put up a demo of hip hop by their fitness instructors... She was really high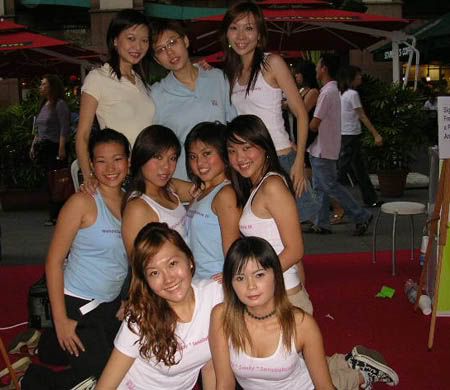 Right before their show time .. our group of gals!!
They were great!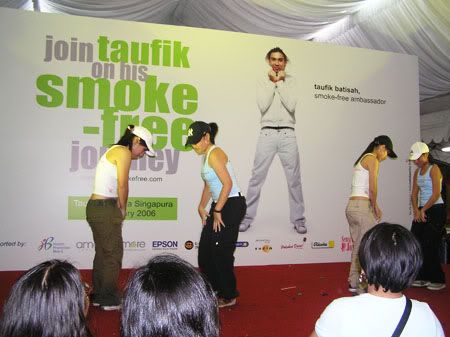 nian qing zhen hao...
Kiyo 到此一游 @ 9:42 PM

Saturday, January 21, 2006
*~*~*~*~*~*~*~*~*~*~*~*~*~*~
I havnt done any CNY shopping!!
I havnt done any CNY cleaning either~
Gosh~ Think dis weekend I will just rush down to OZOC and get a top to go with my jeans.
Do I foresee another 100 odd bucks gone? Yes I do..
I want to get so many things!
Wish list
1) Ionity hair dryer (any brand but good ones cost about 100 odd)
2) Ultrasonic beauty machine (another 100.. get from taiwan)
3) More Crown Accessories (Post next week! my new found hobby!)
I got an email from Photobucket to inform me that my bandwidth has exceeded 2000mb. And if it exceeds 2500, all the pictures in my blog would be GONE till the next month when it resets itself.
I have another 10 more days to go.. Please dont do this to me...
~~~~~~~~~~~~~~~~~
Bangkok Travelogue IV, V and Loots!!
Chatuchak again!
Couldnt take the fact I didnt get anything from Chatuchak so I dragged Darren to go again!
Bought more stuff like casual tees and oso a pair of fake birkis, slippers for my mum, cheapo watch, belt and some earrings!. It's my 大丰收 DAY!!
Read on the newspaper that Chatuchak may close due to some rental issues.. I really hope not. It's still the best place for shopping. Not for clothes, especially accessories, bags and shoes!
But before that, we went to Erawan Shrine to pray for happiness, prosperity, and progress for our nation,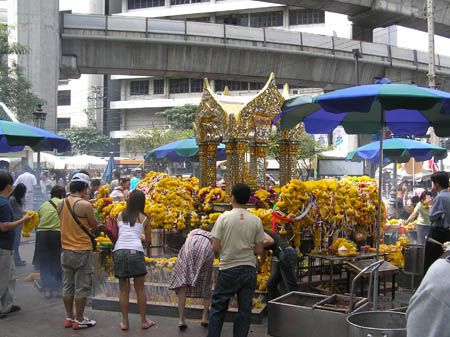 chey~
I prayed for happiness and good health =D for Darren, my friends and family. I always believe good health is more important than anything else.
I had always been a sick kid...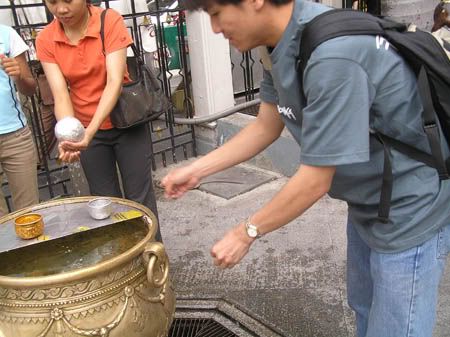 Went to Isetan to grab lingeries! Isetan is opposite our hotel and I didnt have time to visit it until Sunday. It's only good for stocking up lingeries and Zen Restaurant is there as well~.. keke.
Saw alot of singaporeans grabbing in 10s or 20s machiam free lidat. But it's real cheap! Each tiny piece of that garment can cost up to 70 bucks in Singapore and in BKK, it is only going for like 20 odd 30?
Back to Chatuchak~ no interesting pawtoes except this signboard that I saw while I was busy shopping...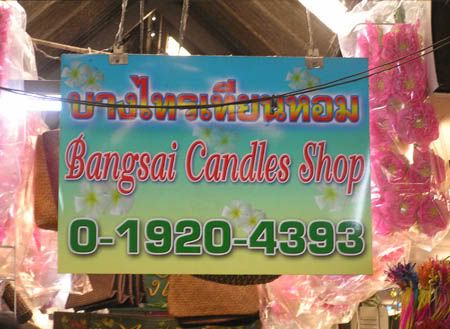 Bangsai candles shop.
Bangsai?!?
To me.. it is...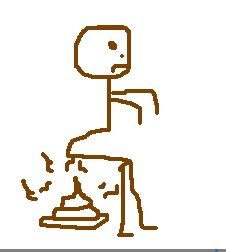 Yeah.. he is rather upset cos he's having constipation..
A search on the internet, they have Bangsai Country Club, Bangsai Golf Course, Bangsai Arts and Craft Center, Bangsai Group...-_-
I think it's a name of a location? Just sounds funny to a non-local like me..Sheesh, I'm shallow!
Bangsai candles shop have nice candles, really.
We had Dinner at Zen Restaurant again! Yaki Udon!
Dis is how he smile when I asked him to.. TSK* SO RELUCTANT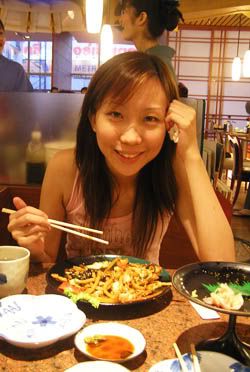 Eeeks! No eyebrows!
Went to Suan Lum at Night. It's a very big place and we didnt cover every inch of it cos Darren was yawning away.. haha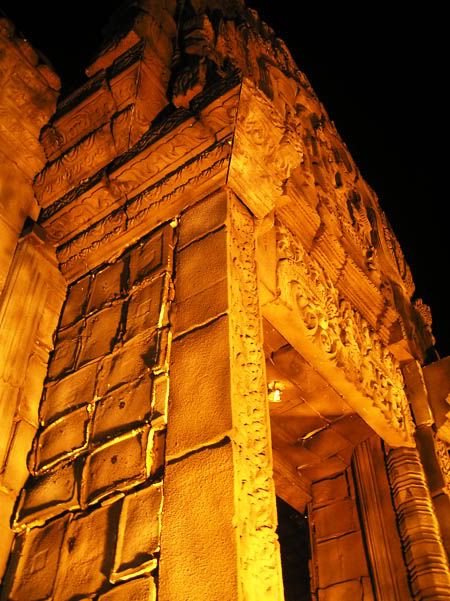 Darren was suffering from a lack of sleep after I dragged him up everyday to eat the breakfast before we went for our shopping. So we decided to sleep in and check out at 1pm on the last day! Arnoma hotel has been great~ Rooms are not that fantastic but everything is clean. Service is very prompt but we didnt use their jacuzzi or other hotel facilities cos we went out too early and came back too late.
Check out! went to
Soi Thonglor @ Sukumwit Soi 55
. I lurve to pronounce
Sukumwit
.. the wit drags to a higher tone and sounds really cute.. Click
- HERE -
to listen how to pronouce the places in Thai.. keke Very cute worzz
Sukumwit soi 55 is said to be a place where models, graphic or fashion designers hang out with alot of upmarket living for the ang mos around that area. Along that street lies posh restaurants that looked really expensive from the outside, trendy cafes too.
There's a shop by the name of Playground! along that stretch. It's a 3 storey concept store which carries both local and international designer brands and alot of retro and unique furnishings as well. Quite overpriced, I would say. I saw one chair from Ikea -_-. But some stuff ARE UNIQUE!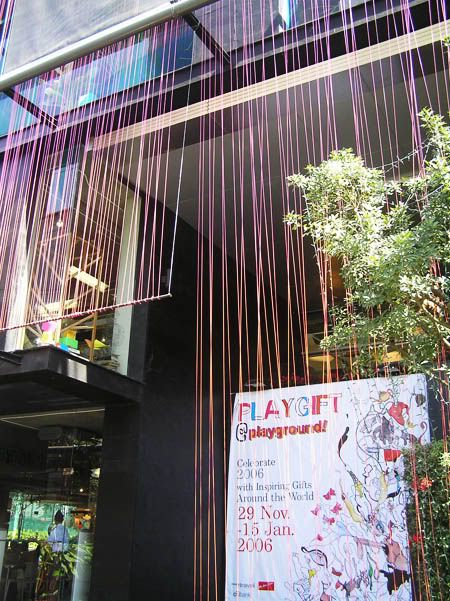 The security guard reminded us NO pictures please.. so I kept my camera.. Here's some pictures off the net. I found some pictures on Multiply taken by Singaporeans too. Wonder how did they manage to take pictures inside! I very kia si wan..
PHOTO TAKEN FROM BANGKOK RECORDER WEBBIE
They have XXXL size bean bag cushions there in the center..with a wide selection of magazines and design books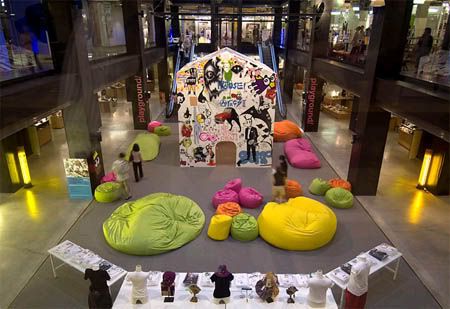 Photo taken from NY Times.
Chunky keychains at SGD 60 bucks, Clothes range from $60 to few hundreds. Shoes at about $200 plus.. very nice though..If you dont have much to spend, They have a Starbucks cafe, good for chilling out and people watching and another nice cafe for some cakes and coffee too on the 3rd level.
My LOot!! at last...Nutting much though.. casual tees and shoes..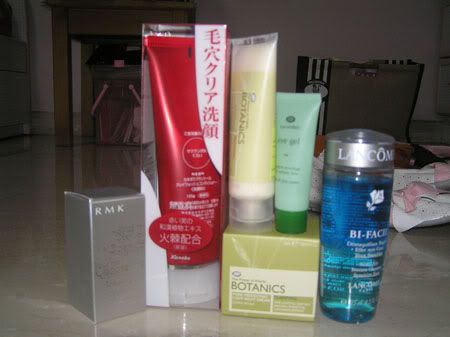 My RMK foundation.. it's really good!! Lurve it! And botanics mask and night cream from BOOTS~ the pore perfecting night cream which contains BHA is very light and good. Lurve that too! But pity that Singapore dont carry it at all..
A bag from Naraya for Mummy!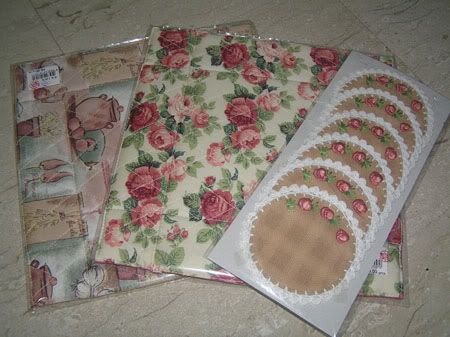 Coasters and Cloth Boxes
And Presenting...
My accessories TREE!!
Rather messy now~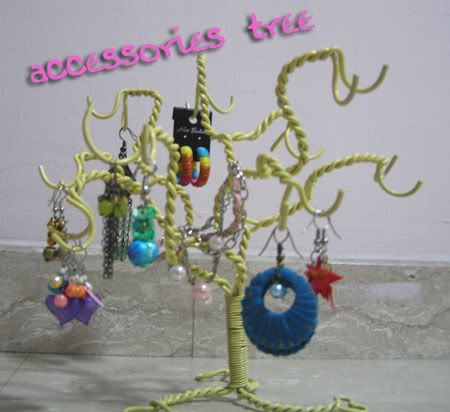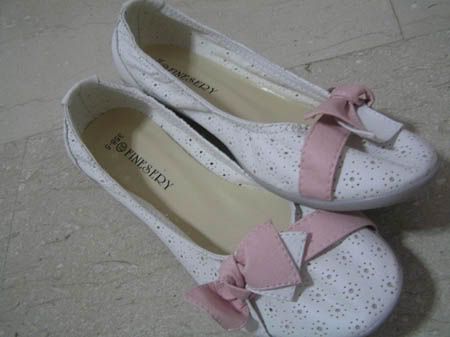 Shucks! I deleted the photo of my Casual Tees... argghhh..
Dat's all I guess.. not alot hor..
Kiyo 到此一游 @ 10:52 PM