Tuesday, July 26, 2005
*~*~*~*~*~*~*~*~*~*~*~*~*~*~
Just helped my dad register as a relief teacher in the MOE system.
He received a letter from MOE asking him to apply as a relief teacher and he decided to go for it
(since he has nothing betta to do at home)
Sometimes, it can be so funny to watch him use computer, cos he totally forgotten how to use it and kept pointing to the keyboard and asking me what is this button, or exclaimed in a very gan cheongly manner "wait wait wait...than what is this button"
(n he points to the same button again which I explained just mins ago)

Throughout the whole registration, there was one part that really turned me off. We were supposed to enter his last employment period
(which was really donkey years ago)
and they dont allow me to type in the date! They forced me to use that pop-up calender!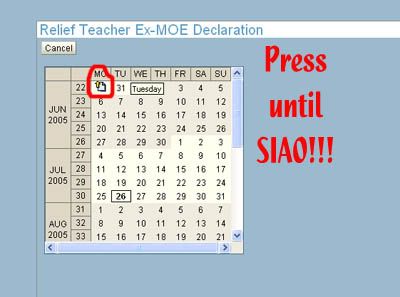 He was first recruited as a teacher in
1962
..Wah liew... which was like 40 ODD YEARS back and I need to press that STEWPID arrow so many times in order to get me to 1962's calender. Why cant they just let me input the date manually!?! sheesh..
There was another section that required us to key in his O level results... so I knew something more about my dad.. something like...he had to sit twice for his O levels cos he didnt pass his English on his first try. I was like "hur hur.. u didnt do very well either."
(in my mind of course)
but i thought his other subjects were pretty good enough cos it should be quite difficult to study given their conditions then.
Than the hao lian part came..
(now i noe where my sister's hao lian characteristics come from)..
he showed me his primary school report book very proudly and asked me to look at the last column which showed his class position..
"你有没有看到。。。"
he said
"WAH...."
cos he topped the class for the first 3 semesters.. hahah
And so i am supposed to teach him how to use microsoft word, excel some day
"when I'm free"
he said. I can foresee how long it will take me to teach him and I CONFIRM, GUARANTEE plus CHOP he will ask me
"wat's dat button for huh.."...
-_-
That's why I say.. I am not cut out to be a teacher.. Sometimes, when my bf or tuition kids
(i used to teach tuition when I was in uni)
asked me some questions and after several explanations, if they still couldnt understand what i am talking about....
my voice will increase in volume
(as if the louder I go, the better their brains will hear me).
I love kids ... and I think primary ONEs are so000 cute.. , i guess if one kid cries and comes up to me and "tdeh"a bit, i think i will melt and 'sayang' the kid which i think teachers arnt supposed to do that. haha But then... if
40 kids
cry at the same time.. I think i will pull all my hair out man..
So.. that's why I cant be a teacher.
See.. cute wat right? (although not Pri one la..)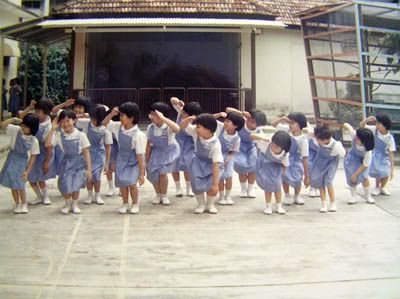 Who's dat hiao po huh... everybody face the side, only she face in front.. -_-''
cant remember her name!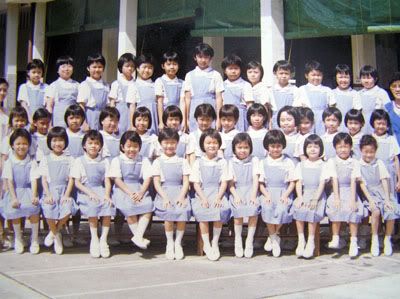 Kiyo 到此一游 @ 10:43 PM