Wednesday, February 28, 2007
*~*~*~*~*~*~*~*~*~*~*~*~*~*~
I'm slightly better.. that explains the blogging now..
had a great weekend, that explains why i was sick in the first place. haha ate too much! We had our 团拜 to Guocong's house and met up with alot of old friends from University. 团拜 is our routine geyao activity whereby each lunar new year, we will form a group and go around visiting. But this was the first year i joined =___=.. oopzz
Nice house guocong got at queenstown area. I thought the landscape was pretty good!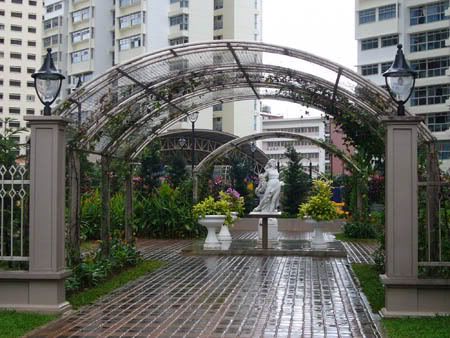 Cong lives on the 15th floor.. my future house will be 15th floor too..kinda scary when i stand near the window. Just not used to staying on high floors..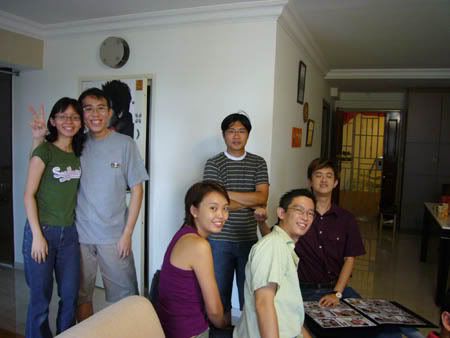 Had a fun time watching his wedding video and meeting uni fren's hubbies and wifey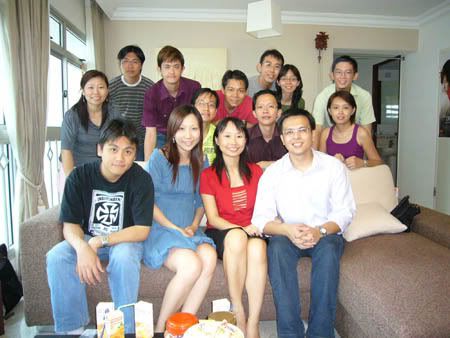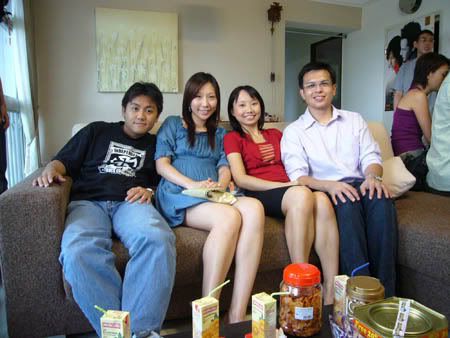 Darren, me, liyun and hubby
Sunday had a lovely dinner at the Soup Restaurant with Darren's friends celebrating Ken's birthday.
Yummiz... =D and karaoke after that!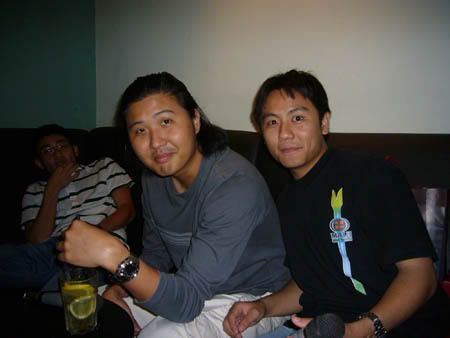 Monday & Tuesday we had a good CNY company lunch with lohei and ALOT of food..oh yah, not forgetting.. red wine during office hours.. ooopzz!
my big boss and colleague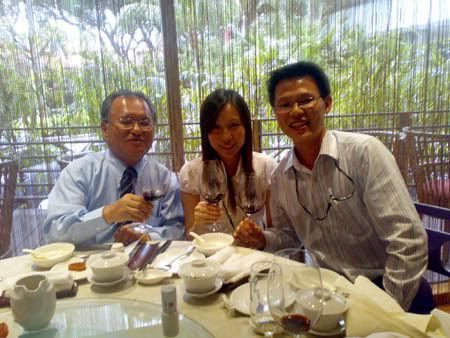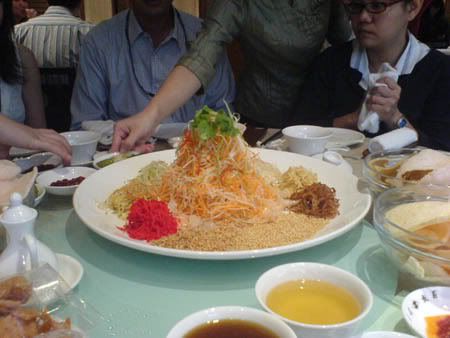 yummiz yu sheng for 2 days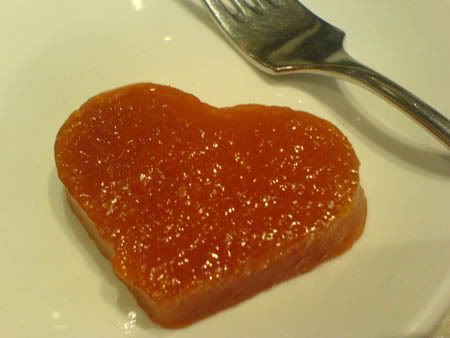 nian gao in heart shape
Saturday morning is the time to source out my ROM gown. Although the bridal studio provides one FOC, I believe it's good to have some backup and a long gown since my ROM location has high ceilings. Hopefully the gowns at justgowns.biz is as good as their pictures!
Excited!
Kiyo 到此一游 @ 9:55 PM

Monday, February 26, 2007
*~*~*~*~*~*~*~*~*~*~*~*~*~*~
haizz
sick liao... again. Decided to skip classes today cos stomach was really pain while walking to class. Spasms in my intestines..
老毛病.. Maybe..
1. Eat too much heaty food?
2. Sleep too late?
3. Didn't drink enough water?
or
4. Guilty of all the items mentioned above. I think it's number 4. =(
Just don't know what is wrong with my stomach. On and off always giving me problems since young. argghh..
wish myself 'a speedy recovery'.
Kiyo 到此一游 @ 9:58 PM

Friday, February 23, 2007
*~*~*~*~*~*~*~*~*~*~*~*~*~*~
Clarke Quay Central
Think I must be the
sua-gu
one here cos I found 2 good shops in The Central @ cLarke Quay that I want to rave about! (even though they are opened quite some time back =__=)
1. The Kiss (at Level 1)
Just totally fell in love with their jewellery pieces from Japan. They have mostly silver pieces, some white gold and platinum couple rings, bangles, necklaces, EVERYTHING a couple wants. They are good to give as gifts too! Their silver is not cheap.. comparable to Tiffany I feel but designs are nice.
~ the kiss ~
We saw the 18k white gold wedding band collections. gosh, they are expensive. =( Lee Hwa is so much cheaper.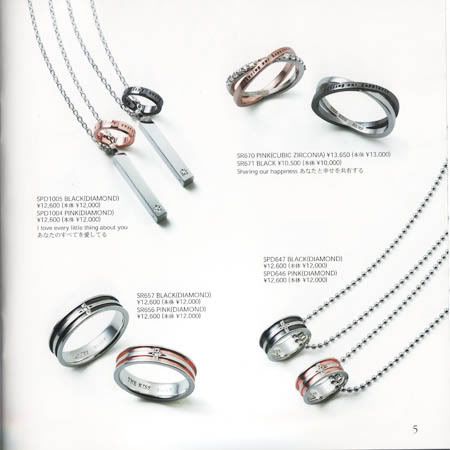 Some of their silver collections from their catalogue. Most couple bands and pendants have some engraving like 'eternal love' or something like that. But some english phrases were abit.. =___=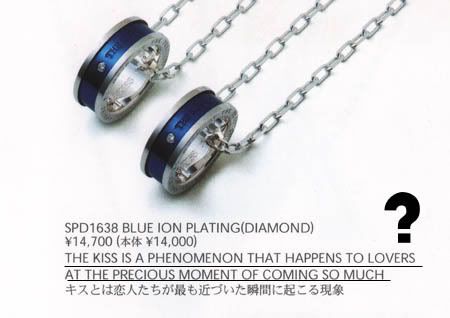 coming so much of wat?
We may be getting a lock and key necklace. it's realli nice..ha!
2. Nipponya
My haven.. a place where I can cure my cravings for Japan style biscuits usually bought as
omiyages
. Now, one doesnt need to travel to Japan to get souvenirs! you can just get them here in singapore.. gosh..can even buy the white chocolate biscuits from Odaiba. Anyway I bought one box just now... couldnt resist the temptation.
the lovely white choco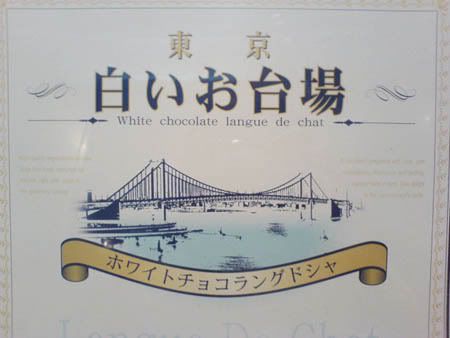 enjoy the weekends! good rest after cny =)
Kiyo 到此一游 @ 11:57 PM

Thursday, February 22, 2007
*~*~*~*~*~*~*~*~*~*~*~*~*~*~
In search of our perfect bands!!
Really excited about this cos the wedding band has been worn as a symbol of marriage for many centuries. It's something very significant to every couple, and I feel the rings reinforce the vows that were exchanged..To make it more meaningful, he will buy my wedding band and I will buy his wedding band =)
Something I found on the internet to share.
The Exchanging of Rings Ceremony is the most common ritual performed at marriage ceremonies. The Bride and Groom, after stating vows to the other, exchange a ring. The ring, which is a complete circle with no break and no end or beginning, which means that it just goes on and on eternally. And, since folklore has it that the fourth finger of the left hand has a vein leading directly to the heart, it is only natural that both engagement and wedding rings would be worn on this particular finger, which was once reputed to be a direct route to the heart.

we went wedding band shopping on Chu 3 and yesterday too. We went to almost every reputable jeweler to check out their wedding collections!

Was still deciding whether I want a thin or thick band. hmmm...

Thick bands can be nice as you can engrave wordings or dates in the internal side of the ring but some thin bands can look very elegant and classy too. We initially wanted a pair of matching bands so that it is more meaningful but the kinds he like are very manly (kinda square type). It's really prettie difficult to find a pair that we both like, so we decide to mix and match. It's something we gonna wear everyday, we have to lurve it, right? lol

Love this ring from the destinee range with half circle diamonds!



have some lee hwa points to offset the price..

We went to the more upmarket boutiques (tiffany and cartier). Must say that Tiffany's service is great! The SA even thanked me so politely for my time to come down just to TRY their rings..(there's not one hint of sarcasm, a simple, genuine "thank you for coming down..." that kind of thing) wahhhhhhh... not the typical "u-dont-buy-from-me, i-give-me-buay-song-face" that kind. keke

Saw one angmo beside me looking at a piece of rock in his hand (yeah, it's a rock) and the Sales Person was saying it is 2 carat and cost S$34,900.
=___=

For a moment, i let out a "silent-fwah!" expression wahhaha. Can buy a cherry QQ car aledi. =p

can't afford those anyway, freaking expensive!

he likes this from cartier in white gold..


Gonna decide this weekend as there's no time to lose. if customization is required, it may take another 2 months for it to be ready~

one more day to the weekends, to more band shopping and to chingay parade... town sure bery crowded =(
Kiyo 到此一游 @ 9:06 PM

Tuesday, February 20, 2007
*~*~*~*~*~*~*~*~*~*~*~*~*~*~
Another day to rest
*yippezz!!*
Had a long day yesterday.
Went to JB to visit Darren's mum. Woke up so early and was really tired. Cos we were watching Mo Gong (by Andy Lau) till 3am and woke up at about 9am to catch the bus to JB.
The crowd was scary.. Touts were around asking those queuing up whether they want to go across JB in 5 mins for 10 Sing bucks per person. Really darnz
hor tan
.
We looked at each other, and it was an offer too good to be refused. Last year when we went over, the queue was shorter and I already waited for 1 hour. I think it will take at least 1.5 hours squeezing and pushing before I get my passport chop.
*tsk* we decided to take the easy way out.
paid and then proceeded to the "car"!
10 bucks per person for a short and squeezy ride...
Photos at his house!
It was his mum's birthday and we had a mickey mouse cakie with the family.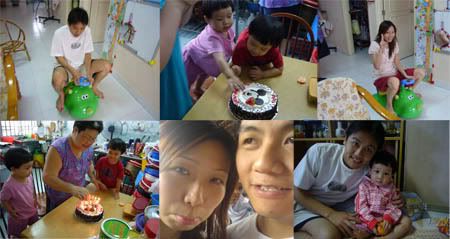 yah.. that's me and him.. trying to relive our childhood!
2 more days to go till the weekend~!
Labels: Celebrations
Kiyo 到此一游 @ 9:50 AM

Saturday, February 17, 2007
*~*~*~*~*~*~*~*~*~*~*~*~*~*~
Happie Chinese New Year!
Wish everybody a prosperous and happie Chinese New Year~
HoRk Ki LAh!
A very good start to the weekend and even a longer weekend to come.
Rest till Thursday. Weeeeeeee.. Best! But will be going to gym tomorrow.
No, no no.. don't use that "ARE YOUR SURE?" eyes to look at me. I'm sure that I will be there first thing on 大年初一 before going back to pig out the lunch with the rest of my relatives.
Had a good start by going to velvet to chill out and dance a little of our fats away.
Some photos to share...
3 lovely ladies..me on a retro mood
swear that i am kissing.. not whistling..
darren very tired.. hahah or bored? hahah
Today we had an early reunion lunch and after that was more shopping and movies at VivoCity! There wasn't alot of people around cos they were most probably at home for the reunion dinner and it was the best time to shop.
Went for an impromtu eyebrow shaping and bought a glitter eyeshadow at Makeup Store. Found my 2nd best eyebrow shaping location! My first choice is Molly from Soh's Salon at Central Mall and I just found out today
Rachel Leong
is very good too. She gave me very naturally arch brows that made me look more awake. Even Darren thought so.
glitter not very obvious but have a nice effect
Twinkle eyeshadow can be used over your normal eyeshadow or alone.. or even over your lipgloss for additional shine =P
Caught the movie,
JUST FOLLOW LAW
.. it is freaking funny larh.. but it's not all about crap and government service, it includes meaningful stuff like filial piety and relationships between people. Overall thumbsup for them! oh yah...and they mentioned about a blog...
the lao zhar bor.blogspot.com
=____=
We keyed in the address just now and REALLI there was something at this blog address.
Yah.. what else.. the lao zhar bo in action =p
Enjoy the long hols ahead!
Kiyo 到此一游 @ 10:00 AM

Friday, February 16, 2007
*~*~*~*~*~*~*~*~*~*~*~*~*~*~
My Valentine.
So busy preparing for Chinese New Year (preparing means throwing away tons and tons of rubbish in my bedroom) that I have no time to blog about V day.
Darren gave me a nice surprise.
Anyway I sort of knew he will make the official proposal to me around Valentine's Day but i was kept in suspense on
how
he was going to do it.
He kept telling me he will propose in a
kopi tiam
, cos it's very special mahhhzz...
=___=.
Luckily he didnt. He asked me to meet at Raffles Place station and told me we are going to a restaurant but didnt specify where. Still kept in suspense which restaurant it was.
Then he walked towards Fullerton.
He said jokingly..
"Behind Fullerton got one kopitiam very nice"
=____=
Tsk. Still harping on the kopitiam.
I nearly got fooled. Thought he wanted to bring me to the boathouse restaurant or something which was nearby.
As we were walking pass the fullerton hotel entrance towards the opposite direction, he suddenly pulled me back and pulled me into the hotel.
He brought me to the Quay-side room he reserved on the Straits Club Floor and we had in-room dining! =D
It was prettie exciting cos i admit that i'm a big
sua-gu
...To me, Fullerton Hotel is the hotel that my MD's boss stays in when he came over to Singapore. hahaha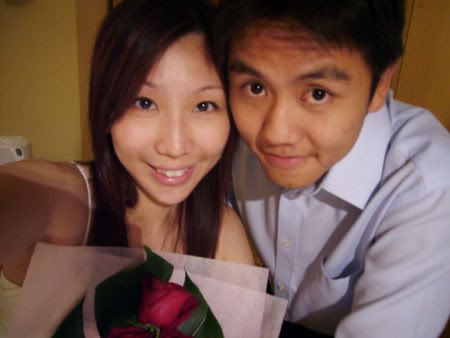 It included a bunch of roses and a free set of bathrobes for us to take home... all nicely packaged. The room was prettie normal but it came with a very big toilet and bathtub~!! How I wish my toilet is like that. I lurve taking long long bathss....They provided candles and 6 selections of bubble baths too.. for guests to immerse in the love bubbles..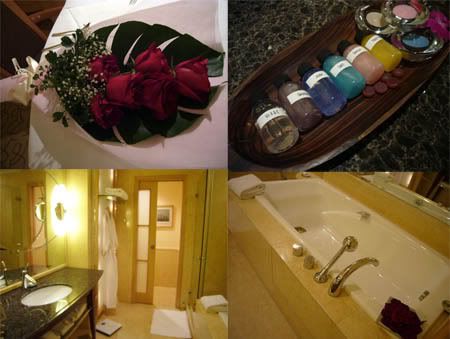 Their bed is superb! Pillows fantastic..
They even had a
pillow menu
where they offer guests "with stiff necks" choices of contour pillows, soft or hard pillows.
(Rich heads so easy to crack meh... )
Guests who are allergic to feathers can choose from their alternatives too. keke. I didnt change nah.. scared kena charged for "SPECIAL" pillows.. Mine is no special head either...hahah But their pillows in the room were really good enough.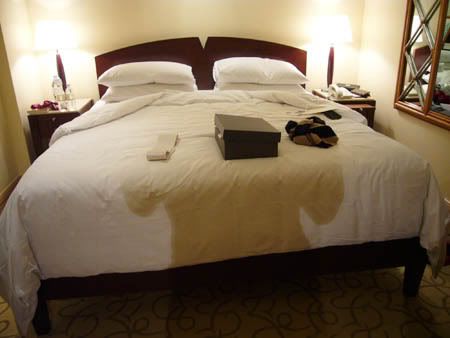 wonder why the bed is so high. My feet couldnt touch the floor when i sat on the edge of the bed.
Food was great .. ultimate fine-dining... Luckily the waiters only placed the food in the room and left after that. Will be so uncomfortable if I cant gobble my food in peace and have somebody staring down at me.
Waiting for the food....too hungry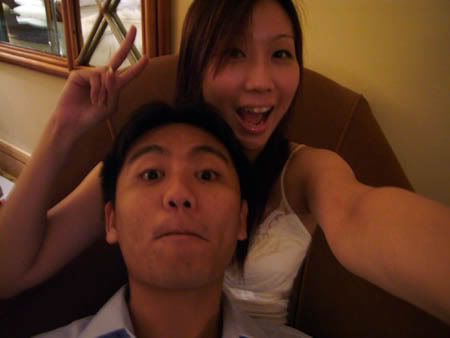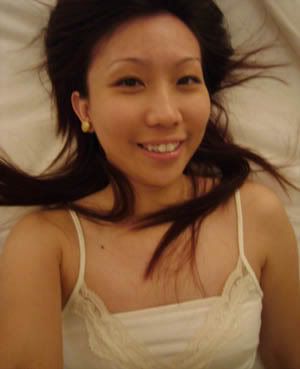 hiao
again~ lalala
The menu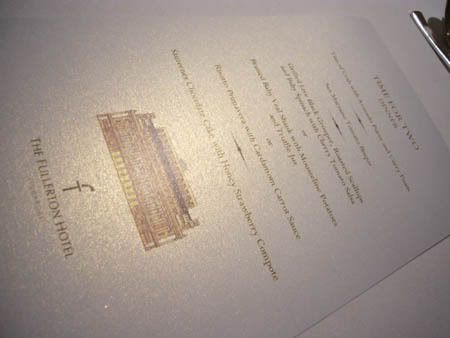 Appetizer!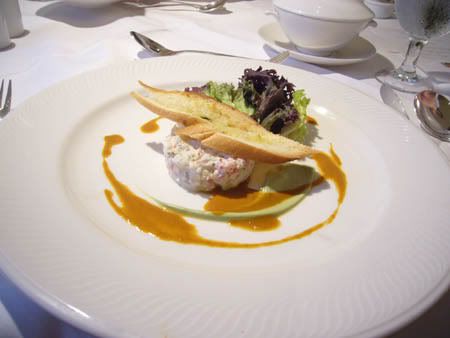 he's laughing like mad cos he thought the appetizer was the main course.. and he felt the portion was realli little =__= then he discovered it was NOT the main course.. he more sua-gu then me. =p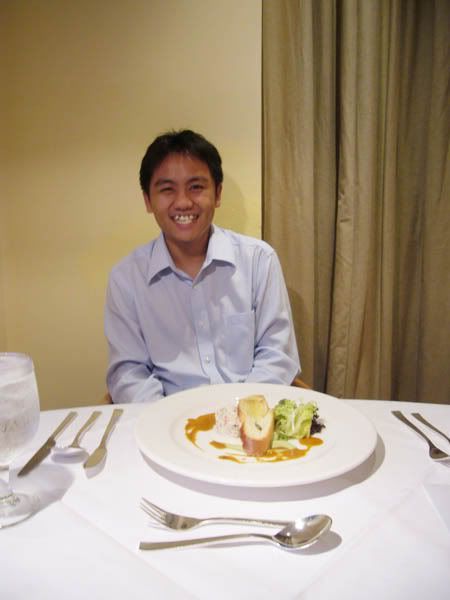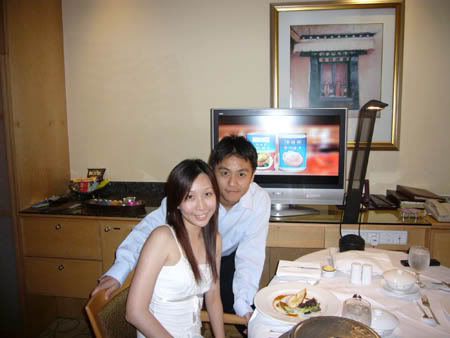 Main Course~ I lurveee the scallops. yummiz !!!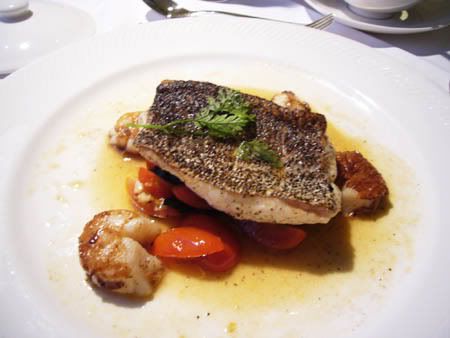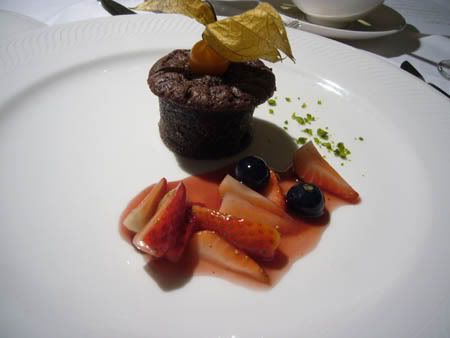 After the dinner, he proposed, with a ring in hand with a bended knee. =). It wasn't very big, but I knew it is from his heart. He just started work only 8 months ago, so it must have taken a part of his savings.. So happie, he did care after all. =_ )
We went walking around the building to explore the other parts of Fullerton since we have nothing much to do... Being able to hold his hands and stroll around is romantic enough for me.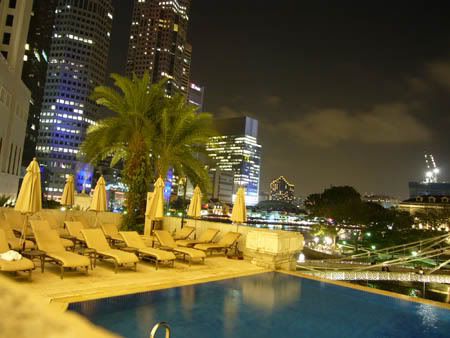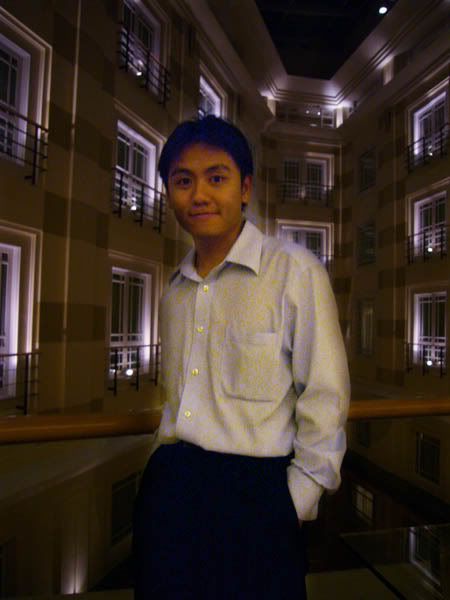 this picture is fuzzy cos the lighting was really dim, that's the best that photoshop can do!
The stay there was great, breakfast too.. even the egg oso must make
swee swee.
Maybe it's because we were on the club floor that's why service staff made guests feel like super VIPs. Kept asking whether you need any help in toasting the bread, refilling the juices..
erhem
.. not very used to it.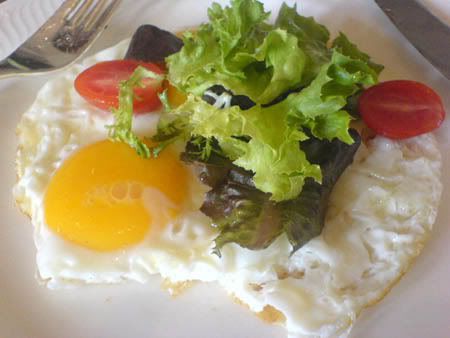 Lurve their yogurt!!! Asked the chef where they got this and found out that those yogurt are Imported from France and cannot be bought in singapore. =(
sianzz. It was reallie goodzz.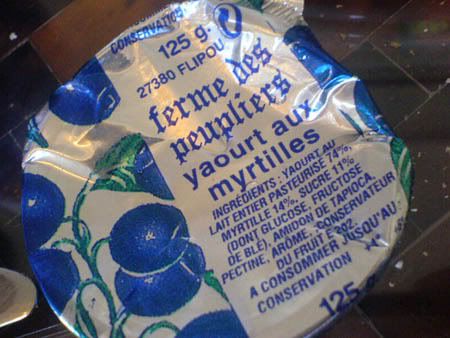 Thanks dear for the lovely day and surprise.
More photos @
~ my multiply site ~
Labels: Wedding
Kiyo 到此一游 @ 9:32 AM

Wednesday, February 14, 2007
*~*~*~*~*~*~*~*~*~*~*~*~*~*~

Happy Valentine's Day to all!!

TO Couples
TO Friends
TO Singles
TO Everybody on earth!

hope that all couples remain sweet forever and all singles to find their true love soon. =)
Took leave today and still in an elated mood.

This is the best Valentine's Day ever happened. (it may never happen again wahhhaha)

Anyway, Contentment is the Key to Happiness.
I am contented that I have you and nobody else.

=D

Happi Valentine's Dae
Labels: Wedding
Kiyo 到此一游 @ 1:22 PM

Sunday, February 11, 2007
*~*~*~*~*~*~*~*~*~*~*~*~*~*~
Cupcakies..! =D
Had fun yesterday.
It was my 2nd handson baking class for cupcakes. I must say it is more interesting than the first one because this round tested a little on our creativity and we could decorate the cupcake anyway we liked according to the Chinese New Year theme and Valentine's Day theme which is just round the corner.
End results were : COLOURFUL decorations all good to be eaten!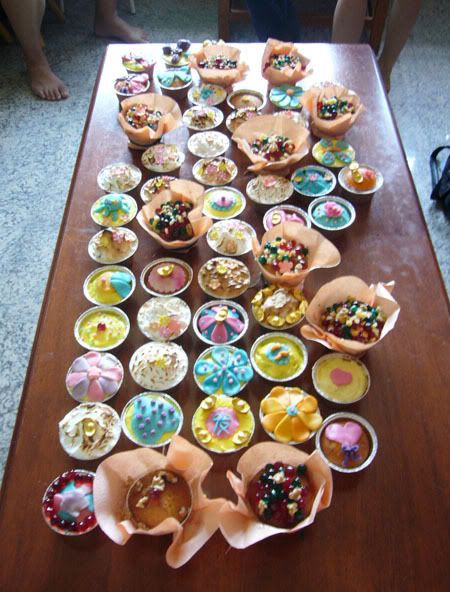 Was rather surprised that our class had 2 guys (boys in fact).. cos usually only girls love baking.. BUTTttt they have plenty of creativity too and made the class very lively with their crappy comments. hee heezz.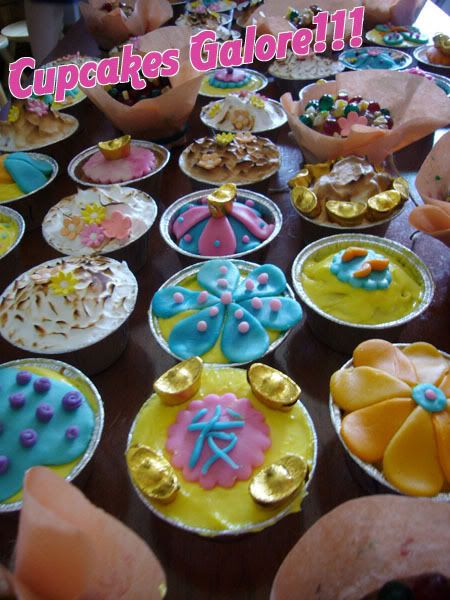 Colourful cuppies.. =D 2 of my creations are inside..
guess which one!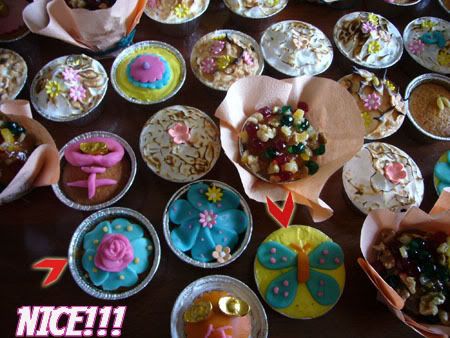 I lurveee the butterfly and rose.. really creative!
Some of the amazing creations by other course-mates.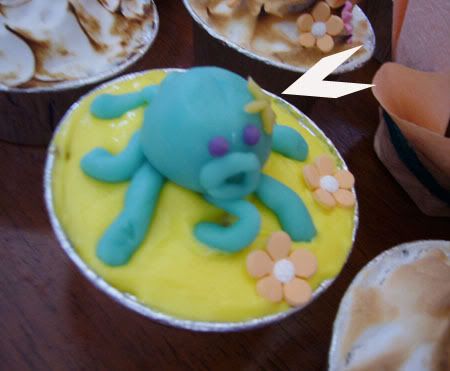 I like that star fish on the sotong's head.. whahah CUTE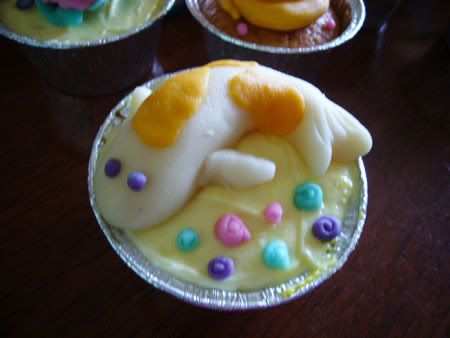 why i didnt think of this.. hmmm.. nice =) Oh yah..those are almond paste and can be moulded into any shape because its texture is like plasticine. I hope the taste wont be too sweet.
my humble cuppies......
.....
.....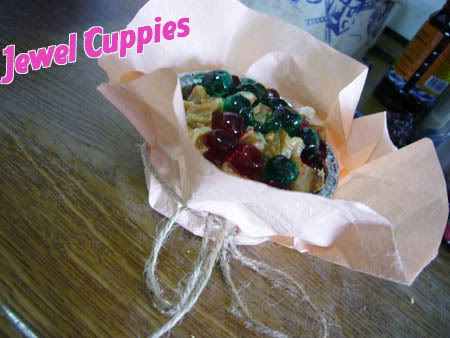 For Valentine's Day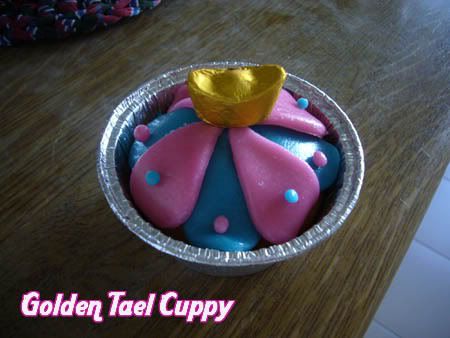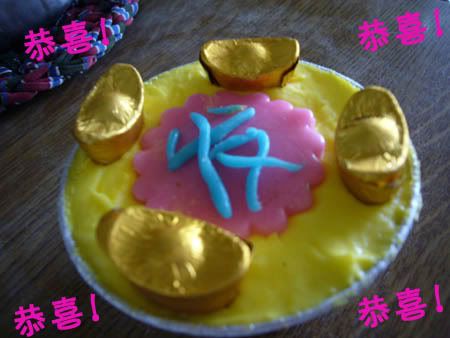 yeah.. chinese new year must "发发发"! very CHEENA CHIONG. =___=
I swear that my hands zun3 (shivered) when I was doing the FA word. stress..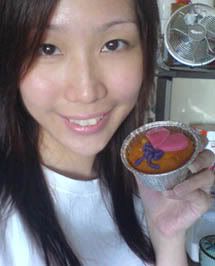 Decided to redecorate my V day cuppies when I was home.. used some white choco flakes and silver balls.. hee hee
Hokay.. not very spectacular..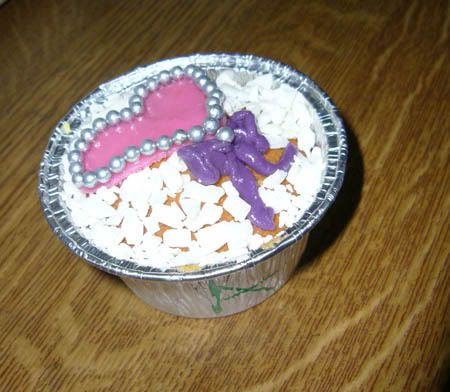 All of them... the brown one isn't burnt okay.. it's made that way!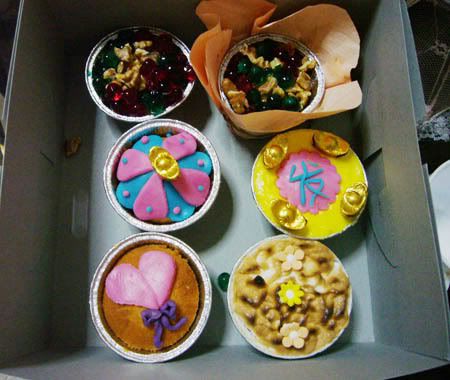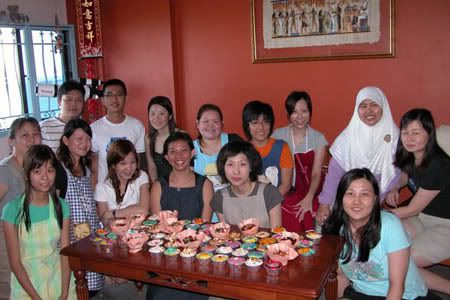 Group photo =)
I now know why my neck has this breaking pain. Must be from the constant bending down of my head to decorate the 6 cuppies. I cant even lower my head now. =(
But still happie, looking at those cuppies gives me a sense of satisfaction.
Going to the gym now! Time to work out that tummie.
tatazzz folks and take care.!!
Labels: Food and Events
Kiyo 到此一游 @ 7:52 AM

Friday, February 09, 2007
*~*~*~*~*~*~*~*~*~*~*~*~*~*~
It's a Gorging Weekend.
Boss treated us to Kuriya for some slurpy Japanese food yesterday! I must say the restaurant has a pretty extensive menu but can get very very expensive if you order their ala-carte selections. Even boss noticed that I put on weight recently. haizz
hmmmph.. in actual fact, I put on 5kg since darren came back about 8 months ago =p.
Yeah.
Me is the NEW Skinny Flab.
Tonite will be crab session at Sin Hoi San with Josephine and Liren!
Craving for Chilli Crabs, Cold Crabs, Black Pepper Crab...ANY CRAB. keke Think we will just order the first one.
Tomorrow it's Valentine Cupcakes session
(shun bian give to darren keke)
and Reunion Dinner with Darren's Family.
tomorrow I will schedule a run and a swim before the reunion dinner !!=p
Kiyo 到此一游 @ 6:33 AM

Wednesday, February 07, 2007
*~*~*~*~*~*~*~*~*~*~*~*~*~*~
Had dinner with Rachel and a nice dinner and window shopping session too.
ooopzzz
I confess.
Bought a Forever21 top and a lipstick from Chanel.
Their new lipshine is greatz! Simply lurve the colour, when used together with their famous lip gloss, it gives galz the perfect pout. It's exactly the same colour as the model is wearing and suits fair-skinned people. Worth every penny spent. =D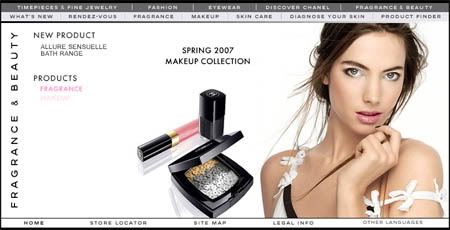 We went around dress shopping but didnt find what we like. Rachel prefer short dresses but didnt see anything she fancy as well. I believe it's near the CNY, that's why the boutiques are displaying ranges that are for SALE. Maybe after CNY, the selection will be better.
One dress caught my eye and I kinda like it. But it comes with a hefty price tag of 499 bucks, don't think I will be getting it though. Lurve the Champagne colour belt!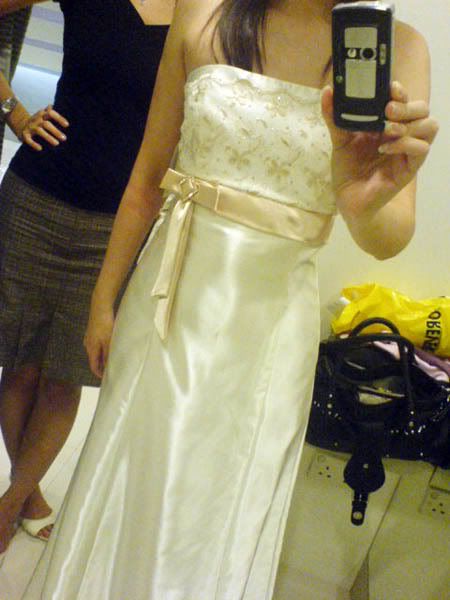 yah. that's rachel standing behind me helping me to tighten the gown. Very loose!
Found the exact same one online just now, same brand too but only US$169. After conversion, it's so so much cheaper.
I really hope CNY is coming.
I seriously thought it is NEXT WEEK.. still dazing I guess. There's still one full week ahead before we break for our holidays and continue our ritual gorging of
bak kuas
,
pineapple tarts
and not to forget the
mahjong sessions
hee hee.
yeah.. LOOK at other people play mahjong hahhahah.
(i don't know how to play except to pong4 and gang4) .
=( My last year in taking ang pow liaozz.. must 狠狠给他拜一下年
2 more dayssss to go. Enjoy people.. =)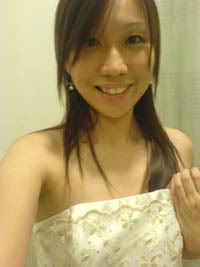 Labels: Wedding
Kiyo 到此一游 @ 9:12 PM