Tuesday, November 29, 2005
*~*~*~*~*~*~*~*~*~*~*~*~*~*~
Aiyozz.. you all want to see ar..
Oh ya.. my makeover peekture with makeup by Yoneda san.. Just dont noe why same pose as the model below, people can do so swee i can.. tsk tsk tsk..n the hairstyle.. machiam like goldilocks having a bad hair day with a kalipok with no filling. Hate the hairstyle man FUGLY~ but the makeup experience was great of course.. kekeke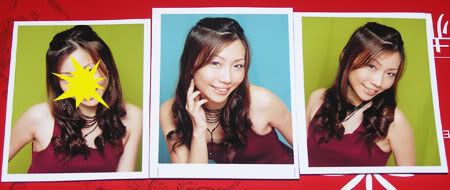 The hair looks slightly less curlier n better after a while. Those are the soft bouncy kinds I want but cant acheive.. =(
Darren wants to watch Muay Thai in Bkk... I just checked. I think it costs $80 bucks per person!!! Somebody correct me if I'm wrong. Found a webbie that allows you to experience Muay Thai instead.. but.. I dont understand why is their official homepage in jap? N one of their management boxer is a
VERY CUTE
gal. Link below
~女性・子供から実年の方も1日体験入門~
Kiyo 到此一游 @ 10:30 PM

Sunday, November 27, 2005
*~*~*~*~*~*~*~*~*~*~*~*~*~*~
Kanebo
Went for the Kanebo event over the weekend. It was packed with people! Okie.. what's the Kanebo event. Kanebo tied up with Urban Straits Times to have this Photogenic Contest. I'm not really interested in the photogenic contest cos i really look kanasai in alot of photos but I'm more interested in the makeovers the makeup artist from Japan will give me cos I can 偷师 along the way.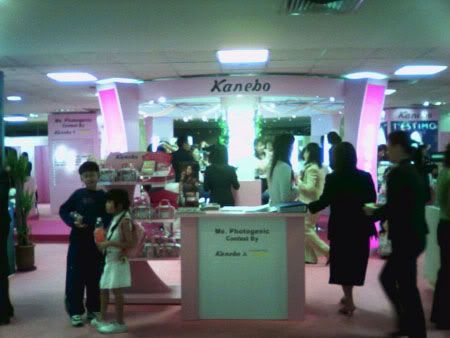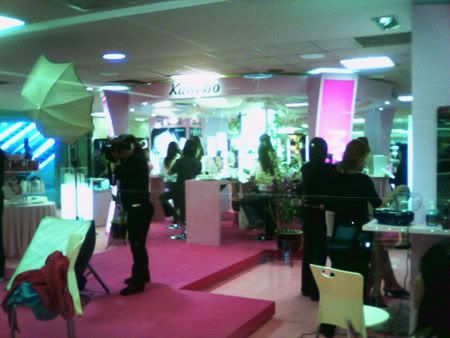 So made an appointment
(I was the FIRST appointment on Saturday heehee)
and went for it. Saw both of the mua (makeup artist, both guys..) than i was thinking to myself.. pls give me that shuai guy. haha. And it's him!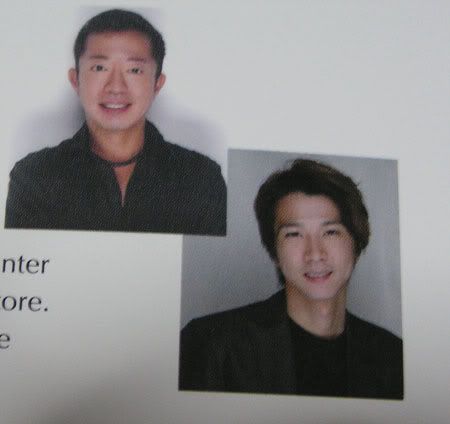 He really looks better in real person with longer hair, Yoneda san who came from Yokohama. His techniques were good and he explained to me which colour suited me and I observed his use of brushes and also where he shaded my face to make it smaller. Had a nice chat with him after he knew that I can understand Japanese a little.. He can speak Mandarin too... =) They will be there till Wednesday but heard that appointments are already full. He told me he made up 22 gals on Friday!
Finished my makeup, went for my hairdo... hm.. I got quite a lousy hairdo cos the person dont really know how to tie up my hair. I think I would have done better myself. But she helped me curled up my hair using straightening iron. Woah~ another technique I learnt.. using straightening iron to do big curls really make those curls look soft and bouncy.
A lady photographer took the peektures of the gals & passport sizes were given to us for keepsakes. Bought stuff from them cos I'm so tempted! Somebody just kill me!! I have enough cosmetics and skincare that can last me till end of 2006!! and I'm still buying!?
See! their model is so chio! chio to the max!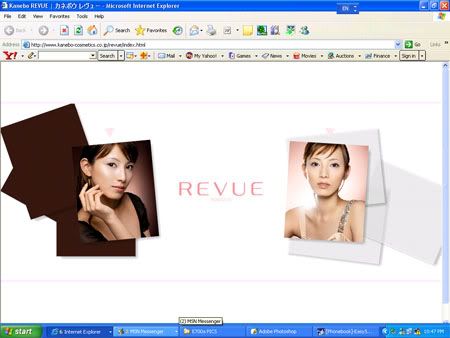 their makeup base and 2 way cake with limited edition case. Frankly speaking... I just like the case la.. the colour is damn sweet.. =) *sparkle* *sparkle*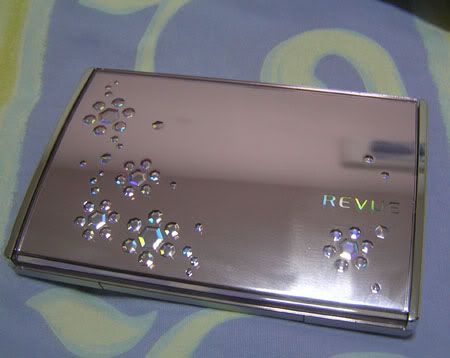 kira kira...
Had lunch at Food Republic in Wisma after dat.. Havnt been there since they revamped the place. Tried their roti prata but I think Suntec's one is better.
A toddler was sitting beside us and I overheard that her mum didnt have any tissue with her.
I offered her tissue and her mum was grateful and asked her cute toddler to thank me.
"Come, say thank kyu to CHE3 CHE3"

wah..heng she say thank kyu che3 che3 arrr.. otherwise i would have snatched that tissue back hahah.
hmmm...
我是这种人吗?
keke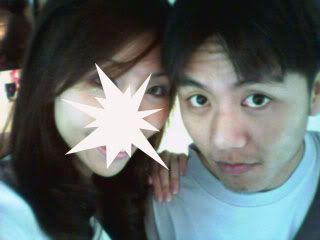 Kiyo 到此一游 @ 11:14 PM

Friday, November 25, 2005
*~*~*~*~*~*~*~*~*~*~*~*~*~*~
Brrr.. it's another cold cold day today.. but...
I'm SO HAPPI..
Going to bangkok! AT LAST! FIRST trip there..as a super CHAO kiasu singaporean, I decided to book earlier for my flight in case the seats run out. So yesterday I confirmed my trip to bangkok with Jetstar Asia.
After comparing, jetstar asia has the best timings. Will be departing at 9.05am
(really scared darren cant wake up cos I plan to go earlier and stock up on duty-free again!)
on 5th Jan and returning on 9th Jan.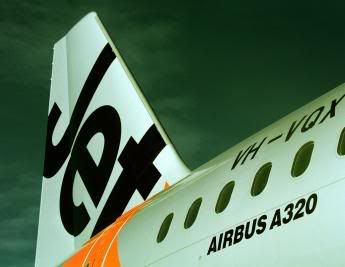 5Days 4Nights of ultra shopping, seafood & birdnest binge, & clubbing too !! (Yes..me, a Singaporean non-clubber going bkk to club! will go to some recommended places from flowerpod like Bed Supper Club etc). Darren was still asking me "safe anot?".. I guess it's quite safe as alot of gals go in groups.

I doubt I will take alot of pictures unless there are interesting stuff cos it will be just shops, street markets, shops, street markets and maybe an occasional temple here and there. Feel like going to the Chao Phraya river floating market (okie.. i'm not hinting that CHAO=smelly, dat's its name, although it IS SMELLY i heard) to take pictures but I heard it's quite far, still considering. I'm really getting so excited about this.

Still deciding on hotels but I got some recommendations and currently ARNOMA is leading ahead.. Asia Hotel is next. Virgie gave me loads of suggestions on where to go and she has loads of discount cards too! wad mah boon klong card la, wad central shopping mall 20% discount on next purchase la.. hahah.. So happi!!

Think will skip their cabaret shows cos dont feel like paying to look at ah guas although they are really mei nus. No tiger shows either.....

cos I dont think i am interested in some extraordinary female part doing stunts like shooting darts at balloons ritezz? So will give this a miss... still planning other itinerary, cant wait to be there. heheh

Have been meeting up with darren and his friends everyday cos they were out hunting for part time jobs. So, if anybody has any part time lobang.. please tell me.. thanks!
Kiyo 到此一游 @ 11:31 PM

Wednesday, November 23, 2005
*~*~*~*~*~*~*~*~*~*~*~*~*~*~
More pictures from Sexpo.
Babes galore.. Everyone looked great!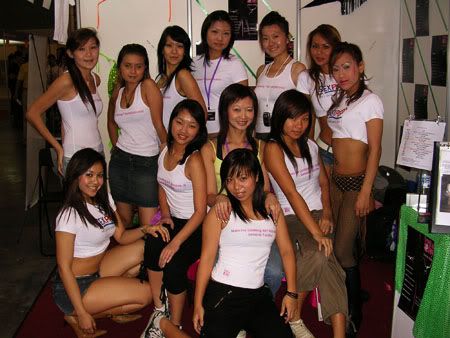 Us on Saturday....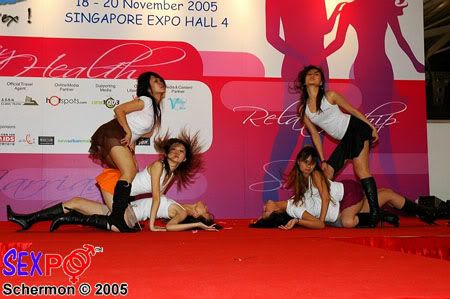 Our dance item last pose. The only photo during the dance I could find that has me in it and doesnt show my face. The rest i look typically KANA SAI..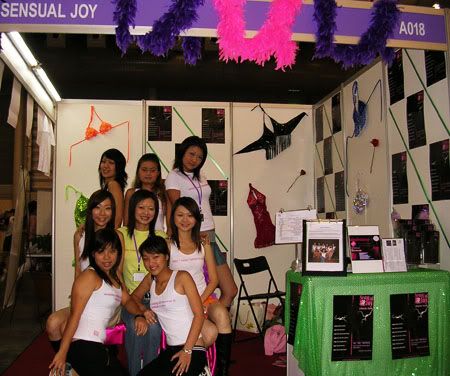 Dis was taken on saturday too.. From grigri
Taster Chair, Xotic Classes during Sexpo.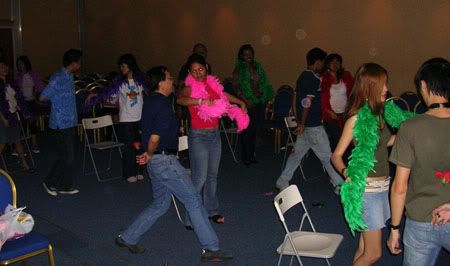 ~~~~~
wad the... !?
I think that guy at justfordates dating service booth in sexpo helped me complete my profile dat day. I registered cos there was this free SPA voucher thingy..virgie registered too keke Okie I admit that I'm cheapo la.. The computer hanged while I was halfway through and then later he told me that he completed my profile for me after I came back from the ladies.
I logged in on Monday night as I kept receiving email notices that I have new mail messages, I thought it was kinda strange cos I didnt enter anything at all in my profile description yet and you know what he wrote under my description in order to process the application?
" I am who i am, and i don't try to be who i am not. <== FEI HUA

When i find myself not who i am, then i might have to try.

But my skin is good, i'm comfortable in my own.
My likes are simple, and interests even better.

Dances and the slow lucid movements of a slow ballad or a melody thrills me." <== sounds a tad slutty can..
...
-__-
grrr..NO WONDER la.
One look at it you know it's not written by me! My
ENGRISH
where got so da
POWDERful
?!
n i dont even understand what he's toking about.. wad is LUCID?? I'm going to change it anyway but I hate writing profiles..
If me, I will write like dat.
I am who I am
and
I dont try to be who i am not lah
..plss..
When I find myself not who I am, I think I wont try oso lor...
My skin mah.... not very good but I still can live with it..
My likes are simple, shopping, combat, singing, and
LANCinnn
is even better...
how 'bout dat?
~~~~~
Kiyo 到此一游 @ 10:06 PM

Monday, November 21, 2005
*~*~*~*~*~*~*~*~*~*~*~*~*~*~
Aftermath of Sexpo
Abrasions & Scratches....
3 days (about 9 dances) sliding up that carpet is no joke. Now I understand each line has its difficulties. It's like each time we slide up the carpet, you are reopening the previous wound.. *ouch* you think it's easy isnt it? people still can criticise say we look very straight-face while dancing..Please think before you comment. THINK people.
Blew 1 big hole in my pocket..
Of course i didnt spend $ on those lingerie or vibrators.. for the 3 days I was at sexpo, I went to the Loreal warehouse sale for 2 consecutive days... -_-
First day went to grab garnier skincare and something for mum. 2nd day my mum wants me to grab MORE masks, MORE skincare.. & some makeup haha
This added up to about 100 bucks.. It's kinda scary but I believe others grabbed more. The most amazing thing is... I never used any of these products before..haizz See what a sale can do to me.. but they were really cheap.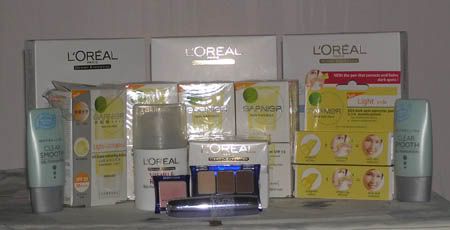 Saw a lot of people. Old, young, humsup, siao.. etc
There were alot of people on the last day of sexpo, more youngsters and also more
LAO tiko/hum sup los
in their 50s too. You need buckets cos they were practically crowding around the Vicon condom booth drooling over their pole Lancers and not to forget, every hum sup lo was equipped with the latest camera phone
WORzzz
~ They were like less than a metre away, holding their camera phone close to their faces *
with that perverted look
* shooting the pole girls so close aiming at dont know where....poor girls, i dont think they enjoyed THAT kind of attention..
I had a close encounter of one myself.. okie i think he is not a lao tiko, but abit screwed...up there. Here's how the conversation goes... Let's call him
STB

= siao ta bo
stb
:
So.. this is a new place hur?
*
took a brochure and reading it
*
me : Yes, this is an all girls dance studio teaching exotic, pole, lap dances. We do have new sensual couple classes, so you can bring your wife or gf to the class and our instructor will teach you some dance moves.
stb
:
but.... I DONT HAVE a gf or wife. I have been single ALL MY LIFE
.. *
in an exasperated tone
*
me : Oh... then i think you should proceed to the justfordates dating services booth
OVER THERE
*
pointing to the direction
*.. and get yourself registered.
I sound abit mean right but I'm just trying to be helpful. At this point of time, i knew there is something wrong with dis guy.. I pretended to be busy decorating the booth. He didn't stop but continued as if he was in his own world… took out something from his plastic bag and said...
stb
:
This kind of girl is MY TYPE of girl..
*
pointing to the cover girl n looking at it
*
but then they ALWAYS dont want to talk to meeee..

He was pointing to dis magazine.... (not dis issue though, the 2nd issue.. but it's more or less the same)
-_-
For one moment, I was so glad that I wasnt his kind of girl. Plsss..hello!? even i dont look like dat.. i OSO dont want to talk to you lo.. u expect those cover girl models to talk to you!?!
stb
:
I always go online chat...
blah blah blah, yada yada yada..*
I walked away
*....
but they dont like me... So......can I go to the studio and WATCH?

me : nope.. it's an all female dance studio.
he walked away... I mean.. it's perfectly alright to be single and I really wanted to be sympathetic but can dont sound so perverted anot? and it's like you want to date a cover girl? That's every guy's dream of course, but you are not waiting for it to happen ba... I can imagine him drooling with his magazine at home in front of his computer..
Went to watch harry potter with Darren after that..our first movie since he came back.
Saw something in the Female toilet near the cinema..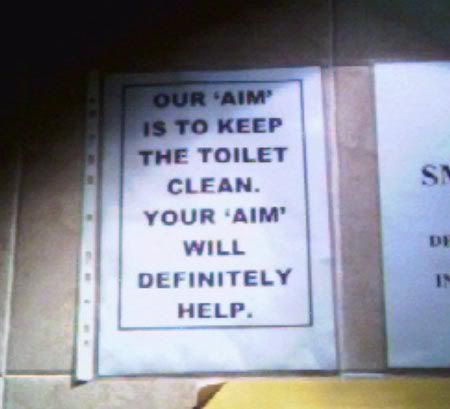 Another -__-'' Think the management is trying to be farnie.. AIM!?
Kiyo 到此一游 @ 11:16 PM

Sunday, November 20, 2005
*~*~*~*~*~*~*~*~*~*~*~*~*~*~
Sexpo day II
Today our booth was redecorated and really looked nicer! There were alot more people than yesterday and the crowd grew a little younger as well. Darren and his friends were there too. Didnt take a picture cos apparently he didnt want to =( haha cos i was wearing boots.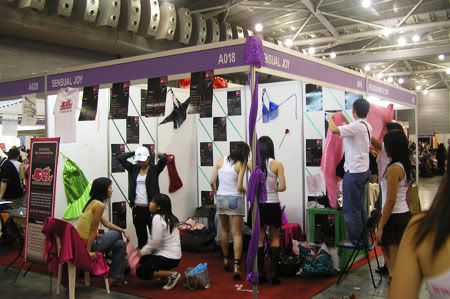 Performance was still alright...after watching the video Darren took, we were really quite uncoordinated as feedbacked by one of our friends . But we did try out best.. =)
Some pawtoes with sensual joy people! was really surprised to see Virgie there. Didnt know she joined sj as well. Great to see ya there..your turn will be soon hee hee hee. Next time must ask joy pull you other gals up to perform.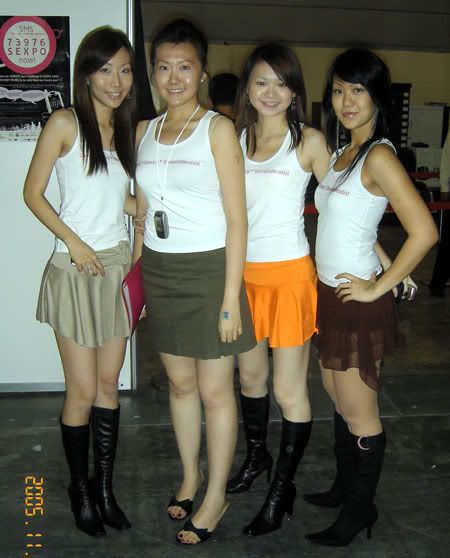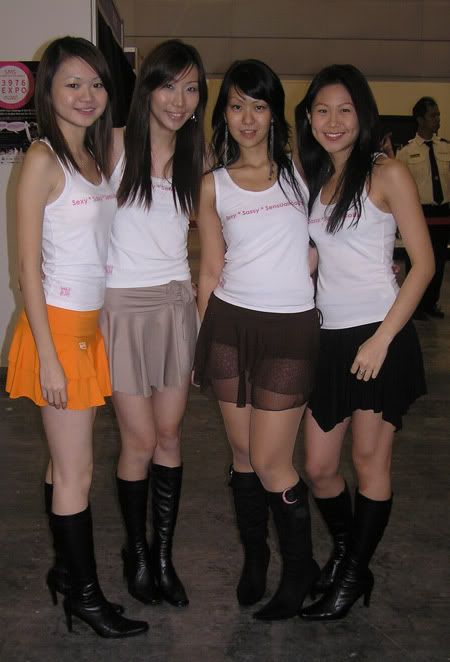 Zen and Ivan came over to support. thanks! ktv n cha soba after ya exams.. hee hee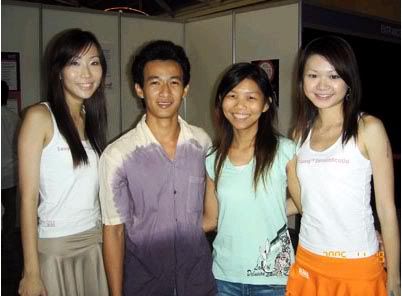 Peektures of our dance taken from the video..
Chair & Sensual Couple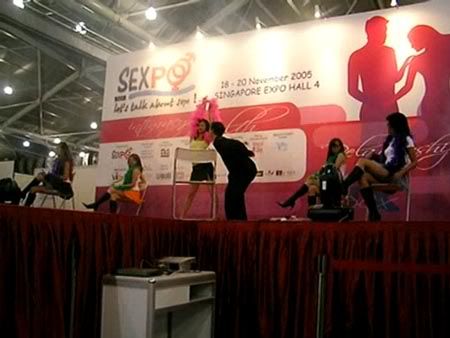 Janet Jackson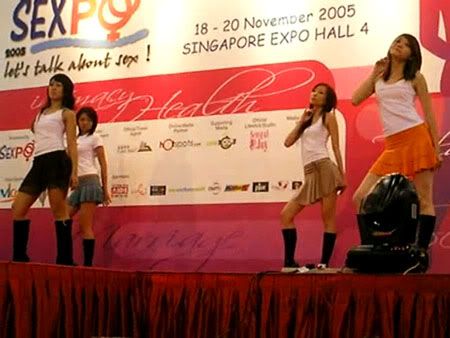 So so so Scandalous..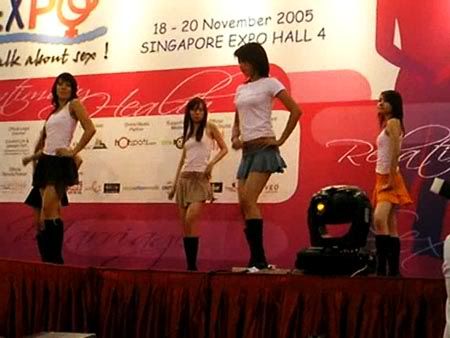 Kelly me and Angie.. n joy's nice dance clothings in the background...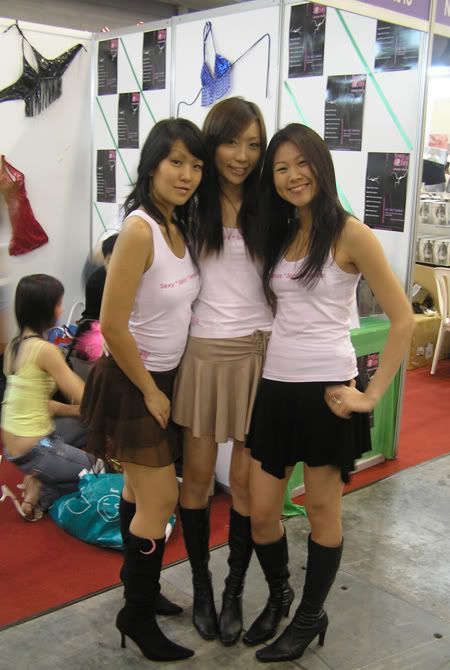 Darren waited for me for the whole afternoon to knock off and we went off to the Loreal warehouse sale! Very touched that he waited for me.. cos he must be darn bored. And he even went over to Loreal warehouse to help me check out some mascaras while i was still in our booth. Bet his knowledge of mascaras sure upz liao cos i was describing to him which one I wanted. They dont have the waterproof masacaras at all.. or were they sold out?!? hmmm... I got mostly skincare products. 2 for mum, 2 for myself just to try.. Mum asked me to grab some of their masks today.. hee hee.
And off we went to......
WORLD CYBER GAMES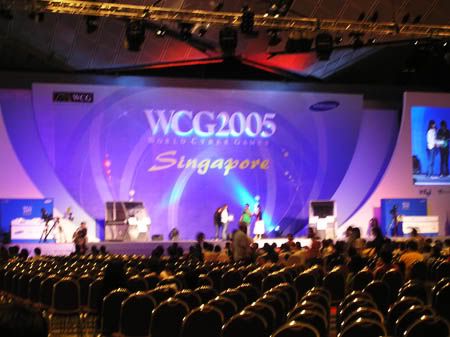 I was really looking forward into going dis morning as I read the straits times, I thought it might be very interesting. Nah.. I'm not into games but from the peektures on the newspaper, the guys look so cool and serious while playing.. I always have this liking for guys who are good at games, computers, softwares etc. dont noe why, dont ask me. Pro gamer wor~ dun puey puey. Especially the pair of ang mo twins from dont know which country.woah.. Darn cool~ So went over and accompanied Darren to watch more than 1 hour of Counterstrike semi-finals (US vs Canada).. Quite exciting cos they were really good and 快,狠,准 are the words to describe..
But actually.. i intended to people watch there la.. didnt c the gamers at all, they were at the other end of da hall.. -_-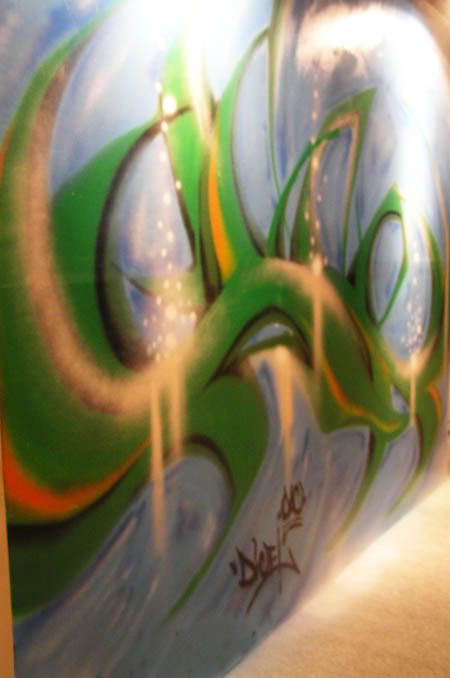 nice graffiti worz~
Kiyo 到此一游 @ 8:35 AM

Saturday, November 19, 2005
*~*~*~*~*~*~*~*~*~*~*~*~*~*~
I feel a burning sensation...
at my knees...
The stage was carpeted and one good thing about carpeted floors is that the
grip is good
and we wont fall easily but the bad thing is... our knees practically BURN when we do our floorwork dragging our knees up. My Legs really need some urgent TLC, I dont want them to be permanent scarred...
So just to let all of you take a look at the stage.. here's the stage with pretty poles on the right for our pole dancer to swing about.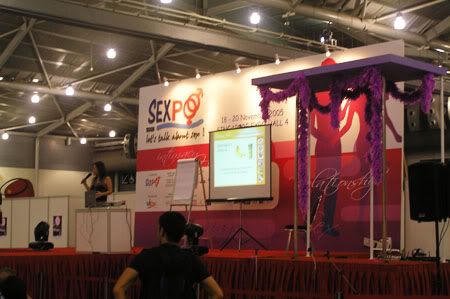 And our booth.. Tmr, we should be moving our dance studio's booth into the bedroom section where the crowd is. Frankly speaking, everybody just heads towards those above 21 section and few people linger in the living room area.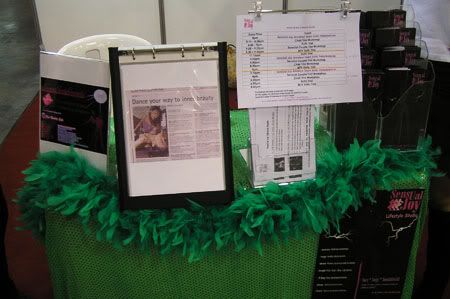 Dont know whether I can post this or not but... Who cares! I asked, they said can take pictures of the exhibits...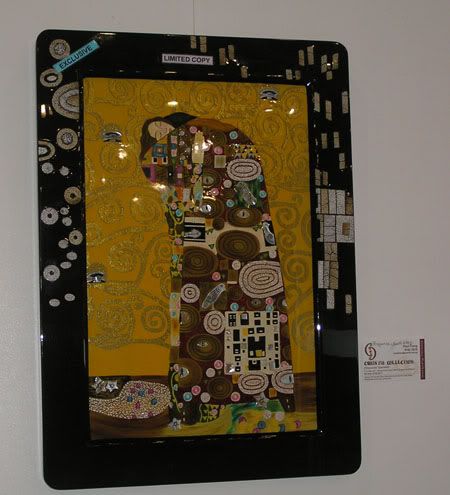 When you cant figure out what it is, it is
Art
...
*I took some others like those ancient china exhibits but quite R-21 la so decided that kiyomi shall be good and shant post them here. *
let's look at some G-rated stufff instead...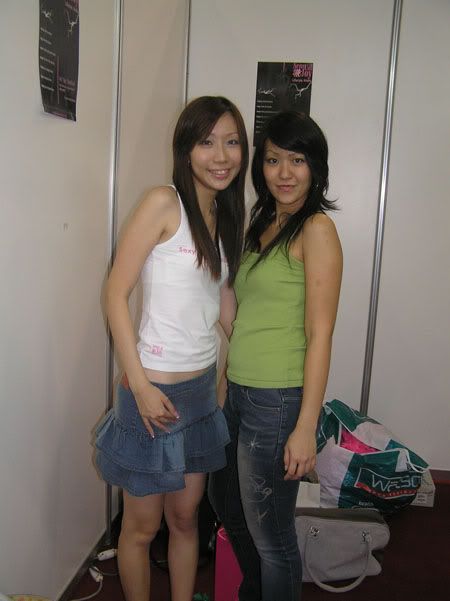 me with kelly after the dance..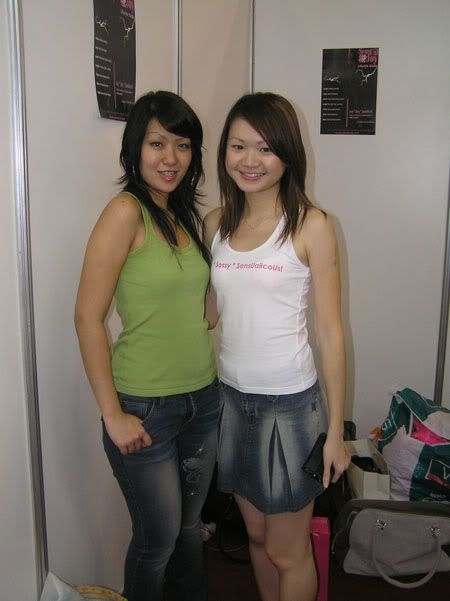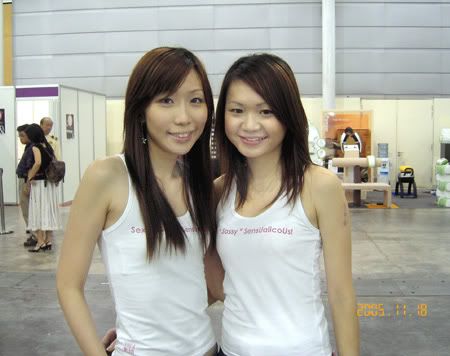 Just a note to say... it's really not worth 15 bucks to go and see unless you are REALLI interested in their seminars or wat.. They did play games but it was errr.. abit... errr... okie shall not spoil the fun in case people do go. but take my advise. Please only go if you have finished watching Harry Potter & the Goblet of Fire and have absolutely nothing to do and some cash to spare...Did I sound too frank or wat...
But like what the newspaper wrote, there weren't alot of young people around. The only young people I saw was those working there for them. I think most probably they are students on vacation.. I guessed youngsters nowadays wont be interested in such stuff as they can always easily find such infos on the internet.
Didnt go to the Loreal Warehouse Sale AT ALL.. The queue was
DAMN long
. It was even longer than the energizer battery... =( I'm definitely not going to queue up just to get in cos I was afraid I would see nothing I want to get after the long wait.
Kiyo 到此一游 @ 12:51 AM

Thursday, November 17, 2005
*~*~*~*~*~*~*~*~*~*~*~*~*~*~
Finally finished packing up...
Tidied my room again but mum did the most work. I lurve you mummy!! And this is her 杰作!!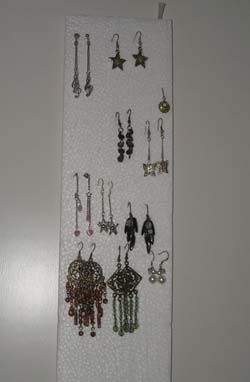 Yeah! who needs earring stand cages from Chatucak? although i really want to buy one =( but I shall make do with this now! She stuck the styrofoam board in my wardrode and asked me to hang all my dangling earrings there in the future.. hee hee. Why didnt I think of that earlier?
Finally Kinokuniya called me and told me the shipment of 女人我最大 arrived! After so long, I managed to get my hands on this magazine after some hooha with kinokuniya cos apparently they sold the last copy of magazine to somebody who didnt have a reservation and came one day later than me... hng them~ Anyway, the mag is in my hands now so I shant complain any further. The book was not too bad, some useful infos and more things for me to grab.. haizz.. haha
Not working today.. it was a rainy and relaxed day cos darren came back yesterday and I met him up today and had dinner at our favourite restaurant Waraku. we ate loads of stuff! or maybe we overate! Ordered soft shell crab, which is good. Their paper steamboat (spicy) is good as well but their yakitori was HORRIGIBLE..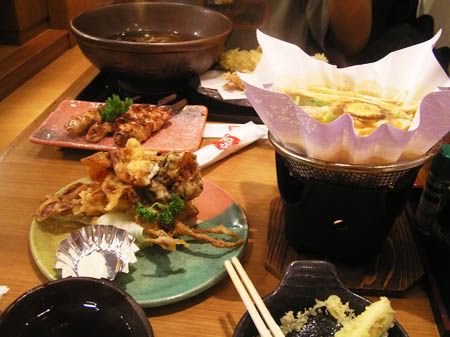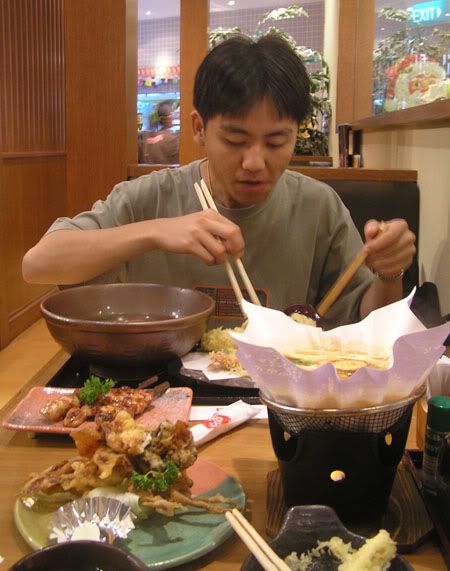 him with short hair..hee hee
After dinner went to dance again cos Fuji television came to shoot us dance at SJ. After so long of not wearing boots, we really need some time to get used to it..I'm not really used to wearing such short shirts too and we are going to wear them for the performances over the weekend.. it's really SUPER SHORT... haizz
Kiyo 到此一游 @ 10:56 PM

Tuesday, November 15, 2005
*~*~*~*~*~*~*~*~*~*~*~*~*~*~
Our schedule is finally out...
Our performance and workshop schedules is finally out. This weekend, everybody in our studio will be quite stress and tired cos we will have to perform 3 items on 2 days and 2 items on the 3rd day which will add up to be about 8 dances in total. My feet hurts just thinking about that. It's actually not as easy as it seems. We get bruises, scratches from the wooden floor, and aches from all our pivot poses... and not to say the dances are performed on our really cheapo boots that have slippery soles. But of course we still enjoy the fun of it all.
Fri - 18 Nov 05

8.00pm to 8.10pm

Performance


8.15pm to 8.35pm – Pole Trial
8.40pm to 9.00pm – Xotic Trial
9.05pm to 9.25pm – SensUal Couple
9.30pm to 9.50pm – MTV Xotic Trial

Sat - 19 Nov 05

*11.15am to 11.35am – Xotic Trial
3.55pm to 4.05pm Performance
4.30pm to 4.50pm – SensUal Couple
8.30pm to 8.50pm – Pole Trial
9.00pm to 9.20pm – MTV Xotic

Sun - 20 Nov 05

3.10pm to 3.20pm Performance
4.00pm to 4.20pm – SensUal Couple
5.40pm to 6.00pm – Pole Trial
6.05pm to 6.255pm – Xotic Trial
8.45pm to 9.05pm – MTV Xotic
Will be asking Darren to come on Saturday or Sunday perhaps... than after that he can just hang around sexpo or with his friends and wait for me.. =)
Apart from our dance programmes, i saw other free seminars like....
中医治疗男女性性功能障碍
(Sat,6.15pm, BR)
Dr Xia Rong
*Wins say luckily the doctor's name is not call

Lan

*
ahem...
I was trying to control not to laugh in front of my office comp.
The Fengshui of Sex
(Sunday, 4.30pm, BR)
Mr Raymond Goh, Natural Princess
Fengshui? wah... dis kind oso can see feng shui?
so must 坐南朝北 or 背山面海 issit? -_-
Full Programme outline can be found
- here -
~~~~~~~~~~~~~~~~
Dis morning was abit angry with my dad, while driving me to work this morning.. he exclaimed in surprise.
"Eh, New specs ar?"
Arggggghh... I was like wearing those specs for dunno how many months and he only noticed it NOW?!
- I Bought it in July leh.. -
And he still want to defend himself by saying..
"You seldom wear riigghtttt.."
-_-'''...............
I wear every night after removing contact lens lo...
Kiyo 到此一游 @ 8:30 PM

Sunday, November 13, 2005
*~*~*~*~*~*~*~*~*~*~*~*~*~*~
Fun fun FUN!!
Had a JC friends gathering yesterday night... It was really fun. We had fun catching up with everybody but didnt take any pictures. Apparently I just brought my CAMERA BODY there and forgot about the battery and memory card -_-...
We started our rounds of introducing ourselves again, current job etc cos it was ages since we met. I have not met some of them since like 6 years ago?!? But interestingly enough, we still have alot of things to talk. We talked about teachers, japanese companies, engineering stuff
(cos 1/2 my class took computer and the other 1/2 took chemistry)
. When it came to teachers..I only can remember one.. which is Mr Wan, our chemistry lecturer hee hee. He was the most
shuai
teacher in the school at that time...
We talked about
DANCING
TOO! The 2 other gals who went were very into dancing. One has completed
Salsa level 1
and is interested in taking up
exotic dance
, the other is going to start
belly dancing
next week. The guys were very surprised that our lives are like so "happening".. Exotic dance is really kinda fun you know...
~~~~~~~~~~~~~~~~~
Today we did a new dance again, 3rd item for Sexpo. This will be a combination of chair, pole and sensual couple
(Joy & Ricky)
. We are still not very sure of the moves and timing yet but I love this song. It's called Crazy Little Thing for Love by Micheal Buble. Very playful and teasing.. hee hee
Took a video but not going to upload cos the file is just too large. Just settle with the photos~ and YES, we are going to wrap ourselves with feather boas in the colours of the latest season. Mine n ppm is
GREEN
... Personally prefer
Purple
though haha...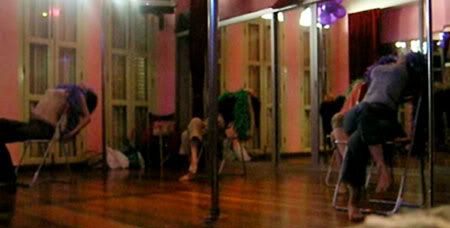 Dat's me with My green one at the back...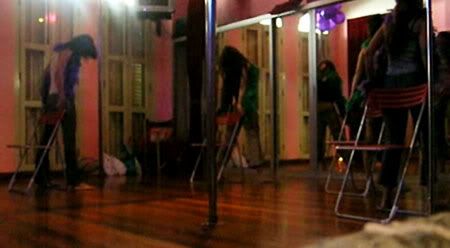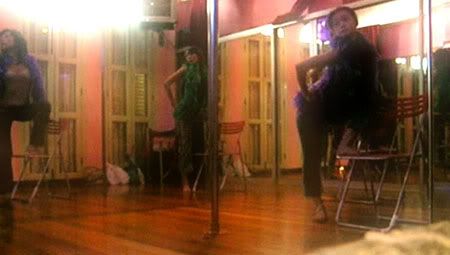 I'm nearly kena blocked by the pole...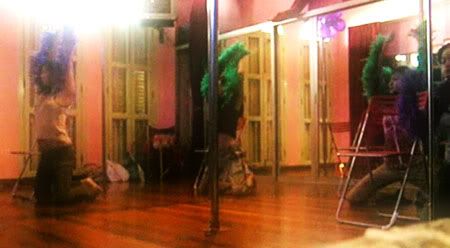 Now, I'm blocked by the pole AND the FEATHERS -_-
~~~~~~~~~~~~~~~~~~~~~~~
lalala~ can we sing a
BIRTHDAY SONG FOR DARREN
?
Happy Birthday to YOU.
Happy Birthday to YOU... Happy Birthday to YOuuuuu.
Happy Birthday to you.. =)
Yeah I'm crooning at the top of my voice and I did sing to him this morning at 12.30 am, sorry was 1/2 hour late cos i was bathing.. bleahhhh.
Yeah.. it's his birthday today and he's a Scorpio. Scorpios are very mysterious people and seldom tell you how he feels. He doesnt really say "I miss you" or I love you" very often. After 4 years plus with him, I can count the number of times he uttered those words with my fingers. So I really treasure when he said that cos I know he means it...
I guessed he must be really stress this birthday cos he is having an exam early in the morning tmr!! Doubt there will be any celebration..although a common ex-colleague actually remembered his birthday and asked me to wish him yesterday night. That's sweeeet~
Kiyo 到此一游 @ 8:52 PM

Saturday, November 12, 2005
*~*~*~*~*~*~*~*~*~*~*~*~*~*~
The Diva experience...
Okie i'm still not qualified for the Diva exotic Dance but I can always have some other diva experience!
Went to the all famous Dashing Diva for my virgin tailor-fit nails!!
Dashing Diva nail concept is actually brought from NYC and is very famous for their manicures/pedicures and treatments too and needless to say.. their prices oso very famous lo.. wah liew.. I nearly choked when I saw that their standard manicure cost $50 bucks.
The ambience was great and the constrast of the pink curtains and white sofas really adds to a classy feel. Got this pic from their webbie..

Next I chose their tailor-fit nails with nail art which costs 30 bucks. There's altogether 32 nails inside each set. So... you actually can use them twice and each time will last about 2 weeks. Good for special occasions or anytime u feel like having perfect nails. My nails break easily so I decided to try out this service cos their nails look really nicely done and not cheapo. They have those 3D ones too and they will ship more soon..
I chose a subtle one, pink base with white tips and a white flower on the side...I just checked on the net, it's called Madame Rose. I didnt choose this cos it matches the colour of my blog k..

but then....
Wah lao eh
... how come the name sound so old like dat..grrr
I like this, but it's not in Singapore yet, it's so.. cute!

Than she gave my hand some massage after everything is done.
Okie I will have perfect nails for 2 weeks!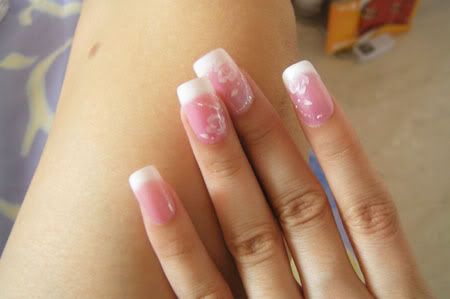 ~~~~~~~~~~~~~~~~~~
Mum went to Genting and wont be back till Sunday.. I decided to be a good girl today and tidy up my room and study room and get rid of all those paper bags that contains dont noe wat la~
(actually it was because I couldnt take it anymore, those bags are irritating me)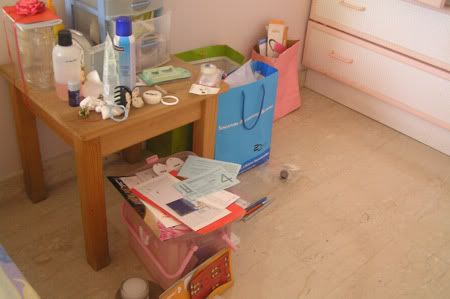 I have this bad habit of not reading letters.. that's why they pile up.. hee oopss.
See! 2003's Petronas Twin Towers entrance ticket still there! but then i meant to keep it as a souvenir.. just dont noe where to put.. hee hee..
Okie off to some serious packing!....NOpe.. i think it's more to Throw throw throw!
Kiyo 到此一游 @ 8:23 AM

Wednesday, November 09, 2005
*~*~*~*~*~*~*~*~*~*~*~*~*~*~
This is the first time in my 20n years of my life, that I feel that I'm really fortunate to have my family, Darren and a few nice friends. I feel it very strongly and it really gives me the drive and motivation to do the things I want to do and make plans for my future.
Cant express how I feel now but my mood had been really really down. In a day, I ran through all my thoughts, what I have been doing all these while and realized most people take things for granted and THAT includes me.
I do too cos I'm just as normal as most of the people out there.
Will try to remind myself to appreciate life and everything, every friend around me. It's gonna be tough cos people tend to forget, but I will try.
I dont usually show people my weaker side.
So... today, just let me be weak once.
*AND I am NOT PMS-ing*
~~~~~~~~~
I didnt manage to get it... =(
女人我最大 released a magazine and I didnt manage to get it! It was only released in Kinokuniya stores on Saturday and when I went down on 8th Nov tuesday, ALL were sold out. Sold out in Taka, Bugis and even in Liang Court that ulu place. I thought I should be lucky enough to get it but it seems like I have to wait for my book to arrive. I've placed an order with Kino but they cant even guarantee that they will be bringing in that magazine cos it still depends on whether the taiwan distributor has stocks or not.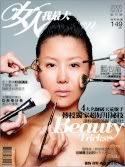 Anybody sees this in any bookshop plssssss tell me.. you will get a ONE NIGHT STAY in Intercontinental Hotel.................
....
....
....
...'s LOBBY..
(okie lar okie lar.. i know lame lar..)
Kiyo 到此一游 @ 10:15 PM

Monday, November 07, 2005
*~*~*~*~*~*~*~*~*~*~*~*~*~*~
End of the year is coming..
I had a nightmare yesterday. I dreamt of EXAMS.. MATHS summore, the dream was really clear and I remembered in detail that my best friend in secondary school was talking non-stop during the exams..
(I dont know why she can talk and talk during that exam.. but then sometimes dreams have no logic at all)
I believe it's due to the fact that I have quite a number of people around me having exams, especially Darren who just had his first paper today and I kept reminding myself yesterday night to wake him up this morning. I oso beri stress ar...
~~~~~~~~~
I can feel the festive mood coming up... and year end is coming soon.. Got some calenders from vendors but my favourite is still the SIA ones. Why? cos Everybody lurves beautiful scenery and girls ritezz?!
I dont know whether you all experienced this or not but when I see a breathtaking landscape or implying that I will have goosebumps when I look at the SQ girls horrr~
The calenders girls from SQ. so chio!! I have one favourite.. which one is yours?
Got this strong urge for christmas shopping but I shall curb n restrain myself cos i'm planning a trip to bkk in January!!
Kiyo 到此一游 @ 10:08 PM

Sunday, November 06, 2005
*~*~*~*~*~*~*~*~*~*~*~*~*~*~
End of a relaxed week..
It will be
BACK TO REALITY
from tomorrow onwards. Work work work again..
The past week had been great, an ideal week for me.. you know... "work one day, rest one day" that thing.. I kinda like that idea but there wont be anymore public holidays till december
*boo hoohoo*
. Anyway I will be taking leave on 17th though.. something to look forward to cos Darren will be back and I shall have endless buffet and jap food partner. hee
Was bumming around today with nothing much on hand to do cos our dance practice was canceled last minute so I decided to go shopping alone. Mum asked me to help her get something
(Biothem Age Fitness Day Cream)
cos she watched Mei Li Yi Neng Jie, a taiwan show hosted by 伊能静 and she introduced that cream to be her favourite anti-aging cream.. I think my mum is getting more and more like me.. watch all those taiwan show and spend on beauty products.. tsk tsk tsk..Not to be encouraged haha
Bought other stuff as well~ They are all NECESSITIES okie. Bought 2 hair styling products for curls! I shall go master my curling tongs every weekend if I have the time. Just so tired of my straight hair-do. Got the
スタイル記憶
(Sutairu Kioku) type of hair spray from Lucido-L. I vaguely remembered that it was mentioned in one of the shows too. It claims to be able to "remember" your hairstyle. So it doesnt matter whether you are facing strong wind or even in stormy weathers, it's supposed to fix your hairstyle and you can just restyle your hair by running your fingers through it and VOILA~ and it will be back to shape again!
FWAH~~~ sounds like hair spray with Artificial Intelligence, anyway the bottle is quite pretty and there's a pretty Namie Amuro on it.. I kinda like the packaging.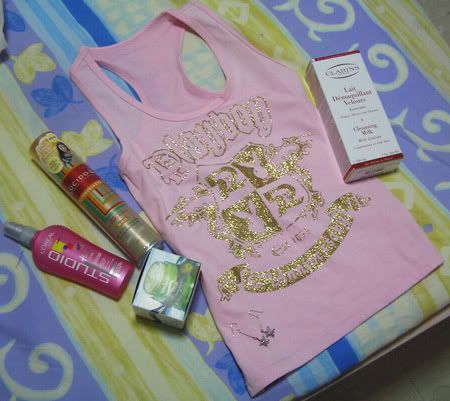 See that pair of star earrings at that corner right there.. the guy selling those earrings told me they are called 绝对 SUPERSTARS....
-__-'''
bery bery cold...
~~~~~~~~~~~~~~
Oh ya.. And I want to share what I saw on Miffy's blog and on Flowerpod as well.
Loreal Warehouse Sale from 18th~20th November at EXPO!
THAT is something to rejoice about, can stock up on some mascaras if it's really cheap. Will be there definitely for sexpo performance so shall 偷懒 and take a look when free hee hee
Found something else on FP too... Can I encash my blog? grr.. I can go Japan at least 3 times with that kind of money.


My blog is worth $14,678.04.
How much is your blog worth?
It's nothing considering the fact that Kenny Sia is worth a freaking $1,068,674.22! It's just for fun But I like the numbers though.. maybe can buy 4D. =D
Kiyo 到此一游 @ 9:03 PM