Sunday, December 30, 2007
*~*~*~*~*
Tomorrow will be a head to toe pampering day for me!
booked an appointment at 9am for Lulur scrub and Milk Bath with St. Gregory Spa and I will be going for facial too at 12pm.
A Great End to Year 2007!
Kiyo 到此一游 @ 10:10 AM

Saturday, December 29, 2007
*~*~*~*~*
It's really a super bad time to fall sick since it's only 1 week away from my big day. But i have been feeling rather unwell for the past few days. Not just stiff neck and shoulders, i constantly have this slight fever and yesterday felt so nauseous. But today i felt so much better, my neck still hurts but at least i could turn my head and my fever subsided. Guess I am quite heaty due to the late nights.. haizz
Collected my wedding favours. Wanted to do some personalisation on them like pasting stickers with our name but I may give up on the idea as i seriously need alot of rest. bad time to fall sick!!!
Received the corsages i ordered for my jie mei yesterday. They are very well done and preetty!! Really worth the price i paid for.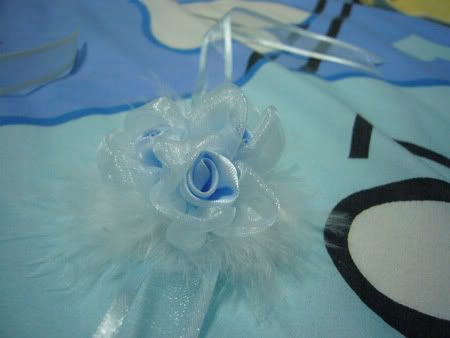 close up view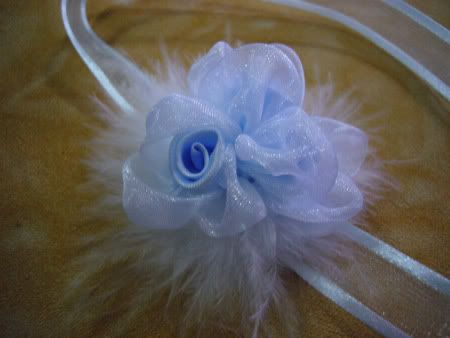 Bride's corsage.
Won't be carrying the bouquet for my 2nd march in, wearing this instead.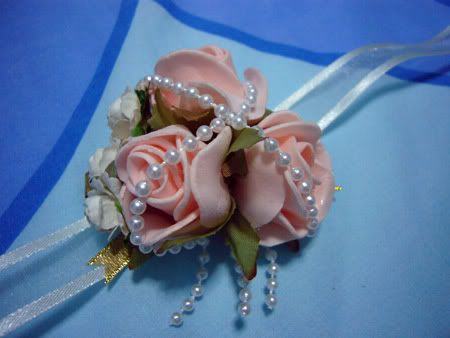 Another view..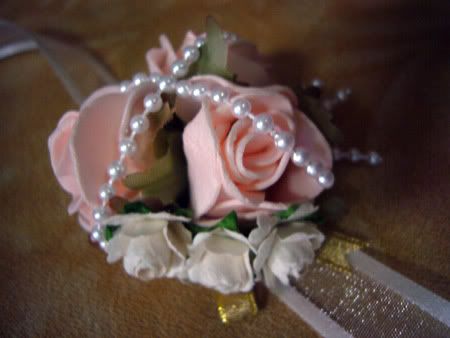 Lovely!
Labels: Wedding
Kiyo 到此一游 @ 7:42 AM

Thursday, December 27, 2007
*~*~*~*~*
Some outdated photos..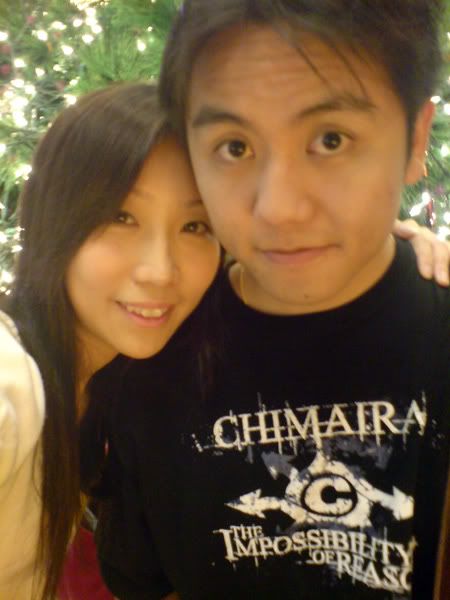 went to leisure park on Christmas Day. It was renovated but alot of shops are not opened yet. There will be a cinema there too! It will be good for us once it's open.
We ate dinner at Nihon Mura and I must say their sushi is not bad for that price. Really cheap at 99 cents per plate.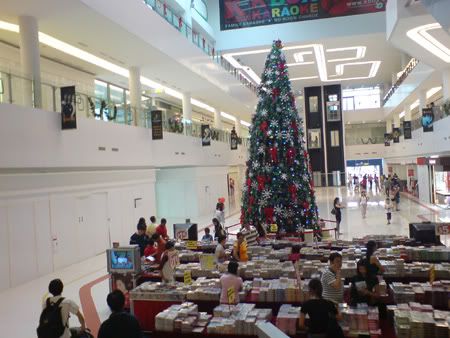 Tomorrow will be the last working day of the year as we are closed on the 31st! I really need a break. And January will be a very exciting month. Not just because my AD is in January, we are having a company retreat in BKK the following weekend too! Guess it will be very fun with all the colleagues, it's a pity darren can't join us ho ho~ Birdnest here i come!
Kiyo 到此一游 @ 6:37 PM

Tuesday, December 25, 2007
*~*~*~*~*
MERRY
CHRISTMAS!
It's a season for gifts!
bought my colleagues lovely magnetic bookmarks, rose towel and a velvet pillow!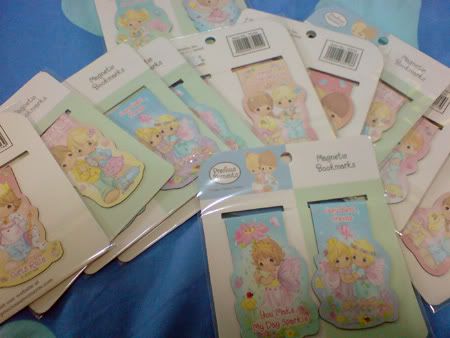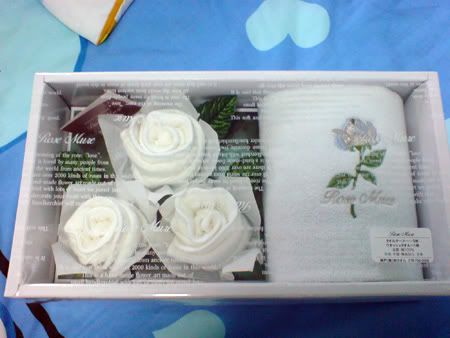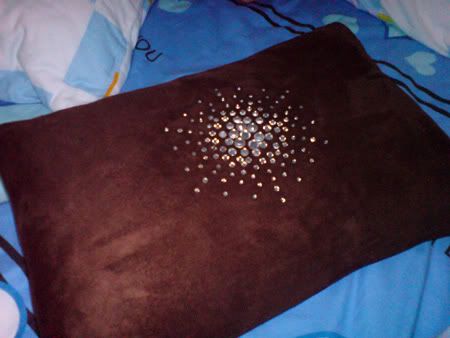 and i got 1 lovely pair of piggy from darren. hee so cute nor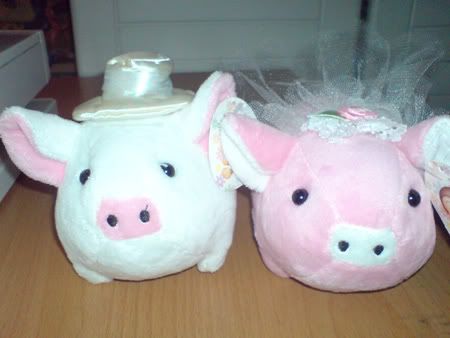 didnt do much celebration yesterday. We went to watch midnight show, I am Legend instead. It's quite a nice show but quite a standard monster show. But Will Smith acting skills are good, you can actually FEEL the fear in him.
Enjoy the holidays, friends!
Kiyo 到此一游 @ 9:52 AM

Friday, December 21, 2007
*~*~*~*~*
16 days to AD!
We have saved the songs into the CD.
We have saved our montage into DVD version.
and the box that holds our ang pows is almost done! Couldnt really afford to buy a real cake so we decided to make OUR own fake cake ang pow box. =p The design is inspired by Cheryl Shuen's cake.
photo from her website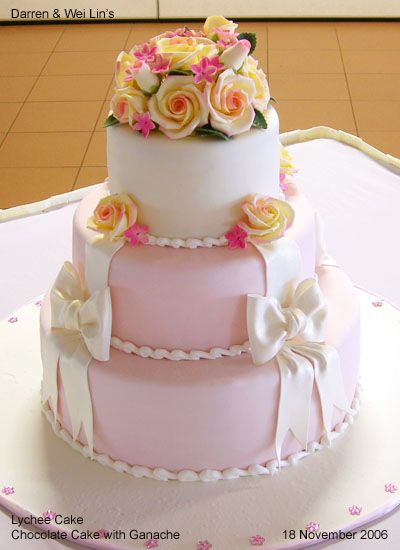 It will be in a shape of 3 tier cake with ribbons, beads and silk flowers.
Mine look very farrrr off but it's still pretty unique larr, not the usual square type. think it will look more like a cake when the silk flowers are added and add some colour to the plan reception table. =D
Labels: Wedding
Kiyo 到此一游 @ 9:45 PM

Tuesday, December 18, 2007
*~*~*~*~*
Linner & Lance Letro Party
Havnt had fun like this for a very very very long time. The last fun dinner and dance I had was with my 1st company. There wasnt any theme but the Emcee was just as funny. You know, those
hokkien pai
bengs. Hokkien bengs say the funniest thing on earth. hahah =p
My outfit wasn't really the retro RETRO cause I did not have time to go look for retro costumes. Was so busy with work and of course my wedding preps too, so i just pulled my favourite blue dress and went for makeup and hairdo at bugis village.
It was only on our way for makeup then Ivy spotted a polka dot hairband that matches my blue dress!
I must say they are good!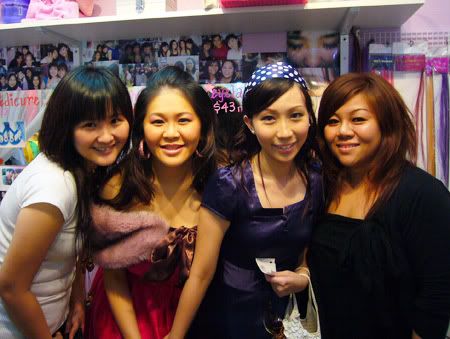 with shades.. i think only my shades looked retro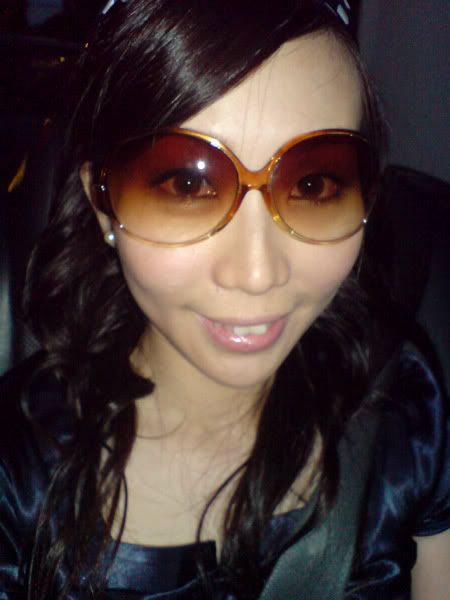 Reached!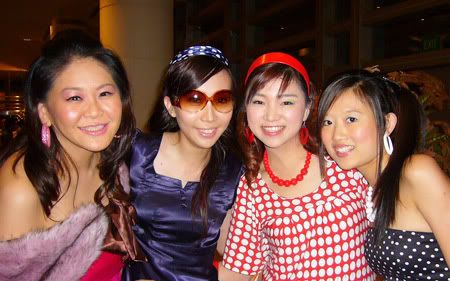 the lovely girls in my division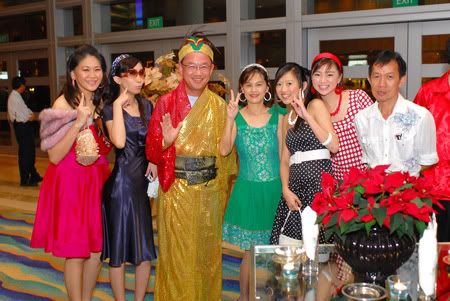 department folks.. really nice and fun people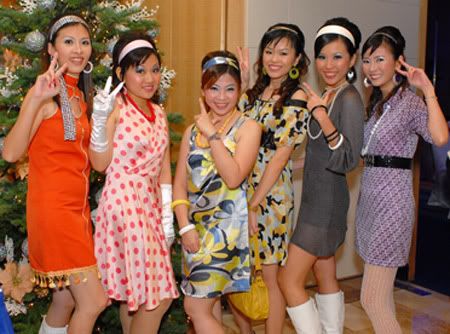 really very retro costumes! very 881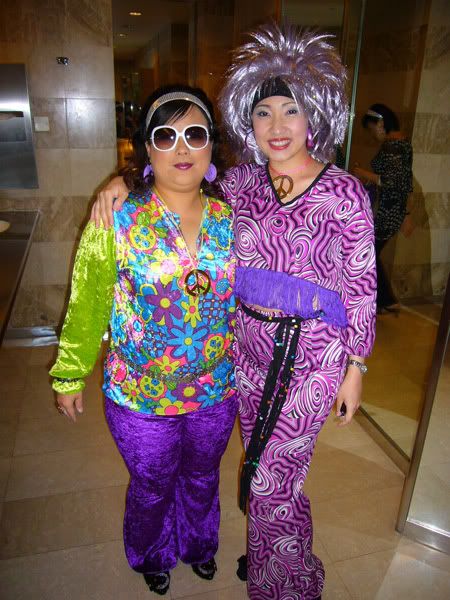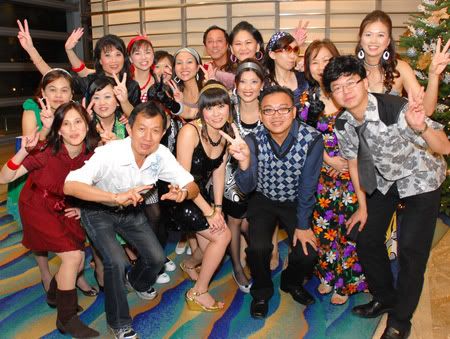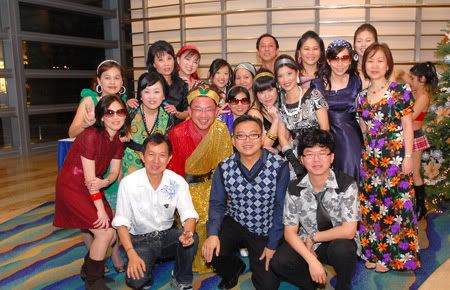 the not very retro people.. who insisted on wearing what they like =D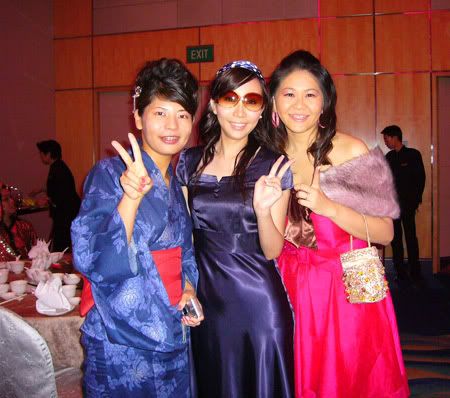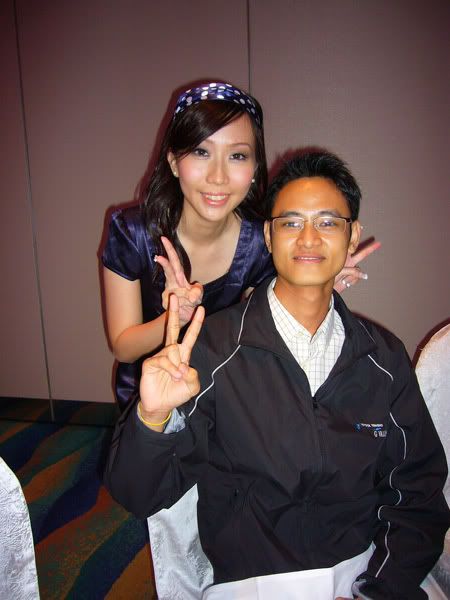 I sat at the same table with....
Spidey!
in his LATEST outfit summore which is totally not
RETRO
. haha he acted like spidey throughout the whole Dinner!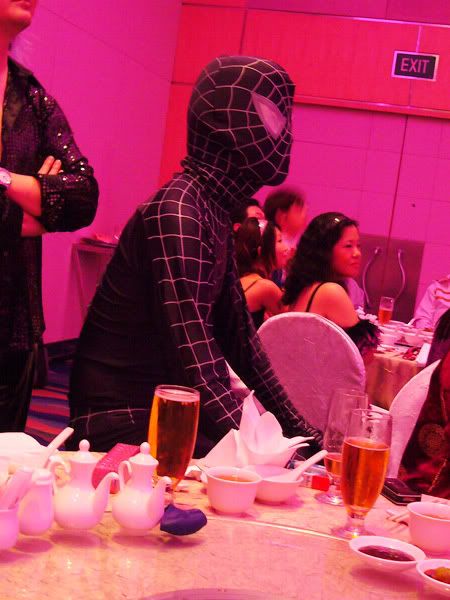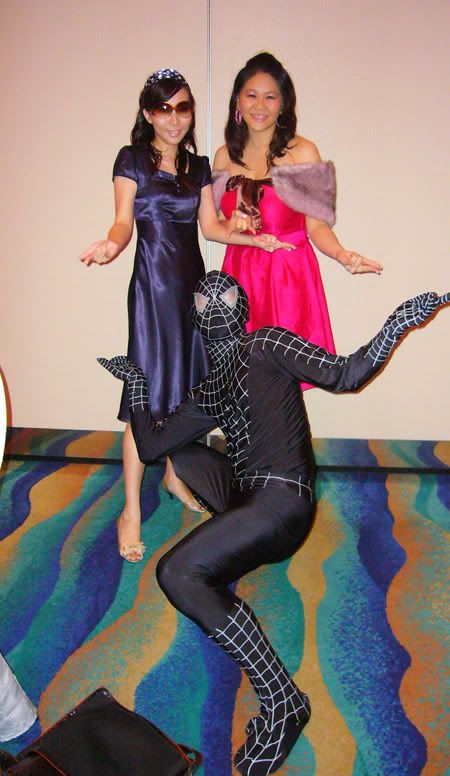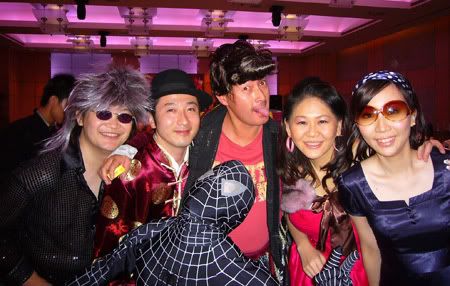 Kiyo 到此一游 @ 9:09 PM

*~*~*~*~*
Guo Da Li
Over the weekend was our guo da li. Didn't know much about the customs so left it all to my mum and mum in law. It's the day that the groom will come with boxes of cakes and some other items to chop and sign the bride for marriage hahah.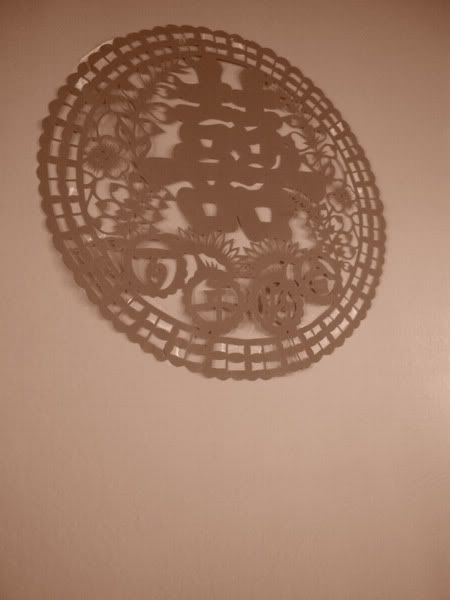 we pasted the word Xi all over the house
Groom side to prepare :
2 bottles of liquor or red wine, sweets, ang pow, si dian jin, mandarin oranges.
Bride side to prepare :
1 pair of pants, 2 bottles of orange drinks, red
tam pui
and some red bath tub for kids kind and mandarin oranges too.
We actually cut away alot of things like candles, lamps etc and the whole process is to exchange some stuff and it was a good chance for my mother in law to visit my house too.
My cake for relatives!
dar chose this! thanks dar.. it's really very pretty =D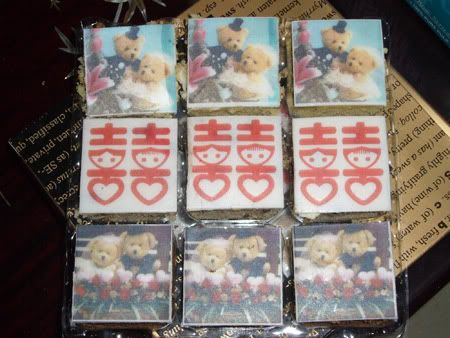 Labels: Wedding
Kiyo 到此一游 @ 8:06 AM

Saturday, December 15, 2007
*~*~*~*~*
Thanks to Dias for sharing with me this song and thanks to Gerald for sending it to me!
will be using this as my first march in song
The lyrics are so meaningful. It's actually a song sung by michelle tumes. The song is so beautiful and her voice is so angelic that it touches my heart..
Lyrics

You're the sweet dreams that soothe me
When I can't fall asleep
You're the field in the middle of the city
When I'm rushing by at the speed of light
You're the strong resolution when I find no peace
You're the church bells ringing in the evening
When all is quiet You whisper comfort
That lifts my heart
I get so weak

Chorus:
Ooh You're lovely, lovely
You're the center of my universe
A thousand times I look around me and I find
Ooh You're lovely, lovely
You're the center of my universe
A million ways could not explain
You're lovely

You're the soft words that touch me
When I just can't speak
You're the breeze on the ocean in the morning
Reminding me to greet the day
You're the flowers I remember seeing in Italy
Colors through a golden haze
Bright and radiant, soft and fragrant
In the noon day sun, it makes me sing

chorus

I understand there may be grief
And there may be pain
But I'm aware You blind the darkness
With Who You are
Labels: Wedding
Kiyo 到此一游 @ 9:37 AM

Friday, December 14, 2007
*~*~*~*~*
Yesterday i received a call that didnt make me feel very good, very sad in fact.
It was a call to inform the demise of a friend. She died in a car accident on 13 Dec and i'm truly shocked and do not really know how to respond.
I knew her online and we chat on msn for many times and we met up too. She shared with me her relationship problems and i shared with her mine too.
While going through the phone book last week thinking of wedding invitations, i came across her number and was wondering why i didnt see her online as often. But I knew she was pretty busy with work. She's doing HR too, same as me.
very very saddened by the news...
life.. is so vulnerable
Kiyo 到此一游 @ 3:52 PM

Thursday, December 13, 2007
*~*~*~*~*
I havnt been logging in samsung fun club for yearsssss....but recently darren bought a new samsung phone! Really pretty! but the touch screen can be a tad irritating and too sensitive. Needs some time to get used to. But the pictures taken from the camera is seriously not bad.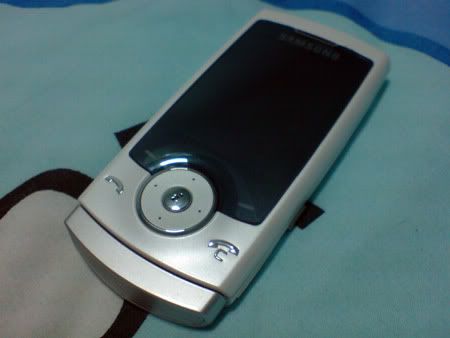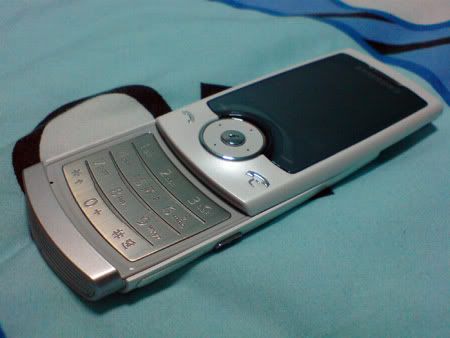 Lurve it in white..tempted.. tempted
It's dinner and Lance on friday and the theme is retro. Guess what, i'm not dressed to the theme! =p
Kiyo 到此一游 @ 7:57 AM

Monday, December 10, 2007
*~*~*~*~*

My book arrived!!

Yeah it's a book made with love by us! showcasing our ROM photos using the Blurb Software. I must say that the quality is not the best but for only 29.95USD excluding shipping, it's really a steal. You can design your own layout and put any pictures or wordings inside to make it memorable.

They have alot of templates to choose from so it's just a drag and drop.
Maybe I will make another book after our japan trip when we come back =)

Not really satisfied with my design this time.. hopefully next time will be better.
and of course thanks to GERALD too!! for the lovely photos!

Check out the 1st 15 pages of my book for a preview!


Our cover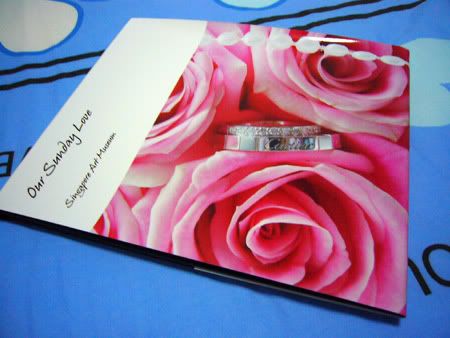 It's a hard cover book....


We included part of our vows too =)

Kiyo 到此一游 @ 9:38 PM

Sunday, December 09, 2007
*~*~*~*~*
Finally went to Traders Hotel and saw the renovated ballroom!
It was better than I thought. The carpets, lights are new and the reception will be a cosy and intimate area where friends and relatives can relax and chit chat till the banquet starts
The new reception area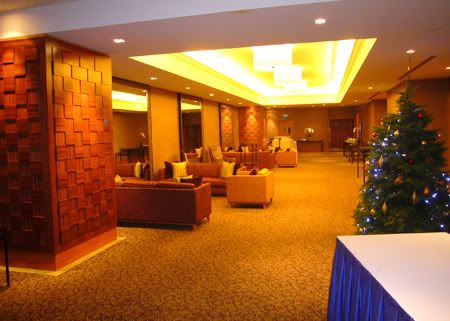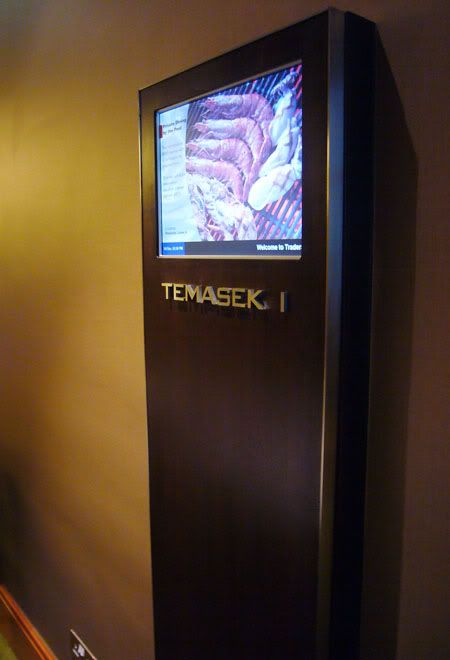 There's 4 such lcd screens around at the reception area where we can showcase our photos!
Darren at one of the cosy corners~ there's mirrors all over!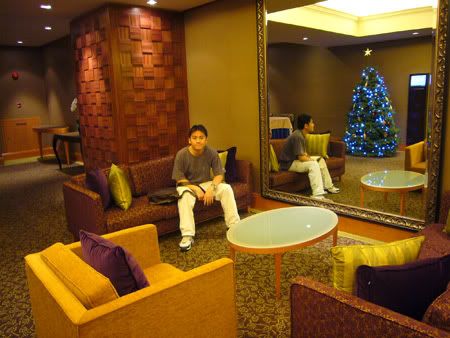 The banquet hall has a very long aisle with the tables at 2 sides. So practically every table is along the aisle. =D That's seriously what i love about this ballroom.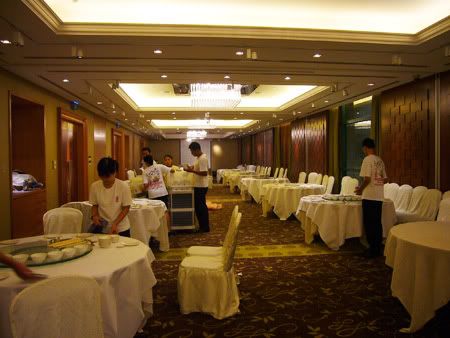 One bad thing about this ballroom is that this whole thing is TOO hidden away.. hhahha and the guests may be confused with those in the gallery ballroom which is in front.
Kiyo 到此一游 @ 7:35 PM

Friday, December 07, 2007
*~*~*~*~*
Remember the yellow balls I bought quite a long time ago.
I didnt had the time to try them till last week. ha!
and i must say it's quite useful! ONLY if you wear them to bed.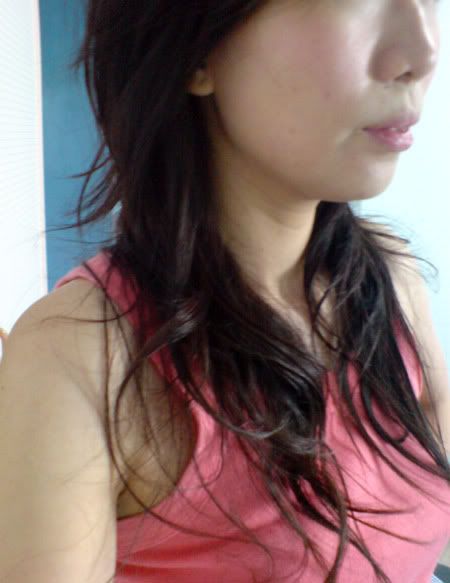 think the effect is better than when I use tongs.
HAIZ..
dont know why, i'm just not very ME today.
not in the bestest mood.
Maybe there's too much things on my mind to do lately and the planning and coordination is wearing me out. or Maybe I asked too much from myself.
I should learn to relax!!
Kiyo 到此一游 @ 11:37 PM

Wednesday, December 05, 2007
*~*~*~*~*
I have more or less decided where I want to go during my Japan trip. But finding a value for money hotel is a headache. Especially when I want a good hotel that faces Lake Ashi in Hakone not exceeding 200 dollars.. and what i mean is PER PAX.
The ryokans (inns) there are EXORBITANT. For a view of Mt Fuji and the famous lake when you wake up including a dinner may set you off for about 500? at least..
We will be skipping disneyland and disneysea too as i have been there before. But we will be going to this place! so looking forward! It's quite far but i think it will be a lovely place!
hope my pics turn out as good as what their website shows. =p
~ huis ten bosch ~
Kiyo 到此一游 @ 8:25 PM

Monday, December 03, 2007
*~*~*~*~*
my dad has this very cute tissue that says......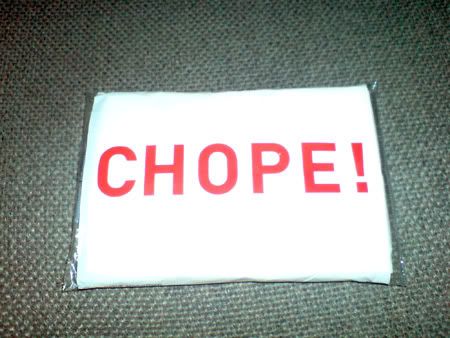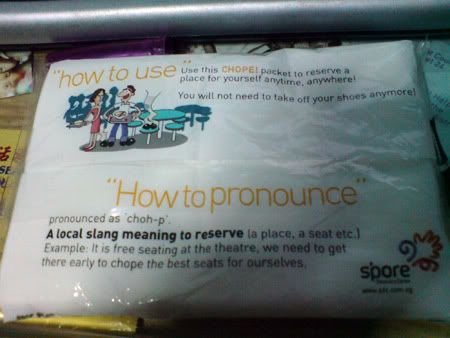 wah laooooo... all i can say is Tissue oso can be very SINGAPOREAN and it's a ultra useful tissue during lunchtime!
Kiyo 到此一游 @ 10:07 PM

Saturday, December 01, 2007
*~*~*~*~*
DIO PIANZ
Yesterday I went for a lantern making workshop before going to del mar to meet the girls.
hey, not learning the 中秋节 kinda lantern you know, it's the japanese rice paper lantern workshop.
The poster showed a picture with a lantern something like this.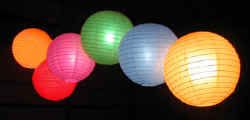 and i thought we were going to learn how to make these...so that next time, i can make some for my new home. Paid a FREAKING 60 bucks and it ended up they didnt teach us this at all!! even a girl who sat next to me said she felt super cheated. =p
60 bucks lor!
in the end, it was some other kinds of rice paper lantern..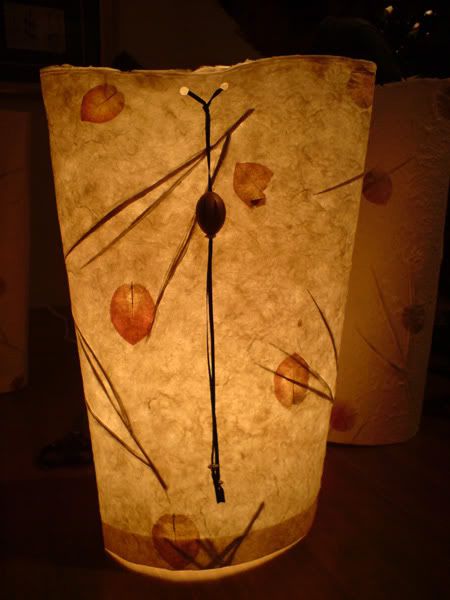 still as nice lar.. but i like like round ones better =(
hmmmph
~~~~~~~~~~~
Something happier!
We booked our tickets to Japan! for next year from March 28th to 7th April for a 11 days 10 nights stay. All thanks to Dias for telling me the great lobang from NorthWest Airline.
Only 668sgd per person including tax! Almost the same price as my SQ ticket to taipei. Really looking forward to go since i havnt been there for at least 3 years lerrrr. Can meet up with okaasan and go to Odaiba again. heez
Hope to go Toyko, Osaka and some other cities which I have never been before.
Planning shall start soon!
Kiyo 到此一游 @ 11:25 AM