Wednesday, January 30, 2008
*~*~*~*~*
Weekend!
really lazy to blog nowadays..but seriously looking forward to our japan honeymoon.
I REVAMPED THE WHOLE SCHEDULE!
We won't be taking night train as it's too much a hassle and cost almost the same as the domestic flight. Actually i have reservations on taking their domestic flight as I was on it once. The airplane was much smaller and during that time, it experienced very bad turbulence and scared the hell out of me. And i was alone on that plane! not alone as in the whole plane only me....but i went there alone.. die aredi oso nobody know.
choy choy choy! dai ka lai xi
Anyway, i think we do not have much choice as the flight will only take 2 hours while the train may take 8 hours =___=
and our ROMANCE CAR booking is confirmed!!! So happy! our seats are 3a and 3b..and it's in the "observatory deck".
pure happiness =p
Kiyo 到此一游 @ 9:01 PM

Tuesday, January 29, 2008
*~*~*~*~*
Added a playlist with my favourite songs! the list will grow longer..
added a new song, my new favourite. Enjoy!
Great for montages as well.
I will be blessed!
If the sun
Refused to shine
Down on me
'Till the end of time
As long as i have your caress
Your tenderness
I will be blessed
If the stars
Refused their light
Just for me
They stayed out of sight
If you say you love me best
I won't care less
I will be blessed
If the wind won't blow your name
Until i'm still
I will
If it's whispered from above
The highest hill
I will
If the moon
Up in the sky
Turned its face
From the lonely eye
I could never be distressed
Or love you less
I will be blessed
~~
Yes! i will be blessed =D
Kiyo 到此一游 @ 7:53 AM

Sunday, January 27, 2008
*~*~*~*~*
I gave myself 1 target for this weekend.
I must buy at least 3 pcs of clothing for CNY! But after walking the whole of Central and Vivocity, i didnt hit my target.
Only bought one. But i still love this dress. I call it flowers in pink!
and the sweetheart neckline is lovely~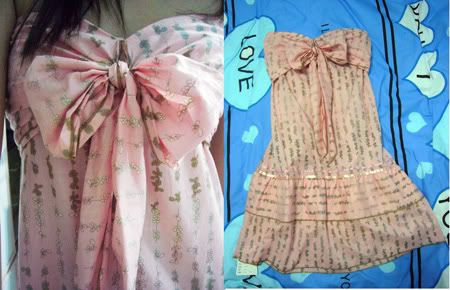 Today will be changing my battlefield to Marina square. hee =) Wish me LUCK!
Kiyo 到此一游 @ 9:49 AM

Friday, January 25, 2008
*~*~*~*~*
FRIDAY! FINALLY!
Have been rushing out expat tax these few days..work until i
tao gong gong
. Really dislike looking at figures and more figures. Think the last job on earth for me will be either auditor or accountant. Numbers in rows of excels drives me crazy!
I salute them with my deepest respect.
Just booked my Hakone accomodation!
It's going to cost us 400 per night. But our room will overlook Hakone Lake and I believe the scenery will be really worth the price.
Labels: Travel Tales
Kiyo 到此一游 @ 10:24 PM

Wednesday, January 23, 2008
*~*~*~*~*
My new Holy Grail!
I'm always in search of a "better" eye cream/gel and after reading raves on this product in flowerpod, i ordered this online 3 weeks ago. Have tried this for 2 weeks and still loving it!
it's gel based and compared to all about eyes by clinique, ahava eye gel has a very nice fragrance. It's non oily so usually i apply ALOT on my eyes and it's effective for me. At least it softens the fine lines very much. Doesnt really reduce the dark circles though... still looking for an eye cream that can do both tasks. hee hee Of course at the same time, it must be affordable!
Cash on Delivery : $55
~~~~~~~~~~~
Received an email from Liyun informing me that Bevlyn is releasing her EP! Bevlyn is one of our Geyao friends and we were the same batch. Really happy for her that she never gave up in pursuing her dreams. Not everybody have the courage to continue what they love despite all odds.
But i'm a little busy with work (tomorrow still have to OT sianzz) to go down and support her but will get her album at the stores! definitely! to show support. In case you are looking for a wedding singer, she has sung in many many weddings too. =)
For those interested in local music, she will be performing tomorrow at Esplanade.
Set 1: 7.15pm - 745pm
Set 2: 815pm - 845pm
Do check out her website and support local talents!
~ Bevlyn ~
Labels: Reviews
Kiyo 到此一游 @ 8:45 PM

Monday, January 21, 2008
*~*~*~*~*
2nd ad from Nuffnang~
Don't know why but my blog seems to attract ads that are very healthy. hee hee. The first was a marathon related ad and now it's from the Health Promotion Board.
Yes.. next i would like to endorse no-smoking campaign or maybe no littering too. hahah
The banner looks quite scary but it's an important issue!!
Think i'm guilty of the snacking bit VERY MUCH. =(
We always have very kind expatriates coming back from business trips or nice colleagues who came back from vacation and brought back wonderful tidbits to feed our hungry stomachs.
Anyway, the website indeed looks pretty cool informing people about the importance of workplace health. Actually i read their brochure previously and was thinking of implementing it in my workplace maybe in late 2008 or 2009 as companies are given grants to organize in-company pilates, health talks or maybe DIY acupressure massage..
Anyway, something healthier and GOOD NEWS for me!
Dar has started on his QUIT plan yeah.. quit smoking plan. =D
yesterday he only smoked 2 cigarettes and was still okay..
Hope he succeeds.. *grinz*
and then the anti-smoking campaign can put an ad in my blog and i will share his sucess story. =p
Kiyo 到此一游 @ 9:25 PM

Saturday, January 19, 2008
*~*~*~*~*
After using Photoshop for so long.. Now then I realized that I can resize photos with a click of the button!
Gerald passed us our Actual Day Photos and just by looking at the number of photographs, I think I will faint before finish resizing them and uploading so i started to read into the Automate function of Photoshop and it worked!
With a click of the button, i can resize them to the width i want, save it in the folder i specify and close that file. So i click once to do
all
the functions instead of doing them manually by myself. Saved me loads of time! Why nobody tell me this function before? =_(
hee.. anyway here are the snapshots that I especially loved.
Some taken by Gerald, some taken by his associate photographer, Kelvin.
You can find Gerald's works at www.maverickatwork.com
The rest of the pawtoes are over at my multiply.
~ Photos ~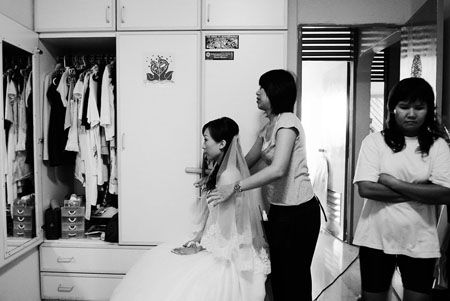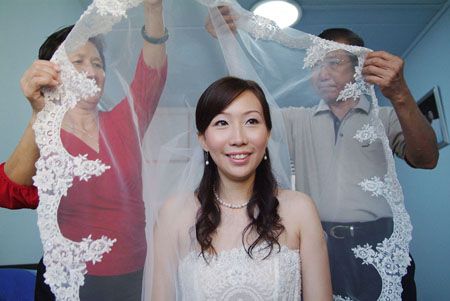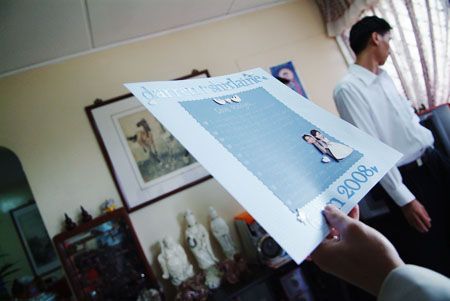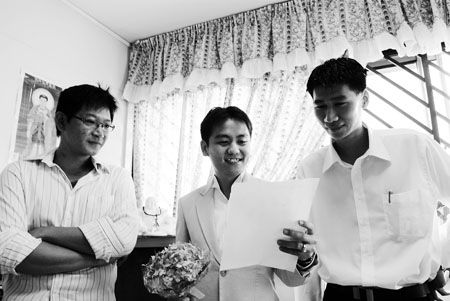 1st game :
Was to assemble some beads into a bracelet. The beads have some missing alphabets and they are supposed to use angpow to exchange for the alphabets =p
2nd game :
Hoola Hoop while singing Quando Quando. Funny sight. The guys cant hoola AT ALL
3rd game :
Bestie Xin Ying created a lovely LOVE PLEDGE. And he has to say it out loud to me in English and translate into HOKKIEN as well. haha! Luckily for darren, one of his brother speaks super fluent hokkien.
IT WAS FUNNY! till today i still remember..
"Marrying you is the most brilliant achievement in my life"
TO....
"Chua3 ri4 xi3 wa4 jit3 si4 xiang3
DOK3 GONG3
eh3 dai3 ji3"
"You will always be my wife, my friend, my companion,my second self"
TO....
"ri4 xi3 wa4 eh3 bor4, wa4 eh3 peng2 you4, wa4 eh3 hia1 di3, ri4 xi3 wa4 lah..."
=___=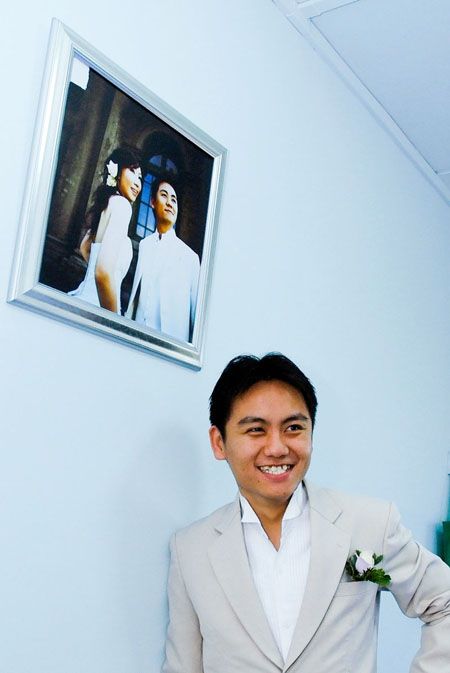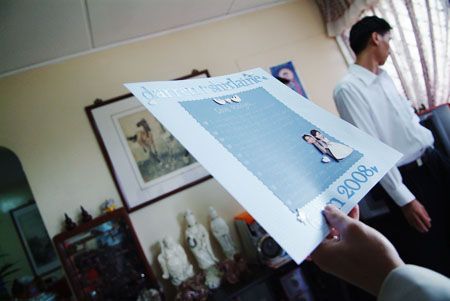 off to the hotel!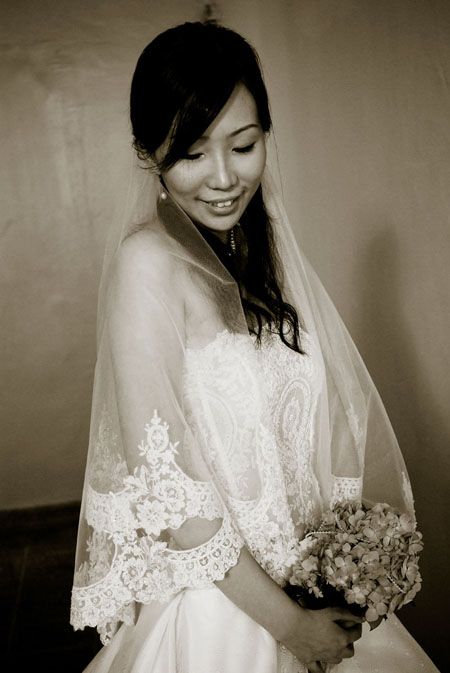 love the details of my gown!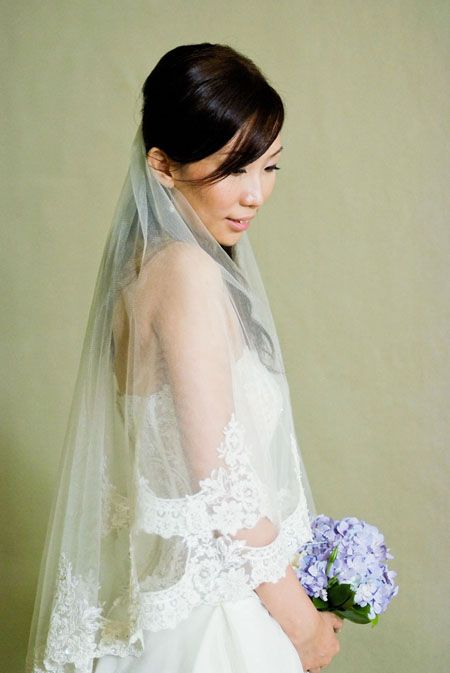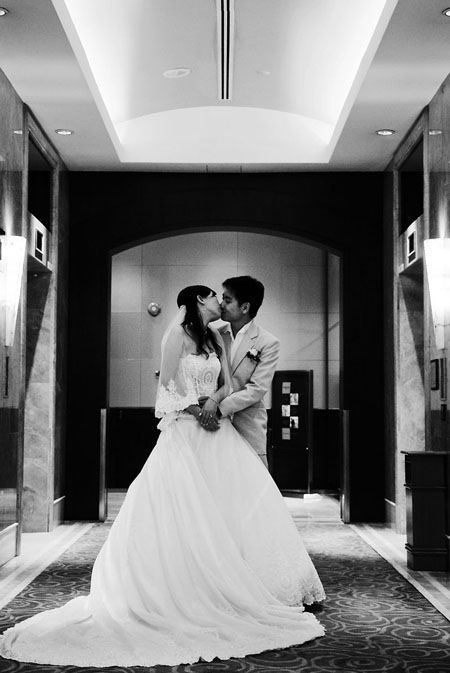 In the bridal suite,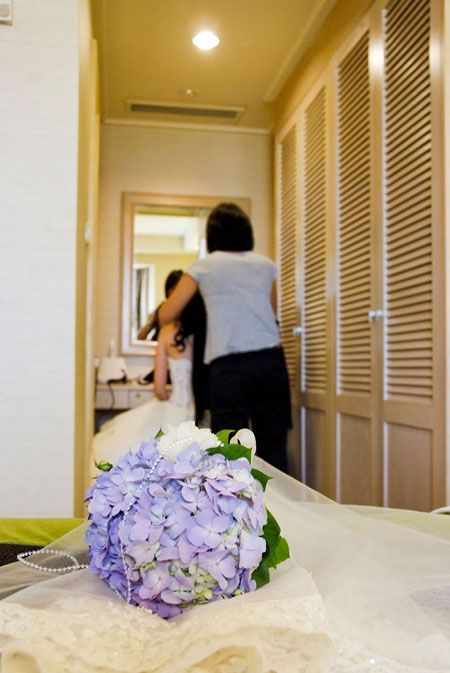 My bridesmaids in helpers room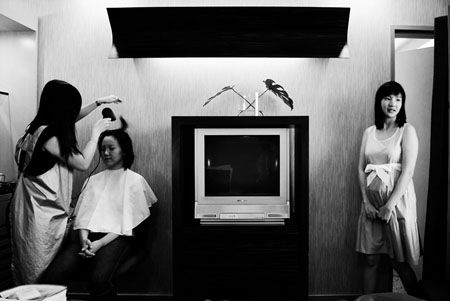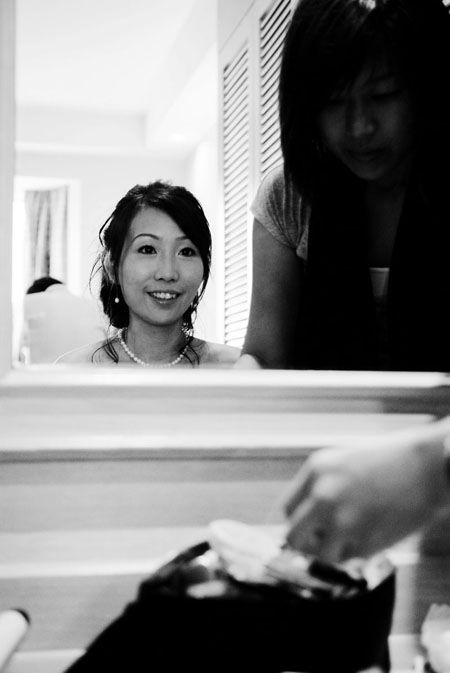 Wedding Luncheon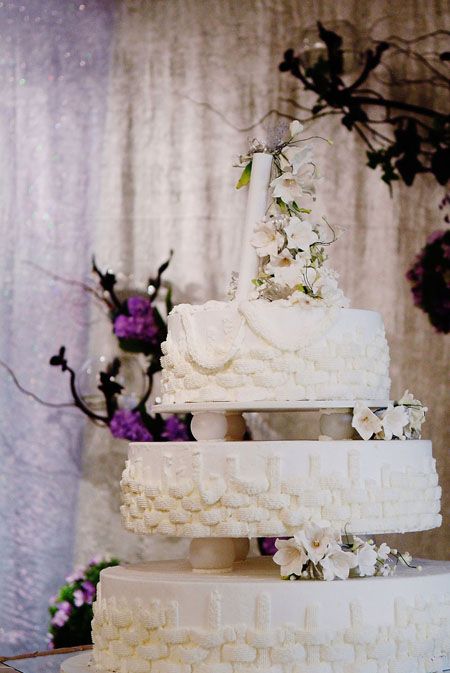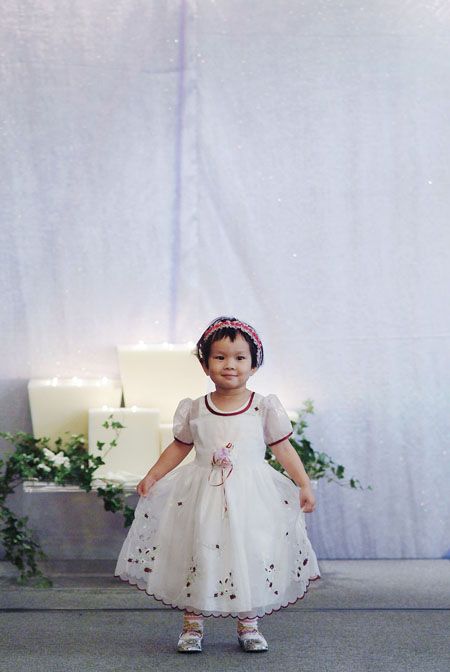 cute kai xi again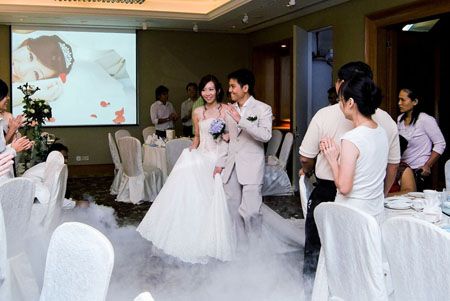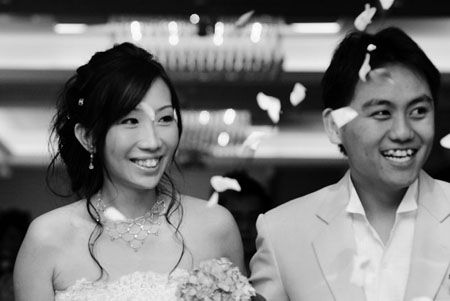 YUM SENG! proves to be too noisy for the little ones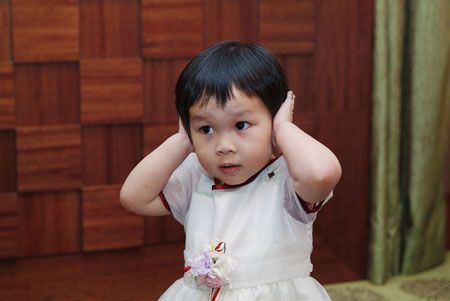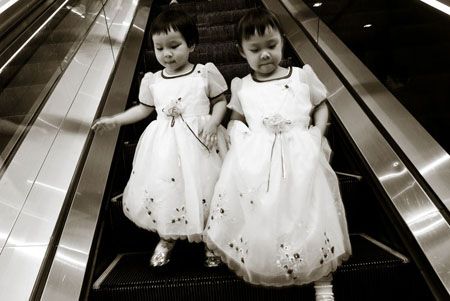 the 2 sisters keke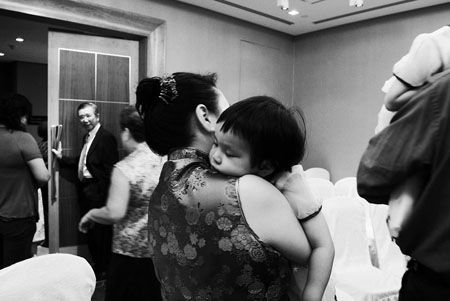 Labels: Wedding
Kiyo 到此一游 @ 9:01 AM

Thursday, January 17, 2008
*~*~*~*~*

Finally had time to blog.. *phew*

This bkk trip is seriously not just a simple company retreat. It's an ENDURANCE TEST!! But it's FWEE so it's still a very good trip with free food and accommodation.

We were allocated to Group C, which will land bkk the latest at about 7pm. The other groups landed at about 4 plus. =( booozzzz..But guess what, our flight was delayed!
For 2 hours! Everybody was so sian




At the airport.. nothing to do



we went to Terminal 3 to look around. IT IS HUGE!



Started cam-whoring everybody as they all were so sian of the waiting. Our group became livier after that. he hee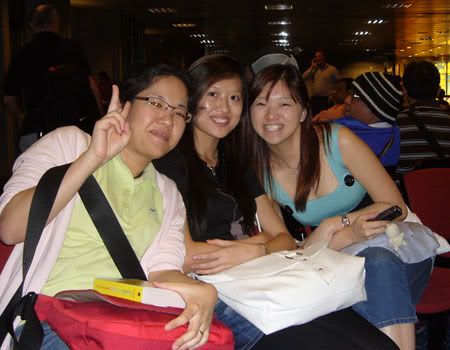 And we only reached the hotel at 11.30pm Singapore time. After checking in, it's almost 12.30am. Faintzz.. everybody was so so tired. We only managed to walk the night markets for like 10 mins and went back our hotel room to rest at 1am.

The next day we have to wake up at 6am in the morning (5 am Thailand time, ULTIMATE FAINTZ) for breakfast before departing to lumpini park for our team building activities.. It was pretty fun doing the 5 stations except for the weather. It's excruciatingly HOT.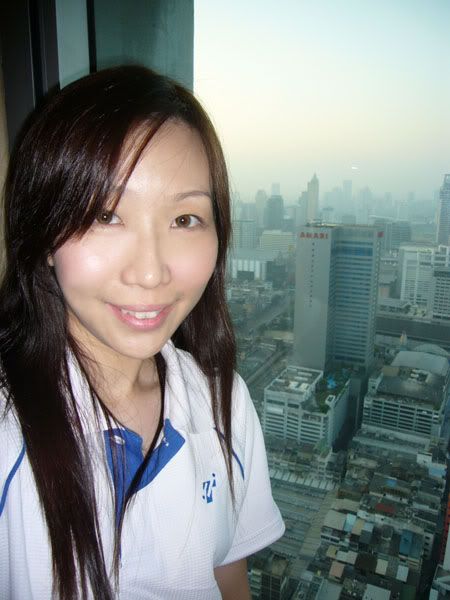 We stayed at the 45th Level of Baiyoke Sky Hotel. Quite a good location!

Team building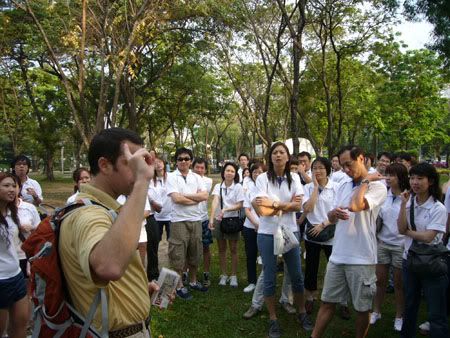 Our first station was a rope game. We were supposed to form different shapes and alphabets by pulling the rope and of course, no verbal communication is allowed.




2nd station was Blind blocks (which was really easy) where 2 parties are blindfolded and they were supposed to assemble some blocks. But again no verbal communication for the rest of the people but the 2 parties who were blindfolded were allowed to ask questions. That was a pretty easy one.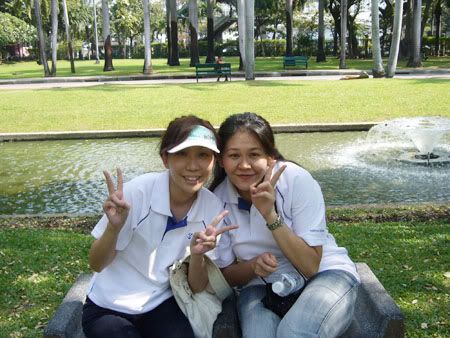 The games involved a lot of analyzing and also teamwork and it was pretty fun cheering each other on. But we were dead beat after that.. the coach was in total silence cos everybody was sleeping!

After a good lunch at a Chinese restaurant where the waiters wore roller skates, (didn't take much photo, too tiredz..) we were given 2 hours of free time to do what Singaporeans love to do. SHOP!!


Really good FWEE food =p



They were in the Guinesss Book of Records for being the largest restaurant in..

1992!!!

=____=



Our hotel in a distance...

we went back and took a bath cos we smell.. literary. Maybe as bad as the CHAO PRAYA RIVER.
Bought 1 tee at Platinum Mall and more stuff for our house!.. I realized the clothes are too young for me anymore.

Refreshed! but with siao char bo hair



Night time.... we had a cruise and dinner on the cruise =D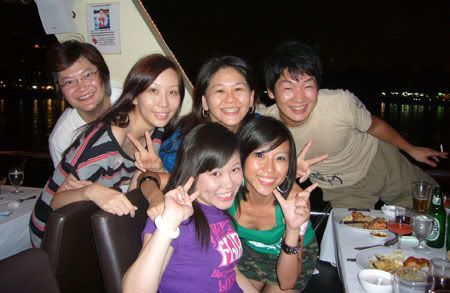 After that, we went to suan lom for some shopping and a foot massage.

I think we slept at 4am in the morning =______=

Woke up at about 8am (faintz again) to take the breakfast, visit Erawan Shrine and get the cheap lingeries before checking out.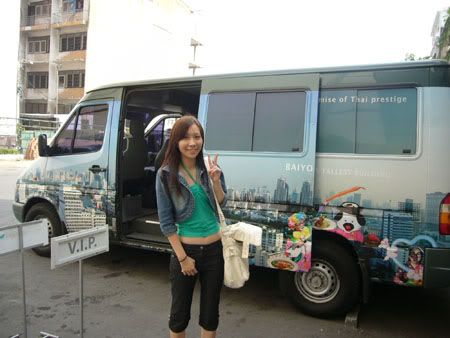 The free bus to Siam Square



how to forget birdnest? =D
Really a tiring trip and many of the employees simply stoned on Monday as we returned on Sunday at about 11pm..really appalled by our endurance. Some gals even woke up at 3am.. TO SHOP. =)

we gals can really sacrifice sleep for shopping!
Kiyo 到此一游 @ 7:25 AM