Tuesday, September 28, 2004
*~*~*~*~*~*~*~*~*~*~*~*~*~*~
No more public holidays until November
Getting real tired at work.Dont want to take too many leaves also as I need them for next year's trip. Guess I just have to bear with it at the moment ba.. sigh.. He is coming back on the 19th Nov. long awaited day for me.. actually time really passes very fast as he has only another semester of studies to go before he graduates. It's already almost 2 years! Anyway, their holidays are always so long that is why is seems quite fast. :) Still can remember the first sem when he was there at perth to study.. really feel that time drags and was real difficult in getting used to without him around. Looking forward to all the buffet and eating sessions when he is back yum yum!
Kiyo 到此一游 @ 9:28 PM

Thursday, September 23, 2004
*~*~*~*~*~*~*~*~*~*~*~*~*~*~
A Dominatrix or Doormat?
This question was polled to some men asking whether they prefer women to dominate them or the other way round in Her World October Was kinda interesting as I thought what kind am I....
I'm definitely no doormat. haha I'm usually the dominant one.My current bf always says that I am "mu lao hu" :P The funny thing is he seldom dreams of me and when he dreams of me, I was scolding him in the dream. haha.. really funny when I heard that. Actually I am not really that fierce, had toned down alot already, and learnt to control my mood.. but occasionally it still happens. Sometimes, once a month :) but I was real fierce in the past.. Maybe I cared too much that's why.. I wonder where's that side of me now.
So 49% of the men preferred their counterparts to be of the dominant kind. As they claim they cannot stand a girl just stand there, listen and do what is being told. Like a dead fish haha. But still, majority of the men preferred to take charge and prefer girls to be just a simple...DOORMAT.
Kiyo 到此一游 @ 7:23 AM

Monday, September 20, 2004
*~*~*~*~*~*~*~*~*~*~*~*~*~*~
It's good to have one more friend than one more enemy.
I live my own life. I really hope that I have one more friend than one more enemy.
Of course I dont go around making enemies. Sometimes I really question what the meaning of friends are. I realized that the so called "friends" that I have known for years might not even really care about your life than those guys or gals I met through the net or whom I never met before.
I can say that I try to keep in contact with those friends, and I did what a friend ought to do. Instead, what I got was just ignore.If you are just interested in what she says.. as i've said before, you can just jolly email her directly. I'm not here for you to be treated as transparent.
Enough of that shit.. I have other friends who really care.
Had fun at botanic gardens testing out my digital camera. I was kinda lazy to use my tripod so some pictures turn out a little blur..but overall was fun, the group were great and funny and we had delicious pizza at Spagettis and saw our Prime Minister with his family as well!
Kiyo 到此一游 @ 9:11 PM

Wednesday, September 15, 2004
*~*~*~*~*~*~*~*~*~*~*~*~*~*~
MSN
Downloaded a interesting plugin for MSN at http://www.mess.be. Really interesting as it allows you to upload ORIGINAL size.. YES, I MEAN ORIGINAL sized pictures as Display pictures!! hahah... some of my friends were shocked when they saw my chat box. The size of the display pictures was supposed to be 96 x 96. But this plugin gave you a choice to upload original pictures.. for vainpots like me, it's really good :) ahhaha
My screenshot from my friend.. :)See how big is my display pic.. wahahahha
Kiyo 到此一游 @ 9:15 PM

Tuesday, September 14, 2004
*~*~*~*~*~*~*~*~*~*~*~*~*~*~
This is me and my japanese friend at the Soup Restaurant in DFS orchard. It was taken last wednesday and that was the night that my stomach started to get sick and uncomfortable. But of course it was not due to the food there. I didnt eat much there too. But it was quite nice. He brought me my bracelet which I left it in his house last year when I visited him in Japan.
Looking forward to ktv although still not confirmed yet. Havnt sing for quite some time, think there should be new songs which I havnt tried.. hee hee
Kiyo 到此一游 @ 9:19 PM

Saturday, September 11, 2004
*~*~*~*~*~*~*~*~*~*~*~*~*~*~
feeling much better today. The chinese medicine although bitter is working quite well. Was supposed to join a group of friends to take pictures at Little India tomorrow but I will just give it a miss. Think I need more rest in case on Monday i fall sick again. Choy! haha..
Just watched the Channel U idol competition thingy. hmm.. just as expected, the cutest won haha.. there was one guy who I think was quite talented and performed well in the 2nd round too but was K.O. such a pity, maybe he was a little "old". Think apppearance is really very important in the entertainment line.
Kiyo 到此一游 @ 10:14 PM

Thursday, September 09, 2004
*~*~*~*~*~*~*~*~*~*~*~*~*~*~
Not feeling well today..
Didnt go to work today. Wasnt feeling too well. It started last evening. I think it must be indigestion or maybe I ate something wrong. That's just this dull pain in my left part of the stomach that made me cant even walk! But I still went out dinner with a Japanese friend last nite. He transit in Singapore for one night only and it's the only chance we can meet up.
Feeling much better today, went to the doctor but I knew the medicine wasnt going to help. Tommorrow will go to a chinese physician. Luckily it doesnt hurt anymore when I walk now, really looking forward to the weekends. I need to rest.
Kiyo 到此一游 @ 5:36 PM

Tuesday, September 07, 2004
*~*~*~*~*~*~*~*~*~*~*~*~*~*~
I realized that I'm getting fat.. no joke.. this job is making me sit the whole day staring at that computer. will have to be disciplined to do crunches from
TOMMORROW
onwards.
Kiyo 到此一游 @ 10:05 PM

Monday, September 06, 2004
*~*~*~*~*~*~*~*~*~*~*~*~*~*~
Burnt a hole in my pocket yesterday
Bought a lot of supplements yesterday. Cost me about 300 bucks...But really couldnt be help, I feel more energetic and radiant while taking supplements. I started to take evening primrose yesterday. I think it's helping my allergy. I just dont know what happened that made my lips itch and peel and they are dry like mad. It's something I ate I know, cause it happen when I ate seafood recently. Think it will recover soon hee..
Will be meeting a Japanese friend on wednesday. He's transiting Singapore! Think i havnt seen him for quite some time, almost a year. I left my bracelet at his house last year in Japan hee.. He's going to bring it for me.. Me and another friend will give him a treat. :)
Kiyo 到此一游 @ 9:37 PM

Saturday, September 04, 2004
*~*~*~*~*~*~*~*~*~*~*~*~*~*~
Saturday
Wanted to go shopping today. Planned to go so many places yesterday but didnt even fulfill my plans. Just felt so tired after lunch and decided that saturday is not the day to go to Orchard as it will be so crowded and the fitting rooms will be full of people.
Am I too sensitive or what? I still cannot forget the incident that happened one year ago when he lied to me. Sometimes i get reminded again through some of his actions. I know that trust is very important,but sometimes it is the guys that betray and make us very suspicious and insecure. My best friend is facing the same problem too. She is also under alot of stress. Alot more than me. I didnt tell him what i think just now through MSN. I suppressed it hoping that the thoughts will go away. I know if I tell him what I think, we will sure quarrel. I wont let my mind stray too much. Maybe some girls like me really think too much but usually it is the guy's action that made us so insecure. It is not that we are lack of confidence. But sometimes, you cant deny that once a relationship gets long, the guys might feel bored (I cant deny that there are girls who are like that too). And it's much worse when you are being betrayed once. Difficult to build trust again. poor friend of mine. I fully understand her plight. She says she's going crazy. I was going crazy during that time too.
Now, i feel so much better. I controlled myself well while chatting with him now. I didnt tell him how I feel cause I know we will definitely quarrel.
i heard something on a Taiwan entertainment show and felt that it's really meaningful and really applies to me too. to guys..."you may have friends, sports and alot of things in your world, but for girls... the only important thing is just you"
Kiyo 到此一游 @ 9:50 PM

Wednesday, September 01, 2004
*~*~*~*~*~*~*~*~*~*~*~*~*~*~
Forgot to mention that the latin musicians at the Family night dinner was ABSOLUTELY great! their acapella was like.. whoa! heavenly. enjoyed their music alot!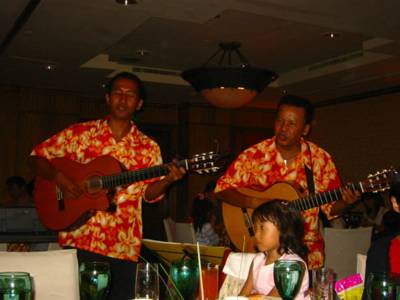 Kiyo 到此一游 @ 9:28 PM

Tired..
Have been real lazy to post my thoughts here in my blog.. Think should start posting some pictures. Family Dinner.. hmm.. it was not too bad after all. The food was bad anyway. I think i had better buffet elsewhere but the people were fun. This is the only time you see the "other side" of people you know. haha. They can be such fun people, especially people that are being saboed to go up to stage. I was real lucky to escape that one. haha.
Really looked forward to the weekends but Friday will be a major one for me. Very tired, hope that this ends sooonnn... Saturday will be testing out my camera at the zoo.. hee hee. Hope I get some good pictures of me and the orang utan. Just want to get out and get some su, although I dont want to get tanned, but really looking forward to some outing with friends.
Hope everything goes well on Friday and nobody will ask me questions. I have to think of a contingency plan when I cant answer... :P
Kiyo 到此一游 @ 9:15 PM