Saturday, May 31, 2008
*~*~*~*~*
i seriously cant stop touching my hair.
i must have looked pretty idiotic too
but my hair is really soft after using pantene clinicare!
CLINICARE ROCKS!
And dearies.. please help to click on the nuffnang ad on the left to help me earn some measly moolahs
(for more shopping)
=p I still need $28!
mUAkzzz!
Kiyo 到此一游 @ 1:34 PM

Friday, May 30, 2008
*~*~*~*~*
Maybe you all have received this before but i find them really cute!
TGIF~~~~~~~

Boss is not here:
Boss is calling:
In a meeting:
Training:
Tea break:

Before noon on weekend:

Ready for getting off work:
Tomorrow is a holiday: 




-------------------------------------

Got today's target from boss: 


Tough target:



Find impossible to meet boss's requirement:


-------------------------------------
OT for 2hrs:
OT for a whole night:




Being notified to OT on weekends:



-------------------------------------

Meet with 'Sorry-I-Don't-Know'clients:


Made mistakes in work:



Little achievement:

Frustrating things happens:


Finance person doesn't give the money:
Being advised NO BONUS this year :

And my mood today is of course...





TGIF!!
Kiyo 到此一游 @ 10:13 PM

Tuesday, May 27, 2008
*~*~*~*~*
Weekend was really eventful
I did go to the hair salon over the weekend to highlight and touch up the colours.
Went to Act Point Salon at Shaw Tower and I have decided to stick with them for some time! Finally I found a place that is not so expensive and the stylist gave me some good tips on styling that works you know! Super tired of stylists that recommend a WHOLE list of products but none of them work as what they claimed. *yawnz&*
Settled my curling tongs spree too.
This is the first time that my spree went... well.. a little wrong. Okay they delivered something that was
different
from what it was stated in the website!! It was really headache.. Imagine if I need to return 5 curling tongs to US!?! then it will be darn sian
FINALLY everything is solved and i'm enjoying the tongs now!Still very glad that i've ordered. Babyliss is really good! Heats up like in 5s and the curls it produce, the really smooth bouncy kind. Made curling so so much easier and I will never perm my hair again as I think curling looks nicer.
The difference between curling and perming
I did curling on left side and right side is my regular perm. For curling, you can have the option to curl in, out, horizontal or vertical and it will produce difference effects. But regular perm only have 1 direction, very dead! *i feel*:(
see the slight tint of highlight in my hair? i love it! love the shine in my hair too.
a video on curling sent by ivy. great info! gg to try once i get my hands on those auntie curlers
We went to watch Indiana Jones too.
Enjoyed the show alot although the treasure-hunting stories are more or less the same for all Indiana Jones movie.
Just listening to the soundtrack makes us very high.. like going on an adventure. hur hur
Collecting 2 spree stuff this weekend! finally all the spree stuff are coming in
Every Month is GSS for ME! =p
Kiyo 到此一游 @ 9:55 PM

Monday, May 26, 2008
*~*~*~*~*
An exchange between xdd and myself after sending him a pic of my 'new' hairstyle.
kiyomi:: says:
nice nice?
i.am.maverick loves sunny sundays says:
OMG
Transfer of "DSC01033 copy.jpg" is complete.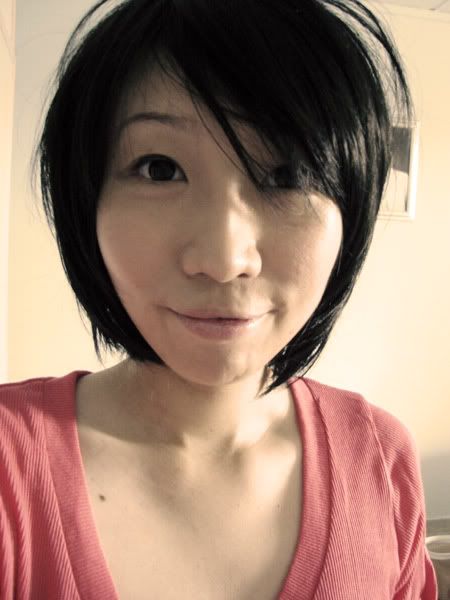 kiyomi:: says:
muhahhhahaahhaha
i.am.maverick loves sunny sundays says:
SUI
i.am.maverick loves sunny sundays says:
now u totally taiwan AUNTIE
kiyomi:: says:
hahhaha
i.am.maverick loves sunny sundays says:
but no la
i.am.maverick loves sunny sundays says:
i tink it suits u
i.am.maverick loves sunny sundays says:
u carry it off v well
kiyomi:: says:
IT'S HEBE CAN
i.am.maverick loves sunny sundays says:
ya lor tmd i tot i saw hebe also
i.am.maverick loves sunny sundays says:
then i noticed its u
and he still doesnt know THAT is not my real hair yet =p
Bothered by your hairstyles?
Now you can have any hairstyle WHENEVER you want.
JUST BUY IT.
OFF THE SHELF!
So what is so good about them (Wigs)
1) Wigs are not only for the hairless anymore. You can instantly be SOMEONE ELSE just by wearing it. Change your image from Auntie to the next-door innocent young thing
Look at
~ this ~
Don't even need to curl your hair. Wear and go!
2) You can try out the hairstyles first before you do anything to your real hair! Like trying to see if permed hair works for you
3) You can have the hairstyle that you have always wanted but never can. Like for me, i couldnt have achieved that kind of hairstyle with my real hair as it wasnt thick enough to start with. So even if i cut it exactly the same, it will have a different effect.
There's even Japanese boy style wigs...
~ Boy Style Wigs ~
It's kinda fun to see friends very shocked.
I'm luving my new image!
PS: But please dont pull them if you see me. =p
jin gao
act cute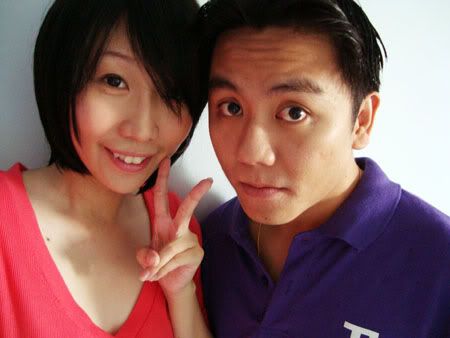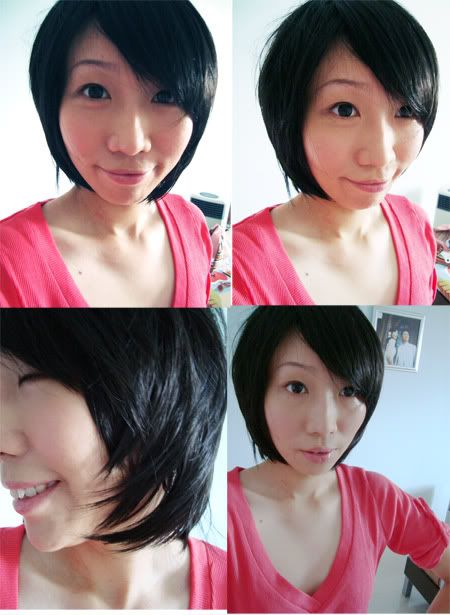 Kiyo 到此一游 @ 8:26 PM

Saturday, May 24, 2008
*~*~*~*~*
So excited!!
The gladiator boots from Venti Anni ARRIVED!!
okay i didnt order lah..there's a tinge of regret but i think i saved quite a bit of money. The boots i ordered for my sis is so so chio! that i couldnt resist trying them at home.
shoe box oso so pretty nor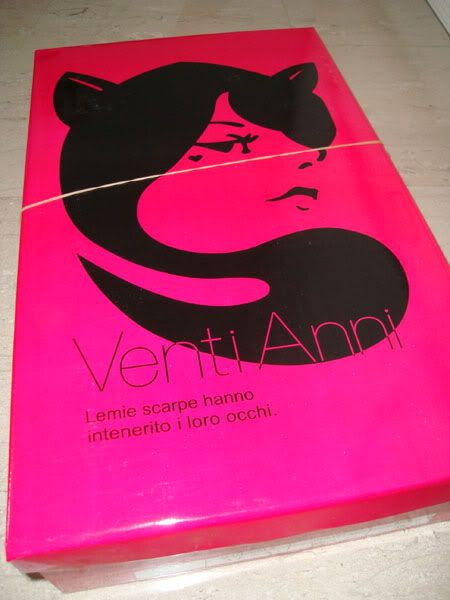 the straps are adjustable but i'm too excited to try that i didnt adjust!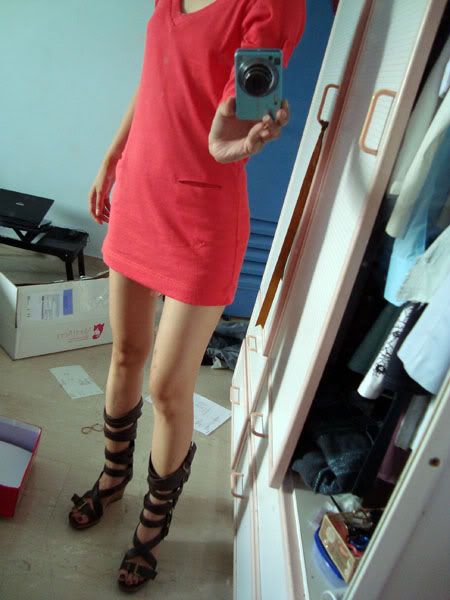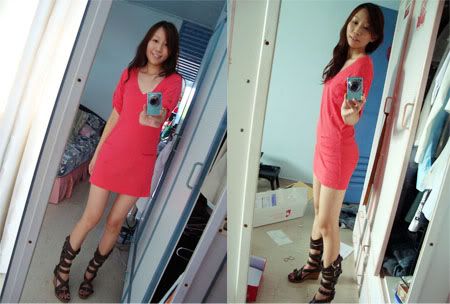 But i could never wear this out.. the heels are 8cm in height!
*if i'm shorter, i can wear liao damnz*
and i will look like a long, thin tekko =(
Darren will not walk beside me too..hmmph =p
Cant wait to see my sister in this!! Didnt see any gladiator boots in town yet so i guess it will definitely draw some stares....of envy of course! muhahahahha
Kiyo 到此一游 @ 3:20 PM

Thursday, May 22, 2008
*~*~*~*~*
Not feeling well today...
actually wasnt feeling well since yesterday.
very bad throat.. plus the weather now.. tsk tsk tsk.. i dont feel like talking at all
i need antibiotics
Kiyo 到此一游 @ 7:53 AM

Tuesday, May 20, 2008
*~*~*~*~*
Assisi Hospice Charity Day 2008
It was really tired but very fun! and it was really great to know that Assisi Hospice managed to raise over $550,000 from this Charity fun day!
~ Article ~
Great bonding time with colleagues while doing a part for charity. I believe our stall was the NOSIEST food stall that shouted out to all the passersby.
I reached there at 8am to help decorate the stall and slowly all my colleagues came in. The weather was really hot!! Tied balloons to the poster Anne has made to make our stall more appealing.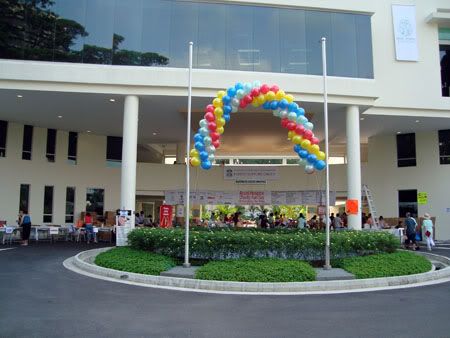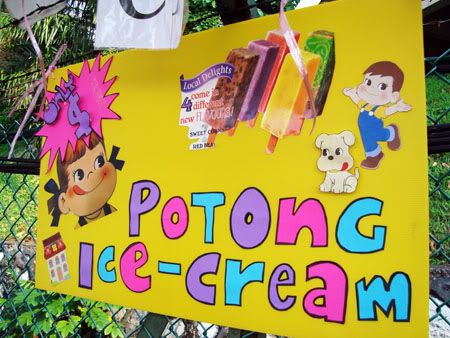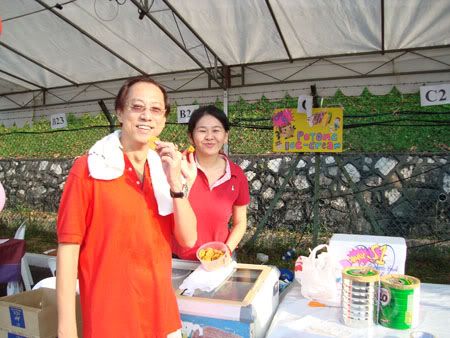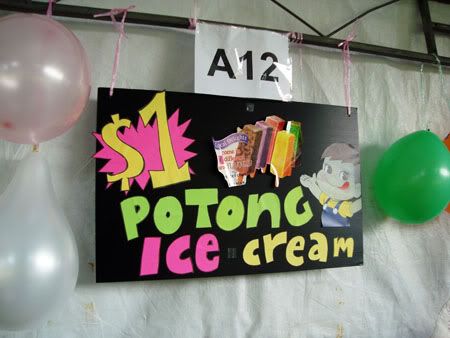 Our theme was red! and it really matches the tentage colour too hur hur hur. We were really lucky as the stall beside us was selling balloons!! Not the normal normal kinds but custom made shapes. They can make them into a hat or something and we became free models for their products. We ended up selling both balloons and icecream.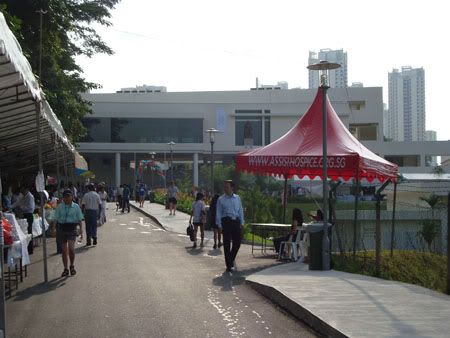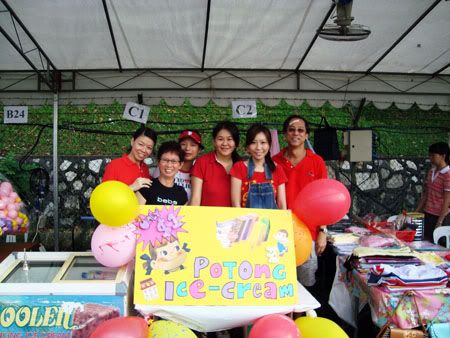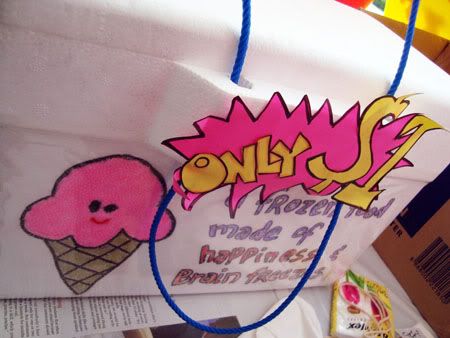 Before the sale started, we were taking loads of photos and having fun.
dis time with me in it =p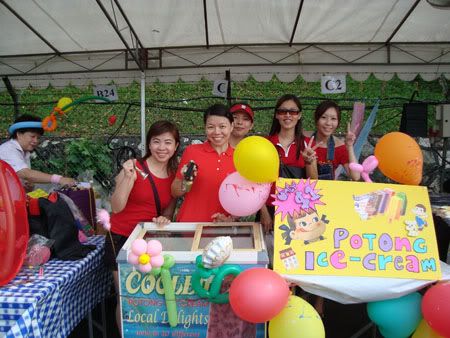 By 9.30am we were in our full force and very very enthusiastic, shouting our wares to every
ah gong
,
ah ma
or the babies in the strollers..despite knowing the fact that nobody
in the right mind
will eat icecream so early in the morning.
"1 DOLLAR 1 DOLLAR! ICECREAM 1 DOLLAR ONLYYYYY!!"
I jokingly told my colleagues we should save some energy, otherwise by 12pm our voices will be
"1 dollar....... 1 dollar.... icecream.... 1 dollar... oniii"
with our
sian-ji-bhua
faces.
and true enough, one of my colleague nearly fainted due to the heat and our voices became softer after the hours passed haha. But we still managed to sell ALL the icecream! all 950 sticks of them.
Our balloon seller neighbour who so kindly helped us decorate our stall. =)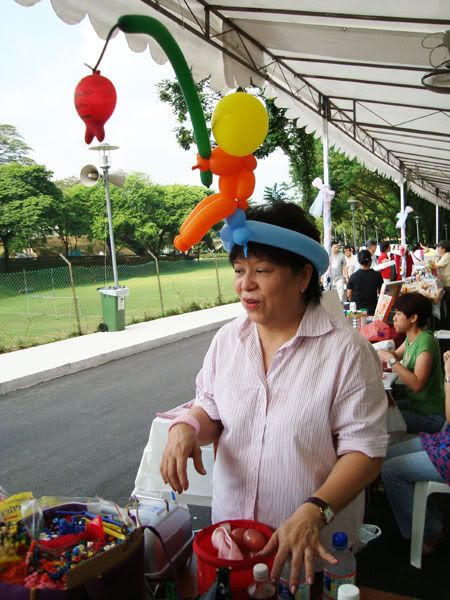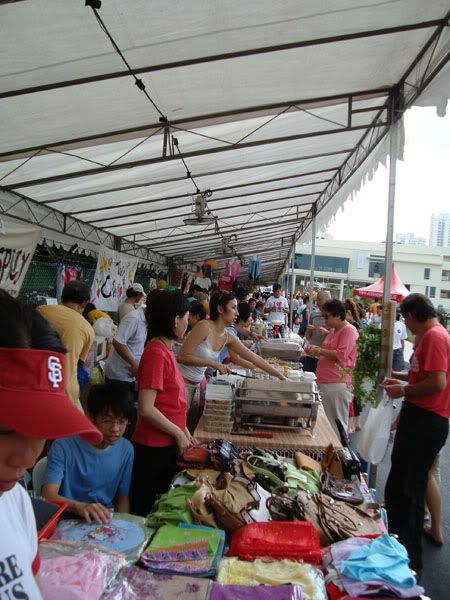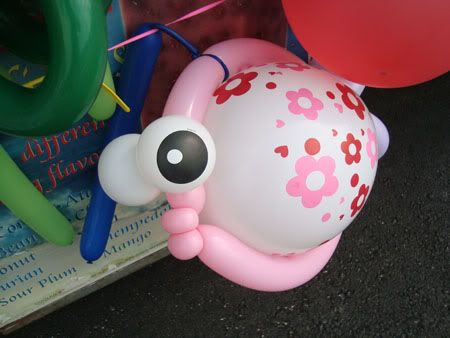 I'm wearing their creation! a Froggie on my head. haha and our stall is so full of balloons that on a few occasions, people approached us to ask about the balloons instead of the icecream =___=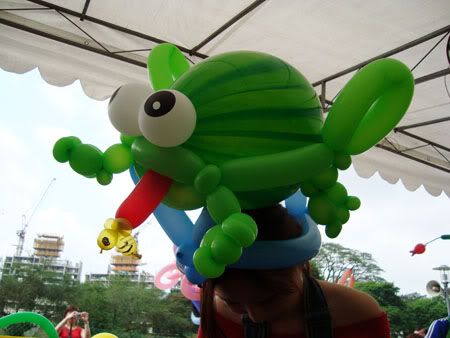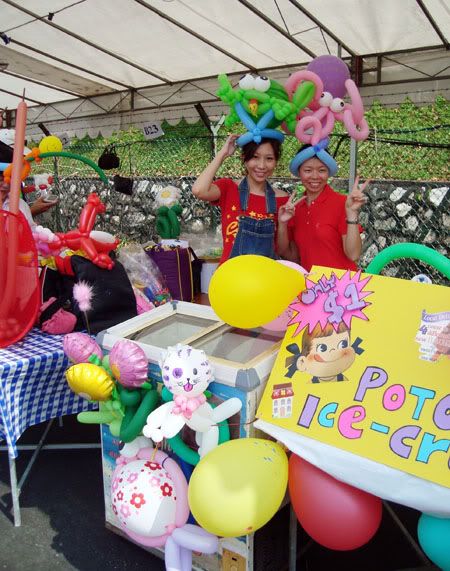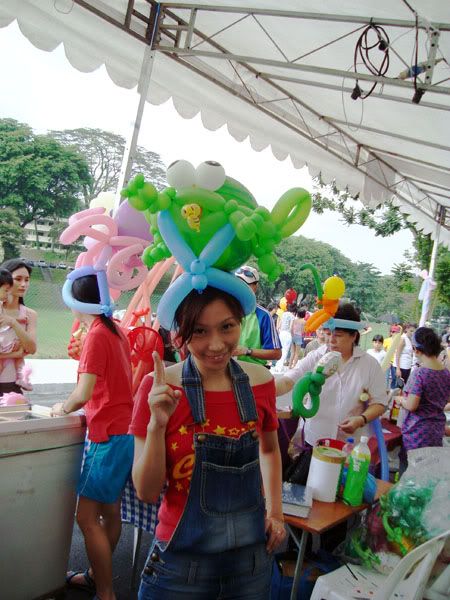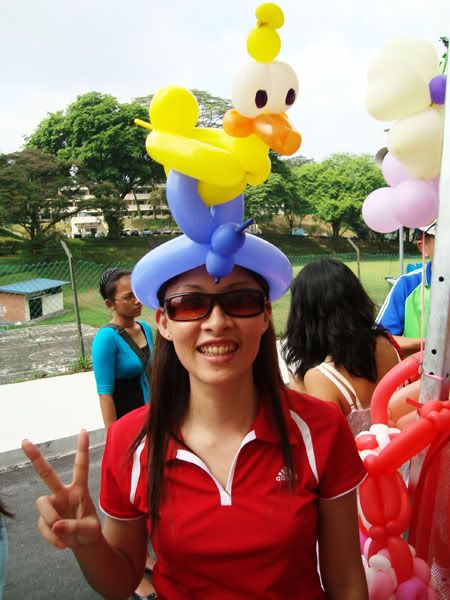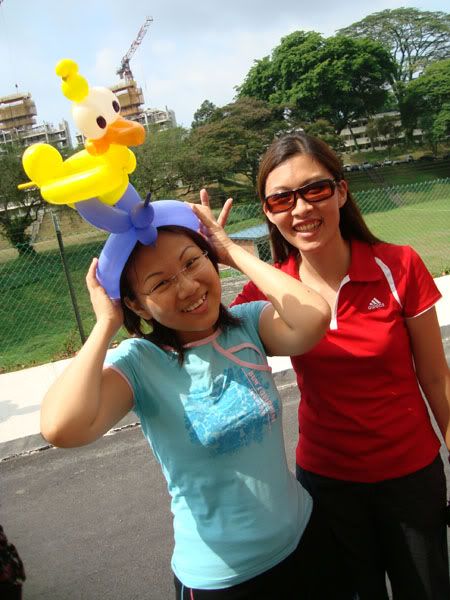 Then our 2 beautiful icecream girls came out to walk about to promote our icecream. We got marketing strategy wan horkay..
mai siao siao
. They are hot hot HOT!! =D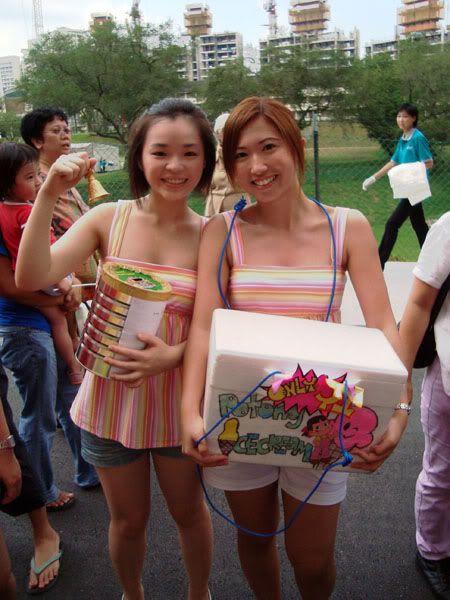 Then a trail of harley davidson bikes came along with Mdm Ho Ching as the guest of honour. You can even ride on the harley for 10 bucks. Not ride within the compound okay, it's on the ROAD.. a pity i was too tired when i left so did not get a chance.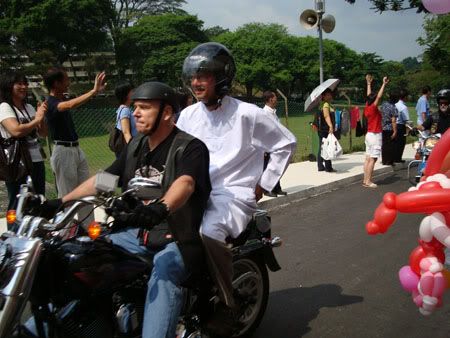 Taking a break...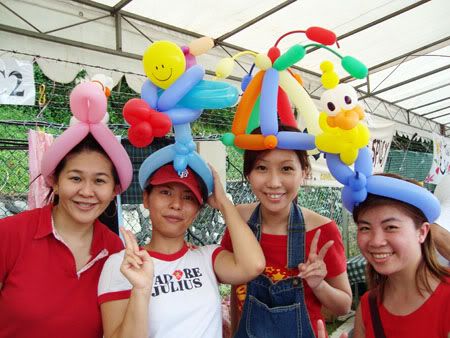 our colleagues came to support! and i love this photo very much! =)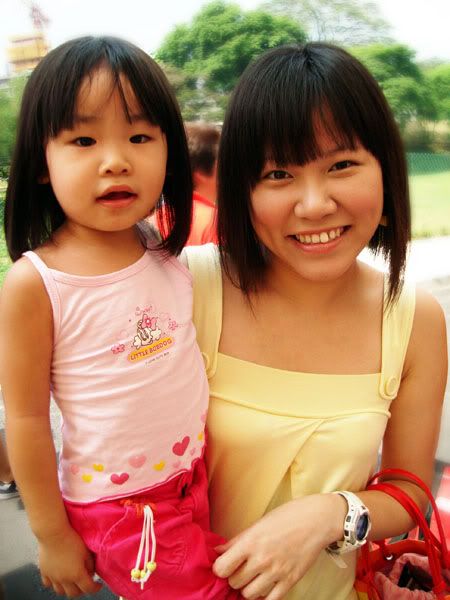 Mdm Ho Ching in person.. shook hands with her while she passed me the cert.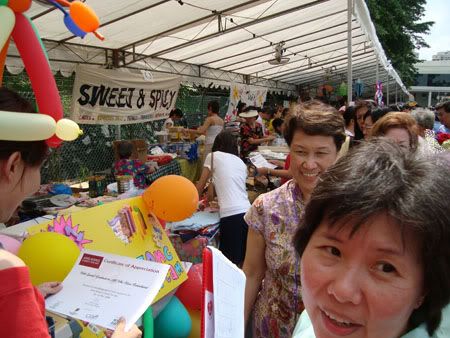 More balloons.. we sold this 2 kitties too! hur hur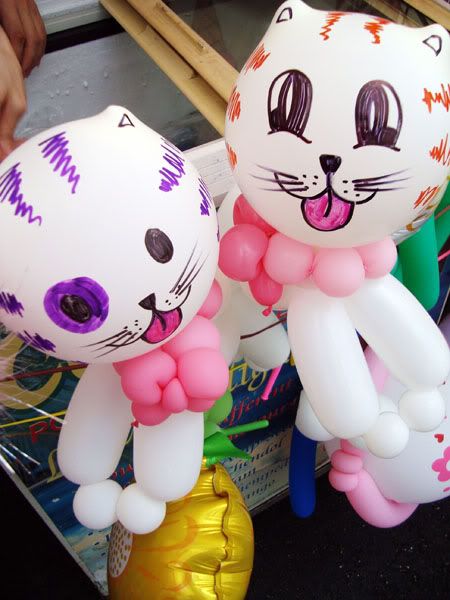 Macdonald oso came to do their part for charity and he lovess to pose for photos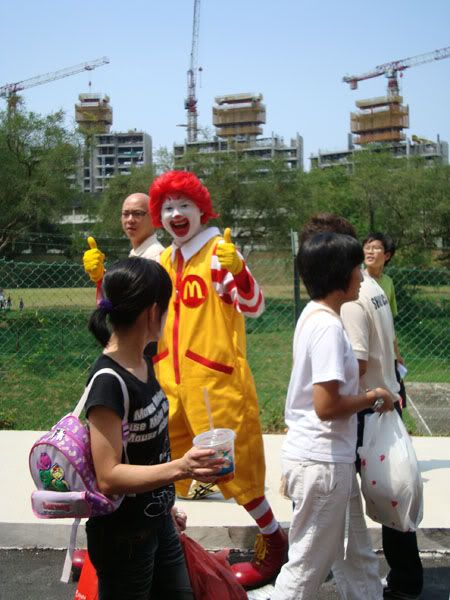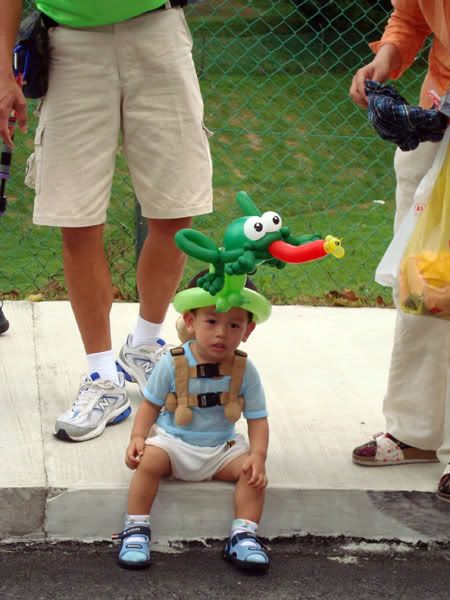 Then there were photo booths as well where you can take pictures with the female version of Superman, Snowwhite and even BARNEY...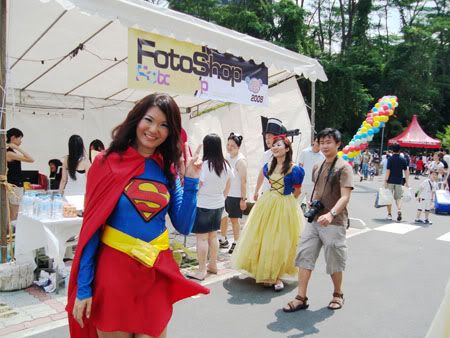 There were dance performances, singing performances and I believe even the volunteers had fun. Oh yah, you can even attempt to dunk 2 celebrities into the water for a mere 10 dollars. Mark Richmond, Lim Yu Beng and i cant recall the lady DJ's name were there as well.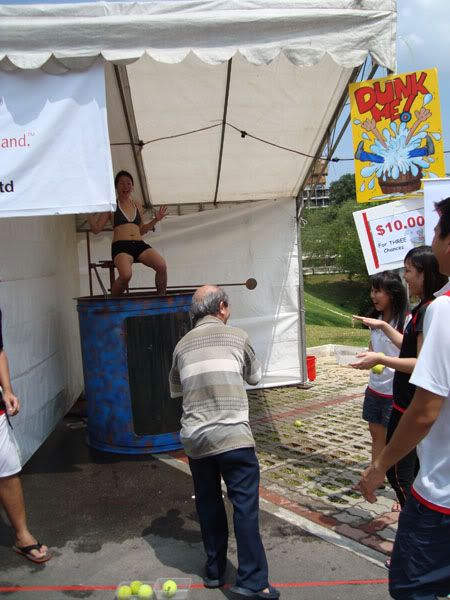 last but not least.. dar came to support too!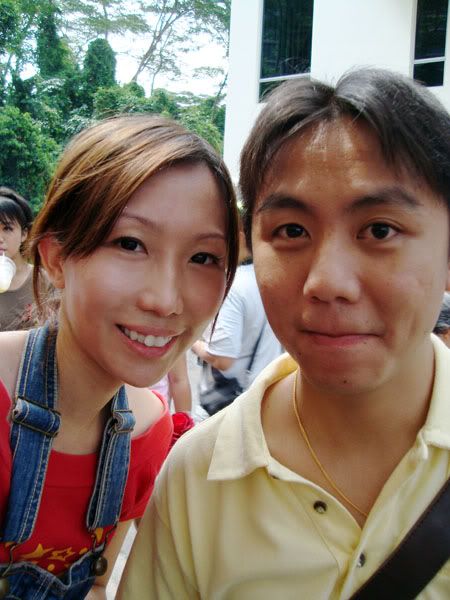 it was really hot, but all the volunteers thought it was really a fun and meaningful way to contribute.
Kiyo 到此一游 @ 8:56 PM