Thursday, August 31, 2006
*~*~*~*~*~*~*~*~*~*~*~*~*~*~
I feel very shitty these days.
and when I feel shitty, i will feel like escaping from the norms of life and go travelling.
And when I cant travel
(frankly speaking, i dont have enough leave anymore, taken a few on my trips to bkk and taiwan and plus my examinations...haizz),
I shop.
my buys recently, Cant wait for all of them to arrive!
Shopping really cures all stress.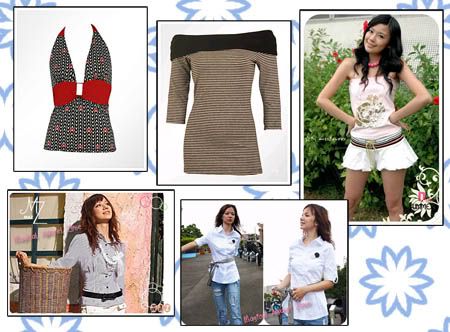 got another dress but not in this peek~
Seem to shop online more than anything else. I want to get skincare!
Darren bought me a pair of berms! lurve it~ hee hee
my wallet has this really big hole LITERARY.
SEE.. never bluff u.
BIG HOLE.

SO..... i need a new wallet too. =)
If shopping doesnt kill the stress,
I kick myself at my tag board.
Think i am experiencing a roller coaster mood thing now.
One moment, i'm high, the next moment, i'm beating myself up.
TGIF!
Labels: Fashion Fuse
Kiyo 到此一游 @ 9:47 PM

Tuesday, August 29, 2006
*~*~*~*~*~*~*~*~*~*~*~*~*~*~
My left eyelid has been twitching for the past week..
What does it mean when your left eyelid twitches?
1. Does it mean that bad things will happen?
I seriously hope not.
2. Does it mean that I will dio 4D soon?
Judging from the fact that I have never dio any 4D in my life, and the kind of lucky draw prizes I get (the usual bottom few).. I doubt it will happen to me anytime soon.
3. Or Am I just plain tired?
I think i am just very tired.
So... please give me a hugZzz to stop that twitching!
(okay, nothing to do with that, i just want a hug!!)
I know i'm not very hugggablezz, hugz to all of you all back!
lalala
=D



*HUGS* TOTAL!
give Kiyomi more *HUGS*

Get hugs of your own

so cute hor.. steal it from someone's blog..(jaslyn's. *waves*, i read ya blog~ =) ) hee hee
Labels: Silly Stuff
Kiyo 到此一游 @ 7:52 AM

Sunday, August 27, 2006
*~*~*~*~*~*~*~*~*~*~*~*~*~*~
Decided to be crazy for a day
ON FRIDAY!~
The feeling of getting paid to rest is so darn good.
Blanjah my dear mummy to facial at Kose Beauty Center recommended by Josephine. Actually I wanted to go to this highly-raved place at flowerpod but they were fully booked =(. and so tired of Norma at PTR... her appointments are
ALWAYS
full and it's so difficult to see her. Havnt gone to facial for 2 months!!
Kose Beauty Center is not bad at all!
Decided to wear my kiddish jumpers again. Always like wearing them for a causal weekend. Darren says I look like a kindergarten kid when I wear them. argghh..
it's stylo lo...as it's different from other overalls. This is more fitting and in halter neck style hee hee
Okay lah.. i look like a
farmer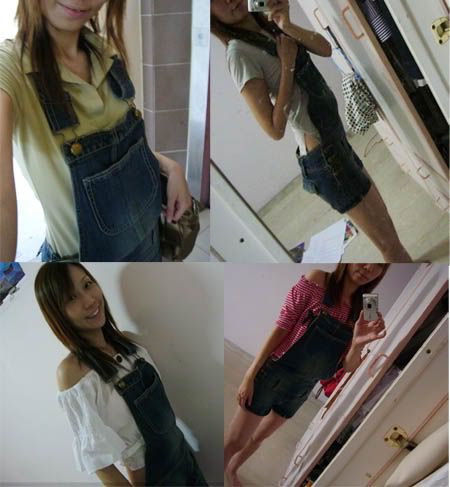 Me wore it 4 times already =___=
You can team with polo tees, tees or off-shoulders, which is my favourite.
Got it from the taiwan seller here. She's a very nice and fast seller~ =)
~Angie House~
Back to the facial, it was real pampering.
The extractions were hm... so-so, not very thorough but the products used were great!
They have the suction thingy, the ion equipment and after the massage and charcoal mask, me and mum emerged from the salon refreshed! (except for that red dot on moi fei-cee)
Make-up free face! dont even need to touch up on my eye-rings.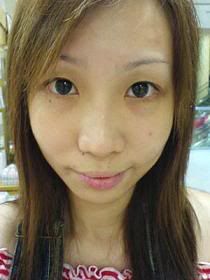 There were GONE..I'm going to sign up!
but i may be approaching another beautician.. the one that served me was a little well..abit fast and not very thorough.
Wanted to go to gym today..while Darren is at his soccer session. but it's raining~
What a good excuse whahaha.
Labels: Beauty Buys, Fashion Fuse
Kiyo 到此一游 @ 9:25 AM

Friday, August 25, 2006
*~*~*~*~*~*~*~*~*~*~*~*~*~*~
It was still quite fun, after all
With all the messy hair, oily faces by the poolside.
Was suppose to hold the event at Plaza ParkRoyal poolside below but the venue was changed only 3 days earlier cos our big big boss says that it's not grand enough.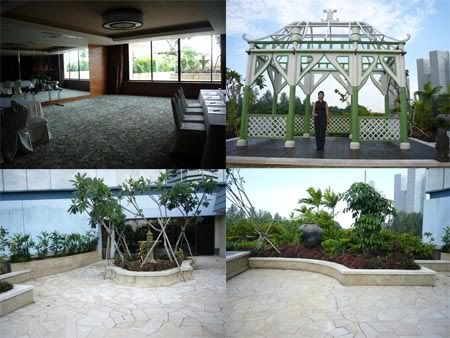 Although the preparations to find a new venue were a little rush, everything went smoothly. I'm glad there's a change after all!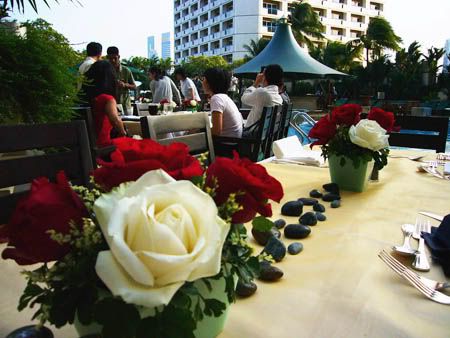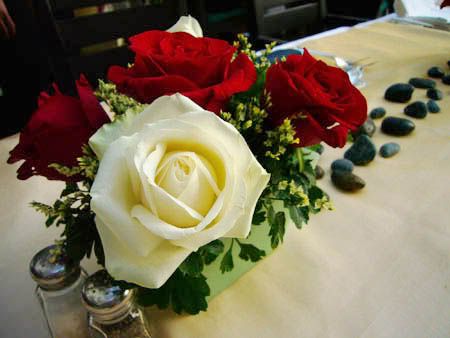 nice nice?? hhaha thanks to gerald for teaching me how to adjust the colours~ lalala
First time co-organizing an outdoor event by the pool and was rather scared of Singapore's unpredictable weather. Kept checking the weather forecast now and then to ensure that the weather will be fine. If not, our contingency plan of moving everything indoors will have to start.
Luckily for us, it didnt rain!
but it was pretty windy. And I mean real strong winds till the table cloth toppled the glasses over and created a mess
=_____=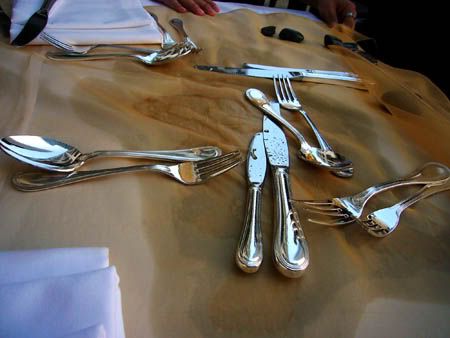 Didnt take much pictures as I look darn fugly, with my messy hair and make-up less face.
We had Vocollision, an accapella group to belt out the hits and I think they were great! Watch their video
~ HERE ~
their ABBA Medley is really nice =D
The food was good.. everybody was merry..and Gerald was there too as the photographer. More photos with him~
Oh ya~ And I got the 5th prize
counting from the
BOTTOM
. Shootzz
=____=
It's a $50 Takashimaya voucher.
I want that IPOD (2nd prize) TOO. =(
But I shouldnt be complaining. A colleague and me bought a printer, scanner not long ago from the company and we were so damn happie that we got a good deal.
Guess what!?
he won the same brand printer,scanner at the lucky draw!
=____=
haha.
But of course it is like one version newer..but STILL.
they have the same functions anyway!!
Okay.. I am satisfied with my $50 voucher,
MARCUS
.
I know you are reading this.
whahahahhahahahhaha
We went for 2nd round at Kbox at around 10pm.
Have never enjoyed so much with the colleagues previously. Our office was really a super quiet (where you can hear the pin drop, the bird shit outside the window)...
YEAH THAT KIND.
But yesterday night was fun.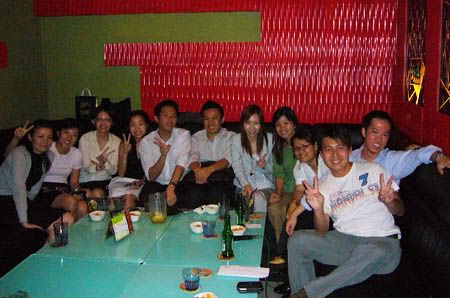 No work! going facial with my mum later~~
Labels: Celebrations
Kiyo 到此一游 @ 8:00 AM

Thursday, August 24, 2006
*~*~*~*~*~*~*~*~*~*~*~*~*~*~
I passed, I PASSED!!!!
one of the modules...
=___=
Don't know my grading yet cos the course coordinator only revealed index numbers that need to retake and I thought I was on the list!
cos the numbers really look very similar. But luckily for me, there's no need to!
that's all I want to know. If I have to prepare it all again, will rather kill myself than memorize those laws and acts again.
*phew*
havnt received the results of the 2nd one..
Crossing moi fingers~
No work tomorrow!! hohoho~
Now's the time to eat, drink and be merry before Monday comes, when all results will be in!!
Labels: Random Rants
Kiyo 到此一游 @ 7:47 AM

Wednesday, August 23, 2006
*~*~*~*~*~*~*~*~*~*~*~*~*~*~
Havnt had the time to change "THE EYE"
yesh, the one above that looks so HAUNTING.
I want something more colourful.
Guess it's time to do a collage.
I need some creativity juices!!
Labels: Random Rants
Kiyo 到此一游 @ 7:43 AM

Sunday, August 20, 2006
*~*~*~*~*~*~*~*~*~*~*~*~*~*~
A very warm Sunday!
Feel so good to be back blogginzz again~
Ppm's bdae today!~
祝

生日快乐
祝

生日快乐~
Birthdays are always fun.
although my bdae is over, but ppm and winston gave me trinklet necklace and a heart locket!
lurve it!
Thanks~!

Suddenly, I have so many heart-related accessories. =D
We had fun at zouk on friday but as usual, i'm always the 1st one to go. =(
Yah~ peimin will understand, it's always the same old
excuse
reason .
Anyway, my mood is still happiez! cos i'm expecting loads of stuff to reach in this coming week.
- Huimin will pass me an off-shoulder top from Misslovers that I ordered during her spree.
- Josephine will be back from Taiwan with loads of moi stuff as well. thanks!
My pocket watch arrived! Just-In-Time.
Coincidentally ordered a heart locket watch online for ppm's bday too and
for
myself
! Really lurve it.
Ordered 2 weeks ago but due to some reasons, the seller didnt managed to send it out till last Tuesday. Was so paranoid about it and was afraid that it may go missing.
Tada~~
For the princess in all of us. Very verry bling!
Even my parents said it was nice~ so vintage. Chain was a tad too long though.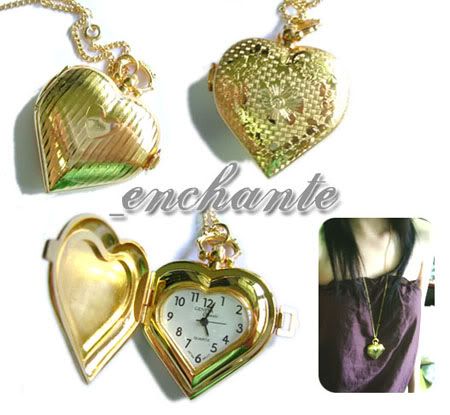 Here's my bling~~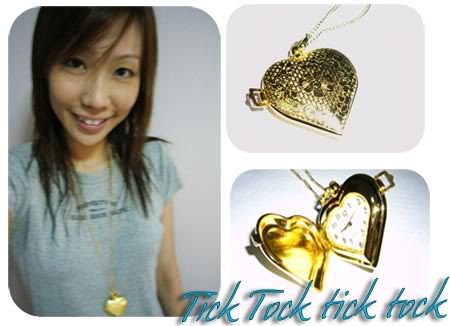 Photos on FRYDae~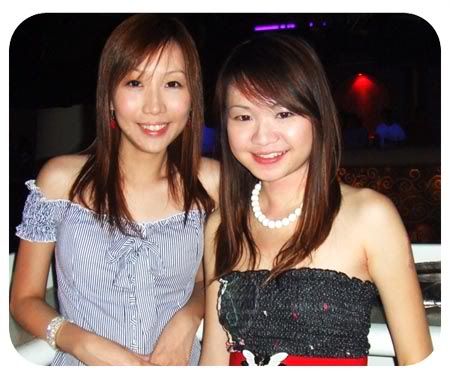 With the bday gal
No tiara~ crown oso nicee =)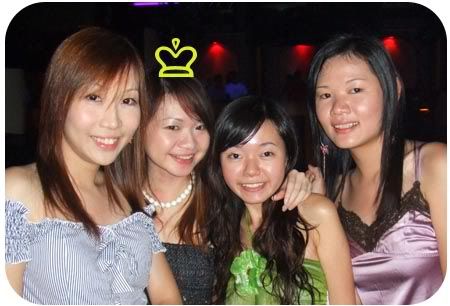 I AM AH-FAT. Fang and stella all lookin greatzz!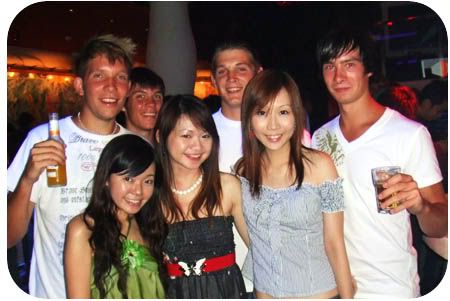 Okay, well done. We dont even know them. From UK? Anyway, they wanted to take pawtoes with Singaporean galz so we took with them!
It's so farnie.. after taking photos, in 2s... everybody was like
*shew*
GONE
.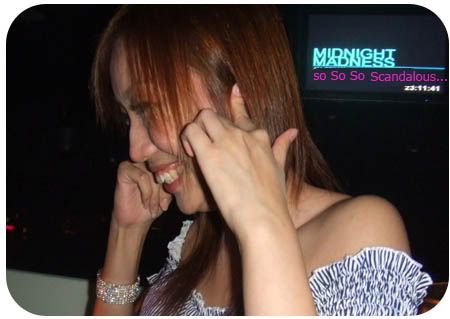 Yeah~ mad! so-so-so scandalous kept RINGING beside my ears.
Collages for the night~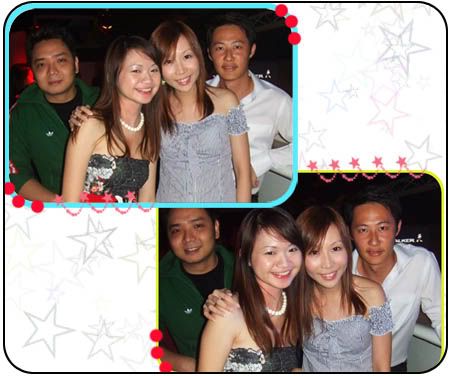 Universal Sign!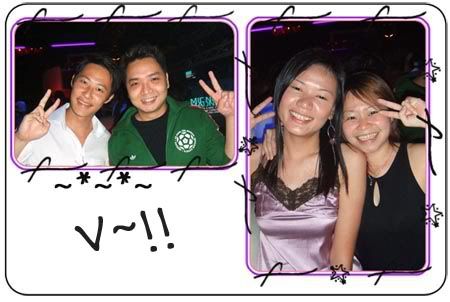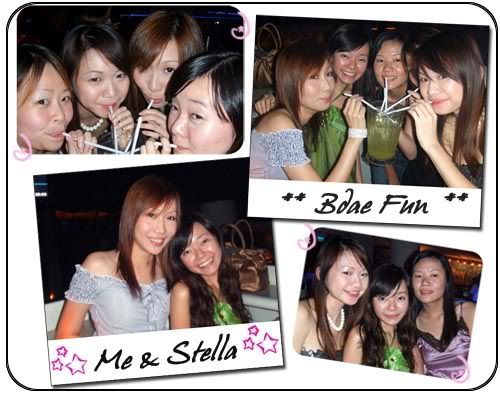 Greatzz! enjoy the rest of the weekend people! =)
Labels: Celebrations
Kiyo 到此一游 @ 9:54 AM

Friday, August 18, 2006
*~*~*~*~*~*~*~*~*~*~*~*~*~*~
I

am

so

high

!!
Exams are over!! Weee~~~
Yay!
having an ecstatic
FEE-LING
(yeah, pronouced the honkie way) now.
hohoho~I want to feast, party and sleep till whatever animals come home.
No more studying till 8 weeks later, the vicious cycle shall repeat again!
But till then, me shall go back to my nua-ing lifestyle
see~ my poor fingers are paralyse now. it's been a long time since I saw that lump during moi exams in the uni. Always have this tendency to grip my pen hard.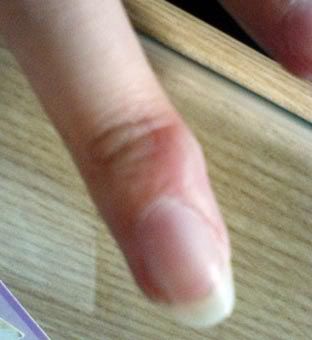 No lessons next week and i have a long weekend as well cos it's Family Day for my company! and here comes the sure win lucky draw again.
Wonder what I will win..
hmmmm...
Labels: Random Rants
Kiyo 到此一游 @ 6:16 PM

*~*~*~*~*~*~*~*~*~*~*~*~*~*~
Strawberry Freeze
Ordered these after a sumptuous japanese meal.
Strawberries with ice-cream inside.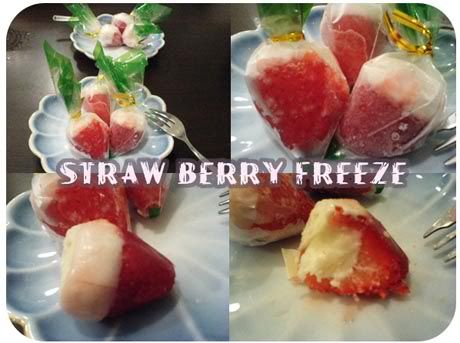 Looks good eh?
no no no..
it doesnt taste as good as it looks. haah
too brain-freezing.
I cant wait to finish my exam....
didnt prepare much for this.
Labels: Food and Events
Kiyo 到此一游 @ 8:28 AM

Wednesday, August 16, 2006
*~*~*~*~*~*~*~*~*~*~*~*~*~*~
No time to update that jumper I received~
but it's really nice and I wear it whenever I can haha.
In the meantime, consolidating orders for Maz 妹子~
Think their clothes are kinda sweet.
This shall be a sweet month, for the sweet sweet peeps out there
Will be doing the ordering after exams!!
Please click the following to join :
~ Liquidor Forums ~
in support of Jeffrey's first forum!
Labels: Fashion Fuse
Kiyo 到此一游 @ 8:00 AM

Monday, August 14, 2006
*~*~*~*~*~*~*~*~*~*~*~*~*~*~
Things to do after this Friday
1. Cheong MOS for ppm's bday
2. Start surfing for more spree stuff (as if that's not what I am doing right now)
3. Revamp my blog!! And I mean major OVERHAUL (tired of this pinky, cutesy theme i have)
4. Eat at Crab Shack
5. Try baking strawberry cheesecake
Labels: Random Rants
Kiyo 到此一游 @ 1:51 PM

Saturday, August 12, 2006
*~*~*~*~*~*~*~*~*~*~*~*~*~*~
One paper down!~
Another one to go but that is next week and i shall leave all preparations to tomorrow! It feels like going back to school, everybody was kinda nervous although they didnt really talk about it and kept asking each other things like "did you study this? I think will come out leh.. " that sort of thing. But one difference was that the lecturer gave us at least 40% worth of exams tips just to let us pass.
=____=
Life Saviours, our lecturers.
After exam, heaved a sigh of relief as this module really requires a lot of memorizing while the next, you can
erhem
, smoke a little here and there. Was in a really happy mood and decided that I shall go for a mini shopping spree!
Even withdrew 200 bucks and tell myself I MUST spend it ALL. Was so suppressed the last 2 weeks that I havnt even visited far east plaza or bugis for any retail therapy.
The first thing I did was to
EAT
!
$0.50 icecream!!
where can we get that now.. $0.50 for a glass of kopi oso not enough.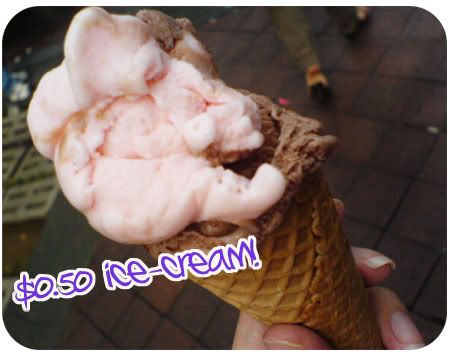 Yummyzz~
a pity, didnt see anything I fancy after combing Bugis Village and Far East Plaza.
It's always like that, when you are all prepared to spend what you have in your wallet but there's nothing for you to buy.
Ppm say it's depends on luck.
Yeah~ I AGREE too. My luck ain't good.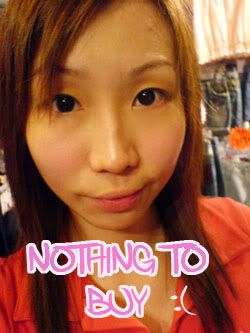 Maybe I should curb my spending... =D
Waiting for Mr Postman to deliver me this. will be collecting it on Monday though if Mr Postman doesnt come today, so looking forward~! Hope that the cutting is as shown in the picture.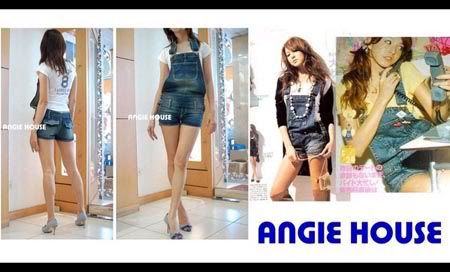 Look out for sprees soon! Should be holding the next one at
~ Liquidor ~
after moi exams that is.
Liquidor is a site Jeff built up, his contribution to the female species for good organization of sprees. No funds required but there's this tiny button of donate at the right side.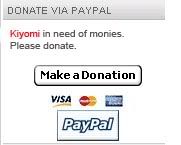 *dont bother to click, it's fake!!, buhahaha doubt you all got click oso nah horzz =___=*
I want that button too. Can I? bleahzz =P
~~~~~~~~~
Darren went to the NLB book fair early this morning~ didnt join him cos was rather afraid of the crowd. Went last year and the crowd was woah~
Everyone just want to have a piece of that $2 books and the dusty books made me sneeze and sneeze so decided that I shall give it a miss this round and asked him to help search some books for me.
Hopefully he will have some great buys~ =D
I want a Photoshop Book~~!!
Labels: Silly Stuff
Kiyo 到此一游 @ 8:36 AM

Thursday, August 10, 2006
*~*~*~*~*~*~*~*~*~*~*~*~*~*~
What makes me a Singaporean
United in one day and complain about everything else in the rest of the 364 days.
And I want to complain now.
I dont want to study, can or not?
Labels: Random Rants
Kiyo 到此一游 @ 8:00 AM

Monday, August 07, 2006
*~*~*~*~*~*~*~*~*~*~*~*~*~*~
Singapore is so darn small la...
Me and jeff were talking about spree management.
Dont be surprised, he is very
INTO
sprees right now.
not the buying part but the IT aspect as he was thinking whether he is able to set up something online hee hee..
We were talking about sprees than he told me he has a cousin who brings clothes from Japan to sell in her shop. And even went to the extent of
"encouraging"
me to spend MORE in her shop.
But...
I JUST BOUGHT from her shop a few weeks back!
(without knowing)
=____=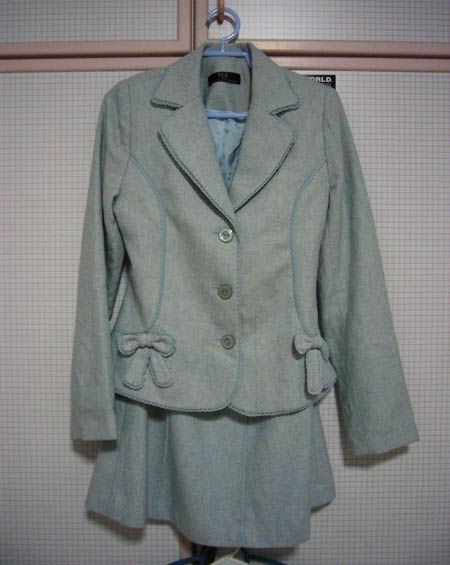 Good service, nice suits, free alterations (according to Margaret, the lao ban niang, I can go back to her if I grow fat next time,
THAT IS IF
it happens)
So.. can I get more discount next time? *grin*
~~~~~~~~~~~~~~~~~~~~~~~~~~~~~
More food to destress..
Boss gave a box of these to our department.
The packaging is so cute!
HOW CAN I BEAR TO BITE OFF HER HEAD?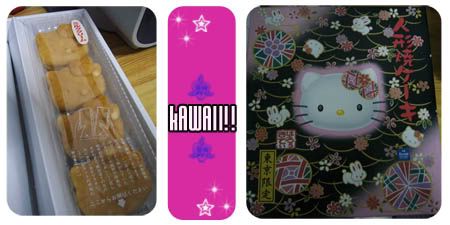 Too bad, you are meant to be eaten.. yum yum
~~~~~~~~~~~~~~~~~~~~~~~~~~~~~
I am so excited!!
tomorrow, I shall let my hair rest for a while before continuing with the pulling part the day after ~
Going to Esplanade to watch
The National Din Parade 2006
!!
It's a performance by an acapella group, The Harvard Din and Tonics~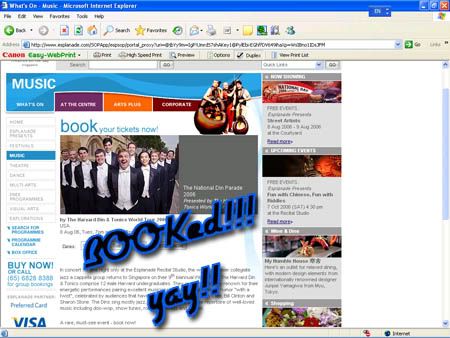 Just bought the tickets! Looking so forward! Been some time since I watched the last concert. I lurve acapella performances and concerts and it's not always easy to see internationally reowned groups perform here.
The best I've watched are Chieftains. They are not acapella but their performance is as great too. Swingle Singers were not bad as well, even sang acapella of the theme song of star wars. Best~
Managed to find Chieftains video on youtube~ Listen to them, they are real goodie but watching them live makes all the difference.
You feel the mood, you feel their passion for performing... and best of all...
There was this rather cute tap dancer.
*erhem*

Gosh, HE is good! at tap dancing ~
*ar BUT then?!*
So elated that darren will be going with me to watch this acapella group. This will be our first time watching such concerts and performances. He doesn't really fancy such performances
(& I pray and hope he wont zzZz)
so really am happy and touched that he is willing to go watch something I enjoy.
My life has been so dry and boringgg since last week.
So glad that there is a change~
At least for tomorrow
=D
Labels: Random Rants
Kiyo 到此一游 @ 12:44 PM

Saturday, August 05, 2006
*~*~*~*~*~*~*~*~*~*~*~*~*~*~

Why I hate studying for IR.

Just look at this...

"Limited representation of executive employees
Section 30A. —(1) Notwithstanding section 17, a recognised trade union may represent any executive employee individually, and not as a class.. blah blah blah
(a) to make representations to the Minister under section 35 (3);

Simi section 17 and section 35(3)?!?!

hmmm.. Okay never mind. Flip...flip....flip

Section 17. states —(1) No trade union of employees which has not been given recognition by an employer in the prescribed manner may serve on that employer a notice under section 18.

Section 35(3) states -- Notwithstanding subsection (2), where an employee considers that he has been dismissed without just cause or excuse by his employer, in circumstances other than those arising out of a contravention of section 82, he may, within one month blah blah blah......

*pull hair*.. so what is section 18 and section 82..? "

=___=

It goes on and on.. and on and ON...
dis section links to dat section, dat section links to ANOTHER section. =__=
In short, you just have to know EVERYTHING.
i have to jia you!!!
Wish me luck guys.. I need TRUCK LOADS of that.

Going for more hair-pulling now.
Enjoy your weekend people~
Labels: Silly Stuff
Kiyo 到此一游 @ 10:21 AM

Wednesday, August 02, 2006
*~*~*~*~*~*~*~*~*~*~*~*~*~*~
I am so darn happie!
My spree is officially CLOSED! Received all items today~
all settled, only pending collection from some participants. =D
Although there were some delays, all in all, I feel that misslovers did quite a good job and didnt miss any orders or made any mistake =).
Have one extra piece of clothing (BRAND NEW) for sale.
at
$14.50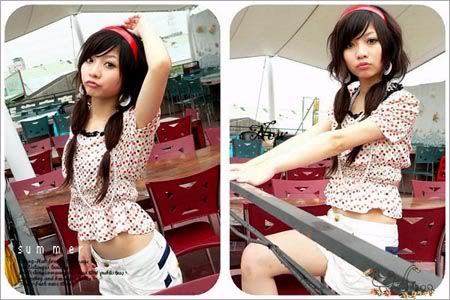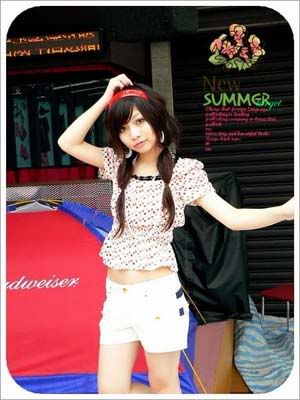 Got that cos some of the other stuff were out of stock so instead of refund, I chose to take extra pieces of clothes.
Tag or email me if you are interested!
I think I will start a Sales List very soon. I got some stuff that I need to sell, some brand new, some impulse buys =___=.. hee hee
Boss bought me some chocs from Japan~ he has been buying me snacks everytime he returns from his japan business trips. Hohoho
Maybe he feels that I can eat MORE.
Absolutely Lurve it! Good for detressing ~slurp~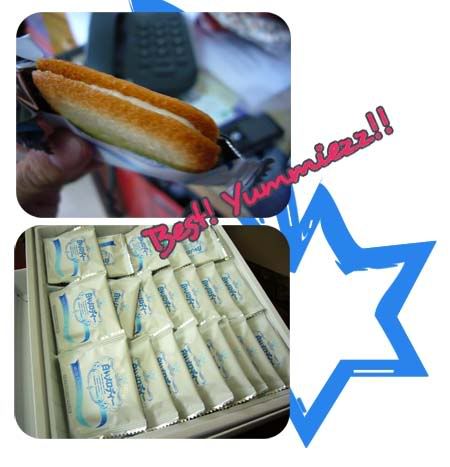 More Raves.
Beautymaker's loose powder is really good!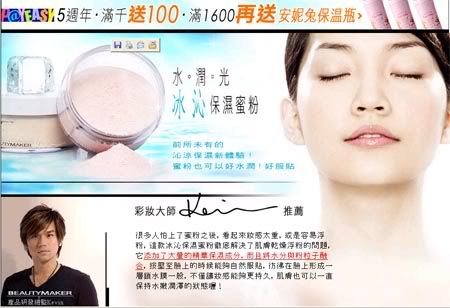 Got this in a spree and just use it yesterday. Was still skeptical about the fact that the powder will turn to water upon contact with skin. But it really did!
Very moisturizing if you are staying in air-con places most of the time. It has a cooling effect as well, most suitable for our climate. =D
Lurve my buys from Taiwan~
Labels: Fashion Fuse
Kiyo 到此一游 @ 6:13 PM