Saturday, July 31, 2004
*~*~*~*~*~*~*~*~*~*~*~*~*~*~ .
Bought a lot of things today
Really burnt a hole in my pocket today. Went to collect the pictures from my friend YM and was very impressed of the photo album he made himself! I want to make something like that too. and It's time for me to flaunt my "artistic" ability. A side of me that is seldom seen by many.. hahahha.. but maybe kinda childish artistic.. hee.. Anyway, spent about 70 dollars on the art and craft papers, heavy-duty cutters and stuff.sigh... should have just bought an album and arrange the pictures right? But next time round, I will just need to buy papers :). Sorted out the pictures just now and will rearrange them tomorrow. Will take my own sweet time to decorate it hee hee.. no hurry :)Will do a little planning...
.
Added a border to this picture.. not really satisfied with the border.. think will have to look around and try other kinds.. hmm..
Havnt been blogging everyday, was just too tired everyday and not much stuff to blog too.. But yesterday was fun. Still waiting for ic3boiboi to send me or upload the pictures of the SFC gathering we had. hee :) except for the "pub" like cafe, everything was great haha! they are great people of course!
Kiyo 到此一游 @ 10:52 PM

Thursday, July 29, 2004
*~*~*~*~*~*~*~*~*~*~*~*~*~*~
Bday tomorrow
Havnt been updating this blog for so long.. No nice pictures, nothing! Was just too tired to blog. Too tired to type after I get back from work. Maybe tomorrow will have some nice pictures. Hee. Going on the 3rd outing with SFC members. Guess I will see some new faces. That's really great, can enjoy and talk over dinner and take pictures of course. :)
Bought a skirt just now at Bugis Junction. There is this new boutique called Liven something something, cant remember. It used to be Future State.. I think their clothes are not bad and the price.. was still okkkkkkkkk for my wallet. So, bought a pink skirt just now. Will wear tomorrow!
Saturday will be buying buying and more buying for me again. Will have to buy some papers, glue, cutters to make my own album. Have to try to be "artistic" once in a while.. hee hee.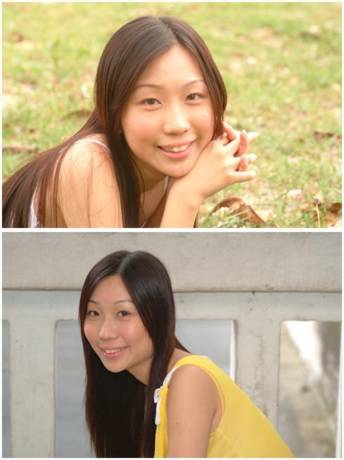 These pictures are taken by LS, another photographer.. nothing to post liao.. hope someone brings a camera tmr...
Kiyo 到此一游 @ 9:22 PM

Tuesday, July 27, 2004
*~*~*~*~*~*~*~*~*~*~*~*~*~*~
Will be boring tmr
Tomorrow, will have to attend a seminar after working hours until 8 plus. That will be so boring. Sigh, but no choice, I will have to go. YM is doing up his portfolio of my pictures. Really satisfied by the pictures he took! I am going to do a portfolio myself too. Going to buy paper, cutters and the necessary stuff and start on my project! Will be meeting up with them and Linda to view the pictures
Spending alot of $$ lately...
Kiyo 到此一游 @ 9:32 PM

Monday, July 26, 2004
*~*~*~*~*~*~*~*~*~*~*~*~*~*~
having a headache
today having a split headache.. think will sleep earlier today. sigh...
Will go get nice papers to make an album for my pictures this coming sat. saturday.. still so far.
Kiyo 到此一游 @ 9:16 PM

Saturday, July 24, 2004
*~*~*~*~*~*~*~*~*~*~*~*~*~*~
Photoshoot
Today was a rainy day.. Woke up at about 7 plus to a gloomy weather. Was a bit dissapointed but went out at about 9am to meet them anyway, was thinking that we still can have a chat or move indoors.
Guess what, we went to the deserted Old Changi Hospital for shoots. Real creepy place.. the rainy weather really added to the creepiness.. eeeks. But we got the effect we wanted. Old abandoned corridors with delapidated rooftops and walls.The rain stopped and Linda arrived at about 12pm. We tried some different poses. I thought of jumping up high in the air and looking hmm.. say "happy" ahhah. I tried jumping yesterday in front of the mirror just to practice.. shhh..and I tried it today. So happy! i'm really satisfied. Cant wait to see the pictures..
Kiyo 到此一游 @ 9:07 PM

Friday, July 23, 2004
*~*~*~*~*~*~*~*~*~*~*~*~*~*~
Nirai Kanai yesterday
We ate at Nirai Kanai yesterday at Tanglin shopping center. It is a japanese restaurant but not an ordinary one. It serves okinawa food. It's really nice espectially the pork stew.. Yummy! although it seems a little fat, but it's not oily at all!
Hope tomorrow wont rain. Will be taking pictures at Changi area early in the morning. Will have to pack my bag later. sigh... troublesome but no choice :)
Kiyo 到此一游 @ 10:04 PM

Wednesday, July 21, 2004
*~*~*~*~*~*~*~*~*~*~*~*~*~*~
Soon, weekend will be here
Recently, i frequent this site,
Shoutz!
. This is actually a website with a forum for Kimage, Xex and a whole lot more of stuff. And today, there was something really intersting at their home page. C2 (which is chapter 2 at bugis area) introduced a "new" cutting method called Simultaneous Cutting. Gosh! I waited for the download and was my jaw simply dropped when I saw the flash demo on Simultaneous cutting. They look like Edwad Scissorshand. hahah I really cannot imagine someone using 2 pairs of scissors to cut my hair in such a fast fashion.. Will they cut my ears!?! But the hairstyles look nice anyway.. :)
Something really embarressing happened this evening that I laughed at myself too. I came down of office and my dad was supposed to come and fetch me... Hmm.. thought I saw his car and walked towards it.. There were so many other cars there that I have to weave in and out. and when I walked to the front of that car and looked in the car, I realized it wasnt my dad!! Can you imagine the embaressment.!?! I just "pretended" to walk to the other side of the car and walked away. I dare not stand there to wait for my dad anymore. OMG.. really.. hahah
Hope it doesnt rain on saturday. Planning a shoot...
Kiyo 到此一游 @ 9:46 PM

Tuesday, July 20, 2004
*~*~*~*~*~*~*~*~*~*~*~*~*~*~
Really getting so bored with this blog look. Like a standard format. What can i do with it!?!? Any suggestions what I can add? what shall I add... sian..
Got the dreamweaver MX software.. Thinking of learning it to set up a real website but real lazy to do it. sigh~ when will I start learning that. Maybe after september hee :)
Kiyo 到此一游 @ 9:53 PM

Monday, July 19, 2004
*~*~*~*~*~*~*~*~*~*~*~*~*~*~
Saturday's Yum cha! Delicious!
Kiyo 到此一游 @ 9:52 PM

Sunday, July 18, 2004
*~*~*~*~*~*~*~*~*~*~*~*~*~*~
It's Me, Myself and MY blog again..
I dont know why recently my house is full of mosquitoes and they just sting me and not my parents.. so itchy!
He went off today to Perth for the 3rd time. I didnt cry today! Yeah! Should give myself a pat on the back for being so strong. But.. Heng I didnt see anybody cry today, otherwise I will feel so sad. Instead, all I feel was like okie I want to go home and call him when he reaches in the afternoon.
This picture was taken at the Hong Xing Restaurant at Outram on Saturday. Hahah.. It was so embarressing... but we still took picture with this old man.hehe. I hope there isnt any resemblance though.
Kiyo 到此一游 @ 9:33 PM

Saturday, July 17, 2004
*~*~*~*~*~*~*~*~*~*~*~*~*~*~
Hey there!
Went to Waraku to have dinner on Friday. Took some pictures of our eating styles and the macha float that I was drinking. It was nice! hahah and post that pic of mine with a Crabtree and Evelyn hairband I have.. Hahah so cute hor~ *vomit* still got a ribbon on top of it.. :)
Had a fruitful day today. Went to Kimage early in the morning to get my De-ionizing treatment done. Those treatments that are done with crimpers. Bought the Sebastian Laminating Conditioner as my conditioner has finished. :) so spend $$ again.. sigh.
Went for yum cha at around noon with his familiy at a old restaurant near Outram named Hong Xing restaurant. The food IS good man.. and not too expensive too. I believed it is a very old restaurant already but the dim sum is well~ yummy... Especially the egg tarts... mouth drooling again *opps. Took many pictures today at the restaurant too. Will post tomorrow.
Will have to wake up
VERY
early tomorrow morning. He will reach the airport at about 7.30am. After that maybe will go to the gym.. MAYBE haha.. still deciding now..Just checked the cozy cots forum and the gal I ordered that heat cap from said that 24th we will be getting the caps! so wonderful! I can do treatments at home myself even once a week! Really looking forward to use that cap.. It better be good.

Kiyo 到此一游 @ 11:15 PM

Thursday, July 15, 2004
*~*~*~*~*~*~*~*~*~*~*~*~*~*~
Damn frustrated
A stoopid lady called today to the other office.. as nobody was there and everybody was outstationed, i answered the call. Apparently, I think she wants to complain or what. She was not talking to me okie. She was SNAPPING right through the start of the conversation okie. "WHAT's her designation?" "what's her name?" "Officer only?" The tone of her voice nearly made me scream into the phone! I think I am not good at public relations i guess. I really got so frustrated that I replied her short and sharp too. Hey I am not the one in charge okie.. I am not even close.. Wah liao.. I told her the person in charge is outstationed! I dont belong to that office. She just keep on snapping and snapping... Ask her to call on Monday..she dont want to hang up. want to know this and that...Really make my blood boil..
Darren will be going back this Sunday. So left about 2 days more to go.. That's really fast. I will have to wait till November to see him then. Anyway, I'm used to it aredi. Sometimes, I have more time to myself, can watch tv, surf net, chat with friends, blog more when he's not around.
Think the photo shoot on 24th is confirmed. Really looking forward to have a new set of pictures. yeah~
Kiyo 到此一游 @ 10:42 PM

Tuesday, July 13, 2004
*~*~*~*~*~*~*~*~*~*~*~*~*~*~
Back to Work
After this long weekend, dont really feel like going back to work. But I have to.
Pictures taken yesterday during karaoke and at toapayoh central. That's a candid shot.. Told him that it looks like those pictures of people walking out of the court on newspapers.. hee
Started to tie my hair on Sunday already. It's been 2 weeks since I rebonded my hair. effect is still quite okie at least the ends are still somewhat straight. I tried to sleep straight with my hair flat but it's difficult.. i always wake up with messy and curly hair..Going for another round of pampering of hair treatment this saturday. Got a cheap deal of De-ionizing treatment from Kimage. It was supposed to cost about 100 dollars. I think I will only need to pay 60! Call me Lobang Queen man~
Read about spa retreats in the Life! Section this morning and really felt like going for one with pure liquid diet, massages and spas. I cannot imagine how much junk there are inside my intestines and there's this colon cleansing... Sounds really yucky but I think it will cleanse inside out i guess. According to Life! there's only one doctor doing it right now. I will think about it first. I cannot imagine a tube being inserted into the anus to flush out all the shit.
Kiyo 到此一游 @ 8:50 PM

Monday, July 12, 2004
*~*~*~*~*~*~*~*~*~*~*~*~*~*~
Watched Spidey today
Went to Ktv and watched Spidey today... Hee.. it's very nice. Took some pics too. Will post tommorrow. It's going to be back to work tommorrow. Still have a little blues.. sigh.. anyway, can take a break from the holidaying part hahah
Kiyo 到此一游 @ 10:32 PM

Sunday, July 11, 2004
*~*~*~*~*~*~*~*~*~*~*~*~*~*~
Guess what this is?
This is what I am going to buy.. Hee, have already ordered through cozycots forum and I think should be quite useful. This is Micro cap! for hair treatments! It can be heated up in a mircrowave or using hot water. There are gel packs inside (like the ones used for sprains).. They can be heated up, inserted into the towel like thing, seal up and voila~ it's a heat treatment cap! Amazing~ I've been wanting to get something like this long ago but couldnt really find. I've heard those heat caps that have a plug at the end and you have to sit near a socket and use electricity to heat it up
WHILE
you wearing it. Isnt it dangerous?!?! But I've decided to use boiling water to heat it and not microwave.. I think should be better this way.
Sidetalk.. It's real difficult to take care of a baby. I knew it today. Was carrying his niece for quite some time today. She is a cute baby but always wriggling around (think most babies do) and pulling my hair. I dont have the strength to carry her for long. She's too active. But she is really cute and I like to play with her. Playing with babies are fun, but taking care of them is.. errr...
Kiyo 到此一游 @ 11:56 PM

Friday, July 09, 2004
*~*~*~*~*~*~*~*~*~*~*~*~*~*~
Yesterday was a rainy day
Burnt a hole in my pocket again. haha.. At Xex and South haven. Recently, just came to realise that clothes from south haven looks real sweet with a hint of japanese style in it.
Collected my alteration at Southhaven and caught my eye on a white blouse and pink belt. Very sweet office wear but no discount! sigh...But i bought it anyway.Went to meet some of my University Geyao friends in the evening. We had an enjoyable time joking around and exchanging updates on our lives... Forgot to take pictures though.. Only took pictures of the Cheeze cakes we had at the Sweet Recipe in Plaza Singapura.
We saw the Cold Challenge there too organized by Fujitsu. Contestants are supposed to stand in a confined transparent tent in their allocated squares for 3 days. You think it's easy? No.. the tent has strong aircons blasting 18 degrees air out of it. Crazy! Waste of energy you know...
Saw some of my pictures that I took about 1 year ago at his house. Those are the ones that I gave him to bring to Australia. After looking at them again yesterday, I decided to destroy them! I didnt know those pictures looked so ugly and my hair colour looked so "lian". It looked fine to me one year back! :) hahaha
Havnt gone to karaoke with him yet and I'm planning it on either a Sunday or a Monday. Looking real forward to singing my lungs out!!
Tommorrow will be feasting day! hey hey. Booked a reservation at Greenhouse in Ritz for high tea. They serve local delights at quite a resonable price. hoho.. back to tai-tai lifestyle again..
Kiyo 到此一游 @ 11:00 PM

Thursday, July 08, 2004
*~*~*~*~*~*~*~*~*~*~*~*~*~*~
Car Park hawkers! FOOD!!
Okie.. Went to this car park hawkers this evening after work after hearing about it in the news.
IT WAS SO CROWDED!
We were lucky. We found a seat as soon as we got there at about 6 pm but the q was so long! I que up for 45 mins for a plate of Carrot cake... Oh my god~ that's long okie..
I was glad that there wasnt any breeze as leaves may fall onto our food. But overall, think that's going to be the last time I am going to the car park hawkers this month. It is simply too crowded, doesnt taste that good for me to wait so long. After the carrot cake, he went to buy the stingray.. Doesnt taste up to my expectations.. Really disappointing..
No work tomorrow! I'm taking unpaid leave. hee.. boss is not around BUT.. he approved my leave hey hey.. Shopping time tommorrow again! XEX at far east plaza opened today. I saw some of their clothes on their website. Looks nice and stylish. Will drop by and see if they have the potential to burn a hole in my pocket hoho :)
Kiyo 到此一游 @ 12:27 AM

Tuesday, July 06, 2004
*~*~*~*~*~*~*~*~*~*~*~*~*~*~
Tired Tired
Finished watching Around the world in 80 days. So tired now, eyes half-closed. Think it's due to the number of hours that I wear my contact lens. Making my eyes very dry and uncomfortable.. sigh..
Removed the Samsung kakis pictures. Will put new pictures up on our next outing. Planning to put a java script mini photo album below. Still working on that. :)
Taking leave on thursday. at last can have some rest. hee
Kiyo 到此一游 @ 11:09 PM

Sunday, July 04, 2004
*~*~*~*~*~*~*~*~*~*~*~*~*~*~
Moved my lazy butt at last
Went to combat at last after 3 weeks of missing it. Felt really great after combat this morning. Teacher was Meech today and seems that she just came back overseas too. I realized I dont enjoy combat with other instructors as much as with her. She's great!
Forgot about something yesterday. Was at Toa Payoh yesterday and came across a shop called Glo at the HDB hub. I finally found a shop like that and would like to share with everybody too. They sell salon-use hair products including ampoules and hair treatment cream. They are also carrying the brand Davines which is the one I'm using now and the shampoo that Monsoon is using for their Hair spa. And they are having 20% discount. Hee I didnt buy though because I still have some left. :) I bought Loreal ampoules for hair though (the ones they use in salons for treatment)...
I just love it DIY.
Kiyo 到此一游 @ 3:00 PM

Saturday, July 03, 2004
*~*~*~*~*~*~*~*~*~*~*~*~*~*~
Neoprints at last!
At last we took some neoprints today at Far East Plaza. I havnt been taking neoprints for like about a year and was quite excited about it today. Haha. The machine looked very complicated so we decided to get the counter girl for some help. So embarressing.. Hahah. We just dont want to take the risk... because it's 9 bucks! The last neoprint I took was about 4-5 dollars. This cost 9 dollars! I was a little shocked and surprised. Picture turned out to be a little white and I dont know why... but I still like it as this machine enables us to draw a little crown on my head..(OR every machine can?).We looked rather small from the pictures too. :) So I tell him, next time, we must stand closer to the camera to take close-up.. Next time, we must do some planning.. Next time, we must have differentt poses.. Next time, we must.... hhahahhahah Like old granny nagging away.. You cant blame me. It's 9 dollars okie!? :P
Didnt get much stuff today. Decide to go into
"SAVE MODE"
. But got a dress from Southhaven. I like their clothes, very suitable for office and quite Jap style. A little on the down side is the price tag....Dont think I will buy their clothes too often. :)
Will take 2nd round of neoprints next week.. Got to think of some poses, otherwise it's always this "V" sign.
SO BORING~
Kiyo 到此一游 @ 11:22 PM

Thursday, July 01, 2004
*~*~*~*~*~*~*~*~*~*~*~*~*~*~
The month of Celebration & Spending!
V! It's Friday Tomorrow! What a long wait. Got the black and white pictures scanned and here is one of them. I think I know why they charged so expensive. It's maybe because their scanning resolution is quite high. I sent my pictures for scanning before at another place for a cheaper price, I can vaguely remember that the resolution wasnt really high that time.

Why is this month
THE MONTH OF CELEBRATION & SPENDING
? Not because it's the Singapore Great Sale. *Please look at the upper right hand corner for the Answer* Because it's my Birthday! I started receiving a lot of birthday discounts or free gifts from several boutiques, nail bar and GNC too. Think I am going to make full use of them since they only come once a year. Hee hee.. :) Going to get the Style Card from Kimage and go for their De-ionizing Treatment during birthday as.. it will be a whooping 50% discount!! Great! Think my wish list is getting so long that I no longer put it at the side bar here... Another day to go.. I'm so tired!
Kiyo 到此一游 @ 9:41 PM