Saturday, May 30, 2009
*~*~*~*~*

What a weather to do confinement!

What are we not supposed to do during confinement according to the various myths.
We should'nt bathe for 1 month as wind will get inside the body and cause rhematism when you are old. (Don't see the reason why cannot bathe, my mum bathed when she did her confinement and she's fine now! the weather is so freaking hot, the breastmilk may end up with more sweat than milk lor ! anyway i already started bathing after i discharge)
We should't wash our hair (so disgusting! started washing my hair already too)
No fan no aircon (can die lah.. i on aircon every night)
And i even went out twice to shop for baby's stuff within the 1st week of confinement. tsk tsk tsk.. i'm a naughty mummy but there's not much choice as alot of things were not prepared as I was on bed rest and papa can't really decide or know what I need to buy. =)

Post natal massage starting today! yay!! going to get some pampering later

Oh yah, my mobile phone is spoilt and sent for servicing, so don't bother messaging me as I won't be able to receive it.
Kiyo 到此一游 @ 7:39 AM

Wednesday, May 27, 2009
*~*~*~*~*
Photos uploaded
!!!!
Birth Story updated at Skyler's blog!
Thanks for the wellwishes dearies!!!! =D
Really sleep deprived nowadays.. need to go rest liao. Blog again =D
Kiyo 到此一游 @ 6:32 PM

Tuesday, May 26, 2009
*~*~*~*~*
So tired and busy!! with the little fella.
Everybody have sleepless nights. Every night I have only about 2-3 hours of sleep.
But Skyler just hospitalized today =( for jaundice.
Hope it clears up soon.
Photos of my little Skyler later! Catch a nap first hee
Kiyo 到此一游 @ 4:57 PM

Tuesday, May 19, 2009
*~*~*~*~*

Days are getting longer............
11 more days to another milestone.


Kiyo 到此一游 @ 9:09 AM

Thursday, May 14, 2009
*~*~*~*~*
Bed Rest Day 60!
The weather has been rather cranky lately, but in a good way. It's always raining, so unlike May's weather.
Havn't been blogging much as there's nothing to share!
What's there to share about cycles of eating,sleeping and bathing?
Anyway, preparations of the arrival of our little one will increase during this weekend since I will reach Week 35 this weekend.
Darren will have loads of things to do while I rest at home.. haizz.. cannot go shopping with him for baby stuff. I havn't been like shopping for a record breaking of 60days. I have so many things planned out after my confinement!!
Spa, facial, massages, ktv and not to forget shopping too! yah right, maybe when wawa's out, i may not bear leaving him at home for long oso.. hur hur hur
He's been kicking me and is very active these days, really enjoy those strong kicks but not those in the wee hours of the morning as i couldnt sleep, if he keeps fidgeting around.
Here's Darren's TO-DO list for this weekend
Sat
1. Buy Fenugreek from GNC (Recommended by Chiu ling, for bringing on milk supply)
2. New born size mamy poko (We bought small size, maybe too big)
3. Fix the wheels of the cot
4. Buy waterproof rubbermat, for diaper changing
There's a sale at Robinson too, which starts tomorrow.. I wonder whether we should get the stroller first.
Sunday
1. Bring some unused stuff to our new house
2. Bring back bb rocker from MIL's house
3. Collect nursing lingerie at Yishun Ring Road
4. Collect breast pump at Yew Tee
Darren's weekend is burnt! hahaha Busy busy busy!
Kiyo 到此一游 @ 9:08 AM

Tuesday, May 05, 2009
*~*~*~*~*
Hospital bag packed!

My dearest mummy packed for me as the last 2 days i have really bad cramps and contractions and I think it's good to get ready although bb is only 33 weeks+
What went into the bag
1. Marriage Cert (hospital say need this to register, dont have cert cannot give birth meh?)
2. IC
3. Cord blood kit
4. Sanitary Pads
5. A set of front opening nightgown and sweater
6. Baby clothings and other essentials
7. Socks to keep the feet warm
8. Not to forget, a fully charged digital camera to capture the moments!!
Things I want to bring but not in the bag yet
1. Relaxation music CD, maybe some dvd oso (TMC labour ward has a dvd player)
2. Snacks like cereal bars
3. Toiletries
4. Contact Lens
5. Hairbrush (cannot look like siao char bo in photos)
6. Eye mask
anything else i need to bring? hmmmm
Kiyo 到此一游 @ 9:47 AM

Monday, May 04, 2009
*~*~*~*~*
2 of my colleagues popped over the weekend!
One was Linda, on saturday night and another was Agnes who popped this morning.
Congrats to to them and welcome, Eva and Leroy to this WORLD!!
Next will be my colleague Connie and myself.
Wasnt feeling well on sunday.
Had some cramps and was feeling breathless and very nauseous. Darren had to forgo his sunday soccer session because of me and he was feeling very upset, didnt talk to me or even sayang me for the whole morning. So sad lo...=_(
Maybe everybody is tired taking care of me ler.. haizz
Anyway, 4 more weeks to 37 weeks! Must persevere!
Friday will be our checkup day and I will be in my 34 weeks. Heard that the hospitals are stepping up on temperature checks due to the swine flu outbreak in other countries. And patients are only allowed 1 visitor per day.
I hope the situation doesnt get worse.
Kiyo 到此一游 @ 8:40 AM

Friday, May 01, 2009
*~*~*~*~*
Hearing 1 more success story of a gal who has the same condition as me, who wasn't given a cerclage (FYI, a cerclage is a stitch for the cervix) and managed to carry the baby to full term. So motivated! I must and I will too!
Updates on our Reno.
It's completed like 95%. The 5% of minor minor touchups like the workers damaged abit of the wall, cleaning up of the chengal wood was still not done despite telling our ID 1 plus week ago. He never contacted us but it's okay, cause we will WAIT for him to contact us, unless he doesnt want his balance payment of 1000 plus dollars which is totally fine with us.
Our fridge came last week. It's a 2 door Mitsubishi fridge in Graphite Grey.
And Darren went over to jaga our store room racks installation.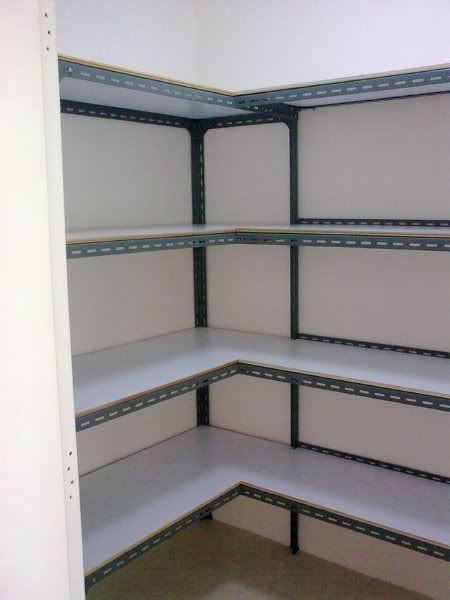 Sofa and bed is coming in on May 29th!
Labels: Home Sweet Home
Kiyo 到此一游 @ 9:13 PM