Friday, July 29, 2005
*~*~*~*~*~*~*~*~*~*~*~*~*~*~
East meets West
Went to see the chinese physician again. He always cures my digestive problems cos i know western medicine dont really work for me..
I dont know what is wrong with me too...it started with a flu, fever, vomitted than now bloated..
I realized this month i really very suay.. why all the suay things happen to me? From TMD
(tembu dont noe wat disorder la)
to this..wah...
but luckily i'm slightly better now n all i hope is that my dinner just now will get digested.My chinese doc has been telling me the same old things whenever i visit him
"You have a weak digestive system, Avoid oily, fried and spicy food ".. But how can I survive on non-oily, non-fried n non-spicy food right...you might as well kill me first.
Today he added something new.. "Dont sleep too late every night.."
You sure sleeping earlier will help? anyway, his medicine works for me although his advice was like quite standard everytime.
Tmr's lemongrass appt is still on
(cant expect my frens to eat porridge with me right?)
haha.
Actually made a reservation at Teahouse tmr afternoon to bring my parents for some ala carte dim sum. I have decided to change it to next sunday so that I can eat MORE...
Teahouse offers quite good dim sum
(alot of podders were raving about it)
and is under the Tung Lok Group.
Another most raved about dim sum place was Red Star at Chin Swee. Their dim sum is good too! Just that the atmosphere there is like those old kind of chinese restaurants and their waiters n waitresses are fit to be our grandmas n granddads. But price wise, very reasonable and I like their food! especially their egg tarts.. yum yum..
i'm really drooling now..
i'm intending to organize a mass outing again! in August! to Teahouse.. cos they have a better ambience =)
Going to wear this tomorrow.. =D my newly bought racer..
or should I save it for monday for my first exotic dance class.. hohoho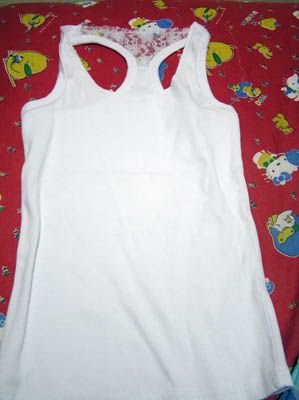 (actually besides the lace trimmings at the back, it looks JUST like my dad's singlet -_-, waste my $$)
wah liew.. i hope i still have strength to
shake my bon-bon
.. on monday man...
Got to go and sleep ler... *yawn* so tired..
祝我明天生日快乐
Kiyo 到此一游 @ 9:45 PM