Sunday, October 30, 2005
*~*~*~*~*~*~*~*~*~*~*~*~*~*~
On Friday night...
The amateur team agreed to meet at the studio at 8pm to go to the fullmoon bar for a howling good time, but then Angela couldn't make it so the choreograph have to change! It was kinda last minute so we were rather gabra during the practice, especially with the boots on. We only practised for about 1 hour before we set off..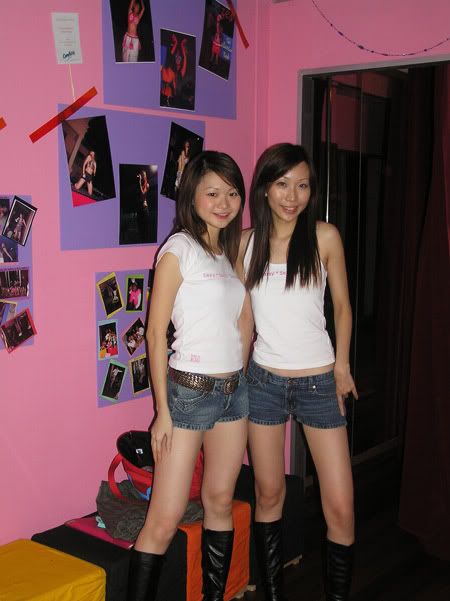 oh my gawd.. what's with my fingers... chinese dance ar?
So.. the location was not new to us.. At least not to me and min cos we actually went there before when Alan had his 21st birthday celebration there.. at the chalet.
-_-
The club was inside the chalet hee hee. The waitresses were dancing on the bartop and they can dance damn well... We were like standing at one corner, dont know what to do. So we waited in our corner for our turn while the Trinity Productions professional dancers performed. Their performance was great! especially Candy.. I was watching them with my mouth gaping..It's real good I tell ya. Professional mah.. of course very good. They have so much energy and everybody's figure was
drop dead
gorgeous. We really regretted agreeing to perform... haha. We still have to improve and hopefully by Sexpo, we will have 1/10th of their stage presence.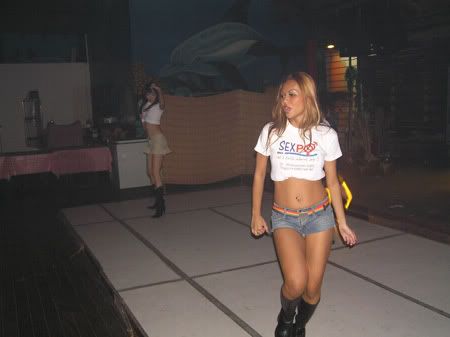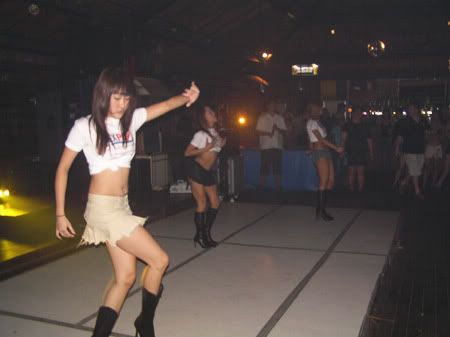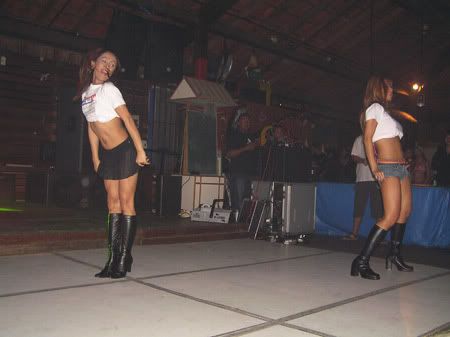 Ppm was still very glad when the smoke came on cos it will be better as the audience will not be able to see us and maybe wont notice what's our mistakes...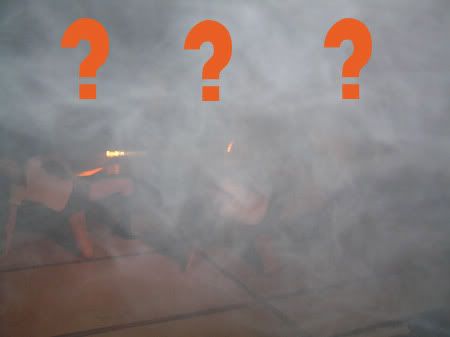 AND.. REALLY cannot see lo..
Waited till 12 for our dance...quite late, nearly got a scolding from mum.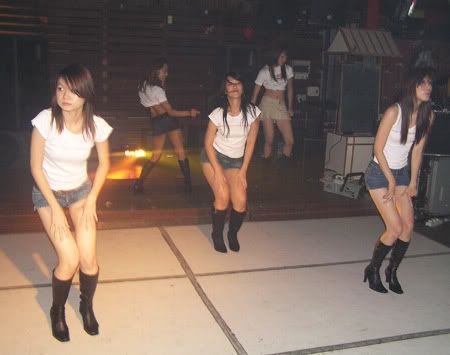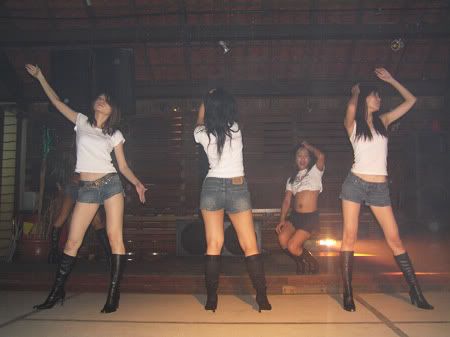 dis is what i call.. totally uncoordinated. 3 pple doing 3 different things! we need more practice.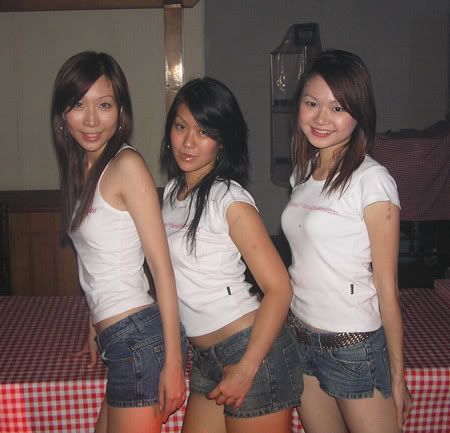 me, kelly and ppm after our first performance looking relieved that we didnt fall. It was pretty difficult to dance with boots.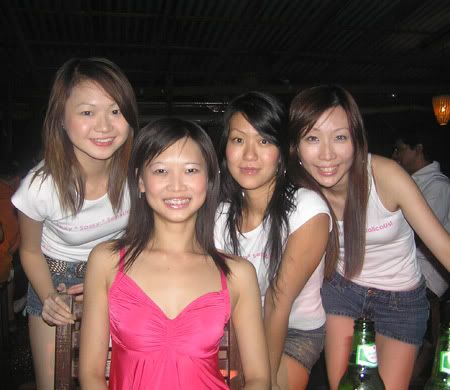 Our last shot with joy, our instructer..beaming from ear to ear.. hee hee maybe glad that we didnt fall down either.. kekeke
Kiyo 到此一游 @ 12:55 PM

Saturday, October 29, 2005
*~*~*~*~*~*~*~*~*~*~*~*~*~*~
...
A Japanese studies junior from NUS wanted to use some of he pictures on my blog for her project and emailed me to ask for my permission.
One of it was taken by xdd. So I asked him what to write as a form of credit to him..as they are quite particular about copyright stuff
:kiyomi:: Be forewarned.. says:

very tired.. but today better
gerald - i'm a worker, i got alot of work to do says:
hehe
::kiyomi:: Be forewarned.. says:
and hor forgot to tell ya somebody email me
gerald - i'm a worker, i got alot of work to do says:

i need a clear mind to start my philo paper...last one le
::kiyomi:: Be forewarned.. says:
say she want to use pictures on my blog for her project
gerald - i'm a worker, i got alot of work to do says:
peektures on ya blog
::kiyomi:: Be forewarned.. says:

the matsuri ones, one of it is taken by you.
gerald - i'm a worker, i got alot of work to do says:
muahahha

gerald - i'm a worker, i got alot of work to do says:
then she should ask ME wat
::kiyomi:: Be forewarned.. says:

i ask her to credit gerald tay, alright with you right?
gerald - i'm a worker, i got alot of work to do says:

orhhh orhhh
gerald - i'm a worker, i got alot of work to do says:
gerald tay - the ultimate wudi PLOWfleshional PAWtoegrapher
::kiyomi:: Be forewarned.. says:

it's that pic with the woman lancing on stage
gerald - i'm a worker, i got alot of work to do says:
she put like tt i dun mind
gerald - i'm a worker, i got alot of work to do says:
hahahhaa
::kiyomi:: Be forewarned.. says:
u think i dun dare to email her that one issit?
Hi Jiahui, please credit that photo as written above.. hahaha..
You can just trust Gerald to come up with such bu yao lian lines..
-_-
Or did he learn it from me??... hmmmm... buhahaha
Kiyo 到此一游 @ 8:42 AM

Thursday, October 27, 2005
*~*~*~*~*~*~*~*~*~*~*~*~*~*~
Still very tired
It's been raining and raining nonstop these days.. Always feel like sleeping... in office. Or maybe the flu bug has caught on to me... I hope not. Ate all sorts of stuff this afternoon to cure my burning throat. From starfruit juice, to chinese medicine 苦茶 and I shall pop another 2
Danzen
tablets before I hit the sack. That's what I call 中西合并. Maybe my throat will recover tomorrow and then end up having diarrhoea.. ha! choi!
Actually it's good that it's raining cats and dogs outside now cos there's a high chance it wont rain tomorrow! Cos we are changing venue for our performance! Here's the E-pamphlet Joy sent us. She was telling us CU foam party through sms the other day.
Sua gu
us was still thinking what can CU stand for..and winston still have the cheek to say that it stands for Chikopek Union.. -_-!!
Anyway, we were quite glad that it wasnt some family oriented place with kids running around in the baby pool with foam..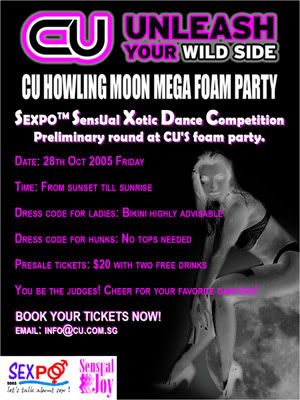 the howling moon part sounds like we are werewolves.. and not to forget the venue is at some place call FULLMOON beach bar or something like that. haha
Since it's a competition, there should be alot of experts around.. We are still not up to the standard yet so I think I shall stand at the side, armed with my camera to get some cool shots... but! I shall be home early cos Saturday we will be meeting sfc friends to celebrate Ivan's birthday!
Happy birthday Ivan! How old ler ar..*opps*.. hee hee see all of ya on Saturday.. it's been a long time since I stepped into Sakura and I miss the food there!
Kiyo 到此一游 @ 10:09 PM

Wednesday, October 26, 2005
*~*~*~*~*~*~*~*~*~*~*~*~*~*~
I'm getting a sore throat.
I think it must be the heaty food and late nights that I feel that a sore throat is coming on so I bought something during lunchtime.
罗汉果菊花茶 at a
CUT THROAT
price of $2.50! KNN. Their 罗汉果 made of gold issit? I could get the same thing at $1.00 at Toa Payoh okie.. But haizz. who ask me to eat so much heaty food so no choice! I've stopped on my chocolate binge too cos I finished all of them in office. I still have some in my fridge though, those chocs that Darren bought me when I was in Australia.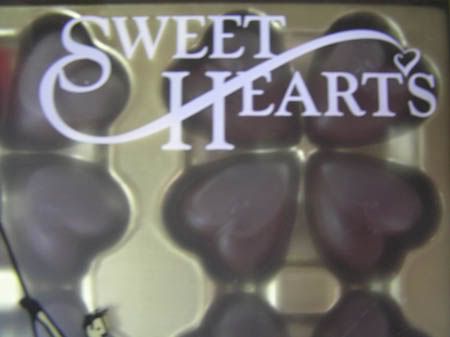 I couldnt bear to eat them cos it says sweethearts.. hee hee *shy* he's actually sweet in alot of ways... and come to think of it, it's exactly 21 days to his arrival. Quite excited I must say! I'm going to get him a surprise pressie too.. Still thinking of what to get him, I would want to see him change his hairstyle though, add some funky colours (but not those monkey god kind haha), maybe a salon voucher is good.. hm.. Shall get gerald to give me some ideas..
Bought something else today during lunch from une nana cool. See it has a ribbon tied to it and pearls at the end, kinda sweet and most importantly I do not need to pay for it! I paid it with a voucher.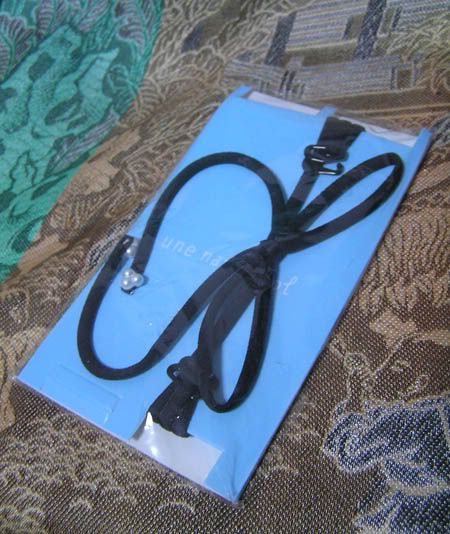 And that is my ever so beautiful brocade look-alike piano cover..
It's more or less confirmed that we
wont
be going to Thumper to perform this saturday. Ha! see you all guys at Sexpo then~
Kiyo 到此一游 @ 8:39 PM

Monday, October 24, 2005
*~*~*~*~*~*~*~*~*~*~*~*~*~*~
Please call me 软脚虾
Have been to the studio for 3 times last week to practise for our performance. Now I fully understand the term 软脚虾...Our moves are getting much better and I really developed chemistry with peimin. She is my 最佳 partner! haha. We had a performance today just now at the studio as the civil servants club wanted to join joy's classes and requested for a preview of the class. So we danced Scandalous by Misteeq and a lap dance too.
It was really a crash course on lap dance yesterday. I learnt almost the whole of lapdance yesterday but still very clumsy. I was looking at the other group on the sly so as to make sure that we are on timing and I'm doing the hair flips at the right time. I couldnt get used to the crawling and dragging of my knees across the hard wooden floor. Next time I will know better to let ppm do it cos i'm so prone to
or chehs
. Much relaxing sitting on the armchair than crawling around right?!
Was so busy with dance and other stuff that I forgot all about my credit card bills!! I realized I cannot multitask man.. when I'm busy in one task, I will tend to neglect or forget others... arggh..they charged me a late fee, those bloodsuckers.. Anyway, I called them up and you know.....asked them to waive it off and threaten to cancel the card if they dont.
They did of course. They HAVE to. hahaha
Early this morning I received 2 Mms.. from gerald. He's the only person who sends me MMS cos he's not the one paying for his phone bill!...
That hiao didi of mine went to colour his hair today and took some pictures for me to preview. And what's better was that.. he do not need to pay for his hair colouring EITHER!! Everything free lo..
This was the picture...so small!

I replied him : like monkey god lo.. buhahha..
(actually I wanted to post another one with his highlighting cap on, he said he will kill me if I do that)
So he send me another one just now...with good photography and editing skills.
okie lar okie lar.. very shuai la haha.. It looks just like an album cover. wee wheet! Some people going to cut album ler. hm... I think it's better that you just be album cover than I help you sing.. *opps*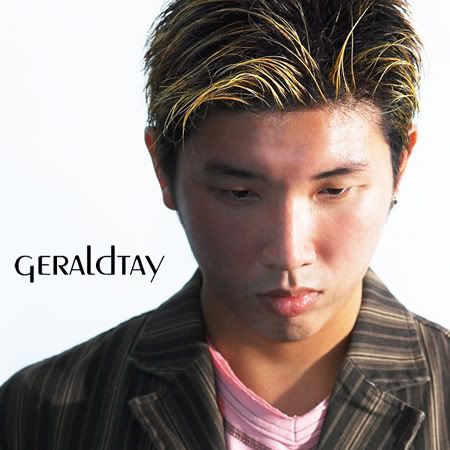 Kiyo 到此一游 @ 10:32 PM

Saturday, October 22, 2005
*~*~*~*~*~*~*~*~*~*~*~*~*~*~
Free lenses!
Haha.. got one pair of free trial Purevision lens yesterday. They claim that we can wear for 24 hours and 30 days without removing them at all. I actually saw it a few days ago during lunch time but I didnt have time to stop and get the trial set but yesterday after work, I went for my eyebrow trimming session and I remembered about it. They have my degree!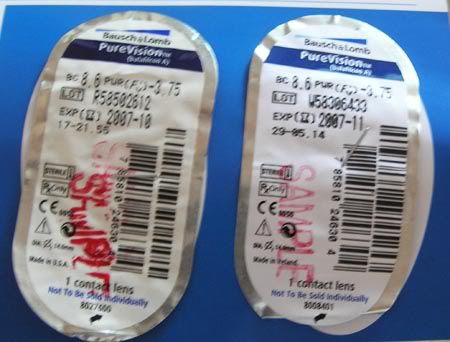 Wore for a few hours yesterday so cant really give a detailed review yet. But it feels like wearing nothing so I'm looking forward to wearing it the whole day later.
Think the booth will still be there till Sunday... kekeke
NOnoNo.. I'm not thinking of going down to get Another
FREE
pair okie.. duh.. I'm not so GB
(gian beng)
can? =D
Today will be a packed schedule, facial at
10am
(okie i can put that lens to some test, let's see if I wake up with dry eyes)
, lunch and shopping with gerald and ppm at about
1.00pm
, dance class from
4-7
. So that's about 9 hours.. If it's really good, I shall get some of it and wear it when I really need to rush around for long hours. I dont really dare to wear it overnight though, feel quite strange to wake up with sharp eyesight and all.
Did a little test at
Daphne's blog
. And it's quite
zun
for me!
I chose B cos I will really feel miserable if there's nobody at all except myself. From young, I always have this scary thought that what if everybody died and only I am the sole survivor. THAT will be scary. Seriously I dont think I will survive, unless I have my computer (with broadband connection of course) with me.
B)
Nobody in a deserted village except yourself. You are basically a person who enjoys looking back to the past. A very emotional person indeed. Easily influenced by the people or surroundings around you. Eg. if the society is sad about the death of Princess Diana, you will also share the same sentiments or when watching a sad movie...like Titanic, you will be so engrossed in the movie that you will end up being sadder than the main casts in the movie!!!!!!!
(I always cry!! not my dai ji i oso cry! Watch

童话

or

叶子

mtv umpteen times still cry like MAD!! zun!)
Lovelife:
Very Messy! Are you a very confused person? Sometimes you like to be left alone, Sometimes you want to be love, Sometimes you need her/him, Sometimes you don't??
(Not very messy wat.. but the 2nd part of "being a confused person" I can imagine Darren nodding his head vigorously in front of his computer)

-__-
Does it sound familiar? You better sort out about yourself before you cause another party to be in pain for you.
(nah... I dont think he's in pain.. are you ?keke)
The spree site.
Unpretty lady and fairy juice, good organizers. It's where I got my bag, just keep a lookout for their sprees. =)
Kiyo 到此一游 @ 8:42 AM

Thursday, October 20, 2005
*~*~*~*~*~*~*~*~*~*~*~*~*~*~
Mum not cooking tonite... so... I cook lor!
Decided to cook porridge today. I thought maybe I could just cook some plain porridge and boil some vegetables to go with it than suddenly winston asked me whether I was cooking maggie porridge and Gerald suan-ed me and asked me not to blow up my block on msn -_- duh!
*Firstly, I was NOT thinking of maggie porridge I swear, Secondly I still can make some decent palatable porridge okie* hng!
I realized.. I do HAVE maggie porridge! From Australia summore! haha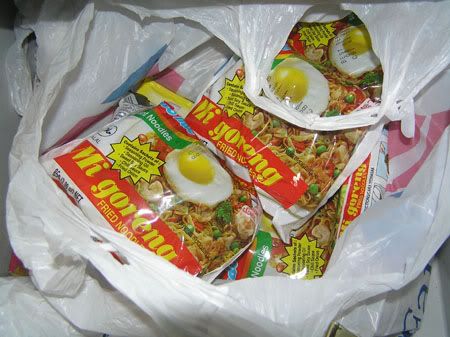 Yeah.. that's part of my loot, 10 packs of Indo mee. They are definitely
NOT
cheaper over there and I'm definitely
NOT
crazy. I lug them back from aus cos i simply couldnt find the same version I wanted.
*STRESS*
I couldnt find THE SAME VERSION I wanted.
*STRESS*
Found other indo mee in Singapore but just doesnt taste the same. Maybe I have too sensitive taste buds.
I think darren's friends must be thinking that I'm crazy. They are so sick of indo mee and yet I ask him to bring back every semester without fail. *oops*
okie... Mum placed a whole basket full of vegetables at the side and I thought I was supposed to cook everything. hm... In the end, I think I cooked too much vegetables, but I still managed to finish them all!
ho sey
la! dump everything in!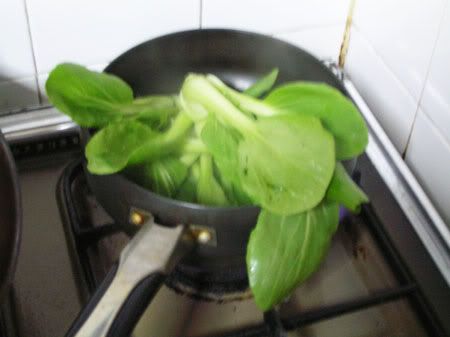 My leafy greens... i getting darn bo liao.. cook vege oso so proud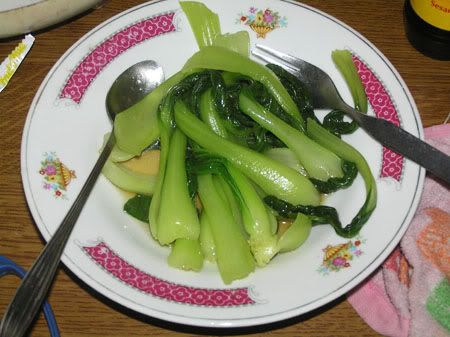 It is NOT overcooked.. It is not yellow..
and I got my bag from Taiwan spree.. hm.. okie it looks exactly like it was in the pictures but then I dont really have a strong liking for it anymore. But still, it looks very lady. =)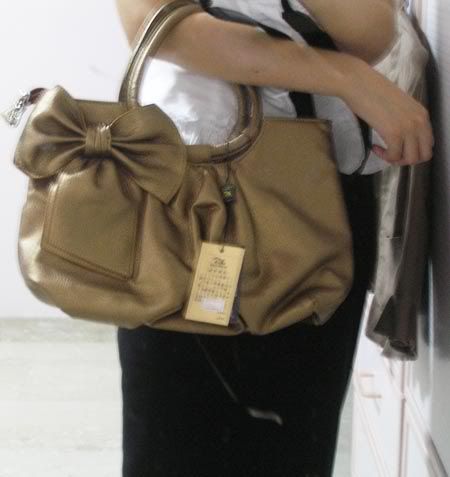 Kiyo 到此一游 @ 9:33 PM

Tuesday, October 18, 2005
*~*~*~*~*~*~*~*~*~*~*~*~*~*~
Argggghh....
Darren told me from Saturday, they always hear this rattling sound from Jon's car whenever they drove. They didnt think otherwise as the car was recently sent for maintenance and the technician said maybe it's due to the brakes.
Only yesterday did they check thoroughly and found out that the 4 screws of one of the tyres were all loose and on the verge of dropping out.
They believed that somebody deliberately did that as they remembered tightening them last week and it was very tight. And also..it couldnt be possible that ALL 4 screws of the tyres came loose all at one time.
I could not think what will happen if the screws really dropped out cos they would definitely lose control of the car.
I dont know what's the intention of the person/people doing this.
May your hands n fingers ROT to ya bones!
Kiyo 到此一游 @ 7:28 AM

Sunday, October 16, 2005
*~*~*~*~*~*~*~*~*~*~*~*~*~*~
It's time to Dance
I'm officially joining peimin for the Amateur Dance team lessons with another 2 gals kelly and angela every Saturday from 4-6pm. Joy talked to us yesterday and said she's forming a team so that we can conduct public performances.. Of course the name of our team just speaks EVERYTHING. we are TOTALLY Amateurs so dont expect handstands, splits or whatsoever. I think our main purpose is to showcase what Joy teaches during classes, represent Sensual Joy lifestyle studio as her students and we get extra practise sessions as well.
Yesterday we were at the studio practising scandalous again. We need to get the moves right and on top of that fine tuned it as well. Joy told us frankly what's our mistakes. My mistakes were the usual.. Movements were maybe abit too sharp and not big enough. She said we were taking such small steps and we look too gentle and innocent. We should have more stage presence and have bigger movements involving the use of our hands and with more attitude of course. Those are really precious advice. I need to improve on the way I walk. I didnt know that I look as if I was marching (like girl guides) rather than walking. -_-''' haha. And what's worse was I have never been a girl guide ALL my life.
Darren dont really like the idea of me wearing shorts strutting around in public. But he still agreed to me joining the team. I'm happy to have him. He always give me total freedom to do whatever I want.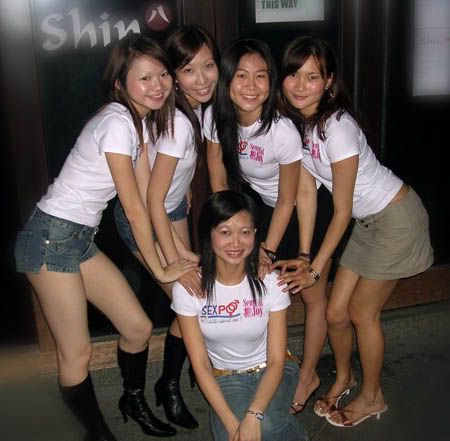 From right, fion, angie, me n peimin. Fion and Angie can dance real well!! They are going to be the in-house artistes for joy. Yeah. our boots were from Lucky Plaza.
Apparently Lucky plaza is supposedly the
PLACE
to get boots haha. My sis wanted to recommended me that place too and we saw another gal hired by Sexpo to sell tickets wearing the
SAME
boots as us. *ahem* It's really common design. Anyway, I will get other colours when I do have the budget.
I bought a track pants yesterday at Mango. Cost 35 bucks only~ even cheaper than the white Fila one that I bought from Perth. argggh.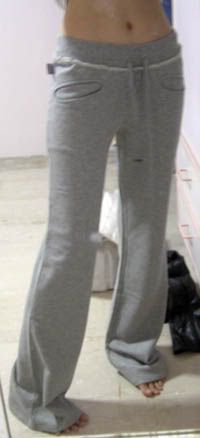 I think I need to cut away at least 2 inches off man.. so long! It's made for long legged giants
Kiyo 到此一游 @ 8:49 PM

Saturday, October 15, 2005
*~*~*~*~*~*~*~*~*~*~*~*~*~*~
Happie!!

we went with Joy to distribute some pamphlets for our studio and Sexpo yesterday night and some other class members too. Before that, we were practising the Scandalous dance. It's really getting very fun dancing, relaxing experience! I went at about 4pm to see some of the Channel U project Superstars there. I didnt have my cam with me so no photos. They were there for some program I think, but I didnt see junyang.. sadzz.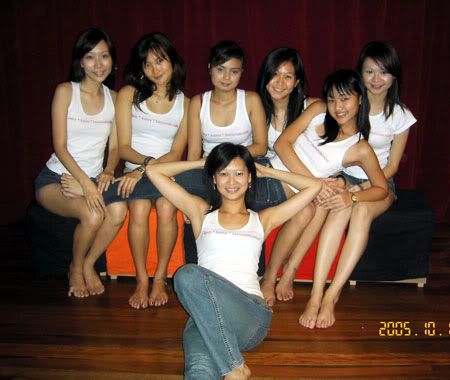 The girls! From left, me, fion,opps I cant spell her name, angie n ppm! And not to forget joy and her cousin =) I got the Tshirt!! Happiee




Bought boots on Friday too..Met peimin at orchard for while and bought a pair at all places.. LUCKY plaza.. I didnt know lucky plaza has such a large variety of boots. It's just a normal cheap pair of black fake leather boots.. I seriously never wore boots in my entire life man..after wearing that pair of boots, I'm a freaking 1.73 m tall.... TEKKO. Bet my bf wont want to stand anywhere near me.

I'm rather happy today TOO.

Firstly, it is the first Saturday without any dance class. I can now spend my saturdays Shopping hee hee. I really cannot recall how long it's been since I've been to far east plaza for some good shopping.

Secondly, my skin is so much better! After drinking more water, eating porridge, be more diligent in my daily facial routine, my skin is almost back to normal. yoohoo! I'm a happy woman.

My skin saviours that I worship everyday..

Eve Taylor Skin oil No. 1 bought from Dermalogical long time ago. Oily skin needs oil sometimes too. I seldom uses it unless my skin gets really sensitive and dry. This really calms the most irritated skin.




Lycopene peel from Skin Revival. It's supposed to loosen up your impurities inside your pore and exfoliates the skin. Really works. Love it! I'm going to get the big bottle from them.




Thirdly, just after 2 weeks returning from Perth, Darren will be back in about 4 WEEKS TIME. How time flies. He will be coming back by Qantas although his flight tickets were Valuair cos they are ending flights to Perth I think. They didnt really explain much but it's one good news. At least Darren wont feel so bored on his flight back, have nicer meals and tv to watch!

I'm planning my next trip with him aledi..

I want to go Bangkok!
Kiyo 到此一游 @ 12:42 AM

Wednesday, October 12, 2005
*~*~*~*~*~*~*~*~*~*~*~*~*~*~
Msn-ing with God


Was surfing flowerpod yesterday night and came across this site called Igod. For the really bored people (like me) hahah.

Igod- repenting made easy



Have to sign in first before you can repent.




Overall he's quite good at answering the questions.. Go ask him about money.. flowerpod have some hilarious chat logs with "god". But one thing for sure, he kept mistakening my name.... grr

God: Ayuh. OK I will tell them when I see 'em. I am so glad you find this amusing, wat.
Me: my name is not wat
God: Oh I'm sorry what is your name?
Me: kiyomi
God: I've lost the context, wat. Are we still on kiyomi?
Me: tsk tsk tsk.. u are a lousy software
God: I will mention that to my botmaster, wat. There's no doubt I could improve.
Me: I told ya, my name IS NOT WAT
God: What was the response?
Me: what response?
God: Is that a rhetorical question?

-_-
Kiyo 到此一游 @ 7:18 AM

Monday, October 10, 2005
*~*~*~*~*~*~*~*~*~*~*~*~*~*~
We have graduated!
*....Drumrolls....*
We are officially graduated from the Xotic Kitten Course!!
*Applause* *Applause*
(Although Gerald insists that we are/I am 老猫 aledi.. wat kittens??)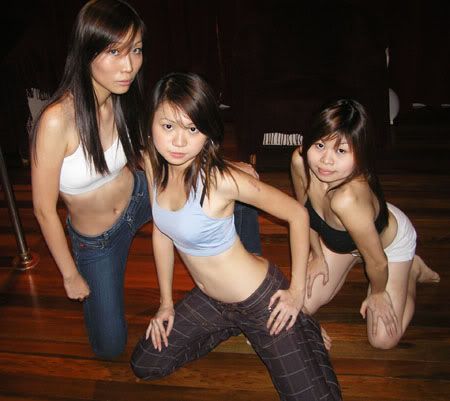 I look as if I'm going to kill your whole family using my right fist. whahah. Body combat and exotic dance roll into one.
Saturday we did the below sequence to complete our kitten course
1) A kitten crawl
2) A sensual walk with backturns
3) Strip Dance
4) and end off with the Lap Dance
After warmup, we were supposed to go change into clothes that will make us feel more sexy, so I just change into my jeans and no more kneeguards! Kneeguards are strictly UNSEXY. And the result is.. MORE OR CHEH..I pity my knees and I believe if Darren saw them, he will be shocked too. I always come home battered and bruise after dancing.
Luckily we are switching courses to Mtv exotic which dont really require crawling. Otherwise there will be neverending or chehs to my knees.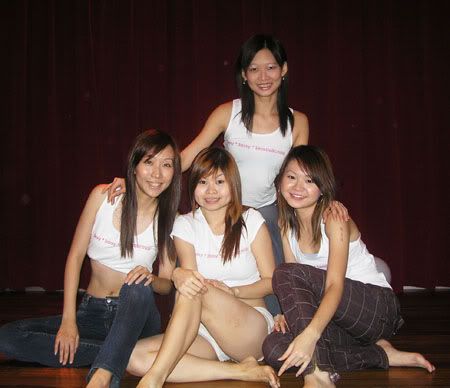 We can look sweet too.. hee hee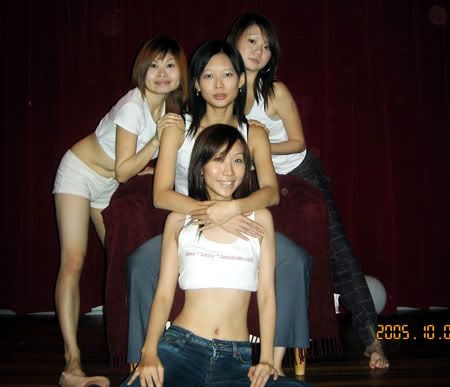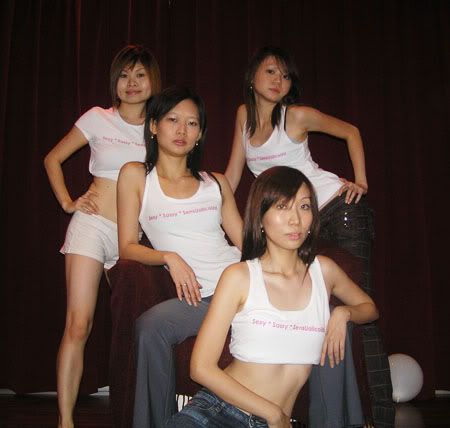 yet another pose.. Same pose, different expressions must take!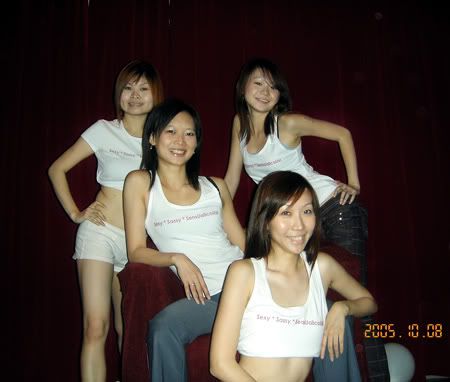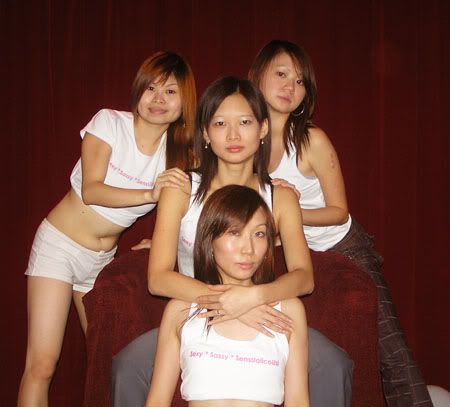 i'm cut into half..
I still prefer smiling at the cam.. I'm a frenly person.. hahah (or maybe I just dont want to admit that I have a SHITFACE (sai bin) when I dont smile.. boo hoo hoo)
Then came some people who film for SEXPO cos our studio is one of the sponsers. 2 of the other group members couldnt make it so I stood in for them. They learnt the dance when I was happy holidaying in Perth so I didnt get to learn it. Well done I only got 1 hour to learn the dance on Sat! It was a gabra experience.
So.. what exactly is Sexpo?
A chunk quoted from
- Getforme -
"SEXPO Singapore - Singapore's first Sexuality, Sexual
Health and Sexual Lifestyle Exhibition - will be held at Singapore Expo Hall 4A from 18 – 20 November 2005. SEXPO Singapore offers much more than our basic notions of sex. SEXPO will deliver frank, accurate and updated information on sexual education in a family-friendly setting with something for almost every member of the family. It'll cover sex education for teenagers, topics on courtship and dating for the unmarried, tips on communicating about sex for married couples and parents, and issues on sexual health for elderly married couples.

SEXPO 2005 will bring to you stress-free seminar sessions addressing topics on sex and sexuality for different audiences, from teenagers, adults in courtship, married couples, and parents, to elderly couples. Interesting and unique elements will also be showcased - from the latest adult novelty products, sex-friendly furniture, an exhibition on the evolution of undergarment and sensuous wear, to a demonstration and trial on exotic dance etc....."

More information at
Sexpo 2005
Woah... sounds like something new. Actually the organizer of the event got the idea from sexpo held in australia. And all the class members will be going to some clubs this Friday to advertise for this event. Maybe to
Club MoMo
(I never been there.. sua gu!) but I dont think I will stay too late, cos according to my dad's rules and regulations, 12 am supposedly is the latest time to get home.. I think I go there for 30 mins can start going home ler.. haizzz
Kiyo 到此一游 @ 6:45 PM

Saturday, October 08, 2005
*~*~*~*~*~*~*~*~*~*~*~*~*~*~
Perth Revisited
Some other photos and videos taken during Perth Royal Show.
We stayed till 9 pm for the fireworks. Strange hur.. I dont usually like to watch fireworks cos the fireworks is always right in front of my living room if the national day is held in the National Stadium, so I grew up not to be fascinated by fireworks.
But I still took a video anyway..
While waiting for the fireworks to start, there was some car performance. Actually everybody was going "ooh.." "ahhh". I dont see anything exciting about a big car crushing several small cars... -_-
~Click below~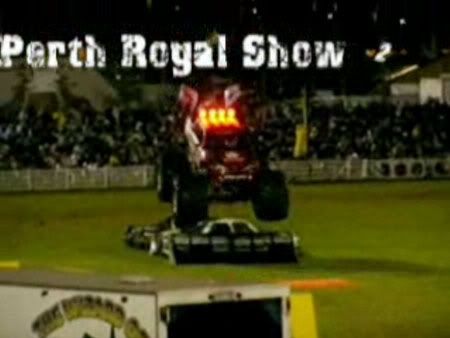 The fireworks in action! Similar to Singapore's one but the feeling is very different cos it was very cold and the fireworks did bring some warm to our hearts..
Didnt do much during last day cos it rained! I was kinda lucky, it didnt rain til the last day. It was really chilly. No mood to do any shopping too.
Went to Galleria at Morley, one of the big suburb shopping center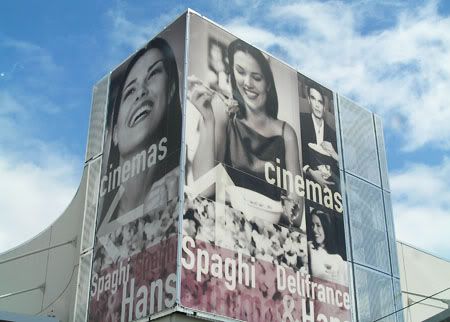 Spotted something cute when we were looking for a car park lot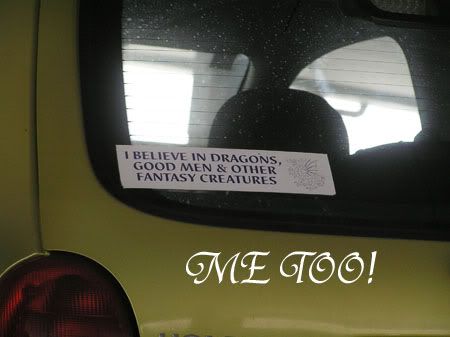 They have a food court there with wide selection of food.. I ate at this stall cos I was kinda sick of kebabs, fish and chips and other western food. But then... it wasnt nice at all! you all should have seen their
goh lo yeuk
(sweet sour pork).. they have the worse goh lo yeuk I ever tasted yeeks~
Darren asked me to try driving. I havnt drove for more than 2 years! I hate slopes..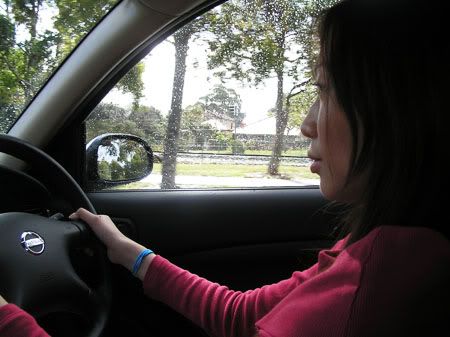 ~~~~~~~~~~~~~
Mood hasnt been that good cos my skin is acting up recently. It was still quite good when I was in Perth and became bad to worse after I came back. It's those small colourless bumps and no matter what I do, mask or wat, they just wont go away. It's making me rather depressed. I dont know whether it's the threading that caused it, but I threaded my face before and it didnt happen.. Arggh.. I want my good skin back!
Darren told me that he will love me even if my whole face got pimples. -_- Thank kyu ar..
Very nice to hear but I DONT WANT my whole face to have pimples just to let him prove that he loves me.
I'm going on a porridge diet starting from TODAY!
Labels: Perth Revisted
Kiyo 到此一游 @ 10:38 AM

Wednesday, October 05, 2005
*~*~*~*~*~*~*~*~*~*~*~*~*~*~
MTV Xotic dance is fun!
We are switching courses. Was previously learning exotic dance at SensualJ which comprises of strip dance, lap dance, kitten and wild cat crawls. Exotic Dance was interesting and good cos it allow us to learn the basic floorwork and the stretching exercises are good for body toning, but on the other hand, it's actually difficult to apply or practise at home cos it's separated moves.
Yesterday I attended the trial lesson for mtv exotic dance which is a combination of abit of everything put together in Janet Jackson style. Havnt reach Janet Jackson's standard la.. i think maybe another 5 years..
(oso cannot make it ahha)
I prefer mtv exotic as it's much faster with a bit of tempo and trains our rhythm, body coordination, concentration and sensuality all at the same time
(really have to concentrate, cos there was one part when I was dreaming away in my lalaland than suddenly I kept turning and turning and didnt know that I should stop)
. We will learn a new choreograph maybe every 3 weeks or so.. How I wish the classes are twice a week cos I couldnt wait till next Tuesday! There were about 4 other girls besides our usual 3. A larger class is indeed more fun, cos you can imagine a bunch of females laughing at each other plus messy hair and all. Fun or not? you say. =D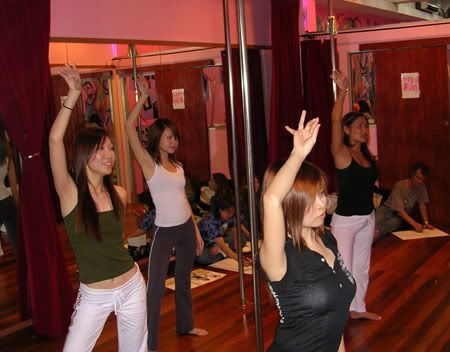 Perth Revisited
We went to Whiteman Park.
He asked me why I bring him there to see some 烂树 (rotten trees)..
We had breakfast there.. their breakfast was cheap!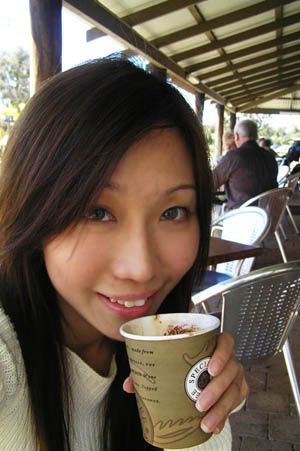 Margaret River Chocolate Factory at Swan Valley.
FREE chocolate tasting! I tasted alot of dark choc.. yummy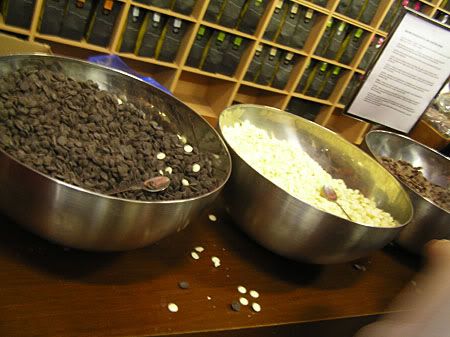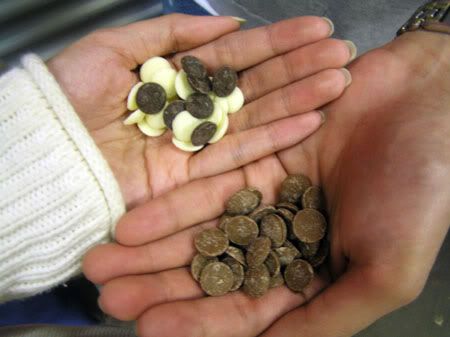 Perth Royal Show!
The timing I chose to go was the best, I caught 2 events that were only held once a year. One was the King's Park Wildflowers fest which allowed me to take pictures of nice nice flowers, the other was this Perth Royal Show.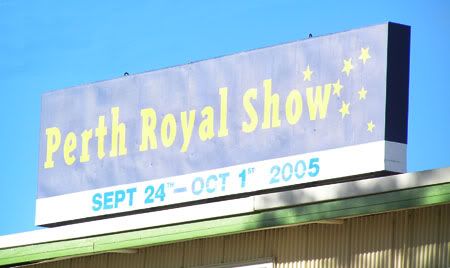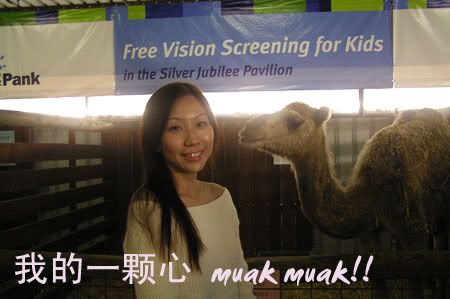 Loads of Free tastings of mocha flavoured milk, orange juices etc
Show bags on sale with chocolates and small toys inside. I didnt buy any cos I have loads of stuff to lug back.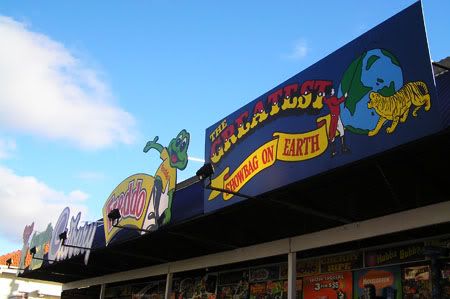 But I bought the Morish Nuts Showbag instead! It came with LOADS of nuts and a bamboo tote bag which looks like a magazine rack.
I lurve their nuts.
- More Photos -
Video again!
4 letter word that EVERYBODY lurves (especially Singaporeans)...
Especially dedicated to Darren! hiak hiak hiak
Click here to watch '4letterwordthateverybodylurves'
Kiyo 到此一游 @ 10:32 PM

Monday, October 03, 2005
*~*~*~*~*~*~*~*~*~*~*~*~*~*~
Perth Revisited IV (Sunday)
Went to Karrinyap shopping center to find it closed. I thought there's some flea market there as I read it on some magazine. Luckily Darren didnt scold me or wat cos it was actually quite a distance away, I felt very guilty and for the first time, so blur that I didnt check my info out properly.
But we went pass sunset coast! beach again! There seems to be alot of beaches along that stretch until I cant remember their names. We saw alot of surfers.
I was shivering from the "cool "sea breeze and there they were, SURFING. abit siao i think but they looked quite handsome... from afar.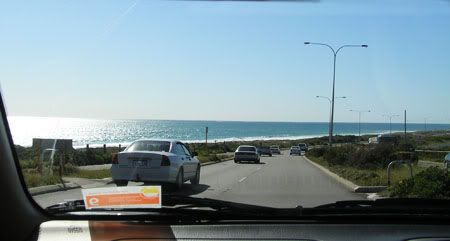 He wanted to go down to the main beach cos he thought it might be a nude beach. -_-
So cold.. who wants to go nude??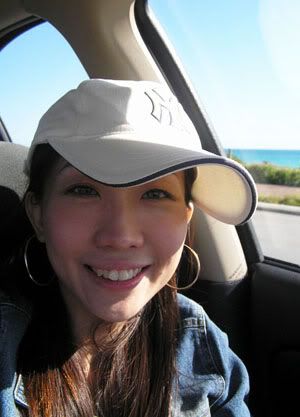 Decided to resize my Super 大头照 to a smaller one..
Didnt do much today, went Fremantle again to visit 2 shops I missed out. Bought a mug for Gerald with the quotation
"u can only be YOUNG once, but u can be IMMATURE indefinitely"
ahem..he said that I should have kept the mug for myself.
Met up with Daphne and Kenneth for dinner at Conca's. Jon recommended this place to us when we passed by the cafe while driving. Daph & Ken has been there like so many times within this sem! Jon said that their chili mussels were great. I totally agree! It's a very good subsitute when you cant find chili crab. Even Darren, who really dislikes trying new food said it's nice. =D I'm trying to find chili mussels in Singapore. Anybody knows of any good place?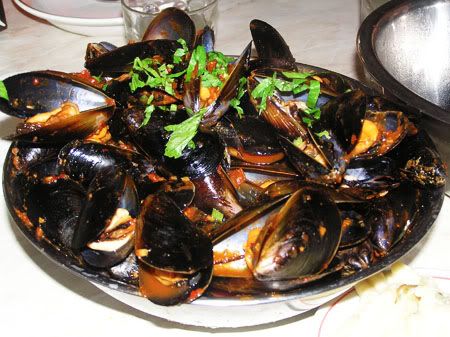 Yummy chilli mussels! I want more...
Sometimes I get very bored when he is driving.
A very stewpid video. Can see darren driving machiam he's jay chou driving a sports car in initial D.
hoei
.. it's only a Nissan lo.. bwahhaha.
~Click Below~
Labels: Perth Revisted
Kiyo 到此一游 @ 10:10 PM