Tuesday, July 12, 2005
*~*~*~*~*~*~*~*~*~*~*~*~*~*~

SOME PEOPLE (like josh) asked me why I looked so much nicer in those pictures taken on Saturday from my camera than those from ppm's camera and asked me whether I photoshoped those pics or not...

*BISH* -_- <-- Josh's face
Basically there are 3 reasons.
1) Cos using my camera, i usually take multiple shots to get that good shot & I will only post that GOOD SHOT, simple right?
2) My flash is very strong, clear things always look nicer
3) I'm not photogenic in the first place! Definition of photogenic in Cambridge Dictionary : Having a face that looks attractive in photographs.

Yes! I'm not! (i look better in real person)
I am a honest girl. If I use photoshop, i will say wan nor.. like this one below, it IS PS-ed...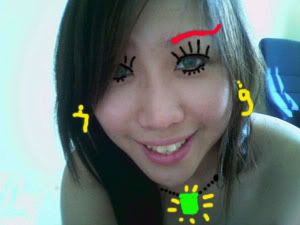 thank kyu hor.. I look like an ah gua

Courtesy of xdd who gave me a sammi cheng eyebrow, turqouise (my fav colour) eyes, long eyelashes (darn, so that is how xiaxue does it hur..), he included my 79 LAME earrings too!

I didnt even touch up on the photos we took on Saturday cos my war paint was thick enough to cover everything. So... the conclusion is, I dont look good in all angles. I'm not a supermodel you know. Bleahhhh ;p
~~~~~~~~~~~~~~~~~~
Photo of the day that put a smile on my face and made my DIY face mask crack. I think my bro knows that i'm rather moody so he decided to send me his "cannot-see-face-rickshaw-puller-with-umbrella" shot. I'm so touched to the extent that I acceded to his request in switching on my webcam with my mask ON my face.

He had a good laugh too.

I think i'm the only one who seen this peekture other than himself, and I'm so nice to share this with all my friends here. (with his consent of course.. hor.. Gerald)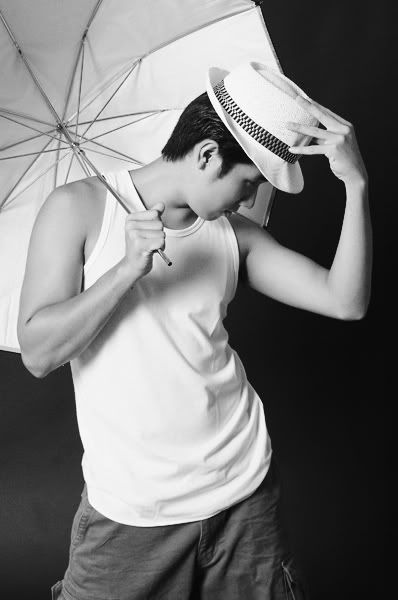 Dont you think he is cute/shuai/cool/watever?
Kiyo 到此一游 @ 11:30 PM