Tuesday, May 30, 2006
*~*~*~*~*~*~*~*~*~*~*~*~*~*~
Gawd.. I'm really addicted
to Devil Beside You. On leave today..
NO
.. I didnt take leave to watch this drama okay, that's ridiculous. I attended the HR congress at Expo (and came back with loads of freebies haha)
Initially i wanted to wait till next week to catch the 5th episode but somehow couldnt wait anymore~ so decided to catch it on youtube.
Into Episode 18 now and 2 more to go.
Going to finish them all by tonite!
yeah and after that, will have to start on my personal assignment on the HR congress soon.
Going to write about Talent Management.
I hope ideas, inspirations
on how to smoke my way through dis essay
will come to me sooooonnnn...
Kiyo 到此一游 @ 7:08 PM

Saturday, May 27, 2006
*~*~*~*~*~*~*~*~*~*~*~*~*~*~
Tasting the back-to-school "sweetness"
Lessons were interesting, HRD was slightly drier than the Industrial Relations and there was this guy in our class that has alot of problems in their coy. It was really funny whenever he talks cos he will add some hokkien here and there and you get to hear all the bizzare hr cases.
Just got back from a project meeting. 2 projects coming up..
No more playing.
Anybody has any info or notes
(project even better hahaha)
on the current HRD trends, let me know..appreciate that!!
It's not just the start of my project, another significant event is starting as well. GSS~ Bought a suit
(no discount =(...)
at Iora cos I need to attend a congress next week. Iora's suits fits me well, the others are kinda too big for me.
Other buys!
2 lacy tops. Can team up with jackets and wear to office.. =D
No more an angry gurl.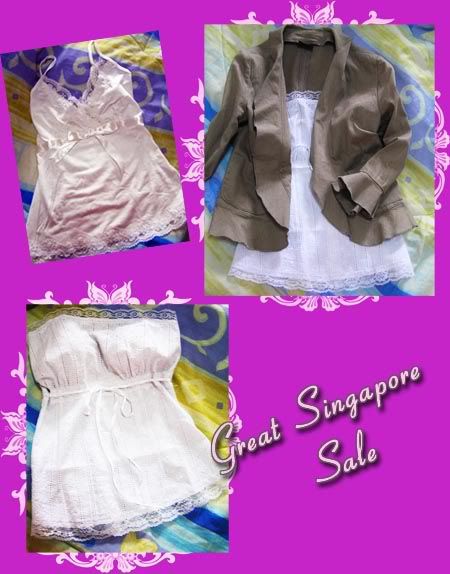 20% discount
~~~~~~~~~~~~~~~
Final Part to Taipei Fun
On the last night of our trip, we quit shopping in Xi men Ding cos we were really tired of SHOPPING. We had an early night and packed all our stuff to prepare for departure on the following day at 6pm.
Next morning we went to Long Shan Si. Was really crowded cos it was one of the deities' birthday? not too sure.. =)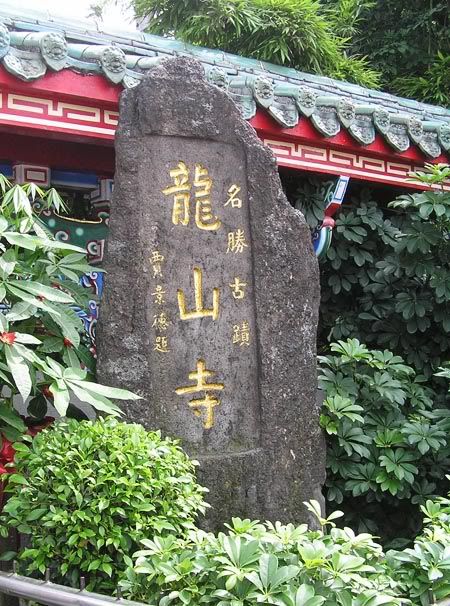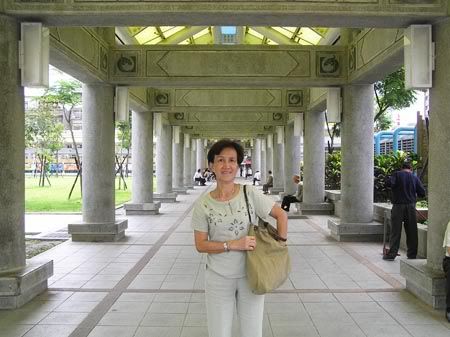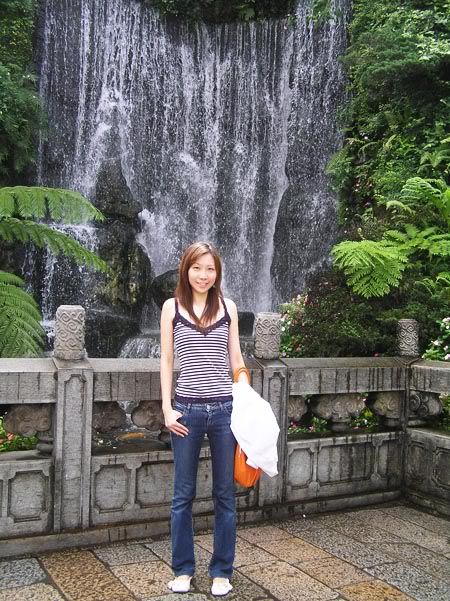 I have this same top for SALE.
The other one is
brand new
in the clear plastic, same colour.. bought 2 cos the person say buy 2 cheaper and the other colours were not very nice.
Email me for a bigger picture if you want it.
Going at $17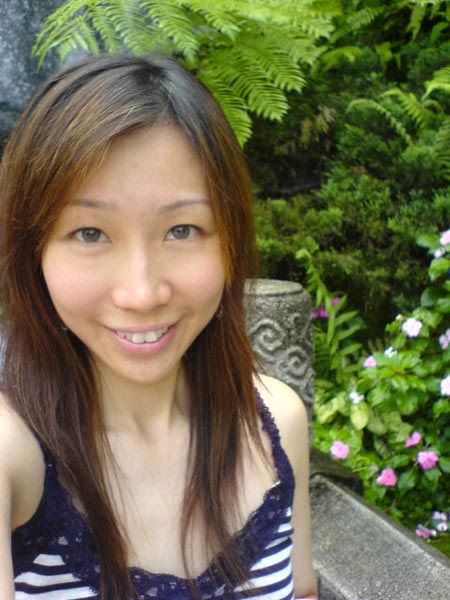 Than off we went to 101. Nutting much.
Bought one office top there.
We rushed off to Zhong Shan station again to Yi Die cos mum wanted to get more lingerie. I lurve the area near Zhong Shan station, there is alot of things to shop and if you shop at the right places, you can find cheap accessories as well.
It was sheer luck that I saw a report in taiwan news on SCV and they said LV made a 超大Monogram 皮箱 somewhere in taipei to promote the opening of the new LV branch near Zhong Shan station. Searched through yahoo taiwan and found out that it was located in front of 晶華酒店 ~ And I went!...to take pictures -_-
....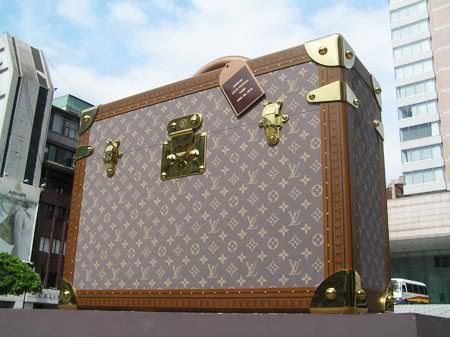 It's only there for a limited period of time so I'm luckie.. =D
no $$ to buy the real thing, happy to take pictures with it.
Josephine's favourite.. her blog is machiam like LV's catalogue with really nice stuff. keke.. This is so HUGE!
(about 2 storeys high)
There were people wanting to touch it, but security guards were nearby.. climbing onto the platform was an absolute no-no as well.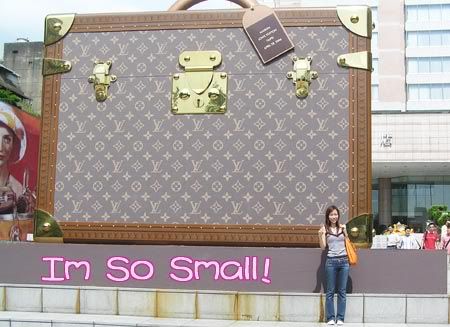 Although it is made of wood, the pvc monogram is water proof and looks really real. Must have cost alot to bring that in...
last buy at Xi Men Ding.=D
Rush back to hotel to take the Freego bus service to Airport.
NEVER AGAIN WILL I TAKE FREEGO TO AIRPORT AGAIN..arggh
Taxi next time.
Luckily we chose the earlier timings.. there were alot of confusions, overbookings and we have to change from one bus to another as there were not enough seats although we called and reserved. People shouting here and there especially there was this HK gal.. very scary..
If they didnt get me to the airport on time, I think I will scream too. And what was next?! A 30 odd year old Singaporean guy and his family snatched our seats! I was really really mad I tell you, I stared at him till he gave up his own seat to my mum. I dont mind standing for 30 mins, but doesnt he have eyes that my mum is older? and that was OUR SEATs!
Anyway, we got off the bus to transfer to another bus 30 mins later lugging all our luggages nor~
FUMING MAD.
SQ is not just a ride, it's an experience. Look forward to my next SQ ride manzz..
Fully occupied watching underworld revolution that I didnt sleep.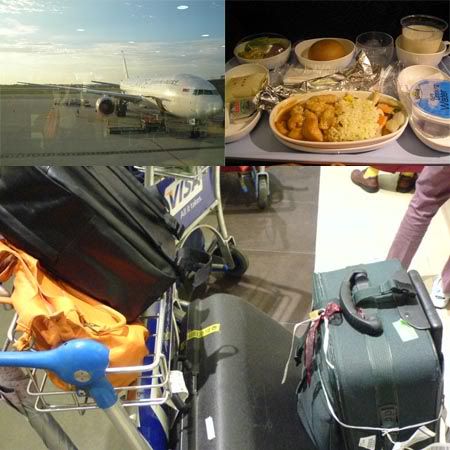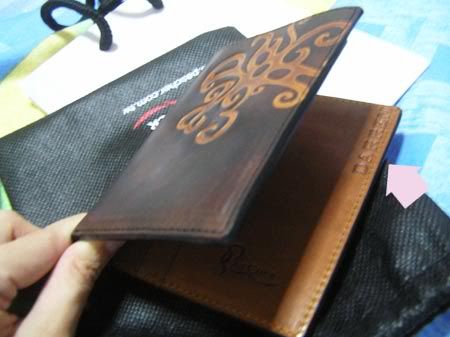 Bought a leather wallet for Darren. Think it's rather unique and you can imprint the person's name on it too.. so cute. hee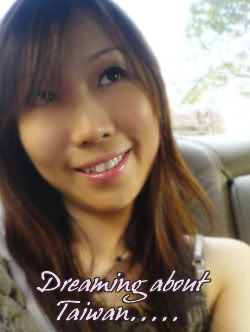 When can I go again?
Labels: Taipei with Mum
Kiyo 到此一游 @ 10:32 PM

Friday, May 26, 2006
*~*~*~*~*~*~*~*~*~*~*~*~*~*~
Activate Rollercoaster Mode
Darren will be back on 20th June.
HAPPIE
.
Freaking Mad at work today till I want to smash somebody's head in the comp.
ANGRY
.
Finally consolidated all orders for Sophie Shop Spree.
HAPPIE
.
EzyPay set up to start mass buying from Taiwan Auctions.
HAPPIE
.
Even angrier the more I think about it.
ANGRY
.
I need to learn meditation..
呼。。。。。
息。。。。。
呼。。。。。
息。。。。。
Kiyo 到此一游 @ 12:48 PM

Tuesday, May 23, 2006
*~*~*~*~*~*~*~*~*~*~*~*~*~*~
I havnt finish my Taiwan travel log yet. So long-winded... hee hee
We went to Wu Fen Pu after Jiu Fen!


It's a shopping haven but i didnt buy much, just casual tops again for casual weekends. Bought more accessories.
There's just simply too many things in Wu Fen Pu!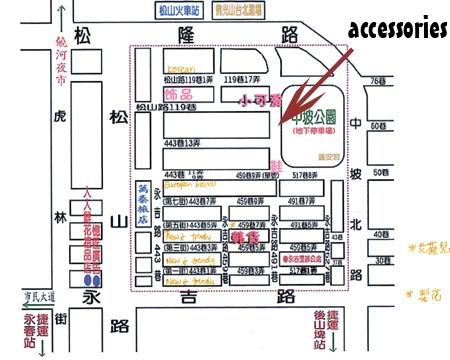 Even marked out where to find what..The trend is rather updated and during Sundays, they will be more receptive to retail and sometimes have special discounts too. Mondays and Fridays are Wholesale Days so it's best to avoid those days. =D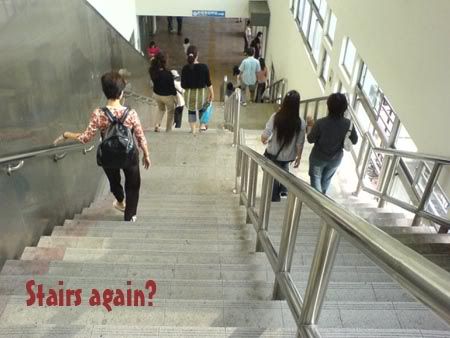 Even going down is a painful chore. Our legs are on the verge of breaking.
You dont feel it when you are happily walking looking at some clothes or bag, but once you sit down and get up again... the muscles become so stiff.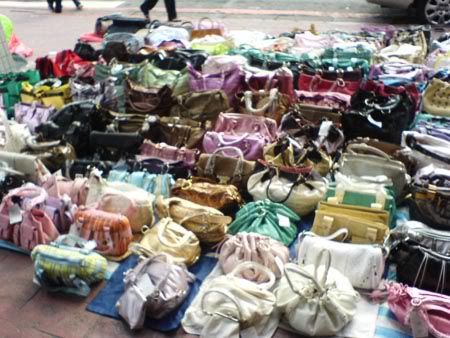 $5 sgd each and I didnt get any!
wahaha. Cannot imagine right? I should have bought and sell it in Singapore.
Nah.. some were rather nice but I really have quite a number of bags at home, dont want to lug another bag although it is so cheap.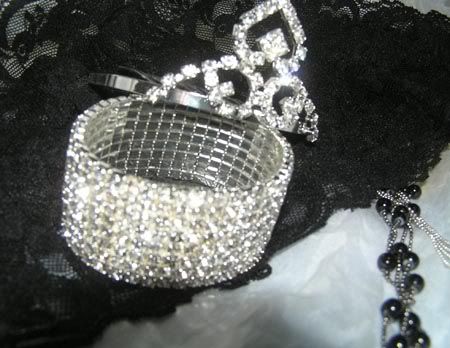 Bought a tiara and bling bling bangle! I always wanted to get this kind of bangle cos my sis had one and it was really nice. Dont ask me why I bought the tiara.. I dont know! haha One day it will come in use..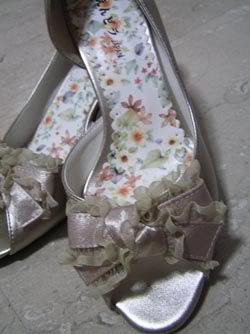 Got the shoe at a shop near Rui Fang Station.. Those shops are cheaper than the shops at Taipei Underground. I saw this shoe at Taipei for 390NT, but it was selling slightly cheaper there.. keke

Then it's shopping all the way...

Night time came and we went to the Rao he Night Market.
I am really exhausted and the night market was really really long that we were so tired of walking..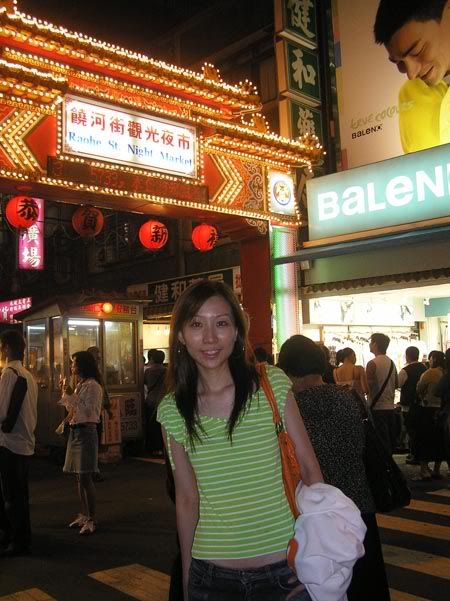 My mama take picture is like dat wan.. keke.. seng et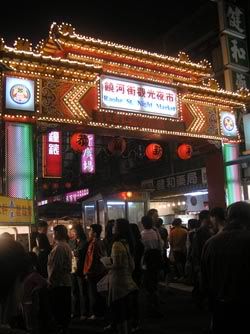 I realli miss taiwan..
But if I stay there longer, I will have to slog my life during weekdays and SHOP like mad on weekends.

our dinner at Xi men Ding. 花枝羹 (Hua Zhi Geng) My mother's favourite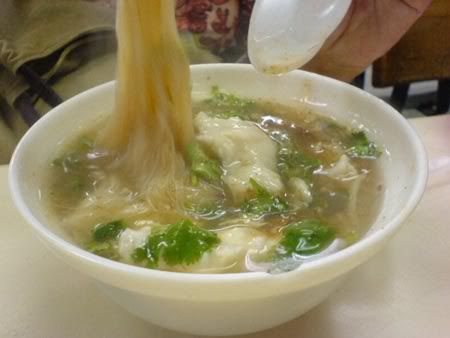 Labels: Taipeiphotoshoot, Wedding
Kiyo 到此一游 @ 9:04 PM

Sunday, May 21, 2006
*~*~*~*~*~*~*~*~*~*~*~*~*~*~
I am addicted to a new tw drama serial, not the sobbing sobbing kind but dramas that feature eye-candy actresses and actors,恶魔在身边 starring Xiao Mei and Rainie Yang.
Really like watching them act as a couple, they are so matching~ and the plot is rather sweet, will definitely make all the young teens go googoo-gaga over Xiao Mei.
It wasnt a sad movie but I cried anyway. It brought back memories of being in love..being sweet to each other, than I realized that I am not so anymore. I used to be. Just because of one bad incident, I became overprotective of myself, have mood swings, afraid of getting hurt and sometimes cry for no reason.
Maybe the hurt is still there...
or maybe it's still there cos it was hidden and buried deep down.
okay..enough of that. photos taken in MOS!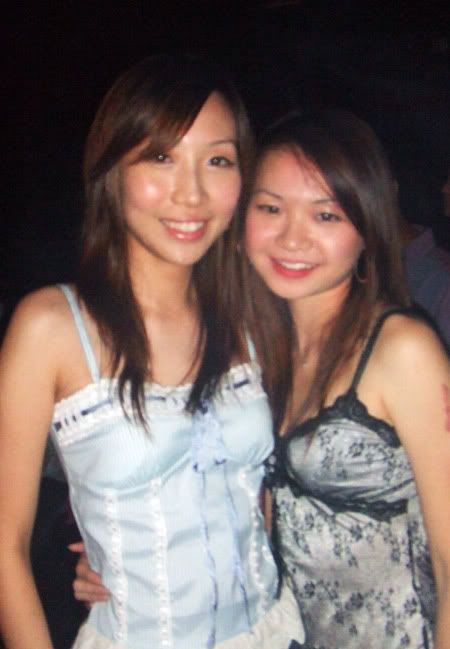 ppm's top is really nice.. sexy.. *wee weet*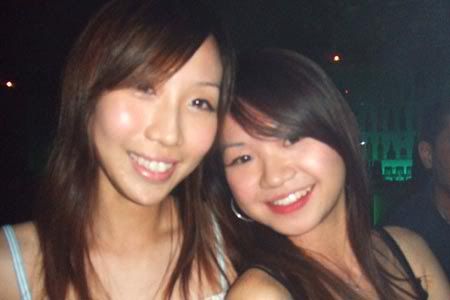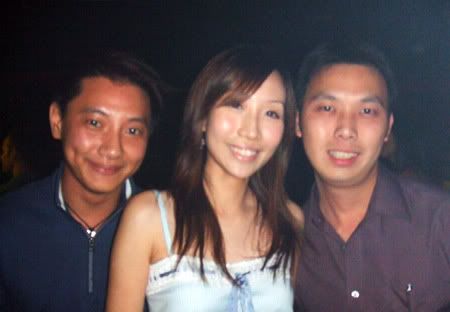 melvin, me and peien
Sec One and Two classmates in Geylang Methodist.
Those innocent and geeky times..long forgotten.
can have a mini-class gathering at the strangest places.
Maybe i should go dig up my class photos.. I have them somewhere..=D
Labels: Celebrations
Kiyo 到此一游 @ 10:06 PM

Saturday, May 20, 2006
*~*~*~*~*~*~*~*~*~*~*~*~*~*~
It was really fun yesterday night..
And I broke the curfew...
... by 45mins -_- haha.
(maybe next time I can stretch a little keke)
but mum reminded me not to come home too late cos there's this drug addict taking drugs or dont know what around the staircases and some neighbours have called the police.
music wasnt really goot but had an interesting night. Jeff joined us too! rather last minute decision. hee hee. & Dont understand why every trip to MOS is like a mini ex-school/class mate gathering with so many coincidences. Previously, met winston's friend who was my jc school mate, yesterday I bumped into my Secondary One and Two classmates who both HAPPENED to be ppm's insurance agent's colleagues or friends~
I could even recall their names offhand and on the first look, they didnt even know who I am.
*Bet I must have looked SUPER insignificant in class. TSK*
They were rather shocked when I told them my name cos one of them remembered me and described me as the "
Geeky
tekko Prefect with Specs"
(okay, the geeky, and tekko word were added by me but i really do looked geeky nor and still tekko now )
Had a good catch up with them especially on the details of a classmate who passed away due to a disease. very sad = (
Just reinforces the idea of enjoying my every moment
(reason to spend, travel more)
and blogging everything to capture all the fleeting moments in my life. Really shouldnt stress myself about work anymore cos it's just not worth it.
And the ever-so-familiar phrases kept ringing in my ears
"Come to think of it, I havn't seen you in
10 years
hor.. so you must drink more!"
-_-
Still the 10 years reminder..
bleahh
=P
*shudders*
Going to office later and will be occupied today till 5pm...photos later. =D

~~~~~
Sidetalk..

Anybody keen for a spree for Sophie's Shop Items?
I'm going to order next Thursday or so (may be earlier if the response is good)..we can share the shipping!!! =)

Sophie's Shop, Click here

Please email me at luvmelots@gmail.com if you are interested =D

Name :
Email :
Contact No. :

Item #01 :
Name of Item :
Item's URL :
Quantity :
Colour :

And if nobody emails me.. I shall go place the order myself hmmph! saw at least 3 pcs that I'm interested to get. lalala
Labels: Celebrations
Kiyo 到此一游 @ 7:19 AM

Friday, May 19, 2006
*~*~*~*~*~*~*~*~*~*~*~*~*~*~

We went to Jiu Fen!!


Xin told me she lurve Jiu Fen alot cos it got this nostalgic feel. Sipping tea above the mountains, watching time (and birds of course) fly by and just enjoy the gentle breeze.

=D

I lurve that place too.

Took a train early in the morning to Rui Fang Station. It's actually a no-seat ticket because we did not make a booking. So folks, please make your booking a few days earlier.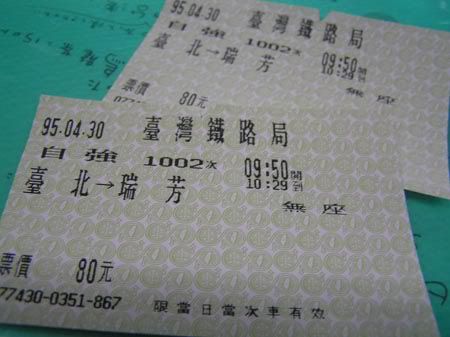 But we were lucky!! We sat in other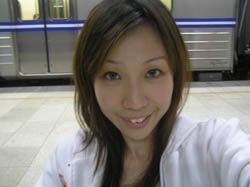 people's seat for the whole journey and nobody asked us to get up. The train was really full but we just so happened to get 2 empty seats that nobody was assigned to them. Think their reservation system is a little strange..




Reached!!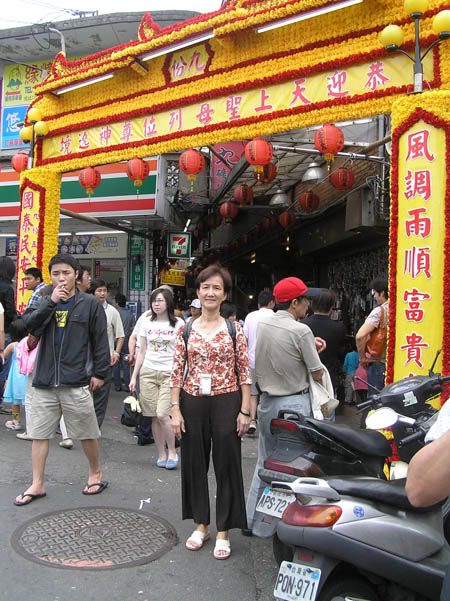 Dont know why we took this photo given the fact that there were SO MANY people in the background.

Our first decent meal.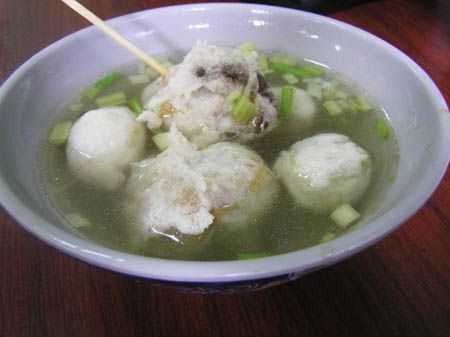 Something the magazine recommended. 阿婆鱼羹鱼丸店
Their soup is delicious and their big big fishy balls are not too bad too.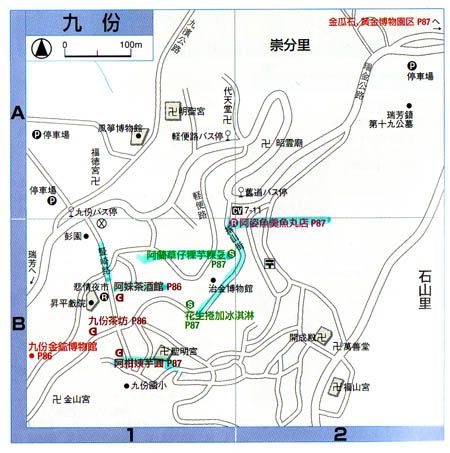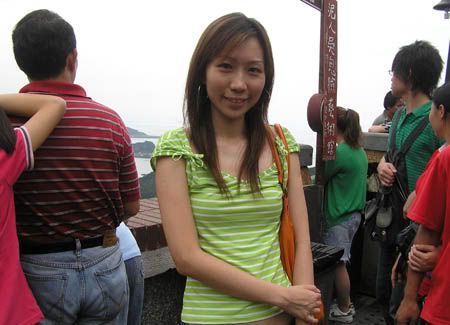 So many people blocking the nice scenery behind.. (okay I'm guilty of that too) a little gloomy though...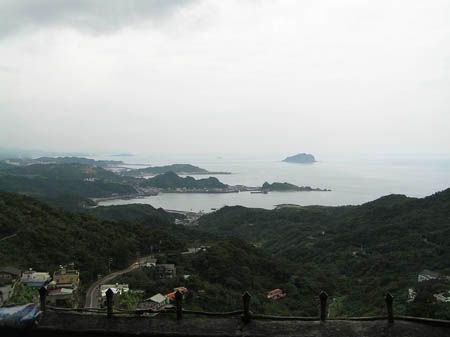 Very gloomy.. which makes the area appears even more sad

Eating time!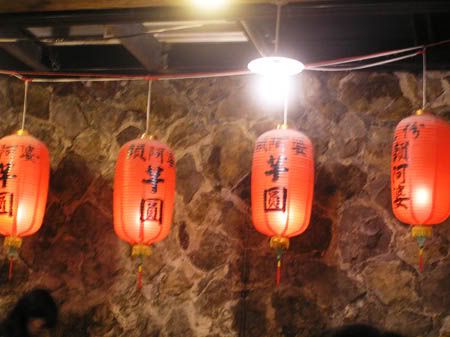 We couldnt find the one recommended in the book but this shop was really crowded. We tried their"Orr yi", just as good but I prefer the Dong Qu's one as that was red bean soup base and this was clear soup.

Next stop.. Teahouse stop to rest our tired feet and pay a visit to their toilets keke Felt very calm and peaceful there. Didnt choose the outdoor one cos it started to drizzle...sadzz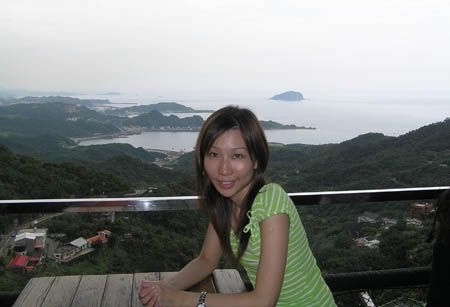 kinda scary when I looked down..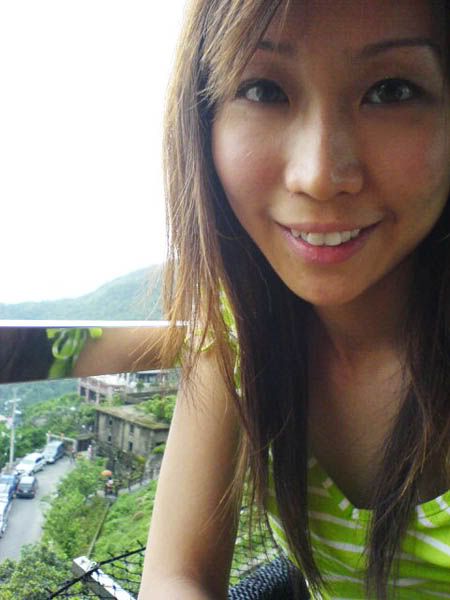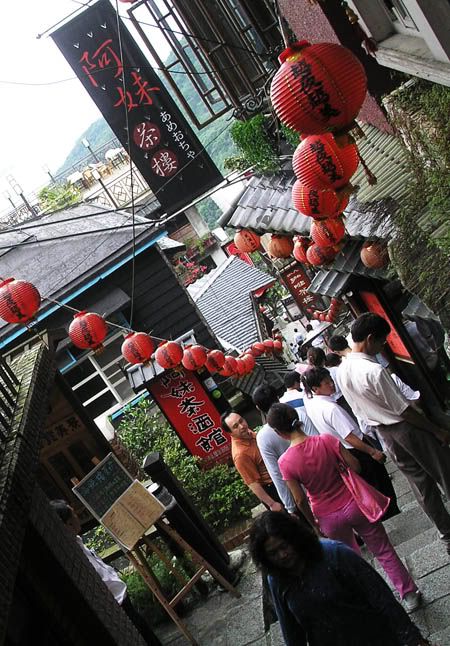 Ah Mei Cha Lou is the recommended one.. very authentic and traditional place..



dont think the poster is talking about me hor.. I didnt noticed that. and what does it mean? *shake head*

Going MOS tonight~~ I seriously need to unwind. =D
Labels: Taipei with Mum
Kiyo 到此一游 @ 8:41 PM

Tuesday, May 16, 2006
*~*~*~*~*~*~*~*~*~*~*~*~*~*~
Night Activities in Xi Men Ding...
Just some interesting pictures to share...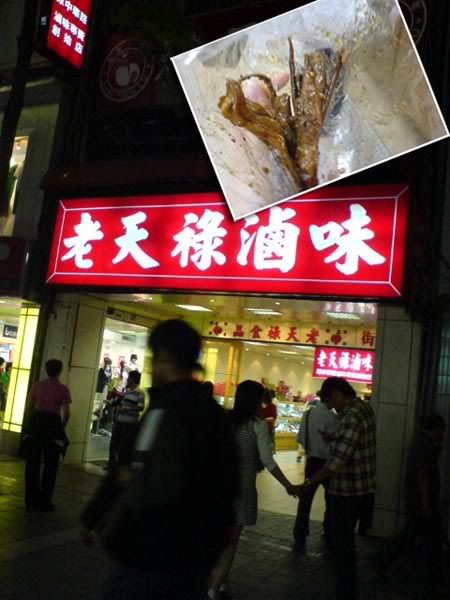 Famous Duck Tongue at Xi Men Ding.
It's a MUST-TRY. Heard from my mum that Fann Wong lurves their Duck Tongue.
I tried and I like it too! Spicy and Salty, goes best with porridge hee hee. Ate them on 2 consecutive nights. You dont have to buy 500g or 1kg.. they go by pieces too. *drooling*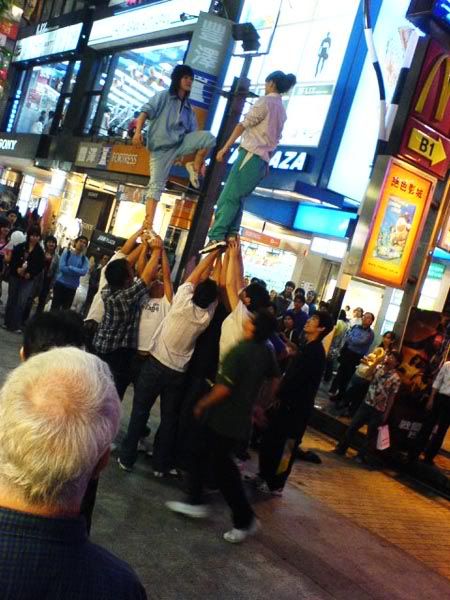 Dont ask me what they are doing in the middle of the street. I really have no idea. They just suddenly performed a stunt.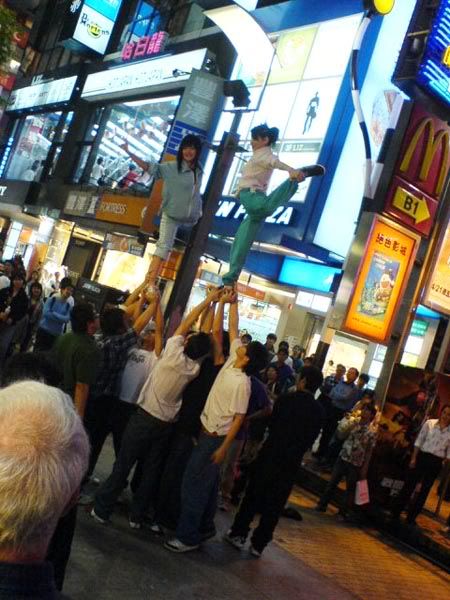 Good balancing act!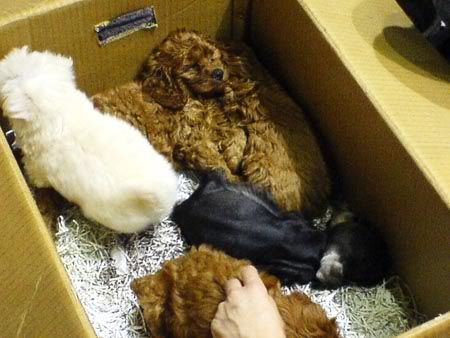 cute doggies for sale~ They look so soft to the touch..
very tired today...think have a serious lack of sleep.
Look forward to my comfy bed... yawnzz
Labels: Taipei with Mum
Kiyo 到此一游 @ 9:23 PM

Sunday, May 14, 2006
*~*~*~*~*~*~*~*~*~*~*~*~*~*~
Sidetalk from my Tw Trip.
I thought I will stop shopping for at least 3 months after I come back..
but bought a spag top on Friday and something for work on Saturday after mummy's day dinner at Waraku Marina.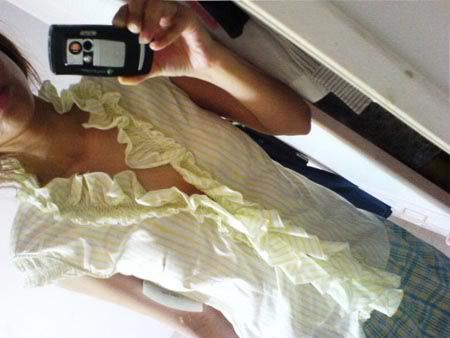 nice?? =D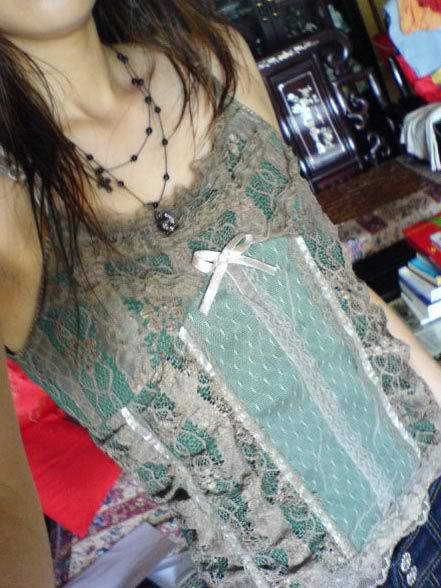 Mother's day dinner.
Happy mother's day
to all mums!!
Saturday was the busiest day ever. Lessons from 2-5pm and I rushed to take a cab to studio for a 1.5 hours practice.
It was hell.
I am DESTINED to wear flats all my life.
I am not a HEELS person. Okay kitten heels are
NOT COUNTED
.
I cant even walk properly, let alone
dance
!?!
with them
?!?!
on moi feet
!?!?!
Bought a Durian cake from Marriot on Friday for dearest Mummy..
*erhem*
okay I admit, I get to eat that creamy sinful cake that is loaded with DU-RI-AN goodness too.
It's realli nice, Marriot always produces one of the best durian side products.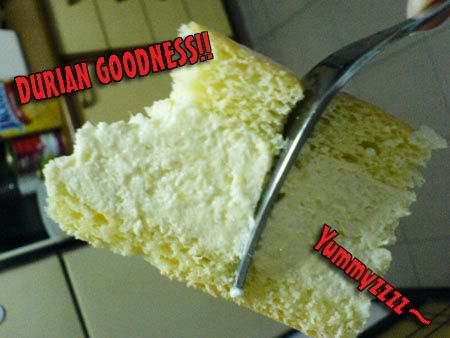 Brought mum and dad to waraku with sista. Had an enjoyable dinner cos I simply lurve Waraku's food. We had 2 dishes of sashimi..and other food of course
Oishii~
Received the pawtoes from sis!. =D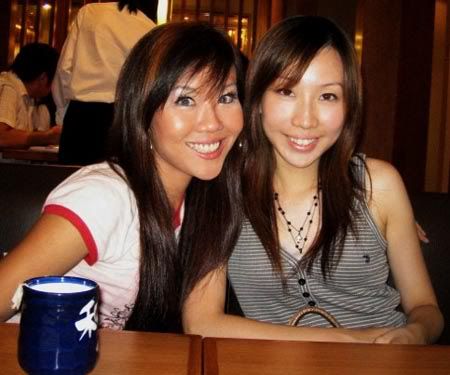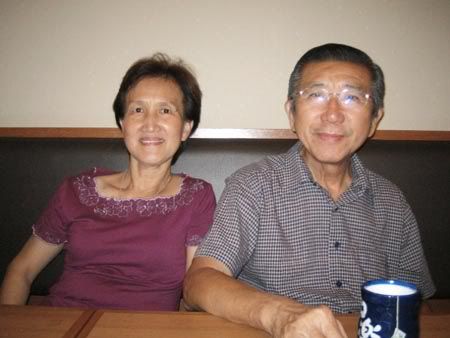 mum n dad.
This is the FIRST TIME my dad is eating japanese food. I dont think he is anti-jap but he always thought that Japanese food is COLD, RAW and TASTELESS. So I didnt tell him it was a japanese restaurant otherwise he might not have appeared.
Anyway, he enjoyed the paper steamboat..
Went to chinatown and bought some lace today! and what I'm going to do with the lace? you will find out soon enough.. into some DIY frenzy keke.
And off I went to the library to get some reference materials~ my 1st time to the new library near bras basah..haha
Anyway, I have a serious phobia of heights.
Dont even dare to go close to the windows when I was at the 11th storey.
*shudders*
Labels: Celebrations
Kiyo 到此一游 @ 7:36 PM

Thursday, May 11, 2006
*~*~*~*~*~*~*~*~*~*~*~*~*~*~
2nd Day night..

After our hotspring, we carried our hungry stomachs to Shi Lin again and it was STILL raining..
First time trying Lu Rou Fan. Although it's rather plain (just meat and rice), I think it tasted good!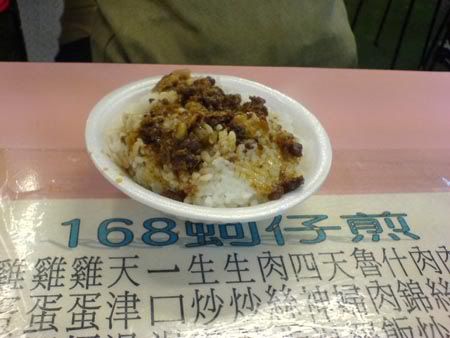 and ordered tang bao although I know that I will be eating the same thing in Ding Tai Feng again the next day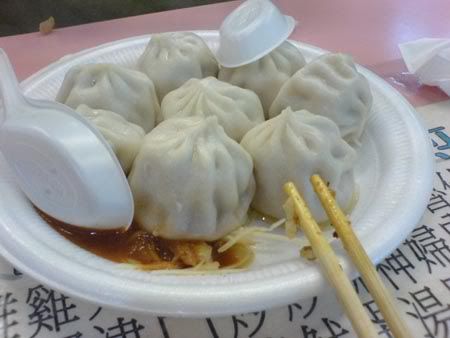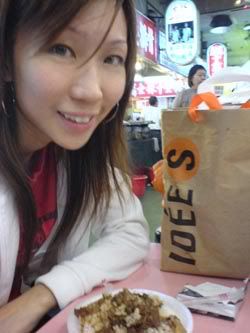 Oh ya.. and i ultra hate the smell of 臭豆腐, they smell like stinky long kangs. What was strange was, I DIDN'T smell any 臭豆腐 when I went to HK but 臭豆腐 was everywhere in Taiwan.. eeks, I didnt dare to try.

Went back to buy get another top I saw the other night.
Bought it in another colour. Pink! I think it's very sweet but it will need some alteration. Going to bring it to FEP later together with my jeans.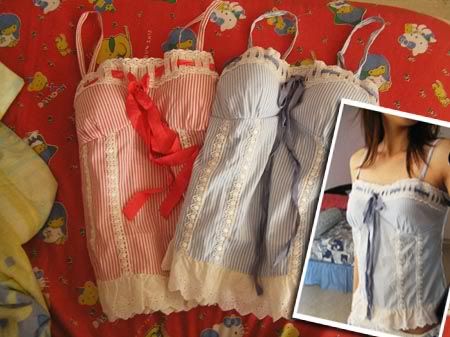 Early morning next day we went to Chiang Kai Shek Memorial. Saw a lot of teens practising dance and kungfu at those concert hall area.
Quite an interesting sight.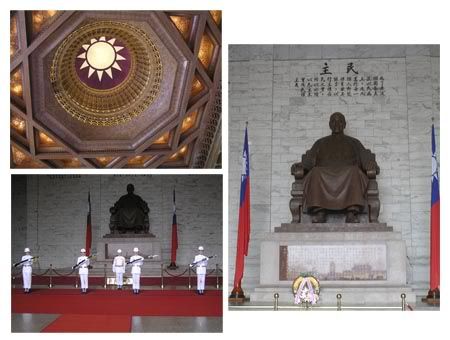 Saw their guards changing ceremony.
It was kinda farnie cos one of the guards NEARLY hit me. Okay.. they were marching and I was standing too close.
They marched straight towards us and we thought that they are going to make a right turn but they didnt appear to be turning..
They were getting so close that the people started to panick, and disperse from the carpet and at the last moment, just inches away from punching moi face, they turned nor~ -_-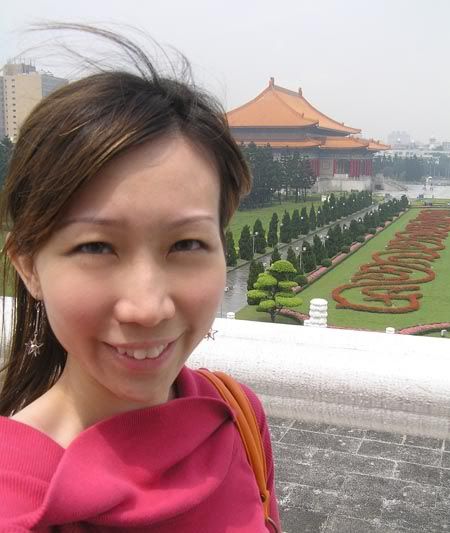 I know I look like shit, but I like the scenery behind~

Next was 忠孝敦化(Zhong Xiao Dun Hua) for lunch at Ding Tai Feng!
It was really good!!!!! If we had reach 15 mins later, the whole place would be so crowded and we will be queueing outside.




ZHA JIANG MIAN is slurp~ I still drool while typing this
4.5/5 droolz factor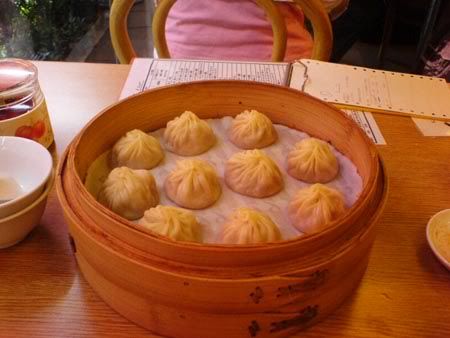 And it's kinda cheap! Not sure how Ding Tai Feng at Paragon charges, but I believe I wont be able to eat so much with that kind of price.

We just casually walked around 东区 (Dong Qu) and I decided to bring mum to one of the desert shop recommended in the Travel Book.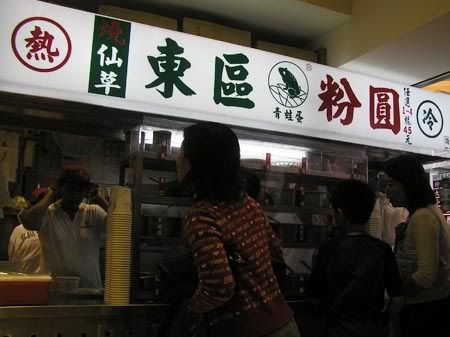 It's really yummyzz especially the Red bean Soup base.
4/5 droolz factor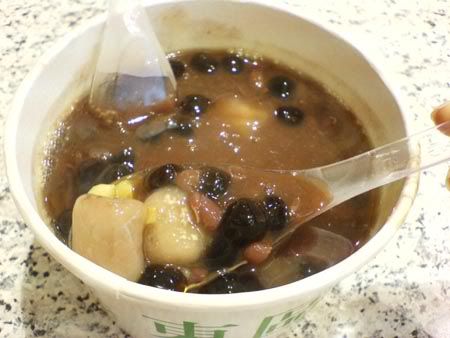 Then after filling the stomach, we started shopping! The weather was really good and alot of roadside stalls selling clothes and shoes slowly opened.
We went to this underground mall (東區地下街) and found this shop that sells Japanese beauty and cosmetic products and there's a ranking for each product. Not really cheap though... I didnt get anything from there.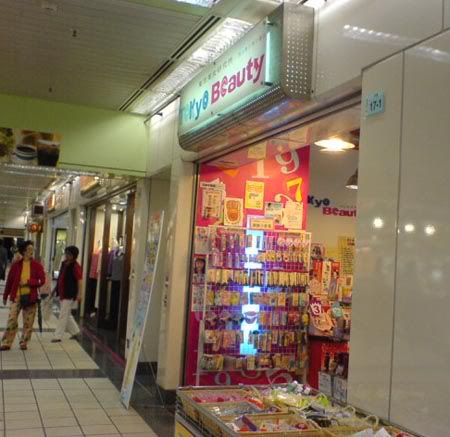 And we walk to 頂好名城店 (Ding Hao Ming Cheng), 宏賓美容材料行 (Hong Bin Mei Cai Hang).

How to go : Exit at Exit 11 of Dong Qu Di Xia Jie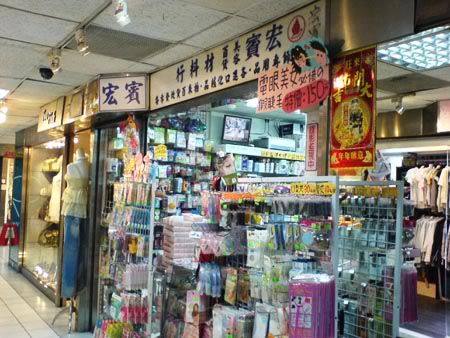 It's quite an old building. Just went there especially to this shop. Cos this is the shop that was mentioned in the Nv ren Wo zui Da magazine where the "princess brand" falsies were sold. =D Almost everything that is mentioned in that show or products from Japan can be found here at a cheaper price. A MUST-GO for avid fans like me.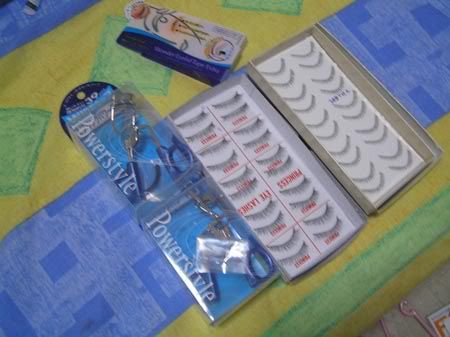 My princess falsies and the box on the right side is for my alphababe sista, those are bottom fake lashes. That curler is the one Kelvin recommended and it is really good. =D Fits my eye curvature perfectly!

Shopping at Taipei underground mall.. continues.. lugging so many things, we still shop for more shoes. Some only for 200NT.
But I didnt manage to find any boots I liked...
Labels: Taipeiphotoshoot, Wedding
Kiyo 到此一游 @ 10:17 PM