Wednesday, October 29, 2008
*~*~*~*~*
am on leave today and was sitting by the phone watching tee bee
and the phone rang.
The other end of the phone was a man crying calling me "Ma... Ma"
He spoke in Mandarin and said
"妈。。。妈。。我出事了。。呜呜"
*呜呜 indicates sobbing
I then asked him who are you? I think you called the wrong number. He just insists that he's my son so I passed the phone to my mum and he actually told my mum the same thing.. that he's my mum's son and he's in trouble.
=___=
we hung up and asked him to call the police if he's in trouble. You are not OUR son and this is not a
mata chu
I think he is trying to cheat us.
tsk tsk tsk
8 points for his acting skills and 0 points for trying to cheat us.
Kiyo 到此一游 @ 11:16 AM

Thursday, October 23, 2008
*~*~*~*~*
have been really really lazy to log on or even blog these days especially after office hours. There's really nothing much to update these days. Not busy with sprees either but a Payeasy and Masks Spree will be coming up by tomorrow as my concealer is all used up!
Recently we are on a mission.
to catch cockroaches that are lurking inside our car.
to date, we (erhem, darren i mean) have caught 4 cockroaches in our car! gosh.. our car is not dirty and we clean it every week. We dont eat and drink inside as well but they are still around.. *shudders*. I hope they dont grow into adult ones.
Our new trap.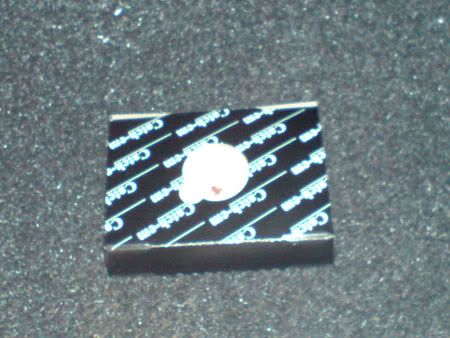 This really worked as we caught 1 roach using this. The rest were caught using bare hands. eeeekkkss
Darren's bare hands..
Kiyo 到此一游 @ 9:00 AM

Saturday, October 18, 2008
*~*~*~*~*
oh gawd... now i want to switch back to samsung.
F480 from samsung (especially the super pinky girly one) is so nice!
but i dont really like touch-screen phones, just leaves alot of fingerprints =(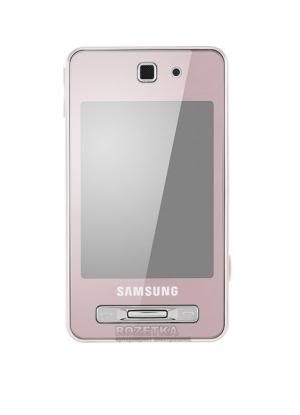 There's so much to update and alot of things to share, but guess i will just update at a later date. Shortlisted at least 3 places for some sofa-hunting and my ID will be coming over later as well...Besides, we have Heroes season 3 to watch!
yay! busy busy weekend
Kiyo 到此一游 @ 7:15 AM

Monday, October 13, 2008
*~*~*~*~*
we went coffee table hunting yesterday and we bought one!
even before we bought any sofa =__=
We saw a nice wooden one with a glass top that has drawers underneath. So it's sort of a "display case" since we can see what's inside the drawers. And the drawers were pretty cute too, nicely divided into 8 squares.
We have decided that we will personalized the coffee table and put all our travel souvenirs like Train ticket snubs or key chains or some memorable photos into each drawer compartment. Hope the effect will be nice, it will be great to show the guests too.
yay, one item settled.
Kiyo 到此一游 @ 8:53 PM

Friday, October 10, 2008
*~*~*~*~*
Feeling much much better now of course..
thankes dearies for asking.. i think i have this tendency to "ren" and "ren" until when I cant take it anymore, i will blow my top. Maybe i should do more feedbacks at regular intervals.
Okay unhappy things aside..
I realized ELF (eyeslipsface) has a Singapore "counterpart" now called eyeslipsface asia.
http://www.eyeslipsface.asia/
They are slightly more expensive but I doubt need to wait very long. heez
Oh yah.. have you joined THE NEW PAPER BIG WALK?
Some of our colleagues will be joining and I will be joining too!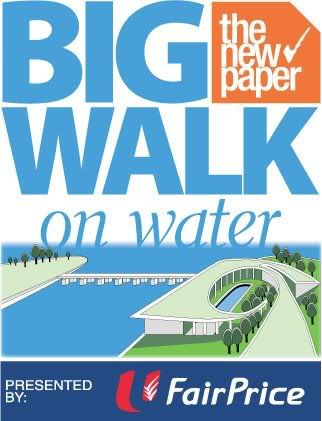 Check out the details below~
http://bigwalkonwater.wordpress.com/
Kiyo 到此一游 @ 8:10 PM

Tuesday, October 07, 2008
*~*~*~*~*
drained..totally drained...
breathe in....breathe out...
think i'm going crazy... i must tell myself to take things easier...
or maybe my patience has reached the limit and anything over that, no matter how little it is, is magnified to 10,000 times.
i thought i am a very strong lady
but today i cried at work.
I never cry at work cos it's totally unprofessional. But i did today.
haizz.. nobody saw i hope.
seriously need a break, a long long one...
Okay nice photo taken by his sister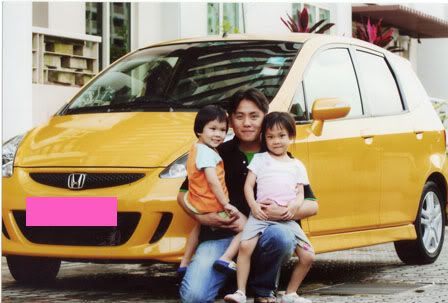 hope weekends come soon..
Kiyo 到此一游 @ 8:12 PM

Friday, October 03, 2008
*~*~*~*~*
Just bought a hair stick to bun up the hair.
The helpful assistant actually demostrated how to do it and I mastered it in 10 mins, it's pretty easy!
The end result are these...
a neat updo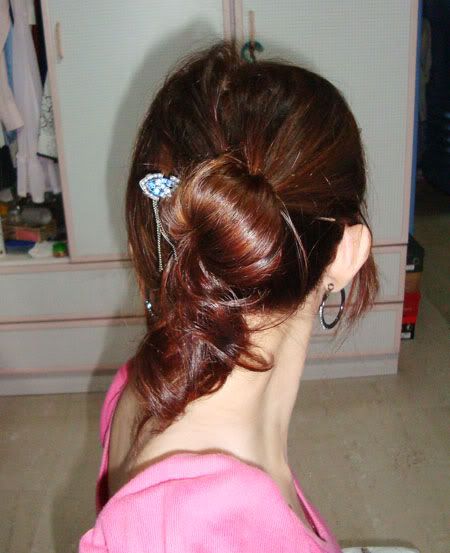 messy updo..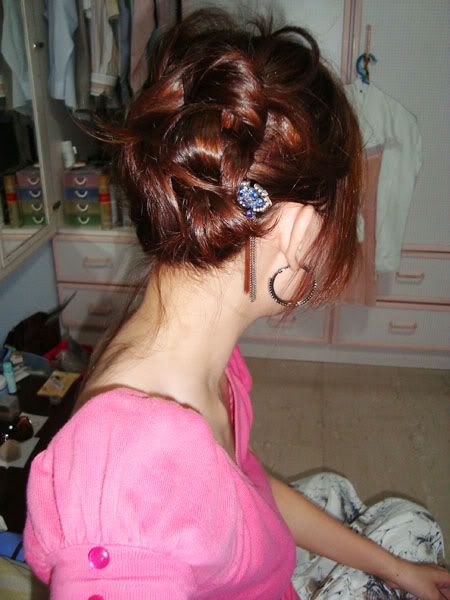 all using just a hair stick
Think i'm going to open a maple syrup spree so that i can get more hair sticks.
want to get these too!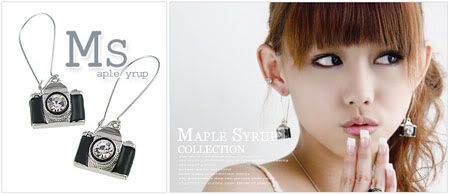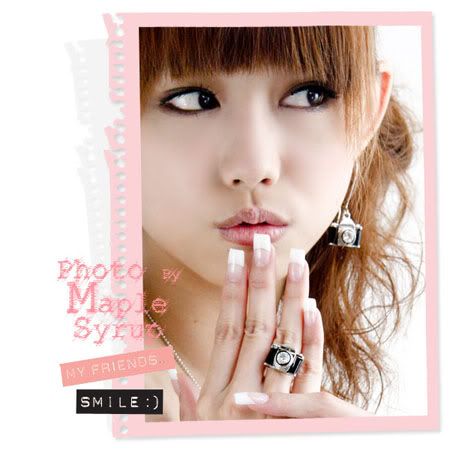 so cute~ =) not enough cameras, must get more =D
Visit me at http://glamour-amp.livejournal.com/
Kiyo 到此一游 @ 8:09 PM