Tuesday, August 30, 2005
*~*~*~*~*~*~*~*~*~*~*~*~*~*~
4 more days to Rest day..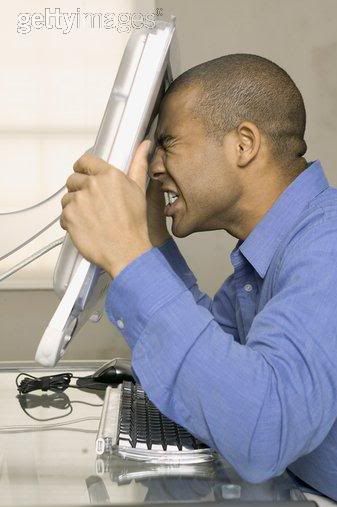 Yeah.. I didnt count wrongly. I gotta work dis Saturday!
Next year if they want to have dat damn meeting AND dinner on a saturday, I will turn the tables, throw chairs




(at home)

...sigh..
Snippets..
My loot from Taiwan is still not here
YET
. It better be here by this week.. argghh.
I broke something this morning
AGAIN
. No, it's not ANOTHER mirror.. it's perfume this time. Now my room reeks of ferragamo perfume .. argghh.
(the perfume is not mine.. opps)
I need a break.. I need to go for spa and bask myself in milk. Got this in the NDP goodie bag. Going to drag my mum there!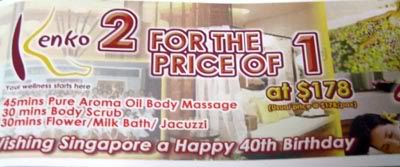 I think I got another booklet, if you want this, email me =)
Kiyo 到此一游 @ 9:30 PM

Sunday, August 28, 2005
*~*~*~*~*~*~*~*~*~*~*~*~*~*~
Hi all, this is Gerald aka XDD here…. From today onwards, I will be the one posting in this blog instead….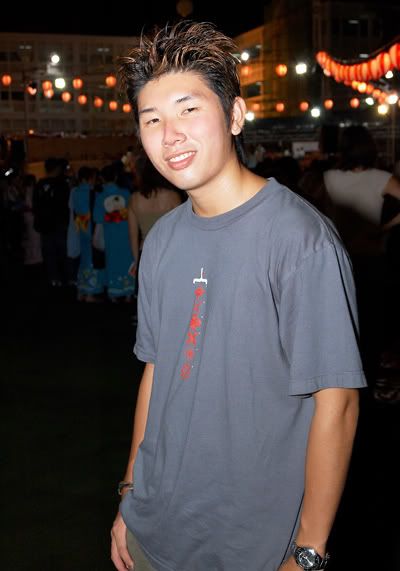 kiyomi : peekture taken by me.. buey pai ritezzz..haha



HAHAH LIKE REAL !!!!

Ok…over the last few days, my 姐 has been feeling abit dejected and in the non-blogging mood...So... Today I take over as "resident blogger"...

So what should I blog about…my first time blogging….

Ok ytd morning I did some part time job as a marshaller at MacRitchie reservoir for a charity run…was stationed at the junction between the male and female jogging track to make sure no one "geng" and run the girls route…I doubt any girl will so STUPID go and run the guys route ritezzz…EXCEPT one hahaa…

Halfway thru the run…two Caucasian women(not from the event) jogged passed…took a look at me with the flags and the signboards (labeled MEN and WOMAN with arrows) and said "we're MEN" & they ran the longer route....-_-

Towards the end…I saw a monitor lizard "crossing the road" from the jungle to get into the water….man was I frightened...tot I saw a crocodile...
kiyomi : wah lao eh..monitor lizard oso can see as crocodile buhhahaha



kiyomi : wee weet.. 2 shuai didi in the making.

my cousin and grandparents came over last night….
intro u all to my newphew Triston… u tink he's cute? I tot so too...AT FIRST.

Ok it takes 5 pple to feed him...one to hold him, one to feed him and at least 3 motivators to entertain him when he is eating.....REALLY good life hor!!!

His porridge last night was worth half a cup of rice, and looking at his body, only the size of a sofa pillow…he can eat so much, really abit the erhm hahaha..

Anyway…tt's all I did for ytd….pretty boring coz I was suffering from extreme lack of sleep ….

Over to my jie…. I tink I am v zun….she really got the vouchers for cold storage hahaha….
We were accessing just now…and happens tt 30 dollars worth of vouchers actually only can get 8-9 packets of ruffles potato chips…. I tink the prize is hopeless lo
Hahaha

Oh btw…my 姐 is treating dim sum at xiao hong lou at pan pac top floor…anyone wanna come juz say so ok…. Hahaha…..

Convenant without swords is but mere words!
XDD

~~~~~~~~~~~~~~~~
Excerpt from Ki..

I asked xdd to try blogging since he never blogged before. He usually writes articles with very chim english about very philosophical topics like "love or lust" , which i thought will be interesting to share...

But then..that was WHAT he sent me instead. Please dont believe the last sentence about the treating part above.

(lalala) I cant hear you...

Wasnt feeling too good this weekend and I didnt go out AT ALL! Was at home since Friday...AMAZING! Someone go buy 4D! May tio you noe..Something happened and made my mood VERY bad. I actually wrote something about it but decided not to post. Shall save it in my draft folder to serve as a constant reminder. But it made me realized one thing... Some people who may appear to be your friends.. may have a hidden agenda. I dont care what other people say about me. As long as my friends believe me, that's enough.
Dont even have mood to blog although there were some shopping loot to share. Got a ZARA skirt on Friday when I met up with Gerald for a while... Really love it although it's bery bery expensive! (it really looks very nicole kidman, but my face abit.. CMI)

Went to eat at pepperlunch on Friday at Taka with him. LEALLI good.. I like their hamburger steak!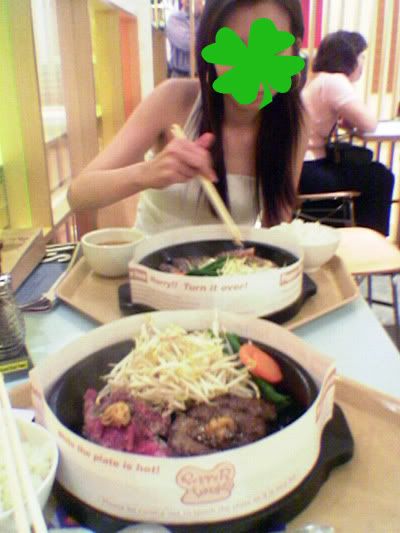 eeeEEkks no makeup, hair messy...FACE BETTER COVER
Kiyo 到此一游 @ 9:30 PM

Friday, August 26, 2005
*~*~*~*~*~*~*~*~*~*~*~*~*~*~
Busy busy busy..
AM
Seems like I am busier on non-working days than working days itself.. haha. Woke up at about 7.30am (even though there was no work) to check out some stuff and went over to Valuair at Toa Payoh HDB hub to confirm my tickets!
So happy! Leave approved and Tickets bought!
Although cant go to taiwan but at least I still can go to Perth
(for the 2nd time actually)
. Will be going there during the 3rd week of September for about 6 days and I foresee alot of shopping especially stocking up some duty free cosmetics, Aesop mask, and some other stuff that couldnt be bought in Singapore. I guess this time round, I will be able to see Perth better as the previous time I went, darren still doesnt know the places very well and there wasnt so much events and activities as it was the winter break. But this time round.. there will be a wildflowers festival at King's Park during the week that I'm going!
~~~~~~~~~~~~~~~~~
PM
It's a DIY day.
I use 绿豆粉 for facial mask. I read in some chinese forums that 绿豆粉 has whitening properties and can be used as an exfloliator as well, just add water and apply as a mask on face. I asked my mum to get some 白芷 from those Chinese medicine shop so that I can use it together with the 绿豆粉 for whitening purposes. Will update if there are significant results!
Got mum to give me those left over 咖啡渣 to make my own
body
scrub! Actually I posted this long ago but I havnt been doing this for quite some time. so decided to do it again today.
Mix the 咖啡渣 with a bit of your own shower foam and you get a scrub! Very cheap n good scrub =)
(it looks disgusting but very effective wor!)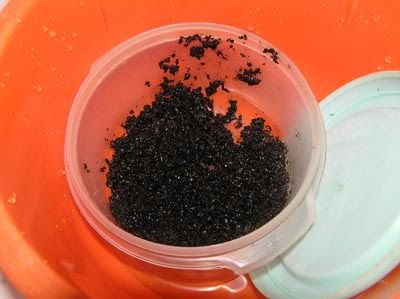 ~~~~~~~~~~~~~~~~~
Night!
Getting ready for dinner!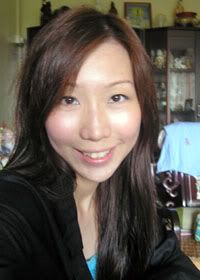 Was real fun at the family night dinner. This year's event was much more interesting than the last year even though the turnout were much lesser. I met my geyao friend too! Bevlyn, who was the same batch of geyao-rians in NUS. I kinda knew that I might meet her when I saw the program sheet. And Yes it was her! Had a good chat with her before she started crooning out Japanese and English love ballads..Happi to see her..=D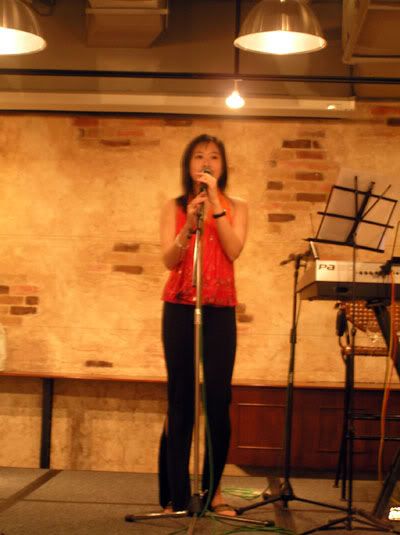 Had games like 'drawing mouse to test personality'.. Here's my mouse.. I think even a primary school kid can draw better...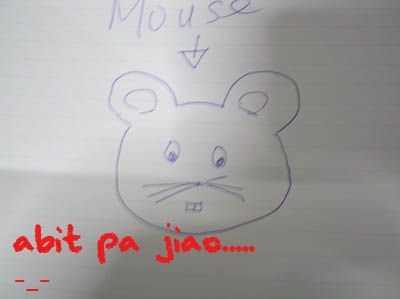 So the mouse I drew meant that I am a straight and direct person
(as I drew it facing in front)
, with big ears.. means i'm a good listener, and a very realistic person..
Then we have some fire swallowing and plate on stick, those "very circus" kinda performances, the kids were rather interested and we end off with a lucky draw!!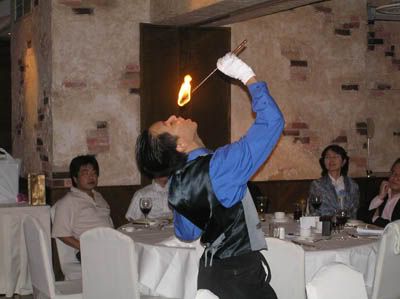 ...
...
...
I didnt get the Hotel Intercon Stay...
I got the Hotel 81 Stay instead.
...
...
...
NAH.. it's
$30 Cold Storage voucher!!!
argghhh..
Why ALWAYS supermarket voucher?!?!
I think I have a strong affinity with supermarkets..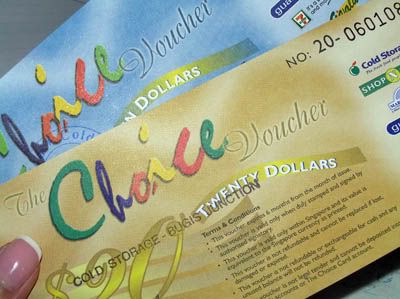 Kiyo 到此一游 @ 11:33 AM

Wednesday, August 24, 2005
*~*~*~*~*~*~*~*~*~*~*~*~*~*~
F for Friday, F for Family Day
Great! no work!
The top prizes are quite attractive.
(we have about 20 employees and their family members going to the dinner, so the chances of winning something is really good)
. But frankly speaking, I dont have much luck. During the Chinese New Year Sure-Win Lucky draw this year, I got what i didnt want. I was telling my colleague that I would really rather take the consolation prize
(some Harrods mini hamper)
than the 7th prize which was 100 dollars Carrefour voucher.
And....i got the carrefour vouchers...
and she got the mini hamper
Arrrghhhh!
This year's prizes..
1. Complimentary 2D/1N Weekend Stay in "My Spa Suite" for 2 persons
with Breakfast, Afternoon Tea & Cocktail at Plaza Parkroyal valued at $820.
2. Inter-continental 1 Night Weekend Stay for 2 Persons in a Shophouse Suite worth $410
3. Panasonic Vacuum Cleaner
4. Panasonic Mixer Blender x2
5. Cold Storage (Bugis) Gift Voucher $70
6. Complimentary Buffet Dinner for Four (4) Persons at Plaza Brasserie of Plaza Parkroyal valued at $64
7. Complimentary Buffet Lunch for Four (4) Persons at Plaza Brasserie of Plaza Parkroyal valued at $60
8. Panasonic Oven Toaster
9. Cold Storage (Bugis) Gift Voucher $50
10. Cold Storage (Bugis) Gift Voucher $30
11. Consolation Prizes include Swarovski Polo T-shirt, Desk clock, Towel etc.
Okie.. Plaza Parkroyal is not exactly a 5-star hotel but then.. it's still good enough for me ler...
SO...... this time.. i just want to shout out loud and tell everybody dat.....
....
....
....
I
REALLY
DONT WANT TO GET THAT 2D/1N weekend Stay in the SUITE. ANYTHING EXCEPT THAT ONE!!
PLEEEAAASE DONT LET ME GET THE FIRST PRIZEee..(or the 2nd prizee..)
Is this the so-called reverse psychology?
Anyway, i got this gut feeling that i would get that
STEWPID
swarovski polo T-shirt in size XL
(summore)
. Let's see how accurate my instincts are...
If i really get that swarovski XL polo tee, i shall give it to xdd! whahah
Kiyo 到此一游 @ 9:24 PM

Monday, August 22, 2005
*~*~*~*~*~*~*~*~*~*~*~*~*~*~
What's on my repeat mode now.
It's 江南.. but not by the original singer Jun Jie. it's Junyang's version. I heard his version first before I even knew about this song. Really nice song. I am so darn slwooooww, Gerald told me this song was very nice quite some time ago but i didnt listen to it *opps* till i heard Junyang sang it...Yesterday I found a like-minded friend! haha. Rachel supports JY too! wahahahah. We were talking about the project superstars the whole night..lamenting why he was out, exchanging links of their sites..& her bro got tics to the finals at indoor stadium! but ji dan!! jy didnt get in so she's not really interested to watch it too hee hee.. I felt like a small girl again wahhaha..I even msned Darren & sent him the songs and asked him to listen.. Or you can say 'force' him to listen ahha
okie.. More exciting stuff during last weekend.
夏祭り! (Natsu Matsuri)
Went with xin, her hubby shuey seng, & gerald. The moment we reached there I was shocked. The queue was darn long! We joined the queue and waited for about 15 mins to go in.. we thought that we were approaching the entrance at last but what we saw next shocked us.
WE WERE IN THE WRONG QUEUE!!!
Than we found ourselves in a LONGER QUEUE!
I was so -_-'' that I didnt take a picture of the crowd. Suddenly I felt so sian.. even xin asked me what's wrong.. I was shocked beyond words upon seeing the crowd.
But the queue started moving after about 20 mins and I went to change into my yukata with the help of a japanese lady.
Tada!
The ribbon she did! she kept saying i'm hosoi, hosoi.. think i dont noe what it means issit? argggh.. hahah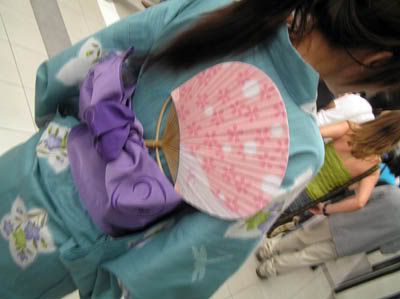 Me with a background of a sea of people.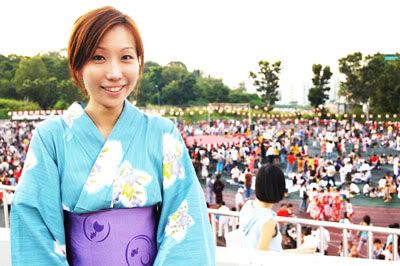 Just reached the matsuri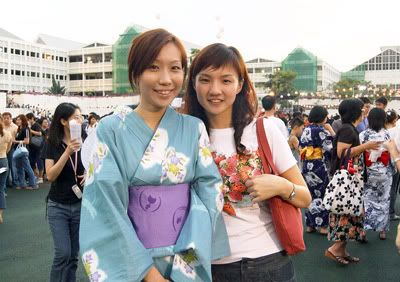 There were alot of stalls selling food and drinks. I ate a corokke. Oishii...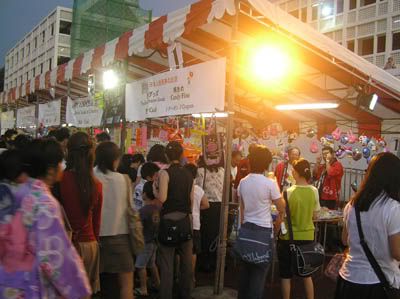 me n gerald trying the V pose. *puke*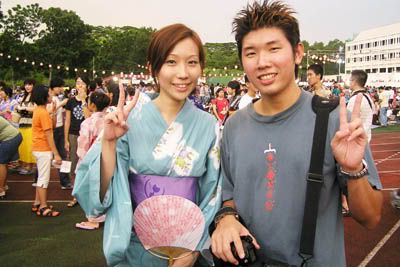 It's getting dark...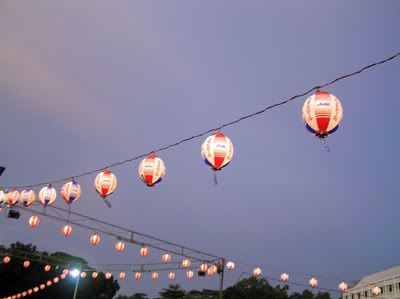 xin with her new hairdo, digital perm.. really nice.. still thinking whether I should do it too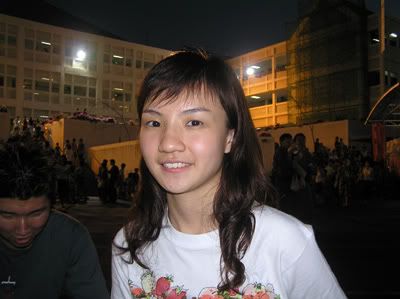 Nice yukatas~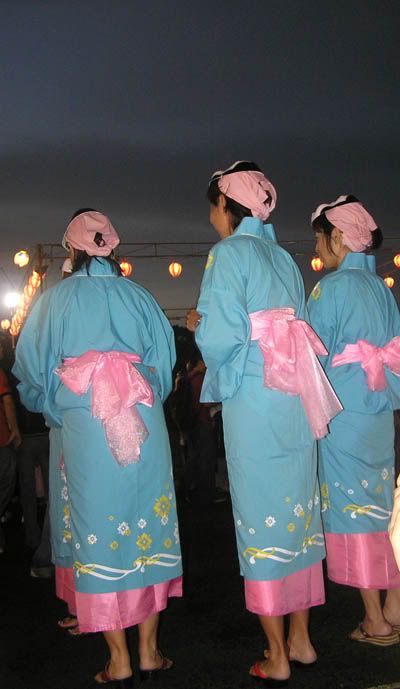 Xdd with his new hair highlights.. so 绝对superstar anot??
I think it's 绝对
SUPER
coffeemix ar! haha Really glad that u FINALLY found ya one.
Be happy and stay happy!!
I can see dat glow man..
keke or issit photoshop?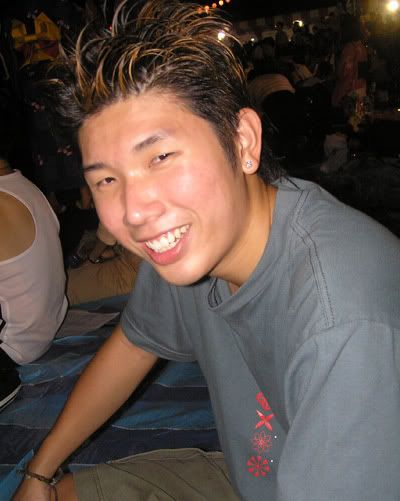 xdd sulking... no 美女! I think he felt very cheated by me.. whahah.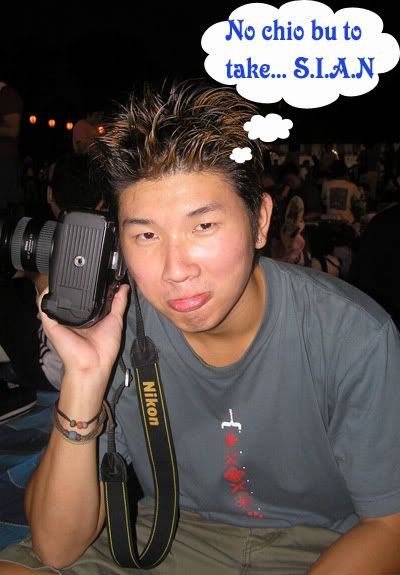 The only 美女 he got...
during the Doraemon Dance.
Trying to test some effects and it turned out quite nice.. really like dis picture.. cos cannot see my face. -_-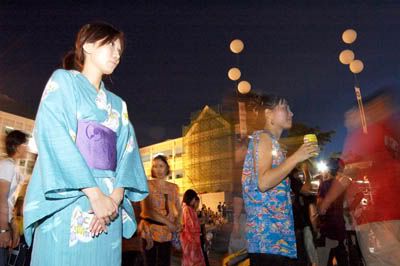 shuey seng, xin and me sitting on the mats and enjoying the performances.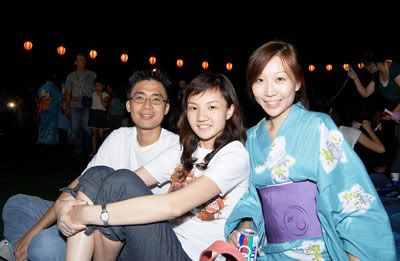 Than the dance started.. It is the bon odori.
There were many types, from Tokyo style, to singapore style and we even danced to the tune chan mali chan. It was very fun as most of the time, we were laughing at each other trying to coordinate to the tunes and instructions.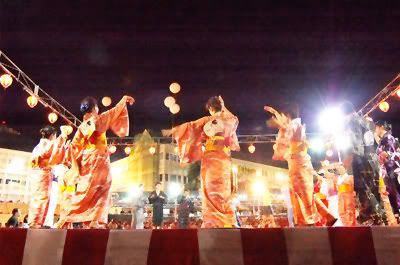 Hotte hotte mata hotte!
This is the only RARE time that you see me so demure and walk slower than normal. Cos the yukata is tight and I cant walk too big a step! It was kinda fun.. and I guess it will be even more enjoyable if you go in a larger group, just sit on the mats, picnic, watch performances, catch up on each other's lives.. Something special out of the ordinary from our normal lives.
My favourite pic courtesy of
Gerald Tay
.
Arigato ne~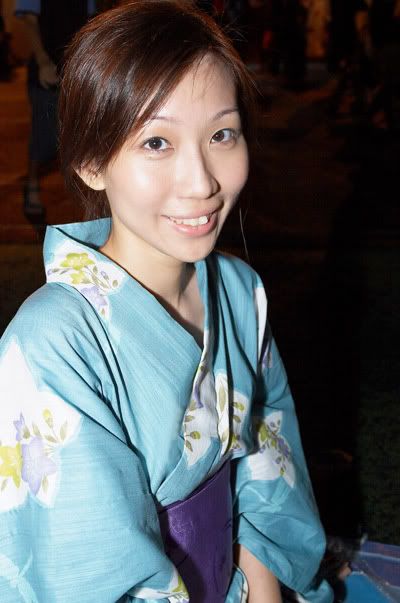 Links I found on Matsuri.
Hexlord Blog
Kiyo 到此一游 @ 9:34 PM

Sunday, August 21, 2005
*~*~*~*~*~*~*~*~*~*~*~*~*~*~
The Wild Cat..
rubbing her or cheh
FINALLY learnt the wild cat crawl on Saturday. We upgraded from the kitten crawl to the wild cat. We have to glide and slide very fast to the other end of the room and not to forget a sexy hair flip as well. Very fun but difficult! Or cheh oso upgrade! 3 or chehs previously to now, double the number!! I wore knee guards sponsored by Gerald but still or cheh. I think i wore his knee guards wrongly.. He told me that the sponge cushion must be on top of the knee, I was like.. HUH!?! got sponge meh?
-_-
This is what happens when you rub bone against hard surface. No fats to cushion!
eeeEEEEKSSS! wah lao eh..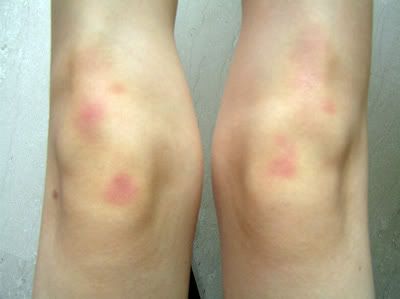 I look like some abused kid.. But please dont be mistaken that exotic dance is very tough and no fun.
No!!
it's just MY knees only! the others dont have such problems at all.
Actually.. sensual J called me earlier before the class started to tell me that they will be preparing a surprise for ppm, the birthday girl! So happy.. so we did a mini phototaking session and cake cutting session after our dance. I didnt get to eat the cake though cos i was rushing for time. =D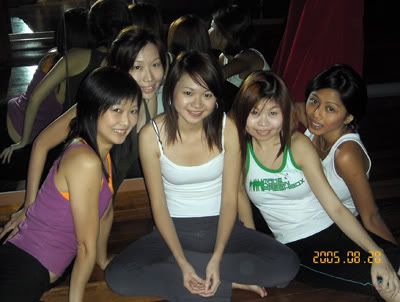 Joy, me
(abit blocked)
, ppm, esther and... hm.. wat's her name.. Didnt ask! *opps*
Kitten crawl!!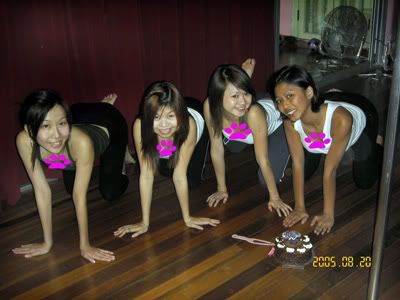 Add a paw for special effects. hey! have to put some paws otherwise wait some of you nosebleed.. actually i dont need to block la.. nutting to see.. but the paw is nice so i decided to put there as well!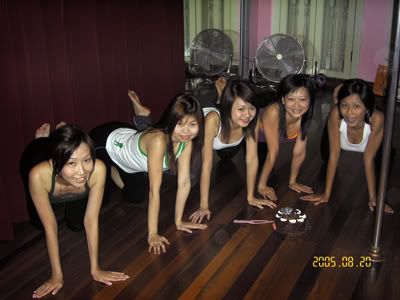 Kiyo 到此一游 @ 4:30 PM

Saturday, August 20, 2005
*~*~*~*~*~*~*~*~*~*~*~*~*~*~
Friday
Junyang didnt win.. abit disappointed. I stayed up till 12.00am yesterday to watch the results. Although WL is good as well, but JY really touched me with his voice. I love to hear him sing jie kou and 'if you come back' and I managed to download their live competition version somewhere. It's on my repeat mode now. XH didnt win too.. I did call to support her and I feel she is a better singer.
-JY-
Saturday
Ppm & Winston's bday ktv at PartyWorld!
Didnt get to dance though..
Very fun but ytd no voice to sing.. i think i croaked more than i sing. I sound very very -_-.. but I had fun!
The bday girl and the pressie! Same paper bag as my present a few weeks back cos bought at the same shop wahhaha.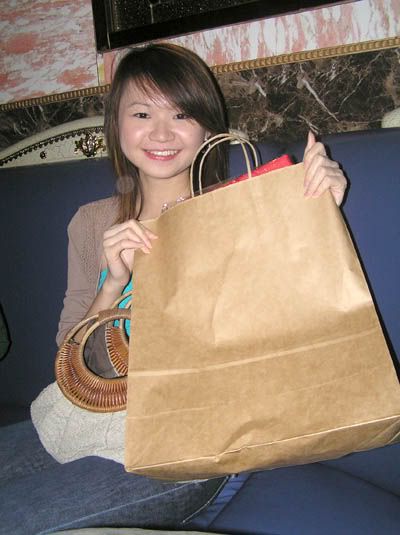 We bought her a mickey bag! so bright and big. Can use for exotic dance or gym hee.
We bought the bday boy Winston 2 T shirts from Topshop so that he can change if he vomits when he go cheonging after the ktv session.wahah.
The bday
MAN
himself..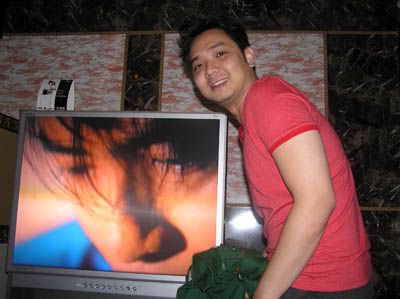 I think the mickey mouse bag seems to suit winston MORE..
ANG
gong gong ar!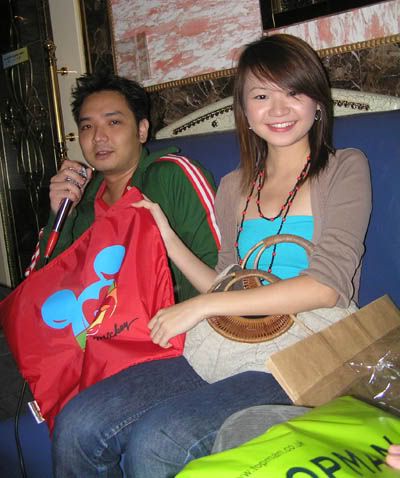 3 gals together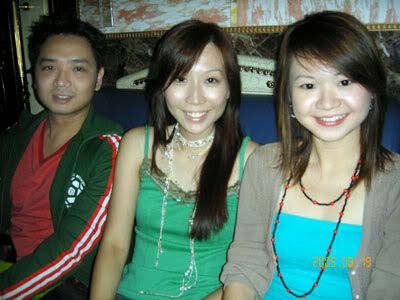 Trying to create a pirated mickey mao while zen is singing! haha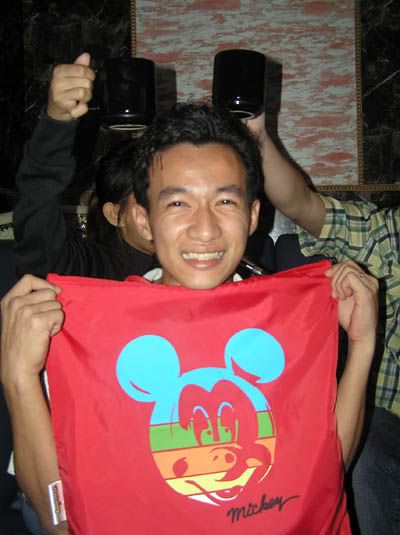 me n xdd.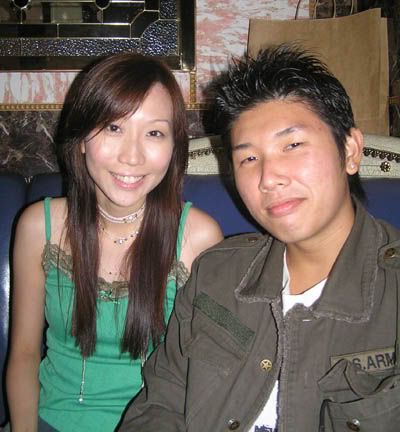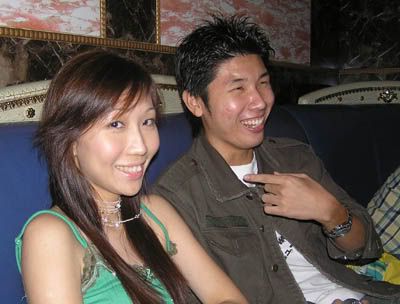 Ivan and Zen!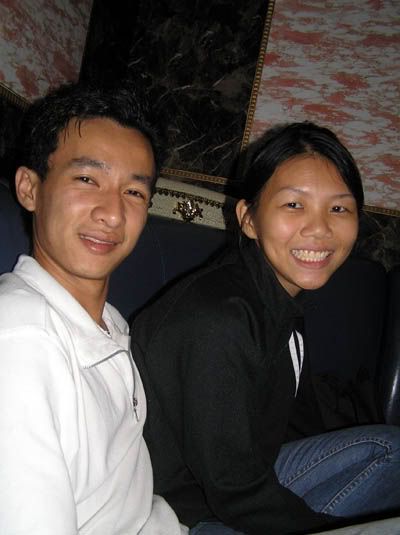 me n bday gal!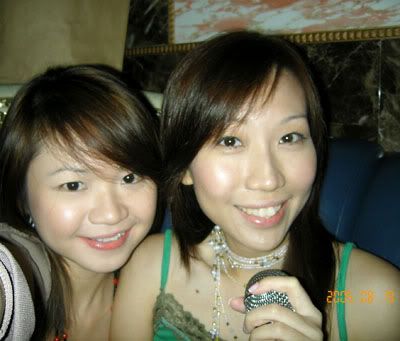 ~~~~~~~~~~~~~~~~~~~
Today will be quite interesting. Will be seeing xdd in his NEW hair colour when we meet for the matsuri. We hasnt coloured his hair before so this time I guess it will be total revamp. i heard he wanted ash blonde highlights! and he was quite worried that it might not suit him.
We were toking about this yesterday during work... and his Ah Gong hor.. REALLY say i look LIAN..
-_-
:: Witness :: .Rin, Kyo, Tou, Sha, Kai, Jin, Retsu, Zai, Zen .....就是我了!! says:
i tink add abit of copper in la
::kiyomi:: work is FOS says:
but u dont add hor.. wait very beng
::kiyomi:: work is FOS says:
d*** d*** dont like hahahah..
:: Witness :: .Rin, Kyo, Tou, Sha, Kai, Jin, Retsu, Zai, Zen .....就是我了!! says:
meaning?meaning
:: Witness :: .Rin, Kyo, Tou, Sha, Kai, Jin, Retsu, Zai, Zen .....就是我了!! says:

STOP SCARING ME
::kiyomi:: work is FOS says:
dont add copper.. i added copper wat.. in my highlights.. u say very lian right? and i think it's very LIAN too!
::kiyomi:: work is FOS says:

copper is very red..
:: Witness :: .Rin, Kyo, Tou, Sha, Kai, Jin, Retsu, Zai, Zen .....就是我了!! says:
u are lian wat
:: Witness :: .Rin, Kyo, Tou, Sha, Kai, Jin, Retsu, Zai, Zen .....就是我了!! says:
hahaha
::kiyomi:: work is FOS says:
wat i am lian. hng u
::kiyomi:: work is FOS says:
i so liang jia fu nu.. where got lian haha
:: Witness :: .Rin, Kyo, Tou, Sha, Kai, Jin, Retsu, Zai, Zen .....就是我了!! says:
my ah kong say one
:: Witness :: .Rin, Kyo, Tou, Sha, Kai, Jin, Retsu, Zai, Zen .....就是我了!! says:
LIAN jia fu nu u mean
::kiyomi:: work is FOS says:
ur ah kong..
不识货
::kiyomi:: work is FOS says:
hahha
Kiyo 到此一游 @ 12:30 PM

Thursday, August 18, 2005
*~*~*~*~*~*~*~*~*~*~*~*~*~*~
At last Friday is coming..
Was really busy at work this week cos there is a very impt event coming up and there are a thousand and one things to do and stuff to be confirmed and GREAT! nobody is helping me!
Actually, I am so bottled up now that I feel I need to scream but i wont bring those lousy moods to the weekends, this weekend will be exciting. =)
Tmr we will celebrate ppm's bday. yeah! another outing! and I crave for ktv.. it's been quite some time since I sang. I want to SING! & LANCE! to all loud music. I would have gone cheon-ing if my mum allows me.
So please ignore me if I appear to be very crazy tmr.. cos i really need to just let myself go and not think, see or hear any work or even the people i'm working with..Totally FOS I must say.
Watched Project Superstar yesterday. Yesterday was my first time I seriously sat in front of the TV to watch Project Superstar from 8.30 till 10.
And it was only my 2nd time to hear Junyang sing. He's good, really touched me with the song "I want you back" by Blue. Tong hua was okie.. his english song was better and he has a great smile, boy-next door look.
(ppm say he look very kiam pa.. wahahha)
Not really a superstar but i believe alot of girls lurve kiddish n cute guys. I bet he will be even more popular than Sly.
And i just drop a vote for xinhui.. hee hee
In order to make my mood a little better, I went for a manicure just now...The massage was quite terrible, I dont think that's a massage.. it's just some serious tugging of my fingers and pulling them to make them crack.. -_-
My french mani..jin pai kua I know cos my nails too short! But who cares!? I have
pink
barbie nails now.. hee hee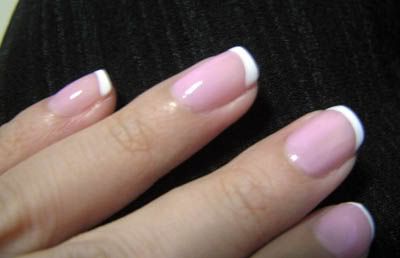 Kiyo 到此一游 @ 9:50 PM

Tuesday, August 16, 2005
*~*~*~*~*~*~*~*~*~*~*~*~*~*~
Still thinking whether i should wear yukata...to the Summer Festival this saturday..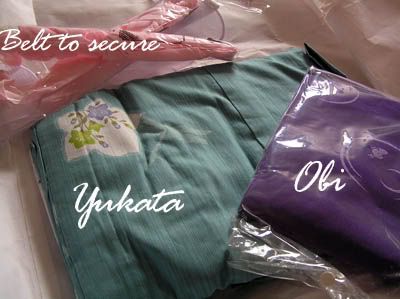 Really love the colour..
Tried it on Sunday and it was a total
lao gua
(sweating) experience. So hot !!
and it took me more than 1/2 hour to tie that obi in front of the computer while watching and pausing the video of "how to tie an obi".....
The last time I wore this was about 2 years ago?? I totally forgot how to wear!
Arrgghh..
NOW I realized the benefits of those ready made ribbons where you just hook it behind your back and voila it's done! Maybe I will just go there and rent one. Think my sis is going as well.. wahhah....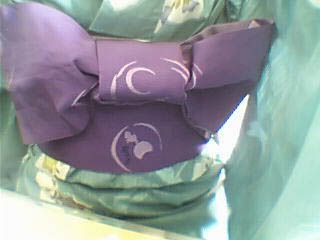 Had lunch with Panda from sfc today. He was around my area visiting clients so he met up with me for lunch! for the first time..after almost 1 year of chatting..and complaining.. He always gets the brunt of my complains n my mood.. everytime i want to complain about work, bitch about somebody, scold vulgarities.. I will find him on msn.keke
He was carrying this black bag that looks very much like those hk robbers who are going to rob banks or jewellery shops..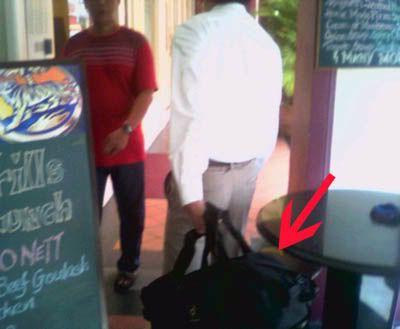 But actually it is his gym bag.. Another gym fanatic!
It was quite interesting talking to him during lunch.. I was ordering chicken rice and I told the auntie 我的鸡肉要皮的...
(yes you are right, i love chicken skin although it is real fattening and my chicken meat always dont come with the skin, which i dont know why!? )
than he.. being the health conscious 'I-eat-no-skin' said SERIOUSLY to the auntie.
Panda
: than auntie, 我的不要皮.. 我的皮给他..
buhahhaha.....who wants to eat Panda's 皮???
Than I told him that i will bring him to this Ah Chew dessert (阿秋甜品)at Liang Seah..I wonder whether it was my pronunciation or whether something is wrong with his panda ears..
Panda : ah CHIO 甜品?? Jia liao eh CHIO bo?
this happens to be MY jia liao
BUEY
chio tian pin.. =)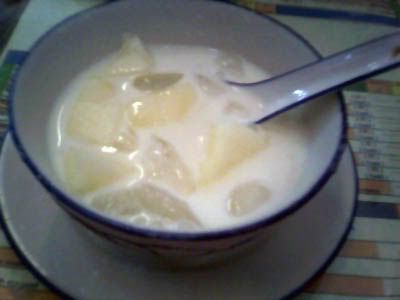 Kiyo 到此一游 @ 9:25 PM

Sunday, August 14, 2005
*~*~*~*~*~*~*~*~*~*~*~*~*~*~
Went shopping n xotic dance again.
The dance is getting more and more interesting. Although it's still quite slow
(which it was supposed to be)
, the moves are getting more complicated and very sensual. Esther didnt managed to make it to the class so yesterday's class was only ppm n me. Both of us laughed alot yesterday as ppm nearly banged into the pole
twice
! Heng the teacher didnt see.. hahah I nearly died laughing in there. *opps*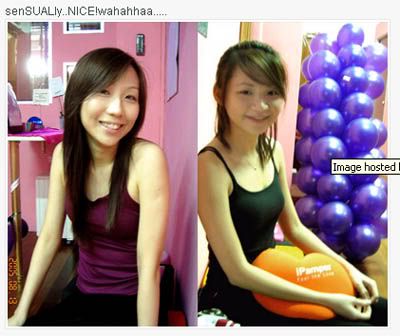 ppm's not in.. so only thing is to leach!! haha (why my eyes ALWAYS look SO SMALL when I take pictures? Can I WAKE UP??? Next time pls wake me up first hor.. hee hee)
Joy is starting a MTV-xotic dance which will be a mixture of hip-hop moves & sensual dance which i'm really keen to go. I need some fast Boa or J-lo or watever dance moves...
Met up with xdd to buy some stuff
(not my stuff okie hee hee)
. We were not very concentrated as he wanted to look at
HIS
stuff, I wanted to look at
MY
stuff and we almost didnt manage to get
HER
stuff. In the end, he bought a jacket which was quite nice and I bought a jacket too! Of course the pressie is settled as well.. but i'm not going to say what it is! It's really nice, i almost wanted to get one for myself too, butthen..
no budget!

The jacket I bought from Indulge couldnt really fit me and Dawn the SA told me to get it altered by the tailor near their shop. He's good! and fast! He charged me 2 buck only and he managed to alter that jacket to a slim fit. I am going to dig out all my clothes that need altering and i shall go to him in the future. =D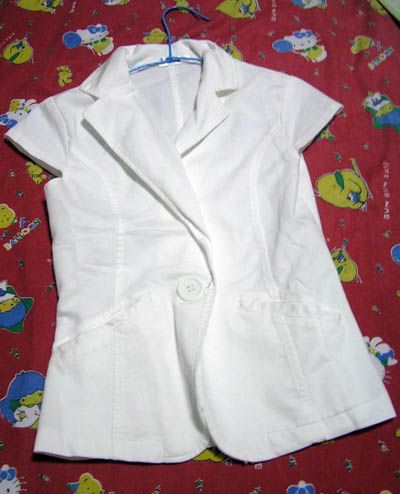 Watched Bewitched after that.. NICE SHOW! some might say it's only so-so but I like nicole kidman! She's a natural.. Her hair is great, I love her wardrode, her full skirt which I believe it will be the IN-thing very soon. & the twitching of the nose part is damn POWER...I tried.. but i cant. I look more like a MOUSE. wat witch??
~~~~~~~~~~~
Sunday
Today woke up early in the morning to go to gym to see 1 auntie eating
ROTI PRATA
in the changing room.
-_-'''
I think she's working there but dont they have a pantry or something? The whole changing room was full of Roti prata and curry smell.. argggh... The most 'arrgghh' part is that.. I didnt have breakfast & I WANT TO EAT TOO!!!
Kiyo 到此一游 @ 9:35 PM

Saturday, August 13, 2005
*~*~*~*~*~*~*~*~*~*~*~*~*~*~
Oh.. I just enjoy giving my face a massage..
Oh so ugly...

Thinner face, here I come! woohoo!
So now.. have to tone up tummy..
Exotic dance next =)
Kiyo 到此一游 @ 12:04 PM

Thursday, August 11, 2005
*~*~*~*~*~*~*~*~*~*~*~*~*~*~
I'm really in quite a happy mood..
Why?!?
Cos my colleague came back from her business trip from Japan. Not as if I'm waiting for her omiyages (souvenirs), but because I asked her to help me get something from Japan!
This is it.. It looks like an equipment of torture. But it is not!
Guess what it is for??
hey hey. No prizes for winning. 你猜,你猜,你猜猜猜! 哈哈!
(DUR... -_-)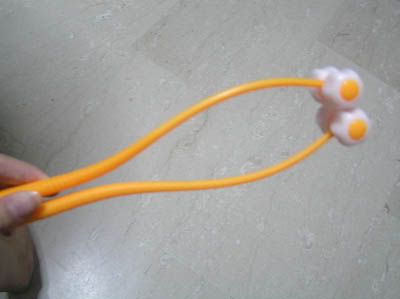 She bought me some facial oil blotters for souvenirs. Really love them! There was this shop called the Ranking Ranqueen
(You dont ask me why they have such weird names for shops.. they actually mean it as RAN-KING, RAN-QUEEN)
which has TOP 1 products from CDs, to books to beauty products etc etc.
So she bought me the top selling facial blotters in Japan ! =D
The packaging is enough to make me feel like a princess whenever my face is like an oil field.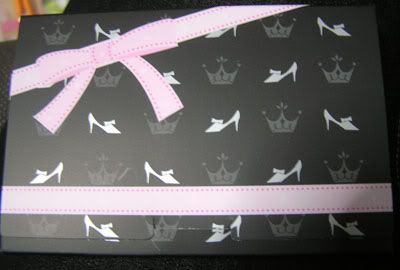 Pink blotters.. so girly.. hee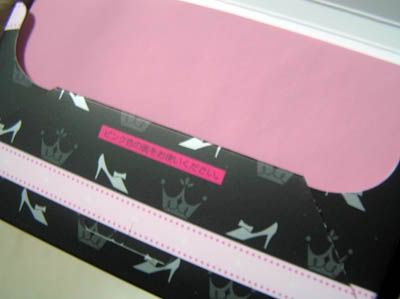 I want to go to Japan!!
- Ranking-Ranqueen - (Japanese)
Kiyo 到此一游 @ 9:30 PM