Friday, September 30, 2005
*~*~*~*~*~*~*~*~*~*~*~*~*~*~
A few songs are now in my playlist. They are songs that I heard over the radio time & time again in Perth.
I actually went to look for some of the songs yesterday that I heard and found one. Kelly Clarkson's Because of you.
"Because of you
I never stray too far from the sidewalk
Because of you
I learned to play on the safe side so I don't get hurt
Because of you
I find it hard to trust not only me, but everyone around me
Because of you
I am afraid"
There was another song that I hated whenever it came on the radio.
We practically heard that over and over again till we were so sick of them. But I am still listening to it now cos it reminded me of the times I had in Perth.
Perth Revisited II
We went to King's Park for the wild flowers fest!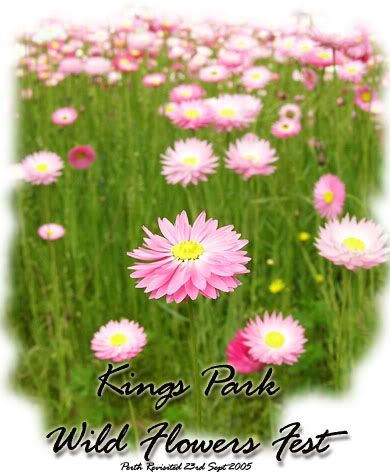 There were alot of people and we saw 2 gals riding camels in the park. strange..
-_- Camels?? in King's park? wild flowers fest?
I see no association.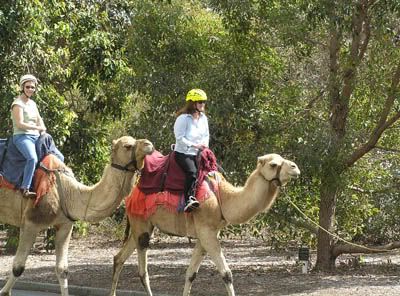 Flowers Flowers and more flowers.
要看花,请来我家...
Love the colours of this pic!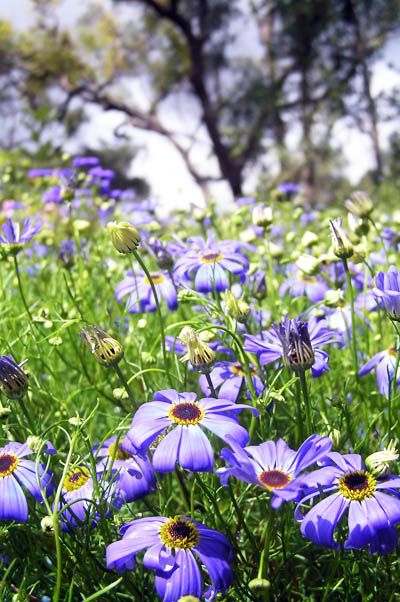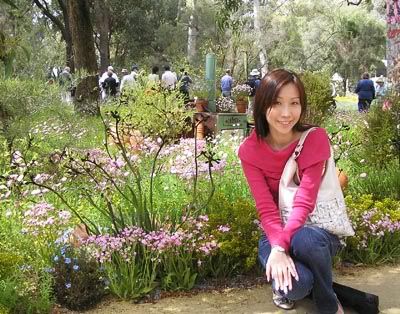 act demure..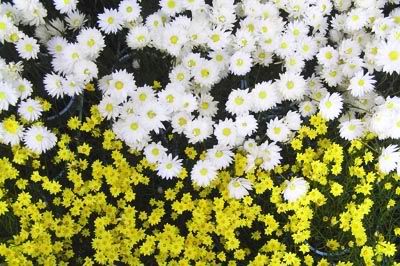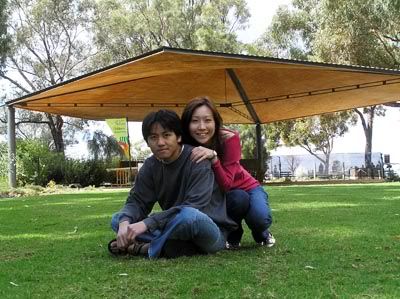 Spotted a very cute girl so took a snap shot..she's so cute.. looking at her shoe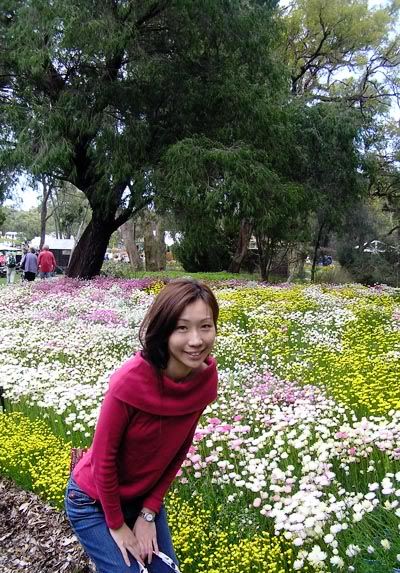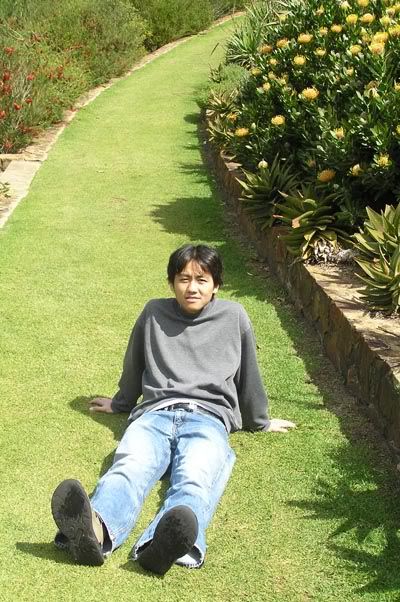 Even along the streets, there were wild flowers.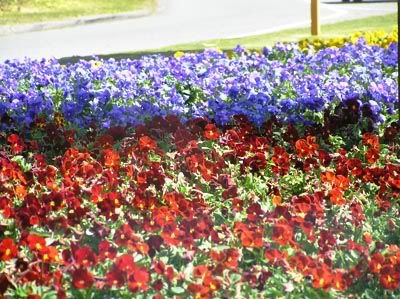 Then we met up with his friends at Subiaco markets for lunch. They are a nice fun bunch of people. Than off we went to Fremantle. I didnt eat at Cicerello previously cos apparently, Darren didnt know that the Fish & Chips were famous there when I first went.
At Fremantle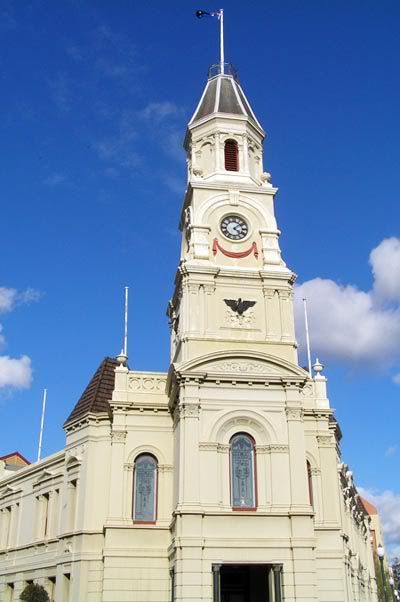 One of the stalls inside the markets.. very colourful!
Saw a dog in a car that was wearing shades. TMD, dogs oso so good life can wear shades.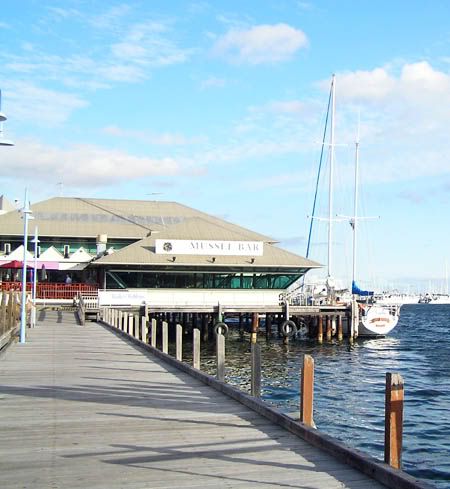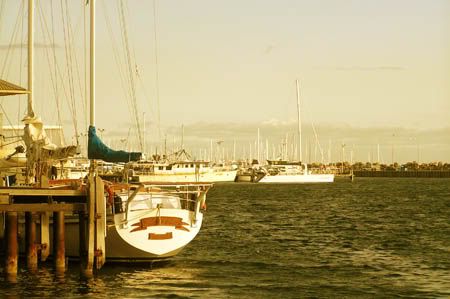 So, we took fish and chips at cicerello this time. Yummy with good view of the sea, although it was a little windy and quite cold.
I just kept psychoing myself that it was very hot.. it works... for a while. After that you dont feel so cold cos all the fingers are numb. haha.
We ate the grilled one. It's really not bad =)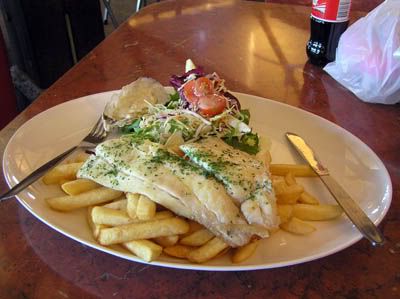 Another Fish & Chips restaurant at Fremantle called Kaili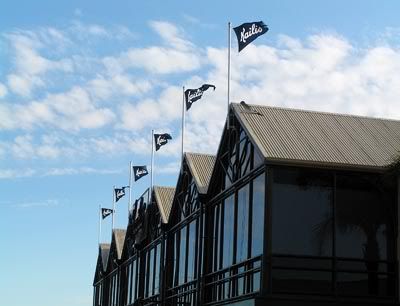 Other photos of wildflowers and fremantle
- here -
.
Friday is late night shopping in the city. We went late night shopping when the shops in the city opened till 9pm...
(Okie.. it's the norm in Singapore to open till 9pm, but in aus, it's a once a week affair)
But we didnt really shop though. Jon was a little high on drinks or maybe you can say he was almost totally wasted.
So, we spent our friday night baby-sitting him.. hee hee. It was rather dangerous to just let him go cheong alone.. we were a little worried so we gave up on our city shopping & dragged him home.
Kiyo 到此一游 @ 9:30 PM

Wednesday, September 28, 2005
*~*~*~*~*~*~*~*~*~*~*~*~*~*~
Hello warm weather, chinese food & my TV!!
It's good to be back! Didnt sleep much on the plane and only slept a little when I came back just now cos it's kinda humid. Aiyo.. dry weather complain.. humid oso want to complain. What's wrong with me? hahha
Nah.. I still prefer Singapore .
cos.....
我的家给我一双坚定翅膀
我的梦不论在何方。
一生的爱,唯有家。
This is HOME truly, where I know I must be,
where my dreams wait for me, where that river always flows..
This is home surely, as my senses tell me
This is where I wont be alone, for this is where I know it's home


wah lao eh... crap.

Okie.. Let me do a record on my Perth Trip so that I wont forget all the fun times I've had and to share with all of ya some pictures too. Towards the end of my trip, I took some videos using my cam as well. Finding a way to upload here..

Perth Revisited I

Touched down very late at about 11 plus pm and we went for supper at Northbridge. I got to taste what sort of food Darren eats for supper for the first time.
Hor fun... I only managed to finish 1/2 of it and it's damn salty!!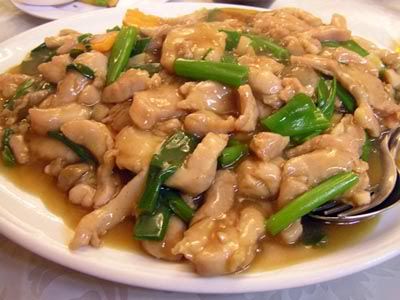 The apartment he stayed in... I got this strong sense of feeling that I'm back in Singapore. HDB flat!



He stayed at the ground floor with jon.. a very farnie guy too. They are starting to talk in a very similar manner.. Kinda freaked me out. hahah

The next morning, we went to Northbridge again.. or was it City.. Okie.. I'm not too sure but I read about this shop somewhere.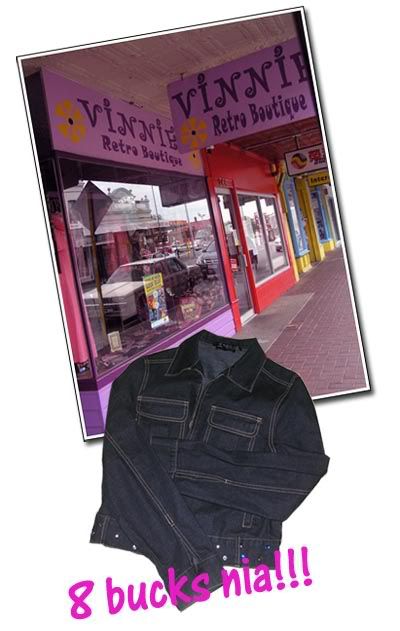 It sells 2nd hand clothings and all proceeds go to the charity. I got a denim jacket for... Guess what.. 8 bucks. There's alot of vintage dresses inside donated by the public but I didnt get any cos I dont think I have any occasion to wear.

We went to eat dim sum at Joy Garden restaurant. Not very expensive too.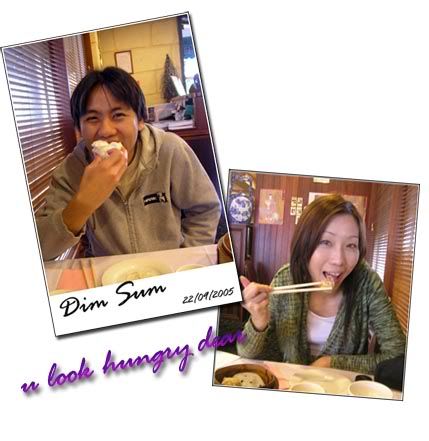 We went for some serious shopping at Harbourtown after that. I bought ANOTHER Valleygirl jacket (for 7 bucks), a tee and Fila track pants there. hohoho. Than I acted machiam I'm a tourist and started to shoot whatever I saw. *I am a tourist wat..* but darren was kinda paiseh hahhaha hng him!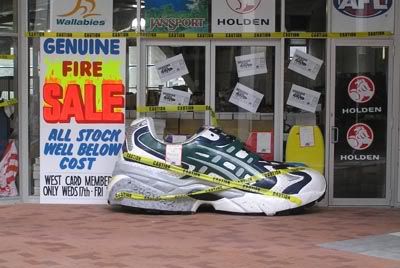 so wat's so great about the shoe? nutting! cos it's big!?

Saw my favourite shop Lorna Jane and I thought I may be able to get some good deals in it cos Harbourtown was supposed to be a shopping center that have great discounts directly for some brands. So excited that I rushed into it cos I wanted to get some gym wear.




sigh.. the nice ones I picked were NEW ARRIVALS. NO DISCOUNT! argggh. I didnt buy in the end. It works out to be about the same price in Singapore.

king's park tmr..
Kiyo 到此一游 @ 10:27 PM

Tuesday, September 27, 2005
*~*~*~*~*~*~*~*~*~*~*~*~*~*~
6 days, 565Mb of memories, 2 lost items, 1 heavy suitcase
Going to depart Perth in 6 hours time. The weather has been really good these days except this morning when it rained a little... Been to the places I wanted to visit and also to new places where his friends recommended. All in all, it was a good and relaxing trip.
Just finished looking through the pictures I taken this 6 days, I realized I took alot of scenic shots rather than portrait shots. The photos definitely look better without me in them. But I lost my olympus cam case and lens case =( I really dont noe when and where I misplaced it.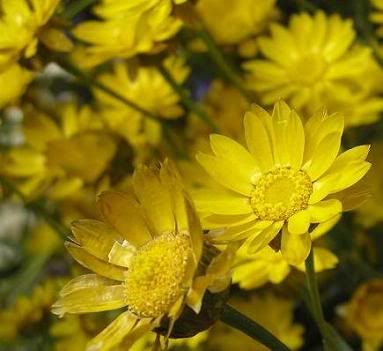 Although i'm a little sad that my trip has ended so fast, I was kinda glad to go back too cos my skin and lips cannot take the dry weather anymore. My lips are cracking at the sides and it's rather painful when I opened my mouth. And I DID put on lip balm u noe.. sigh...
Anyway, I'm coming back for better shopping.
An SA at Westfield Galleria who loves Singapore so much that she talked to us for at least 15 minutes in the shop when she knew that we are Singaporeans. She told us that she cannot imagine someone from Singapore is shopping in Perth. whahhahah.
That's quite true. I cannot imagine too.
My suitcase is FULL.
bwahahhaa
Kiyo 到此一游 @ 5:26 PM

Saturday, September 24, 2005
*~*~*~*~*~*~*~*~*~*~*~*~*~*~
3rd day in Perth
Woke up very early in the morning, as I slept very early yesterday. Another 3 more days I will be returning to Singapore. Time really flies when you are having fun.
Really love the weather here now, face is darn smooth and it doesnt get oily at all. Pile on more moisturizer will do the trick. heehee Now I know why xin likes Perth. I'm starting to love the weather as well. Okay, only the weather, the shopping is still....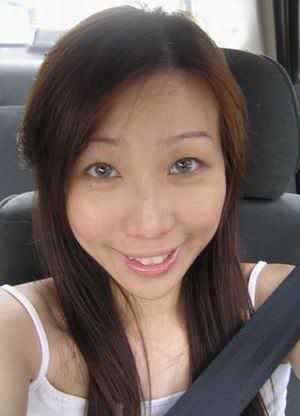 Took loads of pictures since I arrived. Think my previous visit to Perth, I didnt take much pictures, dont know why.. maybe I havnt started blogging yet.. that's why. But I find taking pictures really help me to remember the things I have done during the day. I would have forgotten where I have been to if not for those pictures.
Yeah.. My memory is THAT bad.
Thanks to his friend, Jon, we managed to visit places that I have never been to. Darren is not really very fond of shopping and although he is already here for 3 years, he doesnt really know good shopping places or interesting eateries or restaurants. This time, his friends gave a lot of suggestions where he could bring me.
I realized I have changed too. During our first trip 2 years ago, I was somebody that got really frustrated cos I didnt know the way around and he didnt too. I got really gan cheong behind the wheel cos he would ask me to turn right or left last minute or do parallel parking....And being a very NOT ZAI driver, I often panicked and that is when the quarreling started to come in. This time, he is behind the wheel.
Taking a step backward and letting the guys do everything is good after all.
I feel very pampered.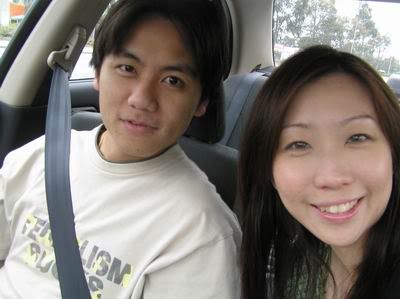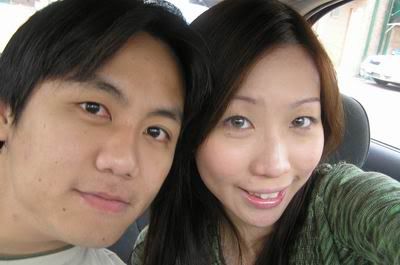 Labels: Perth Revisted
Kiyo 到此一游 @ 9:33 AM

Thursday, September 22, 2005
*~*~*~*~*~*~*~*~*~*~*~*~*~*~
In Perth!
Had a very tiring day today.... Was feeling a little sick even before I board the plane. I think it must be the wool jacket that I wore. I realised I didnt give it a wash.. Eeeksssss! It must have tickled my nose so badly that I kept sneezing and sneezing even before I board the plane.
I had some good shopping at Changi Airport. Spent about 400 dollars even before I depart at this place.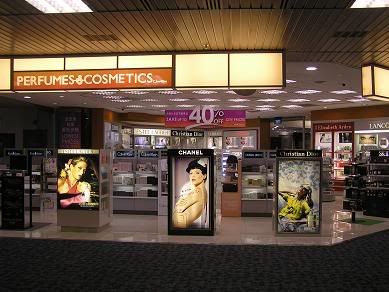 Yeah, helped mum to get some SKII creams and colleague some gloss. Got myself a mascara, gloss and origins face mask. =D The prices are actually cheaper over there then in town. It is about 10% cheaper..I bought those stuff and left it with them cos they have this service of only collecting your purchases when you come back from trip. Wonderful service I must say.. I am now guarding the collection slip like it's made of gold. Yeah.. that paper is worth 400 bucks now man..
Although it wasnt a good start to my trip as I was a little sick, I still look very happy as I'm really looking forward to meet Darren.
My first time taking Valuair wasnt that bad. Darren told me if I am bored, I could actually rent their in-flight entertainment at 8 bucks. But when I enquired from the stewardess, i was told that it was discontinued until further notice. argghh..
The food was quite alright and the stewardess was rather friendly too. I was observing the way they tied up their fringe. haha. It looks really nice. I think after observing for about 5 hours, I think I got it. haha
This is my first time too to hear the air stewardess sing live. Frankly speaking, it's really pretty good.
Labels: Perth Revisted
Kiyo 到此一游 @ 9:53 PM

Tuesday, September 20, 2005
*~*~*~*~*~*~*~*~*~*~*~*~*~*~
I'm so happy today!
Not because I'm going to Perth tomorrow, it's because I got the Elle magazine!
Chey~
What's so happy about getting an Elle magazine..
I was at Raffles Place during lunchtime to help my boss to do something when I saw this booth for elle magazine. Loads of freebies come with it. I grabbed it without thinking twice cos a Romance body lotion (50ml wor!!!) from Ralph Lauren was included too!!
Really love this body lotion, one of my colleagues in office always uses this body lotion and the sweet scent always lingers after that. A very good perk-me-up! After applying this lotion, there is no need to apply perfume any more as the scent really lasts. Really love this, if I see any travel size kit around in Terminal 1 tmr, i will definitely buy =)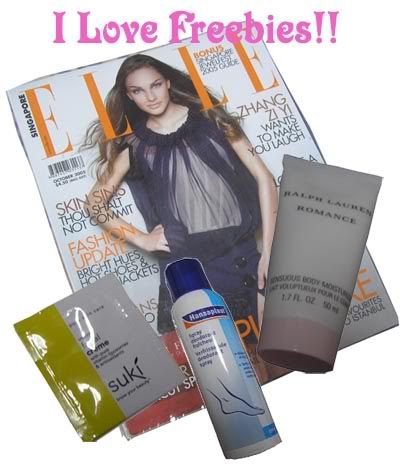 (I know my photoshop kanasai, but i have no time..)
Other freebies included...
1) Deodorant - I dont think my feet smells but..anyway.. I shall use it for my shoe cupboard.
2) Loreal foundation and Soo Kee vouchers (which I dont think I would use), and comes with a one-for-one haircut! who wants to go?
Think the booth will be there till tomorrow. =D
Kiyo 到此一游 @ 10:20 PM

Monday, September 19, 2005
*~*~*~*~*~*~*~*~*~*~*~*~*~*~
Pre trip shopping
Went lunch and some last minute shopping with mum yesterday. The clothings of many stores are changing into autumn and winter season and there were loads of jackets displayed. I'm a sucker for knitted stuff and jackets. But Singapore doesnt really have the weather for them.. argggh. Dont really fancy winter as it's really too cold for me. I would prefer spring or autumn season instead. =D Surprisingly, U2 ladies sell nice jackets and DBS credit card holders are entitled to 15% off as well. I'm still thinking whether to get those jackets or not. hm...
Mum bought me a bag! and it cost only 20 dollars.
pi pi you qi qi
(cheap cheap and good good). The quality isnt that bad either...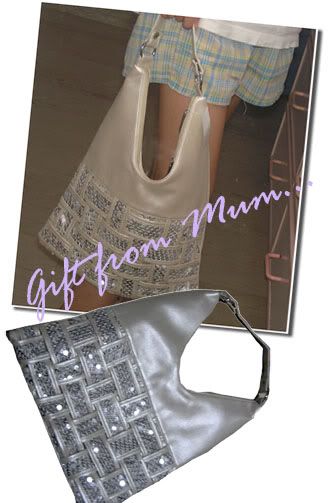 Have been busy packing over the weekend. I think I am spoilt for choices on the clothes that I need to bring. xdd advised me to choose properly especially I have a few jackets and he reminded me not to wear green to some farm or what as you dont want to risk blending into the greenery there.. -_-. But I love green! I dun mind camouflaging myself with it! ahha. A really responsible stylist I must say, even advising me on what I should wear. Or MAYBE he should help me pack haha.
You would be surprised on the amount of skincare, cosmetics that I'm going to pack too. Now, I realized that I have quite a number of cosmetics although I only have 1 of each item like 1 lipstick, 1 lipgloss, 1 foundation, 1 eyeliner etc. Friends always laugh in disbelief..
"Oh come on.. dont bluff, you have 1 lipstick, 1 gloss, 1 blusher only meh?"
Do I look as if I own the bank or wat? haha Of course I only have the basics cos I only have one face mah but even 1+1+1 adds up to A WHOLE LOT OF things in my pouch. I admit, my makeup is rather boring and I stick with neutral colours.
My makeup pouch, got it free from some cosmetics counter. It's overloaded with stuff!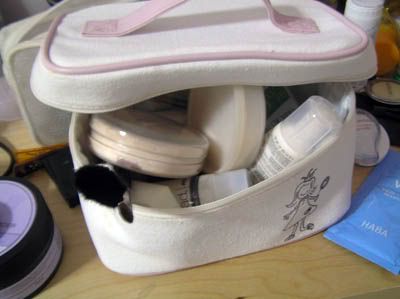 (dont worry, i make sure i come back with DOUBLE the NUMBER of duty free cosmetics hey hey)

I dug out my sleeping wear that is so long-forgotten. I only wear this when I go overseas as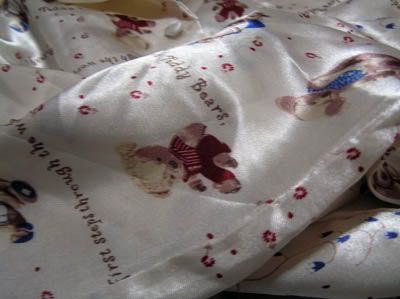 1. This is too cute, not really my style. Think his friends will be shocked if I strut around their house wearing this -_-'''. Track pants will be a wiser choice. Will get it over there.
2. I dont have aircon at home so this is too hot to wear in Singapore!
What I'm going to miss in Singapore during my short trip
Level of disappointment : =(
1.
5 whole episodes of 大长金 (The korean drama on cable tv)
*
=( =( =( =( =(
*
This is the first korean drama I've ever watched and I must say it's really good. I didnt even watch other famous korean dramas like winter sonata's or the korean movie, Wo de ye man nu you. The korean craze didnt catch up on me earlier cos i always preferred japanese dramas. But this one is really good! you get to see the life of a VERY SUAY palace maid that seems to have all the bad things happening to her. Watching the show makes me feel so fortunate. I want to go to korea sometime.
2.
2 hours of taiwan drama 格斗天王
*
=( =( =( =(
*
Been following this show since it started, the plot is rather good and it's about 格斗 which is sparring in the boxing ring. Love their occasional meaningful comments from their lead actors.
Duan Yu Qiao 名言
"要别人来爱你,首先要成为一个让人值得爱的人"
3.
Joy's birthday bash and 1 session of xotic dance
*
=( =( =( =(
*
I will miss them! It's really a pity that I cant join in the birthday bash performance. argggh. They are doing something with a fast tempo and I wont be participating? arggh... and the lap dance that we just learnt! hope i dont forget too. so ppm and esther, learn more and teach me when i'm back!
Dont envy me dudes~
all of us were staring at her... PRO man.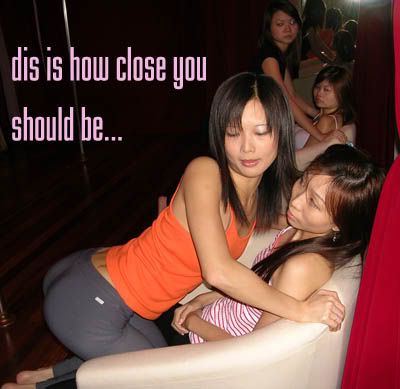 ppm say the way I placed my hands are very farnie -_-
AEY... no place to put la.. hahahh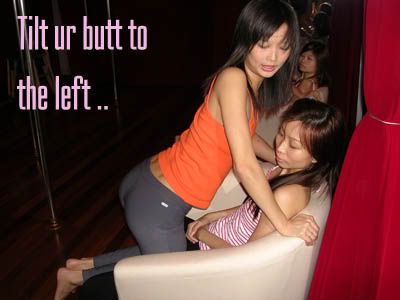 me trying VERY hard to go closer...
xxxxxxxxx
last pic only up for 1 night. You didnt catch it.. too bad! bwahahahah
Kiyo 到此一游 @ 9:39 PM

Saturday, September 17, 2005
*~*~*~*~*~*~*~*~*~*~*~*~*~*~
Ooh La La
Set off for Exotic dance yesterday. Decided to tie up my fringe to a small ponytail at the side.. whahha. Do I look a wee bit younger?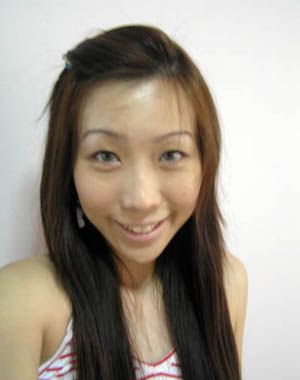 I think I am disillusioning myself. -_-
Learnt lap dance yesterday. It was really sensual and good! This is the first time that I came SO close to a girl's face, hair and
erhem
certain body parts. Luckily I washed my hair man..it would be SO embarresing if there's this smell oozing out from your head.
We took turns sitting on a armchair and trying all sorts of poses and moves to 'seduce' our partner. Joy kept saying I was abit far away from her and I need to go closer. I told her...



"eh.. far away cos nothing to shove in front leh hahah.."
(u know what I mean)
And she say I have to go lower.. I'm actually quite paiseh to go lower.. cos going lower will touch her chest .. hm.. abit uncomfortable.
All in all, lap dance was really fun. I think we will be learning more of it next week and I wont be around!! sob sob.
Met up with sfc people to eat dim sum at chinasquare after that. Ppm couldnt join us as they were still continuing their lessons for a rehearsal next Friday for joy's birthday party. I couldnt go as well! argghh... missed out loads of fun things.
Okie back to the dim sum, it was only okie.. not really fantastic. I still prefer wah lok restaurant in Carlton hotel. But wah lok do not have dim sum buffet though..
Teahouse at Chinasquare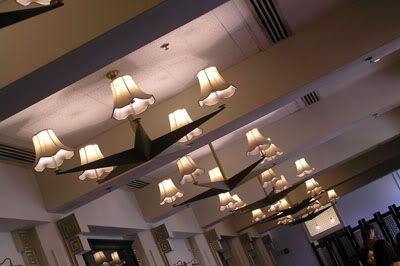 Havnt met Jess for a very long time! think the 3 of us look very tired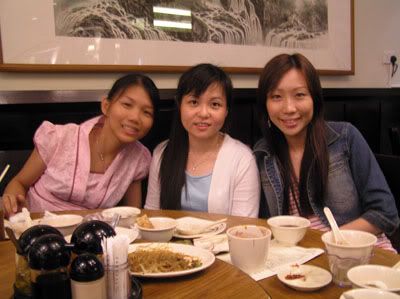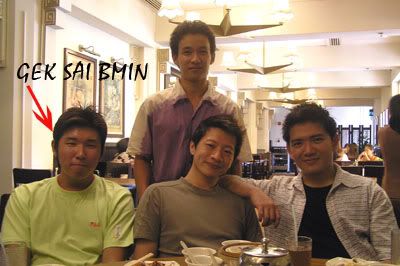 Zen commented that gerald's eyes are very small which is good cos can sleep in class!
A better picture taken..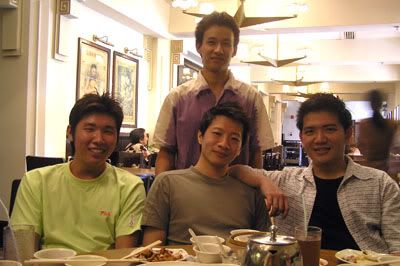 This "thing" was found in the toilet. We started reading to practise our mandarin! Bet gerald dont know how to read! whahha.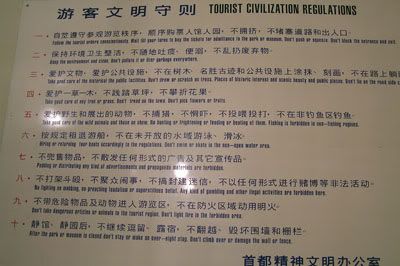 Kiyo 到此一游 @ 10:38 PM

Friday, September 16, 2005
*~*~*~*~*~*~*~*~*~*~*~*~*~*~
Thanks Josh,
It's great to receive a rainbow when you have thunder looming over your head.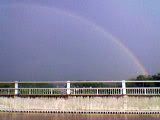 =D
~~~~~~~~~~~~~~~~
I'm very drained and tired.. I dont know why. Tomorrow I shall start my packing. Hope my mood will be better tomorrow. Suddenly, I just have no strength to do anything.
Kiyo 到此一游 @ 11:20 PM

Thursday, September 15, 2005
*~*~*~*~*~*~*~*~*~*~*~*~*~*~
*Yawn*

So tired these days..Just came back from Darren's house to have dinner with his mum and sister and 2 cute ones and also to deliver some mooncakes.

=)

The two ke ais...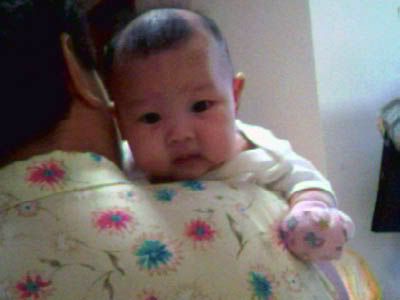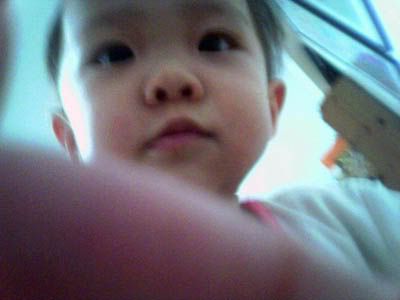 Kaili taken a few months ago when I visited them. Coaxed her into the room and put my shades on her. she's really cute with loads of expressions.
Babies grow fast eh...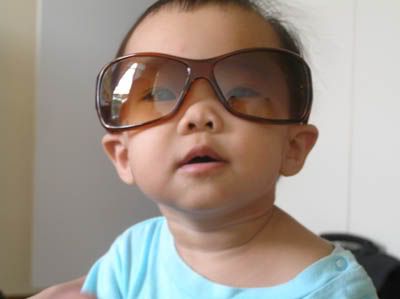 Kaili now can speak more words now and it's really fun talking to her. She calls me by Name, 清丽.. (and not auntie) wahhaha.

I couldnt get the Raffles champagne truffles, =( I didnt know it is that HOT. It was sold out and I didnt do any pre booking. I actually called on Monday wanting to reserve a box but they said they were closed for orders. Okie WELL.. I bought the Carlton hotel one which is from Wah Lok Cantonese restaurant. It looks pretty good as a gift too and I lealli got the FREE walnut or green tea body scrub voucher at some spa. Think will use that when I come back...

Just booked my accomodation in Perth too. (I think I accomplished alot of things tonite) at some 3.5 star hotel cos I doubt his friend will be comfortable with a gal around in the room. Will be staying several nights at their house though to save some monies..hee hee

Havnt been planning much on my holidays as I was rather lazy and beri beri tired. Wanting to plan some horse riding session at Swan Valley but dont really know whether Darren knows the way. Anyway, it's in my plans..Strange isnt it? He is the one in Perth and I seem to know better where to go and planning the itineray. He always said "hou ar" "hou ar" in cantonese whenever I said I wanted to visit dis dis dis, dat dat dat.. hur hur hur.

But one thing for sure. He had asked jon to write him a list of good shopping places and will bring me there. I was like

-_-'''

"Yeah, yeah you sure know me well"

Anyway, this trip will be more of a relaxing-enjoy-the-nature trip, but dont think you will catch me hugging a koala bear or milking some cows or wat. I'm not really a "farm" person.

Even planned a cheong-ing session, maybe on Saturday night. Think I can cheong at ease only in Perth, no ringing of phones from mum asking me to go home.. haha seriously, dun expect it to be as good as Singapore, but the company is more impt rite?

Revisit Perth schedule

21/09 -- Depart Singapore via valuair (i got to take cab there cos my dad's car kena bang by somebody! dis is another post for tmr)
22/09 -- am Harbourtown & Carousel
pm Swan River brewery
Late nite town shopping
23/09 -- King's Park Wild Flowers Fest
Fremantle weekend market!!
24/09 -- Swan Valley
Trail riding at Brookleigh Estate (TBC)
Cottesole Beach
25/09 -- Garden City
Northbridge & Dinner with Daph
26/09 -- Perth Royal Show
R&R
27/09 am Currently nothing to do
11.40 pm flight back to SIN
28/09 -- am Concuss in SIN
pm Facial at Revival with Rachel

Rachel.. Dont forget!! =)
Kiyo 到此一游 @ 10:16 PM

Tuesday, September 13, 2005
*~*~*~*~*~*~*~*~*~*~*~*~*~*~
mangiare, cantare, amore
Just came back from dinner with my boss and some colleagues at Tower club. Didnt take any pictures cos I would look very 'sua gu' if I tried. It was quite an enjoyable evening as we sat and talked about different countries and our personal past times too. Enabled me to understand more about my boss too.. like...he likes Australian red wine very much especially Shiraz. At least NOW I know what I can get him for a souvenier when I come back from Australia. Saves me cracking my brain to think of what to get him hee hee.
And he shared with us his travel experiences and it was always interesting to hear as he travelled very widely. He talked about Italians and Italy and their way of life like they had 3 hours lunchtime over in Italy.
(how I wish I can work there, can sleep after lunch)
, summer break of 2 weeks or so, enjoy life and be close to your loved ones.
I feel sometimes people work too hard. Some forced by circumstances, some are born workaholics. But for me, I wish to lead the Italian's lifestyle..
To enjoy mangiare, cantare and amore =D
Kiyo 到此一游 @ 10:26 PM

Sunday, September 11, 2005
*~*~*~*~*~*~*~*~*~*~*~*~*~*~
It's a detox weekend
Was reading a book borrowed from library about detoxing. It was about fruit diets to cleanse the system. I feel that I couldnt survive just on fruits as I have a very weak digestive system and get gastric pains easily if I dont eat. So I decided to just eat lighter food during weekends. I realized whenever I was sick, down with fever, my skin was in the best condition as I drank enough water, slept throughout the day and ate porridge. So.. I made a pact with mum and asked her to cook porridge at least twice a week. =)
I cooked some myself just now. Luckily nothing blew up.
Followed a recipe I found online. 銀耳美膚養顏飲(慈禧吃的宮廷秘方)
It's a dessert and it's good for skin too. Really delicious cos the red dates made it very sweet and good =)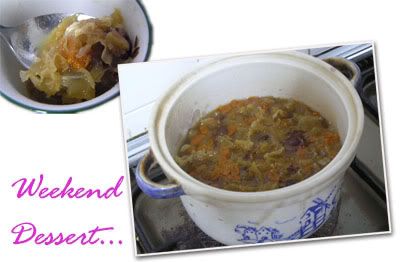 mum did this.. not me ke ke

Ingredients : 木耳一朵、乾百合、黃耆、紅棗、黨蔘切片適量、枸杞
~~~~~~~~~~~~~
Saturday was exotic dance day again. Pep and esther was late again -_-'''
NO late next time ar...
*kiyomi waving her index finger*
. We started lessons at about 3 pm and while waiting for Joy to start the class, we found out what 3 girls could do when they are very bored.
Me and Esther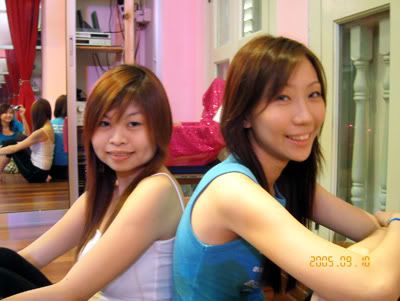 And coincidentally, me and pep wore the same colour! And you want to know what is flyaway hair? Here goes...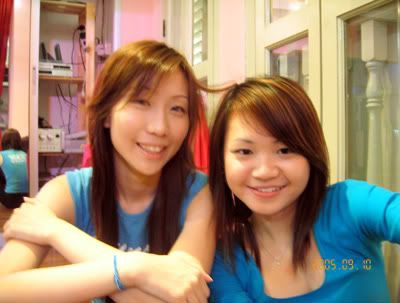 Conclusion: My hair loves ppm more than myself.. -_- boo hoohoo
I look like a
obasan
obake beside her. Obake = ghost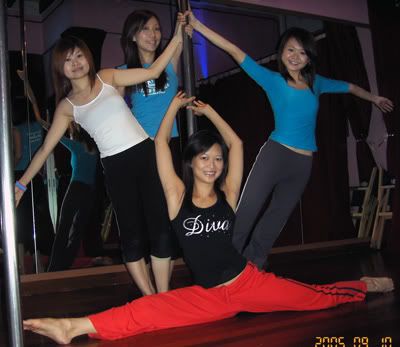 Machiam circus.. -_0 haha. Maybe the Quidam should invite us for performances..
Met up with Gerald for short shopping after that. This is the first time I came out empty handed from FEP. I told him that I would only buy thick clothings, so no more Qing Liang (清凉) kind of clothes. I need to get some cos Perth seems a little cold now. He managed to get his very jap style berms and it's all THANKS to me! haha okie not exactly though.. I didnt pay for it.
He gave me something on Saturday too.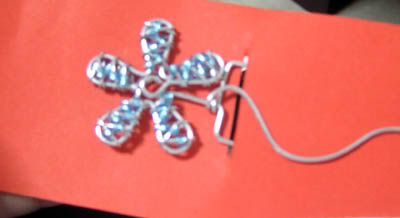 The first look at it, I thought that was some hair accessory
(oki, I'm vain)
. But it wasnt..It was a bookmark to "encourage" me to read more books.
Behind was a message...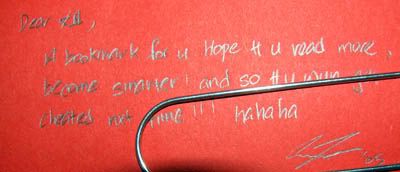 Dear Jie, A bookmark for you. Hope u read more, become smarter! and so that u wun get cheated next time!!! hahah
-_-
Suaning at the 999th level. Go 1 big round shoot me say I not smart hor..
But really appreciated it... Isnt he a sweet boi? =D
Bought a CD from THAT CD SHOP. Some of the songs are pretty good. I like "fly me to the moon" and "The Shadow of your smile". It chills out your soul.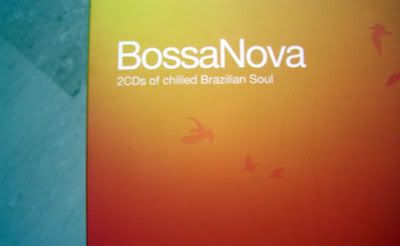 Kiyo 到此一游 @ 9:11 PM