Thursday, July 14, 2005
*~*~*~*~*~*~*~*~*~*~*~*~*~*~
I didnt blog yesterday...
cos i was reading all the forums on the NKF saga in
-FP-(29 pages)
,
-CS- (81 pages!?!)
and shoutz forum too. Some entries were very farnie. especially those from flowerpod forum. People posted pictures of "golden peanuts" and photoshop-ed poster of a tied up Durai. The people were really furious about his tap.
And well done, I donated $15 bucks last weekend towards his tap, bonuses, plus 1st class airfare & not to forget, a few cents to the patients too. I heard alot of rumours about NKF but whenever I watched the show, I just get so moved that eventually, I will donate. Even my CEO dont fly 1st class okie.. Private companies are trying to cut cost, i think non-profit organizations should too.
~~~~~~~~~~~~~~~~~~~~~
Somebody blackmailed me yesterday on the phone. He threatened to post my mask pic on clubsnap. I knew it! I knew he would print screen if I show him my webcam while I was masking. But I only showed him for 3s! yeah yeah.. you dont even need 1 second to press that print screen button.
I thought maybe to prevent his blackmailing, I will post that hideous, scary, disgusting picture of me with my mask
(and a very good one, mind you, It's Aesop primrose cleansing clay mask from Australia).
But.. too bad, i couldnt find the file now cos I deleted it last night and emptied my recycle bin.. wahahha...
~~~~~~~~~~~~~~~~~~~~~
So what's happening in my life lately...
My taiwan trip is CANCELLED. I'm not really sad about it cos i have other things to worry about.
Darren has just gone back to australia again to finish whatever he has to finish. He's very upset and that makes me really disappointed and sad too. I hope he gets better. It was quite last minute so I felt a little lost.. I think I seriously need
ALOT
of retail therapy. Lately, I have even lost the strength to do anything and that includes shopping.
I'm throwing away that big eye Korean contact lens. It really looks fake plus it's from unknown sources, I really dont want to risk going blind, which some podders complained of discomfort while wearing them. I didnt experienced it la.. but to be on the safe side, I decided to throw them away. I shouldnt have bought them in the first place. Thinking of getting Freshkon or Acuvue big eye lens from
nanyang optical
. Those are approved so they should be safer I guess.
Bought this today. Metal mascara comb!
It really combs lashes better.. I saw on 女人我最大 show & they mentioned that metal combs are easier to comb and separate the lashes better. But pls dont use it when someone is standing behind you hor.. wait poke until blind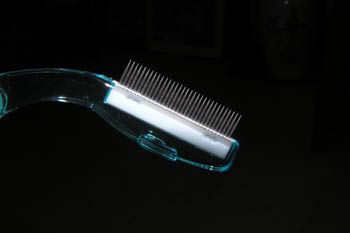 Hairdo after watching 女人我最大 again! (actually nothing special just an additional stewpid butterfly on my head) I'm thinking of trying different hairstyles once I have the time. It's rather messy i know, i just came out from the shower with this hairdo. HIAO! at home oso need to tie until so pretty haha...the butterfly is still on my head now.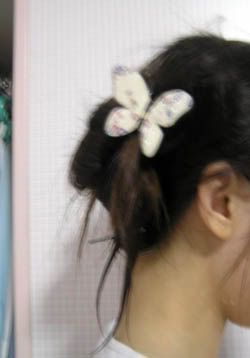 Did i tell everyone i broke a mirror some time back? I broke a mirror AGAIN ! NO.. I'm NOT trying to commit suicide.JIA LAT! 14 years of bad luck! or the 2nd broken mirror will just minus off the effect? hmmm... you think i will believe in all these? anyway.. i didnt throw this mirror at anybody k.. it was just too near the edge of the table.. sigh... sweeping it now..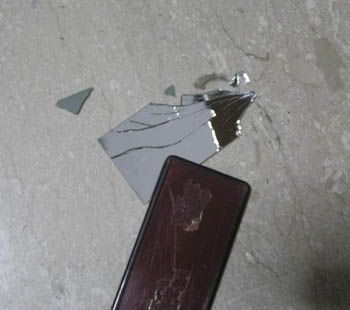 Kiyo 到此一游 @ 10:49 PM