Wednesday, March 25, 2009
*~*~*~*~*
in case u are wondering where i am... i'm actually hospitalised.....
for 9 days aredi =(
Had some contractions on 17th and i just dont feel right so brought forward my gynae visit. Upon checking, she immediately asked me to be admitted as my cervix length is too short and it's pretty dangerous. the bb is too small to be born now so she has to try to delay the delivery and stop the contractions. he is only due in mid june so it's still very very early now.
really freaked me out. BIG TIME. They didnt even let me walk out of the clinic but put me on a wheelchair.
so i was wheeled into the labour ward, put on a drip to stop contractions. luckily it stop but doctor advised me to stay in hosptal for bed rest.
so here i am, typing on the bed sideways, cannot walk, cannot go toilet, just lie there...
i just wish my boy to be well and ready before he face this lovely world.
dont know why this happened to me but after a check on internet, there could be alot of underlying causes. it can be due to that i am underweight prior to pregnancy, can be due to stress, and it can be just becos i have a weak cervix. My company have had 3 cases of this, all with similar problem in a span of 2 years.
the nurses at tmc have been pretty nice, there are few nasty ones who are not very compassionate but there are those who love their job and have so much enthusiasm that they will always give u a bright smile and a cheery hello whenever they come by the bed. sad to say, usually the chirpy ones are foreigners. Mdm Loke, Mdm Chong all took great care of me, made me very touched by their little gestures, especially Roshaidah who really think for patients, dedicating their lives to take care of us.
Thanks all!! made my stay here a little better. Forget abt that nasty nurse... arggh..
i think those are the people that really brighten up my life when u are confined to the bed and dont see daylight at all.
My gynae, Dr Yvonne Chan and her team of nurses were really professional and i can feel that she cares alot for her patients. Always asking the ward nurse to help me and ensure the best for me. and not to forget my dardar too who really took great care of me... visiting me and helping to clean me up everyday.
when i told him that there was a very nice filipino nurse, kristine that made sure that i am comfortable, and took initiative to help me with alot of things, dar told me..."the best nurse is from malaysia". And indeed he is the best!
he still has to work so he always rush here after work to accompany me till before bedtiime.
i still can rem our vows...
" Will you love her, comfort her, honour and keep her in sickness and in health and forsaking all others, be faithful to her, so long as you both shall live? "
yes he did, and i know he will.
mum and mother in law has been visiting me, feeding me with loads of food to beef up my bb. and after 9 days of rest, my boy now weighs slightly over 1kg which is pretty average.
okay doctor just came and said that she will let me try walking next monday...
4 more days to go.
hopefully by end of next week, i can go home and rest.
Kiyo 到此一游 @ 9:22 AM

Monday, March 16, 2009
*~*~*~*~*
Photos!
Dolled up for Keira's birthday..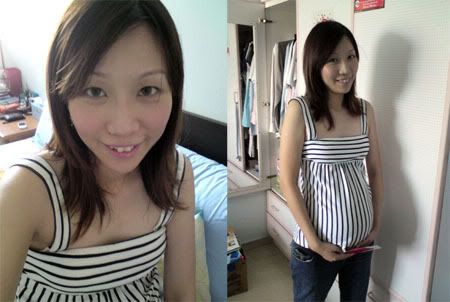 Dat's the size of my tum tum now! belly button pooping out aredi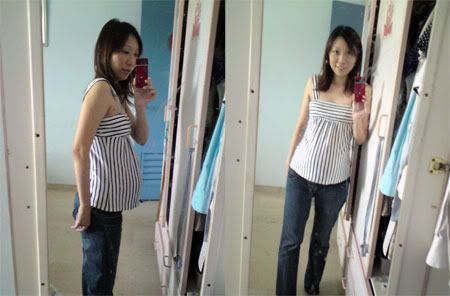 people were surprised that i can still wear jeans.. but nope, they are MATERNITY JEANS from old navy! love them to bits. Cheap and good!
Let's see...
Here's our Lbox and false ceiling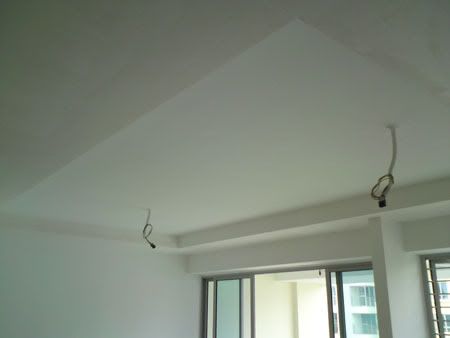 we bought these stools over the weekend.. the white one! they dont have black.. too bad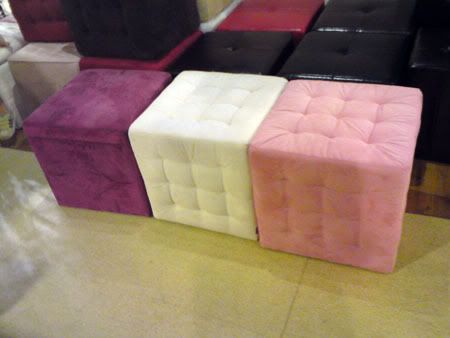 Finally found my long lost pillow case which i bought in BKK over a year ago =__=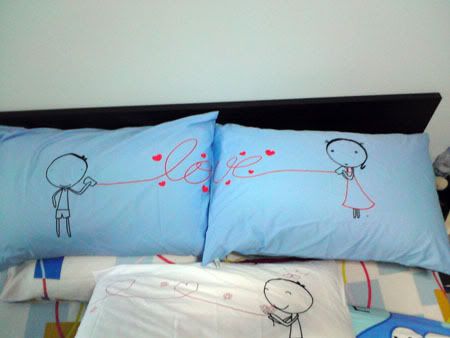 Darren loves this dining table..but i think it's abit small. It's pretty space saving though since all the chairs follow the contour of the table.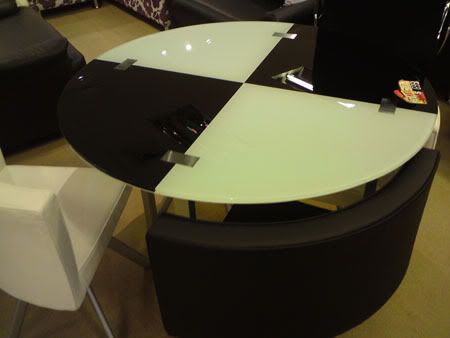 Labels: Home Sweet Home, Random Rants
Kiyo 到此一游 @ 6:43 PM

Sunday, March 15, 2009
*~*~*~*~*
Busy busy weekend!
So what did we do.. we went to Keira's 1st bday party =) hee hee
she is really adorable in her little frilly dress.
Went over to check out the status of the renovation and our false ceiling and light box are up. Although there are still some mistakes that the electrician have not rectified, i guess in time, it will be.. anyway i'm taking things easier now.. no need to rush anymore lah..I doubt we will be in time to move in end March and it's not a good time to move in between end March and mid April so we should be moving in end April instead.
Accomplished loads of things this weekend.
We...
checked out store room racks
checked out dining and balcony lights (sort of decided which ones to get)
bought our bathroom accessories like towel racks etc
bought our fridge at the IT show
bought stools at barang barang...
and I just started a spreadsheet for our purchases to keep track of their delivery date and the cost of each item. To date, we have spent about 10k on furnishings, curtains and lights.
A new house really costs alot of money although we have been trying very hard to keep everything simple. Some of the things i try to order online to keep the cost down.
Luckily for us, mummy is sponsoring our TV, mother-in-law is sponsoring our fridge and our aunt is giving us a washing machine.
So touched.. =)
Photos tmr! too tired now.
Kiyo 到此一游 @ 9:56 PM

Monday, March 09, 2009
*~*~*~*~*
Our Renovation finally started!
Wiring of Lights are almost done except for a few changes here and there.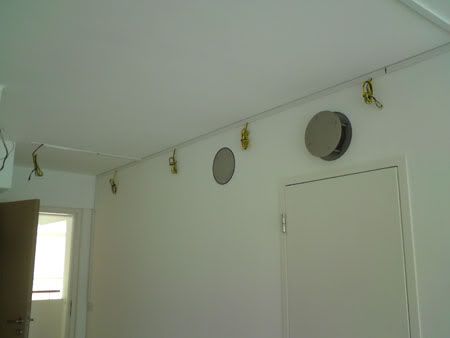 Next will be false ceiling and our L box.
We finalized the colours of our rooms too. It was quite a headache as I couldnt make up my mind but I was satisfied with the colours i chose. Overall, i prefer a darker and earthy tone of living room to make it cosy and maybe more vibrant colours for my Master bedroom.
These are the colours we chose.
MBR
Wawa's room
I have decided not to have blue ceiling but white ceiling for wawa's room. And it will be painted in a pale yellow so that it looks like meadow. hee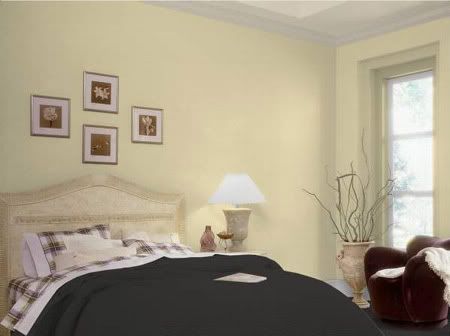 Guest Room or Study Room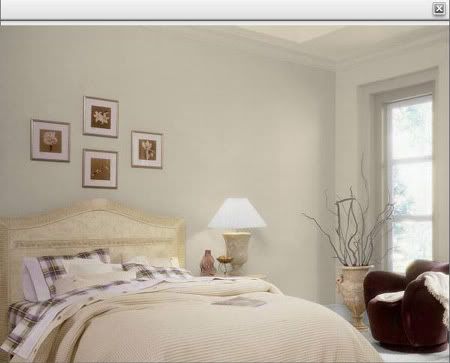 Dining Area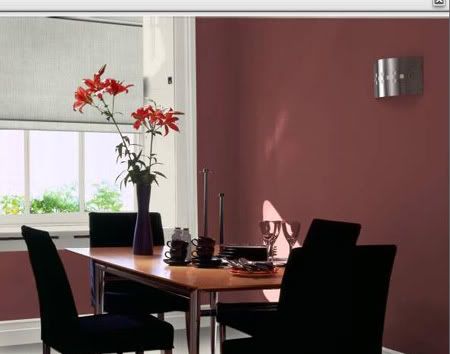 There's no colour simulation of our living room as the colour is pretty new.
Feels so good to have a place to call my own. Can do whatever I like to the walls and nobody cares whahahah
So looking forward *grins*
Kiyo 到此一游 @ 8:56 PM

Wednesday, March 04, 2009
*~*~*~*~*
Seriously in need of more moo-lahs
we just bought our lights yesterday night.
All decided in less than 45 mins and mostly by me. =___= cos Darren was
jar-garing
the car.
But I must say we had a pretty good deal, maybe will go back on Saturday to take pictures of what we bought. Very simple lights for those places that we are not particular..still in search of a nice dining light and balcony light.
We bought 13 downlights (OSRAM)
1 MBR with floral motif
1 horoscope light for BB room
1 rectangular light for Bedroom 2
2 hamburger lights for yard and bomb sheltar
1 square light (super normal) for kitchen
2 toilet lights
for $748.
Still need more money to spend on some toys for baby.
I need to dio TOTO. =(
Kiyo 到此一游 @ 8:03 AM

Sunday, March 01, 2009
*~*~*~*~*
I love my Old Navy Jeans!
The maternity Jeans came and i was lucky to get a perfect fit! The cutting is great and better than my usual ones.. and it's only 40 odd sgd after adding the shipping.
So I would recommend whoever is preggie to order from Old Navy!
Went to visit Dr Chan yesterday and baby is in good weight.
He's now 619 grams and was kicking and jumping furiously inside me during the visit Dr Chan say he is really one busy one.. hur hur hur.
My weight hasnt increased yet though =( Only about 3kg since the start of my pregnancy. With the baby inside me, i'm still considered underweight! Need to catch up soon and drink more milk.
Our renovation will start next week! yippees! But having a headache deciding the colours of the house. We only decided on what we are going to do for baby's room.
Blue Ceiling with Cloud Stickers and yellow colour for the baby room's wall.
still need to decide on our living room and bedroom.
Headache!
Kiyo 到此一游 @ 7:29 AM