Monday, May 30, 2005
*~*~*~*~*~*~*~*~*~*~*~*~*~*~
How??
Havnt been to Taiwan I have the urge to shop there aledi. Look at these clothes I found in FP's thread about Joyce Shop. So nice and jappy looking. I am lemming for that skirt and it cost only like 15 bucks?!?! Excluding shipping etc.
And I feel like getting black, white, green and yellow halters.. hahaha. (think only la, may not get after all)
Guess I will order from her other stuff too when the date of my Taiwan trip approaches. Then.. will ask her to mail the stuff to rainbow hotel or see whether she will entertain any meetups hee hee..
Gerald sent me a link just now..
-NYJC Petition-
.

(okie he was from the same JC as me COINCIDENTALLY, but my junior.. hmm.. not very junior la.. just

1-2 years

only wahhahhah)
The senior management jia ba eng eng bo si zoh , they thinking of changing the name of
NANYANG JC
to
CHUNG CHENG JC
. (this is kinda late news though...)
!?!?
Not as if I love the name Nanyang so much... but Chung Cheng is !?!?! We have Chung Cheng High, Chung Cheng Branch, do we still need another Chung Cheng JC? Or maybe next time,
chung cheng poly
,
chung cheng
Uni
,
chung cheng supermarket
,
chung cheng chee cheong fun..

Doesn't mean that they are affiliated, they have to change the name right?
I still can recall...........
that when I first entered NY, our seniors always tell us when they see fog/mist in the early morning while walking to school.
(according to Gerald, serangoon is like a valley so NYJC seems like it's on elevated ground

*he lives in serangoon, so trust him, but his geography I think not very good too.. hmm..*

I don't know why morning gets quite misty & foggy MOST of the time..)Cant remember which Senior said :
"yeah .. SEE ?
雾锁南洋!"
-_-''
: *don't know what to say*
So now....
How can
雾锁南洋
change to
雾锁中正
???
Something is wrong right...
So I decided to contribute my part as an NYJCian to maintain the 雾锁南洋称号
and emailed the person in charge to ask him to tell the senior management to wake up their ideas..
And quoting from a fellow NYJCian too..
SGFAIRY
which I found when I did a search...
-"So why the F*** do you wanna change the name???"-
So.. all nyjcians out there.. email the PIC in that link above.. :D
Kiyo 到此一游 @ 10:35 PM

Sunday, May 29, 2005
*~*~*~*~*~*~*~*~*~*~*~*~*~*~
And I was telling G happily yesterday..
that zen and my sister will be joining me today at combat class.. and both of them didnt turn up!
Zen wasnt feeling very well today.
It's really okie Zen, join me next week and take care! Sis didnt go cos she couldnt find her gym top.. sigh...anyway, was quite crowded today too, maybe they knew that she's leaving soon so came down to attend her last few classes.
Gerald threw me another bombshell.. we were supposed to book our flight to taipei by this sunday but alex wasnt able to confirm as he might not be able to get his leave approved..And if alex couldnt go, he will have to find another person to share the room with him. I suggested to ask his close female buddy to share the room. BUT... he has this serious problem always thinking that the
WHOLE WORLD
is dying to rape him. He doesnt even want to sleep on the same bed with Alex. hahah
~~~~~~~~~~~~~~~~~~~~~~~~~~~~~~~~~~~~~
Went out with xin yesterday to meet the banquet manager and discussed some of the details for her wedding. Preparing for weddings are so much work! and she is doing most of the stuff herself..so yesterday was sort of a "complain session" of how SOME guys
(must emphasize SOME otherwise wait tio flame)
dont seem to have much of an opinion about weddings.. I cannot imagine what will mine be like. Most likely i will handle most of the things myself too, which is good cos i can have EVERYTHING in the way i wanted, but on the other hand.. might as well i take my pictures myself, say 'I do' to myself, walk down the aisle myself hor. Involvement from both parties are very important, even if there are disagreements or quarrels, couples can learn how to make up after that..
I wore my turquoise skirt and bun up my hair yesterday!
This was my first try and i must say it is really difficult to DIY. It's still alright for casual shopping days but i would rather leave it to the experts if there are any important functions..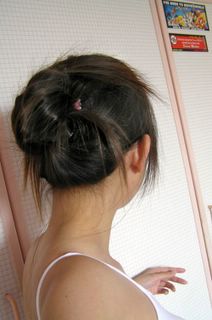 We took lunch at Ah Teng's Bakery..
(nope it's not MY bakery and the lunch was on her!)
haha.. She had a small tiff with her hubby the day before and to take "revenge".. she used her supplementary card to give me a treat!
i TAN DIO... SUPPLEMENTARY cards are really a good idea man.. must thank the people who invented it, maybe i will do that in the future too..
Photos!
We went to Art friend at bras basah to get some props for the tekan session. I wont say what it actually involves but i think the final product should be quite cute.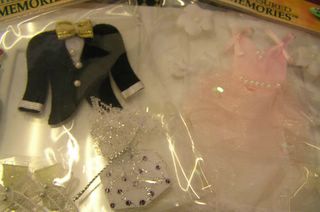 We ate deserts at Liang Seah Street. :thumbsup: man.. HK style deserts, try their honeydew sago, it's
HEAVENLY
.
Took pictures at the florist as she was still with her clients and we have nothing to do..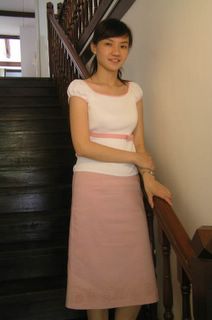 Kiyo 到此一游 @ 3:06 PM

Friday, May 27, 2005
*~*~*~*~*~*~*~*~*~*~*~*~*~*~
Okaasan

She's my okaasan.. my homestay "mum" and she is coming over to Singapore to attend my friend's wedding. Xin and me both stayed at her place during our 1 month stint for the internship program in Japan.

And hor.. her sons ARE CUTE, they look better in real person i tell you.

And photos speak louder than words..

The Elder Brother
(he looks cuter in person, with nice eyes and long lashes) and "very friendly" can you see how hard he hugged us.



The Younger Brother
(this picture is totally wrong we shouldnt have stood on top of that staircase..) Basically i looked fat.



TOO BAD both her sons ARE NOT coming..

Those were good memories. I can still recall how we stayed up till late night discussing who is cuter or who we like better in our room. (okie.. both of us had a hard time deciding who, BUT the elder brother is more humourous.. hee) What are we doing there by the way!?! Arnt we supposed to learn their language and culture!? Anyway, the thought of having breakfast with their whole family (plus her 2 sons) just gave us more motivation to wake up and go for our classes and learn MORE about their culture & language.. haha.

I stayed in okaasan's new house in Odaiba when i went over for a business trip and she brought me to this famous onsen where we saw each other naked. totally lo! wah liew.. damn paiseh..and the towel they provided was like so SMALL... dont know cover where or cover what. Just nice for me la hor.. nothing much to cover anyway.

Time really flies.. it seems like yesterday and now xin is going to have her wedding soon!

So, she's coming to Singapore alone to attend xin's wedding. She hasnt been to singapore yet so this time we will show her some places. I guessed it will be our 3rd time to Night Safari and 3rd time taking that boat that cost $12 from Boat Quay. I'm contemplating to ask Darren to change his return flight from Perth to a later date cos i will be so darn busy that few days i dont think i have the time to meet him at all.
(okaasan is arriving one day before darren's arrival, than the following day after his arrival is xin's wedding)


i hope he wont be hopping mad. i guess he wont.. he will say


"We still have the rest of our life together.. what's another day apart?"


Awww...



(IN MY DREAMS...)
Kiyo 到此一游 @ 10:31 PM

Thursday, May 26, 2005
*~*~*~*~*~*~*~*~*~*~*~*~*~*~
Darren said I'm HIAO


in the picture taken by my webcam below. (Refer to Monday's post)


Eh... HELLO...!?!

4 years together and you don't know about the HIAO part of me?!?!

Tsk tsk tsk.. what have you been doing man...

But anyway, Gerald once said although we are together for 4 years.. it's cheating, cos he's not around for almost 2 years. Which is a good thing too. Cos if he is around, we will be quarreling for 1 ½ years out of the 2 years and may not last until now. haha

Anyway, I am not hiao la.. the pictures ARE deceiving.. those who know me will know my character so I need not explain.

No, no.. ENOUGH of hiao pics



How about ghostly ones?




~~~~~~~~~~~~~~~~~~~~~~~~~~~~~~~~~~

Came across a blog yesterday at FP, a podder posted a blog about pink shoe fetish and ask for podders opinions.
(strangely i couldnt find the thread again today...)

I roughly browse through her blog, but 3 things were clear

she is JUDE
(although one of my frens commented that she looks like a filipino maid... ) Hello!?! she is REALLY chio.. even girls drool for her..
SMART
(she is from RJ i heard, and to me.. RJ people are not human.. how can humans be so clever?!? I could never be in the same league as them) and she's

FILTHY RICH
(although she claims she isnt..her family owns 7 cars and she drives a jaguar, she dreaded going shopping with her mum in Shanghai and HK)

Some of the podders actually commented that she is hao lian or very show off which i dont really think so. It's her blog after all and she didnt asked it to be published in FP. But i'm glad somebody posted it cos i wouldnt have known it!

There are many different sides to a person. Happiness, Anger and Sadness. Maybe she just choose to blog about happier stuff and how fortunate of her to have so much money to buy branded goods. She might have relationship & friendship problems just like any normal girl may have. It's just that she doesnt need to worry about where the money for her next balenciaga bag comes from. (and i seriously never heard of "ba-len what ga" ok..I AM THIS SUA GU, the only brand i heard of that starts with B-A is BALENO)

Back to her blog, I envy her lifestyle & i'm happy for her. (bullshit)
But I'm not a wee bit jealous of her even though she has a prettier FACE, better BRAINS or more CASH in her wallet than in my bank account.

Reasons as stated

I have a bf who never fails to crack me up with all his lame jokes.
I have a dad who fetches me to and fro from work so that i save on my transport
I have a mum that does all the housework so that i do not have to do any
I have an Alphababe diva sista whose photos always make it to nightlife.sg
I have a personal stylist didi who gives me frank opinions on what looks AUNTIE & what's NOT

I AM CONTENTED
...
...
...
...
...
...
...
...
Although seriously i would like to have some of her shoes

For me, i blog mostly about happy stuff too. It's not that i dont have problems in my life, i do but it just not me to harp on it. So i would rather go shopping and take pictures of my loot when I'm moody. People will actually know when my mood isnt good when I shop alot alone....

And if you see pictures of more and more stuff that i bought for 3 consecutive days, then it's time for YOU to call ME to check whether i Tio 4D or whether i'm on the verge of breakdown/going berserk

okie my loot!
(i didnt tio 4D and i'm not on the verge of breakdown)
these are still affordable stuff.

i kinda regretted buying this turquoise crumpled zara skirt.. I'm comtemplating to get the Bebe one.. (that one will set me back 200 bucks poorer and while thinking about it, i hope it goes OUT OF STOCK the next time i go to orchard so that i wont need to buy it. )



bugis village is a nice shopping place. i got this yesterday at 5 bucks. i'm cheapo.
Dont tell me you got it at 2.50. I will KILL YOU. nono.. i will KILL that shop owner.



from bugis village too. The shop in front sells the same thing at 15 dollars
the shop behind sells this at 9 bucks.Can be used as belt or necklace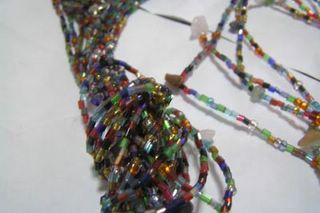 And i KIV-ed one top, one sequin bag, a scarf and sunglasses all under 30 bucks.. hoho.
Kiyo 到此一游 @ 10:49 PM

Tuesday, May 24, 2005
*~*~*~*~*~*~*~*~*~*~*~*~*~*~
Scrapbook
Read an article in digital life about scrapbook and i remembered about my own scrapbook.
It is now lying in one corner just beside my computer with a pile of dust in it.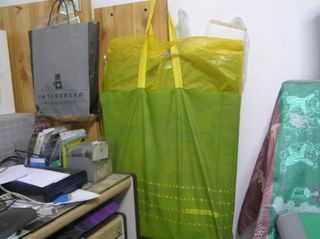 Think Lee will be laughing at me if he sees this cos i have been harping on doing my own scrapbook since last year and they went together with me to the art and craft shop where i spent almost 80 bucks on papers, mats, stickers, glue etc. And it is still untouched even though most of the things are there. Eh... it is NOT TOTALLY UNTOUCHED lar... i have pasted the double sided tapes behind my photos and cut some of the borders and papers okie...
All my 家伙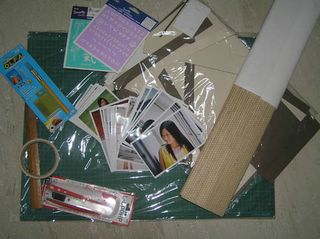 This is supposed to cover the binding part



I need to finish this! Or maybe i should just get a ready-made album and stick the photos inside.. Arrggghh!

Was revamping my blog, uploading pictures yesterday afternoon till almost midnight and trying to figure out how to type in chinese. I wanted to type in chinese long ago, but i just couldnt solve that problem so i left it as it was. Luckily, I told bengtuan about it yesterday. He wrote me a meta tag and asked me to insert it in my html. And tada~ it's done! i should have asked him long ago. Bengtuan, thanks!

Was talking about the wedding stuff, renovation...
(was thinking how i should renovate my flat if i get one, another guy friend is planning his renovations too. seems like we have common ideas . The 3 of us wants parquet platforms near the window! i want carpeted bedrooms and a nice classy sofa by the window with long curtains.. wah.. or maybe install some studio lights than i can take pictures everyday liao haha)
and taiwan trip with xin just now as his hubby always goes to taipei for business trips. He is going to write me a list of must visit places and maybe how to get there as well. Great!

Just want to share a meaningful chinese poetry i heard on tv today... For those who are tormented by love and relationships...

世界上最遙遠的距離 不是生與死
而是 我就站在你面前 你卻不知道我愛你
世界上最遙遠的距離 不是我就站在你面前 你卻不知道我愛你
而是 明明知道彼此相愛 卻不能在一起
世界上最遙遠的距離 不是明明知道彼此相愛 卻不能在一起
而是 明明無法抵擋這股想念 卻還得故意裝作絲毫沒有把你放在心裡
世界上最遙遠的距離 不是明明無法抵擋這股想念 卻還得故意裝作絲毫沒有把你放在心裡
而是 用自己冷漠的心對愛你的人掘了一條無法跨越的溝渠
~取自泰戈爾~
Kiyo 到此一游 @ 9:17 PM

Monday, May 23, 2005
*~*~*~*~*~*~*~*~*~*~*~*~*~*~
Taiwan trip


Started for my preparations of my Taiwan trip. Surfed loads of Taiwan websites and forums on accommodations.. When you are going on a trip with 4 guys (or boys to be exact, including my bf) I will have to plan man.. or maybe I should just sit back and relax and follow them.. And I bet they will just bring me to people watch only.

I decided that we should stay in Rainbow Hotel.
That came to my conclusion after reading a lot of recommendations from forums and also thanks to kissesfrombeigirl from FP, she provided me some info and we chatted a little just now. She's going over in August.. :) This hotel although only 3 star, but i heard it is in the heart of Hsi Men Ding, good shopping and also good for people watching..And I believe it is within minutes to California fitness hsi men outlet! 7 floors! Must visit man...for their combat class if I still have strength after all the shopping. Wondering whether it will be conducted in Chinese.. must be interesting.

So I called rainbow hotel as i couldnt access their homepage.... suddenly my Mandarin became all 字正腔圆and I was trying to speak in full sentences of mandarin without any English words.

After confirming that it is Rainbow hotel...
ME : So... 多少钱 per night
(sounds like asking him how much he cost per night)
-_-''
Guy
: Huh!?!
ME
: 那住宿一晚的花费是多少呢?
(wah... chim sia)
Guy
:NT1980
ME
:请你帮我查一下七月**日有无预约
Than i realized my english is very bad.. my mandarin also CMI. Have to think for a while in order to string full sentences without adding any english words in between..
Really looking forward to this trip..Think I have to stop spending. Tell me in my face every time you see me!
Promised my sister I will change her photo at the side.. she said that it looks FUGLY.. hahha I hope it's much better now although it looks a little pixelated cos it's taken by her hp.
I changed my blogskin too! After much persuasion from Zen as I kept complaining that there is something wrong with my blog layout so now i changed to this sunset theme. I kinda like the colours now..
Was so bored yesterday that i tried tying the scarf i got from AE and took a whole SERIES of pictures with my web cam haha.. I realized One can have many poses in front of the webcam too. no no~ those pictures are for my eyes or maybe darren's eys only.. it's too funny, i dont want you all to die laughing.
I need another scarf in another colour.. pink just looks too sweet.YUucks!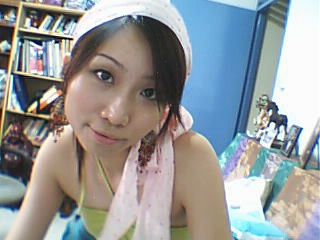 Kiyo 到此一游 @ 10:34 PM

Saturday, May 21, 2005
*~*~*~*~*~*~*~*~*~*~*~*~*~*~
Fruitful Saturday
I wore my visor today for a while.. although the sun wasn't that strong and it started to rain in the afternoon.
-_-''
Think I should just save that visor for another day.. Gerald commented that I looked like Donald Duck and refused to walk beside me.
HNG!
Went shopping today.. Saw a lot of stuff.
The picture isn't that clear though. My 3rd top from Mango. Suddenly Mango don't consists of tight and low cut clothings anymore, a lot of boho chic clothings and casuals.
(Or maybe I was always going to ozoc that i just didn't look hard enough)
I bought this top after browsing Simply Her in kino that day.. Don't know why, the model just looks so good in it and I love green, remember? I thought that I could carry the casual & lazy look.. but it looks loose on the model and a little tight on me!?!? Anyway, after some suggestions from my stylist G, he thinks that wearing it off shoulder would be nicer so I bought a Large.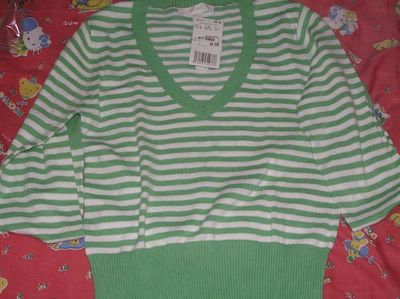 Went to kino to browse at some magazines.. need to get some taiwan magazines. Going to taiwan soon, need to know what's the trend and places to shop. They are having a 20% discount and there were long queues at every counter. And I saw FULONG today at Kino!
(sorry fulong, didnt talk much to you as i was frantically looking for a picture in a magazine.. hee hee)
Came across a shop in FEP and found really nice earrings. And they cost only
$12!! For 3 pairs!!
Gerald chose this...
and this..
the actual thing looks better..
They look even better than the earrings I saw at Forever 21. Looks good on their webbie but actual thing looks kinda cheapskate. Saw a boho skirt at FEP today too. Going to buy it for my friend's wedding. Maybe I will drop by tmr if I don't feel lazy or maybe on Monday if I'm going shopping with sis.. Very scared to go shopping with another shopping queen. We will just BUY, BUY and BUY MORE.
I didn't regret one bit to give up my undone shopping to go combat. My all time favourite track was included today! There's still about 7 combat lessons with meech before she leaves though.. Kelvin didn't make it to his 2nd combat class haha.. I knew he will be late. I was wondering whether he really did the treadmills and weights as what he claimed. He was done and comfortably sitting at starbucks waiting for me to finish my classes..hm... hahah
He gave me LOADS of ideas of tekaning the groom. His suggestions were very funny and it is really too bad for SS
(the groom)
that I got so many ideas on hand now. We will have a good time laughing at him.
I have been repeating that song by Andy Hui and Evonne Hsu for the umpteenth time. Trying to learn the female parts. Kill me to let myself go off-key on that day.
Kiyo 到此一游 @ 10:46 PM

Friday, May 20, 2005
*~*~*~*~*~*~*~*~*~*~*~*~*~*~
You got mail
Was still feeling so tired (due to pms) in office and having some problems with my work..At about 5.30 pm, an email appeared in my inbox. It was from Darren.
Was rather surprised and very touched. I admit that i am somebody who is easily satisfied.. He used to email me and we used to chat for lengthy hours everyday in the past.. but gradually he grew very very busy this semester, with his studies & friends. I wasnt used to it at first and i was quite upset about it. I didnt tell him about this and i soon got used to it and understand that he is really busy and not that he has forgotten about me. Sometimes I even wonder whether it's because our love has faded or maybe I am just too far away from him to care whether he calls or not.
Although today's email from him was just a simple and short one, it brought warmth to my heart as i was still struggling with reports that i need to finish before the long weekend.
" me just came back from library... study till sian.. cause dun understand...and super tired..
You busy today??"
(he hasnt emailed me for 2 months...and yes,i'm having a headache over the figures that wont tally)
I cried.. stewpid me.. Than I realize I do care. Cos i knew i wasnt forgotten and i knew I miss him so much.
A simple email, a 2 mins call or even a sms means a lot to girls
(at least to me)
, it can make them feel a little different knowing that there is somebody out there that really cares for their existence.
So......
In order to stop myself from being moody & take my mind off him for the time being..
I
SHALL
GO
SHOPPING
TMR!

Kiyo 到此一游 @ 8:58 PM

Thursday, May 19, 2005
*~*~*~*~*~*~*~*~*~*~*~*~*~*~
Long weekend coming soon.. Shopping time again
Watched the taiwan news yesterday.. there seemed to be cases of people poisoning when they drank red bull bought from convenience stores.
I was quite shocked.
Think some psychotic guy purposely injected poison in bottles of red bull and labelled them as poison & placed in different convenience stores. About 10 people were hospitalized now. Mum was quite worried as I told her i will be going to taiwan in July, but I dont think i will put off my plans..
Gerald said that his friend is a medic.. haha. Even if cannot cure, his friend strong enough to carry me to hospital. THANKS for your offer man...CHOY!
For the first time darren listens to me.. I reminded him to change his return flight next month and he did! And i only reminded him ONCE! Amazing! It's time to buy 4D again!
(OT= i only strike once in my entire life, seldom buy 4D anyway, BUT that one we (d&me) bought the date when we were so suey, and it came out 3rd prize on that faithful day itself hohoho..)
Normally, it will take countless reminders to get him to pick up his phone & call the agency. And he tried to smoke me by telling me that he forgot to call the agency when i reminded him via sms that day
(each international sms cost me 50 cents hor dear..)
, he didnt know how to act la.. lying skills damn bad.. kinda knew he was lying.. he was trying to test how i will react. Of course, i raised my voice slightly but soon toned down and reminded him again to call tmr..It was milder than what he expected. I think he missed my screaming. He will be back on June 25th as he made a mistake about his last paper!
Went to the embassy today to settle some stuff for my boss.. While i was waiting at the lift lobby.. I heard 2 female ang mos joking with each other.
(this joke was not intended to make fun of any nationality.. )
I didnt invent it, i

HEARD

it.
Jude red head
: "Let me ask you, if people from poland are called POLES, what are people from Holland called"
Her friend
: ........
Jude red head
: " HOLES!"
Than she started laughing... Suddenly the sky turned dark and a crow flew past my head...

Got an email yesterday from my favourite Japanese restaurant Waraku. They are opening their 3rd new outlet at Marina Square. And on 25th May, they are allowing customers with the VIP card to dine there.. Need to search for my VIP card..
cos no vip card = no entry.
Going to drag somebody there with me.. See if my mum is free, she loves japanese food too. But most probably she wont want to go.. cos she needs to cook dinner for dad. And dad has this misconception of japanese food being COLD and RAW which is totally NOT TRUE even when i explained to him countless times. He is missing alot of things man..
Kiyo 到此一游 @ 9:53 PM

Wednesday, May 18, 2005
*~*~*~*~*~*~*~*~*~*~*~*~*~*~
I lost my Canmake Concealer
Havnt seen my canmake stick ever since i came back from sentosa last saturday. Arggh... just wonder where did it go.. Recently, i seem to misplace quite a number of things. Thought i lost my loop earrings.. and then they miraculously reappeared again.. ONE dropped out of my wardrobe while i was pulling some clothes out, the other ONE was on my piano.
I am definitely not drunk when I removed them.
Anyway, i couldnt be bothered to find it, bought another one.. couldnt find canmake so bought this
Japanese
brand Canmake lookalike
La pensee. Stewpid name. Think

La kopi

sounds much better
Going to meet up with Xin and the Banquet manager next Saturday.. confirm the event flow, have a mini rehearsal, practise the march in & accompany her to the florist.
She just emailed me to say that her SO cant make it on the 28th..
I told her I can march in with her if she wants hahahha.
Bought the Shu Uemura illuminator yesterday. Tangs was having sale for their citibank card members. Crazy over illuminators now. I got the revlon skin lights which i use as a base on my cheeks and undereye area before foundation. Bought this after watching that taiwan talk show hosted by lan xin mei again.. Argghh.. I definitely will buy something whenever i watched that show. Yeah, i heard raves about the YSL highlighter too.. But that is really expensive and not really what I wanted. Looking for something shimmery..
Things in my makeup bag that I can't live without.
From Top left : KP loose powder, dandelion, Shu's liquid eyeliner and Maybeline's mascara.
List is inconclusive
I got the task of teaching zen about makeup and go shopping with her from Stylist G.. so
Zen
, sundays are reserved for gym and shopping !! :D IF you still have strength after that!
~~~~~~~~~~~~~~~~~~~~~~~~~~~~~~~~~
I realized I have alot of things to buy...
1. I WANT a pair of sneakers
(My personal stylist G is helping me source for it.. & you better find me a nice pair hng!)
2. I WANT another pair of Miss Sixty jeans
3. I WANT nice shades like Gerald's
(refer to the day before yesterday's post)
4. I WANT a good mascara base
5. I WANT earrings from Forever 21.
(saw it at their site, hope it's available in singapore)

I NEED more money.
~~~~~~~~~~~~~~~~~~~~~~~~~~~~~~~~~
I promised photos. And here they are.
Ask me to post.. I know lar.. he wants to show off... wahahah.

me and Zen!!




Tried to smoke Gerald into agreeing to let me post the link of his own ORIGINAL 1,2,5 GIF here yesterday. Again he replied, NO.
Anyway, just msn me if you are interested to have a laugh..It's under my favourites from Day 1 since I knew him and I still look at it now & then whenever I feel grouchy or have PMS... hee
I got one pm today asking me whether I'm still schooling.. hahaha. I nearly spat into my monitor.
DONT KNOW WHAT TO REPLY.
-_-'''
Kiyo 到此一游 @ 9:26 PM

Monday, May 16, 2005
*~*~*~*~*~*~*~*~*~*~*~*~*~*~
Why do I have so much to blog?
The reason being...
1. I am darn eng
2. I am real darn eng
3. I am Full Of Crap
But you would have noticed that from periods like June - July or Nov - Dec, i hardly blogged at all. Coz darren was back for vacation and usually we will catch movies on weekday evenings.. You wont be interested in those lovey dovey stuff as well..
SENTOSA PART II!!
(Be forewarned, lame captions included)
(there will be a Part III of photos from Gerald's cam coming up tmr)
I seriously think that you guys either HATE ME.. or I just appear at the WRONG place at the WRONG time with the WRONG hairstyle somemore.
How can so many photos be WRONG in a day?!?
Group
gambling
pic 1.
Yeah that's my butt. Nice meeting you.
*waves*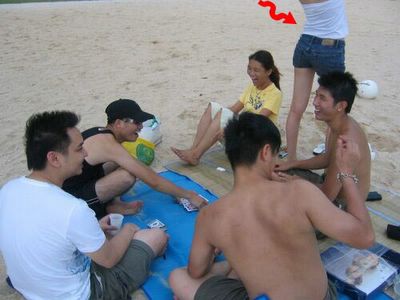 Group
gambling
pic 2.
I'm quite certain that peppermin dont really like me to be in the picture..
Headless! hahaha
:D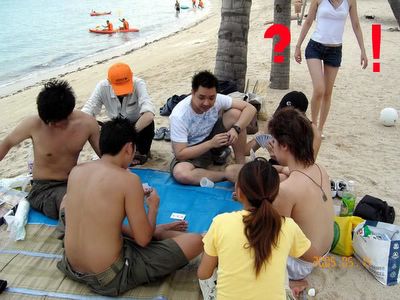 Group
gambling
pic 3.
(Please dont call me Kiyomi in the future. My name has officially changed to
SADAKO TENG

,it will appear in my IC from next week onwards)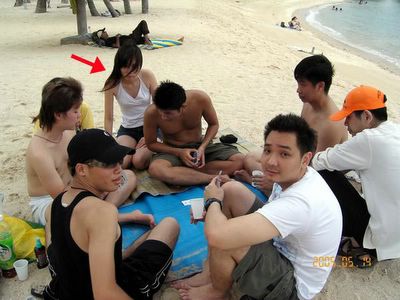 New link to
Kelvin Koh
, on the right. My photography idol besides my xdd, Gerald. Nothing to say for xdd, he's the best in my heart!
(photog cum stylist cum shopping buddy)

(eh.. i like your shades, you know what to do right?...hiak hiak hiak)
Coming back to kelvin, he is
ANOTHER
C
alifornia
F
itness
C
enter
"sleeping member" besides Zen, or according to him.. he is worse than that.
HE is into "
COMA
" aledi. wahahahha
He is another person that i will be dragging to attend combat classes too .. he never attended combat before, only spinning i think..He may meet my sis..
So... if you see
My DIVA Sis
, Kelvin
(sure can recognize the

DIVA

in person. If not, just take a look around who's taking pictures inside the gym. CONFIRM it's her)
Remember to say Hi !
Kiyo 到此一游 @ 7:59 PM

Sunday, May 15, 2005
*~*~*~*~*~*~*~*~*~*~*~*~*~*~
How do I feel today?
Went to gym early morning, as usual.. Meech came back today for classes after 2 weeks of business trip. She brought this combat hand wraps that looks really nice... and you know why? coz it's in
LIME GREEN!
and she jokingly claimed that it glows in the dark...
Saw another gal wearing this lime green gym top too, damn nice too. Think i want to source for one as well.
Before our cool down track, she told us that she is leaving singapore NEXT MONTH for good. I believe she wont get the chance to come back anymore. Maybe occasionally, not for long term i think. Suddenly, the class turned ultra super quiet..think everybody hates to see her go. She is really a very good combat instructor. The other instructors dont seem to push us with "non-stop tracks" or "dont touch your towels!" or "push ups for everybody for every latecomer" kinda stuff and i enjoyed her classes everytime. Will really miss her classes man...
Still have a month...will attend all her lessons on saturday and sunday, rain or shine. Wanted to bring zen to her first combat class next sunday cos i learnt that she's a "sleeping member" there.
(& why is she a sleeping member? cos she hasnt been there for 6 months!)
But next sunday they are
CLOSED
for maintenance.. so zen, we have to fix another time.
Wanted to post more of Sentosa's pictures but really dont feel like blogging much today. So.. please wait till tomorrow when my mood's better. But here's the new bag i bought yesterday... It's quite big with alot of compartments for my stuff for gym.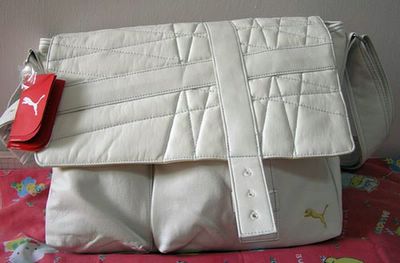 Kiyo 到此一游 @ 8:49 PM

Saturday, May 14, 2005
*~*~*~*~*~*~*~*~*~*~*~*~*~*~
I felt betrayed
It was really gloomy this morning. We actually planned to go to sentosa for picnic.. But the sky was dark and i got so many SMSes telling me..
"Kiki, i hear thunder"
(that's the nickname they gave me, yeah yeah. It sounds like a dog..)
"My side raining le"
"How? What's the backup plan?"
So.. our backup plan was KTV. I seriously believed that we are not fated to go to the beach. I'm not a 'beach person' anyway. So, i started to sms everybody to tell them that sentosa is OUT as it was raining cats and dogs.
But an hour later, the rain stopped... and when i reached the mrt, the Sun was out. argghh!!
We were still comtemplating whether to go to sentosa anot after the group met.
Yeah.. pep's right.. the weather cant make up its mind whether to be sunny or rainy.
WE COULDNT EITHER!!
Half of them were saying the sky looks much better.. half of them were saying it's going to rain.. and
EVERYBODY
was asking me to decide....
-_-
In the end we went and I'm glad we did! It didnt rain for the rest of the day although the sun wasnt that strong.
Think I only have 1 pose...
So they started to play cards after some volleyball
We started playing other games & the forfeit was to make a ghostly face!
(
so much better now.. those who caught the original.. u were lucky! haha)
I lurve you guys!
What can i say??? I AM VAIN
(& why my pose so kana sai ar!?!?)
Conclusion.. we went to sentosa to
TAKE PICTURES ONLY

Super act cute pic of me..
(and worse.. it is NOT CUTE AT ALL -_-)
Me and pep! with gerald's shades!
(I still think his shades looks betta on me whahah!)
What is wrong!?!? haha
After everything, me & gerald went to Puma to search for my jacket.. I didnt buy the jacket, bought something else instead.
(no pic now.. post tmr..)
We did not want to take dinner cos he was so full from all the drinking
(soft drinks)
at sentosa.. but we decided to get some modan yaki
(it looks disgusting but taste real good!)
I still have so many pictures to upload!! tmr!!
Kiyo 到此一游 @ 11:54 PM

Thursday, May 12, 2005
*~*~*~*~*~*~*~*~*~*~*~*~*~*~
FOS
My Sis read my blog for the first time yesterday and mentioned in her multiply journal that luckily for her, there wasnt any of her childhood pictures in my blog.
So I dug out some of OUR pictures together so that she can have a fun time laughing at herself too...
But apparently, she is
NOT SO KEEN
at laughing and looking at those geeky pictures of us and SPECIFICALLY warned me through sms that there should be NO NERDY PICTURES of her appearing in my blog.
So... I shall just post some cute stuff. I had a HARD time looking for it.
That's my sis & me..
The teddy looks shocked!
This is where she writes her interesting life revolving around school, gym, zouk, tatts and God knows what else
http://lurvegwen.multiply.com
Sometimes I just wonder where she finds the courage to pay and get pricked by needles in all imaginable places. Just look at her new tatts, I lurve it..BUT that is what I WONT try (think i will faint, and OH YES, I'm weak)
This is what she wrote in her journal about me.
"wat she writes jus further proves that we are so damn similar in character"
"both of us are still kinda different in terms of sense of fashion (Sis: Jap/HK/Taiwan fashion, Me: Brit/US), music (Sis: Chinese songs, Me: English) and interests (she:more indoors, me: outdoors). She doesn't club.. hardly.. i think Mum can only stand one Gwen in the house... "
And she's right.. We are quite different!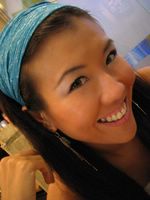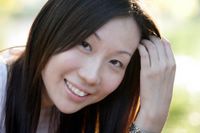 See! We are!
Had a hard time trying to find a similar picture with same pose same angle man....
I'm nice to my sis too. I touched up her skin! Than why do you think her skin look so glowy and smooth ar...
But one thing for sure is that we are both VAIN and we are SHOPPING Queens.
She buys more clothes, I buy more cosmetics and all sorts of skincare
Loot of the Week.
It is ALL THINGS GREEN again.
my Lime green tube
BILLABONG visor with pale GREEN patterns
I seriously need to get a pair of nice sneakers, an album to store my photoshoot pictures, my aim is by next weekend.
Kiyo 到此一游 @ 10:07 PM