Friday, February 29, 2008
*~*~*~*~*
CPF is deducting more money from us from next month onwards... which is a GOOD THING! which means our house will be ready soon!
*i hope*
and there are rumours that our house may be ready by Oct 2008.
I hope for a Christmas Party this year at our love nest!
Kiyo 到此一游 @ 8:55 PM

Tuesday, February 26, 2008
*~*~*~*~*
Pretty lazy to blog these days cause i'm very busy with..
work.. during working hours
after work... sayang-ing my poor lashes
*i have been very obsessed at looking and observing their growth for the past week*
and after 2 weeks of religious application...
my eyelids are not BOTAK anymore! This is my 2nd godsent after Talika.
It really works. Available from quite a number of beauty salons or places where they do eyelash extensions.
Okay.. and i am so so excited about our Japan trip!!
just look at this place i have found.. always heard about it on variety shows and it is a Hot Spring Amusement Park. Absolutely for the shy people who doesnt want to bare their naked body to the rest of the world. hee hee Over here can wear swim suit de.
It has KOPI Hot SPRING
Green Tea Hot Spring
Red wine hot spring!! so cute nor =_____= maybe we will get drunk if we soak for too long
and water rides.. hee hee i hope the water is warm.
Shown to Darren about this place and he is so excited as well!
I bet he must be excited to see the bikini girls.
hmmmph bleahzzz =)
I realized many public onsens have very strict rules. This onsen strictly FORBIDS anybody who has tattoo...fwah..
Kiyo 到此一游 @ 9:50 PM

Saturday, February 23, 2008
*~*~*~*~*
Almost finished with our Japan Itinerary.
Not easy to come up with one and i have been changing and changing it! there's so many places I want to go but the domestic flight is just too expensive for us to bear. Just the domestic flight may set us back by 900 SGD! and that's excluding other train tickets like from Airport to town etc.. =____= so we decided to go somewhere nearer.
After some research, i realized our 2nd choice is really beautiful as well. =D
NO MORE CHANGES!
we are going to Nikko and Matsushima!
Kiyo 到此一游 @ 8:26 PM

Thursday, February 21, 2008
*~*~*~*~*
I am a sucker of hair wash and head massages.
and i'm so glad i bought this magazine!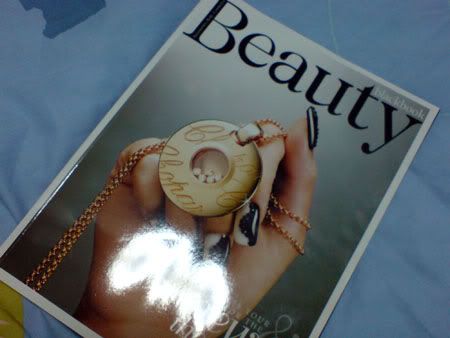 There's separate sections for Face, Hair and Body and alot of helpful tips and reviews.
So glad that they have this article! After a long and tiring day at work with alot of nitty gritty details to handle, what can beat a trip to the hair salon for a hair wash.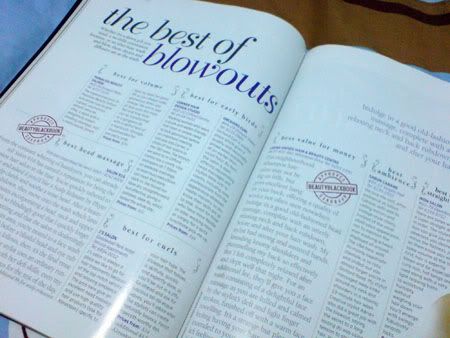 Alot of people (including Darren) always tell me when i tell them i'm going for a hair wash at the salon.
"自己不会洗阿"
no no no.. you are all wrong. Hair wash at a salon is not just wash and go but it's the accupressure scalp massage coupled with the neck and shoulder massage that i'm looking forward to. Just drains your tensions awayyyyyyyy.
I went for their highly recommended "best head massage" place!!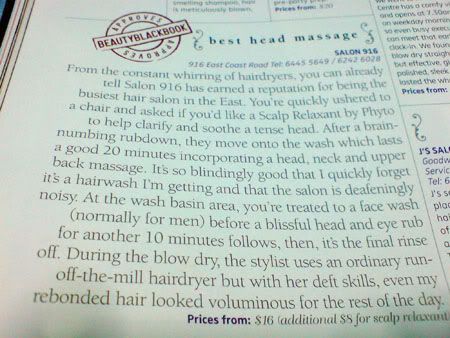 it's at east coast road, a little out of the way but i still went ahead.
Was served with a glass of warm barley drink and the place is indeed popular for hair wash! there's at least another 5 more clients at the same time doing the same thing but most of them are men though.. i even saw one botak man getting a hair wash. heehee Bet the shoulder massage must be REALLI good keke.
The scalp, neck, shoulder and a mini back massage lasted for about 20 minutes then we proceeded to the basin.. for the wash and more scalp massage!
then came the blow part and my blissful massage came to an end.
Although the price set me back at about 28 bucks, but for almost 30 mins of massage and a hair wash it's totally worth it!
Think i will be back for more =D
Kiyo 到此一游 @ 8:44 PM

Tuesday, February 19, 2008
*~*~*~*~*
Busy and damnz tired.. i crave for a massage!
Was browsing around and found this under Yahoo Pulse about Horoscope.
~ What Zodiac Sign tends to be more violent ~
really bo liaozz..
But I also believe it is Taurus. hahahha =p
Kiyo 到此一游 @ 10:48 PM

Sunday, February 17, 2008
*~*~*~*~*
I removed my extensions!!
and my eyes feel so light!... and BARE
that's because 1/2 of my own lashes were GONE too
=________=
The eyelash extensions were starting to irritate me as they became really messy and clumpy and a few dropped off after about 2 weeks. Not sure whether it's because i tried appplying mascara on the tips of the extensions.ooopzzzz haha *never try, u never know mah, that's me*

Went to Amy Beauty to remove as the Yishun place was too far. They did a great job, removed them very gently. But was pretty pushy on other services while i was doing my facial after the removal. At last, I can have a thorough eye massage.
"小姐你的眉毛没有什么毛 leh"...要做那个3D的比较好看"
"小姐你要用我们的那个去blackheads的..皮肤就会很美啦"
buey tahan
But her massage was good! KOSE facials do not provide neck and shoulder massage but this beautician i tried, it made me so so relax... will try another facial next month cos i simply couldnt forget her massage. Guess i will have to tactically turn her down when she tries to comment on my 没毛的眉毛.
Back to the lash story...my own lashes became at least 1/4 shorter than what it used to be. I guess no matter how gentle the beautician is, the glue used is very damaging to the lashes!!
Eyelash extension is really a route of no return as you will be really addicted to how your eye looks and the time saved on your makeup. And when you remove them, your own lashes became shorter and the whole vicious cycle begins again. =( Think I will only do it next month before I go to Japan and in the meantime, i hope they can grow back to the original length.
Switched back to using falsies! I thought the effect is not bad as well. Bought this pair of falsies from BKK and regretted not buying more.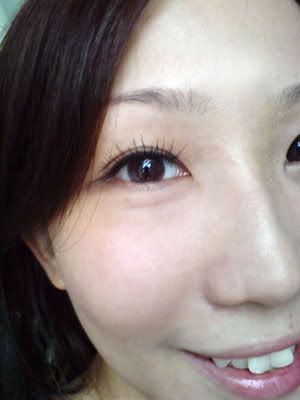 We went to Bugis for lunch and we saw lion dance at the basement level. They were just right in front of us when we were eating. The ones beating the drums and making the
kiang kiang
noise are girls! Really good at it, bet it's not easy..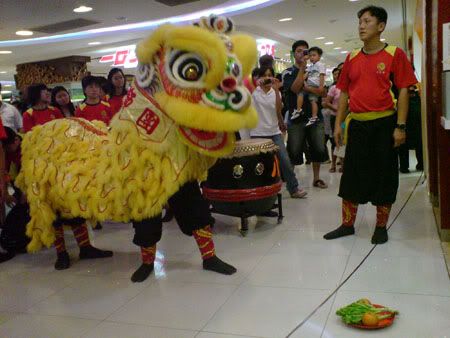 The lion was very cute too, he spew-ed the veges onto the workers and gave them a fright hhahah. cos they didnt expect that he will spew so far.
So here's a video for those who didnt get to see the lion dance this year.