Wednesday, July 20, 2005
*~*~*~*~*~*~*~*~*~*~*~*~*~*~
My supplements
Wasnt feeling very well today, so I was trying to find my flu medicine when I came across my long forgotten supplements! I need to start on my supplements again. I think I have a 40% or 50% discount with GNC since it is my birthday month. I have stopped for a few months cos i was so lazy or kept forgetting about them.
Recently, i have been really forgetful. I tend to forget things easily. I even remember the WRONG things or what clothes I have bought and where they are. I think a blog is a good way of reminding me how much I have spent or when did I buy wat.
I may even forget what happened last week. Xin said that i'm going senile. They even tried to trick me into believing that I OWE them money which I really exclaimed seriously. "有 MEH!" & started rolling my eyes to recall...than i realized that they were trying to smoke me.
-_-
She said I should take GINKGO..
I will get GINKGO this weekend.
NOW.. where did I put that GNC pamphlet?
hm.... *roll eyes*
Primrose oil = for the very PMS-ing lady. I havnt been taking this for quite some time.. It's not really helping. I still cry and feel oh-so-miserable-&-I-want-to-bish-ur-face during that period of the month.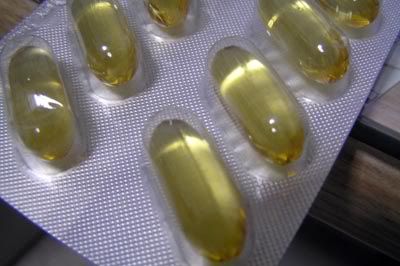 Antioxidants aka the "长生不老药" alternative. It claims to slow down tissue cells damage and prevents the damages of free radicals from pollution, UV, smoke etc n etc. forms collagen in skin too. Almost 1 buck per tablet! i bought 300 tablets last year and still have about 200 of these brown things in my drawer! I think i have to take ginkgo first to improve my memory than I will REMEMBER to take this every morning whahaha.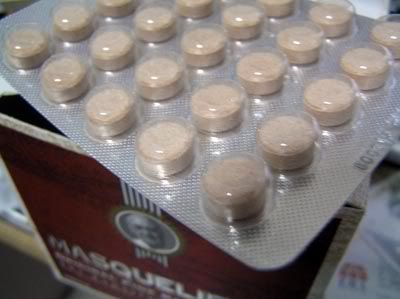 Royal Jelly!! I havnt been taking this for years. It's REALLY very good for the skin and gives a nice flush and radiance to the skin. But then, it makes me fat which I am really not sure whether it is due to this anot. But some people did report a weight gain after taking this.
Ppm have decided that WE SHALL GO FOR THE EXOTIC CARDIO! so anybody else wants to have some exotic fun?
Kiyo 到此一游 @ 10:34 PM