Saturday, April 29, 2006
*~*~*~*~*~*~*~*~*~*~*~*~*~*~
It's still raining...
At the hotel now, waiting for mummy to finish breakfast before going to chiang kai shek memorial hall to see their guards changing ceremoni. It's been raining from Day one and my shoe is still wet. But the shopping is quite good. And the food is the best. Mum got alot of nice and cheap clothings and shoes (something like bkk, only 8 bucks)
Bought a pair of jeans!!
Havnt seen any boots that I like yet.. hope to find them today.
Ding Tai Feng laterzzz...
Going to gorge myself again. hohoho
Labels: Taipei with Mum
Kiyo 到此一游 @ 9:05 AM

Thursday, April 27, 2006
*~*~*~*~*~*~*~*~*~*~*~*~*~*~
雨一直下
It's still raining! This year's April feels like December. It has been raining for 3 days this week.
Taipei's weather is about the same.
My friend advised me if the rain gets any heavier in taiwan, just get those disposable raincoat and you will still be able to go anywhere. Hope I dont have to go to such extent.
Anyway, I did some shopping even before departing singapore. Bought books over the internet to be delivered to one of the 7-11 near my hotel. Save the time of going to the bookstores and there's discount too!
Books
http://www.kingstone.com.tw
Hopefully, all my auction items will arrive safely at my hotel as well. I made alot of preparations and even called them up from singapore to reconfirm my orders.
See you guys soon =)
Labels: Taipei with Mum
Kiyo 到此一游 @ 7:07 AM

Tuesday, April 25, 2006
*~*~*~*~*~*~*~*~*~*~*~*~*~*~
Suitcase very empty
Havnt really start to pack yet. Dont have much things to bring because I need more space to put my stuff when I come back. hee hee
Weather hasnt been very good this week in Singapore. Just checked Taipei's weather, their weather isn't so good either.
But it seems that the rainfall over there is getting lesser. *cross my fingers*
Anyway, they have loads of underground shopping malls.. I just have to backup my plan a little if the weather gets a bit rough.
Hopefully I will be able to make it for my hot spring.
The weather now just make me feel like a pig.
I'm going to bed now.
*Yawn*
Labels: Taipei with Mum
Kiyo 到此一游 @ 9:37 PM

Sunday, April 23, 2006
*~*~*~*~*~*~*~*~*~*~*~*~*~*~
Queued up for at least 20 mins for this lontong and mee siam. Worth the wait.. yummyzz =)Even Mummy said it was good too.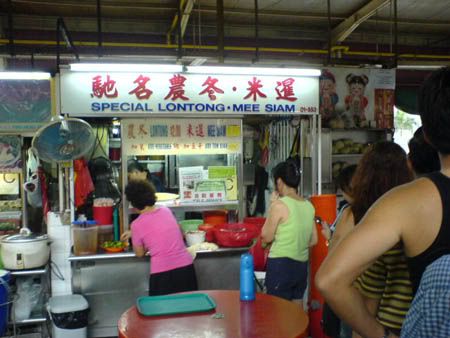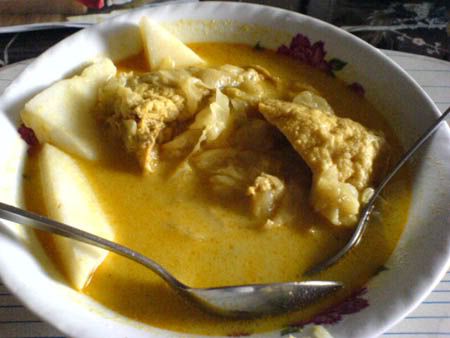 Realli beri SPECIAL.Please go and try it if you have the patience to wait at Whampoa Market.
Took taxi to orchard yesterday to shop around.*getting lazy* Caught in a jam and had nothing to do, so took some pictures of the 'decor' of the taxi. I think i will give this unker, the "Most Imaginative Taxi Driver" award.
Let's see...We have a Jumanji elephant, 2
kams
, 2 dogs, one snake and one decorative chain!?!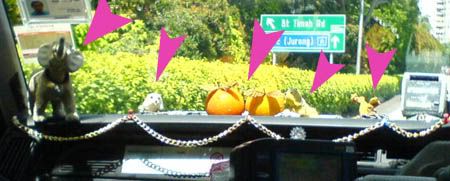 And to end it off, I see 1 basket of fake fruits behind me.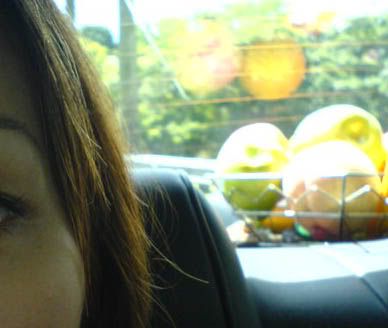 -_-
Went shopping before dance practice and saw something that is so so depressing...
OZOC is exiting Singapore by the end of this month. =( =( =(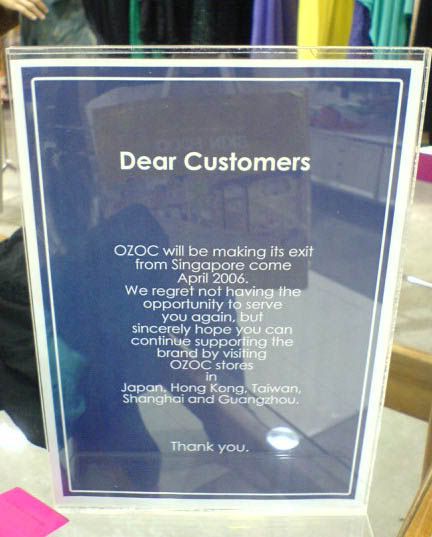 WHY WHY WHY?!?!

WHY like that? Singapore's market too small hur? yeah and I admit I didnt spend enough to maintain their business here.
They are having a storewide 70% sale and there were so many women, old and young grabbing whatever they have left. I didnt get anything cos I didnt find anything that can fit me and they dont have much stuff left as well.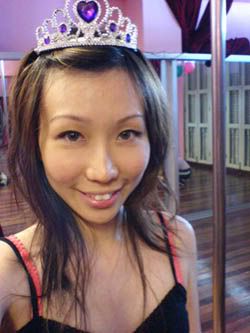 Curled my hair yesterday so it was ultra messy..tsk* Still have not master the art yet.
Found a crown in the studio and started playing around with it. So childish, cant stand myself sometimes.
It's secretaries week this week. I got a $100 Takashimaya voucher..Hoho shopping again!
After my trip back from Taipei.. hehee
Labels: Food and Events
Kiyo 到此一游 @ 5:35 PM

Saturday, April 22, 2006
*~*~*~*~*~*~*~*~*~*~*~*~*~*~
I thought I wont spend anymore before I go to Taiwan...
And the timing was just right when I saw one knitted lace dress at Raffles Place yesterday. Yeah.. Kelvin lao shi mentioned that lace will be in rage this season.
And it is the last piece. =(
I bought it anyway.. cos the SAs gave me a little discount. They have it in milky white too.. lalala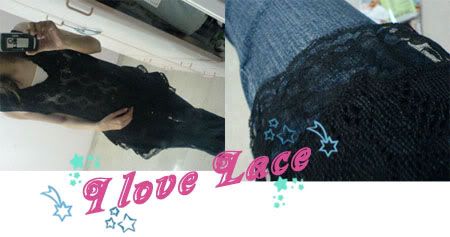 Labels: Fashion Fuse
Kiyo 到此一游 @ 8:39 AM

Thursday, April 20, 2006
*~*~*~*~*~*~*~*~*~*~*~*~*~*~
I scalded my tongue... Bleahh...
PAIN!
=(
Something crappy as weekend is approaching.
In order to celebrate the coming of LEE YOUNG AE (LEE YING AI who starred in Da Chang jin ) to Singapore on Monday, somebody sent me an interesting flash link to teach us how to sing Da Chang Jin -_-
~ Sing 大长今in 5 secs link ~
They even have a karaoke version for it. I suggest you pause the movie and wait for the loading to finish before singing your hearts out. Otherwise it may be rather choppy.
~Lyrics~

武大郎武大郎~~~~挨猪打
(武大郎挨打了,还挨猪打,反映了韩国人民对西门庆的 强烈鄙视和仇恨,称其为:猪。)


挨打了挨打了挨猪打了
...
(一唱三叹,更加强烈的表达感情)

打了你打了猪,葫芦打地!
(借景抒情,反映了武大郎挨打时候鸡飞狗跳的场面)
啊弟弟!啊弟弟!阿弟怒咧!
(武二郎怒从胆边生,武大的弟弟武松上火了,怒吼了,集气了)
踹呀~~踢啊,挨打的那头猪,哭去喽,哭他妈,他就完啦
(
在武松的连续技强攻之 下,西门庆一败涂地,哀号至死)

武大郎武大郎~~~~挨猪打.....
(武松在大哥坟前哭诉)
他打啦他打啦挨猪打了
(怒斥西门庆的恶行)
他打你他也痛混蛋打你
(他把你的女人带走,他也不会快乐很久.....)

啊你弟啊你弟啊弟哭咧.....
Labels: Silly Stuff
Kiyo 到此一游 @ 7:41 AM

Tuesday, April 18, 2006
*~*~*~*~*~*~*~*~*~*~*~*~*~*~
I lurve Fatty Kong Bah Paos
Okay I admit.
I go to the same acupuncturist that alot of podders went for to treat their not so endowed areas.
*erhem*
Was supposed to meet up with one of them to go down together too and we promised to go shopping after our next treatment.
What a nice way to make new friends *grin*
She went for the slimming session and was kinda scared cos you dont get people poking needles in your thighs everyday right?
Found the information in the all-famous flowerpod forum where loads of gals are going as well. It's quite scary to think that there's so many of them going to the same place for the same treatment~
Anyway, there's nothing wrong in wanting to look good.
But there's a limit to it of course.. I dont want to appear as an airhead. *but most guys like airheads lo!*
Believing in poking a few needles here and there will help slim down an area or enhance assets does not mean that i'm one airhead okay. We are talking about a few thousand years of history here. Even if it doesn't help, I believe it will actually improve my health in one way or another. The needles don't really hurt... I can say my facials are at least 50 times worse than that.
But if given the choice between big assets or smooth skin..
Without hesitation, I will STILL choose the latter.
That is why for the past 20 odd years I took comfort in the fact that my skin was still quite alright...Have my bad days of course, but what can be worse than the adolescent nightmares of having classmates calling whatever terms they can conjure out of their imaginative minds to associate me with the long, thin and 2-dimensionals.
The friends I have.... tsk*
Cruel, they are.
Oh ya.. ate my favourite fatty meat...XI HU KONG BA PAO yesterday.. BURP~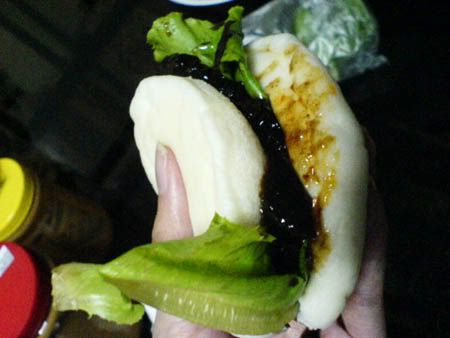 Oily and fatty.. my favourite~
~~~~~~~~~~~~~~
In order to continue my pursuit of perfect, radiant skin....
Attention avid fans of Nv Ren Wo Zui Da (:
A spree for NIU ER BEAUTY STUFF is NOW ON at
LADIES.PROBROADS104.com
lalala.. act fast dearies..act fast..
Labels: Beauty Buys
Kiyo 到此一游 @ 9:36 PM

Sunday, April 16, 2006
*~*~*~*~*~*~*~*~*~*~*~*~*~*~
Enjoyable times always fly.
The long weekend is almost over too. = ( And tomorrow I will be back in office facing a day of meetings.
But the next long weekend, will see myself in Taipei!hoho So looking forward to that.
Yesterday we had fun practicing Dont Cha and I can say that was really the best practice so far. Thanks to the professional dancers (aka the B team) who so patiently fine-tuned our uncoordinated moves and now, we look more confident than ever.
We danced almost non-stop from 3-6pm and the aftermath of the dance practices are or-chehed knees and my calves, thighs and... butt especially hurt big time. Didnt sleep very well last night, just dont know why it hurts when I make a slight turn. *tsk OLD BONES*
And now our name changed too, we were A-Team where A stands for Amateurs so when JOY commented that A will stand for something else after watching our practice, the first word I shot out was "
AVERAGE
.." Than Virgie said.. it should be
"ANOTHER TIME"
whahhahah -_-.
Had a fun time taking pictures in the studio cos they now have a mini-shop within the studio. From bikinis
(if i'm not that small, i would have bought that pink bikini darn!)
to eyeshadows and even wigs.. -_-
Look at our tai-tai in the making... bringing her dog for some high-tea session on a perfect Saturday afternoon keke.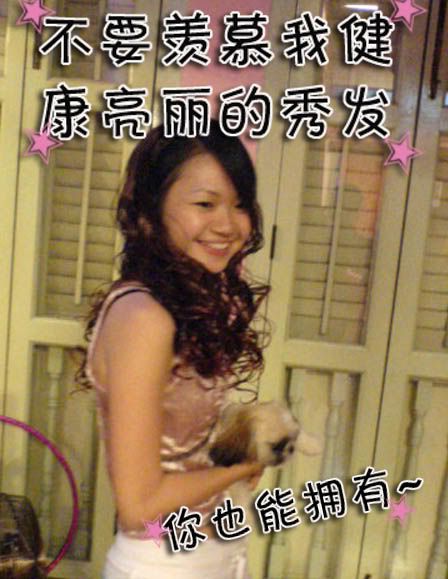 wee weet! How to yong1 you3? Buy lah!
Talking about wigs... I have one myself
*blush*
Wigs are not only for baldies or clowns hor...
It can make you look like you have SUPER long hair too, especially when you crave for long hair and they just don't grow longer.
Bought one with curls when I was 18 *don't ask me why I bought that.. I cant really recall, it's too long ago*.
Good for Retro Parties.
It looks very real and soft & I have people coming up to me asking me where I did my hair when I wore that. I just tell them :
No need to perm. You can just get them off-the-rack at

*some departmental store name*
Anyway, tried locating my long-tucked-away-in-a-corner wig and FOUND IT!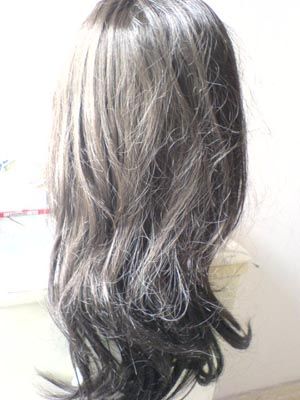 It used to have really bouncy curls but it has since straightened due to MY LACK OF CARE =(
Maybe should get virgie to give them some curls some day to revive them.
Was so "into" wigs that I even bought a "
friendly-looking"
Styrofoam head to put my wig onto. tsk tsk tsk.. Looks scarier at night though so now they are all placed in the cupboard, long forgotten by its owner~
....
....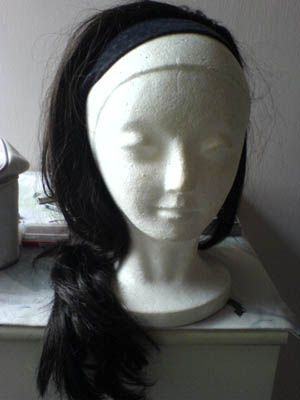 she has a slight smile on her face keke.
Tried on some caps in studio and took a photo with virginia.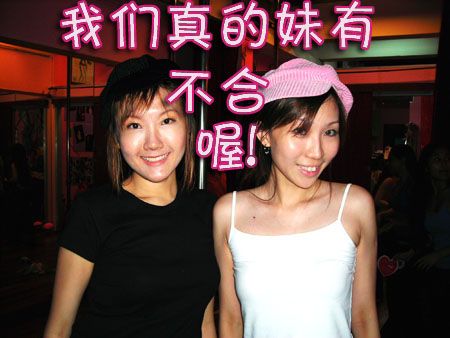 I should have tried on the white one instead than we will look like we can compete in
SUPERBAND
as Nan2 Fang1 Er4 Zhong2 Chang4 liaoz
(南方

"饿"

重唱)
Dis is what I call the tai-tai flirting with young artist.
Please dont touch my *erheM*, my dear..
although I dont have much to start with.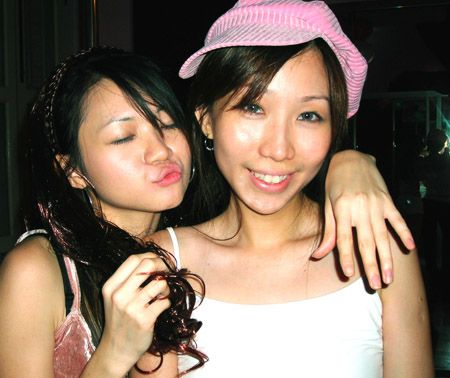 MOS yesterday.. my sis was telling me why I went yesterday cos most of the people will be in zouk.
But anyway, we had loads of fun too with ppm's friends, Ilane and some of her friends. Oh ya, and the 2 honkies
(Lei2 Hou2, Lei2 Hou2)
that kept IMMITATING OUR DANCE MOVES. We are friendly people and we want to help Singapore earn the tourist dollar so we immitated them as well. *yawnz*
Same pose, same smile, same people.
Wonder why we took so many pics... -_-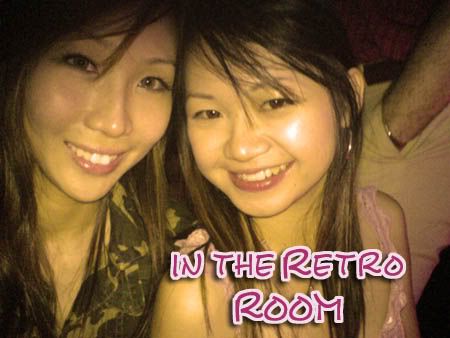 picture must have some retro feel as well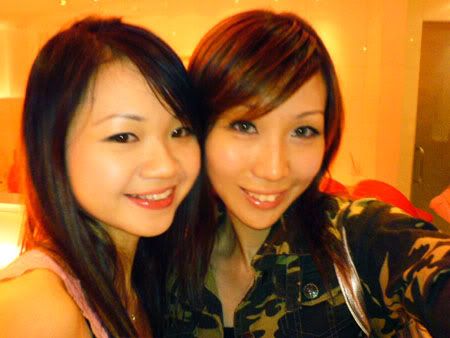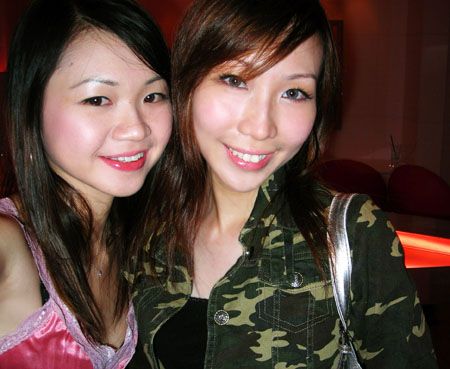 And gerald have some opinions on my army jacket cos he thought his army jacket has LACE as well. *he doesnt really know what is lace* I hope he knows how to differentiate between
~ Corsets and Corsages ~
now.
gerald - swimming says:
wahhh
gerald - swimming says:
wats wif the army jacket?
kiyomi : Job Scoop?!?! says:
SHUAI
wat hahah
gerald - swimming says:
shuai meh
gerald - swimming says:
i also got army jacket
kiyomi : Job Scoop?!?! says:
my army jacket got lace one kay
kiyomi : Job Scoop?!?! says:
just didnt see onli
gerald - swimming says:
my one also got lace one

gerald - swimming says:
hahaha
Got lace than a bit
GUA
aredi ~
*guaguaguaaaaa*
Kiyo 到此一游 @ 2:24 PM

Saturday, April 15, 2006
*~*~*~*~*~*~*~*~*~*~*~*~*~*~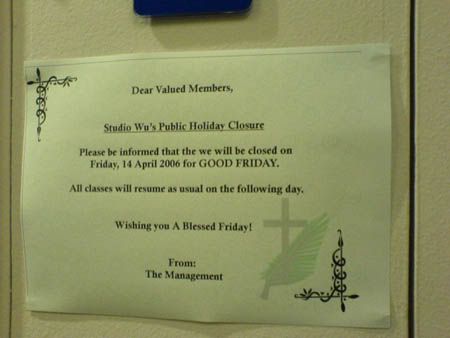 I swear that I heard the receptionist telling me that I can go down this friday (which was yesterday)

-_-'

Blur sotong.

Anyway, went off to shopping instead. Found a shop in Marina square that sells traditional snacks from Taiwan. So if anybody craves for any Taiyang Bing or Feng Li Su, can get it from there as well. They have the heart shaped ones from Yuan Ming Shang Dian.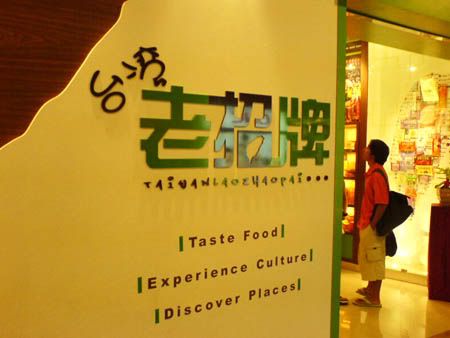 Ho! tonight we are going MOS.
Long weekends are meant for parties.
But it still translates to "Home when the clock strikes ONE"
Enjoy ya Easter tomorrow!
Kiyo 到此一游 @ 8:42 AM

Thursday, April 13, 2006
*~*~*~*~*~*~*~*~*~*~*~*~*~*~
It's a gloomy day again...
Just called somebody and she made me listen to half of a Mr DJ song and half of a Japanese song sung by GTO (Great Teacher Onizuka) before the beep came for me to leave a message. tsk*
~~~~~~~~~~~
It's gonna be a lonnngg weekend and seriously, nothing is in my plans right now.
But i'm going to Studio Wu tomorrow to try out their dance classes. If it's good, I will sign up straight away and dance my weekend away.
Hopefully I wont be the only one born with 2 left feet.
Kiyo 到此一游 @ 8:23 AM

Monday, April 10, 2006
*~*~*~*~*~*~*~*~*~*~*~*~*~*~
Caught the Superband competition yesterday on tv
Boi~ some bands were REAL good. I was watching with my mouth open, not dripping with saliva of course.. but then it's amazing to see that they look more like full fledged singers rather than contestants. Yesterday's contest were more of a rock concert than anything else.
Especially the group, Soul.. they can dance very well and their choreograph was great. Definitely beats boy idol groups in Taiwan hands down. Looking forward to see them dance again.
There has be a spur of such "super" activity on TV lately I noticed. From Super host, Campus Super star, off-campus Superstar and now Super band.
Super beings are everywhere in Singapore.
Went to Tiffany and bought something today.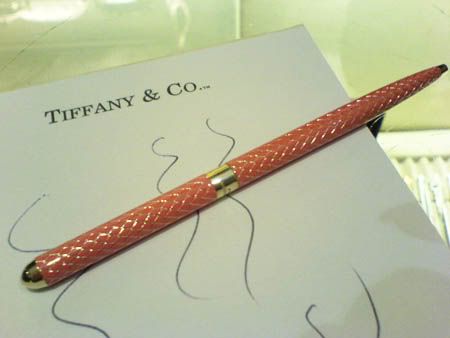 ......
......
......
But
NOT FOR MYSELF
.. =_(
It's a shared gift for a colleague who's leaving so I was the one "in charged" to buy.
Buy but cannot Keep.
SIANZ
It's so sweet! I want one too.. = (
I know...I can get it myself if I really want to but dont think i will spend my extra bucks on pens cos it just doesnt justify!
Pens are like.. gifts for people wat..
Tsk* in the meantime, I shall stick to my Pilots and Kilometricos
Kiyo 到此一游 @ 9:53 PM

Saturday, April 08, 2006
*~*~*~*~*~*~*~*~*~*~*~*~*~*~
Abstain from shopping for 18 days
I'm fine ler.. thanks for all the concern. Just that I need to stick to spectacles for the next few days and continue those eyedrop treatment just to be on the safe side =D.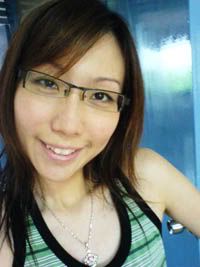 Technically speaking, my taiwan trip is only 3.5 days as I will reach Taipei at about 5.30pm.. So many things to see, so little time. The book Sin lent to me was really good, even had recommendations of eateries, how to go as well as opening hours.
My draft schedule!
Thursday
- XMD and Shi Lin Night Market
Oh Friday is a day for 女人我最大 buys!!
Friday
AM
-排骨大王 for Breakfast
-第一化工行
-福大蒸饺 (near Zhong Shan mrt)
PM
-Yang Ming Shan
-新北投 hotspring!!
-Shi Lin at night again~
Simply hearrrtt hotsprings~ but i'm choosing those that you need to wear swimsuits, really paiseh to walk around in my birthday suit. Went to one in Odaiba previously with my homestay okaasan. Trust me, it's kinda strange, just not used to seeing so many
nehs
at the same time
Saturday
-Soldiers change shift thingy..
-Ding Tai Feng
yes.. I know there's a ding tai feng in Singapore too but then, we do what tourists do. hahah
-Taipei underground mall, Taipei 101, NYNY
-Zhong Xiao Dun Hua (visit jay chou's shop! at 忠孝復興) and 台隆手創館
-Long Shan si 龍山寺
-Still havnt decide whether to go Shi Da night market or Xi Men Ding. hmmm...
Sunday
-Jiufen
-Wu fen pu!
Going to go crazy here.. I need a wardrobe revamp!
-Rao he Night market
-Xi Men Ding
Monday
-鸭肉扁 for breakfast
-Xi Men Ding
-Home =(
Have to work on Tuesday.. Didnt take leave on Tuesday, hopefully my boss wont be in so I can get another day off~
Counting down 18 more days to my "大开杀戒"
Kiyo 到此一游 @ 9:44 PM

Thursday, April 06, 2006
*~*~*~*~*~*~*~*~*~*~*~*~*~*~
Swear that I didn't see anybody pee-ing.
It might be because I accidentally poke the mascara comb (metal kind hor) into my eye.
That resulted in..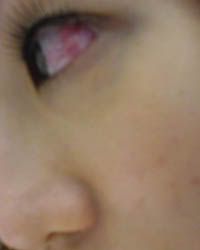 EEEeeeeekkks...even my boss asked me whether I was punched.
All for the sake of beauty. Haizz
So I rushed to raffles hospital cos my eye was rather pain.
But maybe I'm a little paranoid nah, but my EYES leh.. I cannot afford to lose them. Maybe it's just pure conjunctivitis which will clear up in a few days time. But if it doesn't clear up by Monday, I'm going to see a specialist. So no contact lens for the next few days. Great.
Please call me
TOOT TOOT Teng
.
Toot Toot Teng is going to Taiwan in 20 days Time! (wah.. alot of Ts hor)
My itinerary is done and I even asked mummy to get maps before we depart so I can plan better. So chao Kiasu!! Free maps!~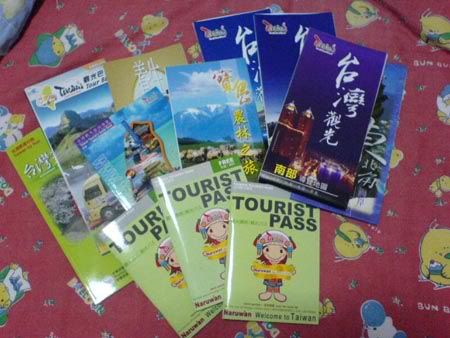 And I saw dis restaurant.. *erhem*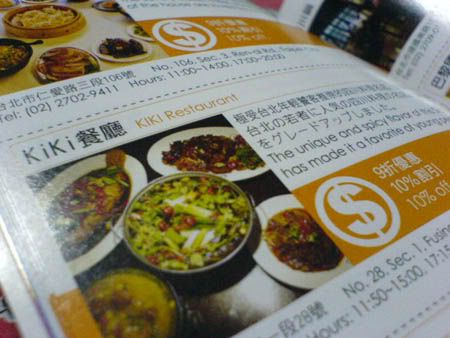 Food doesnt look very appetizing.
Sin lent me her buru buru guide yesterday when we met up for dinner too.
Although in Japanese, it's really a useful guide~
I'm drawing up a list of must-buys and must eats and it's like never ending.
Post up my itinerary tomorrow.. lalala
Kiyo 到此一游 @ 10:52 PM

Wednesday, April 05, 2006
*~*~*~*~*~*~*~*~*~*~*~*~*~*~
Finally went down to register my course yesterday. The course provider is situated on the 6th level of the very empty Tekka Mall. And I am so darn glad that I have a partner! An ex geyaorian (Okay we call people from geyao, geyaorians..) that I know has registered for the same course as me!
Hohoho.. project partner! 就是你了!
~~~~~~~~~~~~~
我的左眼......(不是看到鬼)...是有点痛
It's quite red and has a kinda burning sensation which I dont know why, hope it's not some eye infection. Shall see the doctor tomorrow.
*cross finger*
Kiyo 到此一游 @ 9:47 PM

Sunday, April 02, 2006
*~*~*~*~*~*~*~*~*~*~*~*~*~*~
So the passport photo session didnt turn out too bad...
But mum commented that my smile was... well.. a little fake.
And I think I look like an insurance agent. Yeah..those photos you see in newspapers for their Million Dollar Round Table Thingy.
How I WISH
*okay, just let me dream a little before I wake up to reality tomorrow at 7AM *
I took the effort to put on falsies, but it seems like there's no effect at all.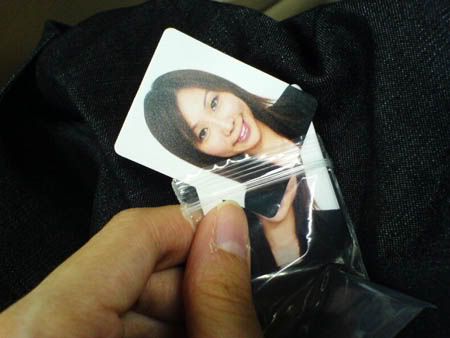 Saw this after lunch.
Absolutely for the money-minded only.
*chink chink*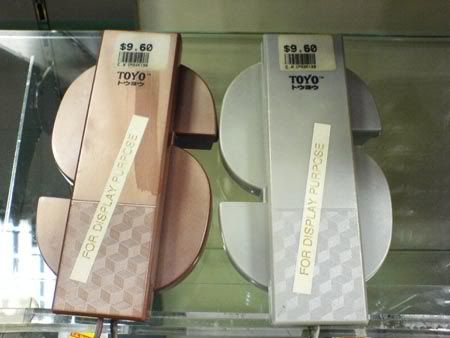 Kiyo 到此一游 @ 9:41 PM

Saturday, April 01, 2006
*~*~*~*~*~*~*~*~*~*~*~*~*~*~
Colours Rule My World Again
I waited for about 11 days for these.
But the colours are LOVELY~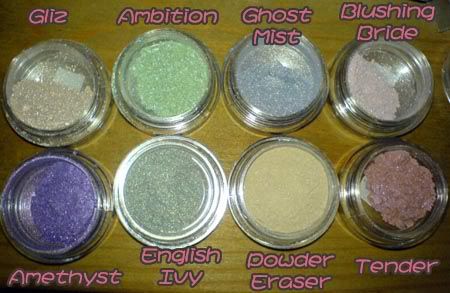 I need to take passport sized photos tomorrow to stick on my course application form.
Hate to take passport size photos. I usually dont look very right.
*Or should I wear my falsies?*
Kiyo 到此一游 @ 9:17 PM