Sunday, July 30, 2006
*~*~*~*~*~*~*~*~*~*~*~*~*~*~
Never held great importance for my birthdays
Especially when one gets older, one doesnt want to be reminded that years are adding not just on the papers, but in everywhere possible.
I have fine lines around my eyes, if you ever notice.
But I had an enjoyable time last night except for a few disappointing stuff which will be mentioned later. =(
On our way there... =D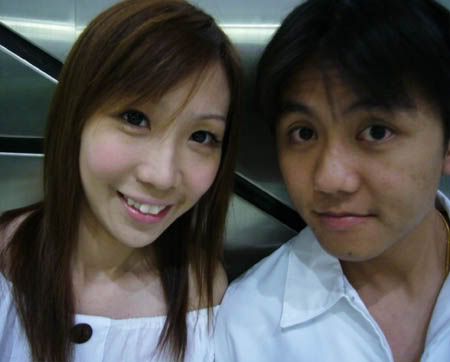 Was glad that xdd and gf came. Havnt seen him for quite some time. =)
and nice meeting you, xinling *waves*
thanks for the belt.. It's nicey =D. Jeff gave me a pendant, will wear that in our next outing. =D
Peppermin and gang gave me a charm necklace and red earth cosmetic pouch.
The sad part comes in here...
The bag counter gal (amanda) at MOS lost my pressie. =(
It's very sad. Peimin was leaving for the night and she passed me the presents that was in her bag at the counter, I in turn gave Amanda my card to get my bag so that I can put it in. She said she will put it in my paperbag for me instead.
I trusted her on that..
I shouldnt have.
But apparently, she put in the wrong bag.
arggghhh!!!
Couldnt find them when I retrieved my bag at about 3 plus.
Than came the wait.
She remembered my stuff and panicked, trying to find which wrong bag she put into.
But to no avail.
Then she broke down..
wat can I say... ?
I was really disappointed.. and very sad. =_(
The AM came and nicely asked me to compromise cos nothing can be done anyway. He gave me his card and offered to sign a few frens in next time I go.
BUT THEN, my charm necklace...............................

IS GONE.
Amanda was really apologetic and even called the next day to apologize. She's really a very very nice gal.
sorry folks, should have been more careful with my stuff.
Please kok my head. I feel very bad for my lost necklace, your lost efforts (especially ppm) in buying what I would really love to have.
ppm said if she sees anybody wearing that necklace, she will go up and 'steal' it back for me.. so sad nor.. i want to cry ler.
Doubt the person will return my pressie.
Nobody in the right mind will....
I didnt even get to see my charm necklace's 最后一面.. haizz
Photozzzz~~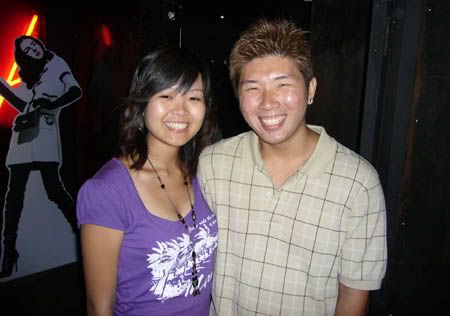 gerald n xinling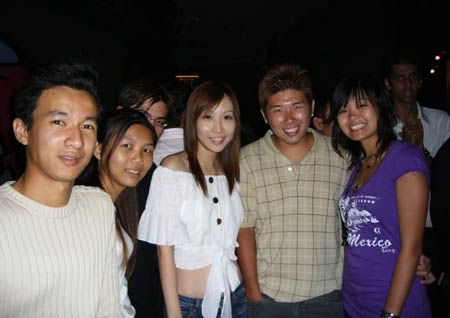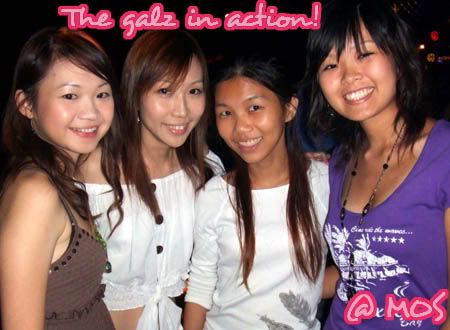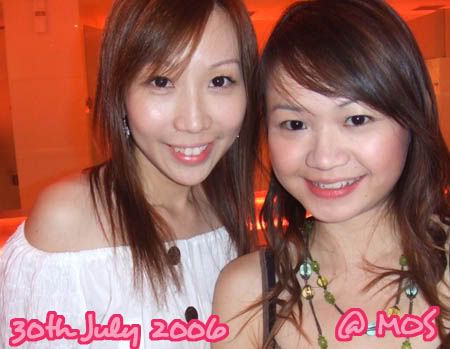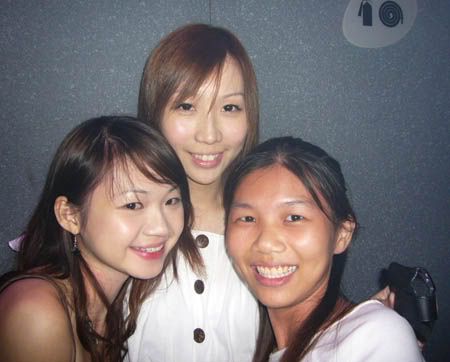 the funniest picture of the day with ppm and zen.
Don't they look like my children? haha
They were siting down nah.. =P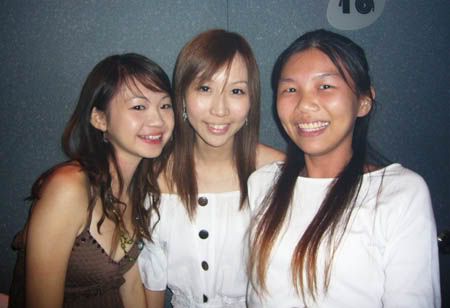 This is so much better.
They decided to stand up. keke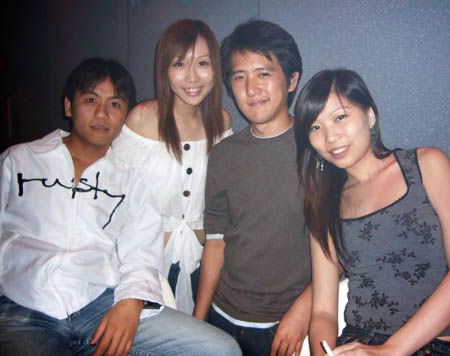 Darren and his friends Jon and Justina. =D
They were playing this game of shuffling the coinz.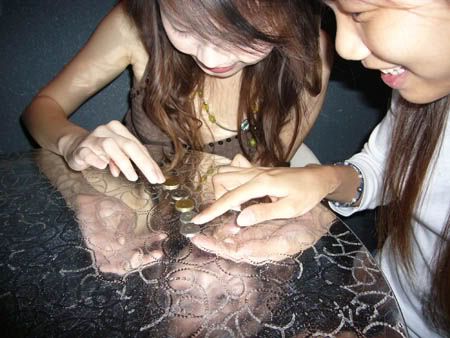 Every year, gerald must have a special theme.
Last year, it was this.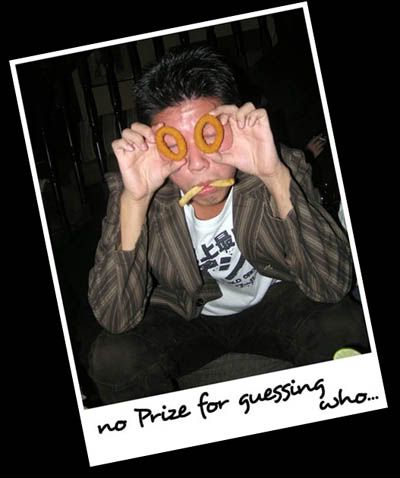 This year he decided that mickey mao looks cool.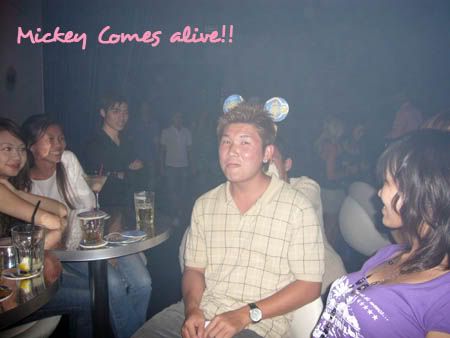 Really thankful to the friends I have especially to those online buddies that I have made in these 3 years(peppermin, zen, jeff, winston for his 5-10 games and all the other guys like BT). Yesh, for 3 years, they were around, celebrated my b-days, went for ktvs, picnics and dinners. I will be back with more activities, next year I promise !! when my course is done~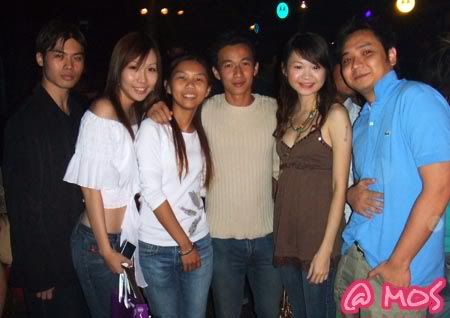 Thanks for remembering folks.
Thanks for letting me know that I existed in your hearts.
~~~~~~~~~~~~~~~~~~~
Sunday.
friends tend to ask me what did Darren gave.. what did he do..Jon and Justina were asking me last night as well.
So did he pop the question?
No.....
So, is there a 1-carat diamond ring?
Not in sight.....
So what did we do?
He cooked for me..
=D yay~
Insisted that those arn't Instant Noodles, it's CHAO MIAN. whahah
We had a nice time lazing at home, playing with his nieces, watching Shallow Hal again, went for some cakes at TCC.
It was simple, but nice and sweet.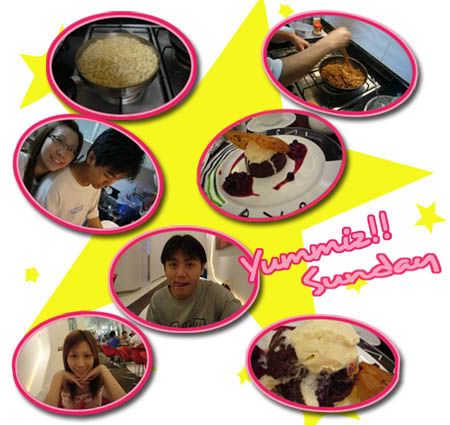 Oh ya, I'm buying 4D tomorrow and pray that i dio manzz..
so suay to lose that pressie aredi.. must dio 4D to balance up abit.
Labels: Celebrations
Kiyo 到此一游 @ 11:31 PM

Saturday, July 29, 2006
*~*~*~*~*~*~*~*~*~*~*~*~*~*~
Nice Taggie!
Thanks to Jeff for creating such a nice tagboard. =D
Lifted my mood instantly in spite of the fact that I still have to go for my lessons later keke.
It is the last lesson today and as usual, tips for exams are always given on last lessons hahah
Nothing special about this B-DAY Weekend this year except that I have darren to celebrate with me and that stoopid exam coming up.
Anyway, it's time to let the hair down
for a day =(...
We going MOS tonight! with my usual kakis plus gerald n gf ..hoho..
went to this place Xin recommended for seafood yesterday night
Sin Hoi San at Tiong Bahru Road. nice and affordable, yummy crab!
Me and my rebonded hair..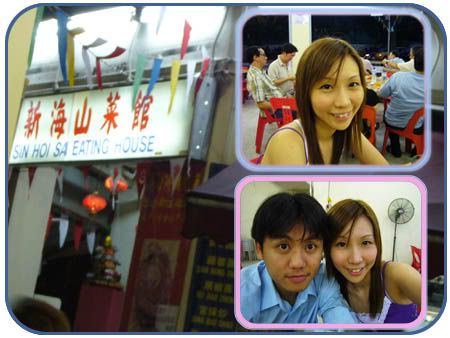 He said that he has grown fatter, and indeed, with all these devouring..=p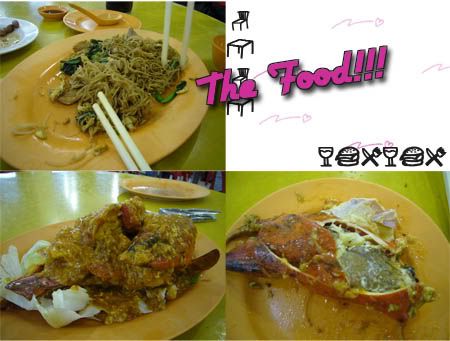 how do you know he is the ONE?
When you can eat crab at ease without worrying what he thinks about you. haha.
It was really messy affair. We were both very quiet during the dinner, concentrating on devouring the yummy crab!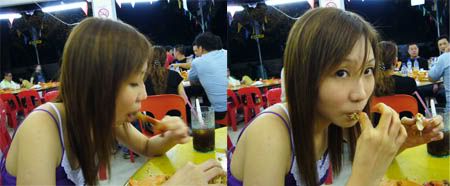 Hands dirty, but I'm satisfied.
What a nice pre-bday dinner.=D
Labels: Food and Events
Kiyo 到此一游 @ 7:48 AM

Thursday, July 27, 2006
*~*~*~*~*~*~*~*~*~*~*~*~*~*~
So farnie...
Received this through an email.
Male toilets wahahahahha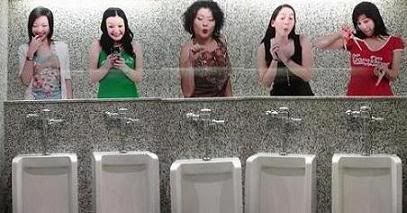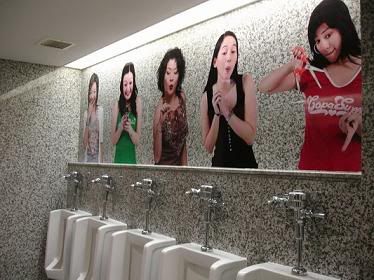 So disturbing..
how to shh shh like dat?!
Labels: Silly Stuff
Kiyo 到此一游 @ 8:52 AM

Tuesday, July 25, 2006
*~*~*~*~*~*~*~*~*~*~*~*~*~*~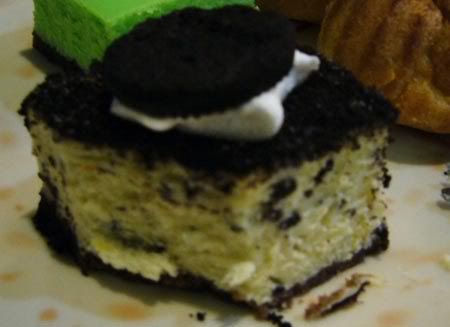 this was not baked by me hor

Look delicious eh.. I ate it in a buffet with Darren.
Think I must have put on some weight, have been to 2 buffets since he came back.

This is the one that me and Xin made.



Doesnt look as nice but it's good.. hoho such a pity that my mum and dad and even Darren don't like to eat cheeze cake. Bake for who?

=___=

This is the recipe courtesy from Jess. The non-baked kind.
Will try this very soon, suits me best as I dont have an oven at home.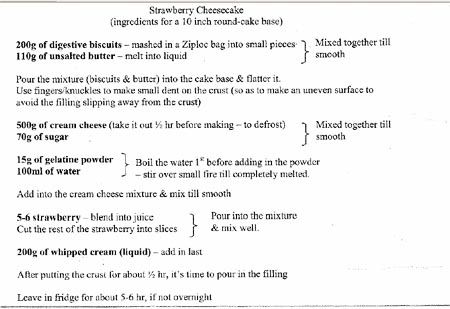 Got a new top at BV~! The top I'm wearing below. The moment I see it, I feel it must be available on taiwan auctions somewhere. Realized there's alot of taiwan auction stuff at BV for a much higher price. Saw my white off-shoulder top there (in orange kahler) selling at $10 bucks more. One good thing about it is you can try and get your stuff on the spot. Waiting for sellers from auction to send you the items may turn you into a giraffe.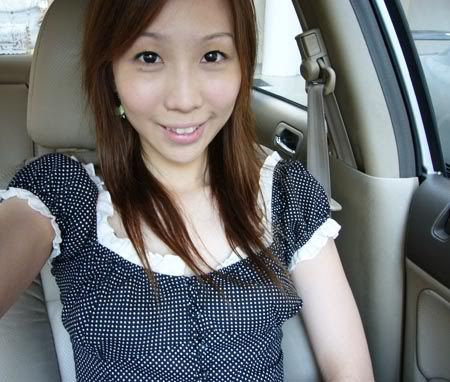 I'm officially a giraffe NOW....
waiting for misslovers to send my OOS items.! give her another 2 days..before I give her my ultimatum.
Please dont take my kindness and patience for granted hor.
Labels: Food and Events
Kiyo 到此一游 @ 7:14 PM

Monday, July 24, 2006
*~*~*~*~*~*~*~*~*~*~*~*~*~*~
Rebonded my hair!
Soft rebonding~ very natural
I rikeeee!
At long last, the days of going out without combing my hair are here again.
my previous rebonding lasted me for about 1.5 years.
Now my new hobby is to cut split ends. HAH.
how interesting.
Classes ended.
cos exams are 2 weeks away.
good or bad thing?
want to go HK.. gerald say he bought me some lao puo bing.
Cant wait to eat them..
Labels: Beauty Buys
Kiyo 到此一游 @ 11:16 PM

Friday, July 21, 2006
*~*~*~*~*~*~*~*~*~*~*~*~*~*~
Random Pictures, Random Thoughts
no time to blog and but still enjoyed taking photos in moi phone camera. keke
Asabu Soba have good deserts and icecream!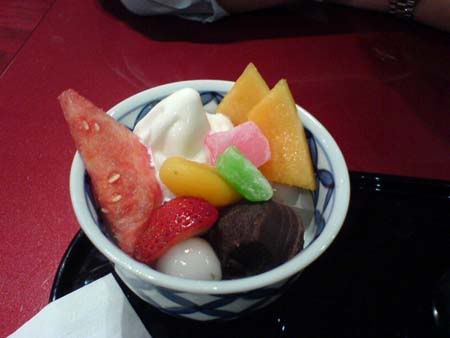 Suddenly.. i crave for those chewy red bean dumplings..
Here's another one...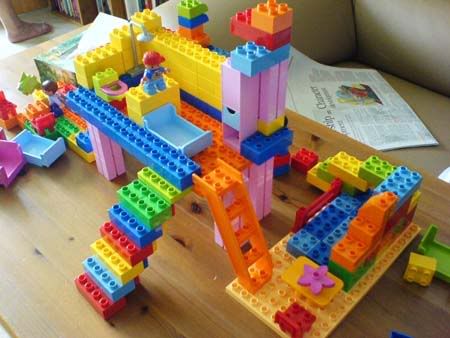 I'm back to Lego days.. the swimming pool is built by me~
=___=
can't see the swimming pool?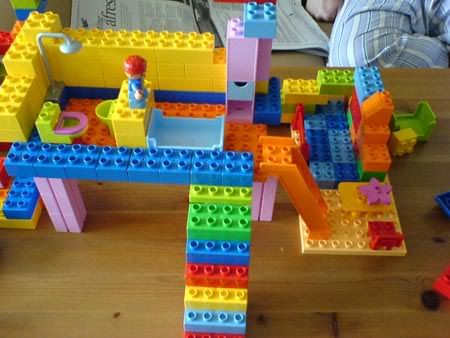 YESH.. That blue blue thing on the RIGHT IS
THE
swimming pool. It just doesnt look one bit like a pool eh..? use your imagination people hahahah.
We had dinner at billy bombers today~ their burgers were really good~~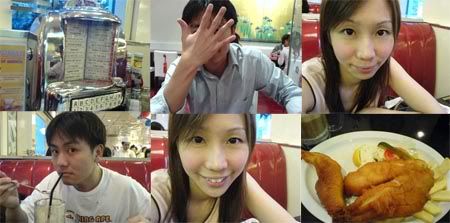 Oh yesh.. just to tempt you all, after my exams will be spreeing time again~! i'm dying to get some stuff from
~ Xiao Mei ~
She has nice clothes nor.. and I cant wait till exams are over.
saw a pair of shoes at Pazzion which I really liked, about $60.. Should I buy and splurge on myself!?
hmmmm...
My instincts say...
YES!!
(but I think my wallet is telling me no...)
Labels: Random Rants
Kiyo 到此一游 @ 11:24 PM

Monday, July 17, 2006
*~*~*~*~*~*~*~*~*~*~*~*~*~*~
Demoralized and Disappointed
What can I say..
Our presentations were fine but our group essay were kinda disjointed. We didnt realy put too much effort in this one I guess..
Everybody just hope to pass. Not Score.
Seriously speaking, I want to score.
who doesn't?
But it's really tough studying part-time, takes one to be really focus and sacrifice all the leisure time to studying, researching and projects which just simply translates to "no more sprees, no more shopping, lesser msn, no more lying on the couch with a coke in hand at home watching DVD..." =_(
And I still managed to cramp in 2 sprees.
tsk tsk tsk.
And I'm still going to learn how to bake cheezecake this weekend with Xin.
Think this module just jolted me out from my seat reminding me that if I want to score, I will need to sacrifice. So basic.. but yet so difficult.
But there are some things I just cant give up, it will make life too boring.
Anyway, no use procrastinating.. I shall go burn those notes, mix it with water and drink it, maybe more effective.
Labels: Random Rants
Kiyo 到此一游 @ 10:03 PM

Friday, July 14, 2006
*~*~*~*~*~*~*~*~*~*~*~*~*~*~

Loot arrived!

Misslovers are preetie fast and all orders for 1st shipment are correct.. *phew*..
Quality-wise..okay.. it's considered as above average considering how much you pay for one piece.



do you see ya clothes inside.. keke

and that is me wearing my new polka off-shoulder keke.





darren said that I looked like a DALMATIAN.. dammit
hey, hello~ where got look like dalmatian?
anyway, i'm going to wear it later hee hee

projects and presentations are due soon and exams are less than a month away. Really getting very overwhelmed by the work and very stress as well.
Just simply no urge to study for the exams.. and yet i am still dreaming about getting Bs...
how?!?
ugggh
Labels: Fashion Fuse
Kiyo 到此一游 @ 6:42 PM

Tuesday, July 11, 2006
*~*~*~*~*~*~*~*~*~*~*~*~*~*~

No WorldCup... EPL is coming!! :



:: kiyomi :: A....Ar...chew!~ : why? what's wrong?

No WorldCup... EPL is coming!! :

Results out liao...

No WorldCup... EPL is coming!! : I got D....

:: kiyomi :: A....Ar...chew!~ : aiya.. D good wat.. pass can liao nah..

No WorldCup... EPL is coming!! : A,B,C, D.. ..D is not pass... :( P is PASS

:: kiyomi :: A....Ar...chew!~ : couldnt be wat.. D should be pass ar!

:: kiyomi :: A....Ar...chew!~ : eh.. you dont scare me can..
(i was like.. oh no, not again)

.....
.....
.....

It went on for the next 5 minutes with him insisting that D is not a pass and he even went on to say that he dont want to go back and the company wont know about this.
I was on the verge of virtually screaming at him on msn to persuade him to go back and retake his exams.

Than he say.. D is not a pass..




it's a DISTINCTION...
grrrrrrrrrrrrrrrr
Darn.
I was tricked again.
笨蛋,I AM.

~~~~~~~~~~~~~~~~~~~~~
Okay.. 笨蛋 episode aside, i got my drugstore spree stuff today!

So what did I order.. hmmm..I ordered Vaseline Intensive Care Body lotion.. yeah you cant get that in Singapore. It's supposed to smoothen your skin and evens out your skin tone cos it contains slight amount of AHA in it. So happie. I want to have baby smooth skin!!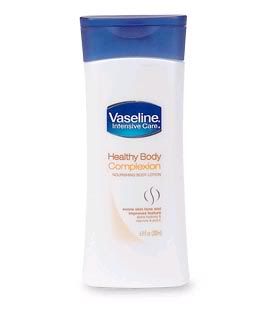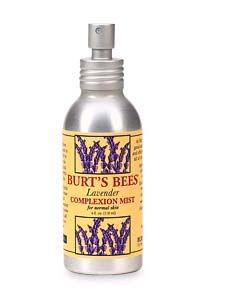 keeps face moisturized in air-con room..
Will keep me aways from looking like a dried up prune in my cold cold office.
Anyway, I caught the flu.. was too cold yesterday.. brrrrrrr
Labels: Silly Stuff
Kiyo 到此一游 @ 10:37 PM

Monday, July 10, 2006
*~*~*~*~*~*~*~*~*~*~*~*~*~*~
Italians won, French lost..
And now i have to wash the toilet for 6 months.
tsk*
Kiyo 到此一游 @ 7:40 AM

Saturday, July 08, 2006
*~*~*~*~*~*~*~*~*~*~*~*~*~*~
This is a one-for-one month
I have been talking about food, food and more food this month.
Let's dedicate this month to non-stop feasting and indulging!
and why is that so? cos DBS is so good to us by launching one-for-one buffets this month in my bday month!!
~ DBS credit card buffet promos ~
Darren said I lost weight when he came back.
There's good reason to be. There's nobody to go buffets, restaurants, suppers or watever with..~
I usually gain about 3kg when he is back. And I think he gains more cos he will have to finish up watever i cant finish. HA!
We went for our 1st one-for-one buffet dinner at Grand Plaza Park Royal.
Frankly speaking, it was nothing fantastic but the idea of either one of us getting to eat FREE just drives up my mood. haha
value for $ i would say.. their sashimis were really fresh and their deserts were great.. the others were kinda normal.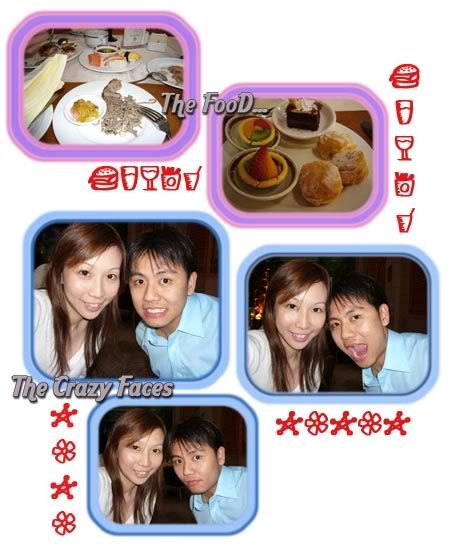 I want to go rendevous for weekend hi tea!.. yeah this weekend. hohoho
The list just goes on.. and on.. and on.
Maybe I will turn into this at the end of July.

Dis piggy looks darn ugly..
Oh ya.. happie mood encourages better appetite~
Misslovers
have sent our stuff~ but there are some clothes that are not with this shipment as they are OOS.
Requested her to send the first batch over as i just dont want her to hold other items back.. she may hold and hold or even worse, sold the available items to other people and they become out of stock again.
Of course I'm not saying she's such a bad seller la.. but there's a possibility that it may happen..
Just checked my credit card bill, the exchange rate difference can pay for the increase shipping charges, so i doubt we need additional funds =D
laterzz!...off to my projects and classes.
zzzZzzzzz
Labels: Food and Events
Kiyo 到此一游 @ 9:17 AM

Thursday, July 06, 2006
*~*~*~*~*~*~*~*~*~*~*~*~*~*~
My eyes are swollen..
cos I do not have enough sleep..
i've been literary dreaming these few days.
Yeah, dreams.. those with plots like dramas you watched on tvs.
How to have rest like that?
haizz
Kiyo 到此一游 @ 8:31 AM

Tuesday, July 04, 2006
*~*~*~*~*~*~*~*~*~*~*~*~*~*~
Ki can COOK!!
Hypnotism at Highest Level
yeah.. Just finished Mrs Catherina Hosoi's class on the Japanese Bento set with Pita Bread. Really delicious! We were taught 4 recipes and it was really an interesting class and after that, we just sat down to eat what she taught us, a lovely way to end the class keke.. to satisfy our hunger pangs.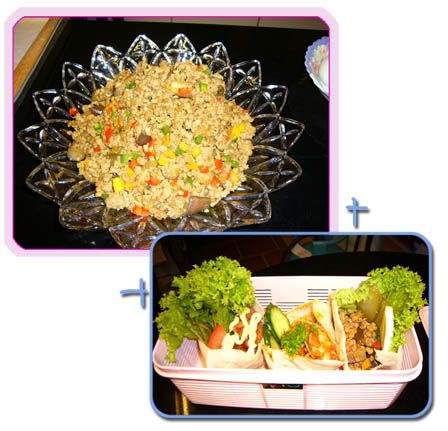 Slurp~
That is
NOT
Cha Png
(fried rice) me and Darren cooked that day okay, it's minced meat stuffing for the Pita Bread. The Pita bread was really soft and after cutting, it serves as a pocket to stuff any kind of fillings inside. She just made them sound so easy to make! =D
Going to try the Japanese style spaggetti this weekend if I could get that sauce..
spaggetti can be used as to stuff the pita bread too.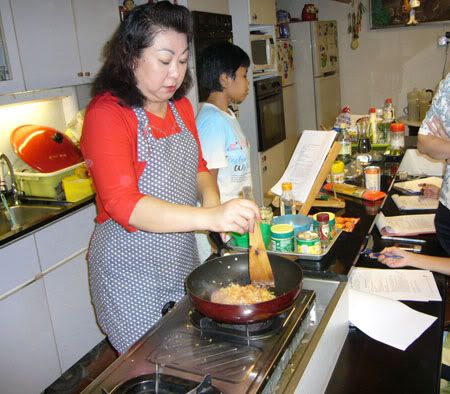 Everybody busy taking down notes..
I even took a video on
"how to roll the dough"
Chao Kiasu.. hahahha
*Ki continues to hypnotise....herself*
Before rushing to Catherina's place for cooking class, saw a group of people crowding around a stall with boxes and boxes of cookies/chocolates. Being me, I went over to take a look and saw this!
....
....
....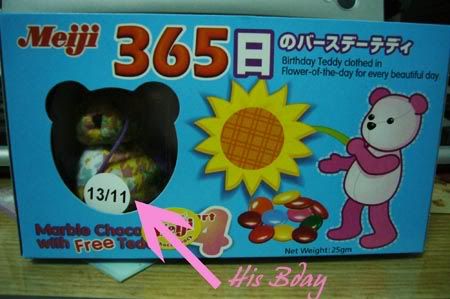 So cute nor~!!
365 days Birthday Teddy Bear with Chocos.
0__-''
Supposedly they should have a teddy bear for each day. So Shi-pear-cial right~~
But the catch is, you have to search the date yourself. There is no order of date or month packed in each carton or what. It just depends on your luck, or more of your PERSEVERANCE and large amounts of PATIENCE as well, to get the date you want.
0__-''
I tried my luck too.
Alas, impatience is in my name.
I was in a hurry too nah..
For 15 mins..I ramaged through the cartons and boxes with like-minded
childish
adults, nearly late for my cooking class too. Was on the verge of giving up to find Darren or my birthday bear, I found Darren's!! going to give him tomorrow!
Think he will laugh and laugh and laugh..
But come to think of it, jostling with the crowd, full-grown adults, mind you. NOT
ginna
okay to find this stupid bear with a sticker that bears your birthday on it....I should have just picked some July or November bear and print out the sticker myself.
TSK*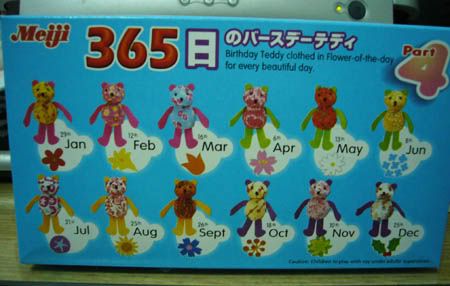 Anyway, the inventor of this packaging is really good.
Alot of people were there today, quite a number of guys too.
Definitely buying for their girlfriends.. =P
Labels: Food and Events
Kiyo 到此一游 @ 1:20 PM

Sunday, July 02, 2006
*~*~*~*~*~*~*~*~*~*~*~*~*~*~
I lurve my Purple Top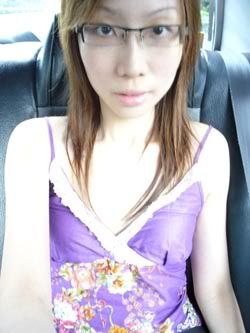 toot toot teng snaps away.


Nice?

I Rikeee...Purple makes me look fair.
Of course not THAT fair.. that picture was overexposed.

Cooked up a frenzy yesterday. Darren suggested we should try some cooking at home. We did well... fried rice, nothing really fantastic.
I mean HE, erhem.
Okay.. I helped with the slicing and stuff too.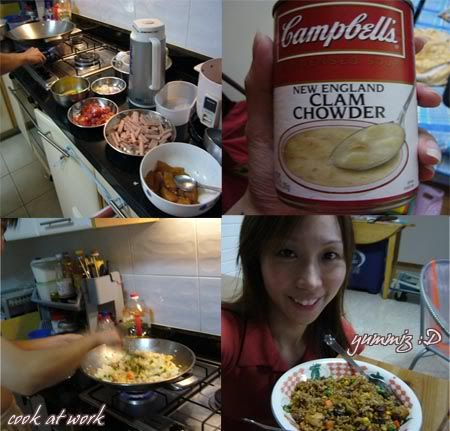 Oh ya, I helped with the soup too!


yeah.. pour milk and stir nia -____-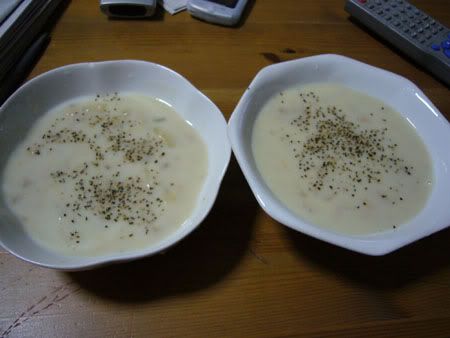 You would have thought that you could get that plate of fried rice downstairs at the kopitiam for 3dollars, why go to such troubles?
But it is the process that made this experience, ever so lovely and yummiez.

Cooking together is fun!
Xin and I have an agreement to go to her house to bake cheezecake together some day. I guess it will be in Mid July when I finished all my assignments.
How my hobbies have changed.
From exotic dance moves to cooking..~(or more to LEARNING HOW to cook)

Just found this on youtube.. Actually watched this quite some time back when a friend sent it to me but whenever I need a laugh, will just watch it again.
Ridiculous haha


So farnie~
Labels: Fashion Fuse, Food and Events
Kiyo 到此一游 @ 8:27 PM