Saturday, March 31, 2007
*~*~*~*~*~*~*~*~*~*~*~*~*~*~
The search for shoes was futile.
It's really difficult to find nice shoes with low heels. Lyana recommended me a shop called ANNA NUCCI at far east plaza, they stocked pretty nice shoes (not expensive)but the one I liked was 3 inch high. I am looking for about 2 or 2.5 inch only..
Exodus at bugis do stock super flat slippers (yeah i call them slippers) with swarovski diamontes but it cost 100 plus =_______=. Not going to spend so much on a pair of slippers nor.
Darren say if we really can't find low-heel shoes, he will sponsor to custom make one! ha! die die dont want me to be taller than him... keke
Going to check out one shoe maker in an industrial estate. I read in forums he's the person whom Leapin Lizard order from too. So going directly to the source itself may save some monies!
Black 7 Shoe Making
Blk 1014 Geylang East Ave 3 #06-212
(near my house some more keke)
Accompanied Huiling and Cheryl to BC to try gowns. Slowly getting to know the girls well. They said, next time we can go source for all of the things together! Be it shoes, favors or even when our new house is ready, we can go and see each other's reno =). Huiling is very interested in BC as she wants to French Village in Malaysia to take photos. Looks like a nice place for a resort getaway. I believe her pictures will turn out to be very pretty!
~ Colmar Tropicale ~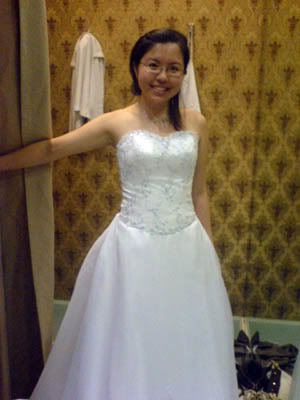 pretti pretti huiling~
Me was really tired over the last fitting at my own bridal studio that i told myself i won't try any more gowns. It's really tiring as u change in and out of the gowns, get scratched by the beads sometimes needles as well =(
But this gown tempted me! really lurve this pale pink lacy mermaid cut gown.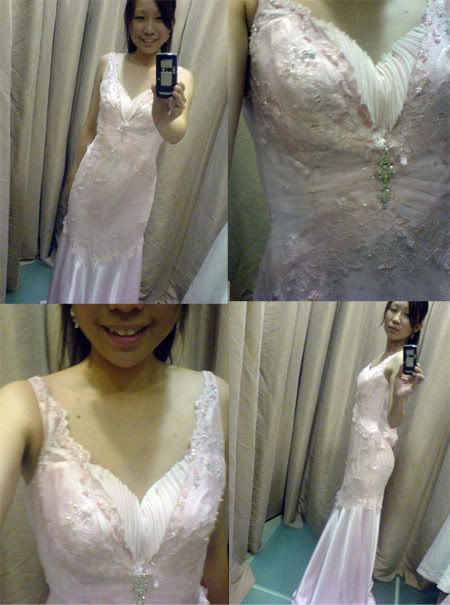 Enjoy the weekends! dim sum later =D
Labels: Wedding
Kiyo 到此一游 @ 9:27 AM

Tuesday, March 27, 2007
*~*~*~*~*~*~*~*~*~*~*~*~*~*~
Final touches for my Wedding Website.
The poll has ended.
The name is finally decided.
The votes are very close, with about 29 to 25 votes with oursundaylove.com leading.
Although the votes at my multiply site were few, sundaylove narrowly won by 2 votes too. It just shows how good the names are!
Thanks for all your comments!!! and thanks to Xin and Gerald too.. for their contributions!
So it's...
http://www.oursundaylove.com
More updates coming up after I collect all the photos of my bridesmaid and helpers. Meanwhile, please give us your blessings or leave a note in my guest book to let me know you visited! Look forward to them. =D
Email invitations will be sent out to those invited to my ROM and formal card invites will follow. Email/card invites will include the password to the online RSVP system so please do rsvp online to make my life easier! xie xie ni men =D
~~~~~~~~~~~~~~~~~~~~~~
Okay.. my weekend was really busy, we had a company BBQ at my CEO's apartment. It was very fun but really hot! We had loads of food including oysters and sambal stingray *slurp* but didn't eat the oysters as I doubt my stomach can take it.
Photos taken…
My female colleagues.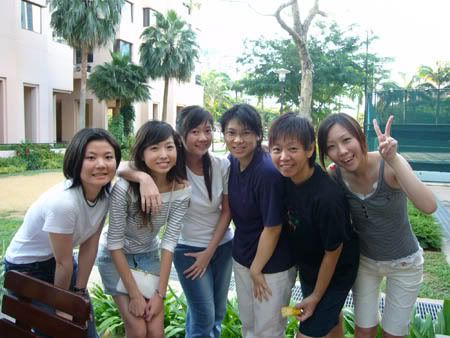 My pretty pretty assistant and receptionist. 2 years ago I was the youngest in my company, now … they RULE! Wahhaha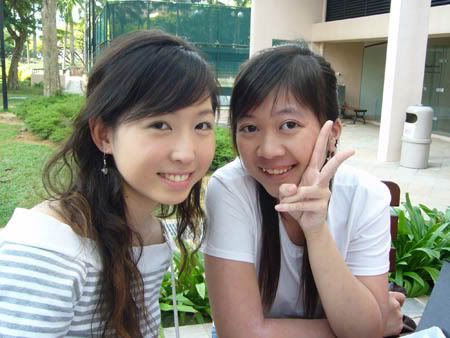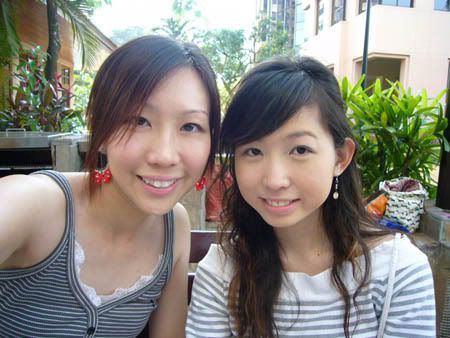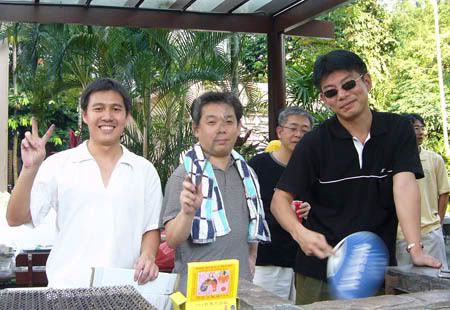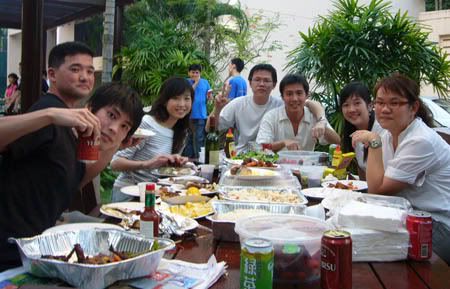 Tuesday
Made an appointment after my 1st fitting to try gowns again. Had a serious thought about it. If all my photoshoot gowns are bustiers, the photos may turn out to be a little boring. So I changed my mind!
Must rave about Sally, my coordinator as well. She's really accommodating even though this was the 2nd time I am gg to choose my gowns. I selected 2 out of 3 the 1st time round and said I have decided to take those 2 but I guess , being the "cannot-make-up-my-mind" Bridezilla, I changed my mind after trying more gowns. Believe me, this really made me feel like a princess, so this is it!
Cant take my eyes off the pic. It has a very nice long train with lace behind, looks very contemporary yet simple.
But I still prefer the front part, with a little gathers and the cutting made my waist look really small.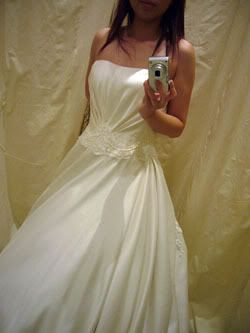 clearer picture in my multiply account, for my frens oni!
Thanks to Huiling and Cheryl for giving me a lot of precious comments!
The 2nd PS gown I chose is a full lace (spag strap), something different from the duchess satin ball gown I chose. It's sweeter and very lacy which I really adore.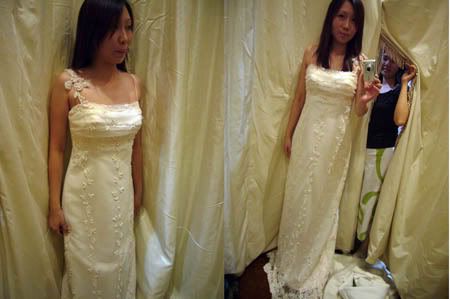 Last evening gown I chose is in the colour that I love...royal blue! it's pretty Low cut, i thought i couldnt carry it off since i'm really flat, but huiling and cheryl both gave me a thumbsup so i will be getting that. *beams* Cheryl tried that on and i posted her pic in multiply too.
Thanx thanx!
next is shopping for shoes this weekend.
Labels: Wedding
Kiyo 到此一游 @ 5:10 PM

Sunday, March 25, 2007
*~*~*~*~*~*~*~*~*~*~*~*~*~*~
Last week loots
Bought the clinique all about eyes (rich), their new eye cream.
it's pretty good I feel, really reduce my fine lines upon application and only 56 bucks! I think was recommended by nv ren wo zui da too. I got it from the airport, so it's much much cheaper than that. It's even better than my 80 odd Lancome eye cream I used to have.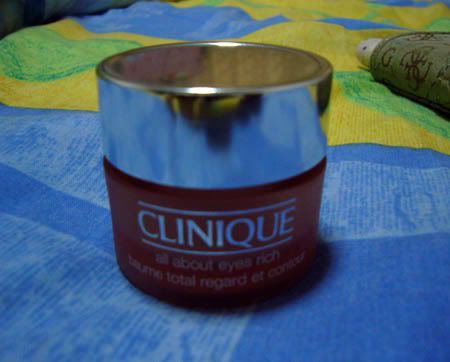 And I bought Deep Desire too!
Bought the pink with black lace.. it's realli pretty and signed up for their workshop as well, think it's gonna be interesting =p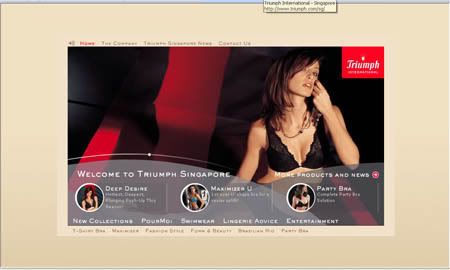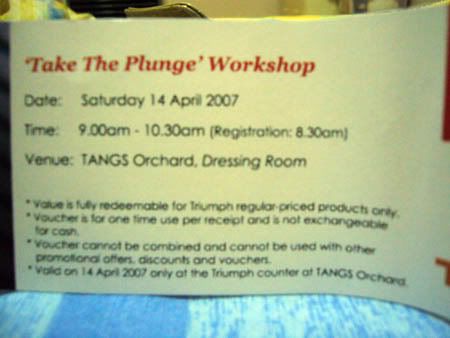 A new week starts again... finally my group project has finished but the worse has yet to come. Individual Project of 5000 words due end of april =(
sianz
but enjoy ya week ahead people! =D
Labels: Fashion Fuse
Kiyo 到此一游 @ 6:23 PM

Saturday, March 24, 2007
*~*~*~*~*~*~*~*~*~*~*~*~*~*~
oh.. i'm back from jakarta. At last have time to blog
One sentence to summarize my trip..
I hate the traffic but I love the scrubs!
it was a good experience, but it's also good to be back.
I thought it's gonna be just another business trip but it was FUN! okay not just the fun but interesting! Learnt and saw alot of things about my workplace and the company.
And suddenly it just felt like as if I just joined this company. My motivation and interest in the whole company, process and my work came alive again.
=D
Before i went, my poll was down but still kind friends sms me their suggestions or comments about our wedding website name.
THANKS a million!
Fulong had the same idea as Xin!
"Combination of both: sundayluvduet as sunday starts with

S-Shirlaine

& duet starts with D-Darren and luv starts with

L-

maybe your kids name..."
hahah..so fast think of kids liao.. keke LORRAINE? LYNETTE? or ah LIAN?
Of course there were criticisms as well (helpful ones of course.. =) thanks so much ), some were saying luvduet.com was a little commercialized, sounds like a chinese website with lyrics inside.
My sister who preferred luvduet said
"oursundaylove.. than monday to saturday how? no love arh??"
=___=
okay lah.. monday to saturday lust can? bleahzzz
Anyway, both of them are my favourites. I realized most of my female friends prefer the romantic one..
Okay.. back to my jakarta trip.
Although only a night, was really busy rushing to and fro from the different sales offices and factories.
Learnt alot of things from this trip, especially the products that my company is handling. They have an office that opens to visitors (including elementary school children) where people can experience various products of our companies. Really interesting! It's pretty amazing that such a small product can feed so many people. keke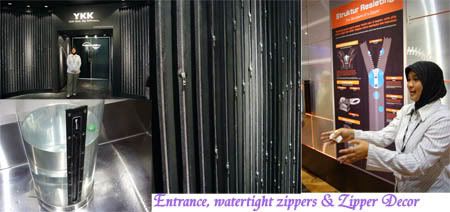 The watertight zippers are really cool.. no water leaks even when you press the metal part of the zipper.

zipper wall... before we enter into the fastening experience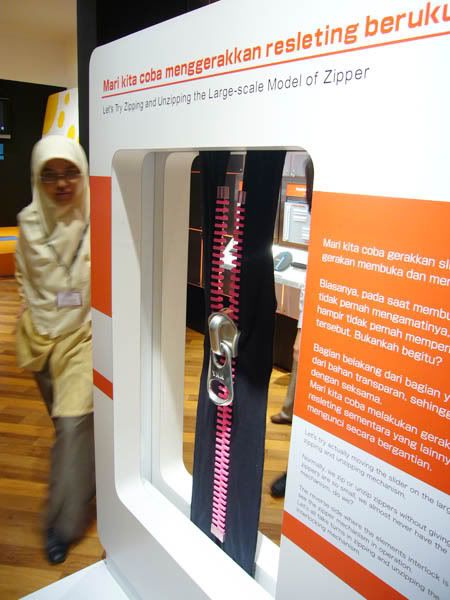 The GIANT ZIP!!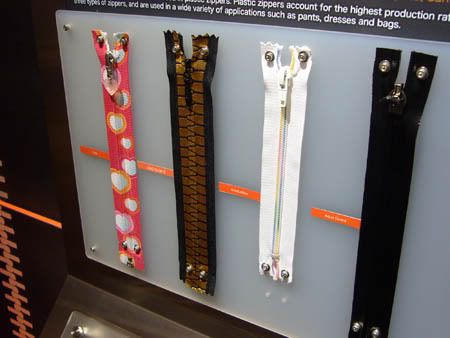 Cute zips can be made too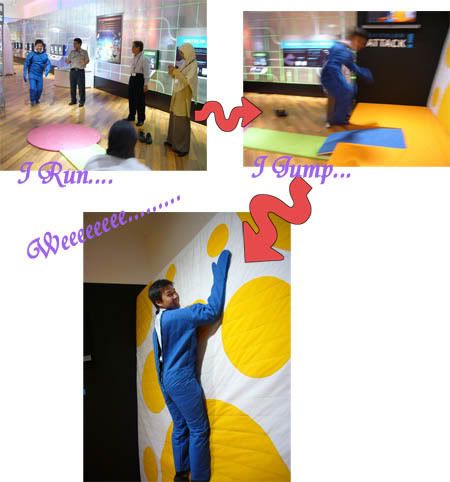 Quick-lon, which are commonly known as velcro... fun! i didnt try it.. too paiseh. =p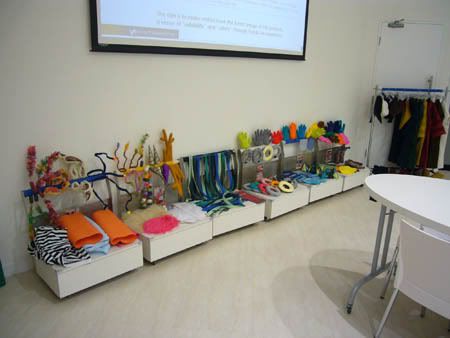 An area for the kids to express their creativity
The hotel was super luxurious too, which was a HUGE plus point. They even had a Ladies Floor and no men can stay on that floor. Yay, the men don't get it. I feel so safe.. hahah
I even had a mandi lulur done in the hotel spa.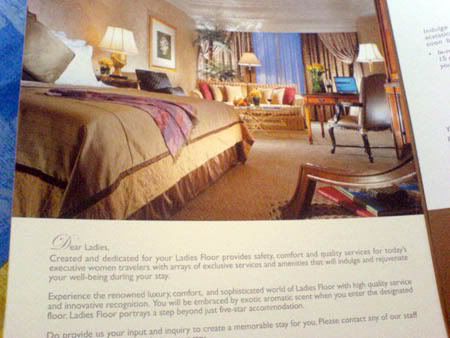 Company event tonite! bbq at my ceo's house.. fun fun fun =D I bet the house must be very atas =p
Kiyo 到此一游 @ 8:40 AM

Tuesday, March 20, 2007
*~*~*~*~*~*~*~*~*~*~*~*~*~*~
Friends and people whom I know or don't!
Almost done with my wedding website except choosing a personal domain. Really excited about my new webbie as darren and me contributed time after work
to work on the details, upload photos. But I must say, paid sites are so much easier to use.
Having a headache of which name to choose. Have 2 great entries from 2 great friends (Xin Yin and Gerald), me realli bad at giving names.
Decided not to use darrenandshirlaine.com although it's personalized cause my name is too long and it's not easy to remember the exact spelling.
I lurve both of them very much..Please please plss..help me decide which one it shall be!
Xin's suggestion: luvduet.com
Why I like it : Darren and me both LURVE singing so i thought it's rather suitable for us. It's simple, unique and easy to remember.
Gerald's suggestion : oursundaylove.com
Inspired by some website he came across last week, he thought it was pretty cool as both our ROM and Actual Customary fall on Sundays.
think blogpoll is down.. sianz
Kiyo 到此一游 @ 7:54 PM

Monday, March 19, 2007
*~*~*~*~*~*~*~*~*~*~*~*~*~*~

It's gonna be a busy week

but let's blog about my weekend first.

Attended a company function (launch of soccer exchange for kids) on friday which was quite fun. It was a press conference for the event that my company is organizing. Saw some cute Japanese soccer players, but pity there wasnt any chance to take photos with them. Don't want to appear too.. you know what.. hee hee

Saturday we had a good time trying out....


SUITS!!

A fella Julia bride shared a good lobang with me about nice and affordable suits. It's tucked away in Peninsular Shopping Center on the 3rd level. May offers alternations too not just the length but the waist too...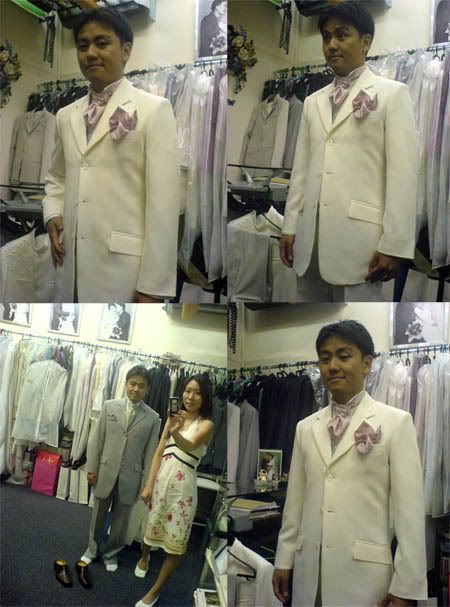 FWAH.. pink scarf and pinkie hanky hahahah
i rikkkeeeee

Sunday was attending the soccer exchange at a soccer field (haha..abut then). Of course the cute japanese soccer players, (including former J-league players!) were there but wat was cuter were those primary school kids dashing to kick at the ball. Some were so little that their socks covered 3/4 of their leg and their shorts covered the rest. keke Had fun too getting all excited although we were just standing at the side of the field cheering the young children. tee hee hee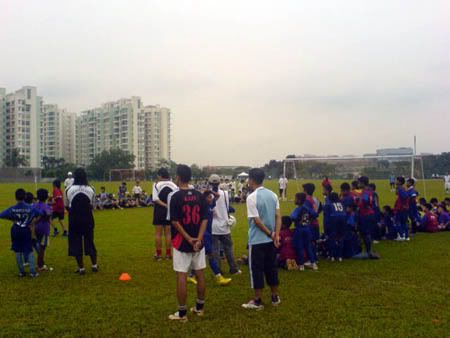 Okay enuff of Fun.
My schedule is packed to the brim this week. It's going to be in MADHOUSE operation mode and tomorrow i'm going to Jakarta for business trip.
of all places.. grr
Kiyo 到此一游 @ 10:06 PM

Saturday, March 17, 2007
*~*~*~*~*~*~*~*~*~*~*~*~*~*~
I've done it again.
Bought things AGAIN (on friday)
EVERYTHING I bought was NECESSARY hahaha.
Okay bought this dress at 30% off from Joop. A casual weekend dress. eh.. Do you think I should just wear it out later? Cos there's this thing about sales...You are getting one piece out of their 300 pieces and may just knock into someone on Orchard road wearing the same thing as you.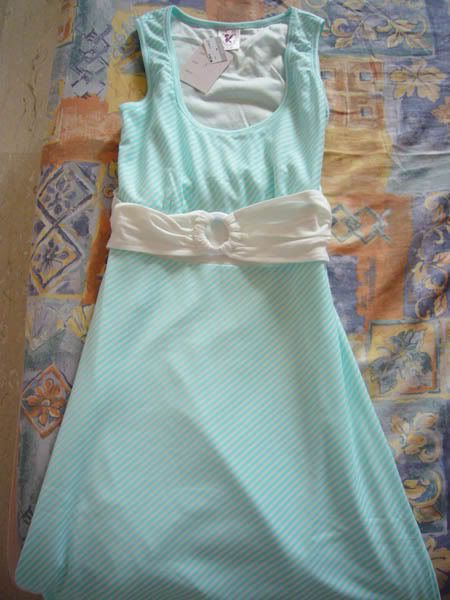 I have not come across that
YET
but I have seen people who have the same piece with me (but different colour!!!) Even my recept pointed out to me when we went to lunch.
"hey, this was the one you wore the other day!"
=____=
I wasnt wearing the same one that day nah but it was obvious that it was from the sales as the sale was ongoing during that period of time...=p kekekeke
Went to meet Cheryl and Huiling at Tanjong Pagar to accompany them to look at the gowns. Huiling havn't sign up for any package yet so we are helping her to find a good one. Went to La belle Couture, Digio, YC. La Belle Couture has quite nice gowns and pretty good service. The coordinator ling ling really knows her stuff well and recommended cutting that suits all of us hee hee. So the 3 of us had fun trying gowns!
Only managed to snap a pic at Digio..
Off-shoulder gowns..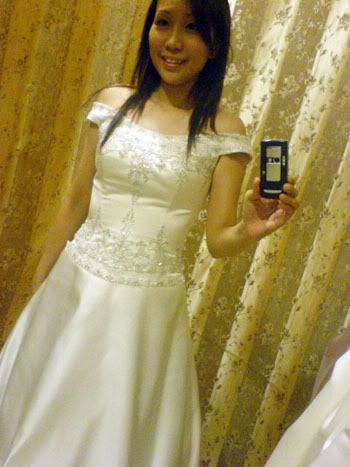 ]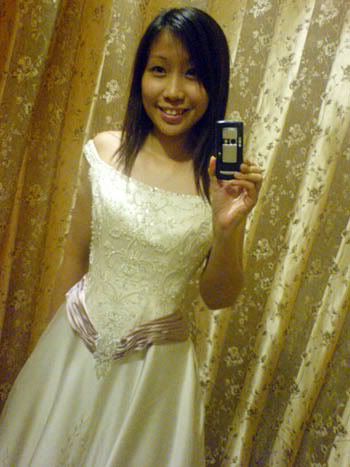 this one much better.. I lurve the Sash!There's a big ribbon behind!
Still glad I signed up with Julia as their cutting of the gowns do not really fit me well.. Makes me look as though I have a thick waist!! SUPER FUGLY SIANZ
Post pics of Darren wearing suit later whahahha.
We found a super good lobang. =p It's fun planning for a wedding, especially the finding
lobangs
process keke.
Kiyo 到此一游 @ 11:07 PM

Wednesday, March 14, 2007
*~*~*~*~*~*~*~*~*~*~*~*~*~*~
Isetan Private Sale tomorrow!
so it's the time to grab "necessary" things again.
yah.. necessary or not.. very controversial hee hee
Like my Fancl tense up =p
After that will be a session of gown fitting with the galz (yesh..AGAIN) hahah(cheryl & huiling) from sgbrides at La Belle Couture. They saw a purple gown and can't wait to try it.. (me too in fact) Can't wait to meet them!! They are January 2008 brides too =D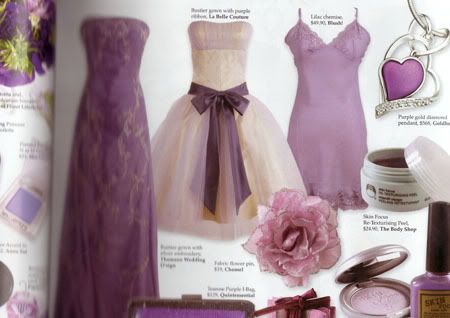 the dress with the purple sash at La Belle Couture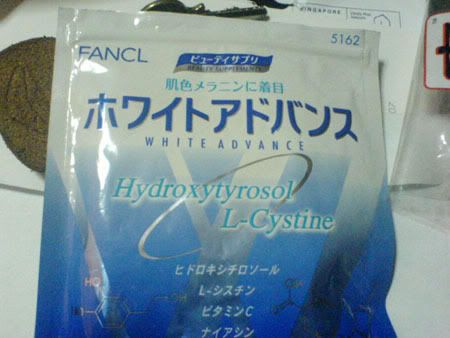 Have been taking this fancl supplement religiously. Don't know this supplement plays with your mind or your eyes or it's indeed working but i find my skin is getting fairer day by day! (at least for me it works). Skin is now more even-toned and
slightly
fairer, not just my face but generally.
Am a happi gurl now~ =D
STOCK UP tomorrow!
Kiyo 到此一游 @ 10:30 PM

Monday, March 12, 2007
*~*~*~*~*~*~*~*~*~*~*~*~*~*~
My dresses
Bought 3 dresses in all! ~ 2 from bysi as they were having their end of season sales and 1 from raffles place. Spotted that dress before chinese new year but was still thinking of buying it or not and before i came to the decision, it was after cny already and their end of season sale!
happizz. saved me some monies.. hee hee
Was in a pretty good mood yesterday so took pictures of my dress.
Brown is the new Black
. Lurve this! It's a tube dress with a big ribbon in front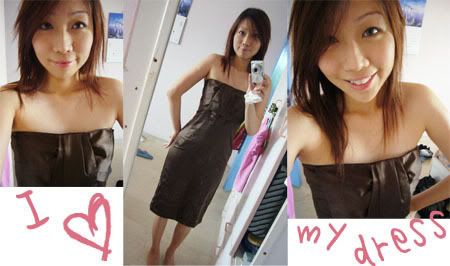 Another dress from raffles place. If it's not a function that i'm attending on friday, would not have wasted the monies, but as the saying goes, shopping maniac doesnt change its spots. =p Anyway it's just this time round.. no more.
I hope
. Lurve the colour and texture and the cutting looks ultra vintageee~ Wish i can find an evening gown in this colour. =D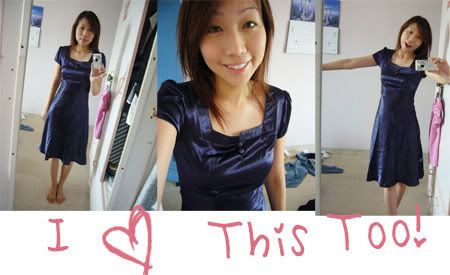 The photoshoot gown selection at Julia was quite alright. It can be fun and tiring at the same time cos we went straight after work without dinner. They have really nice gowns & I really have no idea which to choose! Have settled on 2 of the 3 gowns I'm entitled to. Only spent about 1 hour odd for the gowns. It's a pity that they do not have many off-shoulder gowns. Their nice ones are all in bustier... kinda boring. Will go down in 2 weeks time to try more gowns again..
Took some pictures using my phone although we were strictly not allowed to. They are scared that people steal their designs. =______=
A glimpse of the ROM dress my coordinator selected. Since it's free, i will take it! plus rent from justgowns hee hee..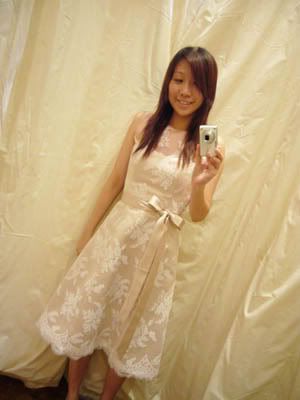 more photos at my multiply..
Went with Josephine to Olive Suite and Fairy's inc to take a look cause she's getting married as well. Their dresses are nice! but expensive of course. An ROM made to measure package will cost about 600 dollars. There's this dress with a very nice victorian brooch. Going to find a similar brooch to use it on my other dresses. If everything fails, will just get the brooch from her!
(darn cheap skate =p)

IT show thereafter!
Although Marcus has advised me to get our hard disc drive and thumbdrive at Sim Lim cos there shouldnt be much discounts anyway, we just want to go there and take a look haha.
Cannot imagine we squeeze in the crowd to get just one thumbdrive and a portable hard disc drive. Cannot stop laughing at myself.
2Gb thumbdrive for 38 bucks was another steal~
4 more days to weekend..
Kiyo 到此一游 @ 10:50 PM

Saturday, March 10, 2007
*~*~*~*~*~*~*~*~*~*~*~*~*~*~
What shall we engrave?
Deciding on a way to personalize our wedding bands.
Found several rings inscription ideas with the help of Dias. Usually couples engrave the name, date only but i think i wanted something more than that. hmmmph.. starts the head cracking again.
something we found..
LO-mantic ones
1. Amor Vincit Omnia (love conquers all)
2. Love, Honor, Cherish
3. I promise
4. Today-Tomorrow-Forever
(this is not bad)
5. I found love (his ring), & love was you (her ring)
6. I made a wish (his ring) , and you came true (her ring).
I kinda like the idea of having different sentence inscribed on the bands. =D
Far-nie ones
1. May the force be with us
2. Put it back on!
3. Happy now? Good
4. Mine, all mine!
5. A deal's a deal
This is a good one.
6. You jump, I jump
=_____=
7. Resistance is Futile
(hahahah yeah! very suitable for us)
Super
ROU MA
ones...
1. Because I'm your rib.
(shudderzzz)
2. Accompany me to the edge of the sea... (山盟海誓, 天涯海角??... shudderszzzzz!!)
3. Mother Butter Loves Butter Daddy
very funny reading those stuff.
I think we may just opt for the funny ones. It will bring a smile to our faces years after. Maybe something funny we shared.
Will need to brainstorm again.=p
enjoy your weekends!
Kiyo 到此一游 @ 9:18 AM

Friday, March 09, 2007
*~*~*~*~*~*~*~*~*~*~*~*~*~*~
so so busy..
so many things to finish and my 2 projects are coming up as well. The group project is relatively easy but the individual project is really tough!
It's about strategic management and we are supposed to provide solutions and also strategise? in
5000 words
!?!
It's pure
MADNESS
. It's my last module already and they have to
tekan
us this way. 5000 words per person. Write WAT?
it's about business and the lecturer adoresssss 孙子兵法. Looks like it's time to hit the libraries again. =(
What do I need to do during the weekends
1. Go to Library =(
2. Accompany Josephine to Olive Suite to take a look at their dresses *grins* (trying gowns are always fun)
3. Finish up my wedding website
4. Go to IT show
5. Buy magic whitening soap (heard that it can whiten very much! I need it badly)
6. Start off my projects!
Kiyo 到此一游 @ 7:01 PM

Tuesday, March 06, 2007
*~*~*~*~*~*~*~*~*~*~*~*~*~*~
Justgown Fitting!
Went to justgown for a fitting for my ROM gown. My bridal studio do provide a short gown FOC but due to my venue, I seriously prefer something long, flowy and sweet! =D
Just gown is a homebase wedding and evening gown rental that started only in January 2007. Seriously her gowns are all imported and some are nicer than what my BS is offering. The owner is Jean and she's preparing for her wedding too. Really nice and friendly lady, she gave me alot of tips too on how to take care of my skin especially my back since the one i chosen is a bareback piece. If I have known her earlier, i would not have signed up for julia!
luckily darren drove his mum's car that day.. her house is in punggol keke
Jean is really nice and friendly and sort of "encouraged" me to take pictures hahah. She helped me take this one and I really like this alot but it doesn't look good on me..=( there are alot of details in front! It seems abit loose at the stomach area and just doesnt complement my body shape. Not well-endowed in the first place.. too bad..
*boo hooo hooo*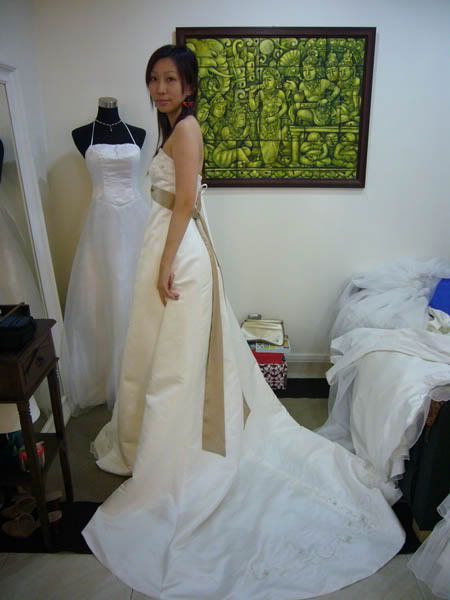 Lilac Dress!! The first impression I had on this dress was that the colour looks so orbiang! but strange enough, it kinda complement asian skins. It's a 2nd hand gown from The Wedding Present. Quite nice I feel heez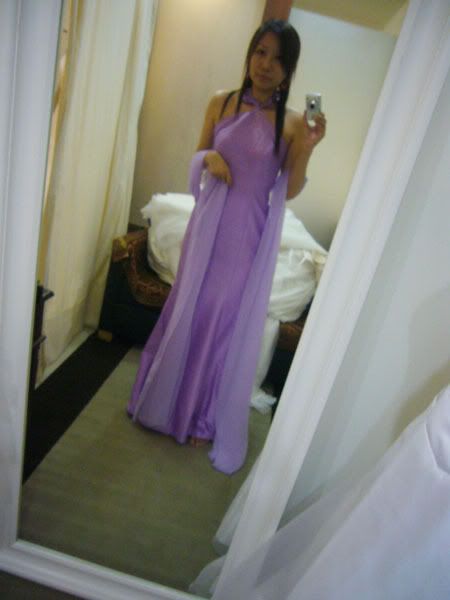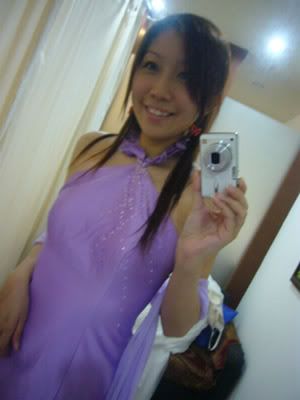 Tried the new york style too. It's mermaid cut and very chic and elegant with fine beading at shoulder. There's a slight train too but cant be seen in the picture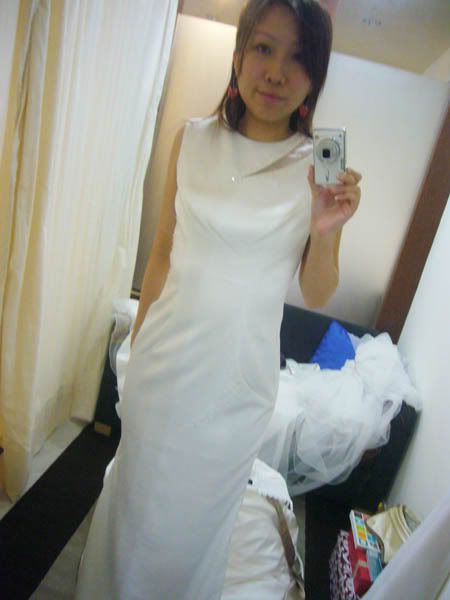 Here comes my favourite!!!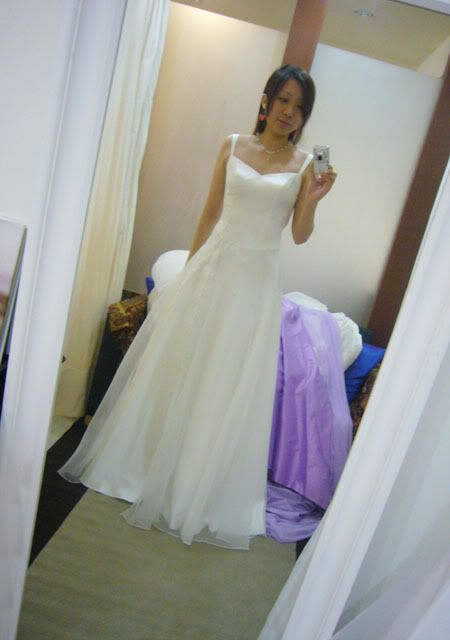 it's a simple and sweet gown with little beadings at the front portion. Esther was the first to comment that this looks nice when i showed her the webbie. That's why i decided to give it a try. =) Although it's kinda plain, i think the cutting complements my shape. After trying so many gowns, I came to realize that even if I choose the most intricate gown but it doesn't look good on me, oso no point! So looking for a gown that suits you is so so important.
The back looks like this. If I didnt spot any more nice gowns by April, this will be the ONE *grins*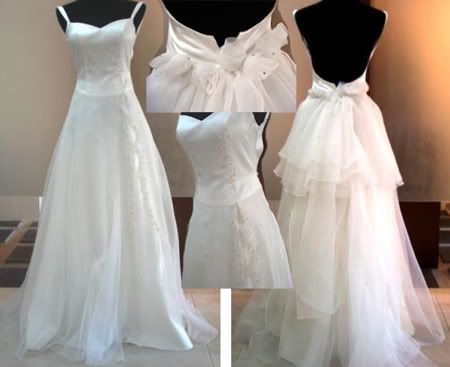 okay next..
Our bands!
We (I mean HE) finally decided which to get. He was deciding between SooKee band or Cartier band. Alot of difference horrr.. especially when I'm paying for his and he is paying for mine hahaha. okay kidding. =p
Our mix and match bands revealed!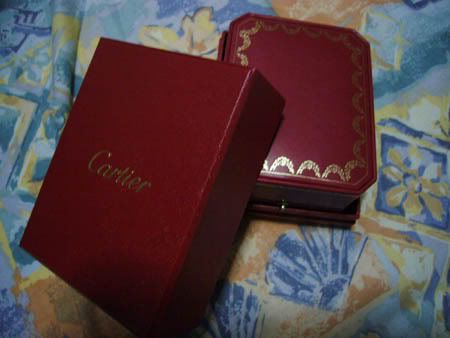 the cartier box.. the lady very nice, gave us free perfume etc haha..
I love the box.. look very atas.. we requested a box that can hold multiple rings so that my ring can go into the box too.. hee hee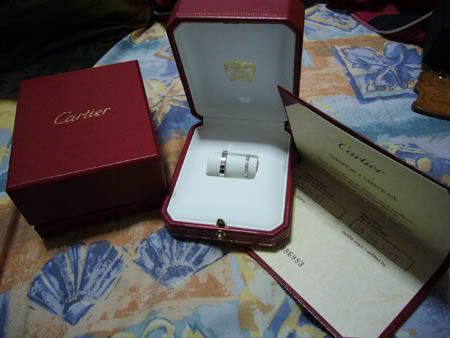 with the cert
our bands!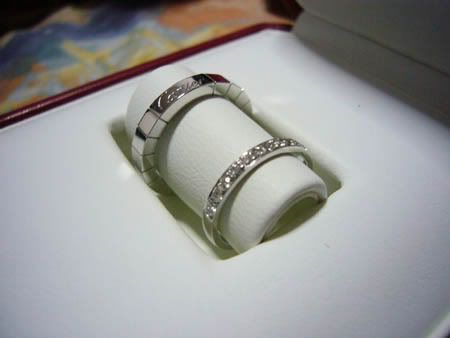 didn't make the wrong choice cos darren has been admiring his ring since and cant wait to wear it~ =__= cos he's a 101% vainpot too.
Labels: Wedding
Kiyo 到此一游 @ 11:15 PM

*~*~*~*~*~*~*~*~*~*~*~*~*~*~
Tremors!!!
Gosh.. experienced twice in a day aredi.. please stop! getting **dizzy**
Dis was my first experience with tremors or even earthquakes. Didn't experience any of them when i went to Japan many years back *phew* . I was like pressing the table to try to stop it from swaying (siao, u think u superwoman ar), and all prepared to dive under the table to take cover.
But of course, there's no need for that. Some japanese in my company couldnt even feel the swaying.. maybe they have experienced worse ones over there. Anyway, our company didn't evacuate.. maybe they thought everywhere oso high-rise buildings. Go home oso high-rise building.. not much difference oso.
Jes and Winston can knock off early.. so good.. I cannot =__=.
Tremors felt in Singapore after quake rocks Sumatra
Posted: 06 March 2007 1214 hrs


Singapore's Meteorological Services Division said an earthquake measuring 6.6 on the Richter Scale struck Padang, Indonesia at about 11.50am on Tuesday.

The epicentre was 50 kilometres north-northeast of Padang, on the island of Sumatra in Indonesia and some 430 kilometres south-west of Singapore.

Tremors were also felt in many parts of Singapore.

Callers to the MediaCorp News Hotline said they felt tremors in areas such as Beach Road, Jalan Besar, Robinson Road, Shunfu and Toa Payoh.

Some buildings, like the Concourse at Beach Road, Capital Square and Centennial Tower in the city, and even Ngee Ann Polytechnic in Clementi, were evacuated.

Witnesses said several tall buildings in the central business district swayed slightly.

Traders said there was little or no impact on financial markets trading.

If you too felt the tremors and have any details, do call us on the news hotline at 68222268.

You can also send your pictures and videos to yournews@channelnewsasia.com. - CNA/ch
Kiyo 到此一游 @ 6:56 PM

Sunday, March 04, 2007
*~*~*~*~*~*~*~*~*~*~*~*~*~*~
HAD a FUN TIME!
Weekends are always fun and thanks to Darric for the ktv session. =D It's indeed a good place to revisit again when we itch to sing.. keke
Nearly couldn't download any photos from my cam for don't know whatever reasons. It's the 2nd time that my files turned out corrupted. Can preview in the camera itself but couldnt download!! Took me some time to find another cable and now it can download perfectly. I seriously will get Canon next time.
think they are looking at jeff's cam hee hee.. Stay blissful & happi!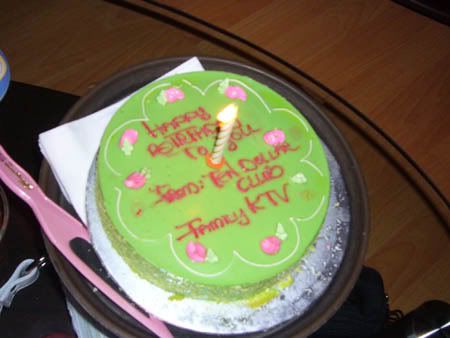 the lovely cake.. really really delicious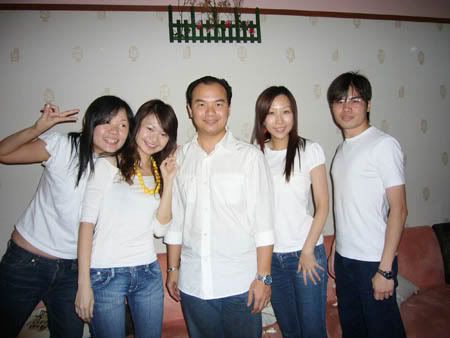 Sooo 巧
, everybody is just dressed in white top and jeans! the new fashion trend =___=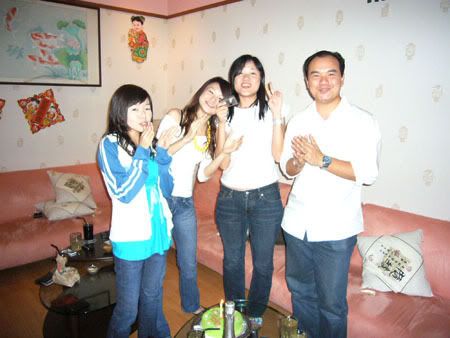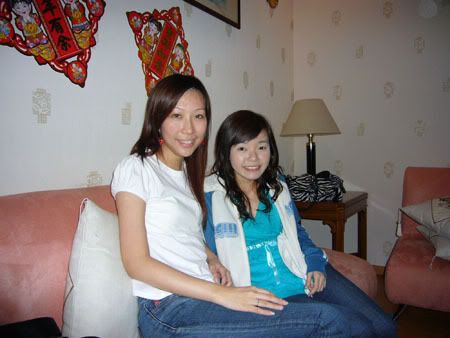 me and lala
we even had some champagne..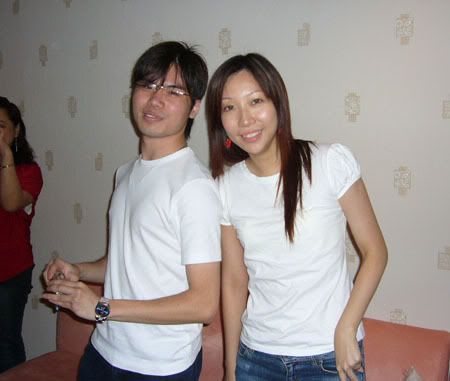 me and jeff.. me looked so tired. Quite shaq out cos woke up really early to choose my ROM gown at justgowns.biz. Was really fun! Blog about it tomorrow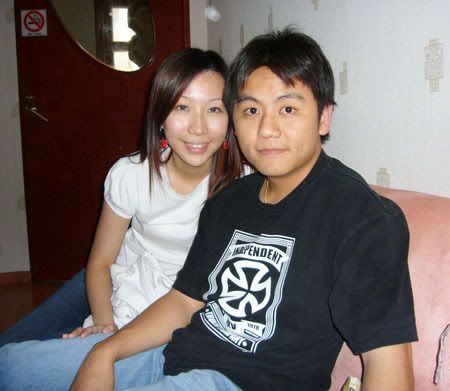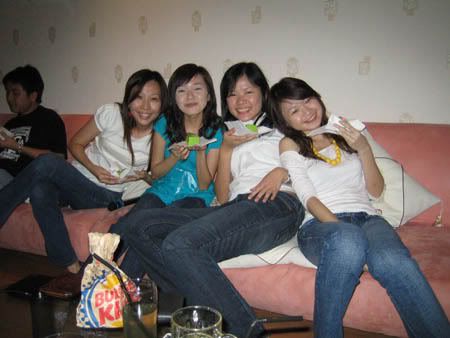 photo kakiz haha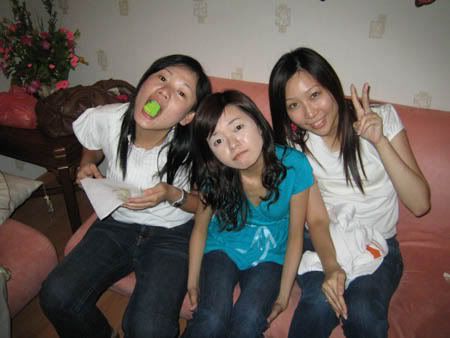 fang,stella and me.. acting silly
Photos from Jeff..=D thanks for uploading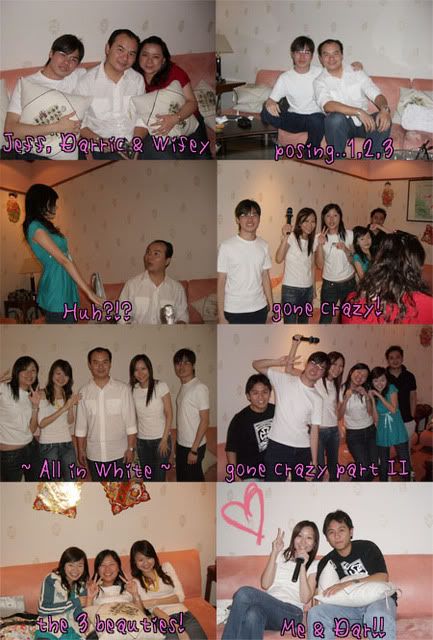 more photos at http://jeffportal.multiply.com
Kiyo 到此一游 @ 1:09 PM