Saturday, December 31, 2005
*~*~*~*~*~*~*~*~*~*~*~*~*~*~
What an end...
Was still talking happily with virgie that we shall go MOs tonite to countdown..
Not anymore.. so sorry virginia..
it's not a happy end to my 2005..
Kiyo 到此一游 @ 8:23 AM

Thursday, December 29, 2005
*~*~*~*~*~*~*~*~*~*~*~*~*~*~
Another 2 more days....
we will say
SAYONARA
to 2005 and
EMBRACE
2006 with joy, laughter and more
GREY
hair.
I have been reading my blog entries for the past year and I still smile over it cos I sounded really crappy and dont noe why I seem to move to the "serious" side nowadays. 老了..Crap 不起来了.. haizz. Cannot imagine that I changed so much within a year ~
Anyway, it has been a fulfilling year for me. Just a recap of what I have accomplished this year...
Things to remember...
1. I took up exotic dance, did a stint of lap dance and had loads of fun being in the Amateur Team
2. I went for photoshoots that made me realised that I look like SAI in photos and those that are not that SAI are always decorated by xdd until it looks like SAI again.
The masterpieces of xdd. I almost have one for each theme..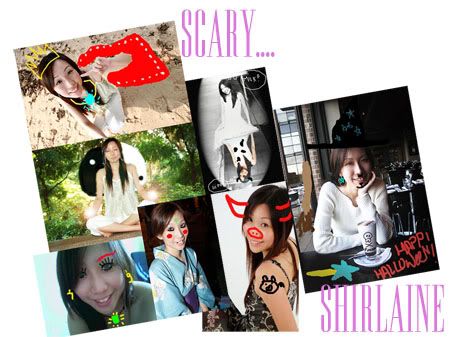 On Love...
5. I went to Perth
(AGAIN!?!)
to visit Darren
6. I had a happy time planning for my bangkok trip starting in a FEW DAYS TIME!!
Others

8. I sang at my good friend's wedding which was quite an "experience" and which also means...
THAT
will be the
LAST TIME
I make a public stage appearance for ANYBODY's wedding.
9. 60% of my blog entries were about 女人我最大 & cosmetics
10. I learnt to appreciate everybody around me and will think twice before I complain about my life
(okie i only think twice and then I'll start complaining again)

11. I can operate the sewing machine with ease NOW. hur hur hur
Things to forget...

1. Planned to visit Phuket & Taiwan but both were cancelled due to last minute obligations
2. Darren have to leave me for another year =(
(another 1/2 year more..)
3. I havn't finish my scrap book
(blog entry dated May 24th 2005)
and I intend to leave it till May 2007. -_-
4.
Orchehs
and
破皮
are inevitable after dance classes.
5. Had loads of trouble with my wisdom tooth and the TMD (TemporoMandibular Disorders) syndrome
6. Signed up for 5 treatments at
Rustic Nirvana
for their body massage and milk bath
(their service SUCKS BIG TIME dont go~)
Gawd~ I just summed up my whole year in just a few sentences..
I dont have any plans on the last day of 2005 but will be going to CUT, COLOUR and HIGHLIGHT to change myself into a BRAND NEW ME for the New Year. YAYyyy! Dis time.. it is gonna be drastic, people.. i need an image overhaul~
Dance our way to 2006!!
Kiyo 到此一游 @ 9:30 PM

Tuesday, December 27, 2005
*~*~*~*~*~*~*~*~*~*~*~*~*~*~
Silent Night.... Holy Night....
It's literary a Silent Night for me on Xmas Eve. Didnt do much but I had a
NYJC 2S3C
gathering
(seriously i forgot our class code but was reminded during the gathering)
at Swissotel. Robin reserved a room there and I joined them for a short while since we havnt met for ages, like almost 8 years..!?! for some of them. It was a good time catching up with them.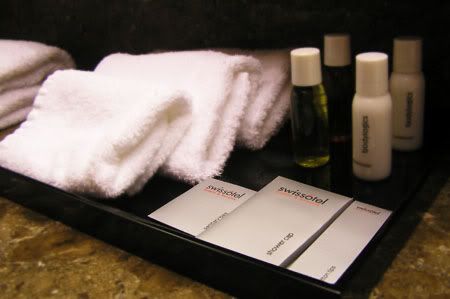 The room was kinda bare even though it cost 200 bucks. Amenitites were adequate but not lavish, Room was simple but big enuff to accomodate about 10 of us. All in all it was still good cos the company of friends are so much more important.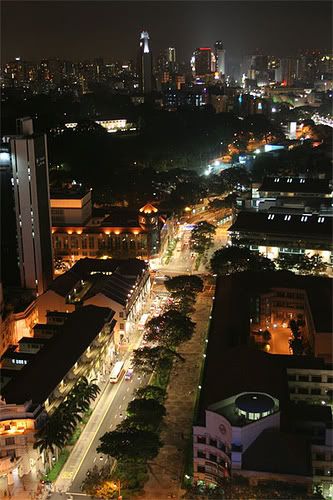 Went to Cafe Cartel to have our dinner and following dat went over to take pictures at the VERY Gigantic Xmas tree opposite Chijmes.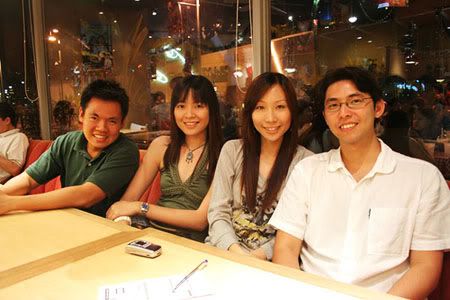 From left : Kelvin the teacher
(all of us were quite shocked that he became a teacher, a music teacher summore!!keke)
, Suqing the planner, me the normal OL and Robin, the system engineer.
Vanessa on the left. Saw her quite often when I was in uni cos only the 2 of us went to ARTS, most of the others went on to study Engineering in NTU.. tsk tsk tsk. I will kill myself first if I need to touch Physics again or learn about projectiles.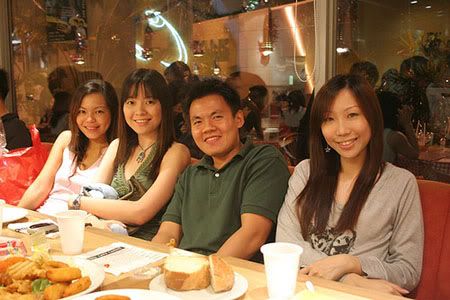 how we looked 8 years ago....
Time flies, people age... I'm no fairy, so I age too.. (but...... my hand signs dont seem to change hor.. strange)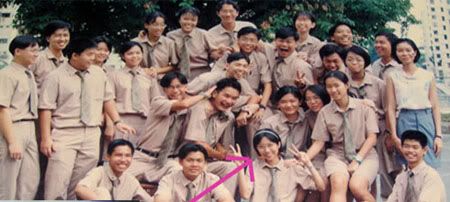 * da photos are purposely made small & BLUR so dat u wont noticed how tut i looked *
8 years liao.. must act stewpid
AGAIN
.. hee hee..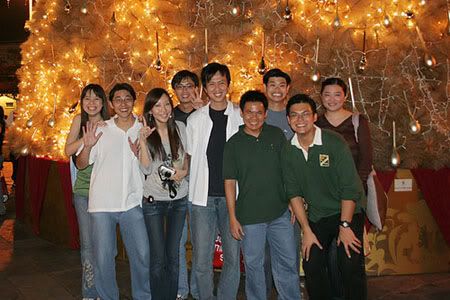 no resemblance at all, just fooling around..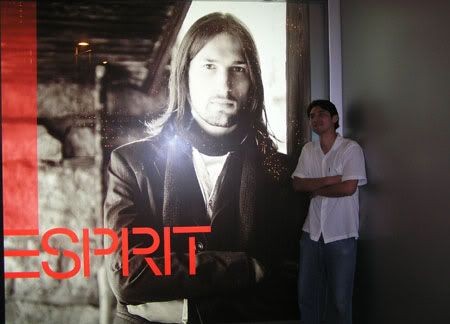 my jc mates were into dance as well! both of them learnt salsa separately at jitterbugs and we kinda 'forced' them to do a demo for us. Quite interesting!! There's another classmate that is learning belly dancing and I should have stayed longer and may get to see another free demo too!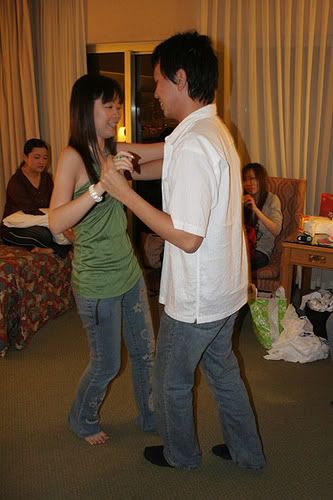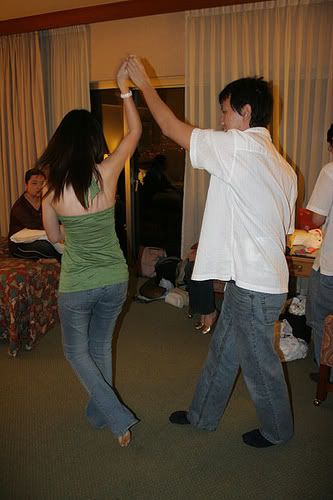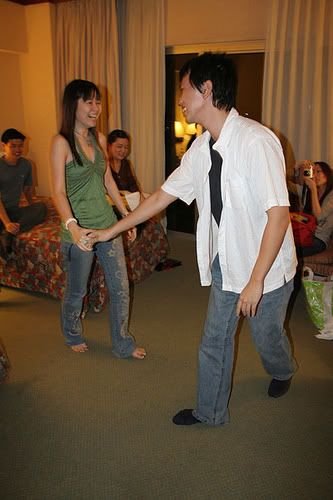 Went to meet darren after dat.. we kept asking me to hurry up.. arggh.. didnt even manage to even stay for my gift exchange but my gift is with Jenny now, and I know what it is.. It's a BIG teddy bear. =D
*pawtoes taken by wee boon*
Kiyo 到此一游 @ 9:26 PM

Sunday, December 25, 2005
*~*~*~*~*~*~*~*~*~*~*~*~*~*~
How can I ever forget...
My camera!!! Was still happily recharging my camera but I 竟然 forget to bring it to the SJ Xmas party?? so.. I have to resort to.. using other people's one!! haha Can you see faintly in the background.. the owner of the camera shouting....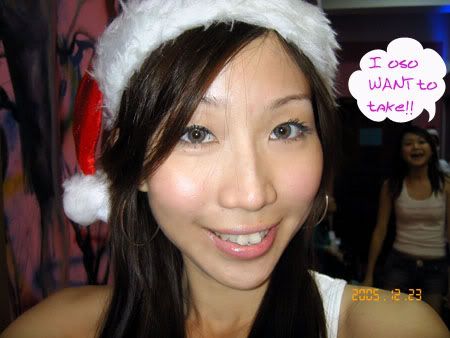 yesh. the theme is SCARY SANTARINA..
Some normal ones..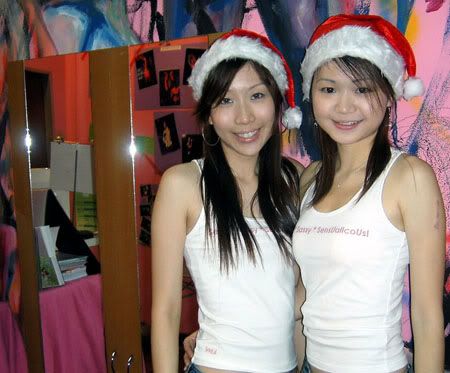 Yaz and ppm got some feathers for our team to wear during our silly scandalous performance...so that we can hide behind them. It looks rather familiar.. hm.. where did I see it before...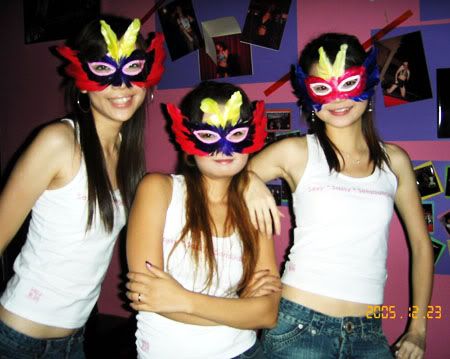 ...
...
...
...
...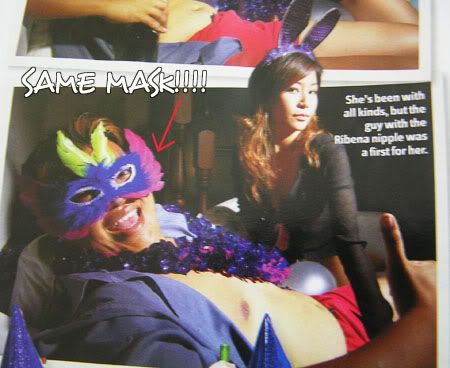 FWAH!! same one!!.He looks damn happie wearing the mask...Just Like us...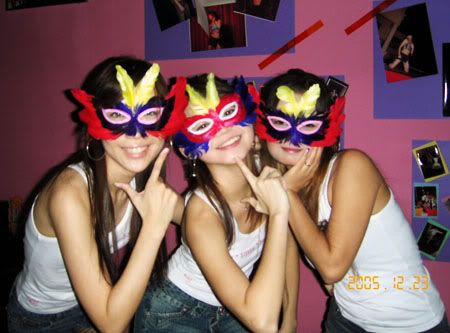 2 james bond and 1 demure bond girl. keke
da feathers are tickling me...TSK* -_-
So the party started with a bang of our SILLY SCANDALOUS performance. Nobody was amused as we strut around trying VERY HARD to amuse them with our awkward movements,
Mr Bean
walking style and
LEE XIAO LONG
shrieks.. All I saw was awkward stares and even Yaz's husband
(who was a freelance dancer)
was shaking his head in disbelief.. And I felt I could hear something over my head...
kaw kaw kaw....
(growing louder)
KAW KAW KAW....
(& LOUDER!!)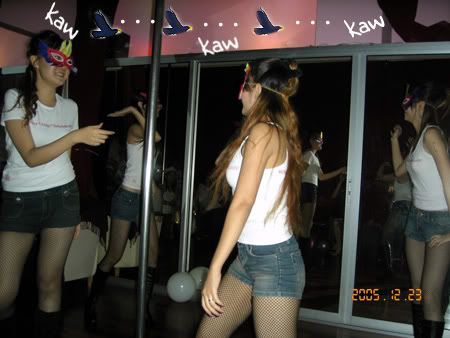 -__-!!! & I tried to shoo them away at the back.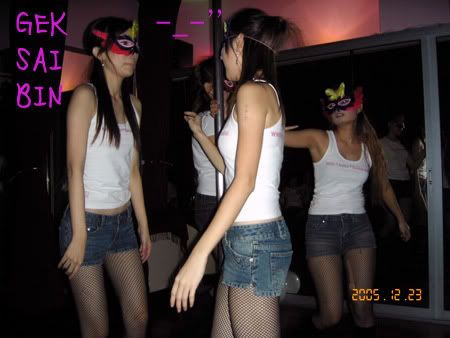 We had games, Miss Santarina Pageant or in fact Mr Santa Pageant cos not many gals took part and the guys were more game to have fun. In the end, 3 finalists emerged. They were asked to do sensual walk and free style dancing. Yaz's hubby was a reeaaall sporting person and started to gyrate his body. hoho.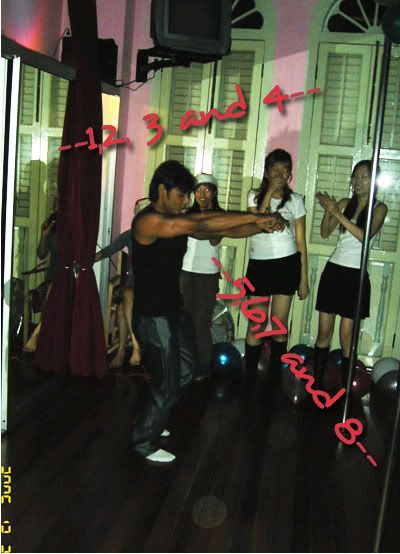 Winston mah... Clap until 手酸 oso LOwan to Lance. He prefer to lean against the mirror. His friend started to lance after some persuasion from the crowd. Not too bad at all!! keke.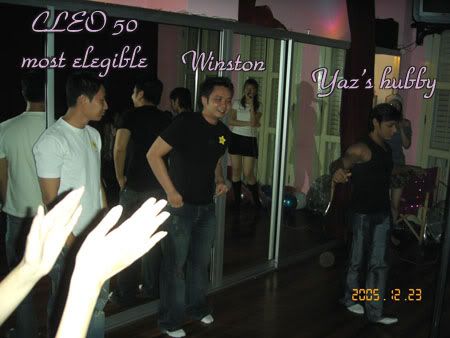 Next came our Janet Jackson dance.. Everything was still fine till the last pose where me n peimin was supposed to tilt our heads. We became a pair of SIAMESE twins in just one song.
WE WERE STUCK AT OUR HEADS.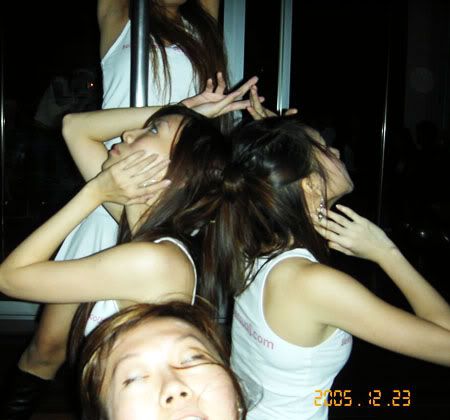 (everybody must be wondering wth i was doing hugging my cheek...the TMD syndrome acting up again?)
NO!! cos I knew there's bound to be people taking pictures.. I just want to cover my BROAD face as much as possible. 这招厉害 bah~ dont even need cosmetics to acheive dat.
Okie back to the siamese twins..Apparently, it's either her hair pin caught my hair or my hairpin caught her hair. We just couldnt move from each other even after much tugging.
CAN YOU IMAGINE HOW SI-TOO-PID WE LOOKED
when the other 2 gals left and we were still stuck there!?! we struggled for a while until I decided to give it a good pull. haizz.. there goes my hair.
There wont be any DANCE PRAC on Saturdays for next week! yoohoo! Da gals can take a good rest and as for me, I can just let my poor knees recover their oliginal colour.
(which is skin colour of course, now currently, they still look blue n black)
They will resume on the 7th January but I will resume the following week cos I'm going to Bangkok remember? hee hee
Kiyo 到此一游 @ 11:18 PM

Saturday, December 24, 2005
*~*~*~*~*~*~*~*~*~*~*~*~*~*~
I just lurve Christmas season...
especially preparing for gifts and the gift exchange part. Given the dance gals the pouch I made painstakingly for 2 weeks. I cant' imagine that ME, a person with fingers that are like her toes can finish those pouches...
*happi* * happi*
Gifts galore!!
My boss gave me a pink Pashmina.. really lurve it.. Keeps me warm in the office.. lalala =)
Joy gave us this glitter! In my favourite colour Green!!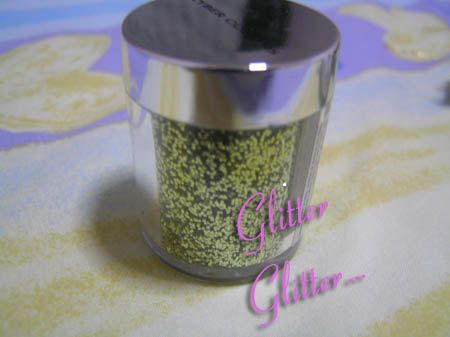 This was what our dear peppermin gave...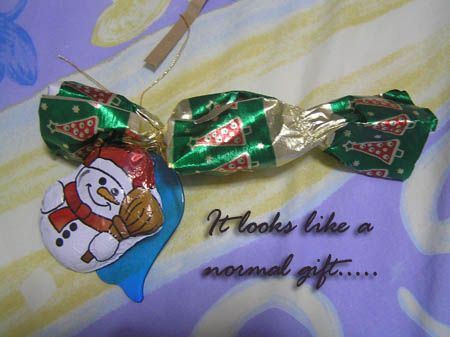 But it is not a normal! 内有乾坤!!I think it's supposed to be pulled by a paper string inside it so that it will pop or what and thus revealing......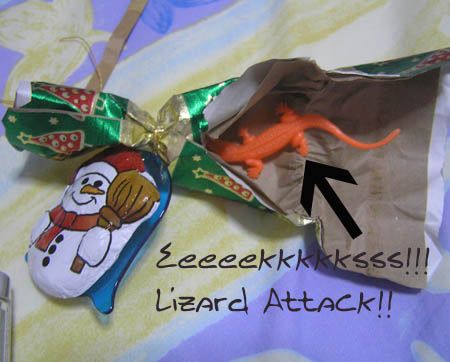 !!!! Luckily I didn't scream. It was already midnite when I opened the presents -_-.
No no no.. No lizards and xiao qiang pls...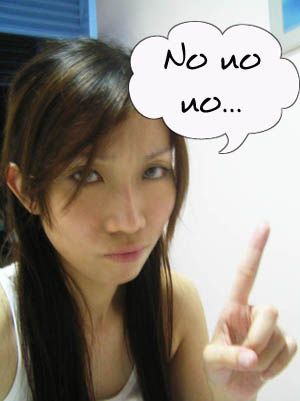 Zhang lang lai ler.. wo hai shi hen hai pa...
Taking a closer look at Mr Orange Lizard himself...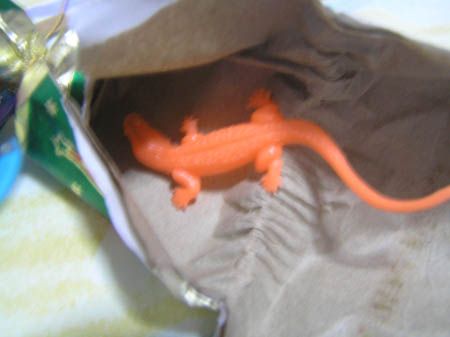 I think i look scarier
... -_-
I'm going to THROW it on Darren later... hiak hiak hiak.. hope he will scream. Haha
Yesterday was at studio again for our Xmas Party.. The group was small but I really hoped that people like Winston n Josh had fun. Asked about our performance and Josh told me we looked really STONE
(or maybe it was only me.. bahhh).
I told him we are trying to look cool.. -_- but he felt that we seemed very routine. Hm... actually not the first time our friends commented this.. Try performing the same dance for at least 3 months. HOkay, I shant find excuses for ourselves.. haha We shall try harder!!
Josh gave me chocs...I'm a chocolate Addict!! Just ate 2 pcs just now.. really HEAVENLY. Thanks josh!!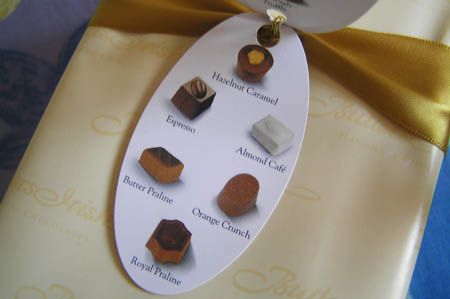 Going to have a meetup with my JC mates later in the afternoon. They booked a room in Swissotel with good view and food and we shall have our first ever Xmas celebration there. I'm going to do last minute shopping later cos a clue was given to me and I was supposed to buy a present
RELATED
to it! It's quite tough.. arggghhh... I'm bad at interpreting clues...Frankly speaking, I havnt bought anything for Darren yet.. told him I'm not giving him
ANYTHING
dis year.. but will get him something later just to surprise him hee hee!!
Enjoy your long weekend my friends.. and
Merry Xmas!!
Kiyo 到此一游 @ 11:27 AM

Thursday, December 22, 2005
*~*~*~*~*~*~*~*~*~*~*~*~*~*~
無極 Spoiler..
*Dont continue if you intend to watch The Promise starred by Cecilia Cheung...but i dont think you will nah hor after reading my post*
der whole highlights of the show is about ..
1.Whiny teary guys that speaks in a chao ah gua way
2.Cecilia chung 2 second naked scene with important parts all carefully covered up (so you see NOTHING),
3.& a Xue guo ren that can run faster than anything alive.. even spiderman must concede defeat.
The show got me all interested in the definition of Wu Ji, cos i really dont understand n they didnt really explain during the show.
I did a search on the internet.. and found the following...
無極代表無量又代表般若,一切佛都從般若生出,取之不盡,用之不竭..
[三教平心論]
列子曰
無極復無極 無盡復無盡 是知其無極無盡者 而不知其有極有盡也
-_-''
chimalogy...I got a C for my Chinese Studies in University..(dat was wat spurred me to switch to Japanese studies and I'm so GLAD I did)
Their artistic direction, their costumes n some parts of their intellectual quotes like wat (shi jian shi wu xing de blah blah blah) was OKaaaY, but i just find the whole story quite absurb especially throughout the WHOLE show, there will be one guy or another sobbing.
AND I MEAN REAL sobbing
..damn whiny with sound summore.. ar gua can.. argghh. dat really turns me OFF. 谢霆锋 acted as a Duke in the show and I think he did a great job acting out his role except for the fact that the show isn't dubbed and he really sounded like another
cao ah gua
with all his strange intonations. Maybe it's done on purpose or maybe it's the request of the great director, chen kai ge. or even a bigger
MAYBE
, I ain't artistic enough to appreciate it.
Cecilia chung was a little beggar girl who was given a choice to become the most beautiful princess on earth but never will she have the chance to experience true love. This promise shall be in effect unless shi jian ni zuan, ren si fu sheng, he shui dao liu
(they repeat so many times until i can remember liao).
And my conclusion for her most beautiful princess title is that she looks
A WHOLE LOT
better without makeup. I seriously believe there's something wrong with her Makeup artist and it's definitely a case of makeup gone wrong...
Darren told me after the show that he would rather watch King Kong than watch Cecilia Chung's 2 second naked scene cos he can barely keep himself awake after that.
-_-
~~~~~~~~~~~~
Horkay.. enuff of Wu Ji....Received something in my mailer today..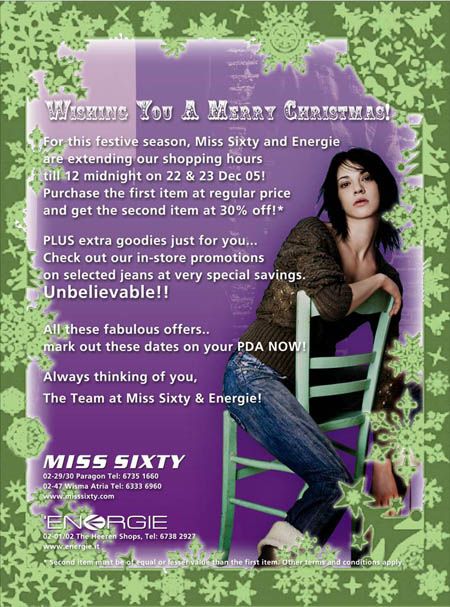 Think i will drop by on Saturday, their jeans are kinda expensive but really good.. they last longer than Levi's.
Kiyo 到此一游 @ 9:56 AM

Tuesday, December 20, 2005
*~*~*~*~*~*~*~*~*~*~*~*~*~*~
Self-indulge again~
I should cut this habit. Went shopping for friend's gift but ended buying more for myself. -_-
bought dis
makeup store
glitter eyeliner. really love the colour.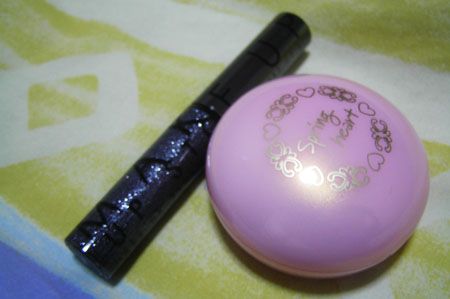 and dat cute little thing.. it is a blusher and is exactly the same shade as my benefit dandelion. bought it cos i absolutely llluurrve the casing.
it looks exactly as the ettusasis cheek blusher.. Looks like dis when it's opened..the puff looks Darn prettie! and DIS.. my dear gals, is less than 10 bucks!!
From SASA orchard
Wow-her party at sensual J on Saturday evening..
We did our routine dance at SJ in front of a crowd from the wow-her website. As it is a webbie that teaches guys how to WOW HER so mostly guys turned up.
Was rather unstable during the dance that made me go to Mister Mint to make my boots less slippery! cost me 18 bucks -_-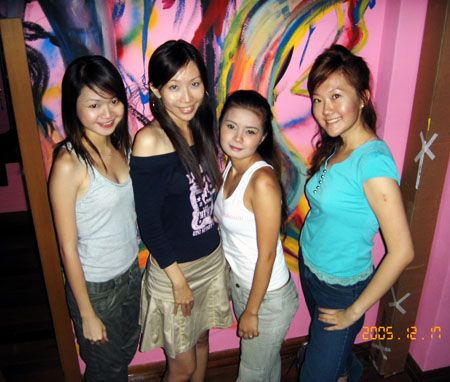 boxing gals~ we graduate from shao lin ci.. not sensual joy.. hee hee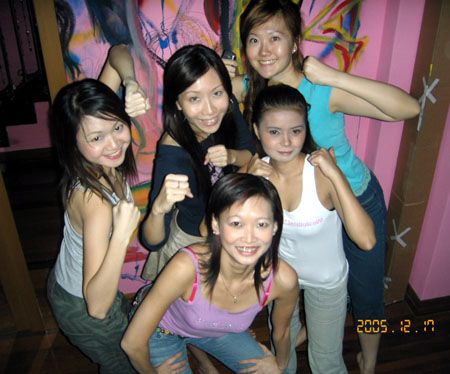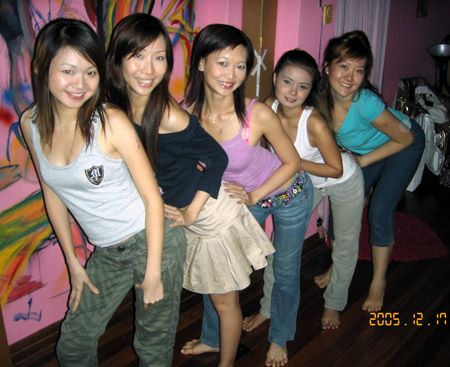 Thomas, virgie and me...with me n virgie doing the jiao bei jiu dat thomas bought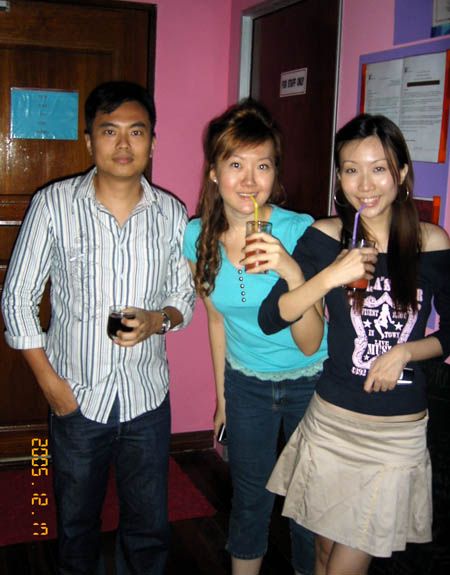 ~zen's bdae.. we went for our cha soba outing as promised. waraku is really good. I ate it with Darren again just now. I'm a super CHA SOBA fan!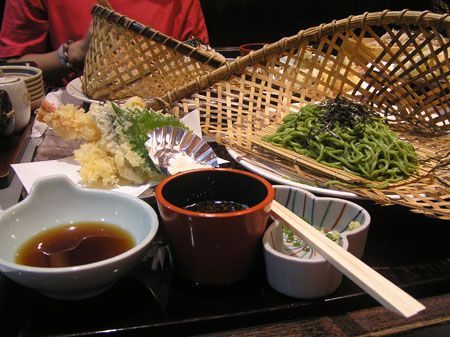 Just simply lurve it.
Ivan, zen the bday gal and me~...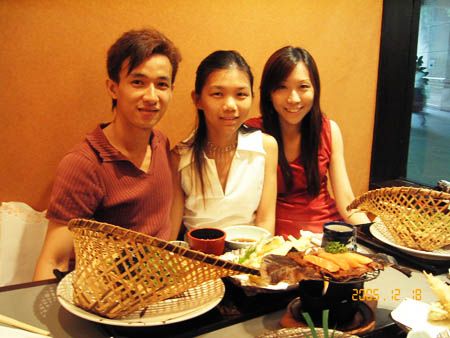 The necklace was made by ivan! really nice good job man~ We bought her a bag that coincidentally matches her outfit that day.. hope she liked it.. keke
Change my thai baht at golden mile today at the rate of
24.37
...
(is dis a good rate?)
I'm all prepared to go. *happi*
Kiyo 到此一游 @ 11:48 PM

Saturday, December 17, 2005
*~*~*~*~*~*~*~*~*~*~*~*~*~*~
Havnt enjoyed myself in such a longggg time...
Went for our SJ nights out session at Gotham that resulted in a lack of sleep and slight flu today.. haizz.. But it was very fun and I havnt really danced for such a long time. We had loads of fun taking pictures too! funny, FUGLY ones
(especially those taken when we were at the dance floor, loads of smell-my-armpit poses)
and nice ones of course.
nice ones...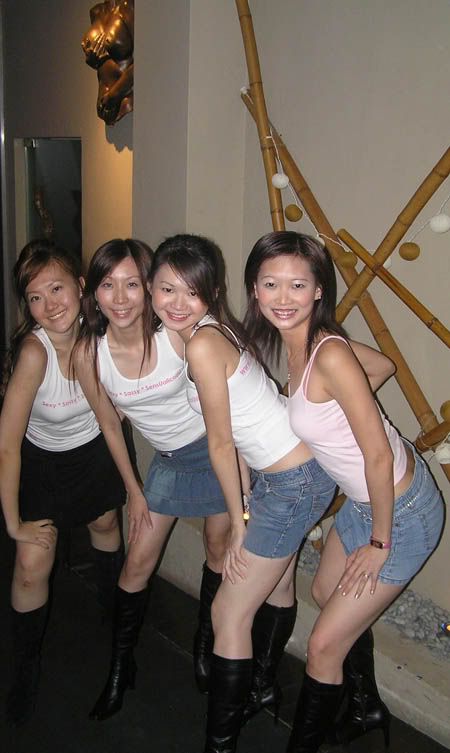 The San Jie Meiss ~ Yessshhhh.. I'm the oldest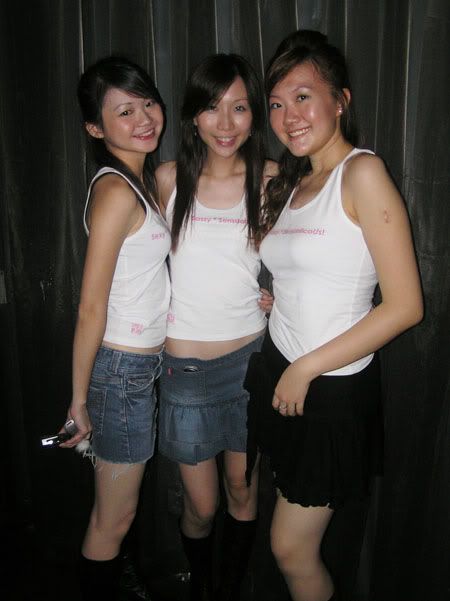 The drinks were on da house as joy knew one of the owners there and we had our rounds of housepours and my first shot of tequila.. =( tsk tsk tsk.. drank it machiam like its chinese rice wine, sipping the drinks and I was seen coughing right after dat. so malu..haizz.. dont like it!!
There werent much people cos it was still kinda early like 11 plus .. than somebody took charge of the dance floorr...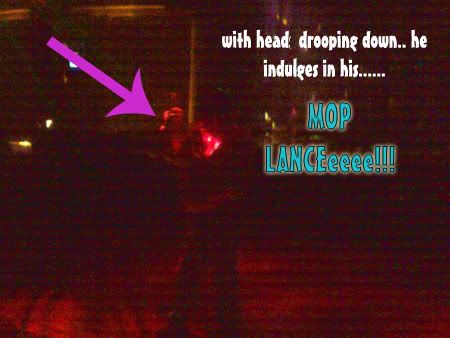 can see la.. abit.
THE CLEANER!!
bery the hardworking.. he see nobody on the dance floor than he decided he shall do his own version of the mop dance. he shouldnt mop it la.. cos after he finished, it was kinda slippery and one of their patrons nearly slipped and fell.. -_-
FUGLY ones!!
I just have to post dis.. cos i simply look like I'm dancing CHA CHA?!?!or maybe they can ask me to be a backup dancer for the zoe tay irritating cha-cha-cha slimming advertisement. Have to crop out virgie cos she will kill me if I show her face!! Actually got some really very cute pictures of virgie on da dance floor.. but let me seek her permission first before I post!!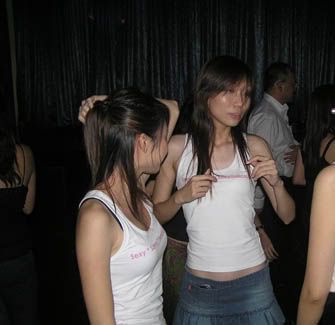 joy, our instructer.. ever so pretty with her dance moves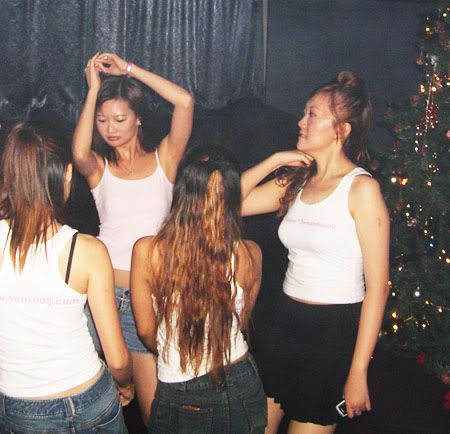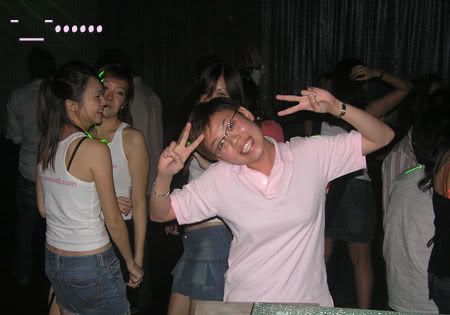 keke... our cute gen! u seldom see dis in clubs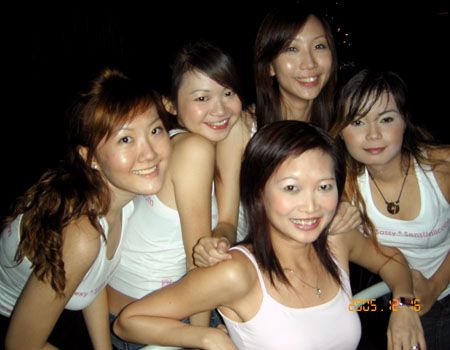 we all had great fun~!
I am damn sua gu la.. dis is the first time i saw the waterfall. JOy got those for Gen and Yas whose bdaes are coming soon~ but they are good drinkers so no worries at all!
(think i will die if i drink dat)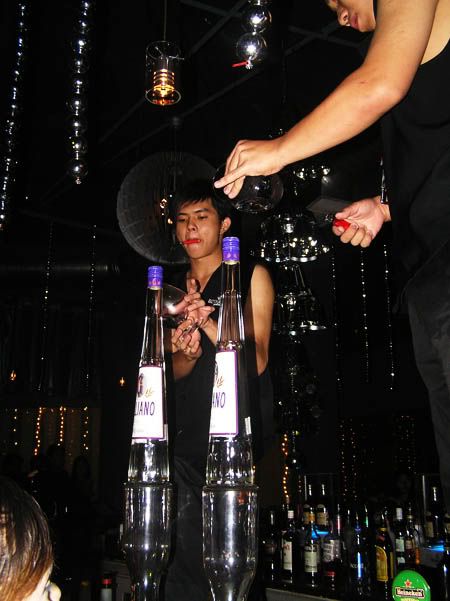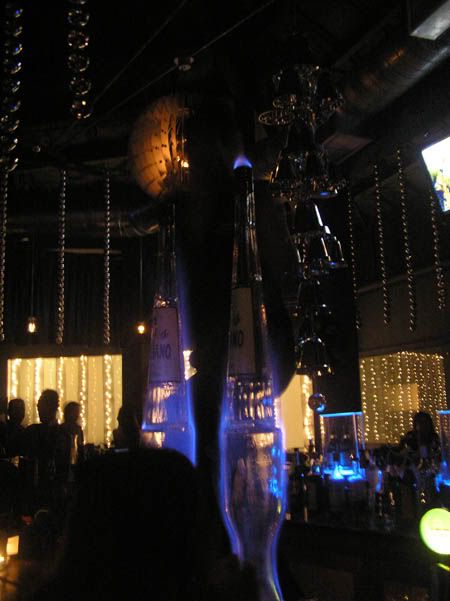 the flame looked so nice~
Went to Double O to meet up with Darren for a while after gotham..even met Alan there, with his super short BMT haircut!! erhem, i needed another second look to realise dat it's him ~ think he still have a longgg way to go for his NS training..
Got dis urge to go clubbing with Darren again...havnt been spending much time with him since he started his part time job. He works till rather late you see =( & I couldnt possibly keep cheong-ing to AMK. So... i hope i can go with him next Friday after the Xmas Party at Sensual Joy!! =P.
I'm in da Xmas mood... tee hee hee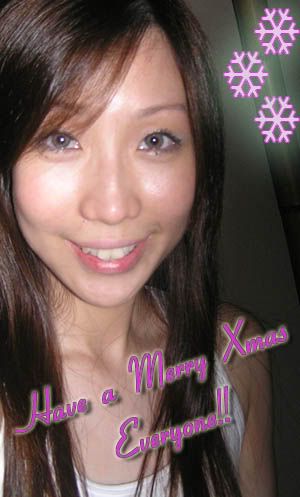 Kiyo 到此一游 @ 11:50 PM

Thursday, December 15, 2005
*~*~*~*~*~*~*~*~*~*~*~*~*~*~
牛角 Gyu Kaku!!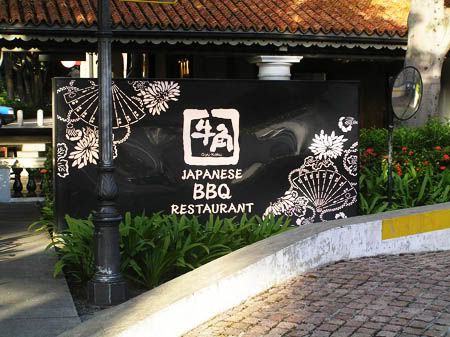 Finally waited till wednesday which was Darren's off day as well, so we decided to go for a celebration and spoil ourselves to eat at Gyu kaku! He was kinda satisfied with his examination results so I brought him to dis restaurant dat my boss recommended me.. Went there before & it's good! Authentic Japanese charcoal bbq but of course like any other bbq or teppanyaki, you will smell like a walking roast meat after the dinner.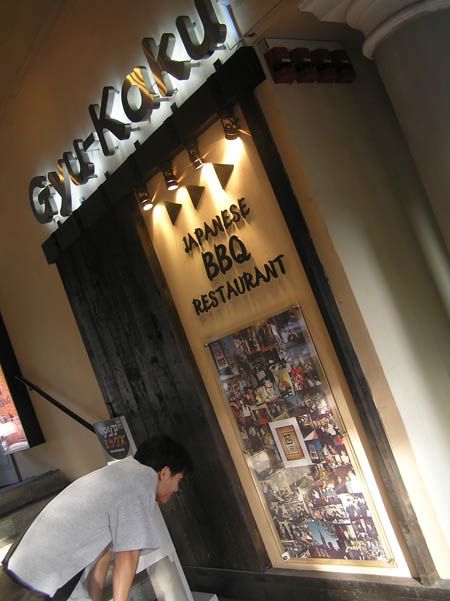 Yeah.. Darren was scrutinising each and every picture to check out their waitresses
..(think i donno arrrrhh)
A pity there wasnt any cute waitresses but i did spot 2 very cute waiters. hiak hiak The ambience inside was good and kinda dark, but of course you still can see wat you are eating.
The brocade scroll on the wall beside our table..Lovely~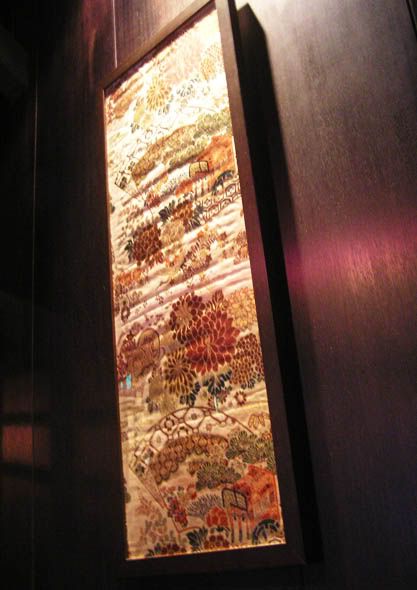 We didnt order much, 1 plate ro-su (which is some lean meat), garlic prawns, butter mushrooms and yakionigiri! I lurve their yaki onigiri
(according to the waiter in his exact words, you just "pheng" until it becomes golden brown and put a light brown sauce on it and it's good for eating)
. I ordered beef tongue as well but didnt tell Darren those were tongues cos i think he will freak out~ anyway, their beef tongue is very good.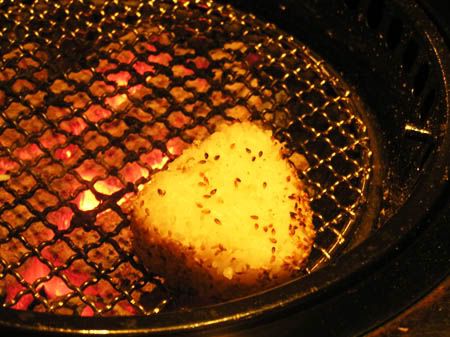 yaki onigiri.. in action.
The bill came up to be about $73 bucks -_- their service was great (when we were about to leave, they even greeted us by name.. dat's how personalized they are) and beef was very tender and juicy too.. and.. we didnt smell too bad either. keke.
I'm so satisfied.. =)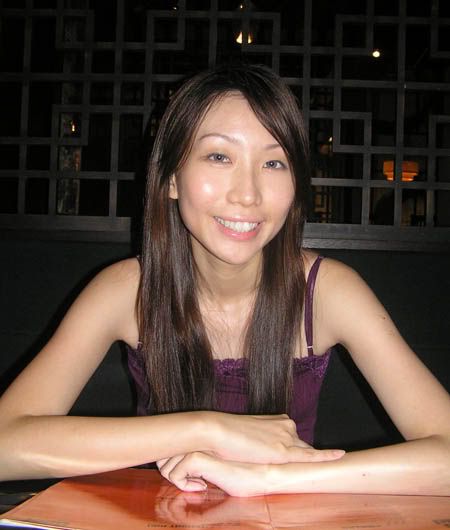 Darren didnt really like it cos he said it was too ex.. he preferred seoul garden. But then, seoul garden dont have nice beef and it meat gets chao da easily leh..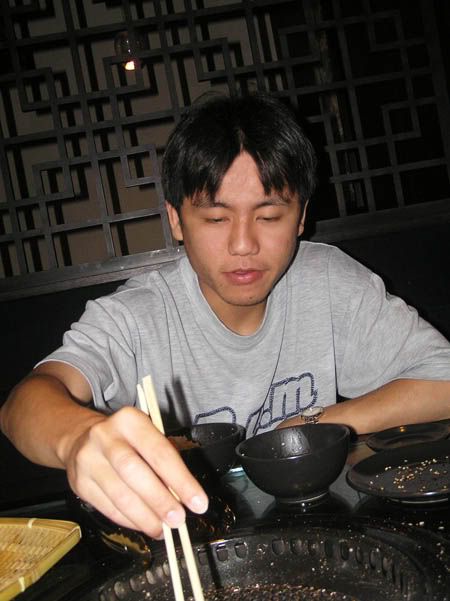 He always refuse to look at my camera.. bleahh =P I like to take his pictures cos I can look at them when he goes back to aus to finish up his studies, but he always refuse to take.. sob.. Sadzz
~~~~~~~~~~~~~~~~
Found a very good ALL ABOUT BANGKOK webbie today including opening times of the night markets.. wah.. damn POWER, just lurve reading wat i'm going to do during my trip man.. hahah
- BKK Thailand Today -
Kiyo 到此一游 @ 7:32 PM