Friday, June 30, 2006
*~*~*~*~*~*~*~*~*~*~*~*~*~*~

Farnie encounters.

I had 2 wishes of "Happy Birthday" this week and it ain't my birthday!

-____-

My colleague thought my birthday was on wednesday when I told him last week I'm taking a day of leave to celebrate my ANNIVERSARY.

Another friend of mine wished me a happy birthday today

tohjy™ says:
yo
tohjy™ says:
happy bday

:: kiyomi :: wore wRong shoes today.. says:
-___-
:: kiyomi :: wore wRong shoes today.. says:
it's not my birthday today

tohjy™ says:
eh? ya hor
tohjy™ says:
july
tohjy™ says:
wrong liao
tohjy™ says:
hahaha

:: kiyomi :: says:
yeah! hahah
tohjy™ says:
happy bday one mth advance mah


-_____-

Thank you one mth in advance. Let's see if he remembers when next month comes..
hahhaha
Labels: Silly Stuff
Kiyo 到此一游 @ 10:42 PM

*~*~*~*~*~*~*~*~*~*~*~*~*~*~
Wore wrong shoes today.
KOK my Head
Jeff said:
wrong color?..wrong type?.or wear ur neighbour shoe?
neighbour shoe...
-______-
(my neighbour is a 70 year old granny leh)
No la.. heel too high onli.. keke
Darren will kok my head.
been too busy to the brim these days till i have no time to blog.
But I bought a suit on Wednesday, it's really prettie! post pics next week.. =D
And that tw spree seller hasnt replied me on my orders yet. Not replying to my msn messages either.I am going to call her later.
Spreeing is no easy job..
Labels: Silly Stuff
Kiyo 到此一游 @ 9:55 AM

Monday, June 26, 2006
*~*~*~*~*~*~*~*~*~*~*~*~*~*~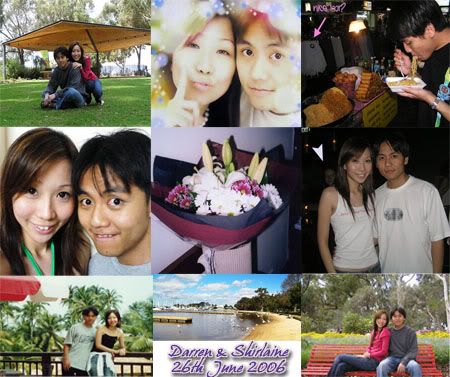 Happy 5th year anniversary =D
glad you are back here with me and the little things you have done!
(wont say anything more cos I know you wont read it.. ..Bahhh =P hee hee)
Dont understand why compiling those photos take so darn long and my eyes are really tired.
Luckily I'm on 1/2 day leave tomorrow. hoho..
Labels: Celebrations
Kiyo 到此一游 @ 10:02 PM

Sunday, June 25, 2006
*~*~*~*~*~*~*~*~*~*~*~*~*~*~
I shouldnt have turned on my TEE BEE
Yes.. I'm doing my project..
But i watched TVBS fashion walker just now.. =(
It's spreeing time.
~New Seller : MISS LOVERS~
minimum order of 20pcs.
Those who cant wait, please do not order! Taiwan orders will take some time usually..
Please email me at luvmelots@gmail.com in the following format.
Item No.#01
Name :
Email :
Mobile No. :
Order Name : (cut and paste chinese heading)
URL :
Colour :
Quantity :



Total number of items :


Total in Taiwan currency :
Total in Singapore Currency : /19.5 = (Total amount)x 1.03 =
Will peg exchange rate at 19.5 first.
Using paypal will need to pay about 3% to the seller?
Shipping rates, seller will advise upon weighing.
Normally it may be 2-4 bucks per item. Maybe less, maybe more.
Closing Spree at 20 Pcs exact!
I want that off-shoulder top~ BADLY...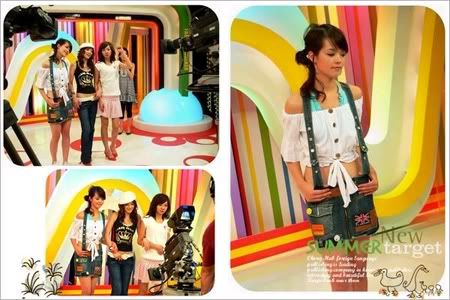 Labels: Fashion Fuse
Kiyo 到此一游 @ 10:34 AM

Friday, June 23, 2006
*~*~*~*~*~*~*~*~*~*~*~*~*~*~
whose eyes are bigger?
Of course xixi! so adorable!!
Signing up for another cooking class in the 1st week of July...
Japanese Bento set with Pita bread.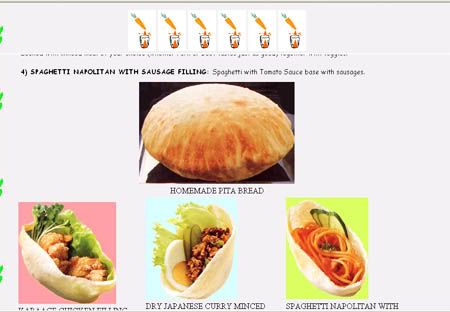 Just look at this.. it looks so heavenly~ yummiz
It's Friday again~ Enjoy ya weekends with fun, laughter and more FOOD.
tonite cant
cheong
MOS..
Saturday morning need to
cheong
2 assignments! argggh
help me.. i'm drowning...
Kiyo 到此一游 @ 7:32 AM

Wednesday, June 21, 2006
*~*~*~*~*~*~*~*~*~*~*~*~*~*~
No work today and I still woke up at 7.30am~
Arbish
myself..
Looking forward to my day ahead
ciao!~
Kiyo 到此一游 @ 8:34 AM

Sunday, June 18, 2006
*~*~*~*~*~*~*~*~*~*~*~*~*~*~
Goodbye dry scaly skin, Hello, bloody red nails
Did a pampering pedicure just now..
My bloody red nails.. =)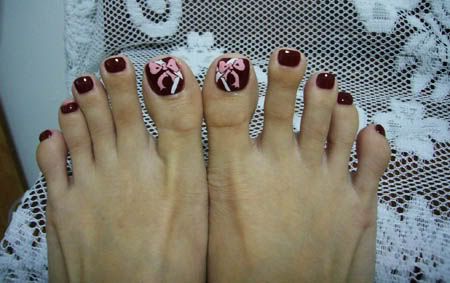 ~~~~~~~~~~~~~~
Darren will have his first and last paper tomorrow and he will be back on Tuesday. So happiee!
at last, after 3 years.. I can spend my birthday with him this year.
Gave him some 'you-can-do-it' kinda encouragement just now.
and he offered to pick me up on tuesday evening at my office once he touch down at the airport..
so touched.
Kiyo 到此一游 @ 8:29 PM

Friday, June 16, 2006
*~*~*~*~*~*~*~*~*~*~*~*~*~*~
It's very gloomy today but i wore a bright yellow top to the office.
yeah..glommy skies but heart bright bright.. cos it's a friday!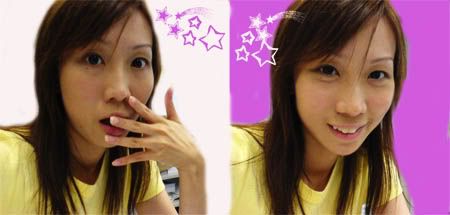 crazy~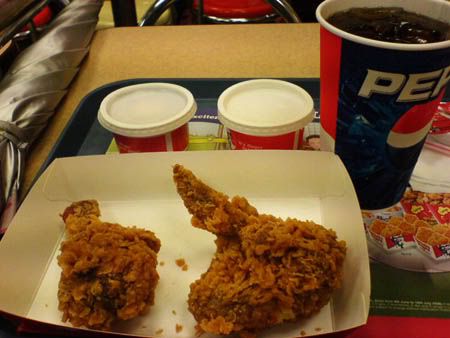 ate a sinful and oily lunch... KFC exist for people (like me) who want to feel oil greasing down their throat while they indulge in the crispy chicken skin.. yummiz
Met up with xin for our sushi-making class. And before that we had dinner in this cafe that has a prettie nice ambience.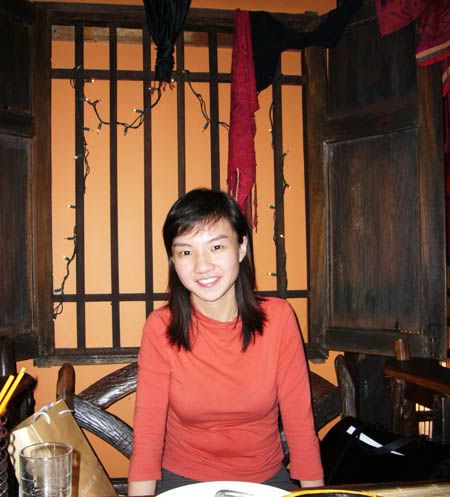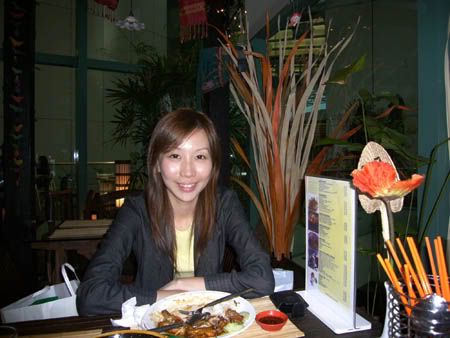 Testing the Food mode of my cam..
and hmm.. yeah, chicken for dinner again -__-..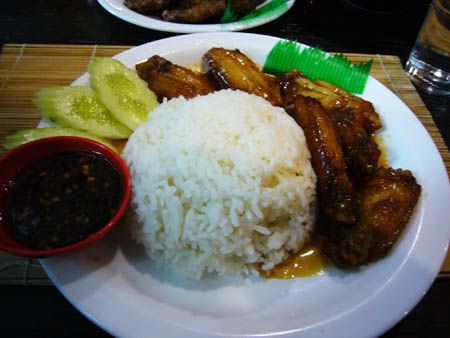 The fish cake is not CHAO DAH hor.. they proclaimed that it's their "special" recipe.
Maybe "special chao-dah" recipe.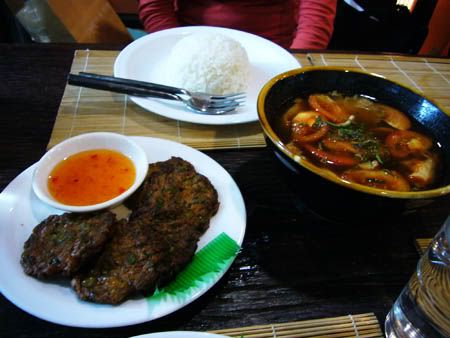 Their tomyam soup is my favourite~ alot of tomatoes and very sweet =D
Yeah.. 7, my favourite lucky number.Not because it used to belong to Beckham okay..
=p It's my number since young.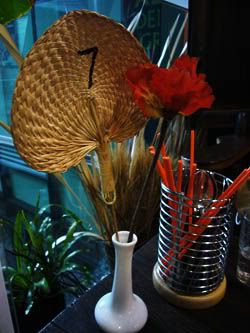 Sushi making class was fun. Instructor
Aoi Miki
san is a very jovial japanese housewife and speaks PERFECT
Singlish
. hee hee. Bak zhang la, Cai Po la.. she know all the singaporean-friendly terms.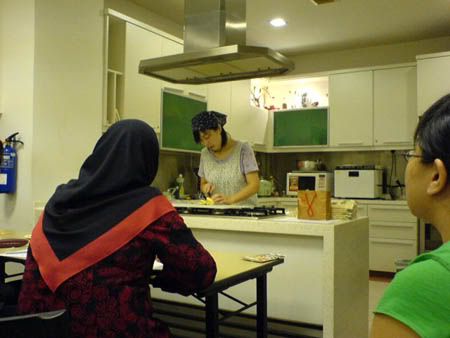 She taught us what things to look out for when cooking sushi rice, what are the ingredients to buy and how to make handrolls and even reverse california makis! (those with fish roe on the outside, my favourite). Xin and me promised to try it sometime, looking real forward..
Then we had our handson session.
Xin and me were rather stress as there's only 1 try and if it fails, we can just forget about having sushi for supper.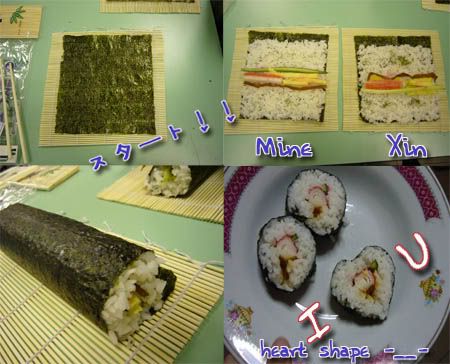 Top left : Lay seaweed out on the wooden mat
Top right : Spread rice thinly over the seaweed and put whatever ingredients that you fancy
Bottom left :
Tada
~
my roll was a success
Bottom right : Cut it at home and decided to mold it into a heart shape -_-. shall try
funkier shapes
next time hee hee
on closer look....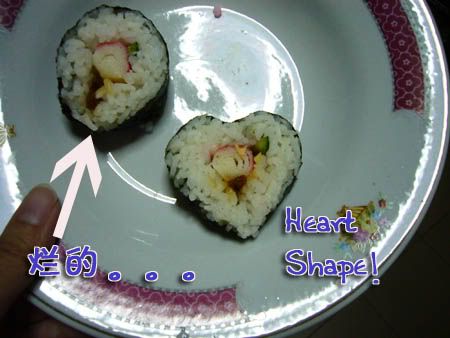 yeah, that stubborn one on the top left hand corner is
erhem
a little squashed with my poor cutting skills.
I think the fault lies in the
KNIFE
.
wahahahahah
Labels: Food and Events
Kiyo 到此一游 @ 11:45 PM

Wednesday, June 14, 2006
*~*~*~*~*~*~*~*~*~*~*~*~*~*~
A picture of bliss...
Weddings are always so very sweet.
Never fail to move me to tears, although secretly.. and nothing makes me happier than seeing them mark their new phase of life together.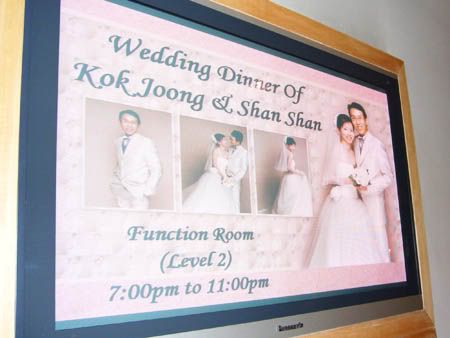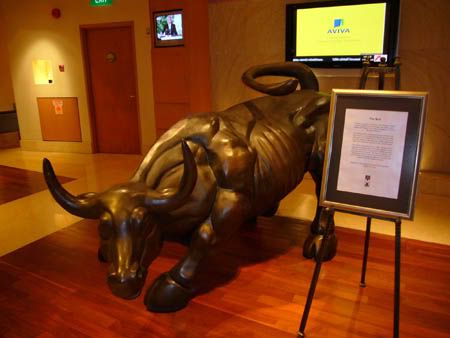 Nothing to do with this bull at M hotel, it's just there ready to pounce at me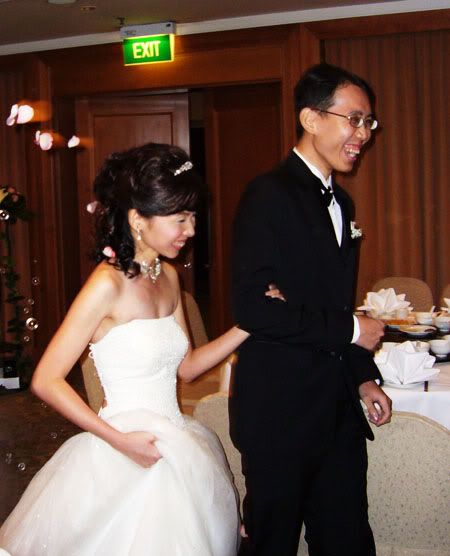 Looking at the flash presentation they prepared from photos taken when they met
(both are my friends in university)
to their wedding photos, it brought back alot of memories.. even for myself. And I can just say that it's really fate that brought them together.
Congratulations!!
Still remembers the wedding of another good friend Xin. Fun re-reading those entries again..
~ Their True Love Story ~
,
~ Night pictures ~
Managed to psycho her to start a blog as well!! woohoo~ my acheivement of the year.. =D
Read her here ==>
~ Xinderella ~
Back to the wedding..
Lurve the wedding favours! A photo frame and a mini photo holder cum paper clip holder cum paper weight? Anyway both favours are lovely. =D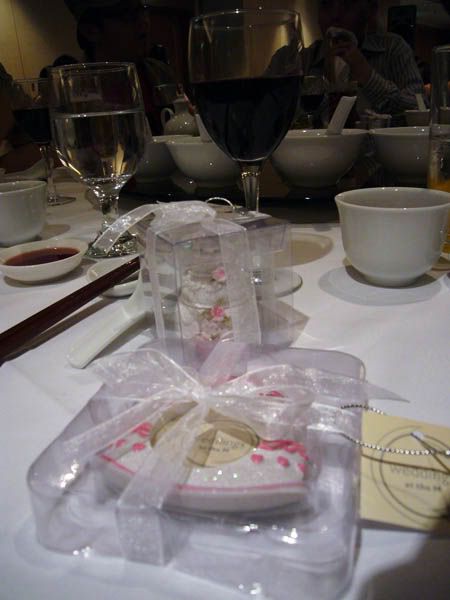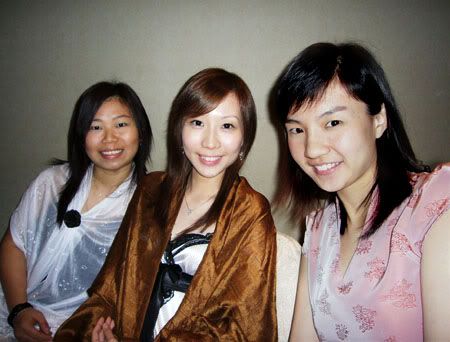 3 geyao-rians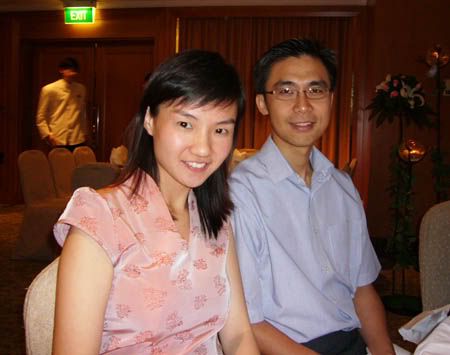 Xin and her hubbie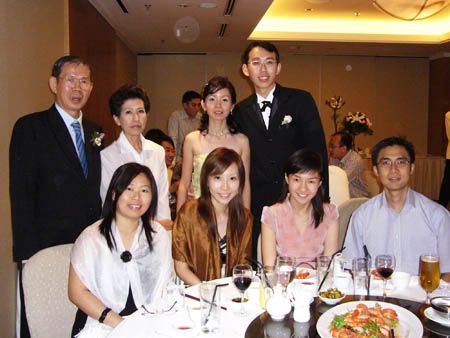 Table shot
and the wedding was made more interesting cos we had a very attentive waitress who is really chatty and bubbly. She attends to our every needs and checks with us time to time on whatever we want. But she's quitting M hotel soon...Will be working in TAKA jewellery to save more $ for her studies. Such a hardworking gal.
yeah...Belinda will go far.. =)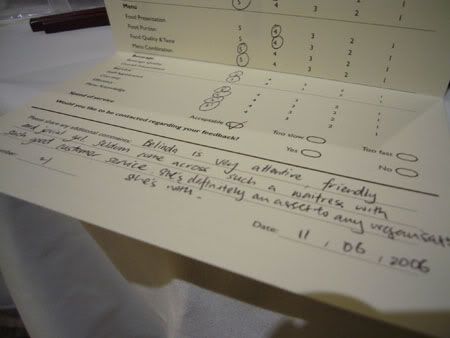 Read an article recently and it's a very interesting write up about selfish men in a witty way.
In the article it wrote, what kind of guys are keepers and what kind should be locked out of the door of your heart.
....'In sickness and in health' doesn't just apply to marriage vows. It can be an accurate gauge of whether a guy is of marriage material, especially the 'in sickness' portion of it.

I don't know about you, but when I'm down with even a minor ailment, such as the sniffles or just a tickle in the throat, I turn into this horribly needy, vulnerable creature who needs lots of antibiotics, water, chicken soup and sympathy.

And I think it is only right I get all the TLC I demand, because I hardly request for it when I'm well.

My theory is, it is when I am unwell that I need someone to take care of me. When there is nothing wrong with my health, I can jolly well take care of myself.

I recall an old boyfriend, who forced me to sit by the window on the sunny side of the bus while he coolly sat in the shade, even though I was running a high fever. I even begged him to switch seats with me - instead of breaking up with him on the spot - but the callous guy refused. He said it was too hot.

Then there was the one who mocked my weak stomach when I got severe food poisoning - and he didn't - from the Vietnamese spring rolls we had for dinner. He didn't even think it was necessary to take me to a doctor.

But of course, when your man is sick, you have to be prepared to play nurse - force medicine down his throat, take temperature on the hour, clean up vomit, coo sympathetically over the invalid.

Having said that, I have to admit that I have been guilty of not being exactly the most attentive of nurses.

When one past boyfriend was on the verge of vomiting, I passed him the dustbin and hurriedly retreated to the furthest corner of the room.

I was more worried about my delicate gag reflex than his dinner being regurgitated.

Another guy was once so sick he couldn't even pick up the phone to reply to my increasingly hysterical SMSes about his whereabouts.

When, after three days, he finally was well enough to return my call, the first words that came out of my mouth were, 'Oh, I thought you died'. Not exactly one of my proudest moments.

On hindsight, it is no wonder that these relationships didn't work out. We obviously cared more for ourselves than for the person we were - allegedly - in love with.

Just last week, I came down with the super bug that had been gleefully circulating in the office.

As I laid on my deathbed - or so it felt, in my fever-induced delirium - I feebly sent out an SOS via SMS.

It was to a guy I was sort of seeing, but we were both wavering about where we were heading.

Not only did he refuse to come see me, his excuse was also that Liverpool was playing.

Okay, so it was a crucial match - or so I'm told - and I do get that, for half the human species, football is a matter of life and death.

But my life and death are kind of crucial too, at least to me, and it should have been to him. Well, obviously not.

As I got sicker and sicker and lost all ability to speak and could only communicate via text messages, he brushed it off by texting me 'You'll survive lah, you big baby'.

Yes, I know it was only a bout of flu, not like I had pneumonia, tuberculosis, leukaemia or some serious life-threatening multi-syllabus illness - but still.

Even in my drug-addled state, that was a moment of clarity for me. I was so over him.

It was a bitter pill to swallow, worse than those awful antibiotics I was prescribed, but ultimately it was for my own good.

What's the use of having someone who will only be there 'in health' but not 'in sickness'?
Though there may not be any promises exchanged as binding as 'till death do us part', relationships should be able to withstand any bout of illness. Or at the very least, the flu bug.

suzanne@sph.com.sg

Yeah.. this definitely determines the right hubby material.
he loves you even when you look like a relative of tarepanda.. even when there's 1 big pimple on your cheek or even when you catch the flu bug.. he won't hesitate to kiss you to show that he cares..
Awwww.. wont that be sweet?
think i'm watching too much of taiwan soapy dramas.
Back to my assignments, back to reality.. =p
Labels: Celebrations
Kiyo 到此一游 @ 9:20 PM

Saturday, June 10, 2006
*~*~*~*~*~*~*~*~*~*~*~*~*~*~
How to survive the World Cup
Yeah... kick off starts today and there shall not be any more tee wee for me anymore. boo hoo hoo
Farewell to channel 54,55 and 56~
*waves hand*
Channel 22 and 23 rules for at least a month.
(June 11th
this means that i dont really watch soccer, the channel is 27!! not 22 or 23! -__-''

)

Oh yesh, and for those rooting for Holland and Korea...
Will pray to the almighty gods for you all to win cos the odds are Bigggg.. and if you DO win, pls give me a treat hor =P
I am expecting Dad to watch all cha pa lang matches from PREVIEW, LIVE and even REPLAY nor..
this, will let him have the upper hand cos being a retiree, he's got nothing much to do anyway, and he's being really nice to fetch me to and fro from work and even to and fro from my course. Saves transport~ hiak hiak (for more shopping)
so what am I going to do in the meantime.. hmmm...
I Surf.
1. Youtube.com
With funny videos like this one below, it can keep me entertained for hours, or maybe I can start on another taiwan drama (lv guang shen lin), I think Ruan Jing Tian is as cute as Mike He keke
I Surf MORE...

2. Who says Japanese gals are the prettiest?
We have a whole truckload of chio bloggers right smack here in this teeny-weeny Sin gah por! So eye-candy to read and surf their blog...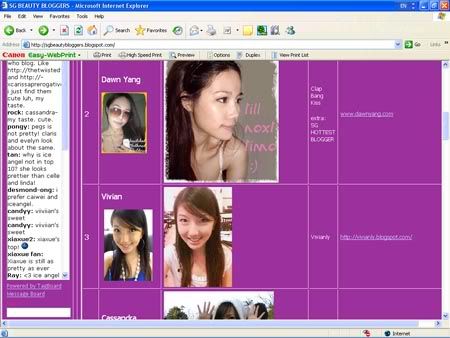 Beauty Bloggers!
I know which is Darren's favourite, it's none other than the wholesome no. 2 , xu ruo xuan look-alike. I have 2 regular reads too.. Ying is one of them and 6pegs is my new regular read. =D
Bought this necklace from ying @ her blog too last week.
She's good at DIY-ing accessories.
Photo taken from her blog
And can we have a http://sggorgeousguys.blogspot.com?
I Shop ONLINE

3. Welcome to the GSS! (Gibberish Shirlaine's Sprees)
Finally finished distributing the Sophie Shop's stuff. My first mini spree was well.. i could say a mini success. hehe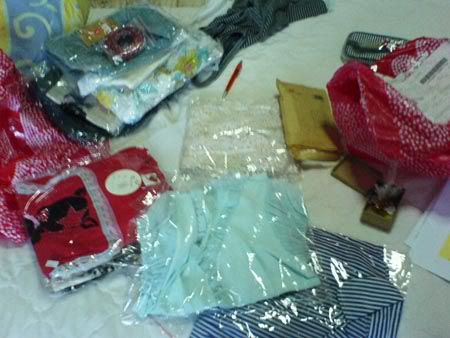 I'm in it for more..=D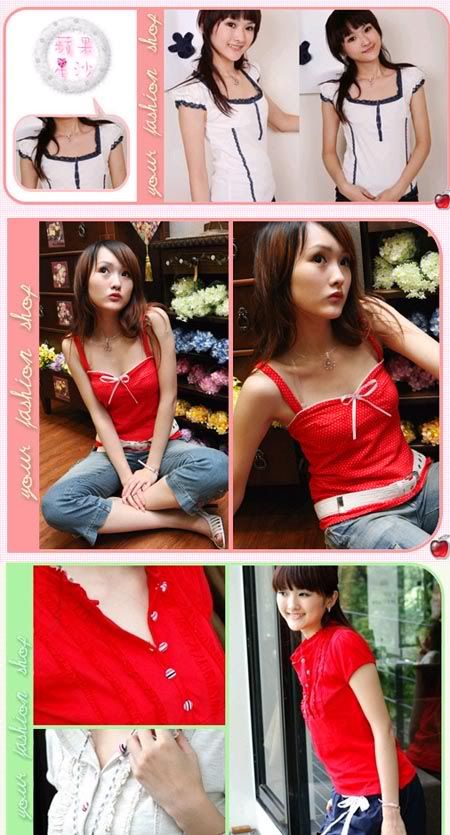 ~mishop67~
like that first piece...still asking for details, will let you all know if i'm buying from there.
I.... haizz.. STUDY
4. Freaking hate doing projects.
Lucky for us, our lecturer extended one of our project datelines.
Was one of the first to shoot up my hand in supporting the extension of datelines when everybody was still in BLUR mode, didnt understand wat the lecturer was mumbling about.
So I guess that's how i'm going to spend the rest of the month. But not forgetting that Darren will be back in another 2 weeks time.
Yay! time flies~
Labels: Silly Stuff
Kiyo 到此一游 @ 4:54 PM

Wednesday, June 07, 2006
*~*~*~*~*~*~*~*~*~*~*~*~*~*~
My Mum's new cam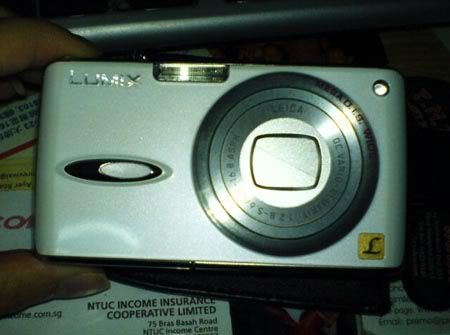 ::
kiyomi
::: my cam hor..
::
kiyomi
::: got
FOOD MODE
.. -__-
holidays. my foot: ????
holidays. my foot: hahaha
::
kiyomi
::: to take pictures of food.. -___- very duh right?
holidays. my foot: hahahaah
::
kiyomi
::: 699.. quite ex.. but got 2gb card so..
holidays. my foot: and got "ZI-LIAN" mode?
holidays. my foot: haha..
::
kiyomi
::: hahah, i reading the manual now..
::
kiyomi
::: got!! self-protrait mode aka zi-lian mode
::
kiyomi
::: got
baby mode
oso nor -___-
::
kiyomi
::: siao one
holidays. my foot: hahahahaa siaooo
holidays. my foot: girl mode.....boy mode,couple mode
::
kiyomi
::: orh baby mode.. weaker flash -___-
::
kiyomi
::: so they wont be scared, keke
holidays. my foot: "two-person-but-not-couple" mode
::
kiyomi
::: "so they wont be scared" is i add one
holidays. my foot: this one winston say one, haha
holidays. my foot: stupisd lehh
::
kiyomi
::: yeah lo.. Si Too Pid lahhhh ~
holidays. my foot: peeping tom mode
::
kiyomi
::: that one is call
TEE KO
mode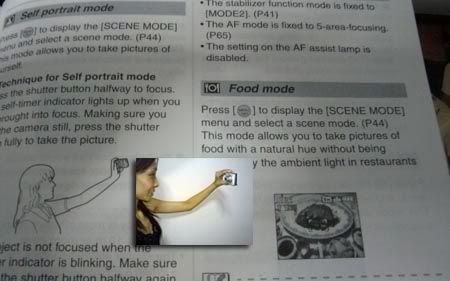 And yes.. that's me.. in my zi-lian mode again.
Tired.. yawnzz going to bed.. it's gonna be a long week.
Last week there were no classes at all so this week, we will have 3.
HRD project is underway.. I want to get a case study on BP, but they sound quite
dao
when I called them..hmmph
Labels: Silly Stuff
Kiyo 到此一游 @ 9:42 PM

Monday, June 05, 2006
*~*~*~*~*~*~*~*~*~*~*~*~*~*~
PC show~
Happie~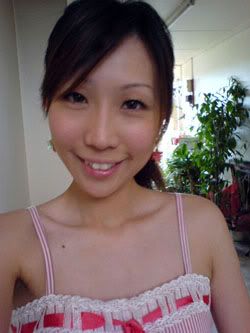 I have a good skin day. =D
Realized that makeup sits nice on skin if I apply Revue makeup base.. try it gals..=D

Went with mummy to get a digital camera. It was a "scary" PC show, not that vampires or werewolves were lurking behind Canon or Epson counters but.. the crowd was really very scary. Just to mention, I not only have a phobia of heights, I have a phobia of 'shoulders-rubbing shoulders' crowd too. *lowers head in shame*
Didnt see any chio models.. what I only saw were seas of heads and more... heads.

You think PC show was bad? I tell you, suntec city was worse.
Is Watson having a JUMP DOWN sale!? The crowd just got stuck there and NOBODY could move.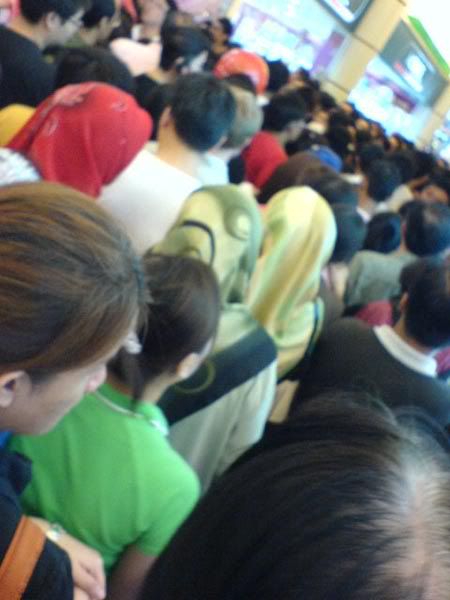 I was deciding whether I should go ahead cos we still had the chance to turn back and just walk off. The people in the middle were practically stuck!
In the end, we chose to take the longer route.. the crowd just scared me too much.

Actually targeted Panasonic FX8 or FX9 but both were sold out =(
Those were really good value for money as they were not new models, so the price has dropped quite a bit. They are going to be discontinued anyway so Mum got the panasonic FX01 instead! They threw in a 2Gb card...I (i mean we) can shoot endless videos now.

xdd's mini photo exhibition
He reminded me to go down and take a look. It's his first time doing charity work erhem having a photo exhibition together with other 100 pieces of works for charity so have to show some support. =P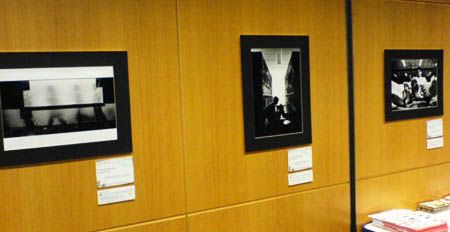 Dis is my personal favourite. It gives me the goosebumps when I first saw it. Is that what they call "ma2 dian3"?
The blue blue area is reflections by my lousy phone cam, not the original pawtoe hor..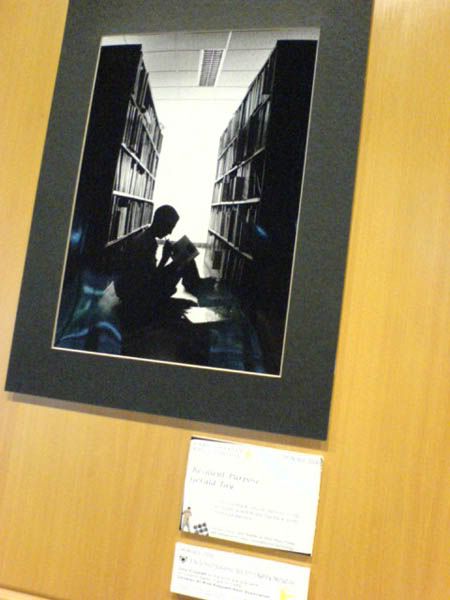 "Life's setbacks are no barrier to the resilient youth bouncing back with renewed purpose"

Fwah... JIN Chimmmm ar..
hope to see more of xdd's exhibitions.
Kiyo 到此一游 @ 10:29 PM

Sunday, June 04, 2006
*~*~*~*~*~*~*~*~*~*~*~*~*~*~
Short weekend..
Yesterday spent the whole day in office.. but the training was interesting and fun. We get to watch ourselves on video doing presentations.
Conclusion is, I looked real FUGLY on screen.
~~~~~~~~
Going to the PC show later.
Mum wants to get a digicam.
Yeah~ after so long, she was still using that
lao-pok
film camera during our tw trip. But she decided to upgrade now after seeing my sis's ultra slim cam.. hee hee and when she is not using it.. I'll get to use it wahhaha *sly smile*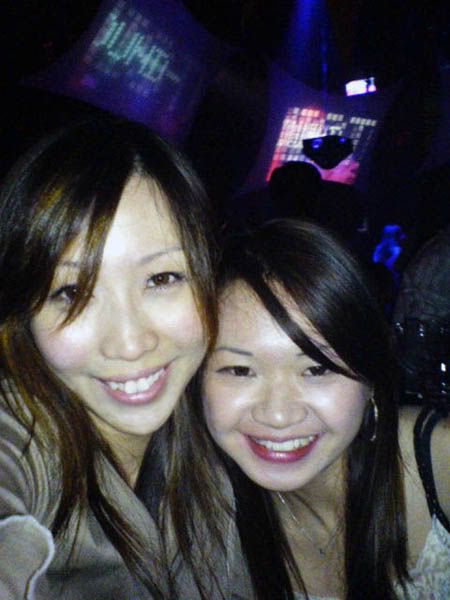 Heard from Josephine that the nv ren wo zui da magazine is out in Kino. Going to grab it later and have my dose of beauty information =D
Kiyo 到此一游 @ 9:13 AM

Thursday, June 01, 2006
*~*~*~*~*~*~*~*~*~*~*~*~*~*~
Please Spank Me!
I'm the victim of the Great Singapore Sale...
AGAIN
..
I am one of those people who happily want to save money during this period of time, and enjoy the discount
but ended up walking out of the shops with bags of non-discounted items.
NEW ARRIVALS HAVE NO DISCOUNT...
-___-
Got this pair of shoe, it's very jappy and I like it!
in love with heels lately~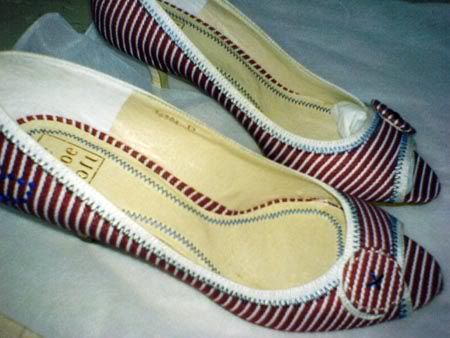 There's actually no discount for it but it's the last pair.. so.. 10% off!
~~~~~~~~~~~~~~
The Dangers of Email
Yesterday a colleague of mine sent an email to ask us out for lunch but she accidentally sent to the wrong person. She wanted to send to Brandon but sent to Brenda instead and Brenda is located in one of our subsidiaries in Vietnam!!
Brenda must be really surprised to receive the invitation to eat
bak kuk teh
in Singapore..
farnie..
I had such encounters too and mine was worse.
I wanted to send an email to a colleague but it ended up in his
boss's inbox
.
eh your boss very cute leh, first time i see him smile
-______-
and i meant the cute as in "CUTE". DIG a hole for me please...
Darren's encounter for wrong emails was the
worst of the lot
.
When we were working in a company in TUAS
(yeah.. that niao-bu-shen-dan place)

,
he was in the same office as me. He noticed that I was really cold and decided to drop an email to me..
That email ended up further to one of our subsidiaries in AUSTRALIA.
EVERY
employee received a copy of that email he sent. (he received countless read receipts)
Including the Managing Director.
Baby,
are you very cold?
And he got replies like.....
" NO, it's 35 degrees out here"
-_______-
diu si ren ler..
Labels: Fashion Fuse, Silly Stuff
Kiyo 到此一游 @ 7:45 PM