Friday, July 15, 2005
*~*~*~*~*~*~*~*~*~*~*~*~*~*~
Today it's AWAKE mode
Strange. Suddenly I feel so HYPER again.
Is it because the weekend is here?
I think I know why.. When I feel moody, i usually get very lazy and I dont put on makeup.. and i will look even more moody. But today i took the effort to put on mascara
(in order to use that metal comb, & it's really good)
& some makeup and woah.. different mood altogether!. Once you like what u see in the mirror, mood is practically lifted up! I like what I see in the mirror today. =D But i'm still suffering from those post-outbreak scars.. arggh.
Okie.. Tomolow, tomolow, I luv ya.. tomolow, it's always a day AWAYyyyyyyy~
Tomolow is Tomorrow.sg blogger conference. I read about this a few days ago & josh emailed me and asked me whether I want to go take a look or not. I bet he wants to take pictures of xiaxue or some other chio bloggers.. Wondering whether kenny sia would be there.. Oooo..funny guys are attractive.
Dont think I will go.. I think I will go shopping.
Tomolo is also xdd's 21st bday party! Expect to see loads of chio gals there man.. he got many model friends. I'm armed with my camera.
I bought shoes again! 2 pairs.. here's one of them.. very familiar? :P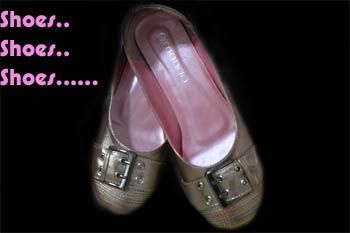 Kiyo 到此一游 @ 11:35 PM