Monday, February 28, 2005
*~*~*~*~*~*~*~*~*~*~*~*~*~*~
I nearly fell down the stairs just now
Dont know what i was thinking.. was walking down the stairs singing to myself (this is another separate story cos my friend is getting married and she asked me to sing during her wedding.. haha), dont know whether is it my shoe or is the floor wet or wat. i slipped and fell 2 steps down and my feet landed in an awkward position.
Quickly grabbed hold of the railing and paused a while to see if i sprained anything.
Heng man.. i didnt sprain my ankle. I was still very shocked as to why I will fall.. scary.. I nearly sprained my foot.
Kiyo 到此一游 @ 6:49 PM

Sunday, February 27, 2005
*~*~*~*~*~*~*~*~*~*~*~*~*~*~
What happened??
Okie.. nothing BIG happened but here goes.
Went to gym today in Orchard for combat. Havnt been to combat for 2 weeks, me really a lazy pig. But today was fun, sweat a lot and jumped here and there. haha
There was this new trainee instructer that is so funny. He is not particulary funny la, but the way he teach very...... Maybe he is new, needs more practice. He cue something like that in one of the songs..
This was what he said.
D : Come on guys, next THIS WAY, yeah THIS WAY,
THAT WAY, THAT WAY....
me thinking
:
huh... which way???
*blur*
Piangz.. i have to look at him than i know which way he is pointing. just sound so funny to me. Actually he could have said To your left, or go to your right cos not everybody can see him.. I will need to turn my head in order to see WHICH WAY.. hahah anyway maybe I lousy la. not familiar with the songs..
Than hor.. during my combat, I swear that i can smell perfume... dont know which cute gal/guy spray perfume.. so heavy..
After gym, went to his house as he is
DEPARTING TO PERTH AGAIN
.. for the 3rd time i guess?
Think i quite use to it aredi so dont really feel very sad or moody. anyway, i got web cam now :)
Took a cab down to Changi Airport..than during the journey i smell something and asked him.. "
ni fang pi ar
" . He say no.. and he smelled it too!.
It's the taxi driver....
*vomit*

Took this at the airport.. hee and he knows i like looking at his dimples, haha so he purposely gek one for me to take.
I was so tired after sending him off to the departure gates.. woke up at 7 plus.. dont know why oso.. and went for combat. so...I took a cab home. On the way back while smsing him and eyelids dropping, i thought the driver talked to me but i couldnt hear him properly so i said "HUH..." i was rather loud..
Than I realized it was the radio
... kept my mouth shut and praying that the driver didnt hear me.. haha
Kiyo 到此一游 @ 6:34 PM

*~*~*~*~*~*~*~*~*~*~*~*~*~*~
Bought stuff from OZOC yesterday again.
Knew I will get something from there each time i step inside. Really love their clothes very much, casual and plain. hee hee.
Got this cute tee that I can wear on Fridays
.. Got another one in lime green with sleeves and they gave me 2 limited edition watches! (I gave them to my little cousins)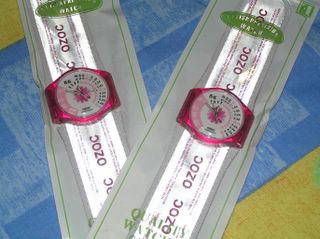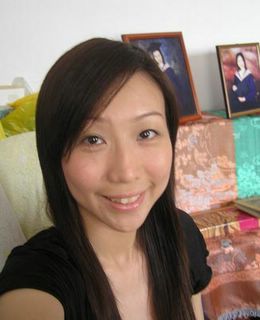 My look yesterday. Enjoyed myself with much shopping and dinner at his house. A long time no see (for 5 years aredi i think) ex colleague saw me and said i have put on weight.. hmm was it good or bad? yeah.. i prefer now as my legs dont look like
FLAMINGO
legs anymore...
Kiyo 到此一游 @ 7:06 AM

Saturday, February 26, 2005
*~*~*~*~*~*~*~*~*~*~*~*~*~*~
My favourite "jap magazine"
it comes free at certian jap restaurants and hair salon..
Alot of pampering information and tried and tested stuff..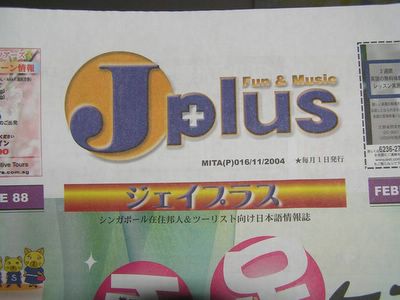 Good things do come free!
Like this month, they are reviewing a lot of nail spa and foot reflexology shops.. ooo.. but i dont do nails often so this month is not really that interesting for me..
Kiyo 到此一游 @ 12:05 AM

Thursday, February 24, 2005
*~*~*~*~*~*~*~*~*~*~*~*~*~*~
Nice Auntie at Suntec
Yesterday went to watch our "last movie before he goes back to Perth" movie... Constantine.
It is rather nice but as there wasnt any subtitles, there are some parts that they were speaking so fast and chim that I couldnt catch what they were saying.
Overall it was nice, with demons and all.
Yesterday I was a little blur. When I came out of the cinema, I found out my wallet was missing after I wanted to buy something from GG5. (They are having a sale at Suntec). I walked back to the cineama where this auntie helped me to go inside the cinema to find. And.. the movie just started. I felt so embarressed. Although the cinema wasnt really packed, but...
I cant recall whether I left it in my drawer in my office or did I drop it somewhere else.. and
Opps.. Just saw that it is in my office drawer.
Kiyo 到此一游 @ 11:57 PM

Tuesday, February 22, 2005
*~*~*~*~*~*~*~*~*~*~*~*~*~*~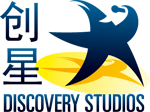 Something I saw in FP and read on the newspaper too. It is actually a studio that helps people to "cut albums". I think I am going to try it out soon. But the offer ends this end of feb! I guess i have no time to go down to tampines.. Think will have to wait till he goes back to aus.
After browsing throught their webbie, i may choose for the edited package without the makeover and stuff. What's the use of the
non-edited package
? What i feel is that the non-edited package will be just singing into the mike.
http://www.discoverystudios.net/
I bought something from Cory Cosmetics. It is mineral makeup. When will I stop buying? sigh.. hopefully i can find something good that wont cause me to have breakout. They uses minerals to get their foundation colour so it is natural and very suitable for acne-prone skin. Although i am not acne prone.. hee i am open to all sorts of testing...
http://www.corycosmetics.com/
Kiyo 到此一游 @ 8:35 PM

Sunday, February 20, 2005
*~*~*~*~*~*~*~*~*~*~*~*~*~*~
Things I have done over the weekend...
Saturday
Did a hair treatment at Hair art and wow.. was it pampering.. it was a small salon so they have quite personal services. Plus i went there a few time aredi, the stylist and assistants were real friendly. I love going there! Got a good neck and shoulder massage while browsing through some of the jap magazines.. hee went to meet his group of poly friends.. hmm.. had quite a fun time although i was the only girl. They are a funny bunch haha. T
han watched the movie I DO I DO (of course watch la.. his friend treat!) I thought it might be just another crappy show, but it really did made me laugh until my tears came out.. my god! i thought Jack Neo has lost all sense of humour aredi, i always dont laugh when i watch the Gao Xiao Xing Dong.. hee there was this scene where they are tested on the ABCs on fruits.. this was the part man.. i laugh until my stomach ache. haha sometimes, it's good to just catch a crappy show. haha :)
Bought something from Southhaven and qualified for their lucky draw. Got 10 bucks.. at least got 1/3 of the skirt back..
Sunday
Went to do facial at Niks.. What's wrong with me?? this weekend is pampering weekend!?! Anyway, I got a voucher, so made used of it.. hee It's not bad but i prefer PTR.. :) Watched the
Sprite Rising Star Slam dunk challenge, 3 point shootout
http://www.nba.com/allstar2004/rising_stars/
at night.. featured those NBA stars that compete with each other to see whose slam dunk poses is the best! they were cool man! some styles were just simply "sat sat" (if you know what i mean) if it is jay chou it will be better... heard that JAY and HOU is confirmed liao.. hmmm... still feel very strange seeing them together.
Kiyo 到此一游 @ 11:15 PM

Wednesday, February 16, 2005
*~*~*~*~*~*~*~*~*~*~*~*~*~*~
I got a webcam now!
I finally got myself a webcam.. actually dont know why i want to buy too. He left only 1 semester to go.. anyway, this webcam with no brand is indeed good! very clear and has mini light bulbs attached at the side to give it a "nite mode" if your room lighting is dim! wah! like samsung phone like that.. still have nite mode.. ahhah
He gave me a pair of earrings from Fie Japan (my favourite assessories shop!) . Very touched as he must be quite broke and still splurge something on me.
Yesterday nite was kinda something new. After knowing me for about 3.5 years, he has never ever seen how I looked like when i was young, or how "toot" i was when i was in secondary school. We looked through my photo albums last night, was quite enjoyable.. haha i wished i can destroy those pictures that showed me as thin as a "bamboo" sticking out in the picture. Atrocious!
This is me when i was in secondary 3 i think... hair so short! TOOT! I have never had long hair until after i met him.. hee hee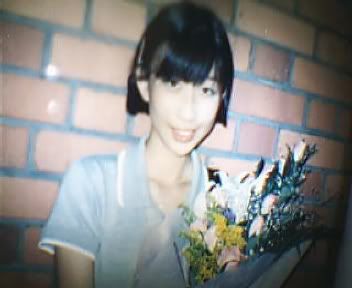 Kiyo 到此一游 @ 9:45 PM

Monday, February 14, 2005
*~*~*~*~*~*~*~*~*~*~*~*~*~*~
I got the 7th prize
Why must I always get something that i always say I dont want.
I told my colleagues a few days ago..
"Please.. please dont let me get that carrefour voucher.. anything but that one"
than I got it during this CNY lucky draw....
Very furious today too. I think there is always miscommunication or maybe no communication between M and me. He always accuse me of things and say why I didnt go and reconfirm blah blah blah. When i dont think he mentioned it to me before. We need to send this croc skin handbag to the president in Japan as a soveniur.
Apparently, he knew that Japan customs is rather strict and he was told by another manager about this. Instead, he didnt inform me at all and now claimed that why i didnt reconfirm with DHL.
WTF!?!? really spoil my mood. I have been calling Indonesia, Japan, Singapore AVA plus so many numbers today just to find out that actually a manager has told M that Japan custom is rather strict, it's better to hand carry.
Pls.. you didnt tell me this lo... now it looks as if my fault like that. That I didnt check properly?? Anyway,
DHL sucks big time too.
Front line staff do not have adequate information.
I feel like exploding... i think i may have to come up the money from my own pocket.
Kiyo 到此一游 @ 11:11 PM

Saturday, February 12, 2005
*~*~*~*~*~*~*~*~*~*~*~*~*~*~
FaCe Of ThE DaY..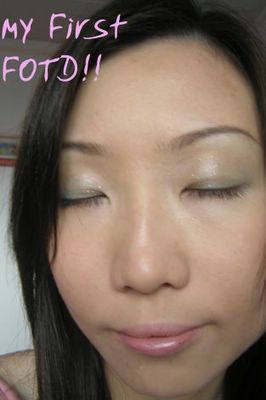 My first FOTD! Took this picture for fun to try out.
FACE :
Chanel Vitaluminere, canmake loose powder

EYEs :
Kate Glitter colour eye pencil in turquiose and pale pink

(newly bought yesterday by recommendations from podders!)
BROWs :
Eyebrow powder from Basic Beauty
CHEEKs :
Benefit Dandelion
LIPs :
MAC viva glam II

Didnt do much today. Went to sim lim to source for a webcam with darren. I bought one at 39. It's no brand but it works fine for me! and it has this nite mode too.. which makes the subject brighter in dim lights. Tested the cam with panda and let panda see who's the real panda hahha.. of course it's ME, MUAR MUAR!!
Kiyo 到此一游 @ 10:18 PM

Thursday, February 10, 2005
*~*~*~*~*~*~*~*~*~*~*~*~*~*~
Happy new year everyone!
It's Chu 2 today and I woke up so early.. must be due to my biological clock.. anyway, i'm going out later and wearing a short skirt. Hope my dad wont scream anything at me. I bought it at ICE. Liked the beads and all!.
Have anybody read the
SUNDAY TIMES
? somebody in FP posted that there is this studio in Tampines that helps people to record songs and cut albums.. NOT as if, i want to be a superstar or what lah.. I WAYYYYYYYyyy pass that age of
making it big
aredi. I want it for remembrance! I think it should be fun too! The article on ST was in the "GEN Y" section, which means those 14~ 18s ba.. (sigh.. really getting old, hope I dont get recognized... wait they say, what is this auntie doing here..) haha
I have received rather little ang pow money this year but I dont really care about the amount. I used to care alot when I'm studying as CNY is the only time that I can have extra savings! Now I feel.. It is so good to be working!
Will be having steamboat tonight with parents, plus sis and my bf.
Kiyo 到此一游 @ 8:54 AM

Monday, February 07, 2005
*~*~*~*~*~*~*~*~*~*~*~*~*~*~
Went to get the Lucky Draw Pressies
Am looking forward to 14th Feb. Not because it is Valentine's day, but it is
Chinese New Year Lucky Draw Day!
I was put in charge this year and am I glad! I used some of the vouchers to get some consolation prizes.. so even the consolation prizes are things that I want. hohoho.
I got some face towels, mug and notepad from Laura Ashley, a travel kit from LO'ccitane and 2 Harrods afternoon tea set. The first prize is 300 bucks of a chinese restaurant meal vouchers. That one is not bad too. I will be able to bring my parents and bf there again if I get that voucher.. But... I dont have much luck though. Think I will win the prize I least wanted.. I am always so suey...
Counting down to 27th Febuary for the nth time. Actually not the nth time nah.. maybe 3 or 4 times? He is going back to Perth again.. Sigh.. Yesterday when I waited for the MRT after my combat to meet him for lunch, i thought to myself and I nearly cried..
"Not much time left lo.. Than I will have to eat lunch myself every week after combat lo.. than it's only work and home and work and home.., after he return to perth, he will be so busy with his projects that he will forget me! wahhhhhhhhhh.."
Than on the other side...
"Maybe can save more money as I wont go out that often..anyway, only for a few months, i have been through so many months le leh.."
Kiyo 到此一游 @ 8:33 PM

Friday, February 04, 2005
*~*~*~*~*~*~*~*~*~*~*~*~*~*~
I never knew flowers could be THAT heavy
I presented flowers to our VIP yesterday. Now my upper arms ache. No joke man.
I think i ache more than my usual body combat workouts. haha
The flowers turn out to be very nice. The florist really have a classy taste and used a lot of wild and unique flowers from South Africa, israel and holland that I have never seen before. Maybe next time I will use him for my wedding hee hee.
The bouquet is in purple theme and the white lilies really bring out the deep purple colour. Dont be mislead by the picture below. It looks like a rather small bouquet, but it is really very BIG for me.
I carried the flowers for about 20 minutes waiting for our president to appear. That was why my arms ache today. Aiya, never mind la.. treat it as a form of "toning" exercise. hee We took a few pictures with our president.. once i get the picture will post here..
Today we will share the flowers among ourselves. I think I will take a few lilies and the brassica from south africa. it is really beautiful... Now our office has a nice lily smell..
I just saw the pictures just now.. I look plain fat in the picture. eeks! wrong angle!
Croped it off, i look simply too fat to post here.
Kiyo 到此一游 @ 10:01 AM

Tuesday, February 01, 2005
*~*~*~*~*~*~*~*~*~*~*~*~*~*~
One of my favourites (pics all up!)
This is taken by
Ivan
,(must credit him otherwise wait people say i 'steal') post touched up by me. I didnt do much to the skin this time as the picture was quite smooth aredi. Yeah! Maybe it is the strong lighting and my makeup skills that conceals everything.hee.. My sister once commented that I look "diabetically sweet".. I wonder that is a compliment or an insult..
Bf cant meet today (that's why I have the time to blog) coz he has to play baby sitter to his niece! Very cute niece he has who loves running around and simply loves to pull my hair. I wonder why.. maybe she dont have that's why haha. His mum is going to bake some new year goodies so it's the time to INDULGE again! yeah! My auntie gave my mum a hamper too. From Seasons (Shi Xin), it is not available in Singapore but can be bought in Malaysia. I just wonder why nobody brings this in from Malaysia. It is Oishii! I love their pineapple tarts, I opened 1 can lo..Now i can just spend time in office munching and munching away hoho.. :)
An overload of new year goodies! and his niece.. cute hor, she trying to grab my hp while i shoot her.

Finally, I decided what I need to wear on
THE DAY.
hee hee. I got this at Allure and it was the last new piece they have in stock. Lucky!! Apparently, there was another gal who bought the same one a few days ago, as the SA did not check carefully for the stocks, she told her that the display piece was the last piece.. and.... that gal bought the display piece! and I ended up with a new piece as that guy SA checked and found 1.. hoho
Kiyo 到此一游 @ 6:34 PM