Wednesday, August 29, 2007
*~*~*~*~*
nice....
thanks darric for sending me. =) it just reminds me of my good good friends xin and my lovely hubby. Although work isn't smooth these days haizz, 我会加油的!记得帮我打气哦!
簡單最動人
第一句
沒有一百分的另一半 只有五十分的兩個人
第二句
付出真心 才會得到真心 卻也可能傷得徹底
保持距離 就能保護自己 卻也註定永遠寂寞
第三句
通常願意留下來跟你爭吵的人 才是真正愛你的人
第四句
有時候 不是對方不在乎你 而是你把對方看得太重
第五句
冷漠 有時候並不是無情 只是一種避免被傷害的工具
第六句
如果我們之間有1000步的距離 你只要跨出第1步
我就會朝你的方向走其餘的999步
第七句
為你的難過而快樂的 是敵人
為你的快樂而快樂的 是朋友
為你的難過而難過的 就是那些 該放進心裡的人
第八句
就算是believe 中間也藏了一個lie
第九句
真正的好朋友 並不是在一起就有聊不完的話題
而是在一起 就算不說話 也不會感到尷尬
第十句
朋友就是被你看透了 還能喜歡你的人
Labels: Random Rants
Kiyo 到此一游 @ 6:57 PM

Sunday, August 26, 2007
*~*~*~*~*
Yesterday we went Julia again to collect another 5 pics that they are giving us with negatives..these wont be inside our big album too. It's either because i look too fat or too fierce or something.
the album will only be ready in october.
just a glimpse....
This is a 稻草 field.. really nice! as in the 稻草 lah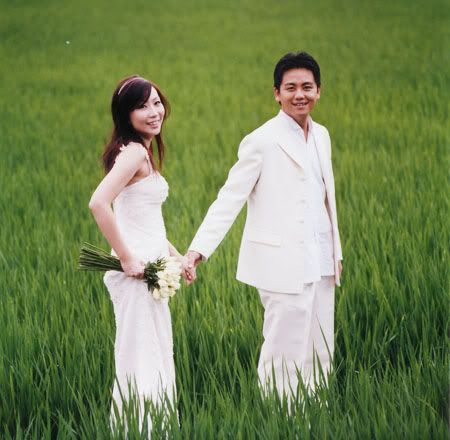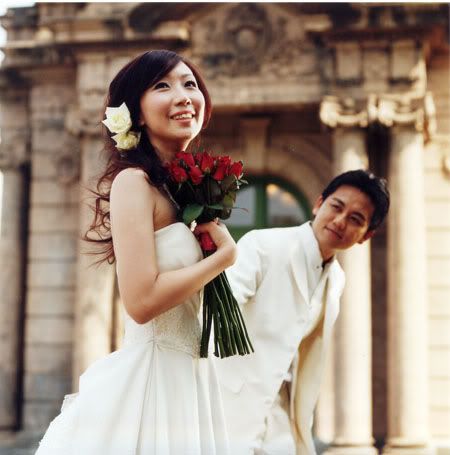 super taiwan taiwan hahaha
another fierce fierce photo from me.. i dont smile really look like want to kill somebody ahha.. i like the walkway that's why took this photo.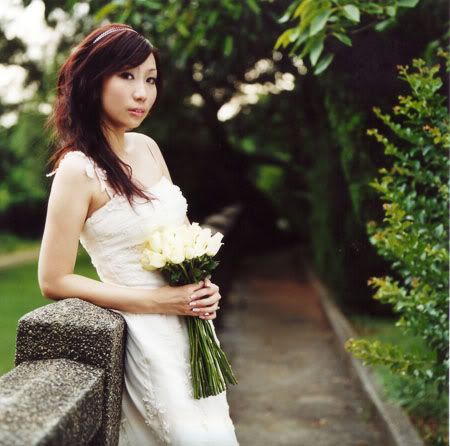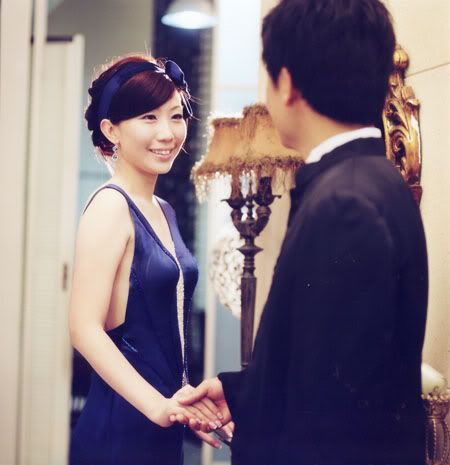 didnt take this photo cos i look fat =(
the dress i bought!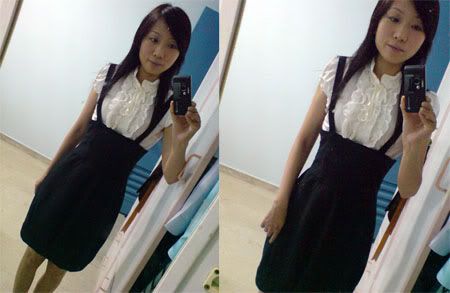 have a wonderful sunday peeps =D later i'm going bowling again. ha!
Labels: Wedding
Kiyo 到此一游 @ 10:21 AM

Friday, August 24, 2007
*~*~*~*~*
I'm the
LONGKANG WASHER!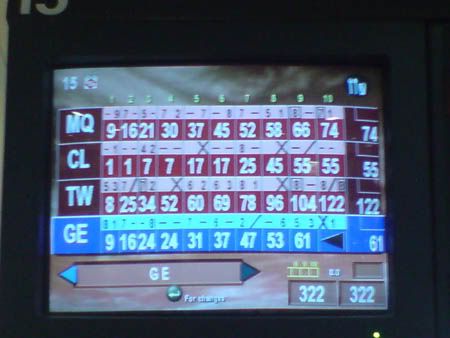 no need to guess oso know which scores are mine.
=___=
happy enough that i didnt drop the bowling ball haha.
We are shifting office today! and the scenery is beautiful at our new office. can even see cable car wor.. but i think i will be so busy until i wont have time to admire at it hee hee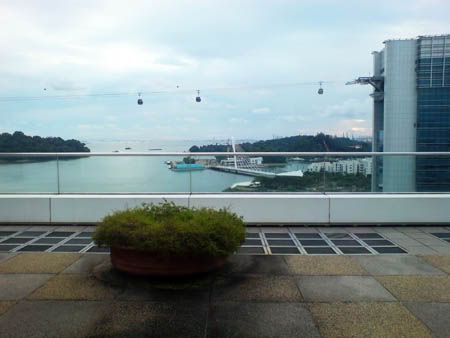 Labels: Random Rants
Kiyo 到此一游 @ 7:33 AM

Wednesday, August 22, 2007
*~*~*~*~*
Anybody watched the Channel 8 show yesterday at 9pm?
Saw a very nice white dress Michelle Chong wore...there's a dark-coloured sash at the waist which you can tie into a ribbon behind the back
saw it let me know horrr...
really lurve it! but dont know where to buy =(
Kiyo 到此一游 @ 9:21 PM

Monday, August 20, 2007
*~*~*~*~*
@@Fun Filled Weekend@@!!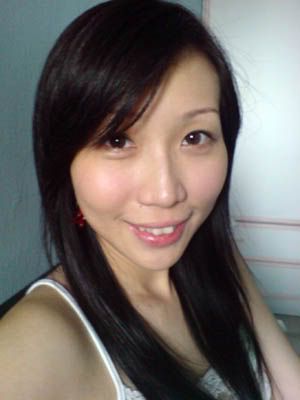 * Noticed the wall of my room has turned another colour?" Yeah! it used to be PINK. Now it's sky blue..*
It's been sometime since we let down our hair and had some fun and shopping. Read Urban that there's a fashion bazaar at the Nanyang Academy of Fine Arts called the fash bash.

Many local designers featured their own designs. Saw a couple of cute pouches and a very nice skirt. But I have since stop on impulse buying so i didn't get the pouch.=( The skirt was pretty expensive too. =(
One stall was even selling the "I'm not a Plastic Bag" Anya hindmarch bag. Fake ones of course. Controlled myself cause I know those bags are just a fad. Better 忍 and not waste $$.
In the end, i spotted a pair of earrings. I love the name very much and the charm looks really cute! It's called Fantazia Fairy earrings! bought it for ppm as her birthday pressie with stella. =D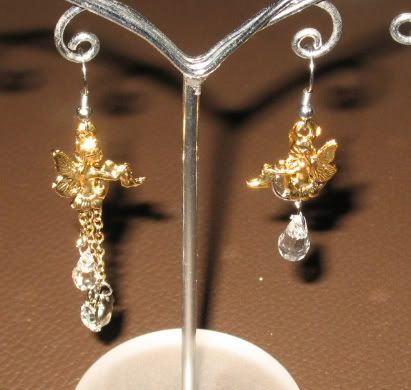 Looking forward to more fash bashes in the future! really have very nice stuff, but too crowded.
met up with stella after that for some shopping. We ended up buying a bag each and i bought a... how to say...a dress like thingy. Abit act cute, anyway it may look more corporate when team up with collar-ed shirts inside. Will only take peektures when i'm wearing it cause it looks kinda strange hanging there. =p
my buys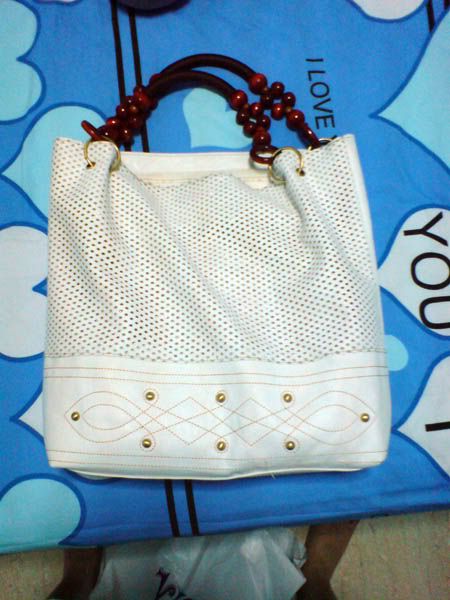 Bought this at a steal! for 25 bucks. Very roomy, lurve it!
was a little afraid to go home alone after chiong-ing session so decided to join Darren at his house. Didn't have any cleansing oil with me and bought this. Dis was surprisingly gootz!! cleanse off makeup very well and it made my skin very moisturized too. Good for travelling and lazy bums like MOI!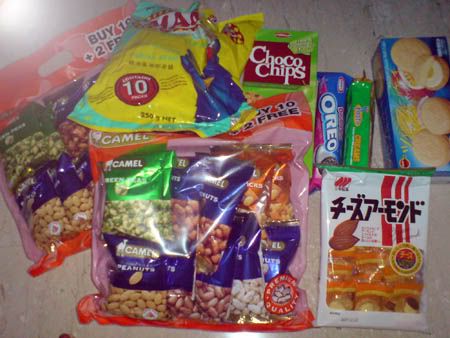 our buys on sunday! pigging out time..
Went to Zouk after and as usual, it's super crowded. Peeks! at Wine Bar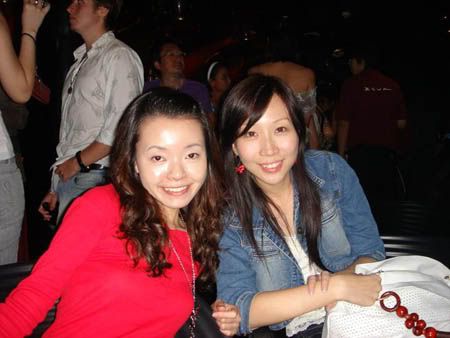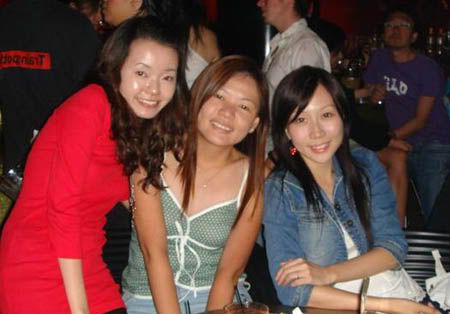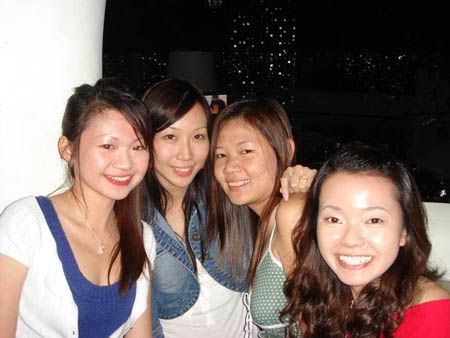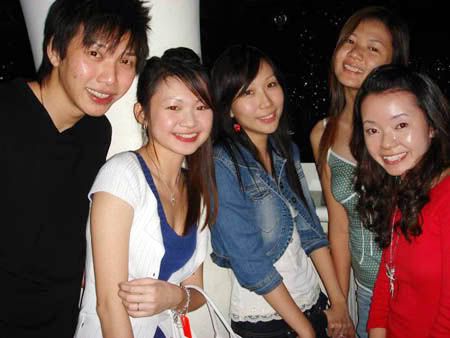 Labels: Fashion Fuse, Food and Events
Kiyo 到此一游 @ 9:19 PM

Saturday, August 18, 2007
*~*~*~*~*
We managed to watch Bourne Ultimatum yesterday...
Didnt really enjoy the movie as I was yawning at least 5 times throughout. The 1st and 2nd movie from the Bourne series were more interesting. All I remember from this final movie is that everybody is either walking, running or in the crowd trying to hide themselves. Seriously, Matt Damon was walking throughout the whole show!
Next show... I want to watch Skinwalkers which Darren wanted to watch. The poster looks quite attractive. hee hee
~~~~~~~~~~~
Food Review
Colleagues introduced to me a very famous and nice cake shop that sells great rolls. They have durian, mango and strawberry among others! And as it's name tells you, it's indeed Rich and Good. I especially lurrrvvve the durian one. The taste of durian is very thick and the cream is really fresh! Feel like buying the strawberry one later.
24, Kandarhar Street
Great weekend ahead!
Labels: Food and Events
Kiyo 到此一游 @ 11:34 AM

Tuesday, August 14, 2007
*~*~*~*~*
Watched Rush Hour today.
Good movie!
Never fail to make me laugh. Chris Tucker is so funny with his moves and Paris (where they shot the movie) is really beautiful. Really wish to go there sometime.
When I have the monies.
Work has been so so busy that I cant log in to msn very frequently. So everybody thought I MIA. Yeah I'm still here.. still alive.. hee hee trying my very best to cope. Was really stress for the 1st week but it's manageable now and enjoying it. =D
Mum bought me this for my big day! so sweet..
it's so nice..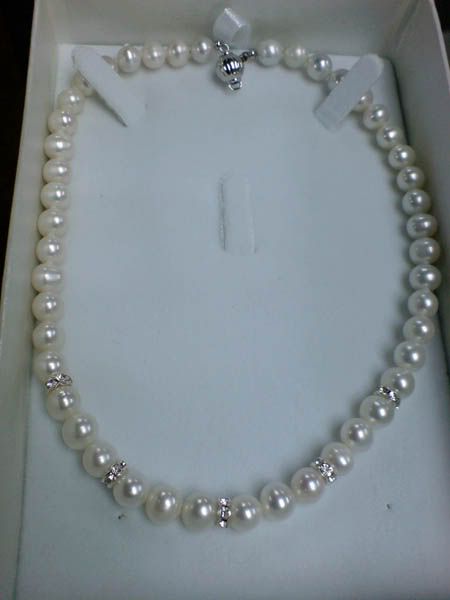 They are fresh water cultured pearls. I think they will go well with the white gown. *grins*
Take a closer look...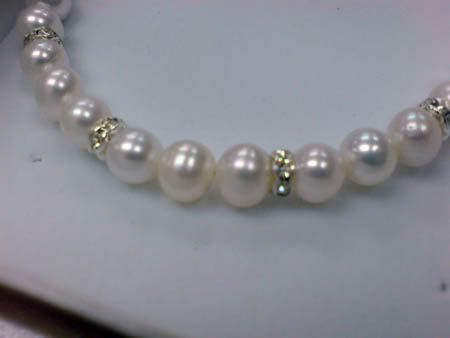 Labels: Wedding
Kiyo 到此一游 @ 10:26 PM

Sunday, August 12, 2007
*~*~*~*~*
There are so many things I want to buy but... but I dont have enough $$~
hmm.. let's see
1) Jeans
Been wearing the same old pair of Miss Sixty jeans for almost 3 years. It's seriously time to get another pair. Want to get cult brands which means they will cost about 300 to 500.
2) Shorts, Bermudas and Tees
Need to stock up as I usually wear them during weekends. We seldom go to town during weekends nowadays. Stayed home watching dvd and hk dramas. Really lazy.. tsk tsk tsk. Our recent rental is 四大才子.
3) I want to go for IPL!
To rid of some freckles and acne scars. Thinking of removing a mole under my eye as well. Planning end of August
Okay changed my blog song. Felt a little jazzy today hee. I know it's a SUPER old song but the lyrics is really meaningful.
Trying to compile our wedding compilation now! Will have a mixture of french, english, chinese, japanese and korean! Very
cha pa lang
I know but these are the songs that we really love. Some songs are really ancient ancient and some songs are songs during my secondary school days!
Kiyo 到此一游 @ 3:05 PM

Thursday, August 09, 2007
*~*~*~*~*
Went to the salon over the weekend as I think I seriously need a haircut!
Decided to try Komachi Haircult, another Japanese hair salon. I find Japanese stylists are very good in cutting very.. well.. japanese hairstyles.. =__= (abut then).
Here's my Review
Review :
KOMACHI HAIR CULT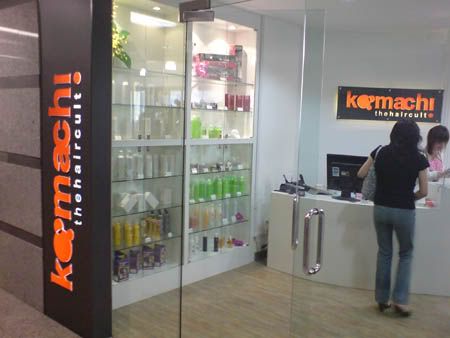 Services :
Cut and Colour
Stylist :
Tsuji san...
(chio right? hee hee)
Comments : Always preferred to go to a Japanese hair salon as their services are always top notch. You get lots of attention, and the staff were always ultra polite, their scalp massage technique is pretty different too, common among the japanese salon. It's the same for Komachi.
Wanted to tone down my hair a little as the brown colour has faded to a very reddish tone. Kenny attended to me (he's the only stylist who is not a japanese). I kinda like my new colour but I must say that there is nothing fantastic as it is just natural dark brown, but I must comment about the cut. The cut was done by Tsuji san. Actually i wanted just my normal haircut, layered with long fringe. Apparently due to the communication, or the lack of it, she gave me a "messier" hairdo which i like it very much. Because my hair is rather flat behind, she cut the layers very short and teach me how to style them. And how to blow my fringe "jolin style". Now my hair is pretty much layered and I feel lighter. heez
She's very good at styling I heard, doing for dinners, brides and even makeup as well. Will try her styling some time when I have a function.
Will try their micro perm too. Saw a Japanese lady do it.. it turned out to be very very natural and the layered cut complimented it as well.
Environment :
Located at the top floor of Liat Towers, the place is
ESPECIALLY
ulu on a Sunday. The security guards told me the main lifts do not operate on Sundays and asked me to go to basement (a dark corner) to take the Firemen's lift. That lift totally spooked me out.. or maybe it was because I watched a horror show 2 days before that haha.
But the interior of the salon is not too bad. There's even a corner for kids to play. Waiting boyfriends & hubbies can spend their time playing PS and reading comics on the wooden platform.
Summary :
Oh yeah.. first timers have 15% to 20% off all services!! and please bring a picture along to show the stylist what you want. I will go back again.. when I need a change of style hee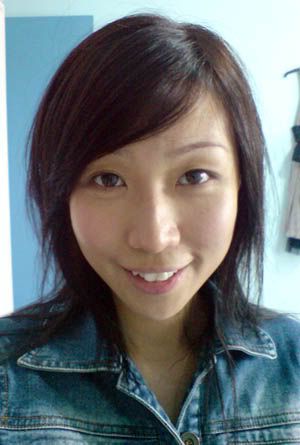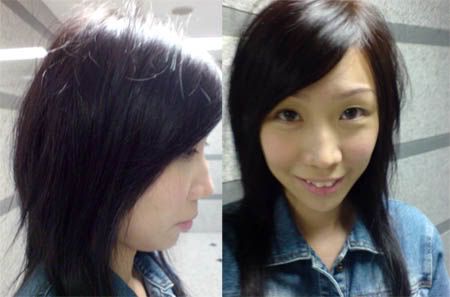 Labels: Reviews
Kiyo 到此一游 @ 8:06 AM

Tuesday, August 07, 2007
*~*~*~*~*
Tada~
a busy and overwhelming week ahead...haiz.
bought a new dress last week! at vivocity.. actually vivo has a lot of really nice boutiques hidden from the crowd near GV cinemas. Not really expensive too.
I wonder where I can wear this to... maybe to some weddings hee
Labels: Beauty Buys
Kiyo 到此一游 @ 7:27 AM

Saturday, August 04, 2007
*~*~*~*~*

I WANNA CUT HAIR!!

okay, i was contemplating to cut my hair at another salon (not my regular one) so now i'm surfing flowerpod to see which salon is good.
hope it won't be a disaster
~~~~~~~~~~~
If you are going to cameron highlands, taking photos with flowers is a MUST, since there is practically nothing else to do there. The trip also reminded me of science excursions...understanding the plants and veges, how they grow etc.
Although the flowers are not as nice as those in Perth, but they are still nice larr..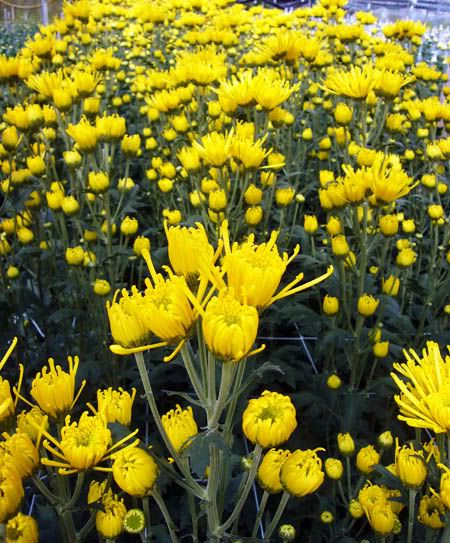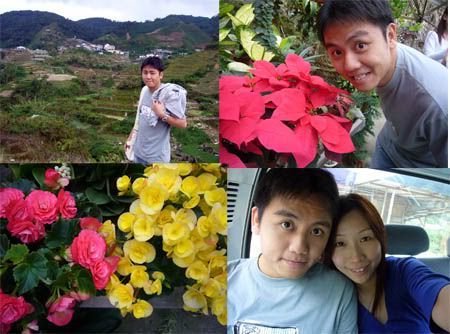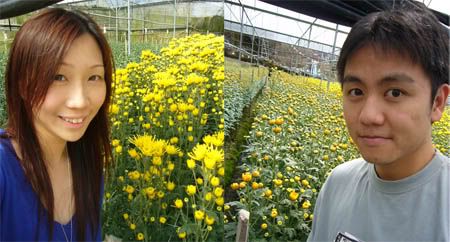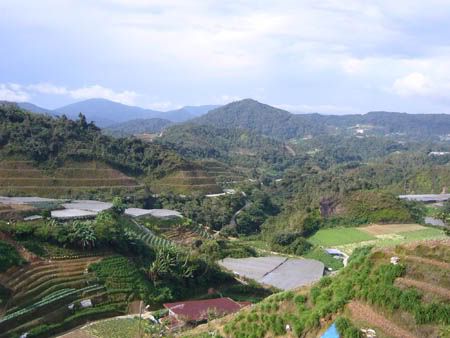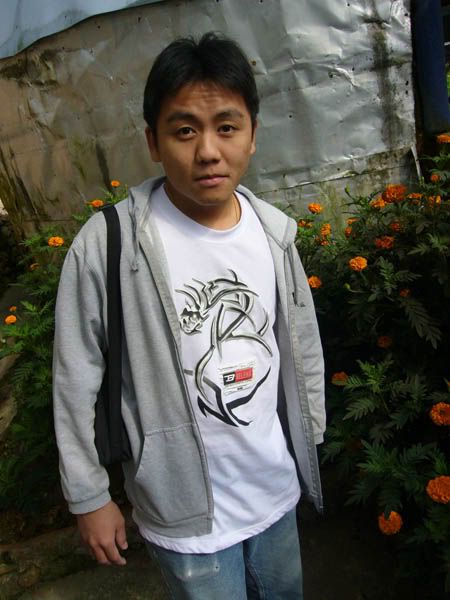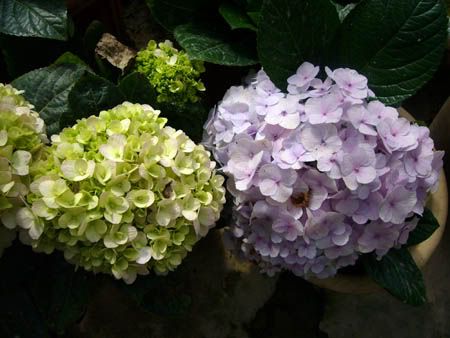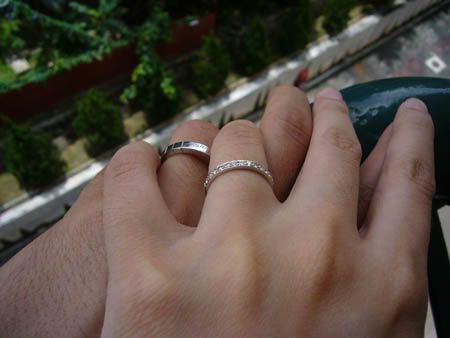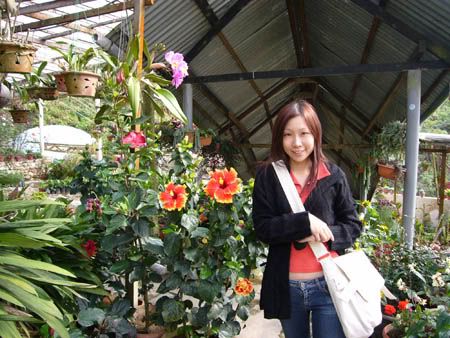 The weather was really good and cooling and my skin condition was purrfect. it will be good if singapore have such weather.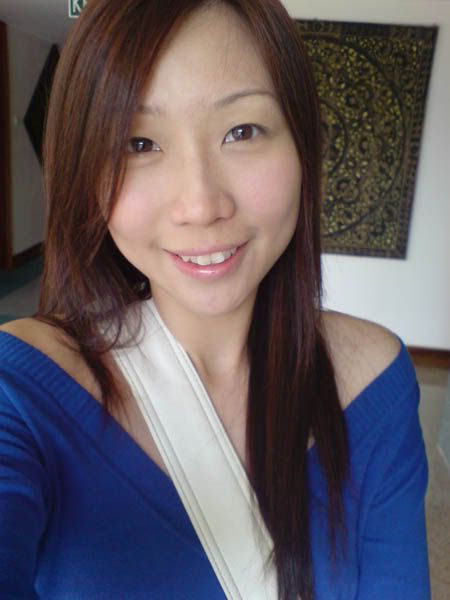 Mini Science excursion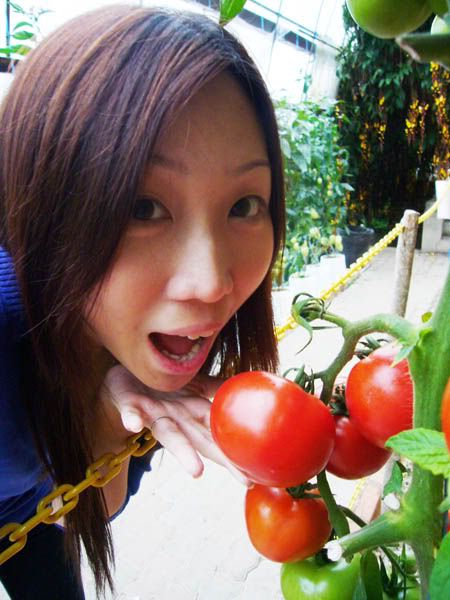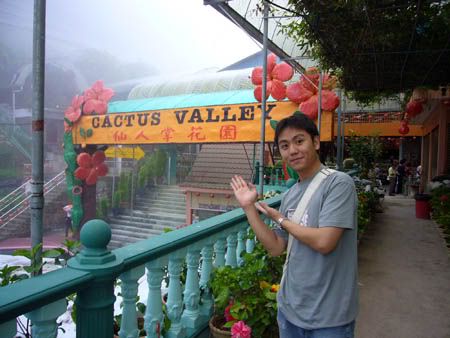 we picked strawberries too.. but not very sweet leh..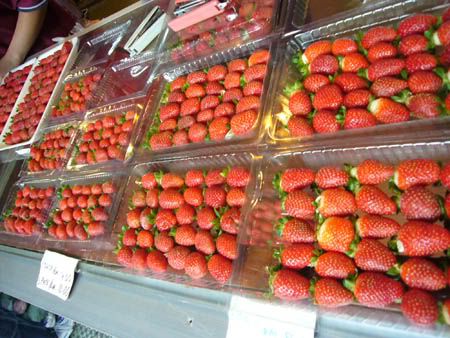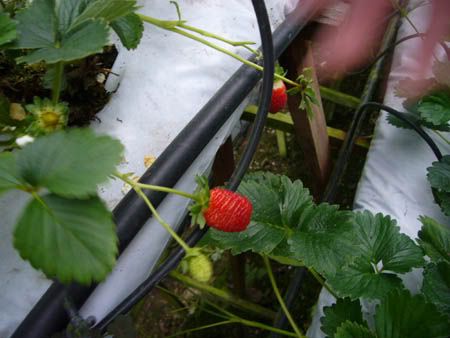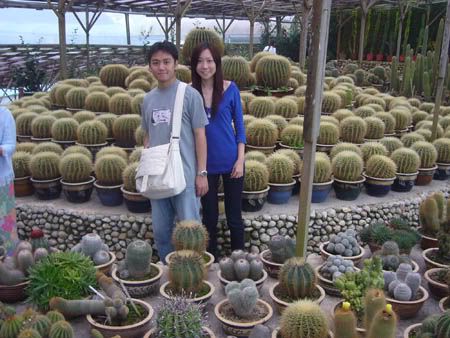 we ate at the pasar malam at Brichang. During the weekends, they will have a mega pasar malam there with loads of food and flowers. Although it has 100 over stalls, you see 10, you see all. they are selling almost the same thing! the roadside food was really good. Nevermind the flies were aplenty... *shudders*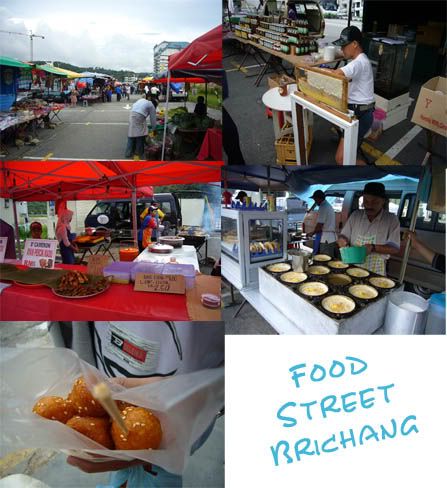 Tanah Rata's T cafe... scones were really nice as raved in the forums.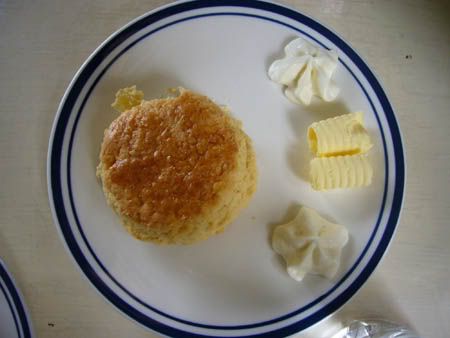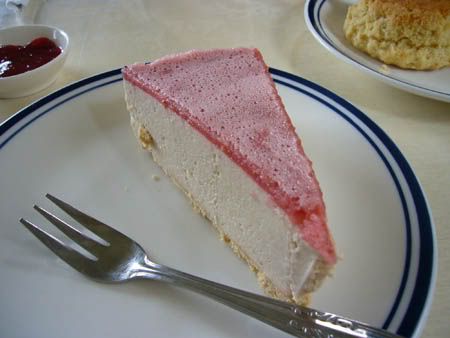 Their roses are dirt cheap! darren bought me 2 dozens..=p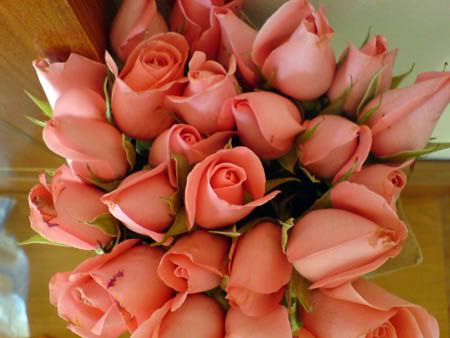 The weather was just perfect for a nice steamboat dinner. Tom yam!! slurpz!
Dar is amazed of the "mist" that is coming out from his mouth. Think since returning from perth, he hasnt seen that kind of "mist" for a long time liao hahah!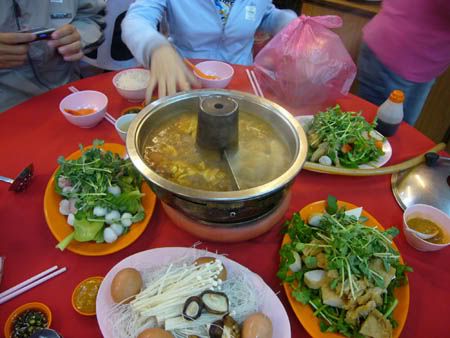 abit err xin.. but i lurve him so cute! we really had great fun.
We took a bus from Cameron to KL on the 3rd day to do some shopping. Didn't buy much stuff cos there's nothing much to buy~ But we found Lovely Lace shop and they have so many lacy stuff for wedding hee hee
We stayed at Capitol Hotel with Jess's recommendation. The location is really good and the rooms are clean and comfy. Good choice! thanks!
Lovely Lace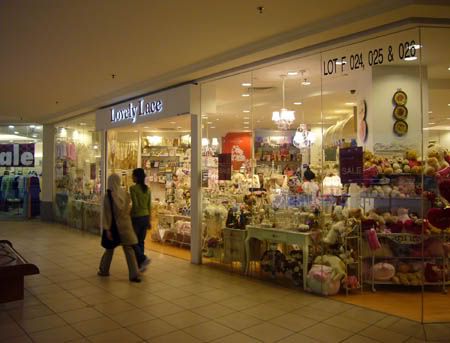 Darren bought me a heart shape potpourri and we bought 2 headbands for our future flower gurls!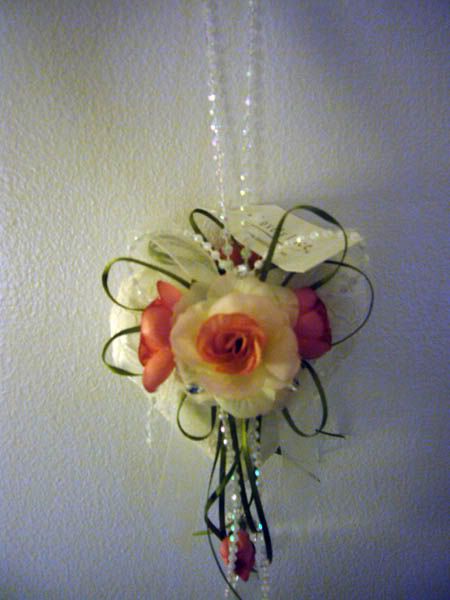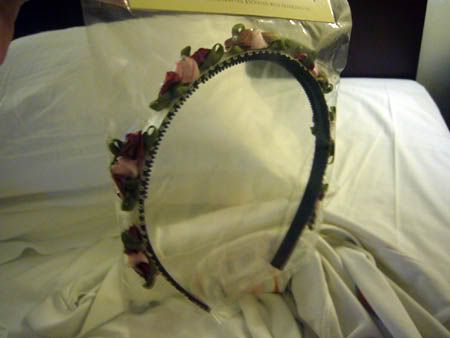 Took a train to Megamall for more window shopping. The person who drew this must have hated her alot.. why so bad? hur hur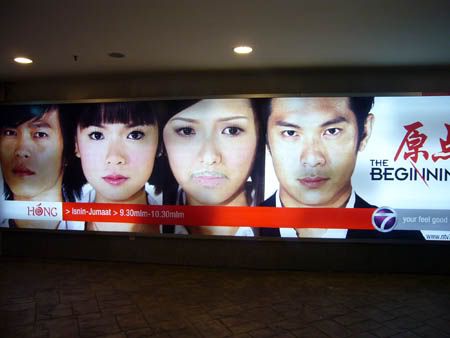 up close...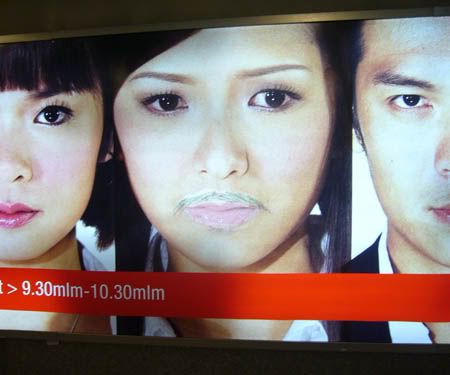 Darren bought a pair of shoes at Megamall. He bought more things than me! socks, shoes... i bought only bei teh saw.. my favourite hee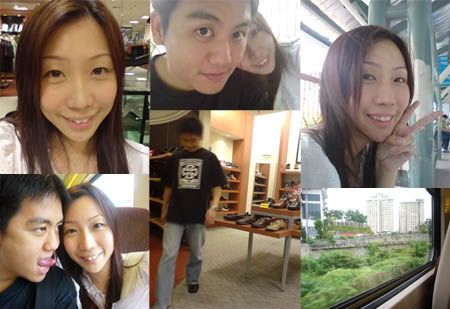 oh yah.. bought ampoules too! at 45Rm per box. Spent 25Sgd on ampoules during my previous ROM. Heard from Julia brides that you can get your own ampoules and ask the MUA to apply for you. Since it's so cheap, i tried 2 over the weekends and it's really good!!! makes skin less oilier and makeup stays longer.. very dewy effect.. my 秘密武器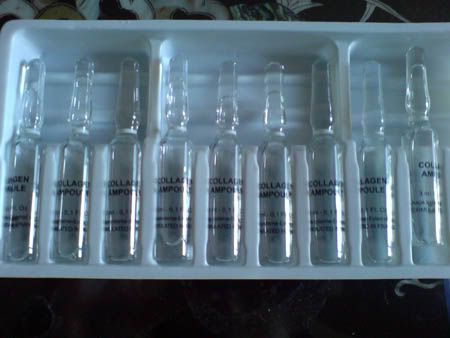 KL horror theme restaurant with a "gorilla" sitting outside.. can
shun bian
go into their horror room and give yourself a scare after the meal.. puke out everything and eat again. hahah. Really clever hor the boss.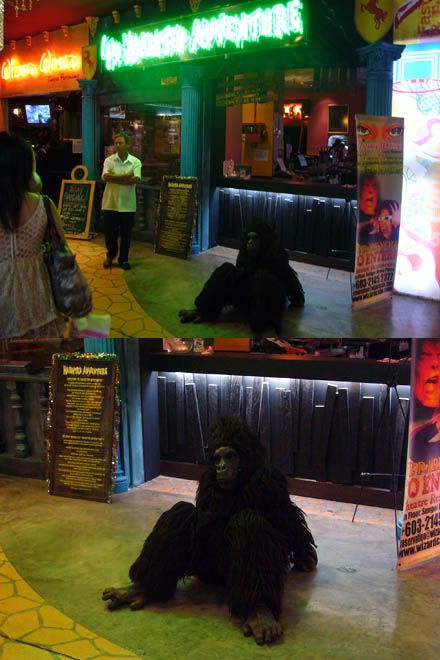 dis is a damn fake brand nor... NEKE =__= .
Chee Chiong Gai
has loads of fake goods ranging from LV to prada to even LOLEX.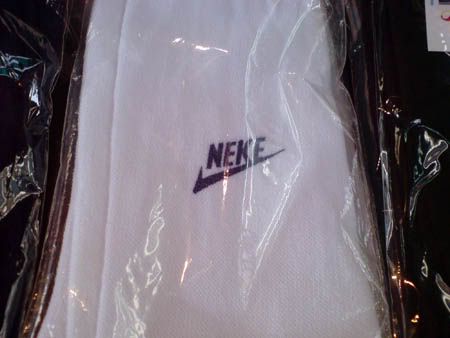 We thought we were so lucky to catch WU YUE TIAN in KL as we saw a very pretty compere with lots of fans and a stage with Wu Yue Tian's poster.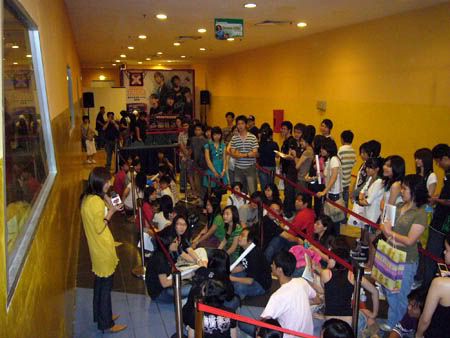 Actually it was their 首卖会 and Mayday will only talk to their fans.. via telephone. =__=. We left soon after that.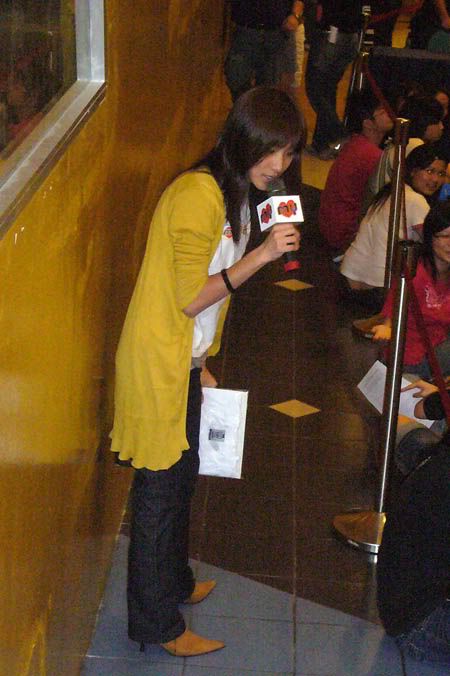 really pwetty keke
too many photos.. will upload the nice flowers into multiply. =D
off to a Lazy Saturday heez
Labels: Travel Tales
Kiyo 到此一游 @ 10:42 AM