Monday, January 29, 2007
*~*~*~*~*~*~*~*~*~*~*~*~*~*~
Went venue hunting yesterday.
Made an appointment with Quek Peng to see the set up at Raffles Town Club. It has a victorian inspired private lounge for 30 pax which is really cosy...hee hee.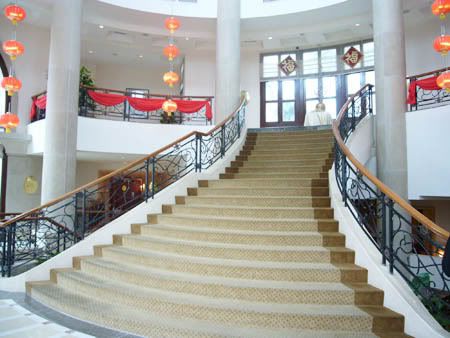 Their grand entrance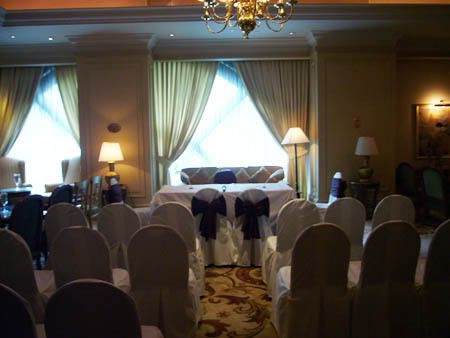 it's only 1/2 setup. There should be flower centerpieces on the table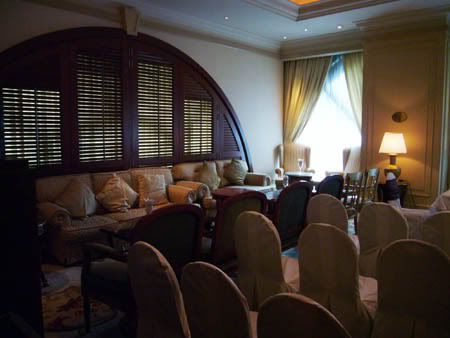 The only downside..
It's kinda inaccessible by public transport (besides taxi). =( haizz.. Sometimes it's difficult to have the best of both worlds. OR the best of ALL WORLDS.
AI PI, AI QI,
still must near MRTEEE...
=____=
Next stop.
Halia at botanic gardens. Heard alot of good reviews of the perfect ambience there. BUTTTTttt... we never got to it. It was just too far... We reached botanic gardens slightly before lunchtime and then we realized that we have to walk about 15 mins from the main entrance just to dine in the greenery.
15 mins!!!
Anyway, it looks like this below.
I admit that I'm the lazy one, so I called the coordinator and cancelled my appointment
on the spot
. =p Cannot expect my guests to walk when I don't even want to walk that distance.
We decided not to go fort canning as well. Decisions are easy to make for us.
Locations that require EXCESSIVE walking are OUT.
*~*~*~*~*~*~*~*~*~*~*~*~*~*~
Sunday
Went to Gym and had a good workout.
Went singing with ppm, zen, stella and some others at partyworld after that. Fun as I havnt seen them for quite some time. After that went to Sakae for dinner. We had a pretty bad encounter there, kinda bad service. tsk tsk tsk...
Photos with ppm and la-la. Update another time!
Sunday was a retro day.. thanks to my sister, i found this retro pinafore skirt at
http://myspringfling.livejournal.com
.Think it will look pretty retro if teamed up with a white lace blouse and tight leggings.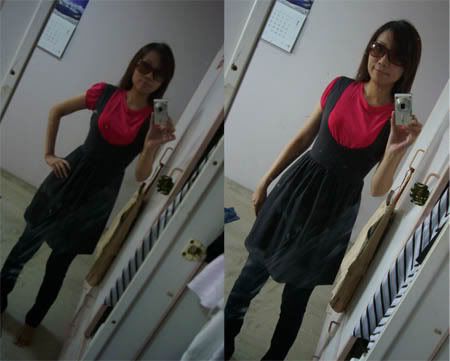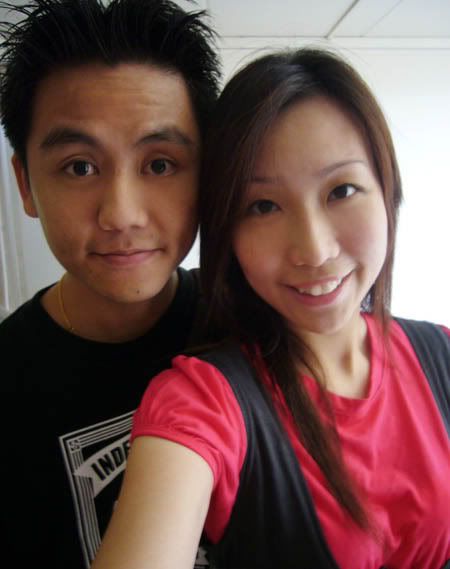 ending with a photo of both of us... darren decided to style his hair upwards for a change ha! Now he looks taller than me.. buahhahahhah
oooopppppzzz
=___=
Labels: Wedding
Kiyo 到此一游 @ 11:05 PM

Saturday, January 27, 2007
*~*~*~*~*~*~*~*~*~*~*~*~*~*~
THURSDAY
I dreamt of Rain yesterday…
No joke.
Not the Rain the
tee gong
brings.. but the Rain that comes from Korea and young females that went crazy about.
I was his assistant in that dream, helping him arrange his schedules and carry his bag =___=
Dreams are weird stuff.
Worse was that I spoke to him in Japanese and he understood me perfectly. Or Maybe he really understands Japanese in the first place.
Think it must be the reports and magazine spreads I have seen all these weeks that made me have this 'nice' encounter…=p
~~~~~~~~~~~~~
It's the weekends again!
Going to get rather busy today.. hmm.. let's see, where are we going today...
We will be going to various locations to check out the venue for our ROM in 2007. My future MIL (mum in law) has already picked a date for us from the geomancer for our actual day wedding in 2008. =)
Yah, guess there wont be any surprise element in the proposal but with ring or not, you still love your guy yah. =D As long as my guy loves me for who I am, i guess i will love him for who he is too (the perfect unromantic =( ). Of course every woman (including myself) won't deny the fact that diamonds are indeed a girl's best friend and flowers too, a girl's
NEXT
best friend..hahaha. Something is up his sleeves... hmmm.. i can sense that. =p keke, hopefully it will be a good memory for both of us. That's all I am asking for.
Signed up for a bridal package at Julia Wedding News. My sis and cousin used them and had good reviews for their gowns and service. They offered us a package we couldnt really resist and we skipped the rest of bridal boutique shopping and chose that! (after much negotiation of course)
There will be alot of preparations to start from now on cos the date is kinda drawing near and there are plenty of things to finalize.
First, to source for an ROM venue.
HEADACHE.
I have alot of ideas but my budget constraints me. So, i am finding a decent and not so expensive place to hold a cosy and intimate reception.
I loveeeee this place!!! It's not a church but an auditorium at Singapore Art Museum at Bras Basah Road. Very chapel like with chandeliers and all.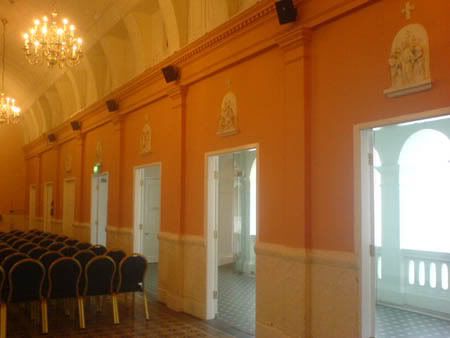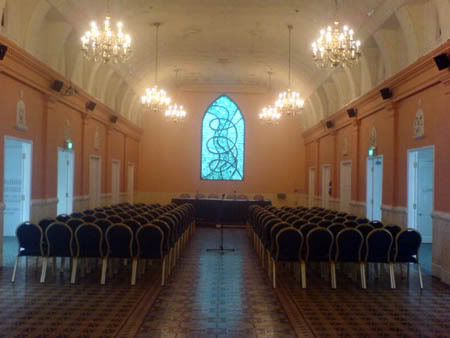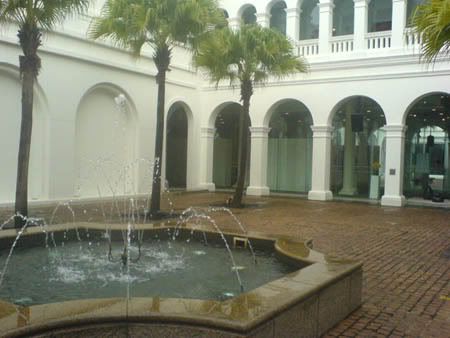 Perfect garden theme that won't blow a hole in your pocket. But the weather is an issue. tsk.
Looking at other venues later
-Raffles Town Club
-Halia at Botanic Gardens
-Poppi at Fort Canning Club
Any good suggestions? =D
Enjoy the weekends!
Kiyo 到此一游 @ 9:30 AM

Wednesday, January 24, 2007
*~*~*~*~*~*~*~*~*~*~*~*~*~*~
a photo taken some time ago where we bought something kinda expensive but something that I really
LOVE
. =D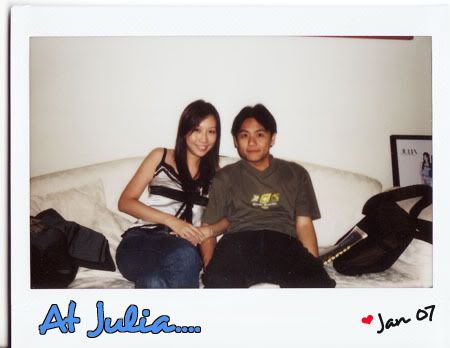 Got my results! 1 A and 1 B.
Although it's not straight As but i'm satisfied with it cos I didnt really study much. It's better than the 2 Cs I got for my previous 2 modules.
I realized when you dont study, you score better..
=___=
Maybe it works for me only.
Or maybe i stressed myself too much till I have mental block last sem. So my strategy will be not to study from now on. =p
Just watched the movie
FEAST
just now. Not worth watching anyway.. we really had nothing better to do to watch this gory bloody film. There's no plot whatsoever and it goes like this : aliens attack humans, blood spills, people die.
And it repeats..
Labels: Wedding
Kiyo 到此一游 @ 10:44 PM

Monday, January 22, 2007
*~*~*~*~*~*~*~*~*~*~*~*~*~*~
I'm back from batu pahat, 2 hours drive away from singapore
Although it's only 1 night there but i couldnt sleep well cos I usually couldnt sleep on the 1st night on unfamiliar beds in 'hotel' (where EVERYTHING doesnt work) and where we stayed It's 2 long nights there and i couldnt sleep well although i was really tired.
On the way there, we passed through some places that were STILL flooded. Their front yards were practically drowned in calf-high (and in other places knee high) mud-dirt water overflowed from the
longkangs
and they can only get out from their houses by wading through the mud or using plastic boxes that can float...
Thanks for all the condolences everybody :)
I'm prettie alright as grandma has been suffering from stroke and diabetes since 10 over years ago and it is definitely a relief for her. She was quite sick and ended up being really scared to go to the hospital for blood tests cos the nurses couldnt drew blood from her and have to poke her again and again. It's so so scary. I hope euthanasia will be legalized in singapore in the future as I would prefer to die painlessly than to go through all that. Couldn't help feeling sad for her whenever I thought about her life. She had a really really hard life.
It was very heart wrenching too to see my young cousins sobbing uncontrollably and saying
"i want to bring ah ma home".
But I guess time will soon fade their hurt as it always does. The burial site is quite a nice place, up the slopes of a hill that overlooks the sea, very serene and peaceful.
The last funeral I attended was when i was very young, so i could not recall the rites, logistics and the money involved. It was only yesterday that I knew a funeral can come up to alot. That is why old folks always talk about "guai bai ben" I guess. There were alot of logistics to see to as well. Mum and my aunts were visibly drained by the coordinations with the various parties to ensure the last rites were smooth.
it's time to catch more sleep and resume our normal lives tomorrow.
Take care everyone :)
Kiyo 到此一游 @ 10:16 AM

Saturday, January 20, 2007
*~*~*~*~*~*~*~*~*~*~*~*~*~*~
grandma just passed away...
Received a call yesterday morning and today, our whole family will be going to malaysia in a short while.
Death ain't scary.
it's the living that feels the hurt.
She's had been rather sick and weak for many years.. i guess it's just time.
One day when I'm weak and weary, i hope i can go without any suffering and pain, with all my loved ones near me.
Touched with all the condolences that my colleagues have given.
Heartfelt thanks from me and my family.
Kiyo 到此一游 @ 7:00 AM

Thursday, January 18, 2007
*~*~*~*~*~*~*~*~*~*~*~*~*~*~
I try not to think about the problems... i think alot of us are facing the same problems. Talked to one of my colleagues about work, she talked until she wanted to cry too. =( haizz...
Anyway, eating relieves stress. At least for me!
Had a nice dinner at Ikoi Japanese restaurant for their buffets. How can a sucker for Japanese food not know this place?!? I didnt know about this place until Jaeson brought me there yesterday. It was good.... endless sashimis!
He gave me some Korea soveniurs fan, calender and a guide book.. it will be useful for me if I can have a chance to go Korea next time.
I need a break badly.
Took 1/2 day leave today and watched Cha2 Wu3 (One Last Dance). Hmm... what can I say..It's very artistic. =p
Kiyo 到此一游 @ 9:54 PM

Tuesday, January 16, 2007
*~*~*~*~*~*~*~*~*~*~*~*~*~*~
A moth flew towards my FACE while i was walking towards my home.
I screamed..
Bet my neighbours got a big scare of their life too.. (from my scream)
~~~~~~~~~~~~~~~
Today has not been good for me but just don't know why i can't seem to say it out in words or convey myself.
(just not tuned to talk about sad things)
But I managed to type a prettie long email to someone higher up there this morning telling him my true feelings about what I think (about my work of course) and all the things that has happened in the past year, the efforts i put in, the results i see and it IS affecting my morale too.
Have been bottling up for quite some time.. I think I'm growing to behave like Darren. He is one person that don't share his stress with me or anybody else because he doesnt want me to worry. His favourite motto is "Don't want you to worry for me,
I only want to share my happiness with you"..
*bottling up is seriously no good for health, children please dont try,
jiejie
you lian guo
*
i'm persuading myself to remain optimistic and continue to put in the same effort I did in the past, or maybe 2 times the effort.
But
i can say that if nothing improves, my optimism will die out soon enough.
Kiyo 到此一游 @ 10:02 PM

Saturday, January 13, 2007
*~*~*~*~*~*~*~*~*~*~*~*~*~*~
It's the weekends again..
No classes for today and for all the future saturdays!. Feel so good to shop during that time.
I got a clutch bag.. Don't know why I bought it cos I dont have any more dinners to attend, but i think it's nice!
It is champagne in colour with green rhinestones over the lace..around the opening..
Colleague gave me something and i'm going to try one of these days.
Guess what is this piece of paper?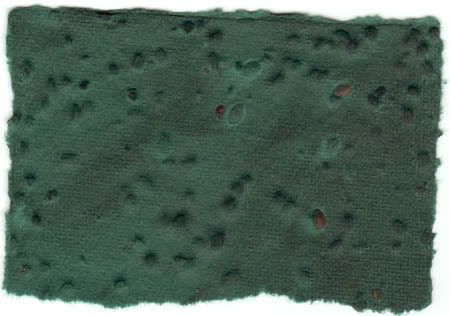 It can grow a garden.. =)
amazing isn't it, this is the first time i see this .. =p
They are handmade paper cards that are embedded with seeds!
Hopefully, i will get some wildflowers in a mini pot.
~ Bloomin ~
Happi weekends folks, i may be going ZOUK tonite yippezz!
Kiyo 到此一游 @ 10:45 AM

Wednesday, January 10, 2007
*~*~*~*~*~*~*~*~*~*~*~*~*~*~
A miracle happened...
i went to the gym after work today..
=____=
CANNOT stand the inactivity anymore so decided to try a new class.
Belly Blitz in Amore. There's no free trial class so i have to pay but it was well worth it I feel. Still thinking whether to sign up. It's really an experience...the class is a mixture of belly dancing and aerobics? I had fun doing shoulder shimmies, rotating my hips, and my favourite.. doing the 'shake your bon bon' move and some familiar moves from the exotic dance days.
what is belly blitz exactly.. from their webbie,
An entrancing signature class with moves inspired from Belly Dance. Get an all rounded workout that targets not just the abdomen but all parts of the body. This comes from combining traditional belly dancing moves and infusing it with Aerobic techniques. Learn to do the hip shimmy with style while toning your upper body with sensous movements. Mobilize your arms, hips and target your chest area to reveal a confident new you!
Instructor was reallie funnie too, the
singlish
way.
Kept encouraging us to shake our shoulders harder.. you know how the belly dancers shake their shoulders in a rapid back and forth motion?
yeah...
She said "shake.. SHAKE harderrrr.. BLA drop, NEVER MIND.. Padding drop, oso never minddd..just pick upppp"
=____=
Seriously, i never hear these in california fitness.
haha.
Interesting.
Kiyo 到此一游 @ 8:55 PM

Monday, January 08, 2007
*~*~*~*~*~*~*~*~*~*~*~*~*~*~
Saturday
Had a very tired but fun weekend and did alot of different things.
Went to see a fengshui master on Saturday recommended by my new neighbour Dias. The master was concidentally his future mum in law hee hee.
Not exactly a superstitious person but I decided to give this a try since Xin told me that 紫薇斗數 was pretty accurate.
The master was about 80% accurate. =)
I guess one can really tell alot just by looking at the birthdate and time. Strange, but it's true! But of course, just take it with a pinch of salt
(if u hear bad stuff that is hahah)
Since we were in Tampines, we decided to drop by sim lian to
monitor
see the progress.
Sad to say.. it still looks like THIS.
"wat u all doing?!? hurry up can a not? " hahah =P
But hopefully, in time to come, we will be able to see our baby grow up to be a 17th storey tall... hmmm.. building haha.
Went to
Xin
derella's house to pass her some baby clothings my mum got in JB! Didnt' know my aunt was dealing with import and export of baby clothings...The clothes were really cute so asked mum to get some for her. Maybe I should just ask my aunt to give me some stocks and sell them here. Just a thought.. hmm... hands up who wants to buy baby clothings from me?
*silence*
I guess i better stick with my day job and make the best out of it. hee
This is
Baby Freya
saying hello! *hugzzz* she's smilingzz! =D Isn't she adorable.. will order cupcakes for you when you are first month old!
Sunday
Her World Wedding Fair!
Had real fun ogling at models, watching the dances by Amore Fitness instructors (they really can shake their bon bon), had a free hand paraffin wax and free mini makeover! hahaz! The crowd was kinda scary, especially when the host announced "Please enjoy the food...", there was this mad rush..
FOR THE FOO
D of course.
Ended up buying 3 sessions of mani/pedicure package from Nailxpert with 3 sets of nail art and 1 set of crystals to make any day a
bling bling
day.
Made our rounds to the various booths to do some "homework" too. And voted for the most beautiful gown.
the gowns...that made brides their day the most beautiful day.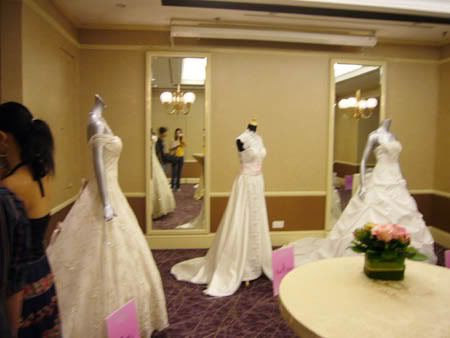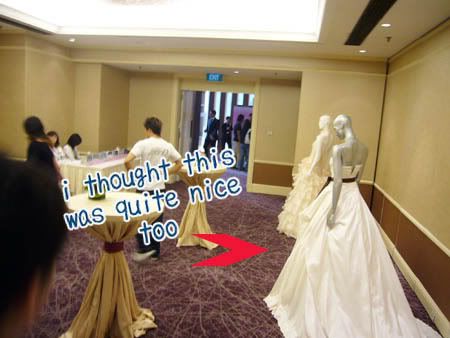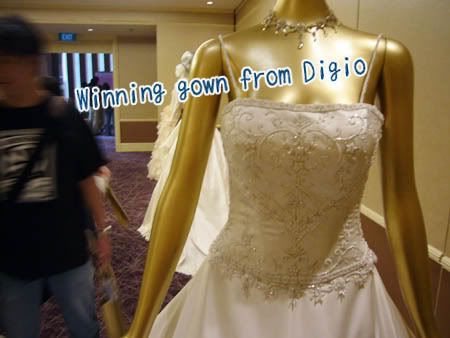 Simple, yet elegant and nice.
I voted for Digio's gown which was really beautiful lined with lace and crystals and have a nice train. And it turned out that there were alot of couples who thought so too! and Digio won.. but we didnt win anything from the lucky draw. =(
dar practising how to smile... He claims that he don't know how to smile. =p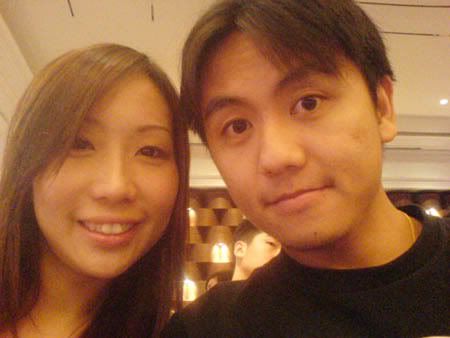 waiting for the show to start
Saw some familiar faces there... it's like a mini gathering...Met pigzilla with his future wife and darren met his university friend there as well.
And even an online friend spotted me there cos his
gf noticed that darren had a nice smile
and asked him to see.. THANnnn he saw me =_____=
darren will be damn happie if i tell him this.
After gorging at the high tea, we went jalan jalan till we were tired and went for MORE FOOD at newton circus!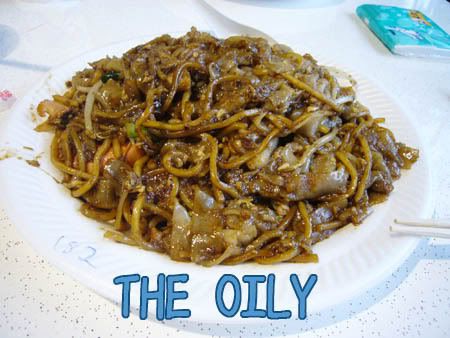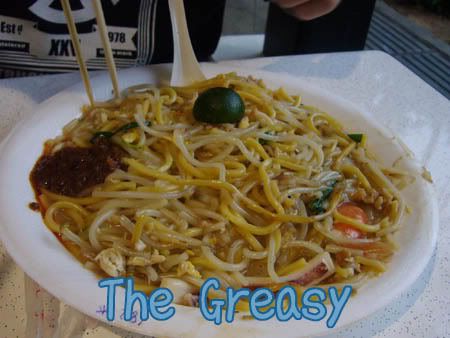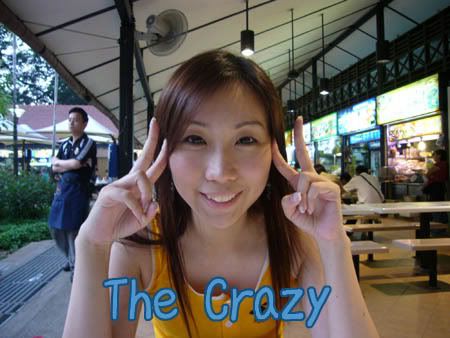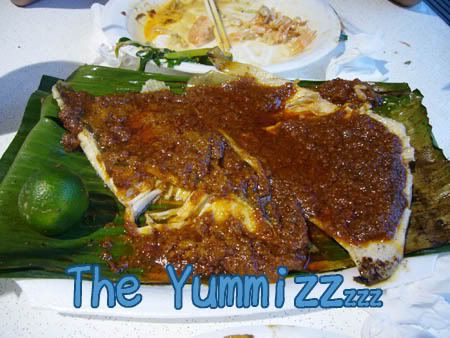 Bless me... i lurve FOOD, especially stingray!!! the thought of it now, makes me hungry.
That's my FULfilling weekend.. yeah.. stomach very FULL.
hahah
Labels: Wedding
Kiyo 到此一游 @ 10:02 PM

Sunday, January 07, 2007
*~*~*~*~*~*~*~*~*~*~*~*~*~*~
Wanted to blog about the weekend but is so tired now..
it seems like my weekends are more tired than weekdays.
There's class tomorrow too! a new semester starts and my LAST too.
Quite looking forward to class cos it will be a mini "alumni" gathering. Some of my uni friends (2 of them actually..from geyao) will be joining! can't wait to see them again.
I guess it will be like going back to uni.
The talk cock sing song daes...
=D
nitesszz
Kiyo 到此一游 @ 10:16 PM

Thursday, January 04, 2007
*~*~*~*~*~*~*~*~*~*~*~*~*~*~
This is going to be a yucky post.
*to me at least*

Always have a phobia eating cooked vegetables outside.
(seems like all of my friends have just discovered alot of me lately, phobia for crowds, phobia for veges..) *shrugs*
But maybe it's because of childhood memories nightmare of mum finding a worm on her vege in her wan tan soup while she happily gobble up the wan tans.

it still haunt me till this day.

2nd incident dated
~ January 17th 2005 ~
<---

click if you want to re-read that yucky encounter


the day i nearly ate a

LIVE

worm ...on some cucumber in my chicken rice.

From that faithful day onwards, you see shirlaine order chicken rice without cucumbers.

=___=

TODAY, while i was happily having lunch with my colleagues at this bak kuk teh "restaurant look alike place" enjoying our you2 cai4, i saw THE WORM again, as dead as can be, on the vegetable that i was holding with my chopsticks.

It is not garlic, i am very certain. With my encounters of worms (all sorts) on veges, IT WAS DEFINITELY A WORM!!!

haizzz...

I'm not a bird and my chinese horoscope is not chicken either, and this is definitely not FEAR FACTOR too (cos i dont get any money from eating worms!) so... can all the worms kindly stop surrendering yourself in my FOOD?!

*maybe i should try gobbling up the food without looking next time, it may just make my life better and maybe make the veges taste better too*
Labels: Random Rants
Kiyo 到此一游 @ 10:37 PM

Tuesday, January 02, 2007
*~*~*~*~*~*~*~*~*~*~*~*~*~*~
Sorry I couldnt join you guys at Carlsberg Partee at Vivo, heard from jeff that it was loads of fun!.. =D
Had an enjoyable and quiet new year celebration at Darren's house, with his nieces.
went to clarke quay intending to go to MOS but it was way too crowded!
Couldnt even squeeze pass the crowd to queue up so we gave up.
Can't stand the crowd, i will get panicky and couldn't breathe, so persuaded him out of it. *phew*
Phobia..
Didn't do much the next day cos I was down with flu so we stayed home to play with his nieces again.
They are so adorable!!
Read them stories and when you point your finger at some animal and they will respond with multi words, like a dog they will call it a "狗狗", pig is "猪猪", so on and so forth.
Really fun playing with
other people's
kids.
I lurveee baby talk! hahahaz!!
It's back to work tomorrow!
very recharged and very refreshed! Won't be having lessons on Saturdays ANYMORE! so happie lalala... cos it's the last semester and i will be having one final last module left.
Ganbatte!
first picture in 2007...
Kiyo 到此一游 @ 9:18 AM