Sunday, June 19, 2005
*~*~*~*~*~*~*~*~*~*~*~*~*~*~
My Day
There were quite a number of journalists downstairs staking out trying to catch the murder suspect's family.. They just asked whoever they saw.. And coincidentally, we were waiting for the lift to arrive when a journalist asked me something.
"你是不是Unit #xx-xx"
(which is that suspect's flat)

????
I looked at her with my "what-do-you-think" face and flatly said NO.. I'm not.
They were quite friendly, but I kinda pity them.. Today is a Saturday and the whole group of them have to take turns to 看水.
Anyway, I shan't think about this anymore. I still cant believe it anyway.. he's such a quiet and gentle guy but I guess I HAVE to believe it. Looks are deceiving. I must remind myself constantly now. My heart reaches out for his wife and his children..
Okie.. Happier stuff.
I went shopping. What's more happier than
THAT
?
I thought I will stop. Apparently, the draw of Far East Plaza is too great for me to refuse. I went to INC again where I bought my first pair of ultra big shades. Saw a green lace camisole.. hm.. Well done!
GRAB!
Saw another pale pink lace butterfly top..
GRAB!
Than i saw another nice pair of shades again.. ARGgggggh!
Although I really like that pair of shades, I didnt get it cos
I HAD ONE
, REMEMBER? The one that I showed to PANDA, GERALD, TIMOTHY, WINSTON... and some other friends through my webcam.. & got responses like POWER RANGER
(!?!)
, BEETLEMAN etc & etc.
-_-'''
Anyway.. I walked out, feeling sad but proud of myself that I didnt give in to temptations.
Went to Tangs to find my mum and told her I saw a pair of nice shades that cost 30 bucks.. than she said..
"Your sis buy 1 pair 350 bucks wan.. you can get 10 pairs liao lo! you still wait?"
I went back to get it.. hahahahha.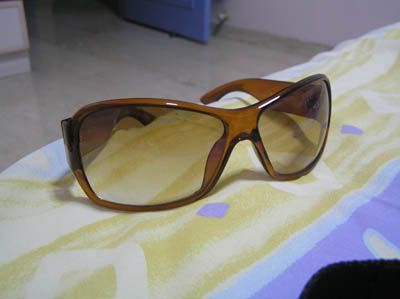 So what's the difference between this *new* shades and my first pair? hmm...
Bigger? Different Colour? haha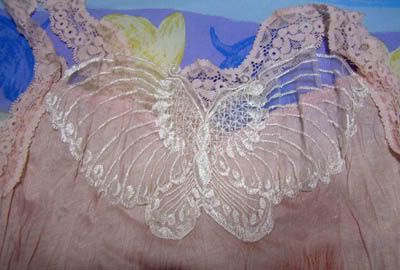 Kiyo 到此一游 @ 12:04 PM