Wednesday, June 15, 2005
*~*~*~*~*~*~*~*~*~*~*~*~*~*~
It hurts...
If it doesn't.. I wouldn't have bothered.. but it is hurting like hell now.. think it's trying to force its way out..
I hate wisdom tooth!
Called Darren's sister yesterday as she is a dentist and I decided to let her extract my wisdom tooth.. Okie.. she works in AMK, YCK and Yishun. Print out a page of my blog and u will get discount!!
* u think GSS ar.. got discount some more*
My mind is still filled with VERY FIERCE dentists and nurses when I was in primary school.
*shudder*
Actually I'm very scared of needles too that is why I did not go for braces for my bugs bunny teeth. Anyway, it's my signature to look like a mouse..
NOW, i couldnt care less.. cos my face is a little swollen on the left side and looks very UGLY even when I dont open my mouth... I've heard somewhere about models in the states actually extract some of their teeth to make their face slimmer... hmm.. Seriously, I dont think it will work.. even if it does.. nah.. that's too extreme
Okie.. back to his sister..I was saying that I called her yesterday right.. she was on the way to hospital.
To deliver!
* I have good timing man, she sounds like she's in pain...but still can talk on the phone -_-*
This is her 2nd time and I really look forward to next Saturday so that I can take loads of pictures of her new born and also her 1 ½ year old Kaili!
Miss pinching her cheeks.. hee hee
It's rather blur cos she's grabbing my phone..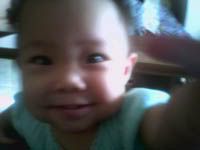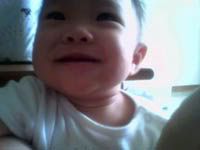 As my Chinese name is Qingli, sometimes.. his aunt and
EVEN
my bf calls out the wrong name...
Calls the baby Qingli and calls me Kaili !?!
-_-
Anyway, I will have to bear the pain till after xin's wedding next Sunday.. and I have to get another dentist cos Darren's sis will be on maternity leave. 11 more days till I say goodbye to that wisdom tooth! & I shall take one day leave to go for x-ray on the morning right after the zouk bash heh heh.. got excuse le wor..
Bought a mascara base today. I believed it is the one that Kevin used in the previous episodes of 女人我最大. He was saying that mascara bases with alot of fibers actually weighs the lashes down.. So it is best to choose those with micro fibers. Hmm.. It better be good man.. it's even more expensive than my Fasio mascara itself! Cost 40 bucks! It better
curl
UP UP my lashes too..
Opps "up, UP" again..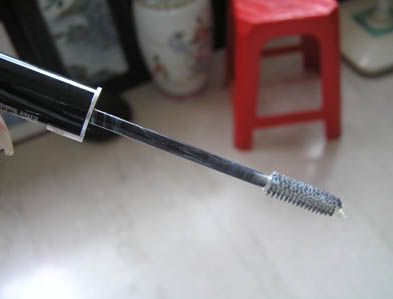 Kiyo 到此一游 @ 9:57 PM