Monday, June 20, 2005
*~*~*~*~*~*~*~*~*~*~*~*~*~*~
Treated Mum to eyebrow session...
Went shopping with Mum during the weekends. Noticed that my eyebrows are very messy that I decided to go for some trimming.
I don't have any regular eyebrow trimming session with anybody so decided to try somebody new. There were a lot of recommendations in FP. Wanted to make an appt with Sophia at Shu but I just cant get through!?! Decided to settle with Esther from Easy Perfect.
I must say that she IS one of the fastest person who can trim eyebrows..
(okie.. maybe there isn't much to start with)
but I really like my shape now. Makes me look more awake. And what surprises me was that you can choose to do eye makeup only!? (as stated in her name card) cos some of her clients actually only wanted eye makeup and not the full face makeover. I suck at eye makeup, will try her sometime.
What's wrong with that girl's eye ar..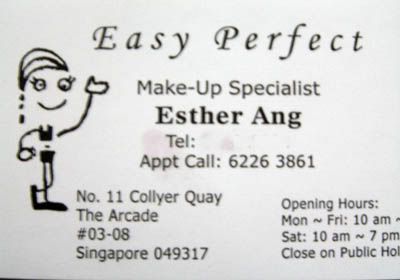 Okie.. so jeff asked how big are my shades..
TADA!!
My first pair of ultra big shades aka
Power Ranger
aka
Beetleman
!
my version of constipated look
My 2nd pair of ultra big shades aka "to be announced".
Some stuff I saw while shopping
Nice shoes...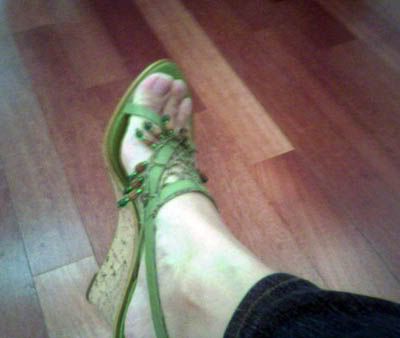 I kinda like this pair but the heels are a little too high for me.. It's about 3 inch. I usually wear flats. If I have a bf that is at least 1.78m tall, I will SERIOUSLY buy this..
Not that I'm criticizing my bf about his lack of height, I love him.
Short is cute too wat...
(I'm talking about his height)
~~~~~~~~~~~~~~~~~~~~~~~~~~~~~~
They came knocking again.
I realized Shin Min newspaper super ba gua.. they came knocking at our door yesterday morning to ask us whether we have heard any knocking & "cutting" noises in the midnight or people quarrelling.
Frankly speaking, I can't even remember what I'm doing on Wednesday night. Most probably sleeping..
And the newspaper wrote that many people from all over Singapore came down to check out his place.
So eng!?!?
Anyway, I hate that man. He gave everybody in my block the creeps.
I decided to go home alone after Zouk on wednesday night.. I realized Mankind are sometimes more terrifying than Supernatural itself.
And why do I claim that mankind are scarier.. just look at my conversation with winston today...further proves that I can be quite scary.
Winston says:
So free?
::kiyomi:: TMD! says:
i dont care man.. i darn HOT now.. not chatting anyway.. u msn me one nor haha
Winston says:
HOT? someone provoked you ar...hahha
Winston says:
who so bu zi liang li?hahhaa
::kiyomi:: TMD! says:
now i noe why.. some people can kill people and chop up their parts.. wah liao.. arggghh!
Winston says:
Wooh... who says lightning doesnt strike twice at the same place....hahahha
Winston says:
tell me when, I'll keep a look out in the papers...
::kiyomi:: TMD! says:
hahaha.. NOW.. i got knife I KILL NOW.
::kiyomi:: TMD! says:
u better call the mata..
Winston says:
Later... let you finish the job first...
::kiyomi:: TMD! says:
hahahah... no knife leh..
::kiyomi:: TMD! says:
darn angry man... STEWPID person. KNS
Winston says:
I pass one to you la... ...hahha
::kiyomi:: TMD! says:
yeah.. throw one down.. haha
::kiyomi:: TMD! says:
Sharp...one...hor...
Winston says:
Hahaha.... okok... so abt the knife.........................
::kiyomi:: TMD! says:
abt the knife.. u can go sharpen it now.. haha
Winston says:
What time you want to make the move... I pass to you before that..
Winston says:
I'll bring along a digicam to take the video...
Winston says:
Should worth quite a bit If I sell to the media... hahahaha
::kiyomi:: TMD! says:
orrh.. than please let me put on some makeup first.. haha
Note: The person is still alive as of the time of the blog post. I'm not as

crazy

as the person living upstairs hor.
Kiyo 到此一游 @ 10:05 PM