Wednesday, June 29, 2005
*~*~*~*~*~*~*~*~*~*~*~*~*~*~
Their true love story...
Finally, the pictures are out!
That day I guess I was the loudest. We had 3 rounds. The first was the hula hoop that we asked the brothers to do standing on the chair. This was actually a last minute thing I thought of yesterday cos I knew the bride has one. But we decided to tire the brothers first. There was a whole big gang of 6.. We only have a meek 4. But what are 6 men.. they are no fight haha.. to me. Conclusion. They CANT hula, it's quite a funny sight to see *ahem* not quite young men trying to hula..All of them were actually married except 1, the bestman. One of the guys were still trying to hardsell that guy to the 4 jiemeis.. too bad, 2 are married, and the other 2 are attached.
Next came the decoration part for the photoframe that me n xin chose at art friend, the end product was quite nice in fact but I didn't take any pictures.. bo eng ar.. Than the negotiation part came…
I guess the brothers were either quite inexperienced or they did not discuss properly about the negotiation part or maybe they got shocked by us that they forgot what they were supposed to do. They were having their mini discussion outside the gate very near me.
"so how, then 是要给他们,还是不要给?"
One of the brothers, Cant remember his name stood there asking the others while waving the 4 angpows in his hand.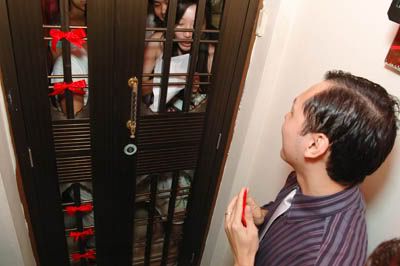 I then put my hand through the gate, snatched it and
got it!
I fast hand fast leg wan okie... Hahah. I realized one cant be too soft during this time.. otherwise it's going to get us NOWHERE. Anyway, it's RUPIAH inside. He didn't even bother to give us Ringgit. Hng the groom! We threw it back.
The 2nd time, they learnt their lesson and stood further away…..
FROM ME
.. whahaha. But the brothers really a little blur, even the groom was a little blur himself cos we don't know what did we say, we managed to get them to give us the 2nd set of angpows.
Then SUDDENLY.. dont noe why they started screaming at the top of their voice..
老鼠爱大米
... -_-
Heng they didnt dance to the techno remix version..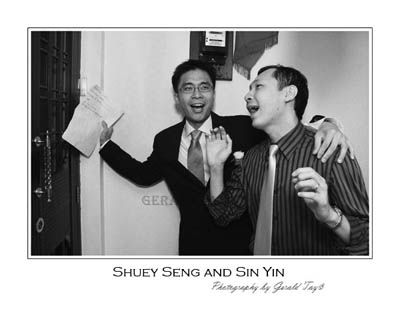 There was this auntie very cute. Kept on asking Gerald to take pictures of her granddaughter??
"坐好好,叫 UNKER 拍照...叫UNKER 帮你拍美美"
-_-'''
(Gerald's face)
Gerald? Unker? buhahahah.. He's only 20 lo..that's why he show me that face.... call kor kor he will take for you la. But never mind la.. the MUA likes you wor.. happy ritez.. =D
And OT abit.. this is the first wedding I went to that have both cute photographer and videographer. The videographer my friend engaged was quite cute too hahaha. Seriously he has this slight resemblance to the bf of Yuen Yong Yi.. what's his name.. hm.. Didnt get a clear picture of him cos his face always behind the video cam
(ar but then, he's paid leh)
Look darn shuai hor.. like dat.. wahahhaahha.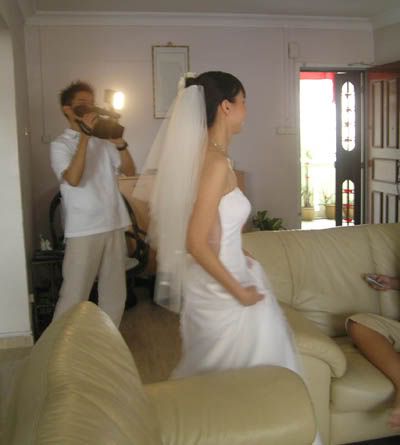 Jie mei pictures...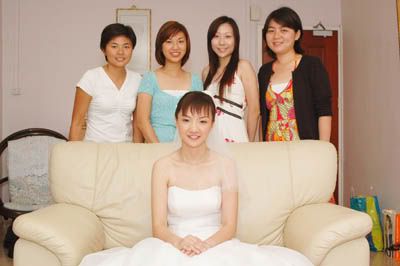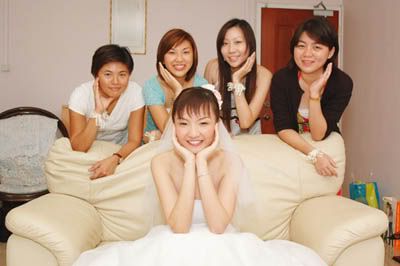 Was really fun.. night pictures tomorrow... lalala
Kiyo 到此一游 @ 11:16 PM