Friday, June 17, 2005
*~*~*~*~*~*~*~*~*~*~*~*~*~*~
I got it! I got it!!
OMG.. I sound like somebody who just strike ToTo.
Nah.. I got the tickets to the samsung bash! Check your emails! I believe you received it too. Fulong received too and see ya! =D
See... hee hee..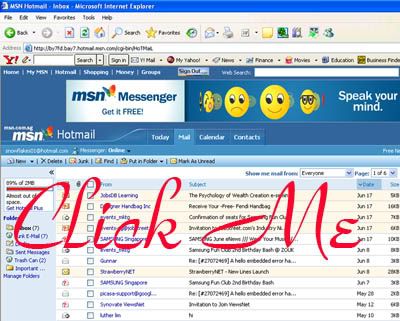 I was still wondering what happened to them, no replies, nothing.. and I have been receiving mails from Job street which has a similar email address as theirs.. events-blah blah blah.. Got a few false alarms..
Please print it out for me, Gerald..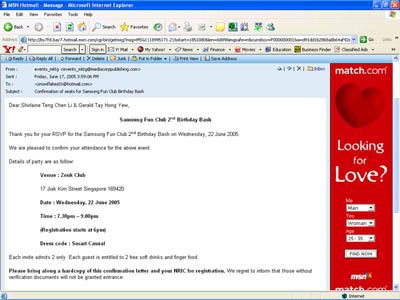 Actually, our group has already agreed that we will turn up even if there are no tickets.. just go to zouk after the event. Dont think we have to pay as according to the few regular cheongsters, Wednesday is ladies night. It's just the suspense and the waiting part that keeps me all excited..
Another mail I received..
I am guilty of registering a profile with them
(with my bf's knowledge of course)
. This website is a sort of dating webbie where 2 strangers go for a movie together or maybe a meal after that.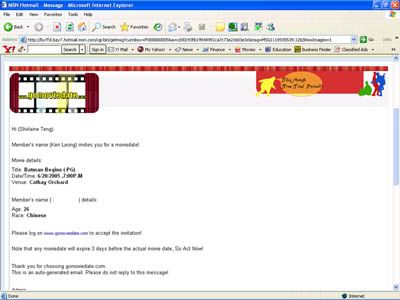 I actually received some mails from guys for a movie date. but i didnt go to any of them even though my bf is not around.You really dont know who you are gonna meet.. so I didnt dare try out at all. So guys, go try! Maybe you will get an awesome date :)
~~~~~~~~~~~~~~~~~~~~~~
Lalala... can almost hear the birds singing..
Got this sun dress yesterday. I lurve this. This is an ULTIMATE 'SCORE POINT' DRESS for me. Got this sweet and retro feeling.
Just add a scarf on my head and I will look like 陈宝
猪
珠walking out of a 60s television show..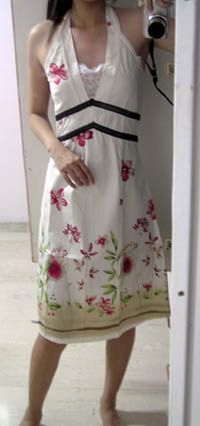 I have been telling myself to save up & save up and spend in Taiwan.. At this rate I'm going.. I will go totally broke when I come back from there.
Anyway, some nice sites I found on FP. Think I will contact the person when it's nearer my travel date and see if she can deliver it to the hotel or not.
- Nice bags-
..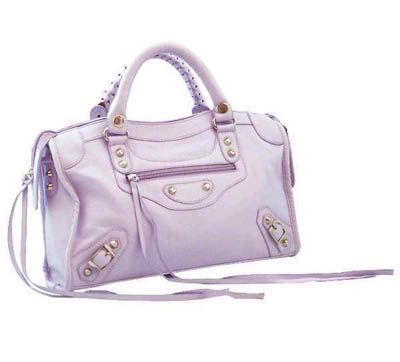 What am I going to do tomorrow.. I guess it's shopping again at FEP.. i need a weave belt and shell necklace..n Gerald was so damn right.. For a skirt, I need to get sandals, bags, necklace, belts to go with it..That's the last thing I need! then i will stop!

Sunday is the last combat lesson with Meech.. zen you going anot?? hee hee
Kiyo 到此一游 @ 9:40 PM